One of my favorite episodes of No Reservations was the one where Anthony Bourdain goes to a soba restaurant near the ski slopes of Niseko. In that episode was a scene that forever changed how I look at soba.
The scene starts in the soba master's rustic, dimly lit kitchen while Bourdain narrates. Light streams in through a window just above his head so it appears as if he and the dough are glowing against the kitchen's dark walls. You can clearly see the flour dust billowing from his hands as he kneads, dusts, and rolls the buckwheat dough into a flat sheet. He then folds the sheet several times before slicing it into perfectly even strips for boiling. I've never seen anyone make soba noodles before but it was apparent from the way the man worked that he's been doing this for decades. It was beautiful and mesmerizing to watch.
I've always preferred rice over noodles but seeing that man craft soba with a zen-like fluidity made me crave for it in a big way. And not just that, I needed to have it in winter. It was ski season when Bourdain went so watching that scene made me forever associate soba with cold weather and snow. It seemed to me like the perfect combination, one that I had the privilege of experiencing today.
Soba and Tempura at Kannabe Sanso Waraku
We were on a FAM trip of Western Japan courtesy of JR West and they took us to Kannabe Sanso Waraku for lunch after a morning snowshoe experience. Isn't Japan stunning in winter?!

It was the height of winter so the landscape was blanketed in several feet of fresh snow. In fact, it was snowing over lunch!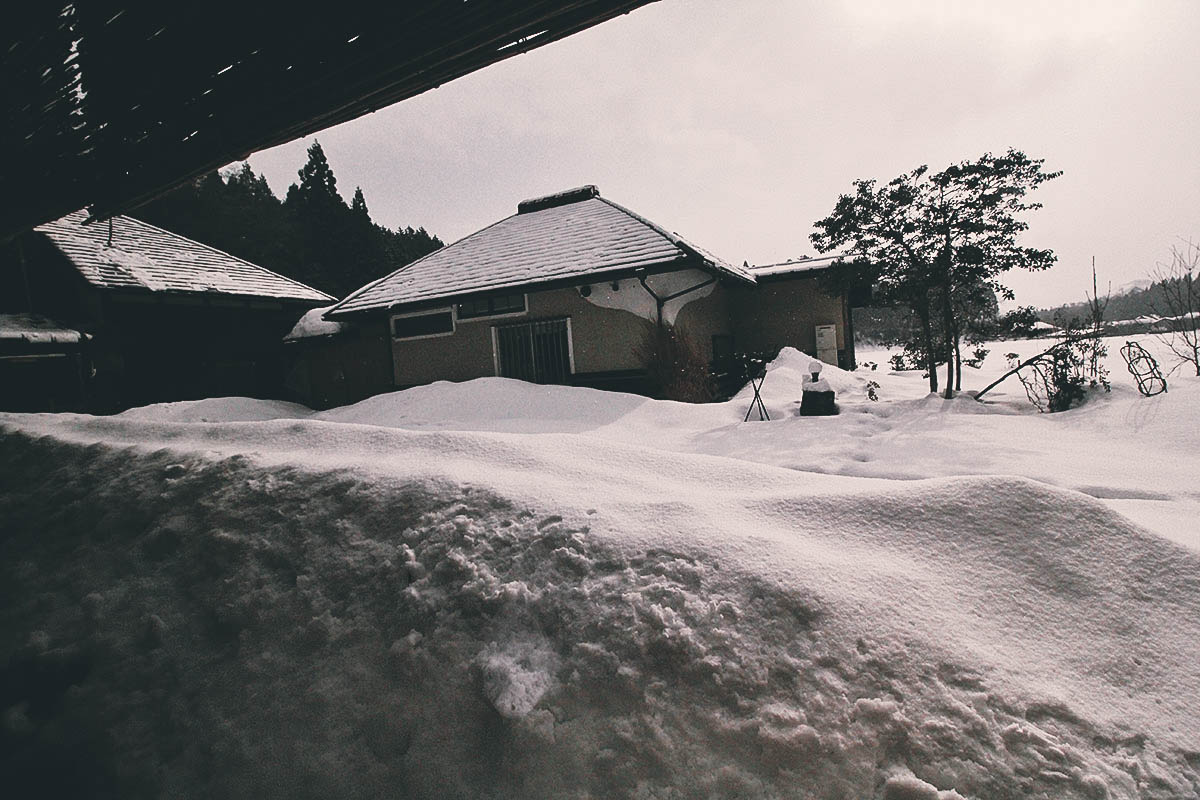 The restaurant's interior. I love the rustic feel of traditional Japanese restaurants.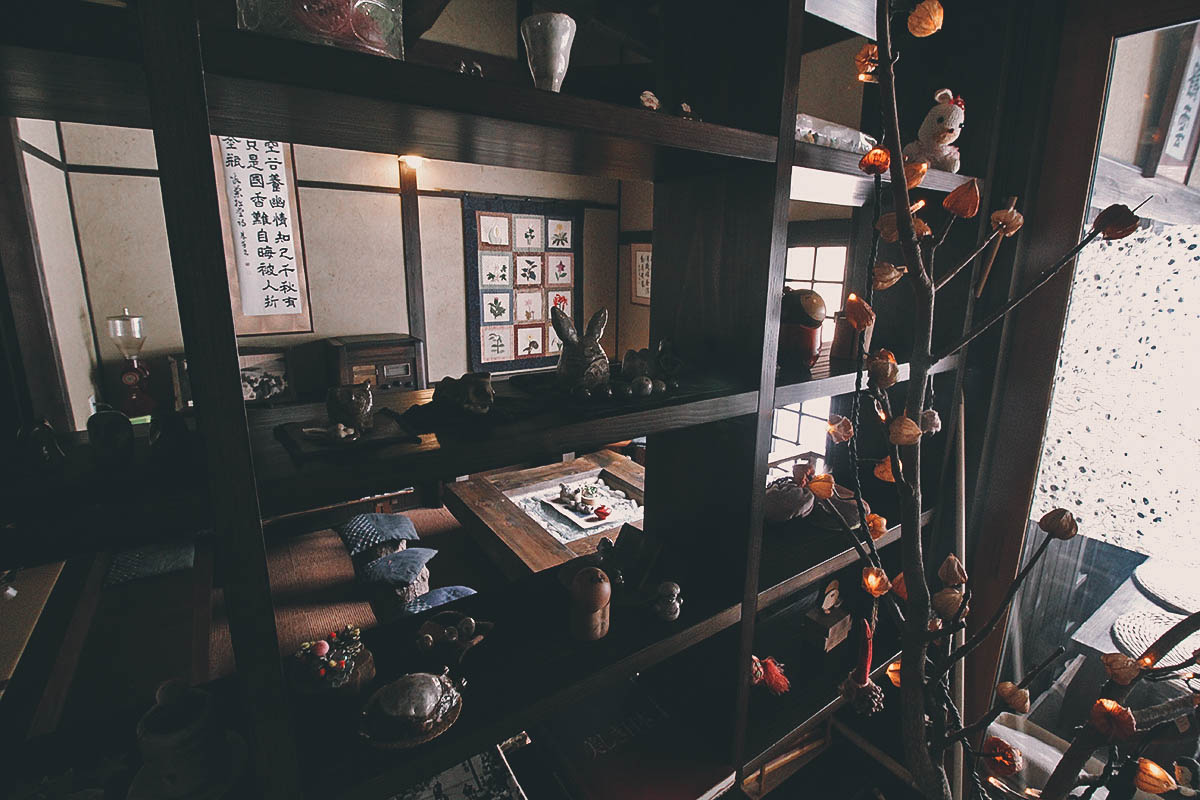 I guess this is the waiting room?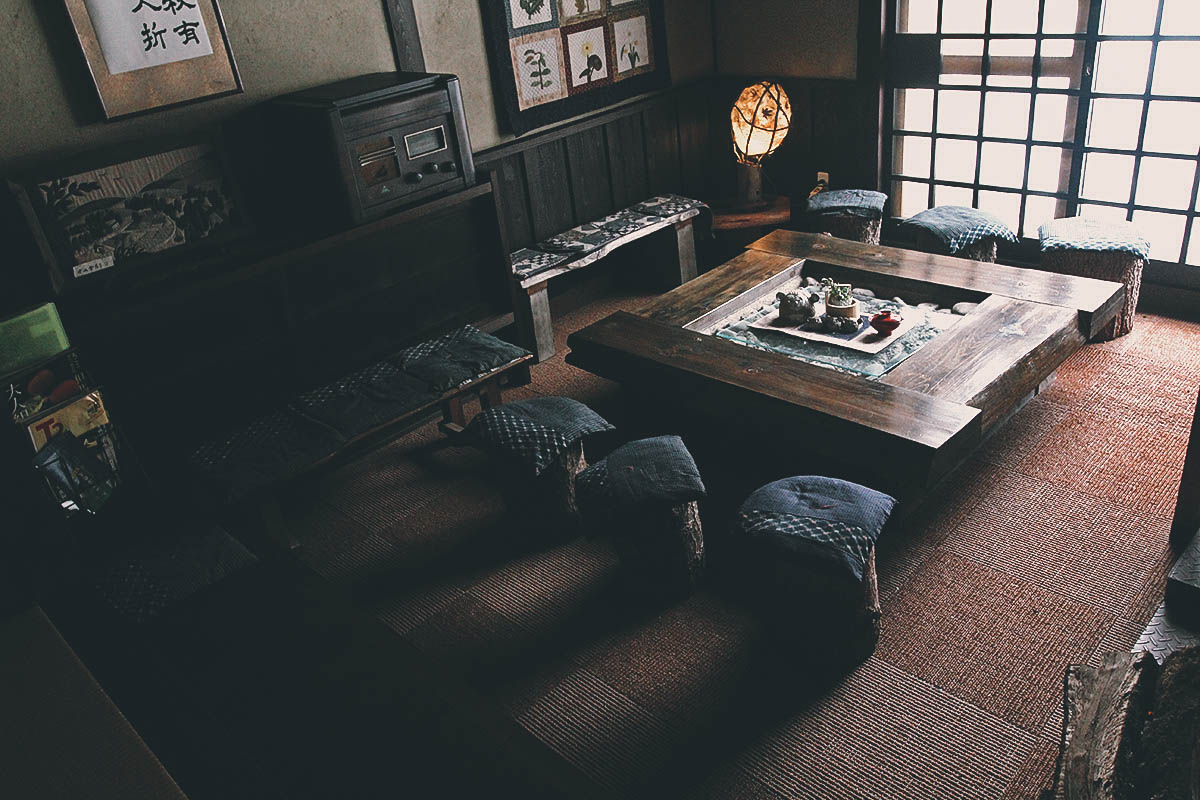 We were a group of about 15 bloggers/media from 4 countries. Our hosts and guides were kind enough to prepare this lovely setup for us. Thank you!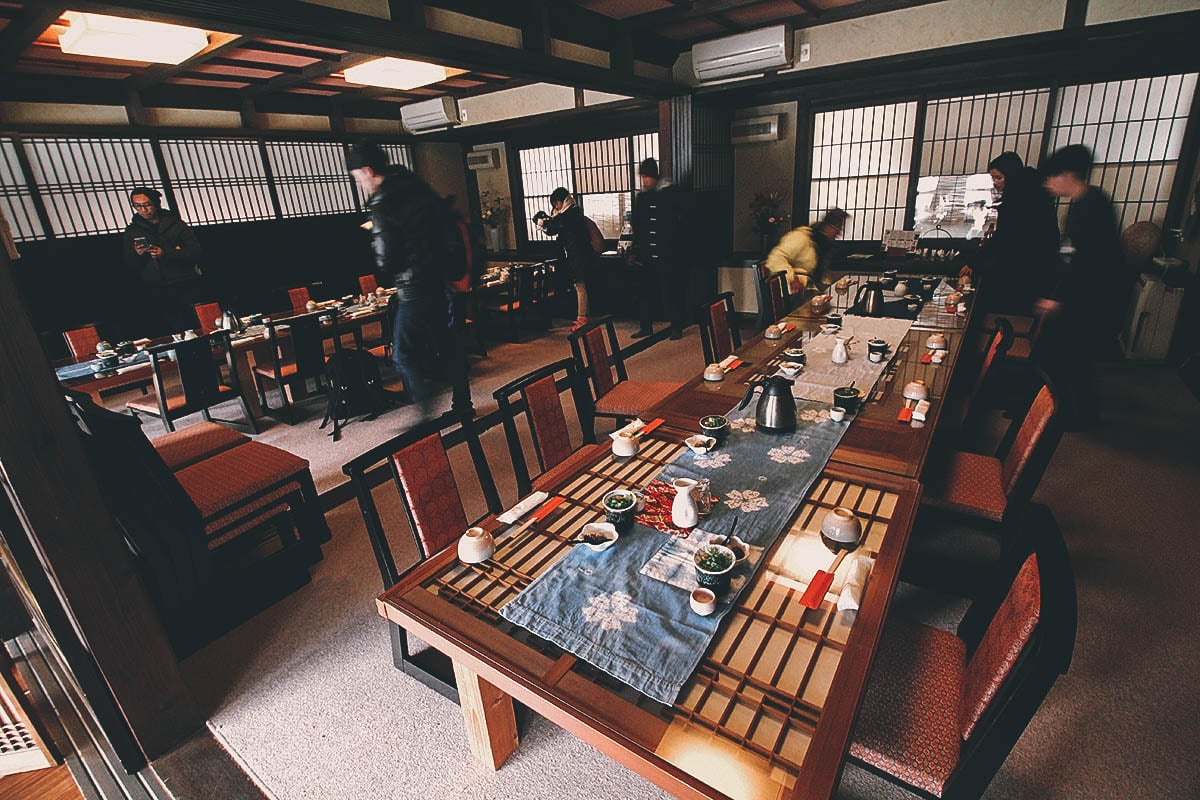 Dips, desserts, sides, and condiments. On the left is the soba sauce. You pour the ingredients into the bowl of sauce and mix it up. You'll dip your soba noodles there.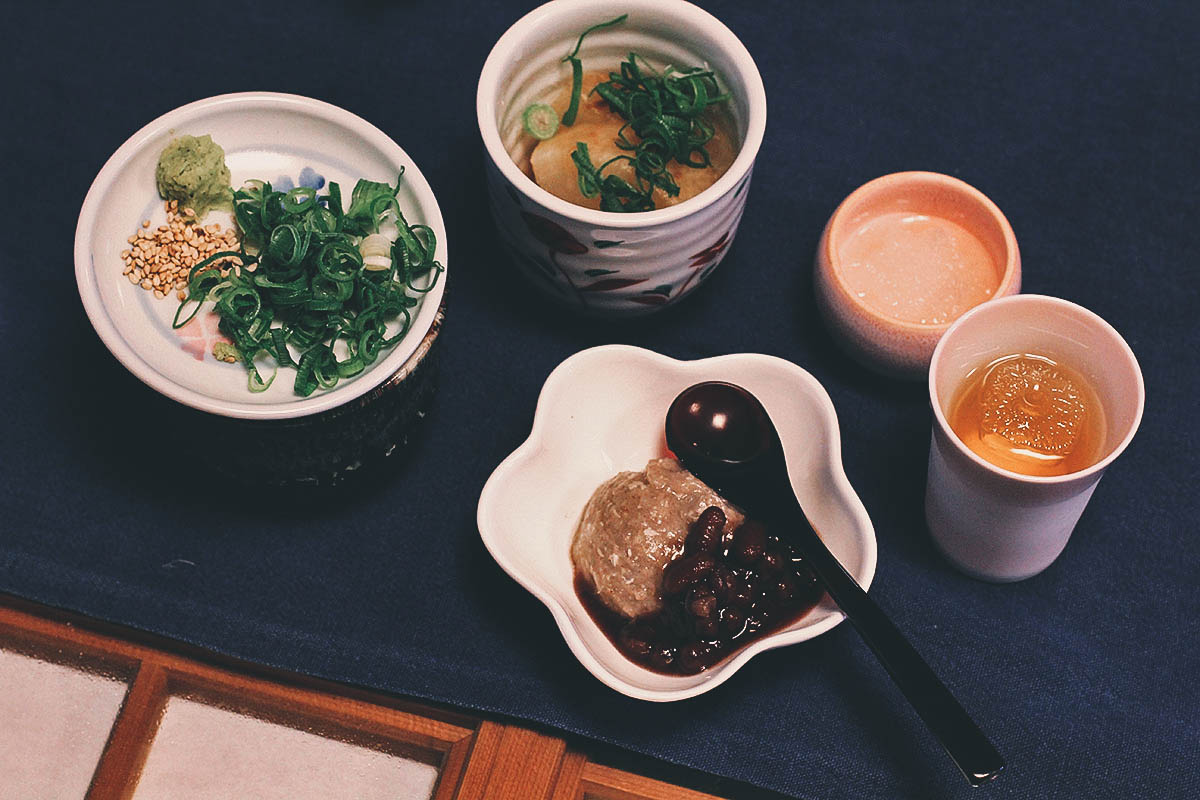 Mixed tempura, a favorite Japanese dish classically paired with soba. Unlike the tempura many of us are used to, this one didn't come with a dipping sauce, just sea salt for flavor. It was delicious but I missed my tempura sauce! 😆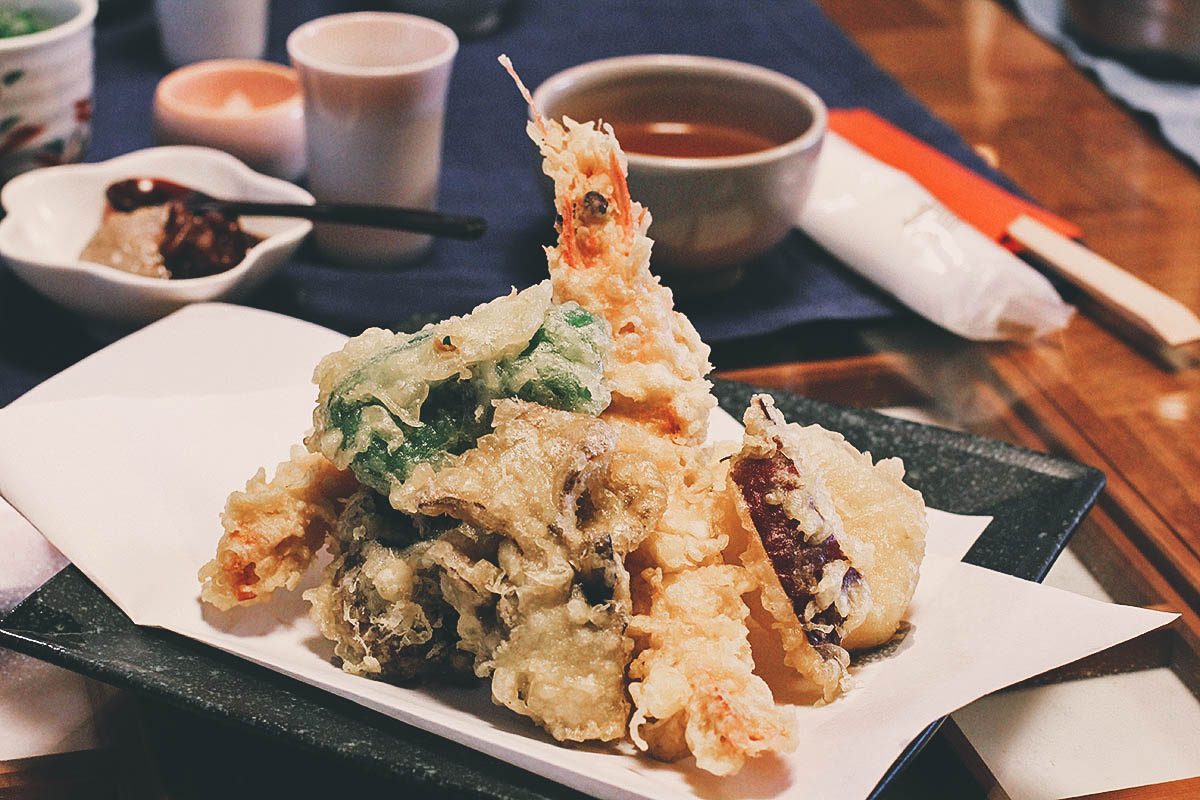 The beautiful handmade soba. It was served in these lovely 40 cm bamboo trays, presumably to spread them out as evenly as possible? Soba can be served hot or cold, but I much prefer them cold like this. They're so delicious! Like any Japanese noodle dish, be sure to slurp when you eat them. It's considered rude if you don't. 😉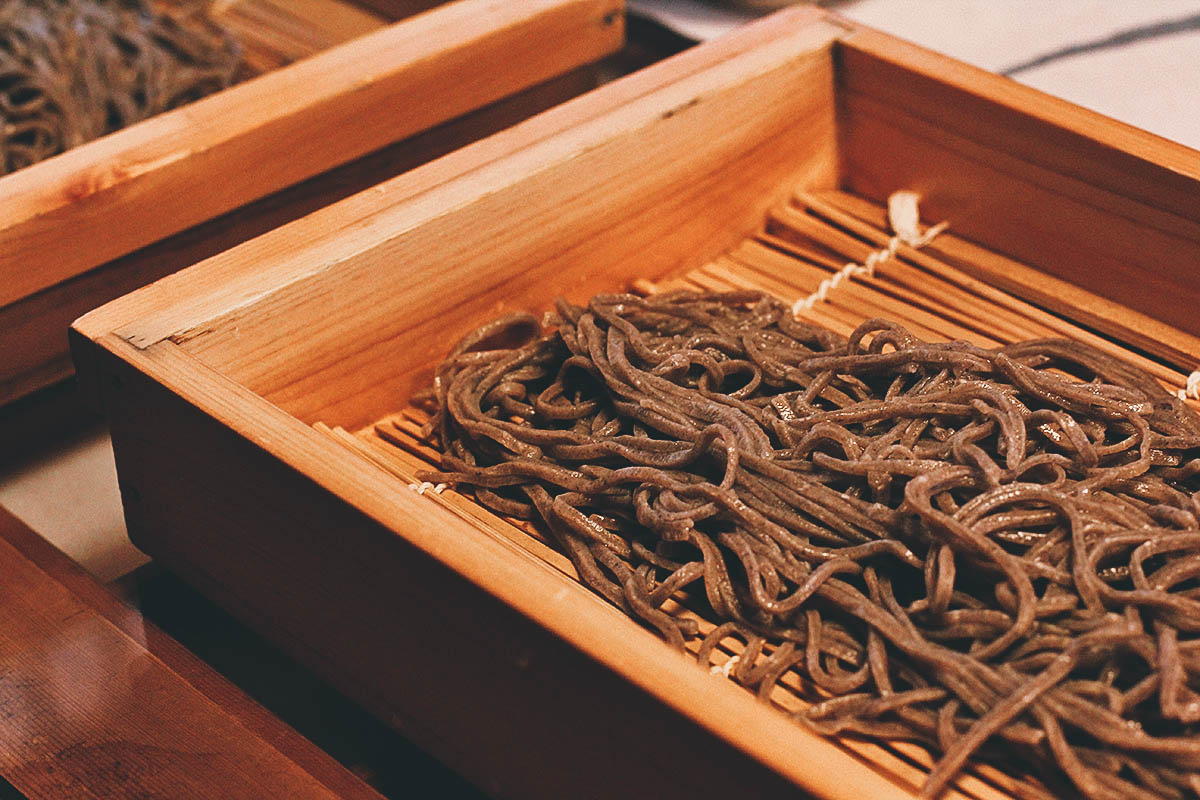 I'm not an expert on soba noodles but I enjoyed these immensely. It was everything I had come to expect since watching that Hokkaido episode of No Reservations. You can eat them any time of the year but having them in winter felt so right. In fact, I enjoyed it so much that I recently wanted to have them for lunch after a morning of skiing in Sapporo! And I can understand why they're often paired with tempura. The contrast between the cold chewy texture of the freshly made soba with the crunchiness of the tempura was wonderful.
We were guests of JR West so we didn't pay for our meals, but a soba lunch at Kannabe Sanso Waraku ranges from JPY 1,000-2,500 according to the Hidaka Kannabe Tourism Association website. It's in Japanese but you can use Google translate to get a rough translation. Their full menu isn't posted but you'll see that they offer Tajima Beef course sets as well for a reasonable JPY 3,000. If you're on a skiing trip in the Toyooka area, then I suggest giving this restaurant a try.
Kannabe Sanso Waraku
1348 Umegatsubo Hidakacho Tada, Toyooka, Hyogo Prefecture
Tel: +81-796-45-0101
HOW TO GET THERE:
This is the tough part. As described, we were guests of JR West so we were brought here in vans. Unfortunately, I don't know how to get here by public transportation. If you're in Toyooka and would like to eat here, then I suggest clicking on the "Get Directions" link on this TripAdvisor map for directions on how to get to Kannabe Sanso Waraku from where you are.
Disclosure
We had lunch at Kannabe Sanso Waraku courtesy of JR West. We were guests of JR West and taken on a FAM trip to promote Western Japan. As always, opinions expressed in this post are mine and mine alone.