EDITOR'S NOTE: Did you know that pizza is only eaten for dinner in Italy? Traveleater BJ Young shares some interesting culinary revelations from a recent trip to Sicily.
My husband and I recently took a week-long trip to Sicily, the island in the Mediterranean Sea that is probably more well-known for film scenes of "guns left and cannoli taken", and less so for the surprisingly large concentration of charming hillside towns (many of which are UNESCO World Heritage sites). Apart from the good-looking scenery and blissful freedom from the usual tourist mobs that descend on more well-travelled cities, we were also quite surprised to learn a few things about Italians and their food, and how passionate they can be about the authentic Italian dining experience. Here are just a few things we learned: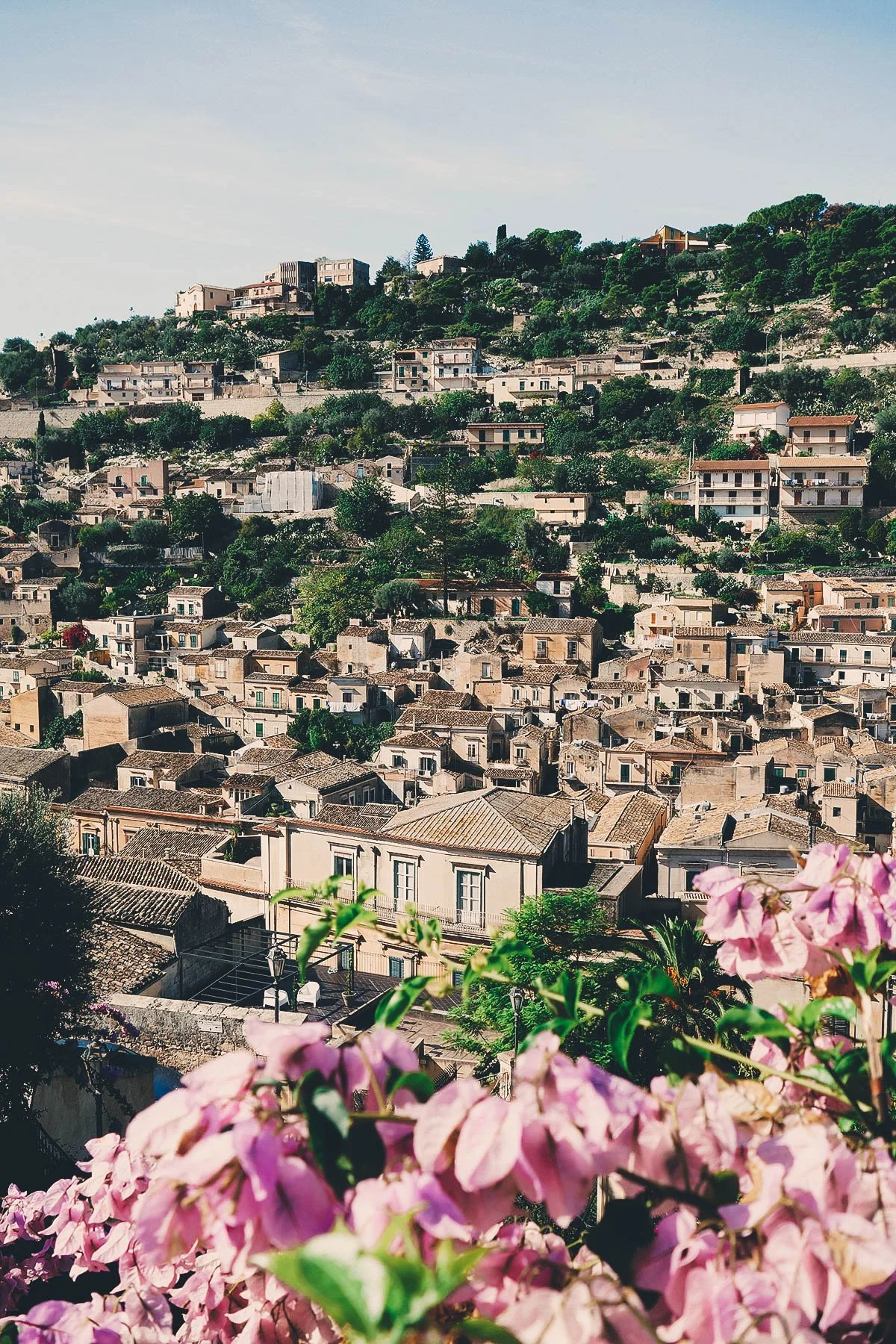 1. The cannolo owes its name and shape to bamboo
A cannolo is a quintessential Sicilian dessert made with fried pastry dough and a sweet, creamy filling. Cannoli (plural of cannolo), translates to "little tubes," but its name was originally derived from canna reed, or cane. This is because bamboo canes were what gave the original cannoli their shapes: the pastry was wrapped around the cane and deep fried, leaving a nice tubular, hollow pastry ready for filling. Fast forward several centuries to the emergence of EU regulations, food safety standards, yadda yadda yadda, and the bamboo has long been abandoned in favor of mass-produced metal tubes. Needless to say, the faint taste of bamboo found in the original cannoli is long gone, but the desert remains a favorite in Italy and the Little Italys of the world.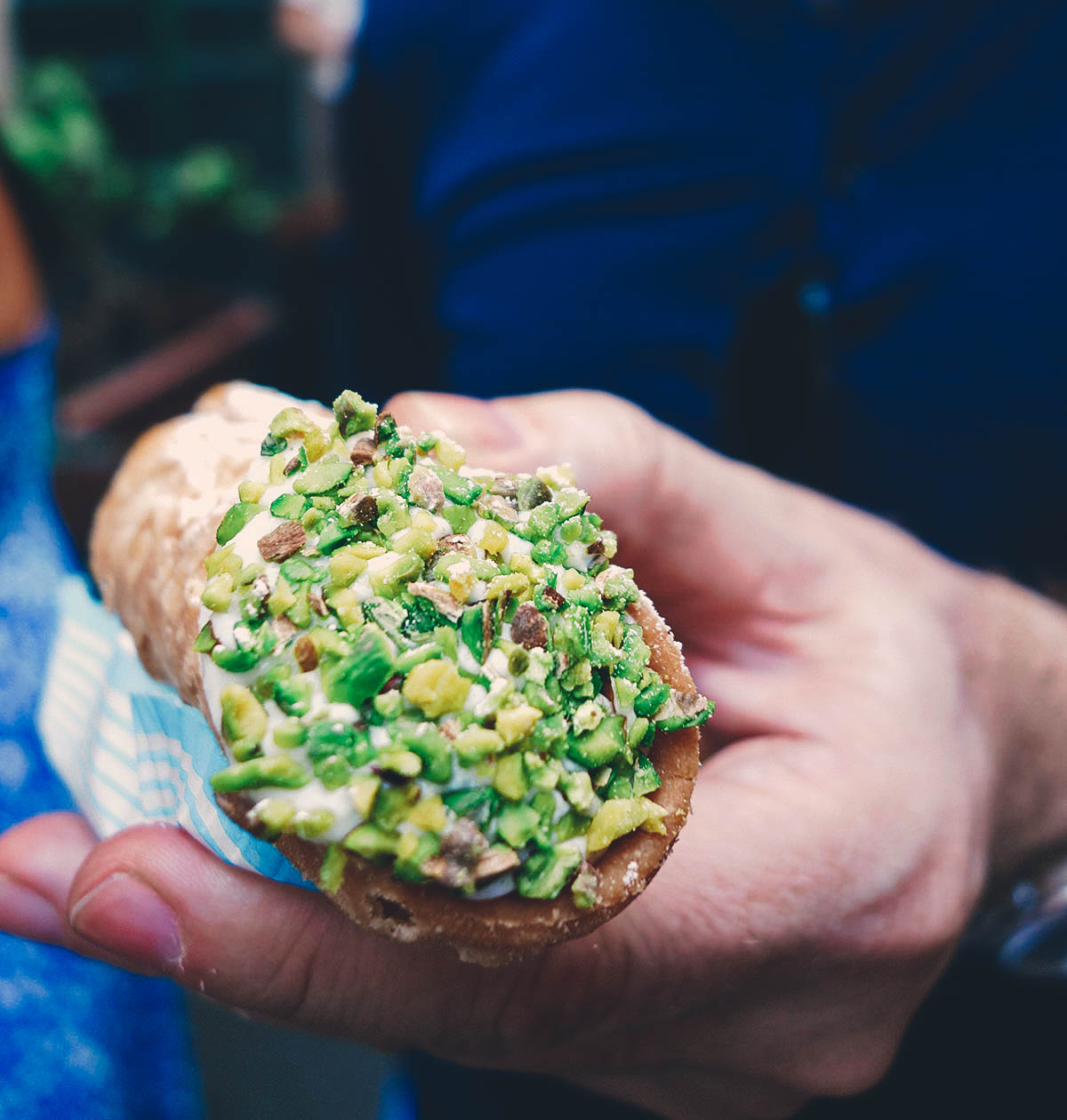 2. Chocolate everyday keeps the doctor away
Arguably the Aztec's most beloved gift to mankind is xocoati, more commonly known as chocolate. In the Sicilian town of Modica, the chocolatier Antica Dolceria Bonajuto has been making chocolate for the last 136 years in the same manner taught by the Aztecs. Xocoati was deemed by the Aztecs in high regard because they were believed to confer strength and vigor, and its scent was believed to be beneficial for bronchitis and respiratory ailments. Hooray! Medicine never tasted this good.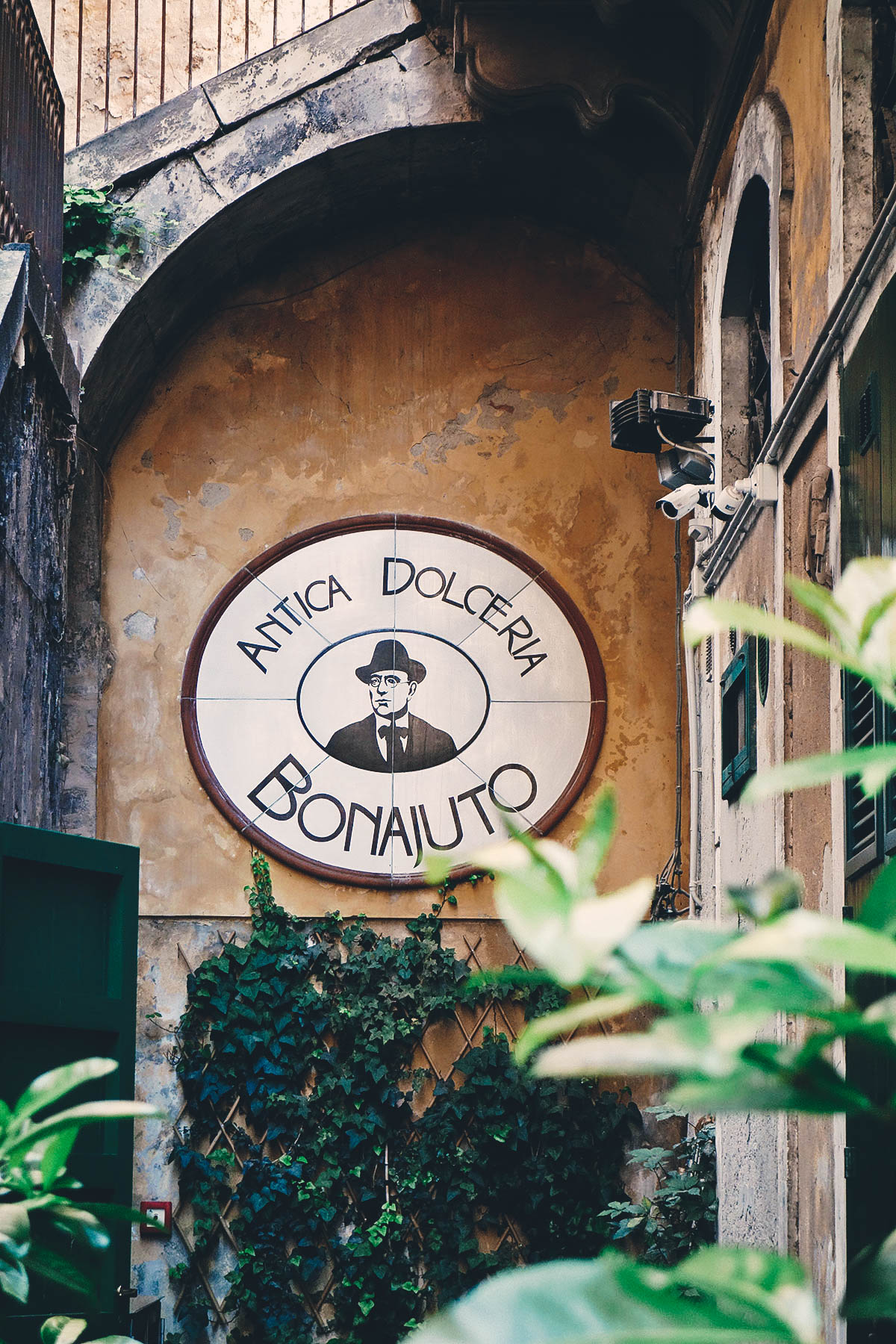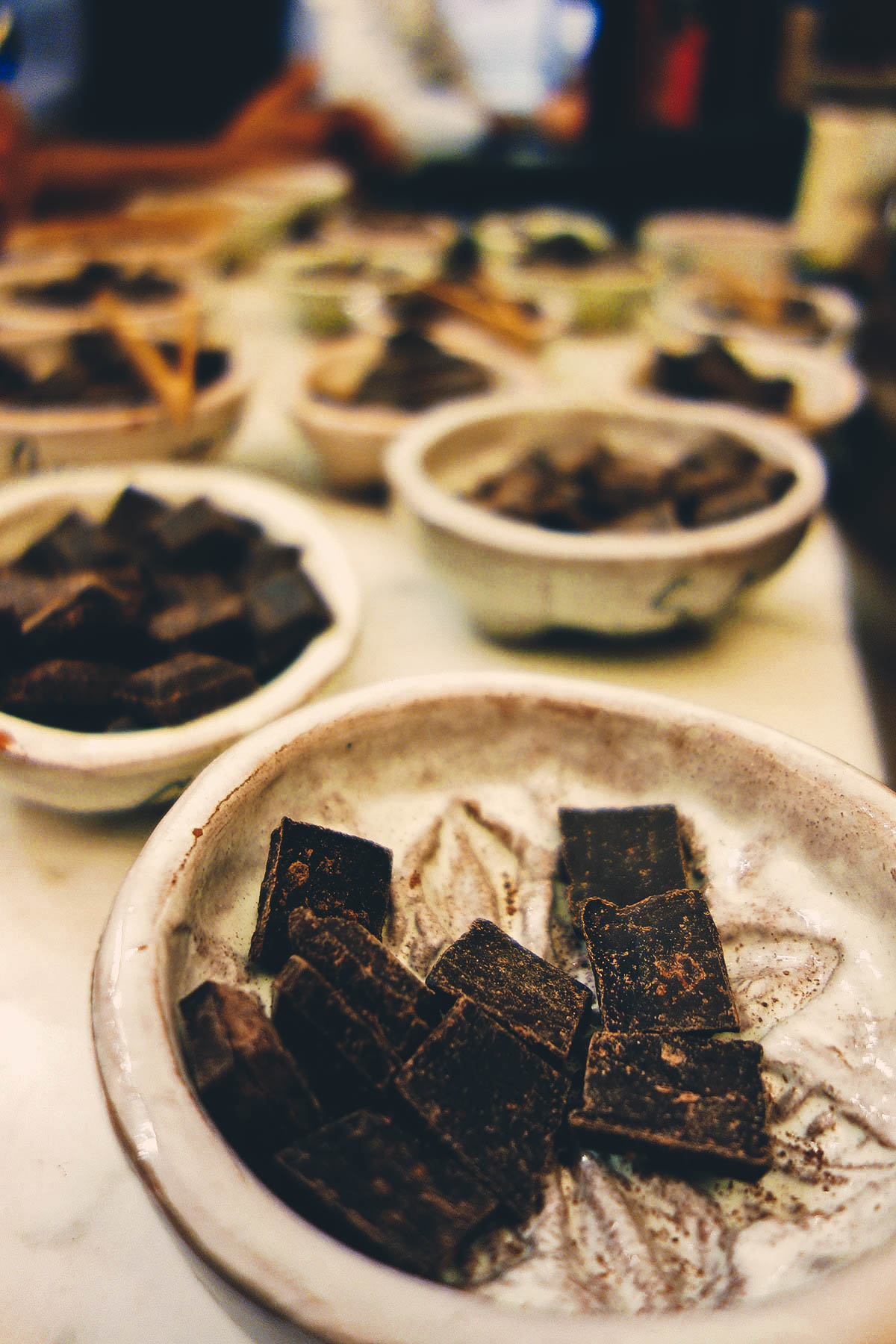 3. A whole new twist to the notion of "dessert wine"
No foodie trip to Italy would fail to include an exhaustive search and prolonged taste-test for the best and most unusual of gelato flavors. But Gelati Di Vini in old Ragusa certainly wins props for incorporating wine into its gelato, resulting in flavors that are unique even in Italy. On the day we visited Gelati Di Vini, the flavors on offer included Nero d'Avola, the most common red wine grape variety in Sicily (other flavors are listed on the chalk board, or handily identified by wine corks in the display case). The alcohol content may have been low, but the wine essence was intense enough to come through. An unexpected but delightful experience for the palate.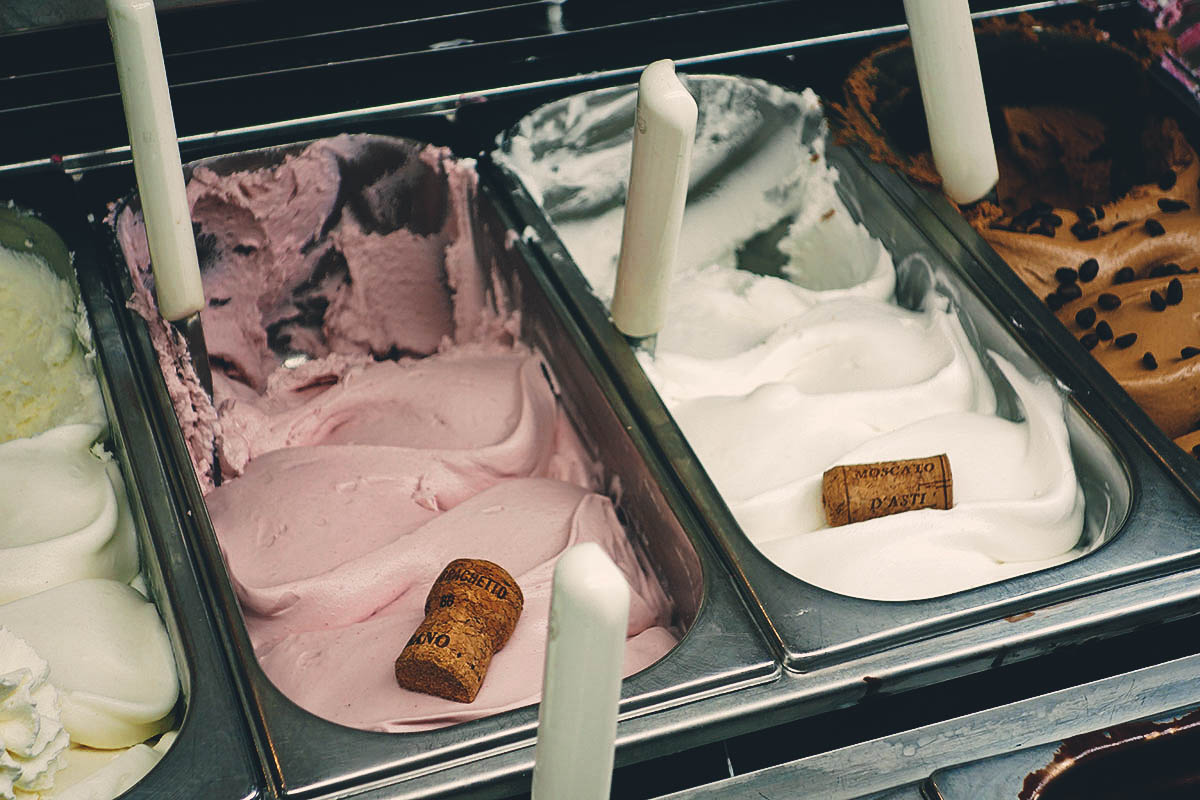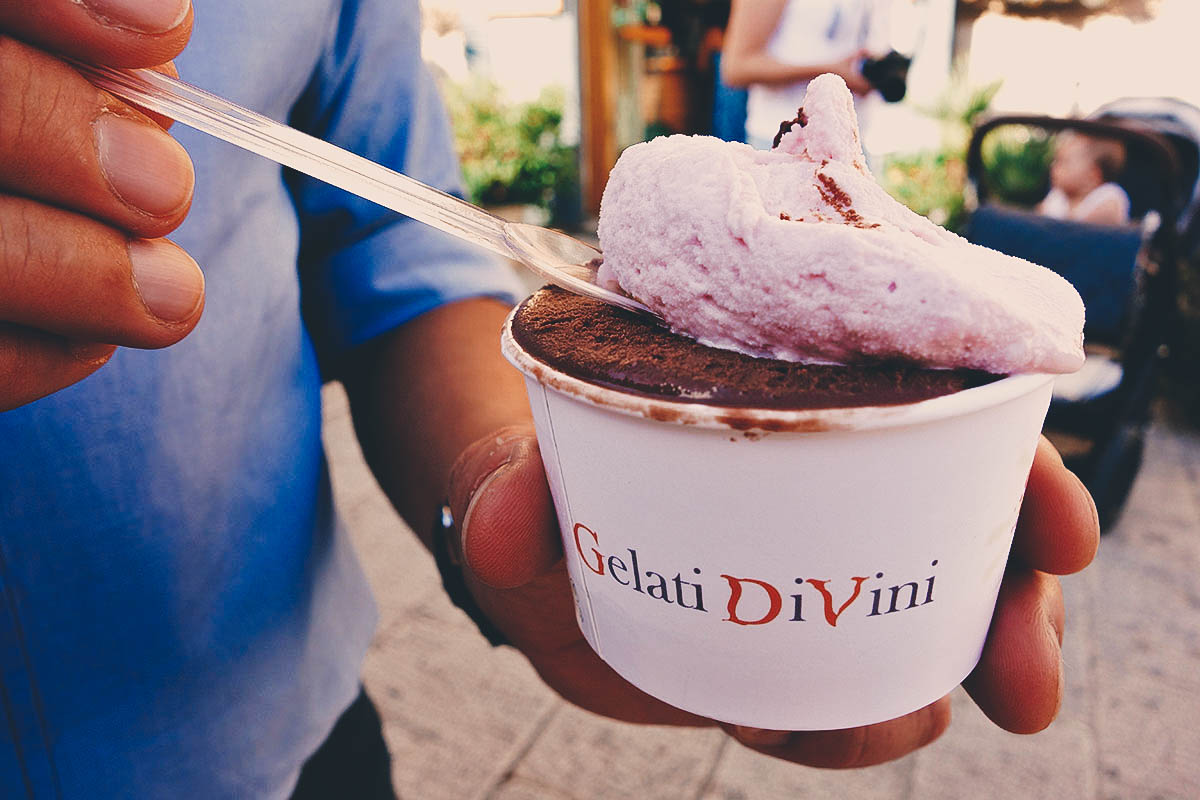 4. I'm joining the Tiny Fish movement
How do I even begin to praise the myriad ways in which Sicilians serve miniature fish? First, there's the ubiquitous appetizer sarde e beccafico. A beccafico is a small bird that likes to stuff itself (or becca, or peck) on figs (or fico) and is the inspiration for this dish of sardines stuffed with figs, pine nuts, sugar and nutmeg. Truly yummy. Then there's anchovies in lieu of fries? Delicious and fun! And my favorite of all, baby red mullet served as chips…just plain brilliant.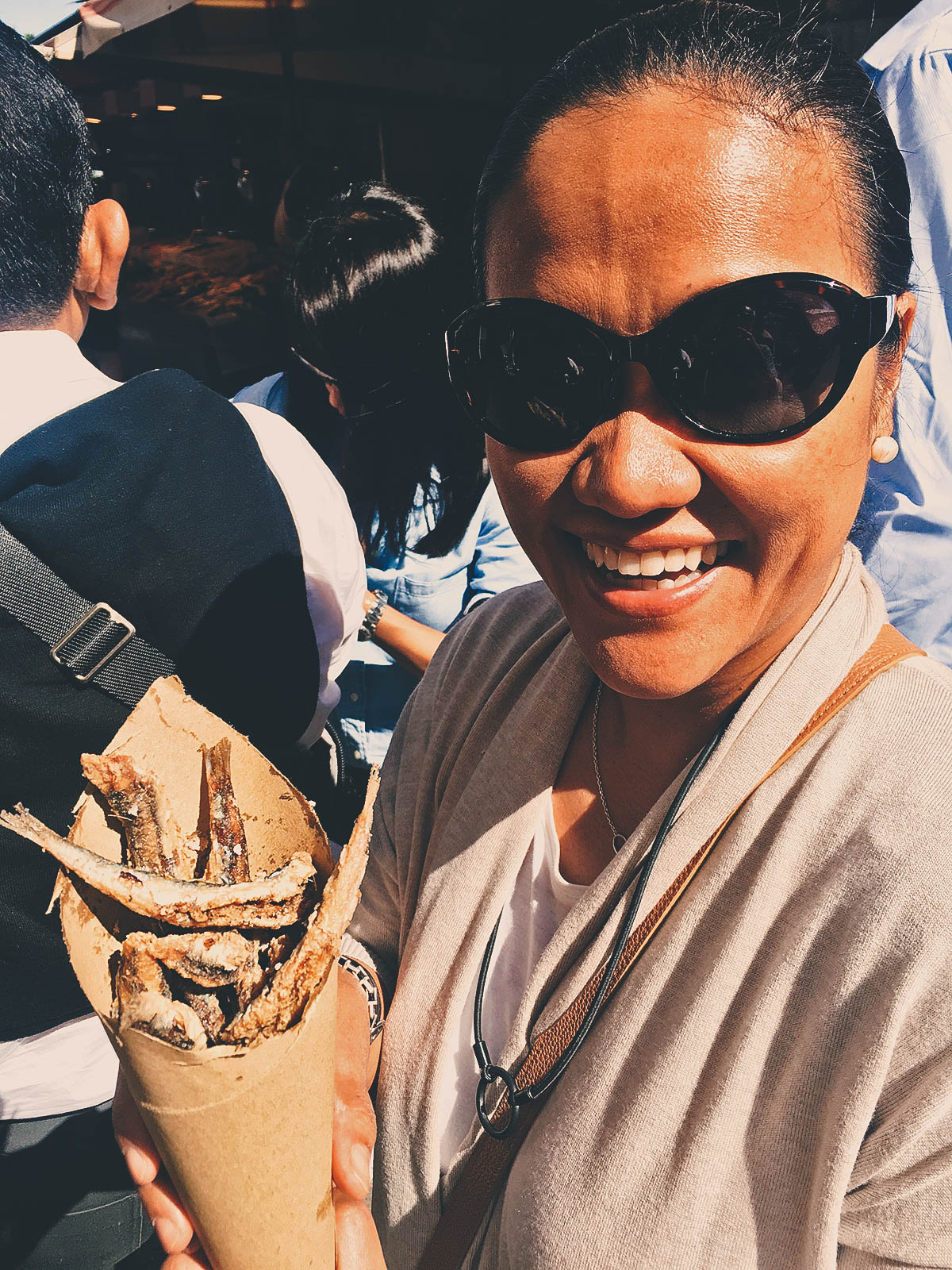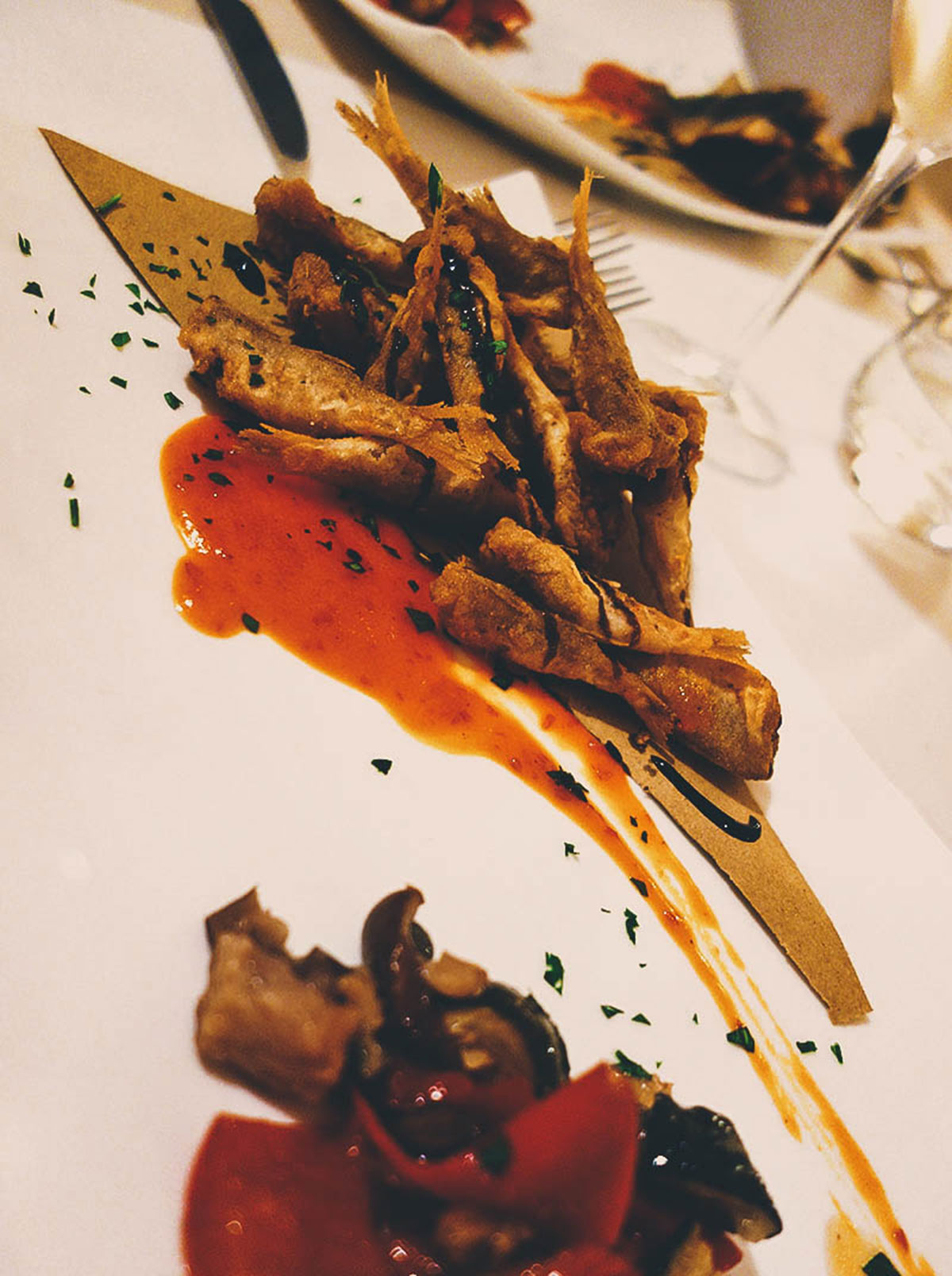 5. Salami and bresaola come in tuna versions
A visit to the fishing village of Marzamemi brought us to Adelfio, a shop that specializes in all manner of food products from the sea, especially tuna. There were tuna-based sauces and spreads and delicious bottarga or dried fish roe. But what really caught our eye were sausage-like casings stuffed with tuna. Salamino di tonno or bresaola di tonno is basically cured tuna, referred to by some as "tuna ham." Serve them sliced into thin slices and seasoned with a little olive oil and lemon juice as a starter, or even together with pasta. Move over, pork, there's a new sausage in town.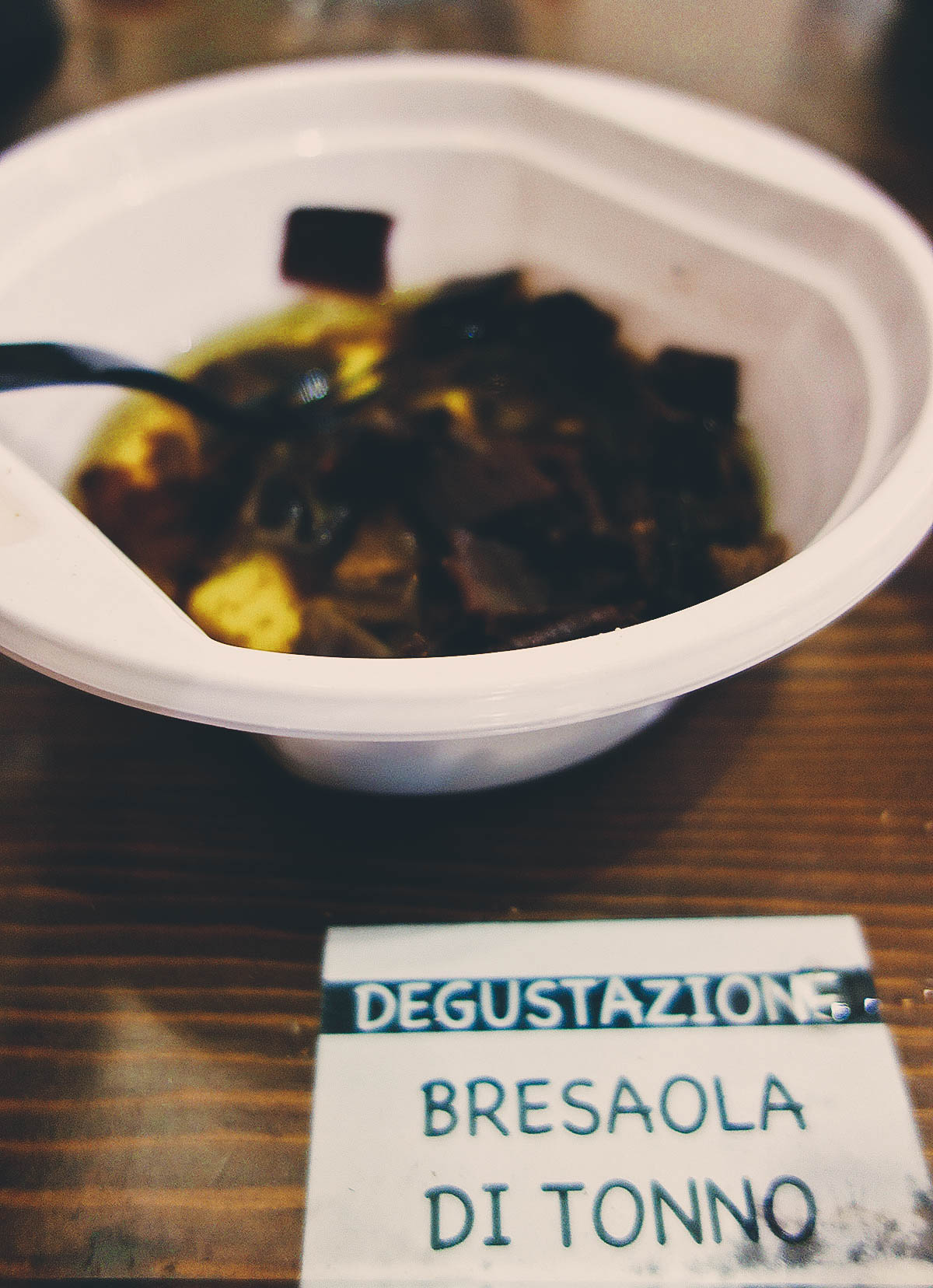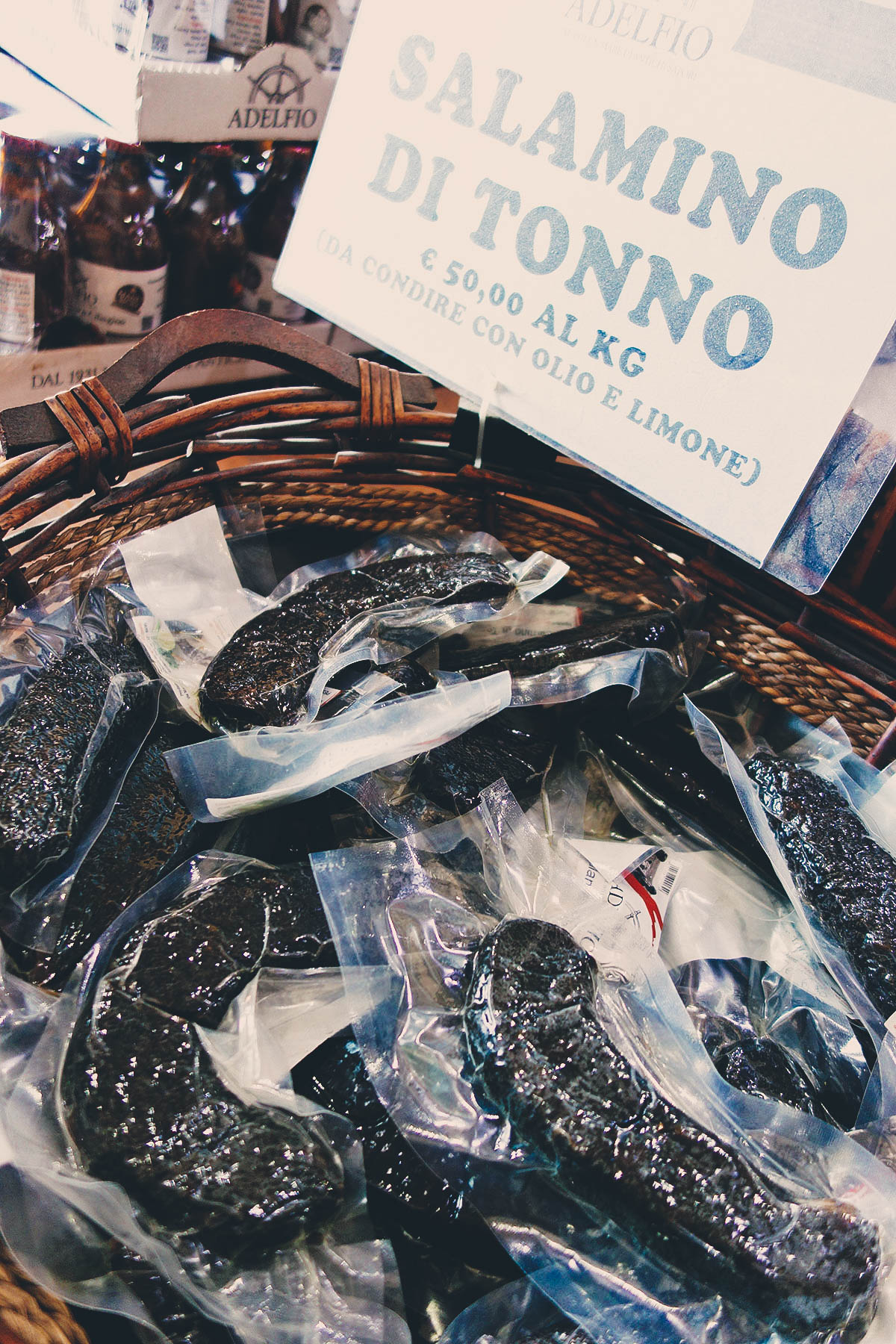 6. Mix and match for best results
To read an Italian menu is to be faced with a dizzying array or pastas and sauces. Needless to say, I tried as many as I could. But my hands-down favorite was a pasta dish with a tomato-based red sauce dotted with unexpected dollops of green pesto. The pesto added an entirely new but complementary layer to the taste. You mean I can mix different sauces, say what? Genius.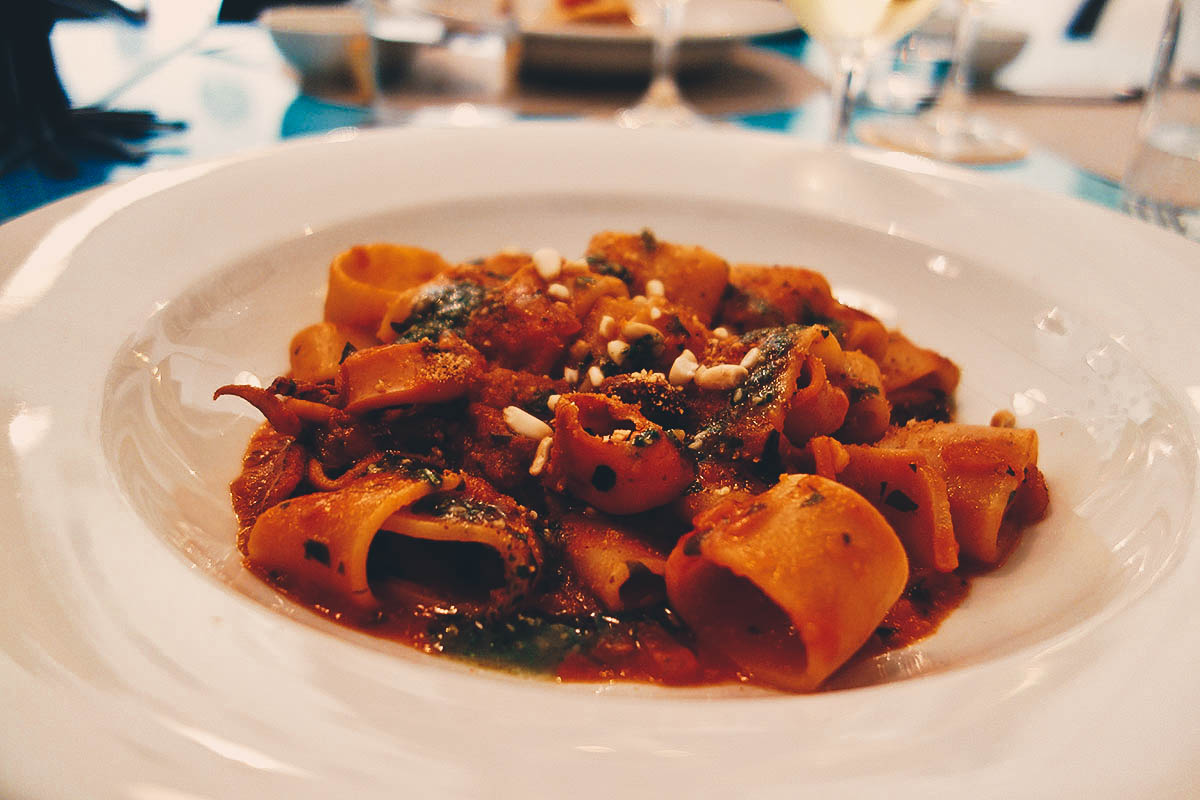 7. Caesar and Alfredo are persona non grata in Italy (and other culinary faux pas)
Before arriving in Italy, I was patting myself on the back for knowing enough about Italian culinary customs not to order milk with coffee after 10 AM, thinking myself clever and worldly. Oh, how wrong I was (yet again!). From my new Italian friends, here are few things they would like the world (and me) to know:
While pasta sauce can be so many things besides tomato-based, there is no such thing as Alfredo sauce in Italy. While delicious, Alfredo is strictly an Italian-American invention.
Don't ask for Caesar dressing (again, non-existent in Italy) or any other dressing besides oil and lemon or vinegar.
You can use a spoon to wind spaghetti, but not in the presence of good company… the practice is considered a bit unrefined.
Speaking of spaghetti, don't eat them with meat balls, unless you are in the U.S. Meat balls are served as appetizers, but never (ever!) together with pasta.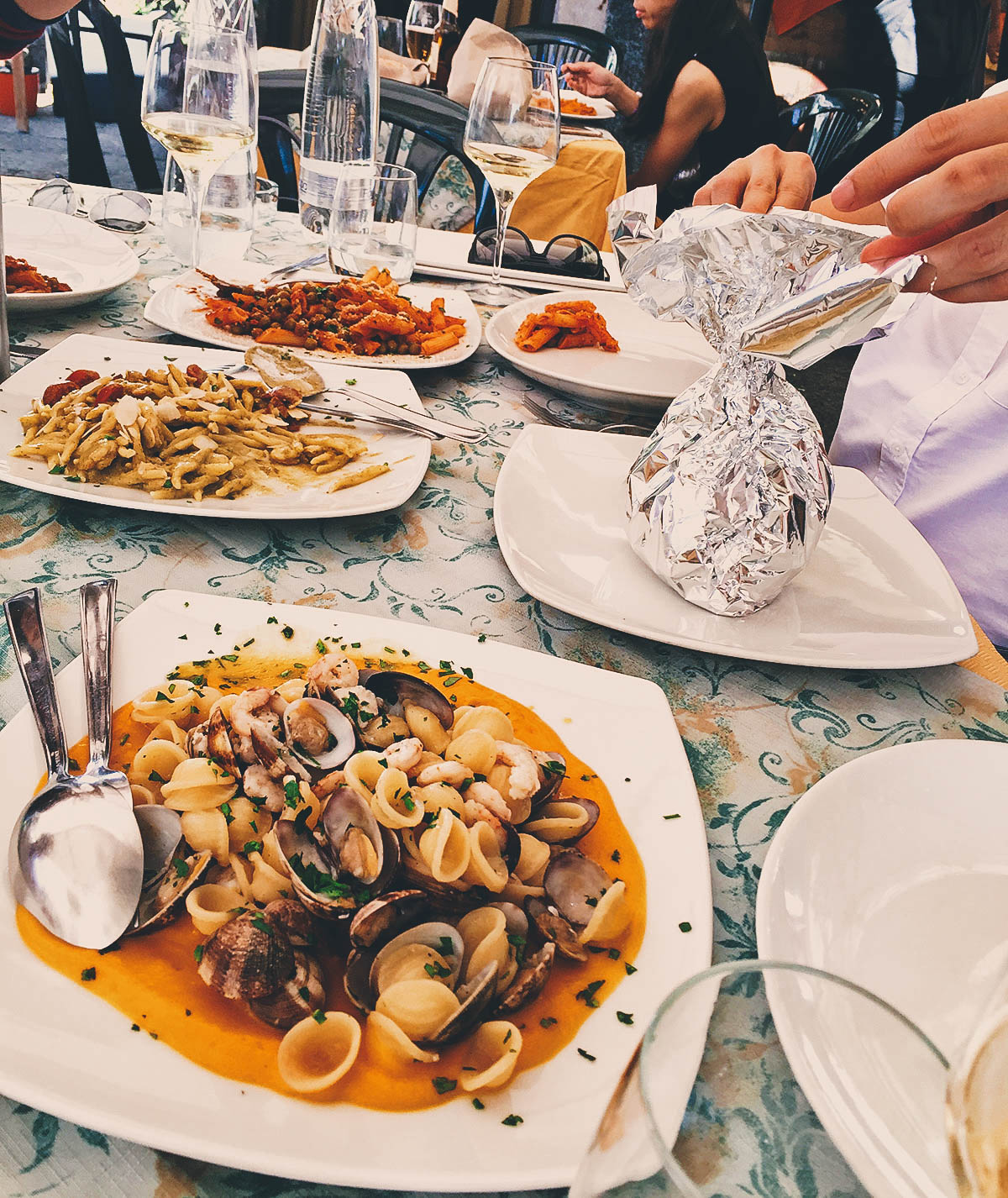 8. Ask not for pizza for lunch
In yet another grand faux pax, our request to our driver to bring us to a pizza parlor for lunch was met with a look of horror: but pizza is only eaten for dinner! The reason, it turns out, makes complete sense. No self-respecting Italian will eat pizza unless it is made in a wood-fired oven (and preferably by an expert from Naples). A wood-fired oven takes a long time to heat to the right temperature — 385 degrees Celcius, to be precise — and hence, cannot possibly produce a decent pizza until well past 8 PM. So there you have it: be wary of any place that advertises authentic Italian pizza for lunch.
Another thing, if you ask for pepperoni pizza, you'll get something vegetarian. This is because pepperoni in Italian is plural for green pepper. Ask for salami in your pizza instead.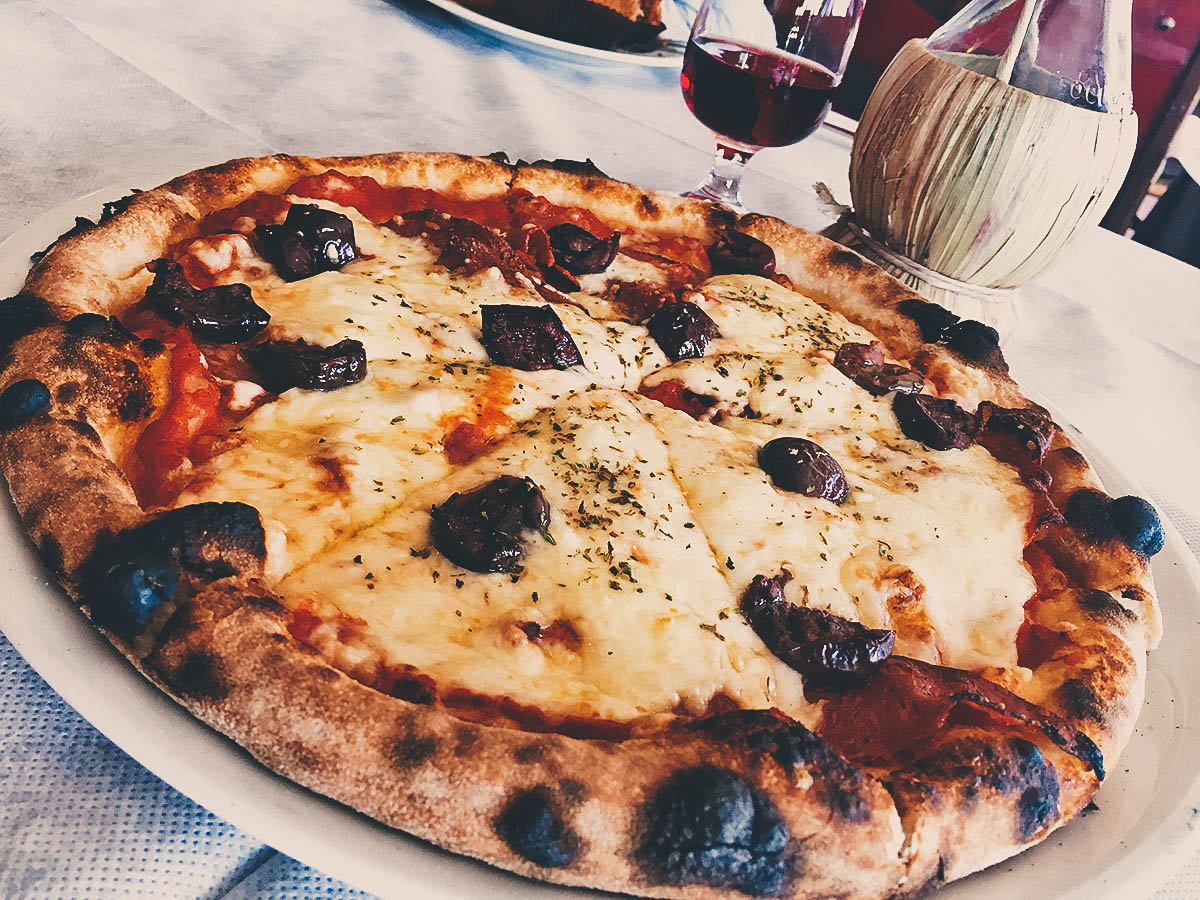 Photos by BJ Young