The First-Timer's Travel Guide to Pamukkale, Turkey
The calcium travertines of Pamukkale are one of a kind. Gleaming white with cascading pools of powdery blue, they look straight out of a dream.
Meaning "cotton castle" in Turkish, nowhere else on this planet can you see something like Pamukkale. Sure, there may be other travertine structures in the world, but none are as striking as this. (I know, because I googled it) In fact, so beautiful are these travertines that they've made Pamukkale the single most visited attraction in Turkey, raking in over 2 million tourists annually.
As beautiful as the calcium travertines may be, they're not all this region has to offer. It's also home to archaeological wonders like the ancient cities of Hierapolis and Laodicea, not to mention Aphrodisias which is a modest two-and-a-half drive away.
GUIDE TABLE OF CONTENTS
HOW TO APPLY FOR AN E-VISA TO TURKEY
Applying for an e-visa to Turkey was a cinch. Travelers used to purchase their tourist visas upon arrival in Turkey but the government decided to transition to e-Visas in 2015 to reduce waiting times at border crossings. If you're eligible, approval is instantaneous and you'll be able to print out your e-Visa from the comfort of your own home in minutes. Check out my post on how to apply for an e-Visa to Turkey for a step-by-step process.
WHEN TO GO
Ironically, Pamukkale's peak season is also its most uncomfortable. Driven by summertime tourism to neighboring coastal destinations, Pamukkale is at its busiest from Jun-Aug when temperatures are known to reach a scorching 40°C (104°F). A more comfortable time to visit would be in the spring (Apr – mid-June) when weather is moderate and days are long. Autumn (mid-September – October) is also said to be favorable, with its mild weather albeit shorter days and a greater chance for rain.
We went during shoulder season — during the first week of November — and found that the weather was still favorable and the crowds manageable. The temperature may not have been as ideal as spring, but it was just the start of winter so it wasn't that cold yet. In fact, I was fine walking around in just a light sweater and a t-shirt.
HOW TO GET THERE
There are many ways to get to Pamukkale depending on where you're coming from. But for the purpose of this guide, let's assume you'll be coming from the popular tourist destinations of Istanbul, Selçuk, and Cappadocia, and interested only in the fastest and/or cheapest options.
From Istanbul
Flying, as you'd expect, is the fastest way to get anywhere in Turkey and it may be the cheapest as well. For example, we flew from Istanbul to Selçuk (1 hr) and paid just 79TL as opposed to 85TL had we gone by bus (10-12 hrs).
There are two carriers with direct flights from Istanbul (Ataturk or Sabiha Gocken) to Denizli Çardak which is the nearest airport to Pamukkale — Turkish Airlines and Pegasus Airlines. From Denizli Airport, you can then catch a Bay-Tur shuttle bus to Denizli's otogar (bus station) for 13TL. Follow the link for the shuttle schedule. Minibuses depart for Pamukkale every 15-20 mins from gate 76 at the lower level of the station. For no more than 5TL, these will drop you off on the main street in Pamukkale.
According to their website, Bay-Tur also offers direct shuttle service from Denizli Airport to Pamukkale for 26TL. You may want to CONTACT them for more information.
From Selçuk
The cheapest and most reliable way to travel from Selçuk to Pamukkale is by train. Around three hours long, it costs 14.50TL to take the train from Selçuk to Denizli. Follow the link for the train schedule. Soon as you arrive at the gar (train station) in Denizli, walk over to the otogar which is on the other side of the highway and take a minibus to Pamukkale as described above.
You can take a bus from Selçuk to Denizli as well but I don't recommend it. Though comfortable, they sometimes wait to fill up their buses with passengers so the three-hour ride can become four or five. That's what happened to us. 👿
From Cappadocia
There are no direct flights from Cappadocia to Denizli so your best bet would be to go by overnight bus. Which isn't such a bad thing since Turkey's buses are some of the nicest we've ever been on. Buses are the most popular form of travel for locals. Every seat on the bus has a touch screen where you can play games, watch movies, and listen to the radio. You even have a USB port where you can charge your mobile phone!
A direct bus ride from Cappadocia to Denizli is long, around ten hours, so it's best that you take an overnight bus. They usually depart around 8PM and arrive the next day at 6AM. A one-way ticket will cost you around 60TL and like an airplane, refreshments will be served onboard. Several bus lines service Denizli from Cappadocia, like Suha Turizm, Metro Turizm, Kamil Koç, Nevsehir Seyahat, and Öz Elbistan. You can purchase your tickets online or at the station itself. If you'll be traveling during peak season, then I suggest reserving your tickets beforehand.
Here's a short video I took of our overnight bus from Denizli to Cappadocia. It was on Suha Turizm but all long-haul buses in Turkey are pretty much like this.
SHOULD I STAY THE NIGHT?
"Should I stay overnight?" was a question I encountered often in travel forums when doing research for Pamukkale. With Pamukkale being near Selçuk-Izmir and other coastal cities, many travelers choose to make it a day-only destination or a transit point between cities. A popular sentiment seems to be that Pamukkale just doesn't have enough attractions to merit longer-term commitments.
While that may be true, we did enjoy staying the night in Pamukkale, but the decision to stay depends on your travel plans. If you're only interested in the travertines and Hierapolis, and maybe Laodicea, then a day trip is possible. Just take the earliest train into Denizli and leave at the end of the day. But if you plan on visiting Aphrodisias as well, then staying the night is a must. Aphrodisias is a whole day excursion and won't be possible on a day-only visit.
WHICH CURRENCY & HOW MUCH TO BRING
The unit of currency in Turkey is the Turkish Lira (TL), though Euros and US Dollars are widely accepted as well. But just because you can pay for things with Euros or USD doesn't mean that you should. Some things are better off paid in TL because they can turn out to be more expensive when converted to Euros or USD. Basically anything that was quoted in Euros or USD — like hotels and tours — I paid for with USD, and everything else — like meals, souvenirs, transportation, entrance fees, etc. — I paid for with TL.
If you're taking a day trip and interested only in Pamukkale and Hierapolis, then a budget of around 115-130TL for the day should be enough. This takes into account entrance fees (including swimming at the Antique Pool), transportation, meals, and pocket wifi rental. But if you'll be staying the night and doing everything in this guide including Aphrodisias, then budget accordingly. We paid USD 25 for an overnight stay at Bellamaritimo and 215TL each (around USD 74) for round trip private transportation to Aphrodisias, Laodicea, and Kaklik Cave, inclusive of all entrance fees.
WHERE TO EXCHANGE CURRENCY
I don't recall seeing any currency exchange offices in Pamukkale town. There may be banks but we didn't run into any. Nearby Denizli is a bigger city so you're sure to find plenty there.
But instead of exchanging currency, a common practice by travelers in Turkey is to withdraw TL from an ATM instead. This is what we did. Not only is it the quickest and most convenient way to get TL, but ATMs are said to give the best rates as well. There are plenty of ATMs in Pamukkale. Depending on which one you use, your bank may impose daily withdrawal limits and charge you a processing fee per withdrawal. You should clarify this with your bank before your trip. You may have to activate your ATM card for overseas use as well. I did.
On top of bringing your ATM card, I suggest bringing some cash and credit cards in the event that your ATM card is rejected. You never know what could happen so it's good to have a backup plan.
WHERE TO STAY: Bellamaritimo Hotel
We stayed in five different hotels during our 2-week trip to Turkey and Bellamaritimo Hotel was the most comfortable. At just 23.40 Euros a night, it was also the best value. The hotel is freshly renovated so the rooms feel new. The owner, Halim, really goes out of his way to make your stay as comfortable as possible too. Highly recommended.
Check out my post on Bellamaritimo Hotel in Pamukkale for more pictures and information.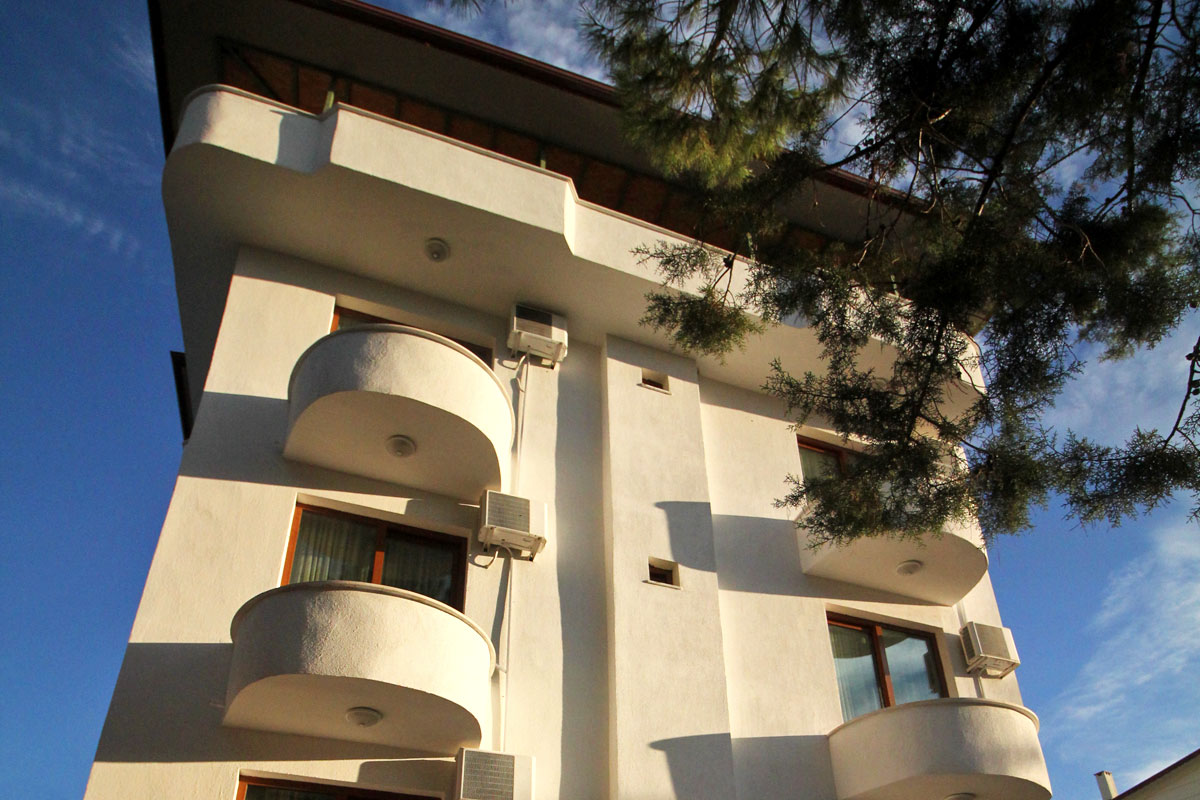 Approximate Room Rate: 23.40 Euros per night (as of Nov 2015)
WHERE TO GO / WHAT TO DO
1. Explore Hierapolis and Enjoy one of the Most Uniquely Beautiful Landscapes on Earth
This place is incredible. For 25TL, you can explore two starkly different attractions in one place. The calcium travertines — gleaming in its whiteness — cascade down the side of the plateau whilst the ruins of Hierapolis rests at its top. An ancient spa city renowned for its calcium-rich thermal pools, you can swim amongst actual Roman columns dating back to the 2nd century BC. There's also a small but interesting archaeological museum here.
Check out my post on Hierapolis and the calcium travertines of Pamukkale for more pictures and information.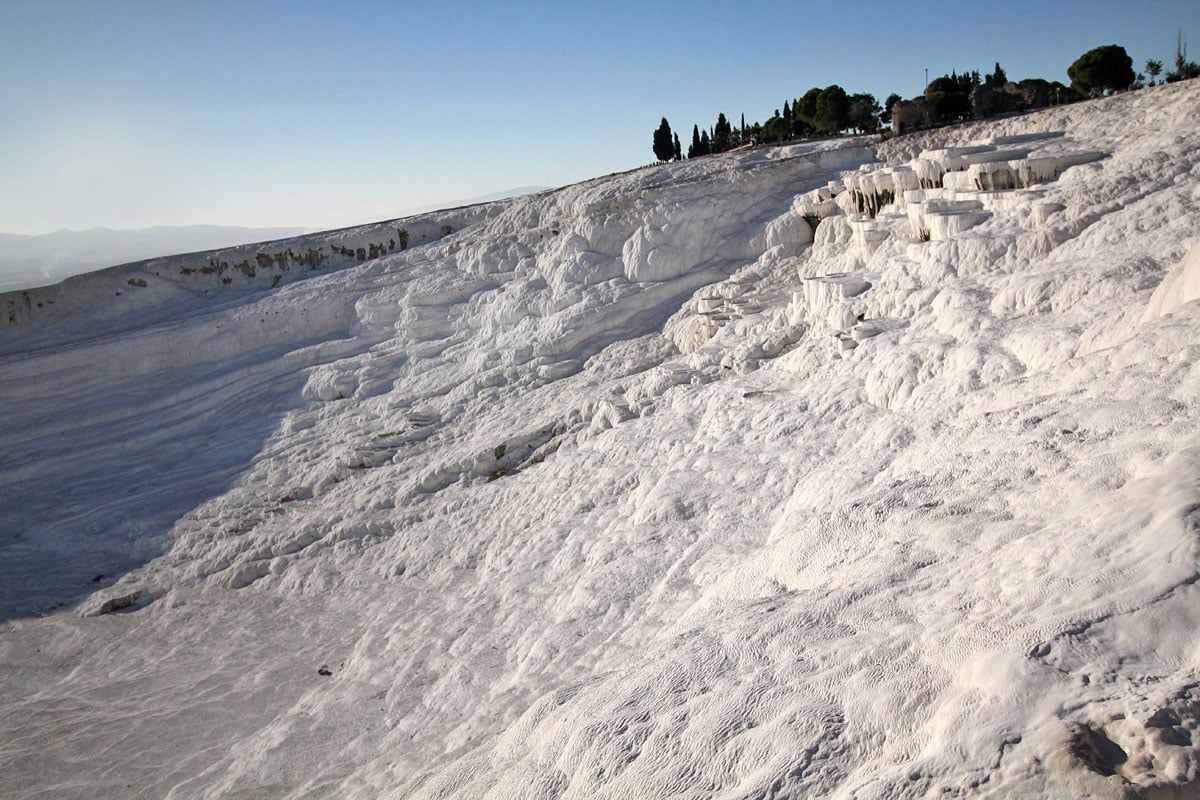 Suggested Length of Visit: 3-4 hrs / Admission: 25TL
2. Witness the Excavation and Restoration of Laodicea
Located just off the main road between Pamukkale and Denizli, you can make a stop at this ancient city that's been the subject of much excavation and restoration work in the past decade. Home to one of the Seven Churches of Revelation, the team leading the excavation hopes to make Laodicea the next Ephesus.
Check out my post on Laodicea for more pictures and information.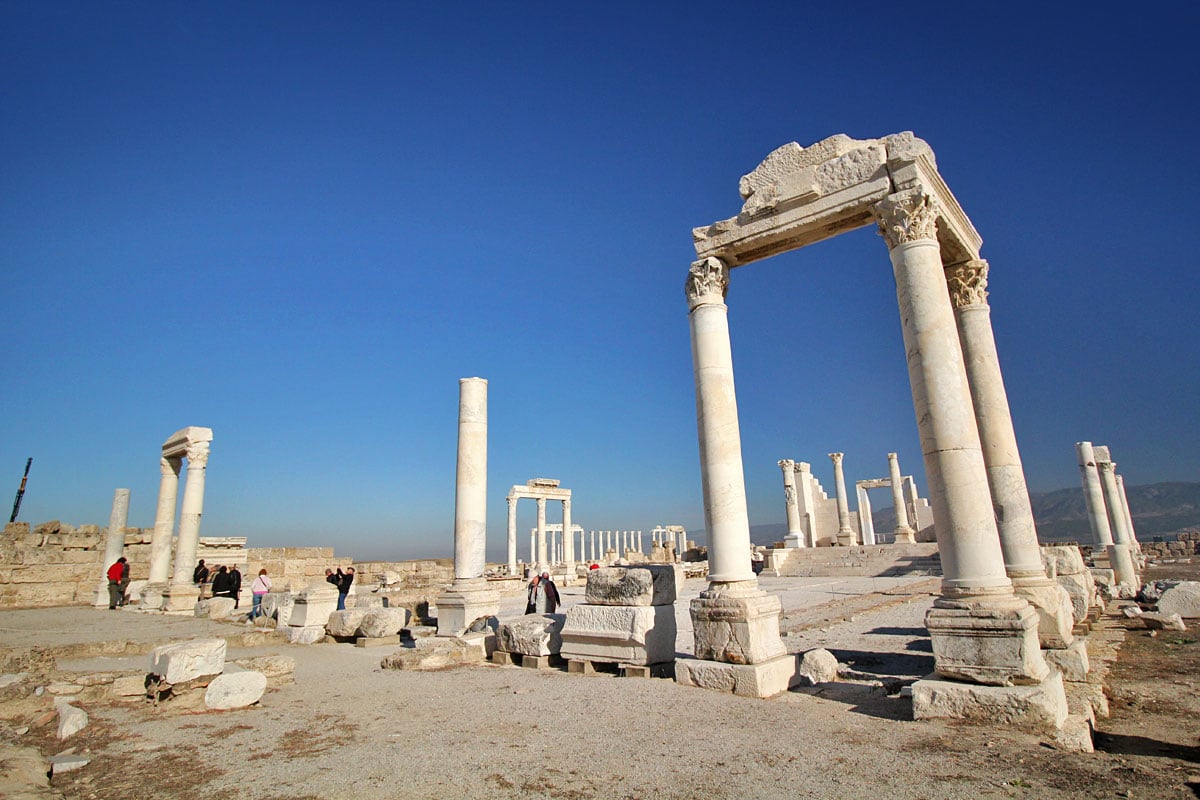 Suggested Length of Visit: 30 mins – 1 hr / Admission: 10TL
3. Enjoy the Subterranean Calcium Travertines of Kaklik Cave
You may have heard about the calcium travertines of Pamukkale, but did you know that you can see subterranean versions as well? Around 45 km from Pamukkale and 30 km from Denizli, you can visit this small cave that boasts the same travertine formations as its more famous neighbor, but in a cave and underground. It's out of the way but worth it.
Check out my post on Kaklik Cave for more pictures and information.

Suggested Length of Visit: 30 mins / Admission: 3TL
4. Visit the Goddess of Love at Aphrodisias
Named after Aphrodite, the Goddess of Love, Aphrodisias is home to some of the most beautiful and well-preserved ruins in Turkey. It was renowned for its school of sculpture during Roman times so the reliefs and sculptures here are second to none. About two-and-a-half hours from Pamukkale, it's off the beaten path so the easiest way to get here would be to arrange for private transportation from Pamukkale.
Check out my post on Aphrodisias in Geyre for more pictures and information.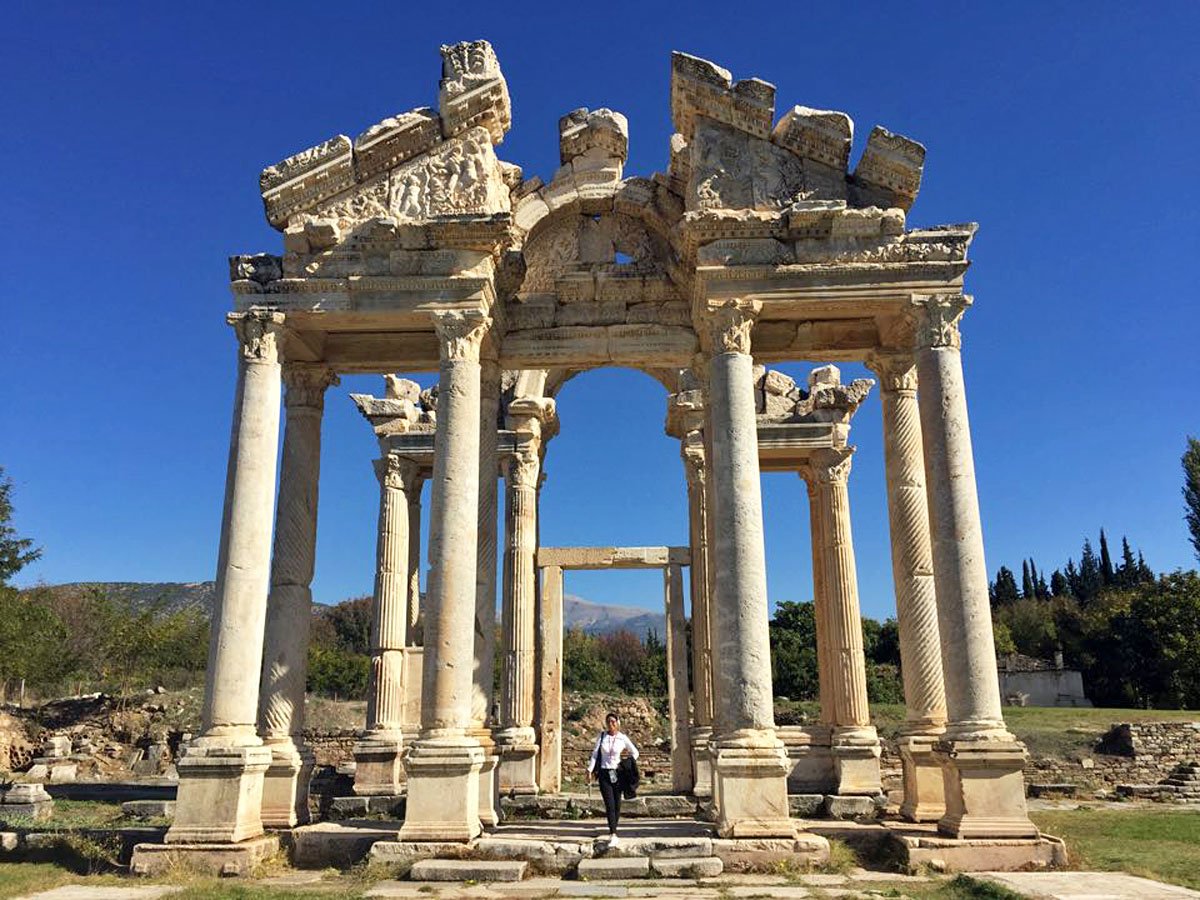 Suggested Length of Visit: 2-3 hrs / Admission: 15TL
27 THINGS TO EAT & DRINK
Considered one of the world's greatest cuisines because of its diversity, long history, and the legacy left behind by an imperial kitchen, it seemed that every region we visited had something interesting to offer. Check out my post for a list of 27 delicious things to eat and drink in Turkey.

Lahmacun, a type of wrap topped with minced meat (commonly beef or lamb), vegetables, herbs, onions, tomatoes, and parsley.
WHERE TO EAT
White House Restaurant & Cafe
Ranked 1st out of 27 restaurants in Pamukkale on TripAdvisor (as of this writing), White House is a family-run restaurant that serves generous portions of delicious home-cooked food. This plate of lamb chops — served with a heaping amount of salad, rice, and fries — was some of the best lamb that we had during our entire Turkey trip. The family that runs this restaurant is lovely too.
Check out my post on White House Restaurant & Cafe in Pamukkale for more pictures and information.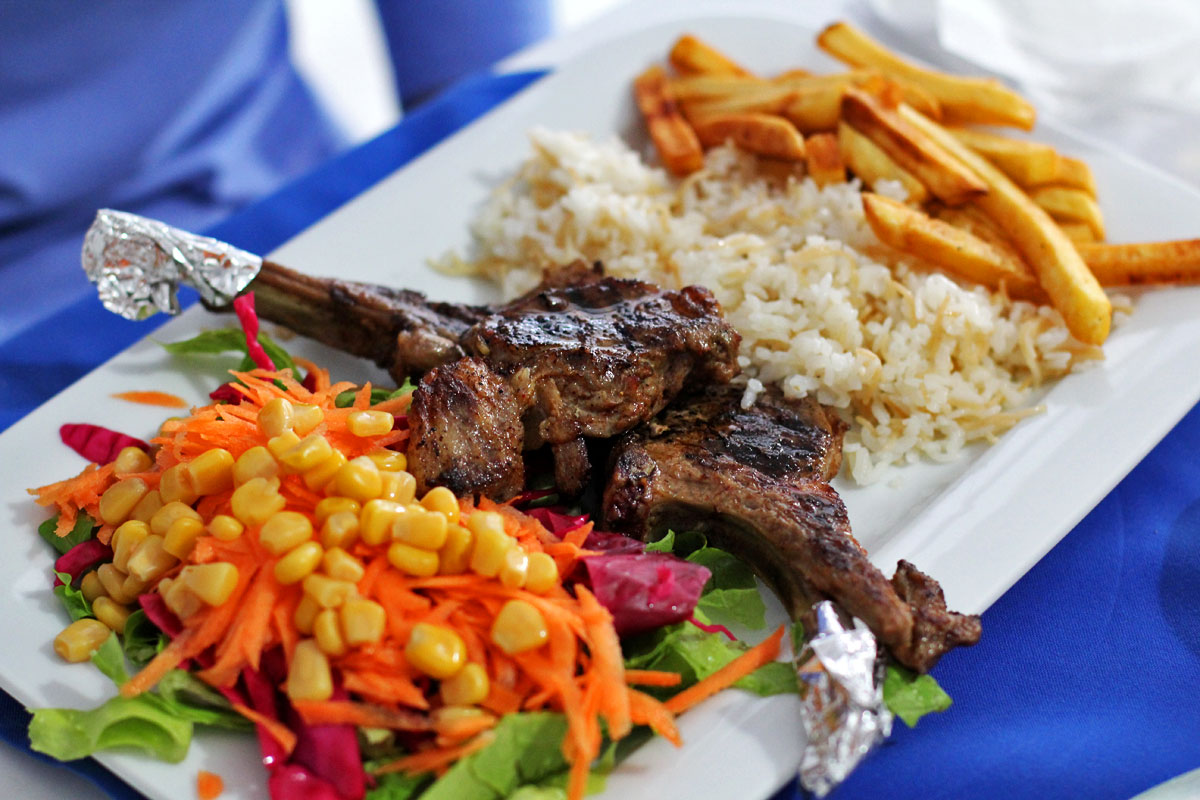 Expect to Spend: Around 30TL per person with drinks
TRAVEL TIPS
1. Plan your Trip with Sygic Travel (formerly Tripomatic)
This app is awesome. It's a free app you can use on your desktop and mobile devices. Sygic Travel allows you to plot points of interest on a map, including your hotel, so you know exactly how far you need to travel between points. You can then lump attractions together per day based on their location. With pocket wifi, it turns your mobile phone into a GPS tracking device so you can easily find your way to each point. Pretty cool right? Check out my post on the Sygic Travel app for more information.
You can follow the link to check out our Pamukkale itinerary on Sygic Travel. It's for the Aegean region so it includes Selçuk as well. You can also get a download link to our entire 2-week Turkey itinerary in editable Word format by signing up for our FREE newsletter below.
2. Rent a Pocket Wifi Device
A constant wifi connection is a must when traveling these days, especially with Sygic Travel's GPS tool being such a lifesaver. We never go anywhere now without renting a pocket wifi device first.
We rented the device from Alldaywifi for just USD 5 a day with unlimited data. We used it all throughout our Turkey trip — from Istanbul to Selçuk to Pamukkale to Cappadocia — without experiencing any interruptions in service. It also came with a powerbank which proved very handy. After using the device the entire day, the battery would go red around 6-7PM so we'd plug it in to the powerbank for a couple more hours of juice.
You can have it delivered to any hotel in Istanbul or pick it up at Ataturk Airport. Before departing Turkey, you can leave it with your hotel's reception desk as they currently don't offer airport drop-off. Delivery and pickup within Istanbul is free, but anywhere else will incur a shipment cost of USD 10 each way.
Follow the link to rent a pocket wifi device from Alldaywifi. I suggest reserving it at least a week before your trip.


3. Enter from the North, Exit through Pamukkale Town Entrance
There are three entrances to Hierapolis and the travertines — North, South, and the Pamukkale town entrances. Most people without rental cars will probably enter the plateau through the Pamukkale town entrance. This is fine but it means that you'll need to cross the travertines twice — going there and back — which isn't as easy as it looks. Instead, I suggest taking the minibus all the way up to the north entrance and walking in from there.
You can walk through the vast necropolis and explore the Hierapolis ruins in about 1-2 hours. You can then spend around half an hour at the museum, go for a swim in the Antique Pool if you like, before making your way down the travertines and exiting the plateau through the Pamukkale town entrance.
4. Bring your own Towel
If you plan on taking a dip in the Antique Pool, please be advised that towels won't be provided. You'll need to buy one there or bring your own. Towels sold at the pool are expensive — 20TL for large and 11TL for small — so it's best that you buy one instead in Pamukkale town or Denizli and bring it with you.
5. Arrange for Private Transportation to Aphrodisias through your Hotel
When preplanning our trip, booking a tour to Aphrodisias was challenging. I couldn't find many operators online that offered affordable group rates. Most offered private tours only and were thus considerably more expensive.
In the end, I wound up arranging for private transportation through our hotel — Bellamaritimo. There were two of us in our group and we each paid 215TL for round trip transportation to Aphrodisias, Laodicea, and Kaklik Cave, inclusive of all entrance fees. Though it's difficult to find any online, there are many tour operators in Pamukkale town that can arrange a similar trip for you. You can either book it yourself when you arrive in Pamukkale or ask your hotel for help. During peak seasons, it may be advisable to make advanced arrangements.
Please be advised that the 215TL we each paid was for private transportation and entrance fees only. It did not include a tour guide. A tour guide is an additional 200TL, which is a little steep I think. Aphrodisias is easy enough to navigate on your own so I don't think you really need one. There are audio guides available onsite for just 10TL as well.
6. Check for Discount Passes
There are many websites that offer discount passes to tours and services. One of the biggest is Viator. They offer tours and activities to many cities around the world, including Pamukkale. Viator is owned by TripAdvisor so you know they're solid. There aren't many at the moment, but if you're looking for deals on tours, then you may want to search through this list of Pamukkale attractions on Viator. Alternatively, you can check on Kkday as well.
7. Get Travel Insurance
To be honest, it was only recently when we started buying travel insurance. Back when we traveled just once or twice a year, travel insurance felt like an added expense, one we didn't need. But now that we travel more, I understand how important it is to have it. Fact is, you never know what can happen. It's one of those things that you hope you never have to use, but if you do wind up needing it, then you'll be thanking the gods that you had it. Or cursing them if you didn't.
Though I do find it more necessary now, it's still up to you if you think you need it. A 3-day trip to Singapore just shopping and eating may not really call for insurance but if you plan on doing more active things like bungee jumping, horseback riding, or even going on a city bike tour, then I'd say travel insurance is a must. Here in Pamukkale, crossing the travertines isn't exactly a cake-walk.
We buy travel insurance from World Nomads because every long-term traveler I know recommends it. From the sound of it, they're the best in the industry by a mile. Not only do they provide a high coverage limit for medical expenses (up to USD 5 million with the Standard package), they also cover things like trip delays, missed flight connections, theft/loss of passport and luggage, etc. Follow the link or use the widget below to learn more and get a free travel insurance quote from World Nomads. It's super quick and easy.
8. Know When and How Much to Tip
Tipping is generally modest in Turkey, around 5% at restaurants and a few lira for porters and other similar services. Try to tip in TL as much as possible and give it directly to your server. At inexpensive restaurants, around 5% is enough. At fine dining establishments, 10-15% is expected. For porters at hotels, airports, or train and bus stations, 2-3TL per bag should suffice. Taxi drivers usually aren't given a tip, but you should round the fare up to a convenient amount (ie 20.30TL to 21TL). Tips to tour guides and drivers are at your discretion. If you were happy with the day's tour, then a group tip of around 20TL for the guide and 15TL for the driver would be appreciated. Keep in mind that this is the total tip from the entire group, not each individual.
9. Bring the Right Power Adapter
Electrical outlets in Turkey are round so plugs are typically Type C or Type F. Be sure to bring the right power adapters for your devices. Electrical voltage is 230V.
A bible for all things Turkey. Tom Brosnahan is an American travel writer who's been visiting Turkey for the greater part of 40 years. He's about as knowledgeable and well-connected as any non-local, and his website — turkeytravelplanner.com — was an invaluable resource when planning our trip. The navigation is a little confusing but the wealth of information is impressive. I suggest referring to it should you need more in-depth knowledge of Turkey.
HOW TO GET AROUND
Pamukkale is a small town so it's easy to get around on foot. If you download Sygic Travel and have GPS switched on, then you should have no problem finding anything. From Pamukkale town, Hierapolis and the travertines are accessible by foot and Laodicea can easily be reached by minibus. The only time you may need to arrange for private transportation is when visiting Kaklik Cave or Aphrodisias, though people determined to take public transportation can do so. Click on their respective links for more information.
Have fun!
I'm not an expert on Pamukkale nor Turkey but I do hope that you find this guide useful. I'm only sharing some of the things I learned from our trip. If you have any suggestions or simply want to share your own experiences, then please feel free to do so in the comments section below. You're welcome to join our Facebook Travel Group as well. We'd love to hear from you.
Thanks for stopping by and prepare to be awed by the calcium travertines of Pamukkale!
OUR GEAR
These are some of the things we brought with us to Pamukkale. As you can tell, I document a lot of content for this blog so most of the things I bring are photo and video equipment. 😆 If you'd like to see what other gear we use, then you can check out our "What's in Our Backpack?" post. (NOTE: The following links are Amazon affiliate links.)
Disclosure
Some of the links in this guide are affiliate links, meaning we'll get a small commission if you make a purchase at NO extra cost to you. We only recommend products and services that we use ourselves and firmly believe in. We really appreciate your support as this helps us make more of these free travel guides. Thank you!