Truthfully, I had never heard of Pamukkale before this year. I don't even remember how or from where. All I know is that seeing its pictures for the first time made me gasp. You probably think I'm exaggerating, but it's true. I literally drew in a breath, stunned by how beautiful it was. I remember thinking that it looked like the rice terraces in Batad, except gleaming white with the cleanest, most crystalline water I had ever seen. Cascading in pools of powdery blue and still like glass, it didn't look real.
Together with the moonscape of Cappadocia and the Ottoman charm of Istanbul, these spectacular travertines are the main reason why we chose Turkey for our 10th wedding anniversary.
Hierapolis Archaeological Site
Entrance to the plateau through the south entrance. We were pressed for time so the owner of our hotel was kind enough to drive us here.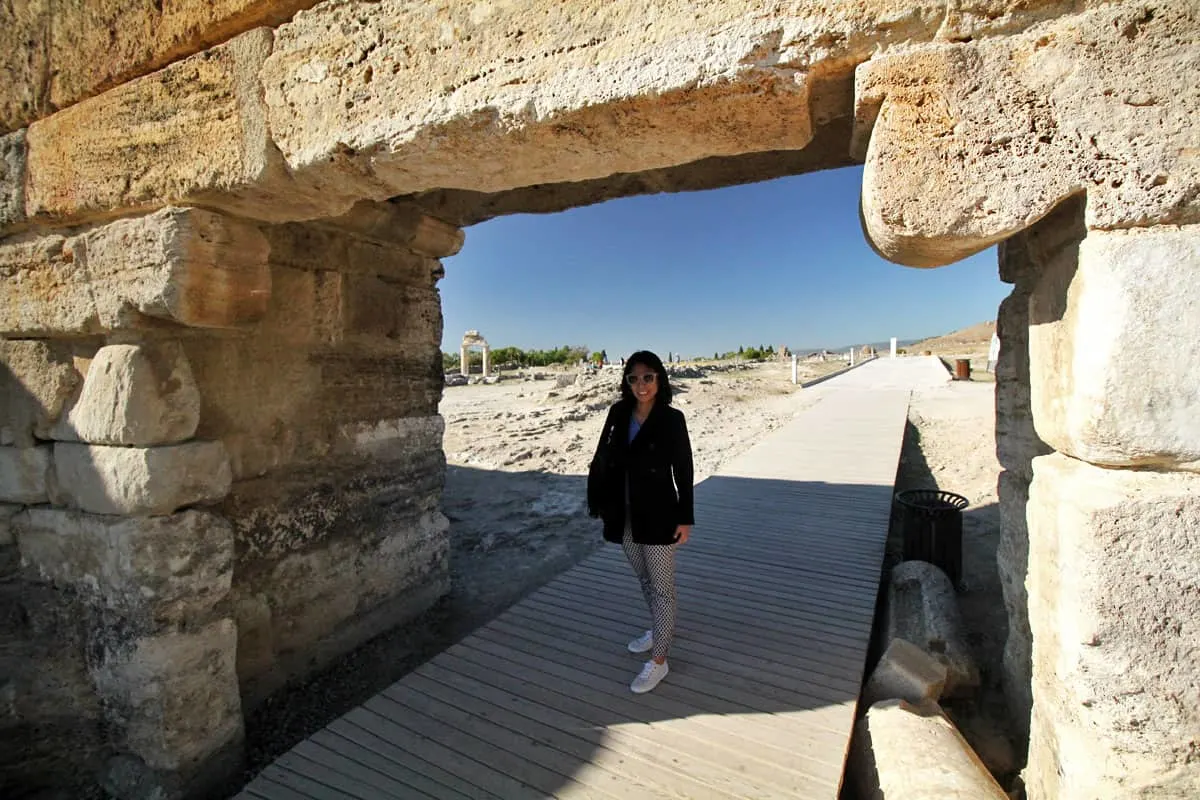 Its name meaning "sacred city", ancients believed that Hierapolis was founded by the god Apollo. It was famed for its sacred hot springs, whose vapors were associated with Pluto, god of the underworld. A sealed off toxic cave believed to be a passageway to the underworld can be found here.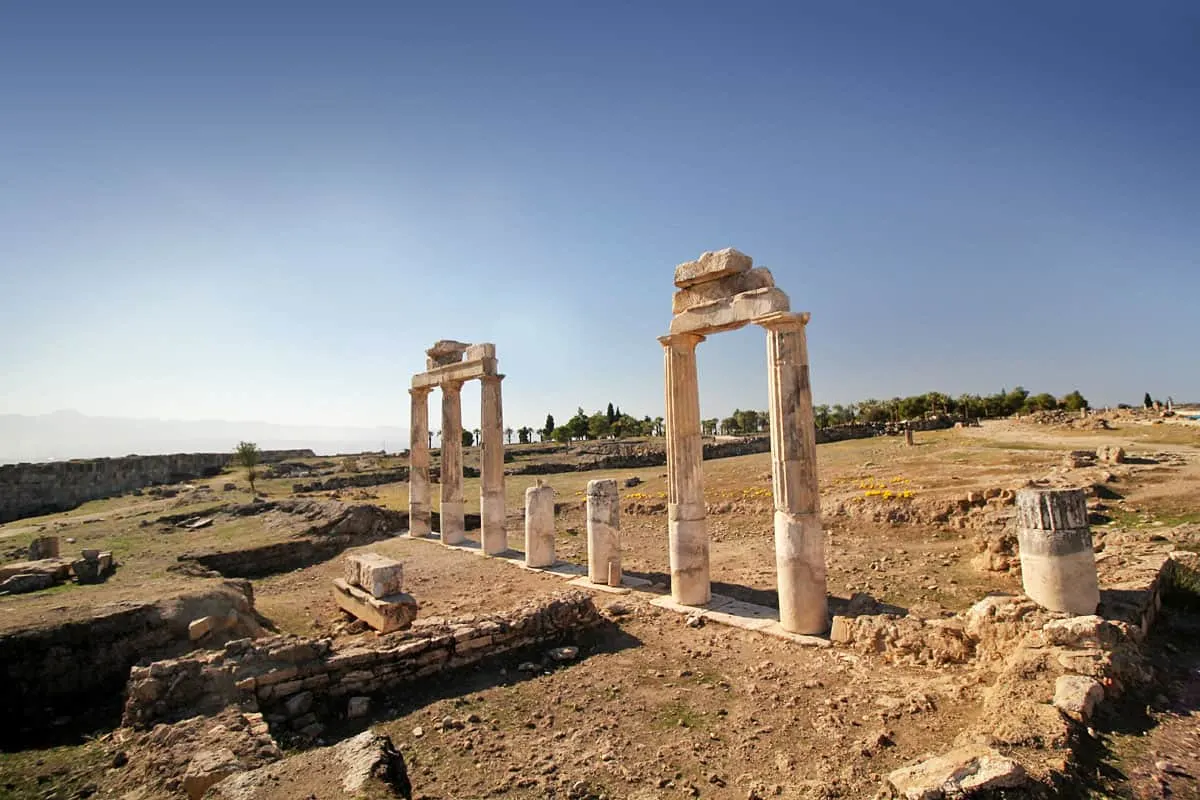 As described above, the Hierapolis ruins are scattered across this plateau. To the right in this picture is the theatre.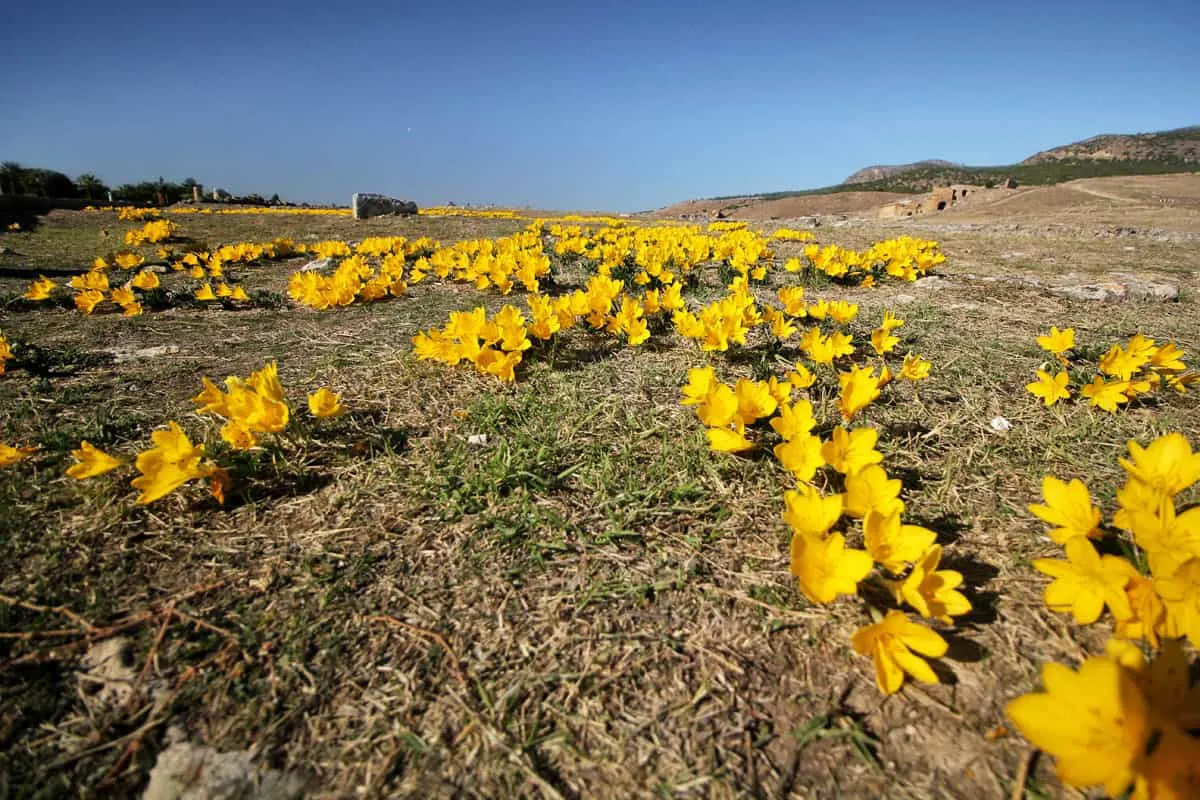 Many of the sites consisted of piles of rubble like this.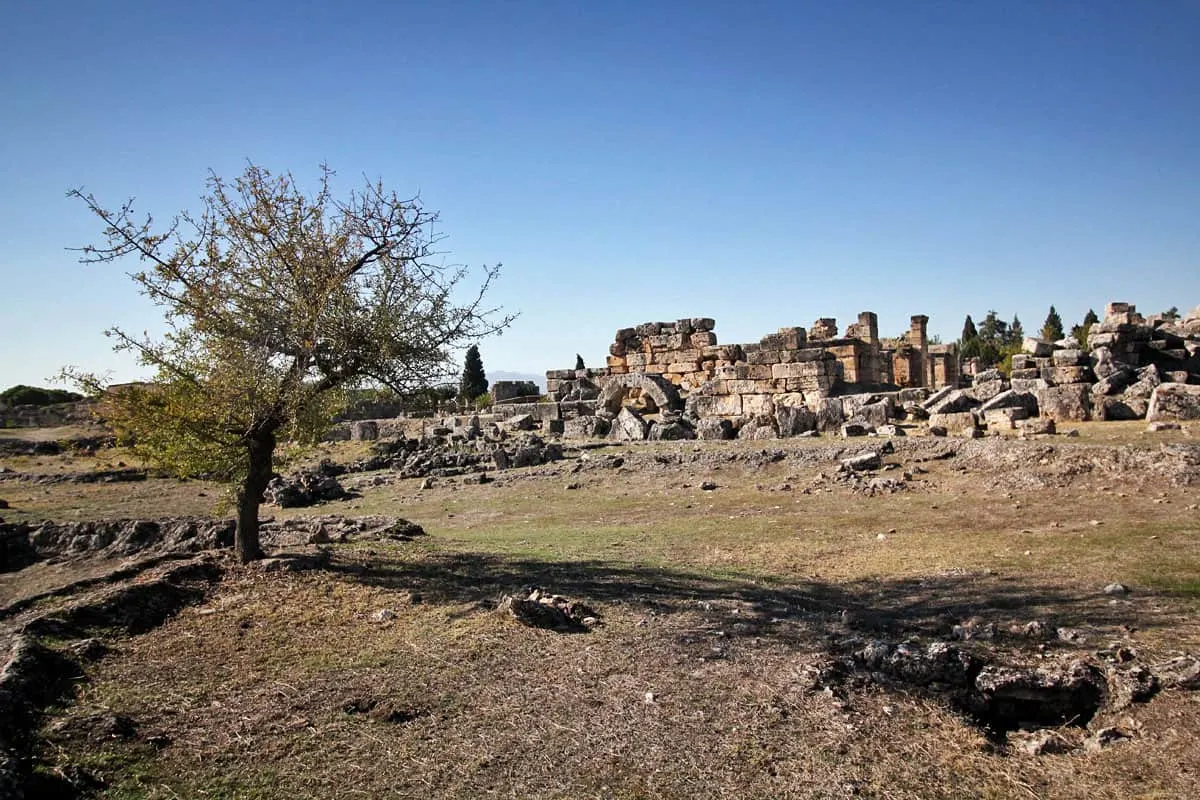 Rubble with an arch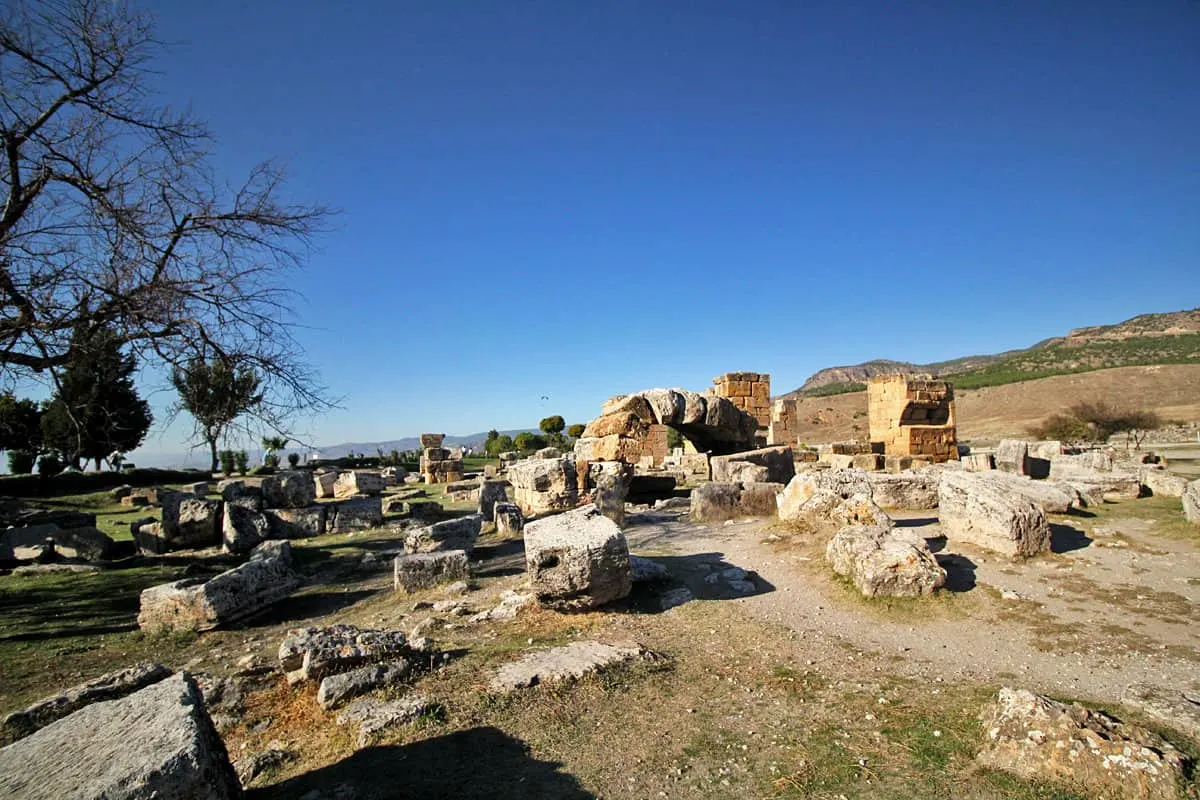 A (somewhat) closer look at the theatre. Apologies, but it was already late in the day so we didn't have enough time to explore the theatre and the rest of Hierapolis. I borrowed the next three pictures after this one from Wikipedia to give you a better idea of what you'll find there.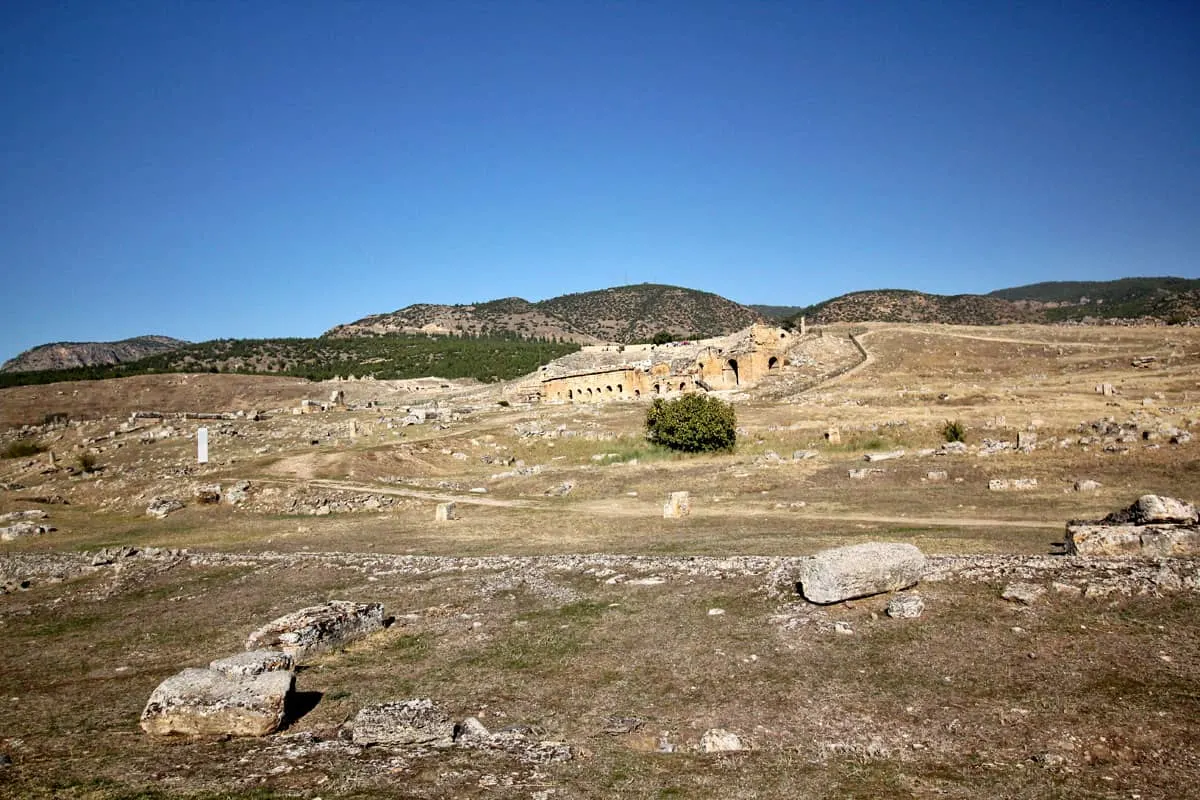 Believed to have been built during the time of Emperor Hadrian, the theatre is 92 meters long with 50 rows of seats that can accommodate around 15,000.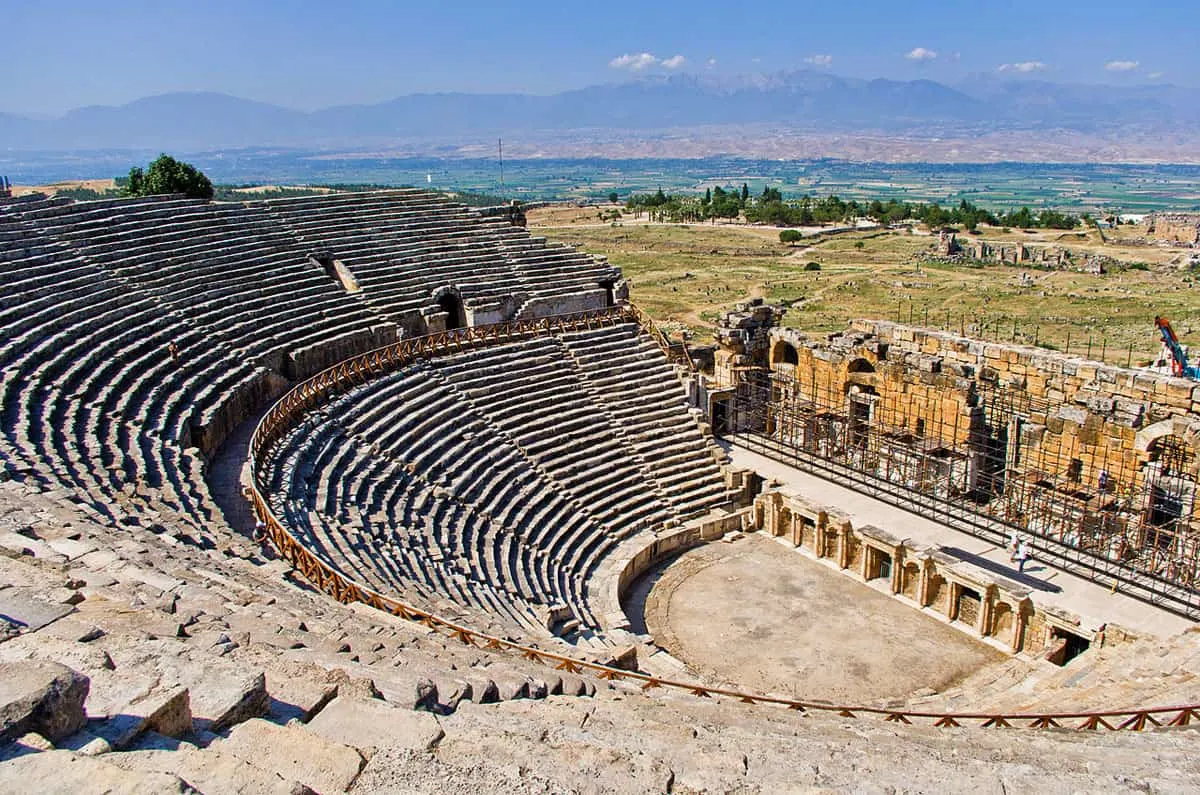 Sarcophagus from the necropolis (cemetery). Consisting of over 1,200 tombs spread out over an area of 2 km, the necropolis in Hierapolis is said to be one of the most well preserved in Turkey. Because the water from the hot springs was believed to possess healing powers, thousands flocked to Hierapolis seeking treatment. Those who died were buried here.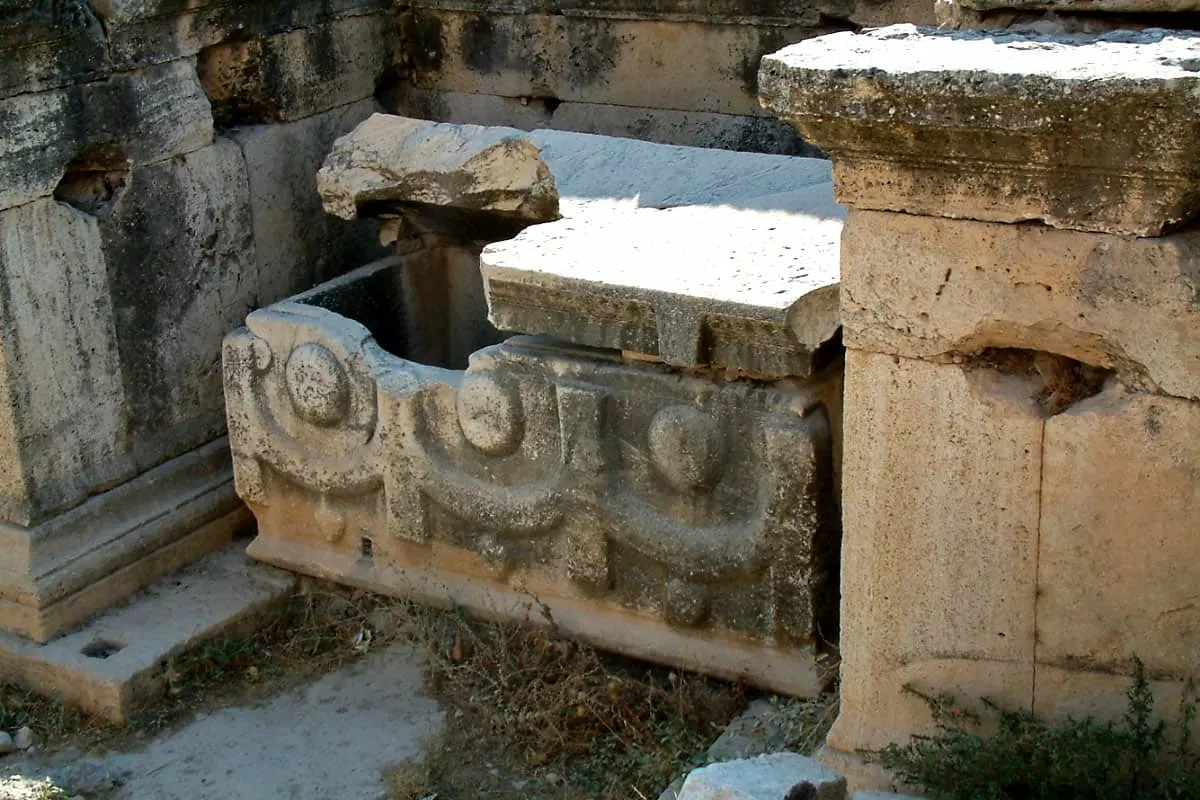 Rows of palm trees at the precipice of the plateau, just before the travertines.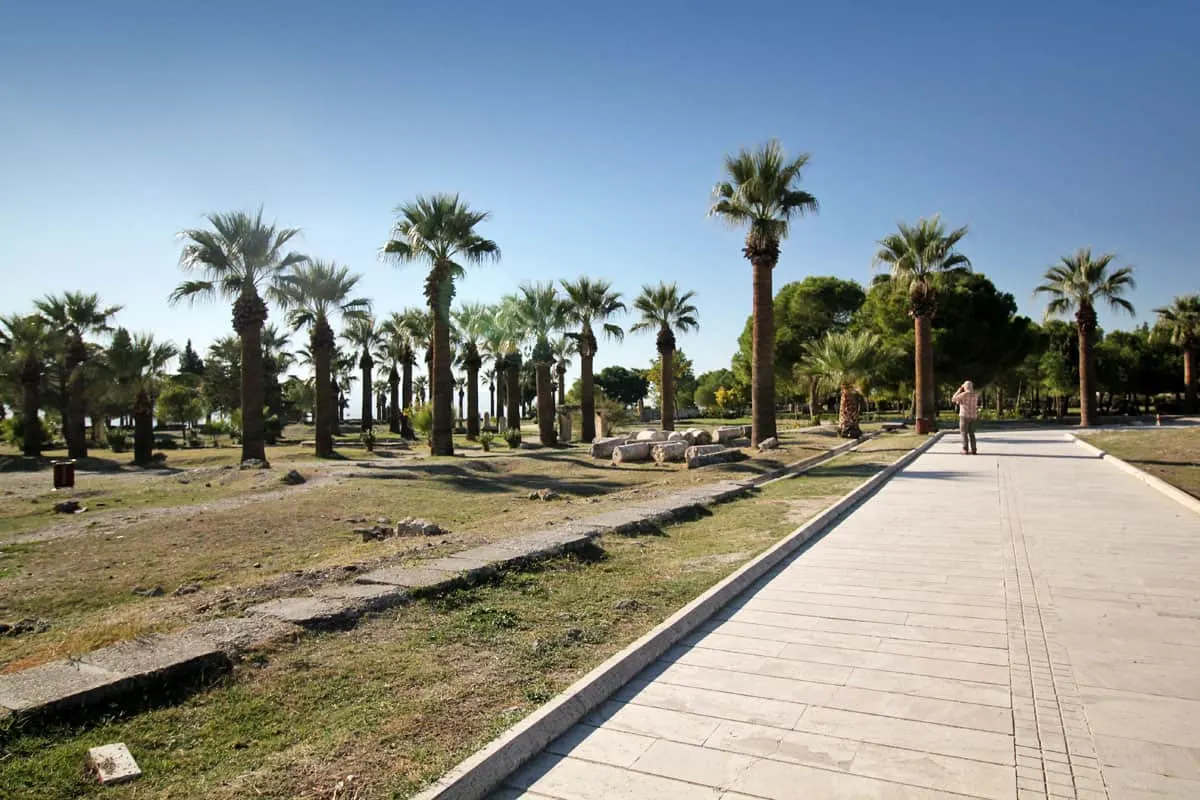 Antique Pool
This place was interesting. As mentioned above, thousands of people used to flock to Hierapolis in Roman times when it was still a thriving health center. The mineral-rich waters from its hot springs were said to benefit people with skin diseases, circulation problems, rheumatism, heart diseases, and other ailments.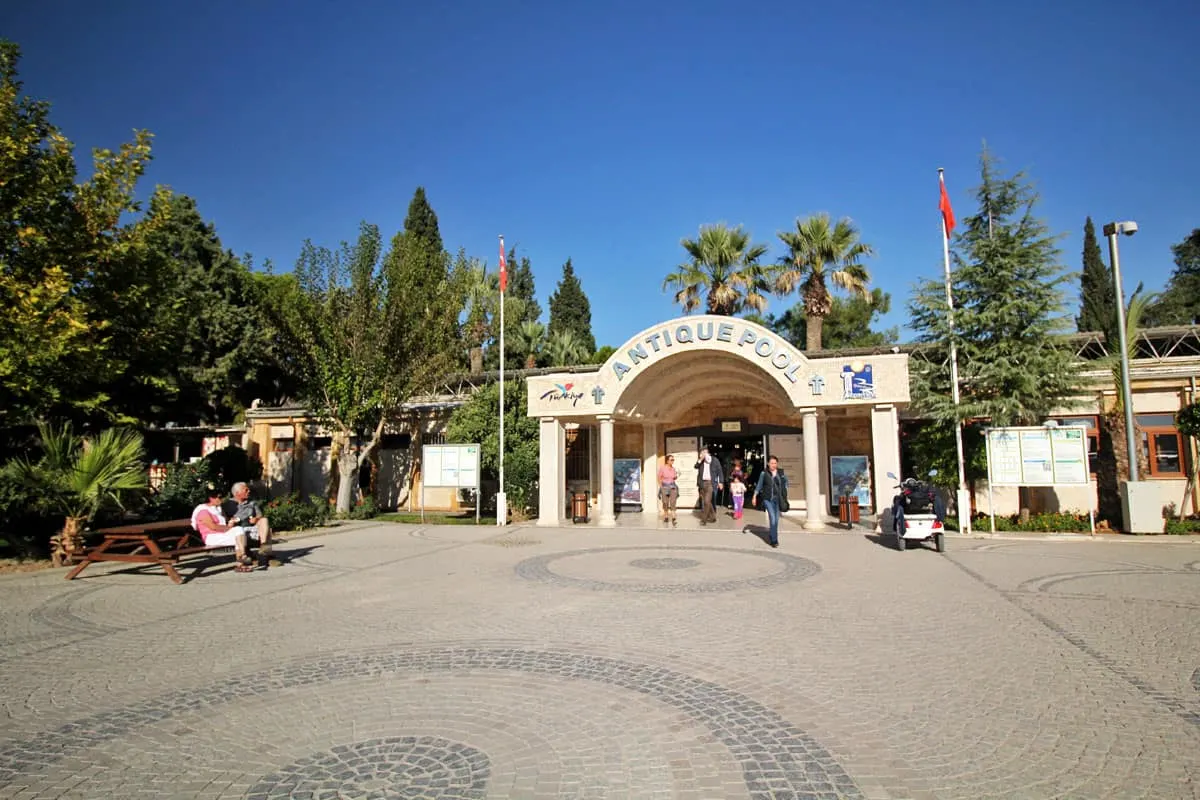 Refreshed by a steady inflow of warm calcium-laden mineral water, what makes the pool unique are the marble columns, capitals, and plinths that litter its bottom. Can you see them? They date back to the 2nd century BC and are remnants from the nearby Temple of Apollo.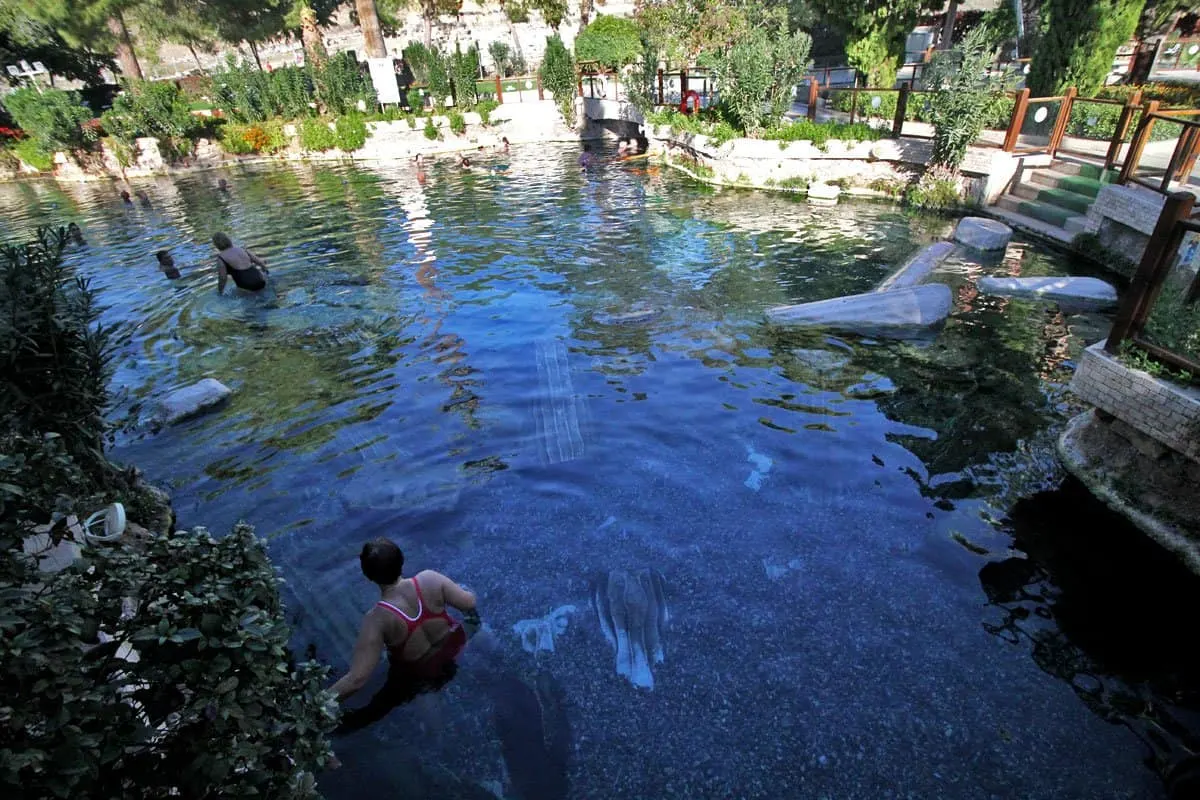 Over 2,000 years old, a massive earthquake in the 7th century AD toppled these columns into the pool where they rest to this day. Pretty amazing right? Where else in the world can you swim with actual Roman columns dating back to before the time of Christ?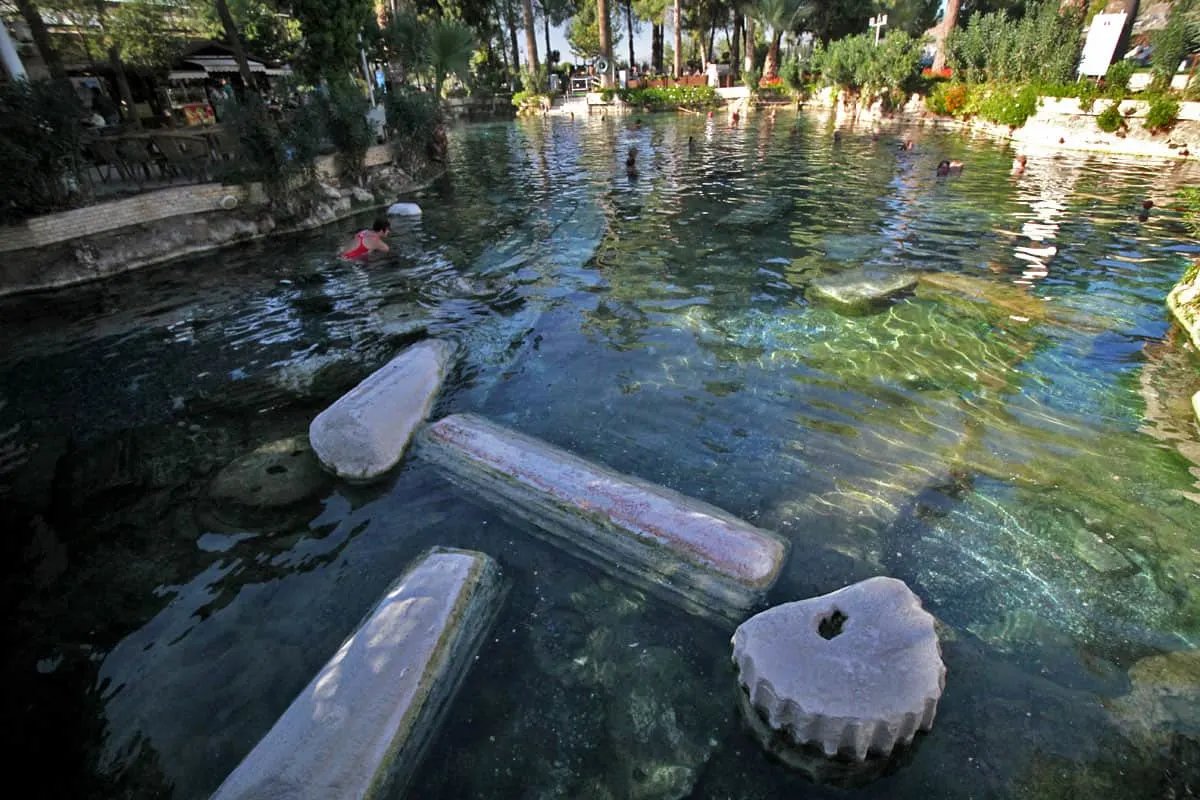 Another look at the columns. We brought swimwear but we were short on time so decided not to swim. Entrance to the pool complex is free but you'll need to pay a fee to get in the pool. It costs 100TL for bathers ages 13 and over. Locker rental is an additional 5TL.
It's important to note that towels aren't provided so you'll need to either buy one there or bring one yourself. Towels sold at the pool are pricey so it's best to buy one in Pamukkale or Denizli instead.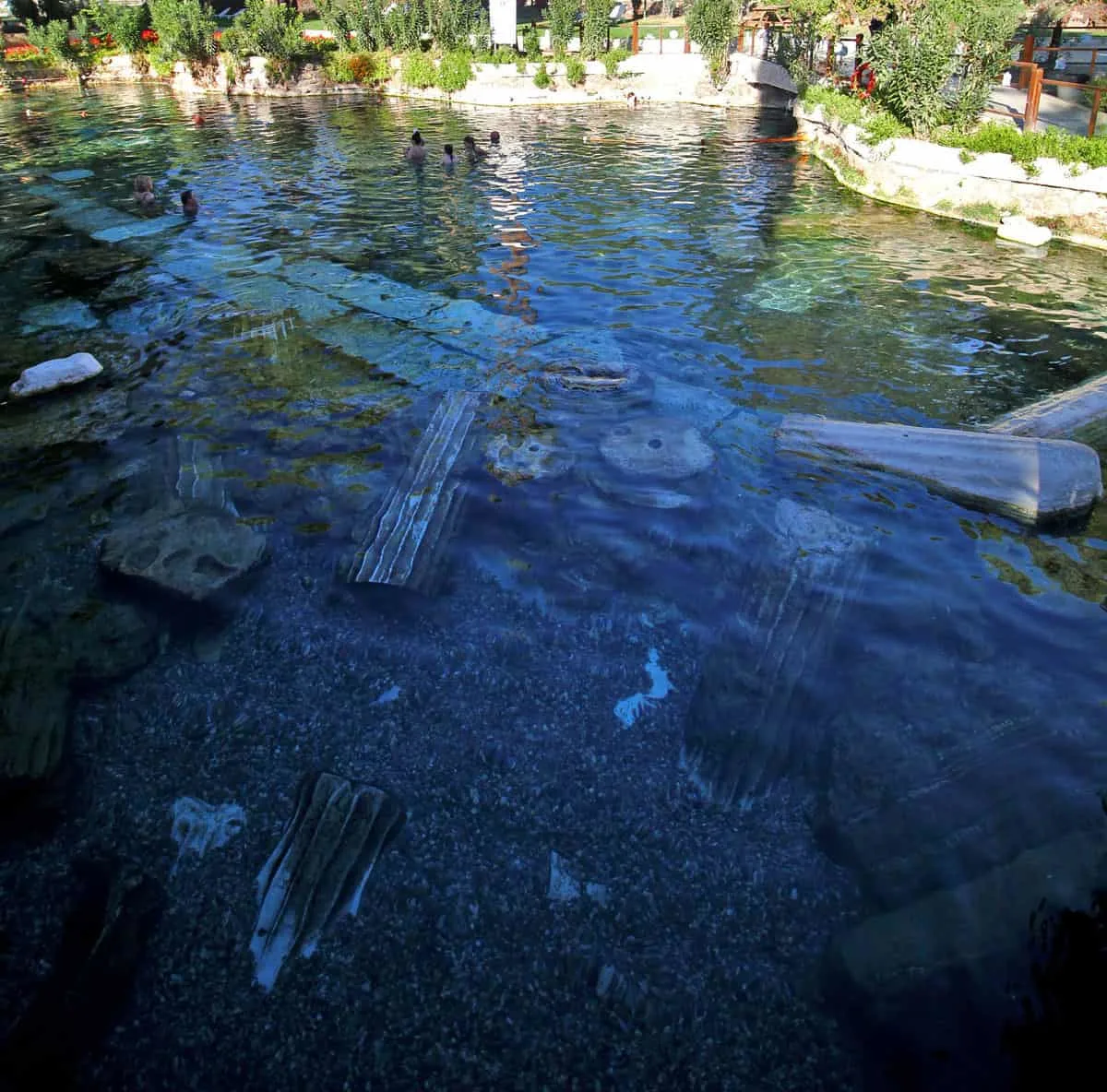 Surrounded by lush greenery, the pool is of varying depth and the water comfortably warm so you can swim any time of the year. The pool gets crowded during peak seasons though so a good time to go would be around early winter. We went during the first week of November and as you can see below, the pool was practically empty.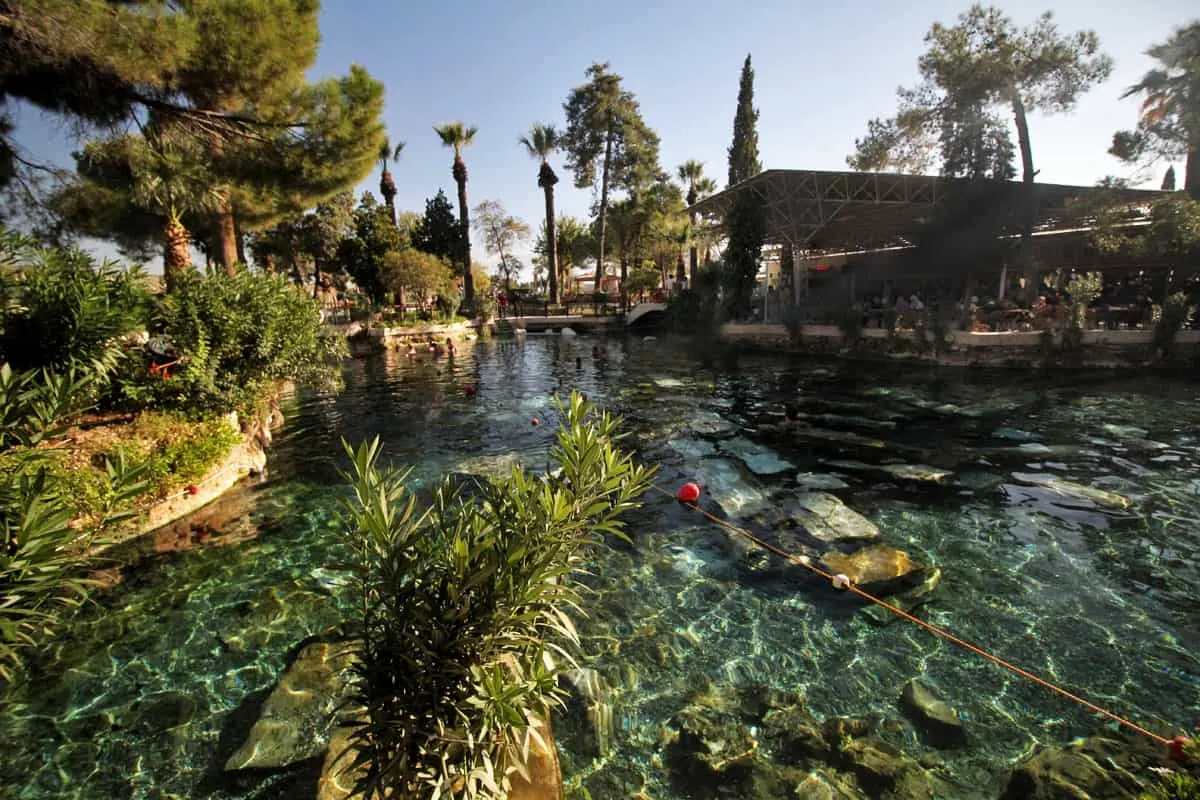 There are plenty of tables and chairs all around the pool so you're welcome to sit (for free) if you like. There's also a shop that sells snacks and refreshments.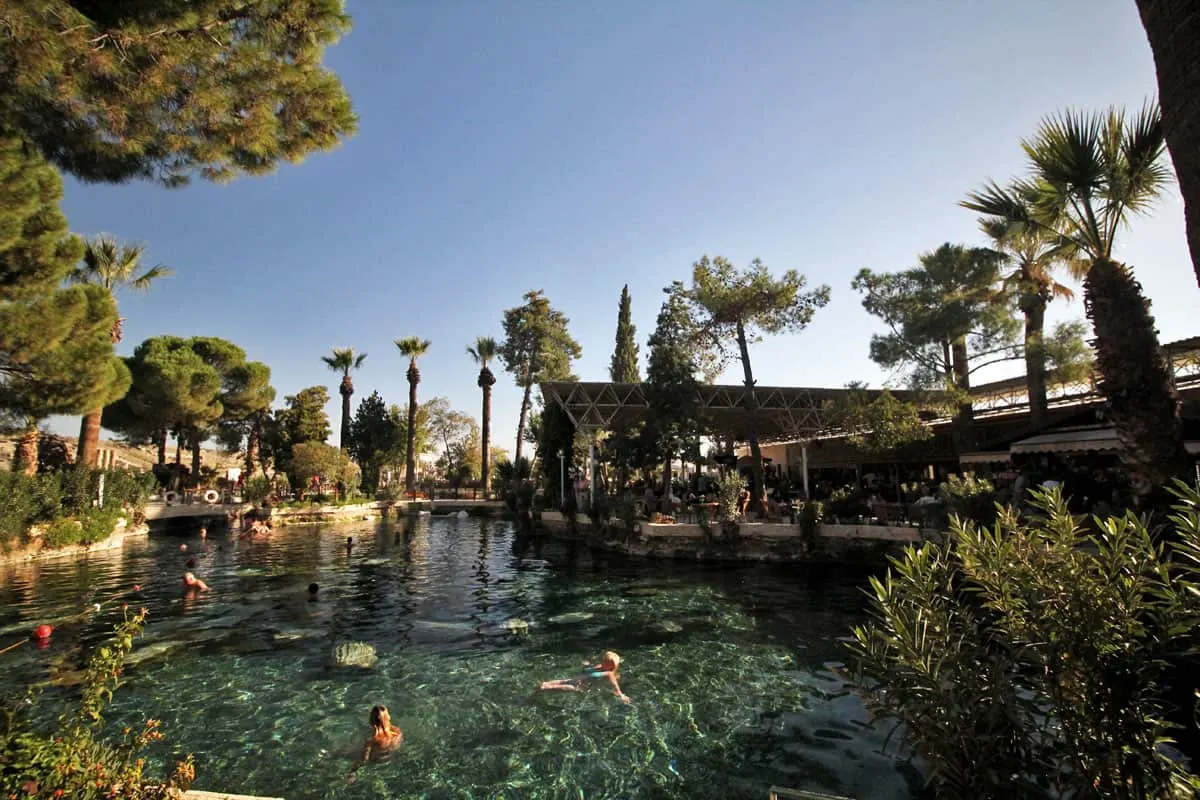 Hierapolis Archaeology Museum
Housed in former Roman baths, on display at this small but interesting museum are historical artifacts from Hierapolis, Laodicea, and other archaeological sites. Admission to the museum is 8TL.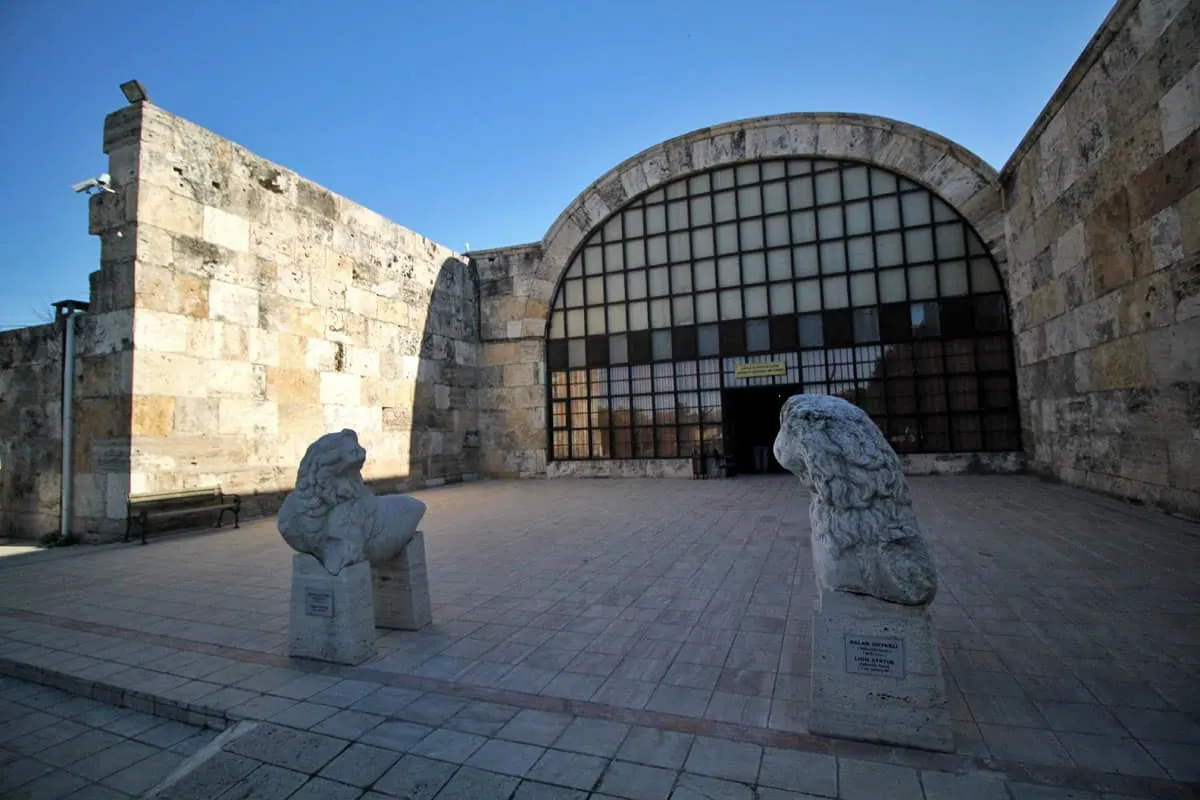 Tombs and Statues Gallery. My favorite room at the museum, on display here are finds from excavations in Hierapolis and Laodicea like sarcophagi, gravestones, statues, pillars, pedestals, and inscriptions.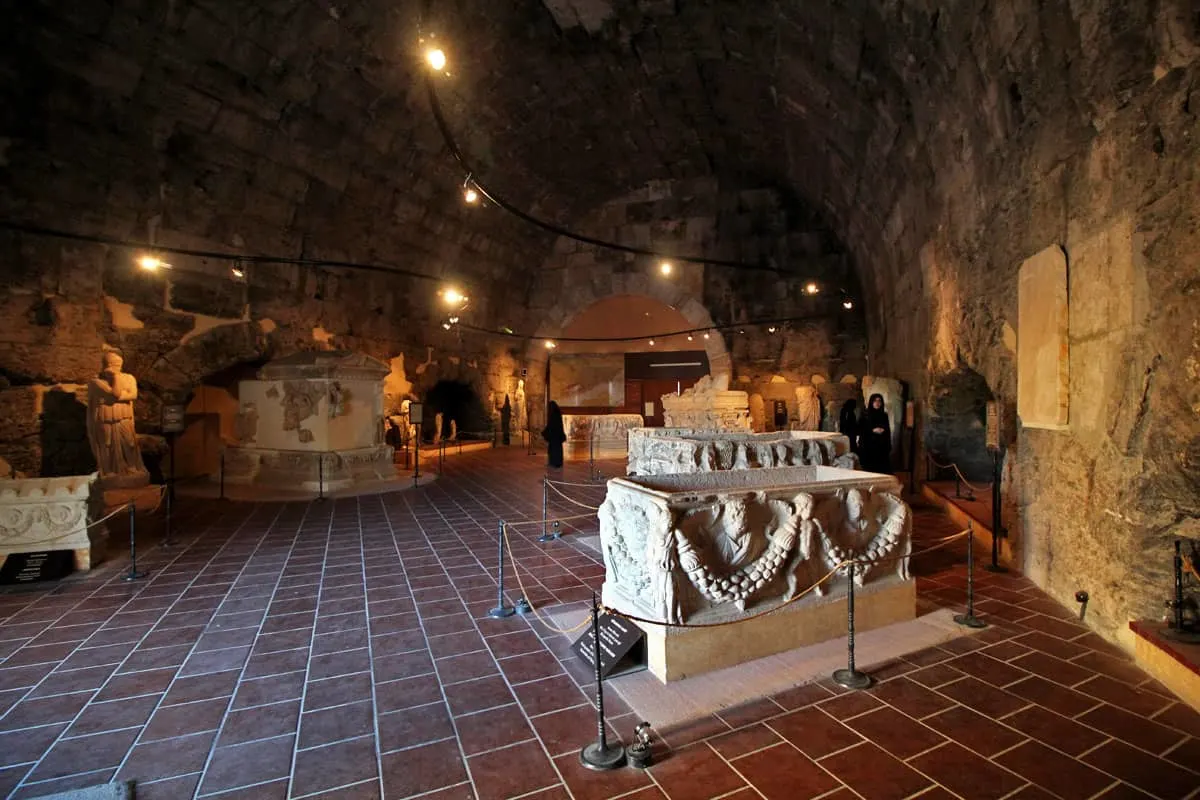 Spectacular sarcophagi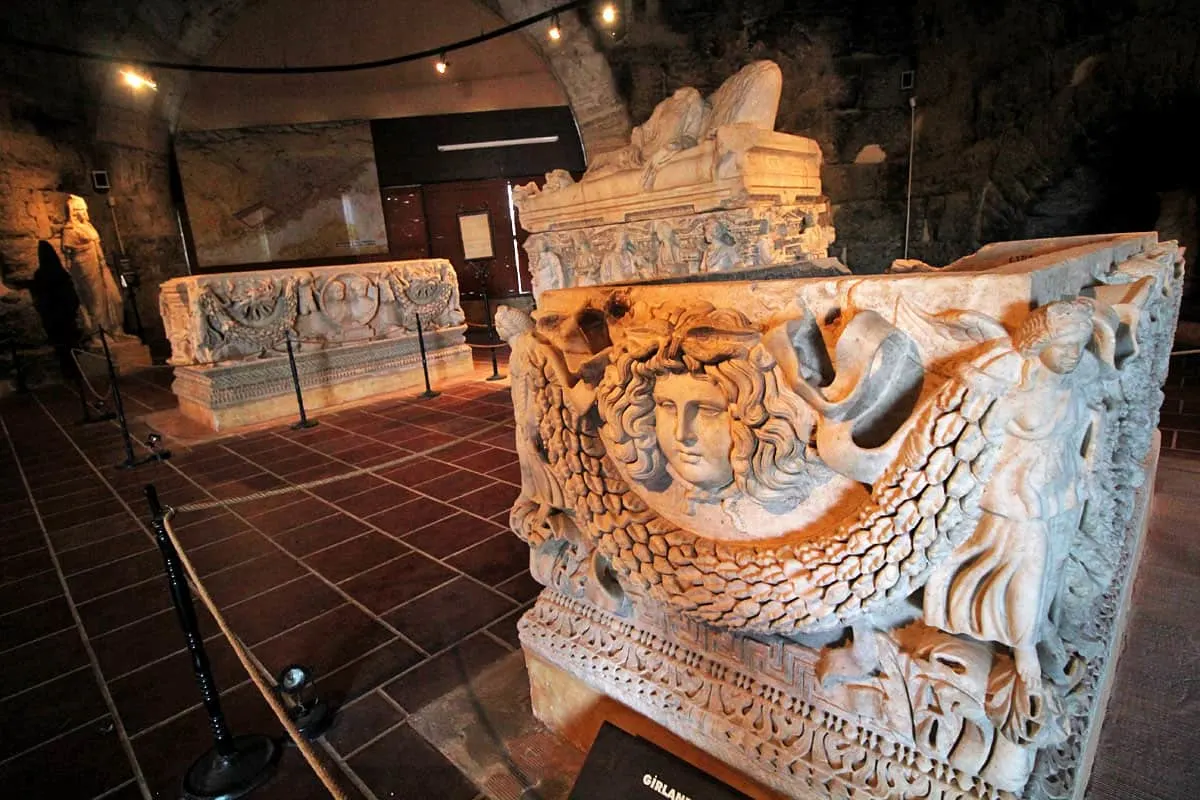 The amount of detail is remarkable. They were all well-preserved too.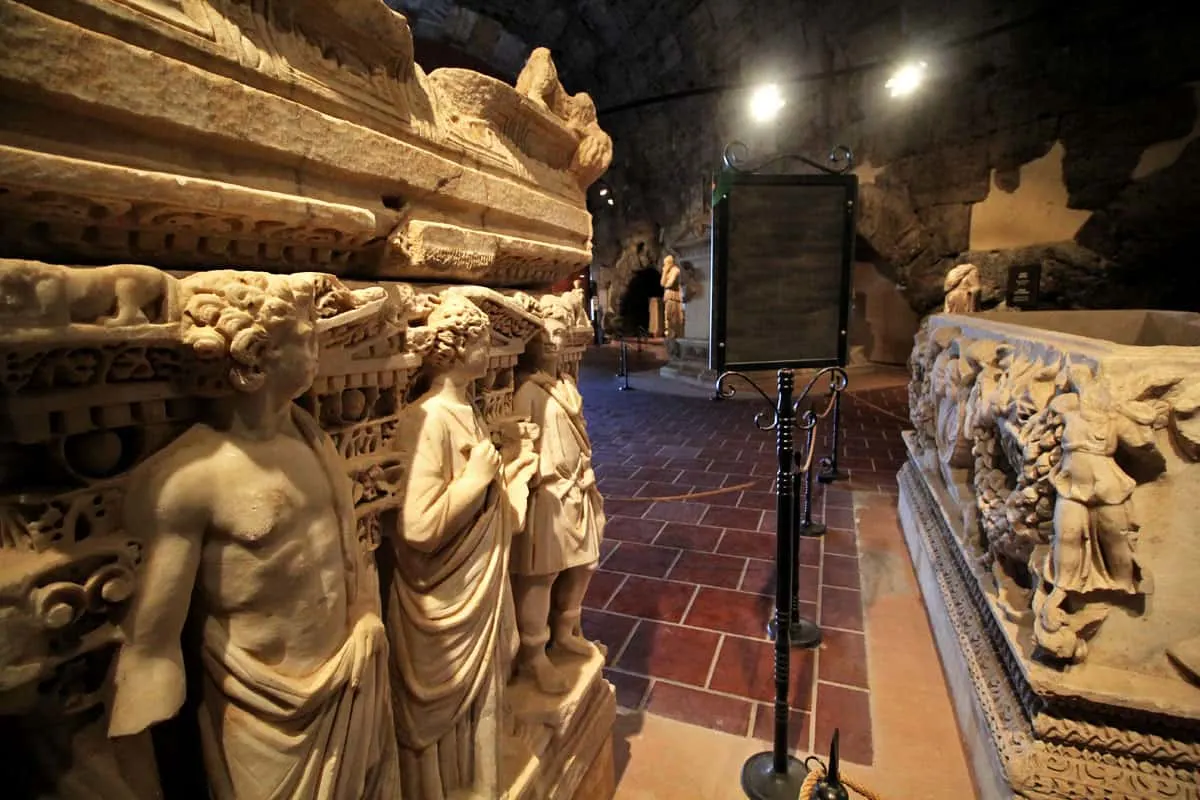 Statue and funerary stele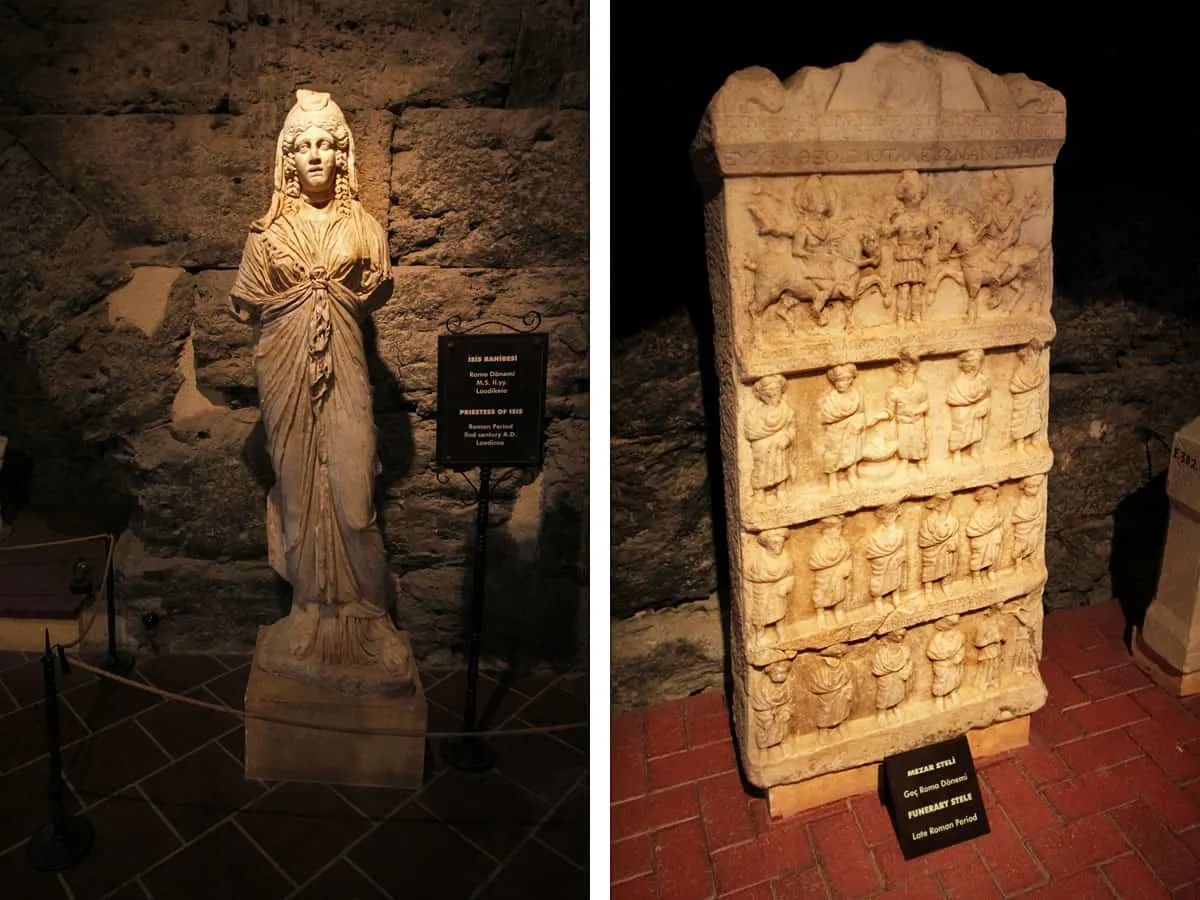 The region is apparently known for having some of the best examples of baked earth sarcophagi.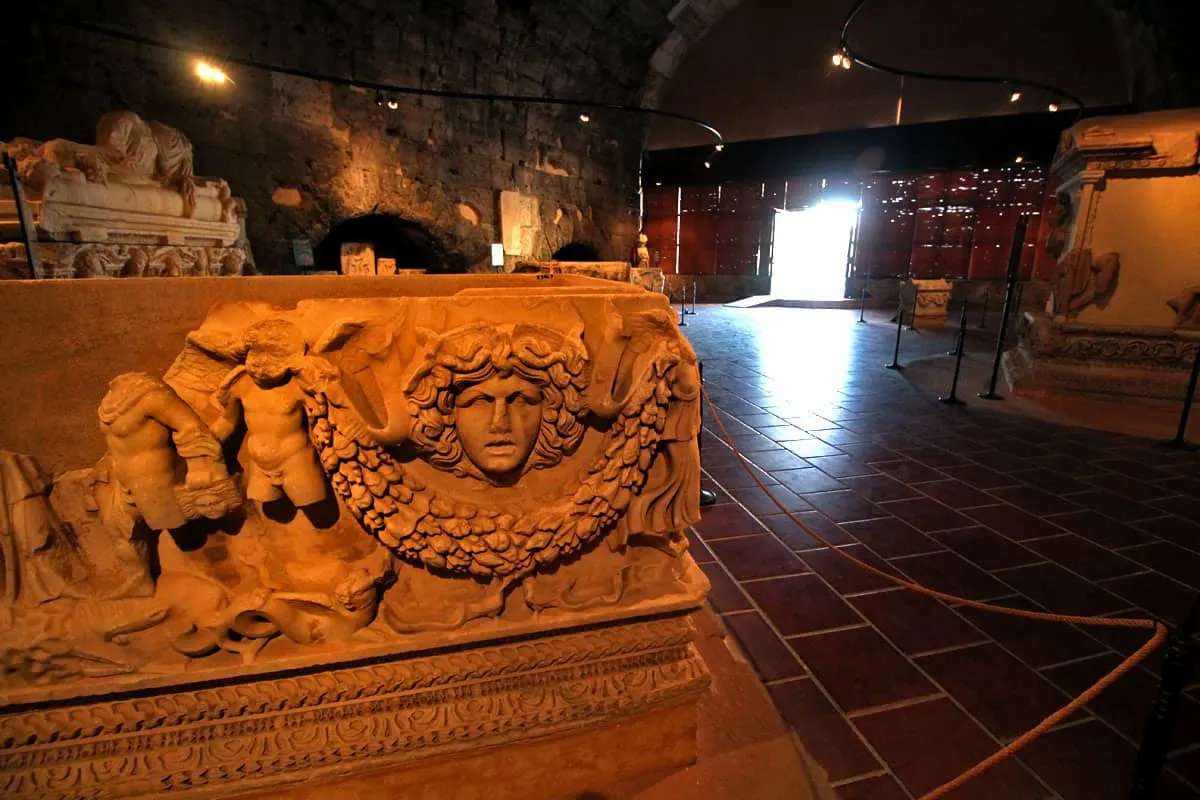 Finely detailed and bigger than the others, this one was the most impressive.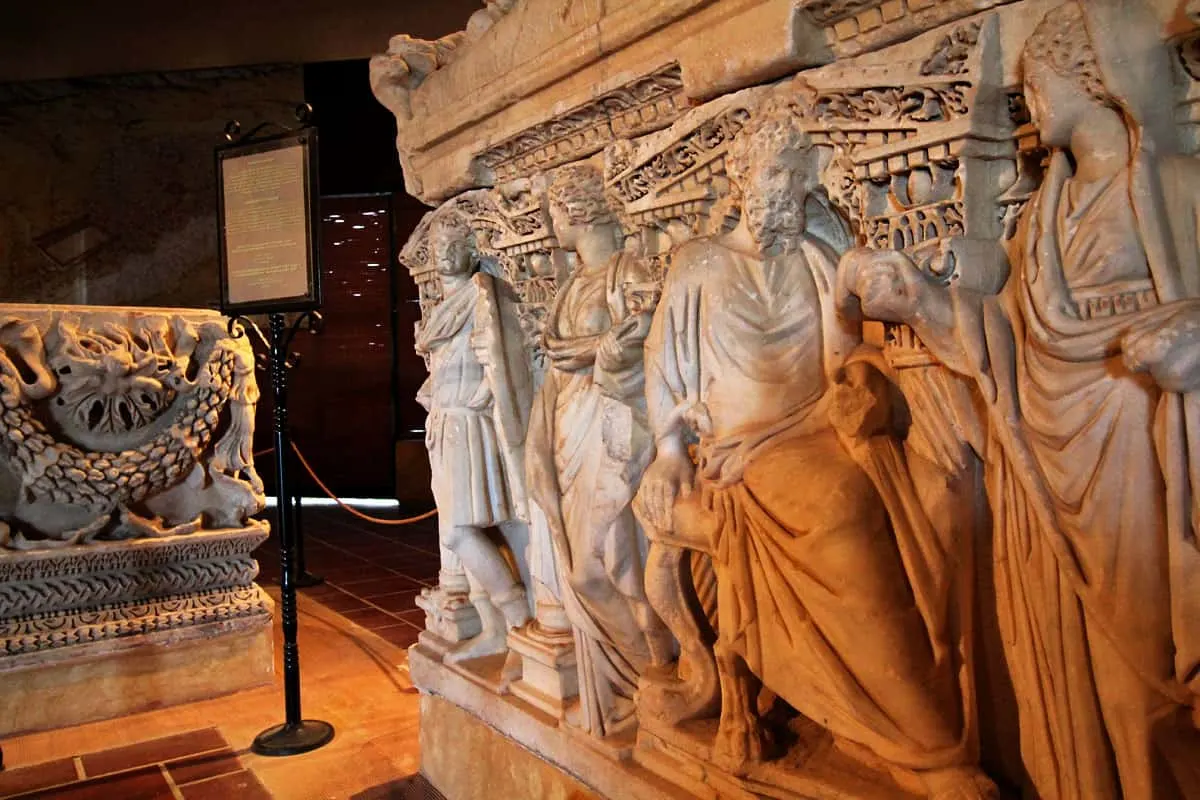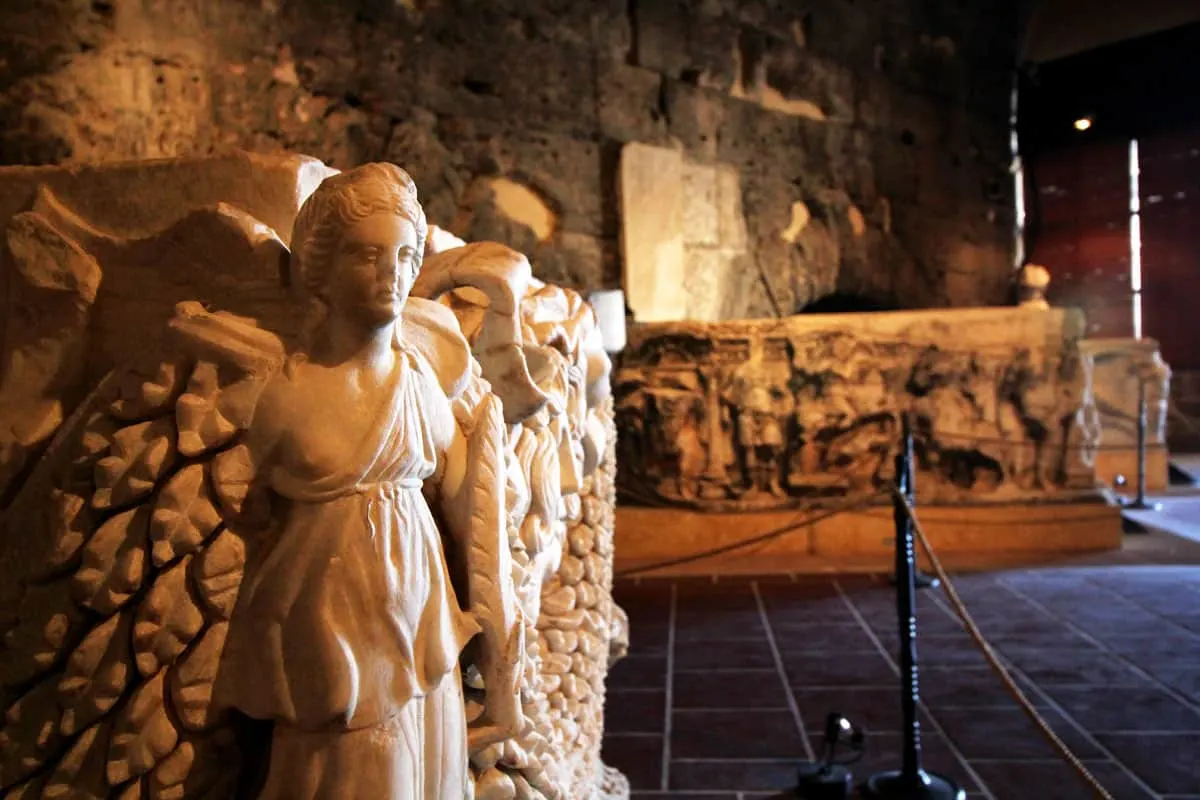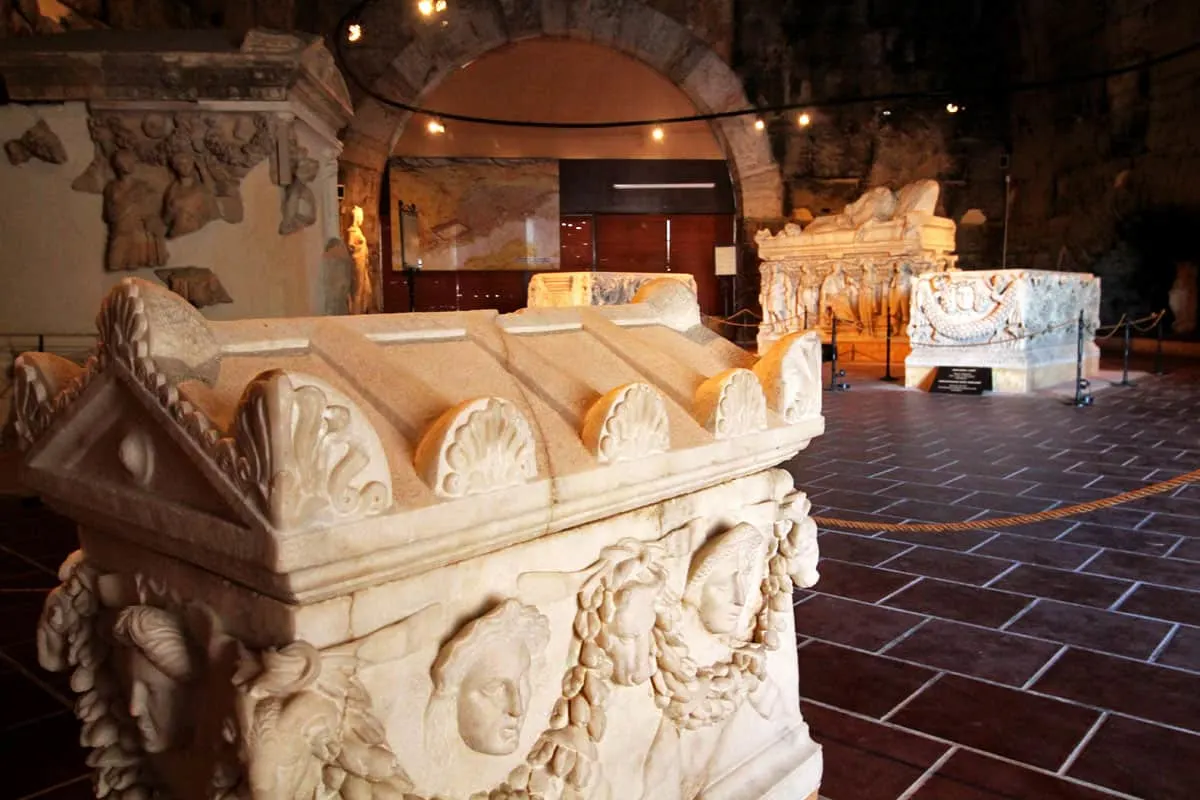 Small Artifacts Gallery. In this room are finds from archaeological sites in and around Denizli. Some of the artifacts are around 4,000 years old.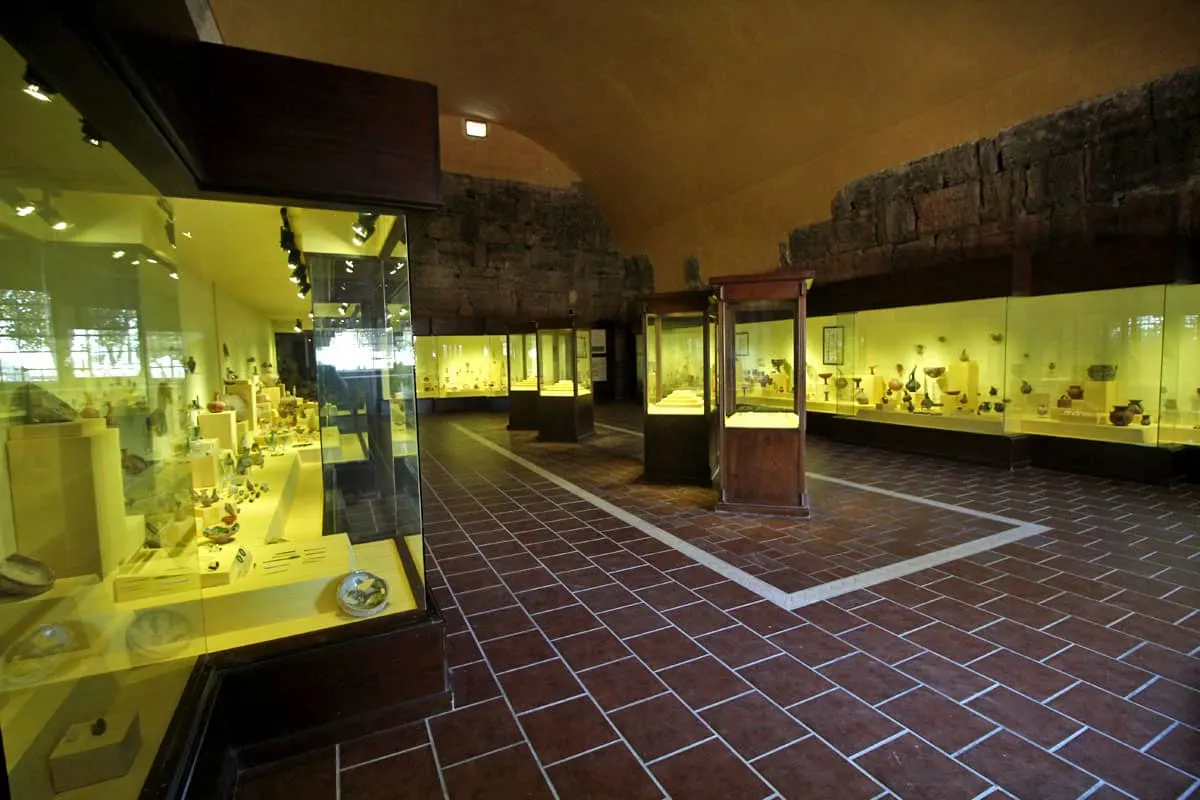 Idols, baked earth bowls, libation cups, seals, and other stone artifacts.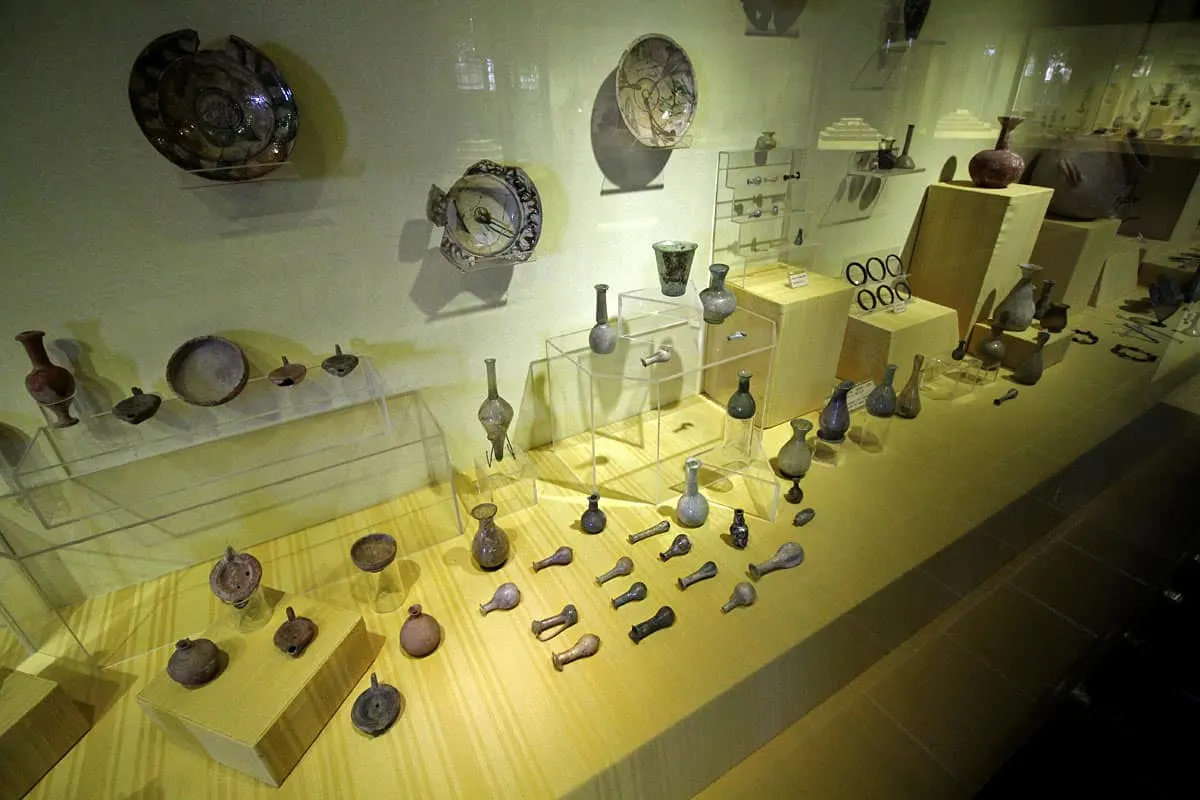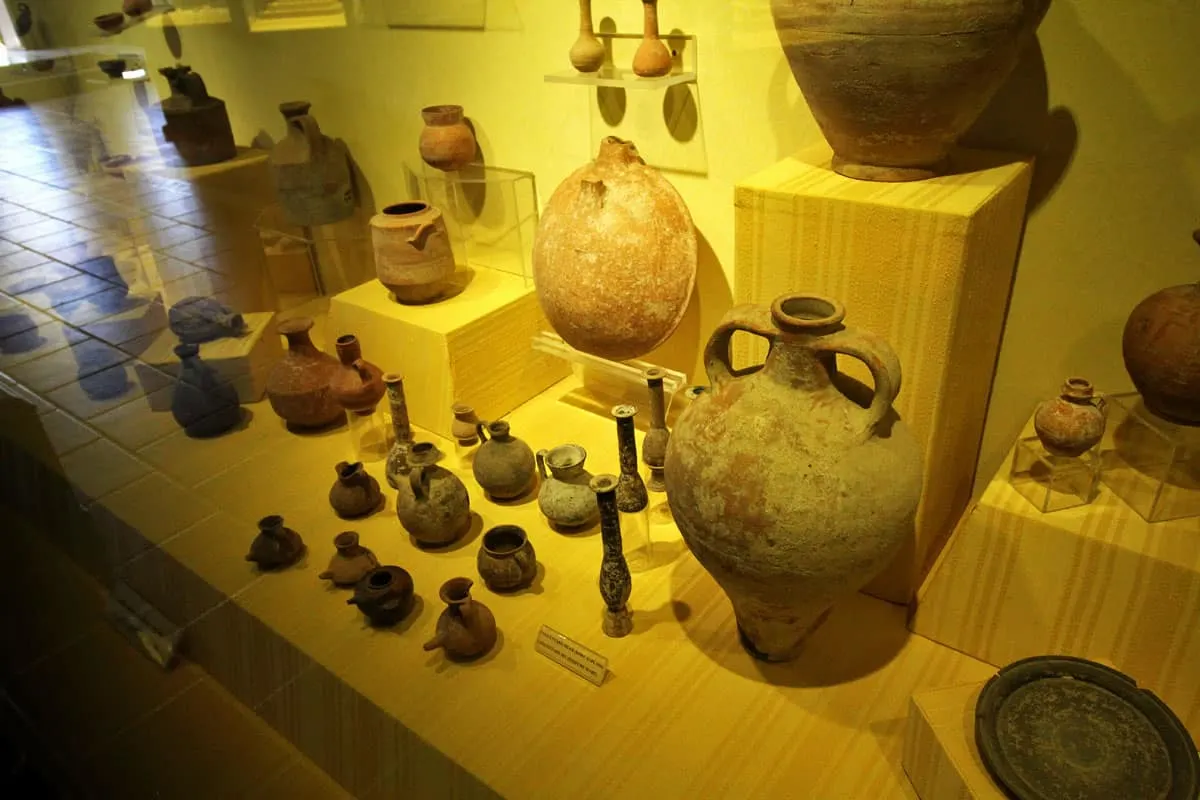 Theatre Ruins Gallery. Decorative works from the theatre of Hierapolis are on display here.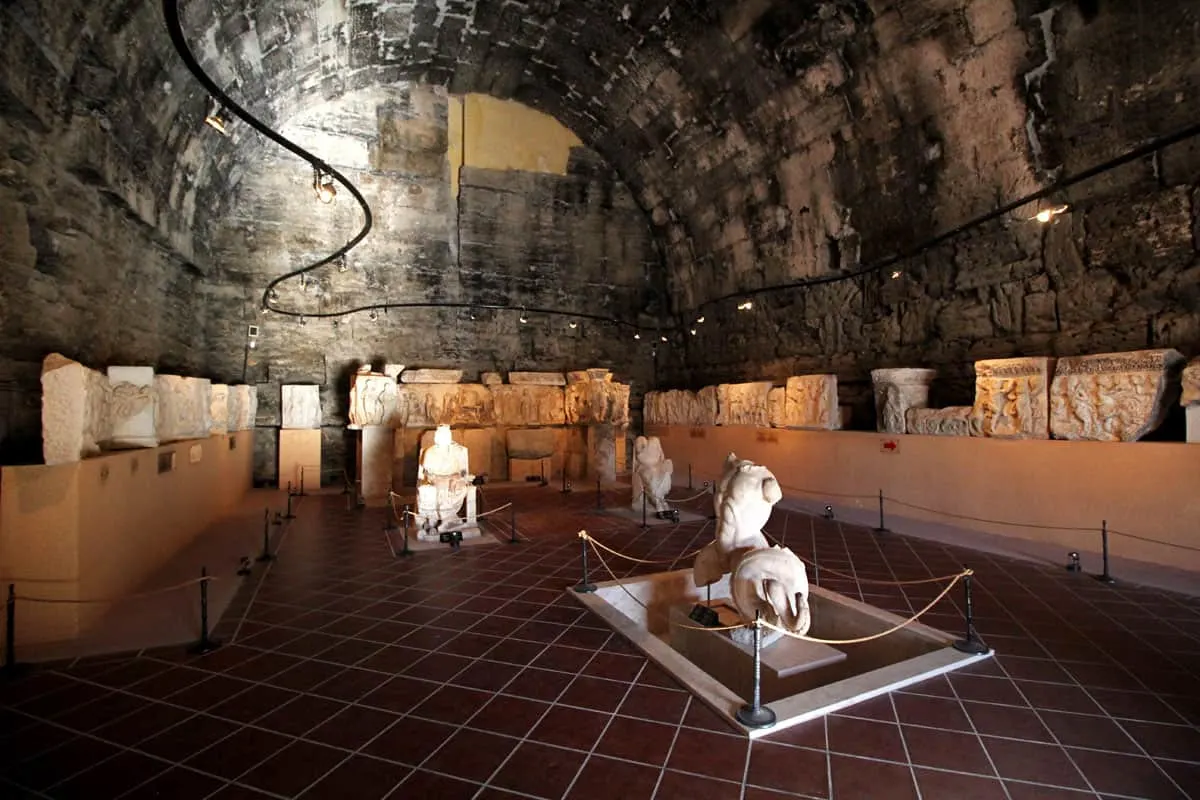 Travertines
What we came to see. These otherworldly travertines are the reason why Pamukkale is the most visited destination in Turkey.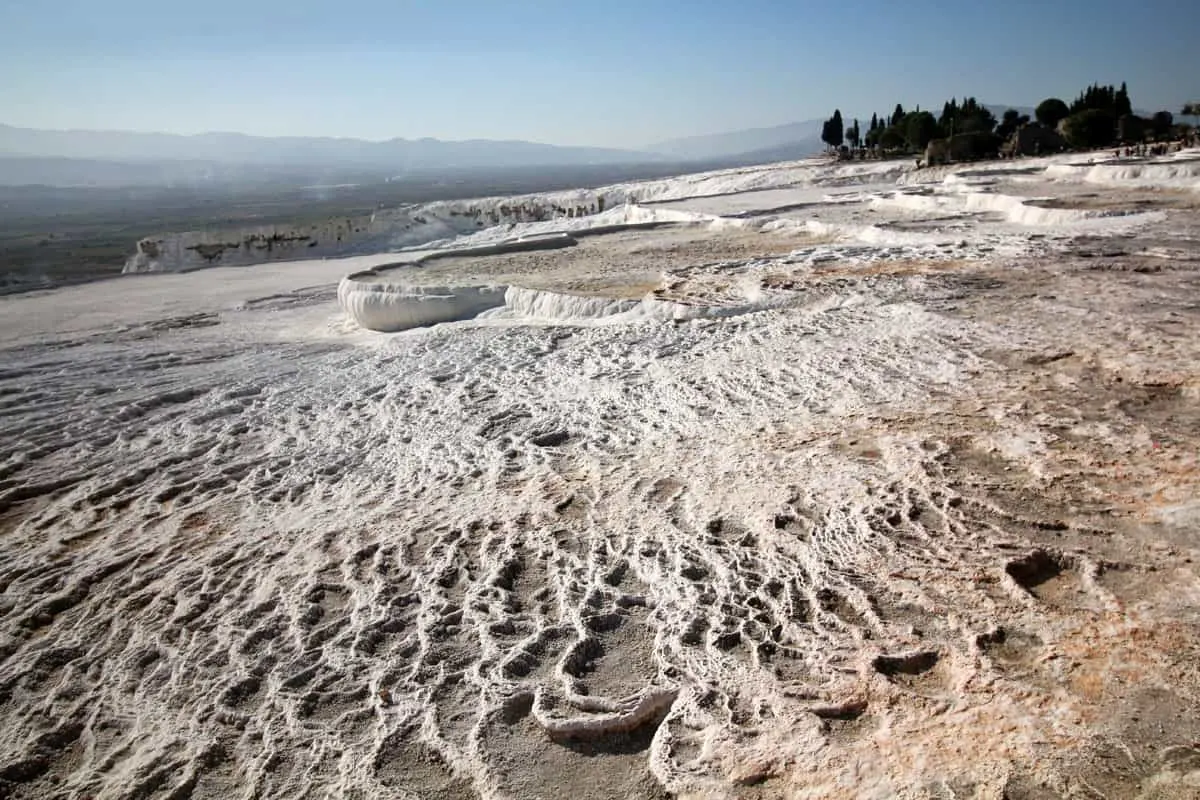 Somewhere beneath the surface in Pamukkale is a source of water heated by volcanic lava. The water dissolves pure white calcium and becomes saturated with it, carrying it up to the earth's surface where it erupts before running down the side of the plateau. Cooling in the open air, the calcium precipitates from the water and adheres to the soil, forming hard, snow-white calcium terraces called travertines.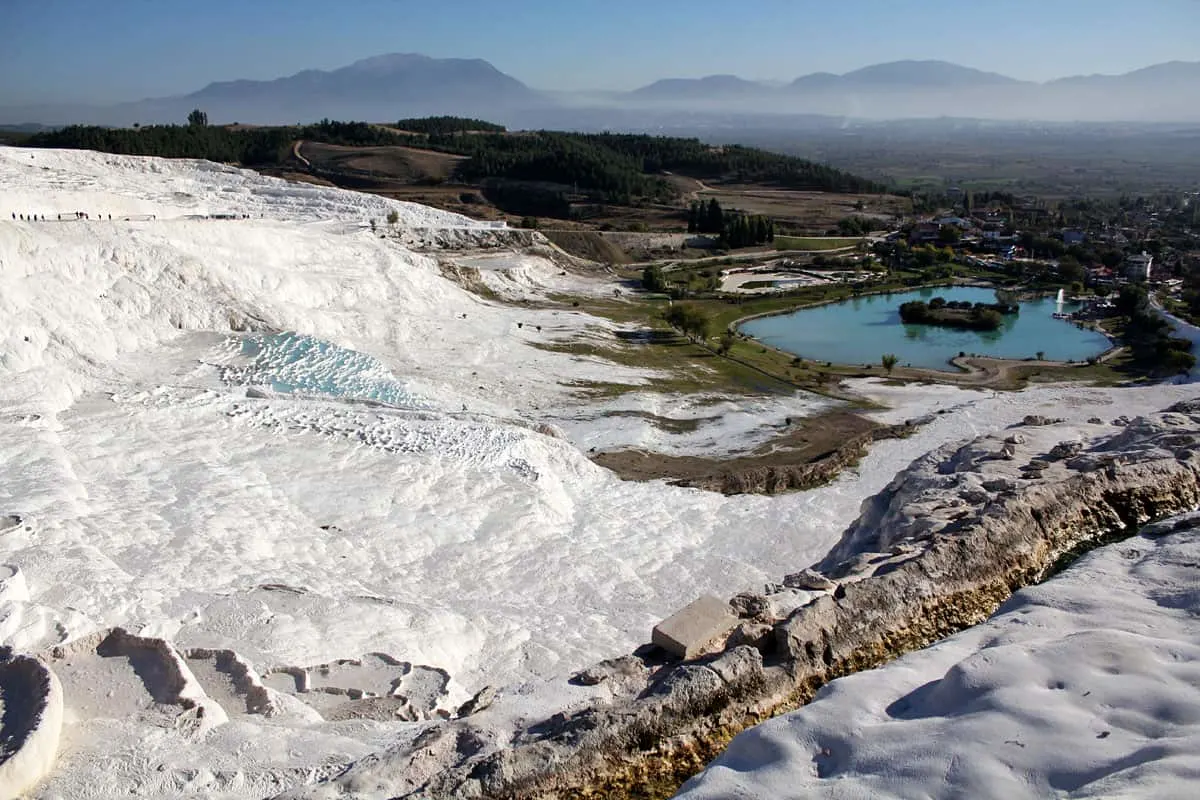 I didn't have a zoom lens so this was the closest I could get. See those terraces filled with sky blue water? That's Pamukkale at its most beautiful.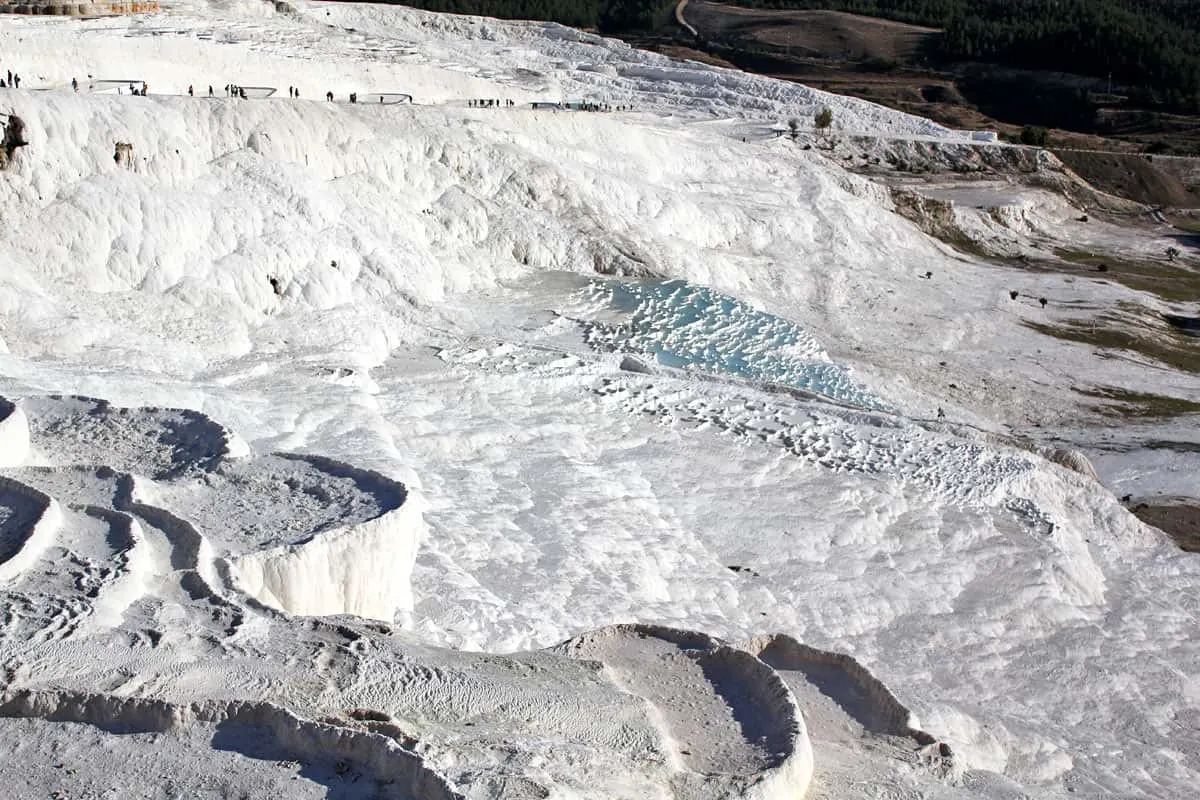 Here's a better picture borrowed. Kinda looks like heaven, doesn't it?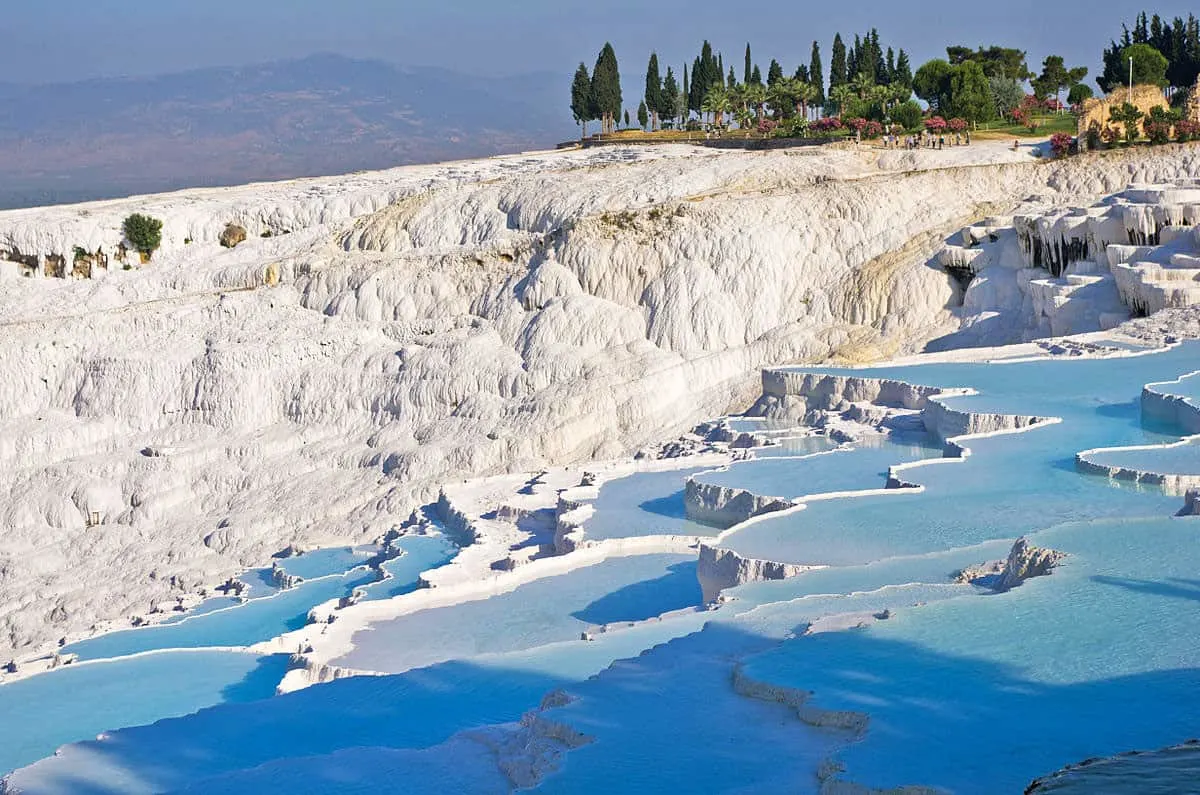 By Antoine Taveneaux (Own work) [CC BY-SA 3.0], via Wikimedia Commons
Dry but still beautiful. There was a time when water used to pour freely in floods over the travertines. Much of that warm, calcium-rich water has been diverted to other uses so many of the terraces are now dry.
See that diagonal line of people? In the 90s, the road up the slope was converted into a series of pools in which visitors were allowed to walk and soak. This is the only stretch of the travertines where people are allowed to go. At the very end on the right side is the Pamukkale town entrance (or exit).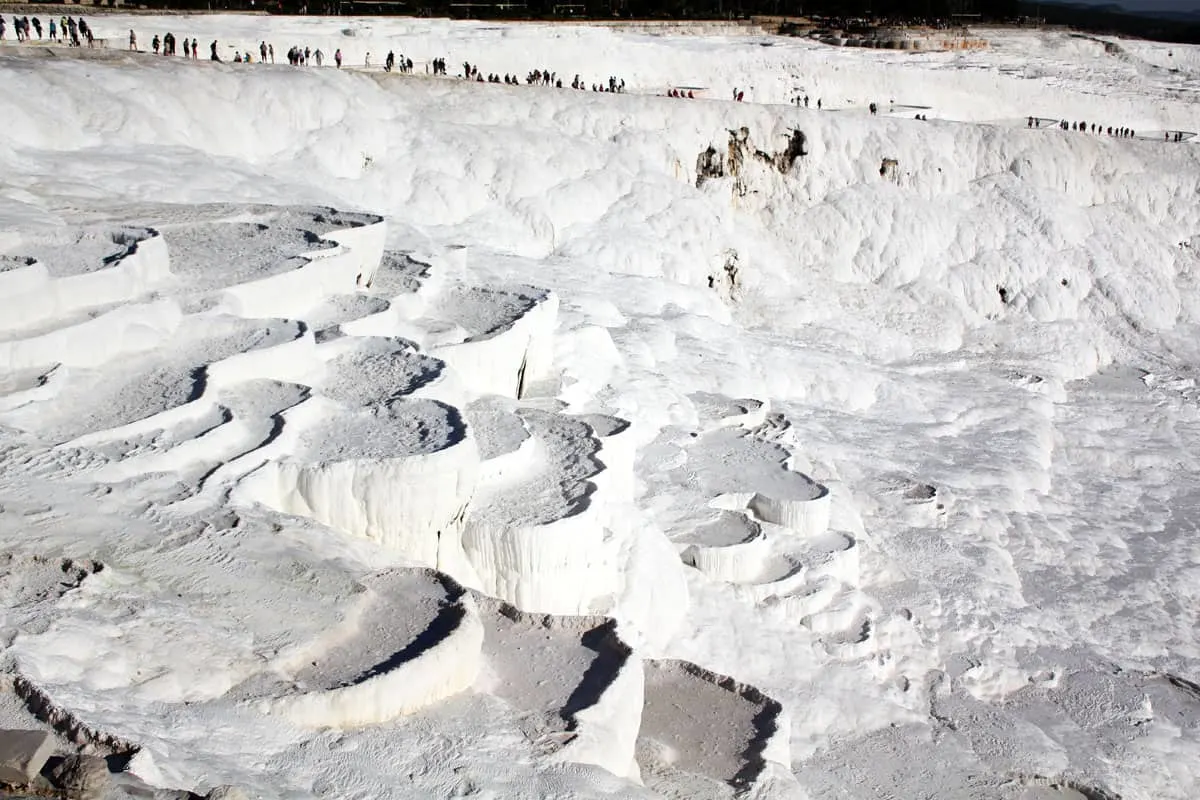 To help protect the travertines, all visitors must remove and carry their shoes to cross.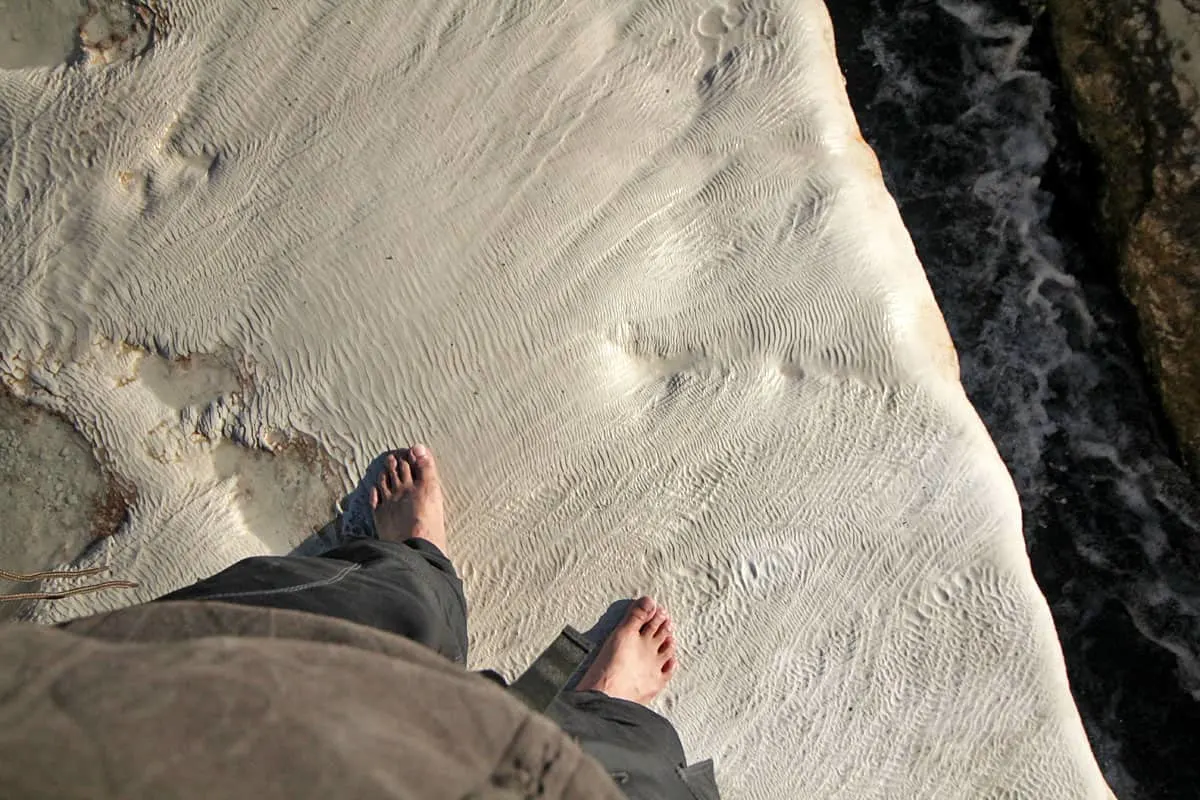 Strike a pose! 😆 Aren't these travertines incredible? They look soft as snow but are hard as rock. The rougher patches of ground can be painful to walk on.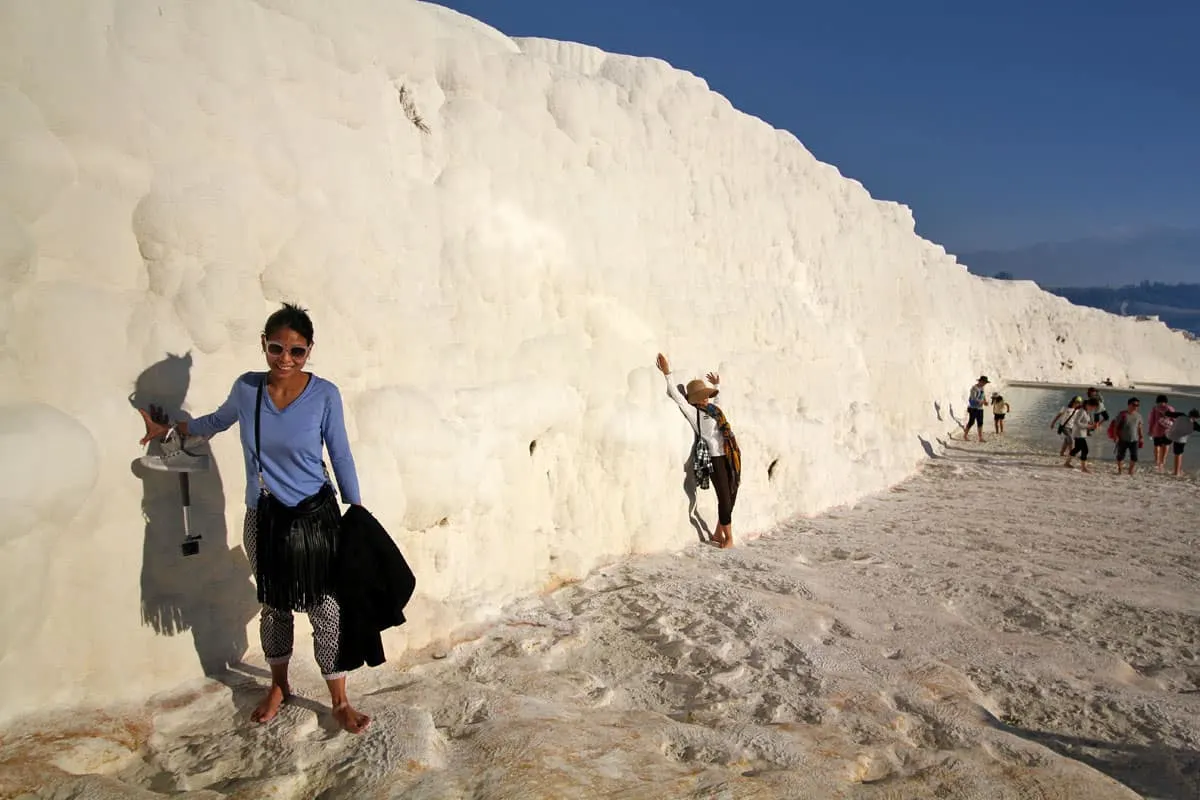 Calcium-rich water flowing through this canal.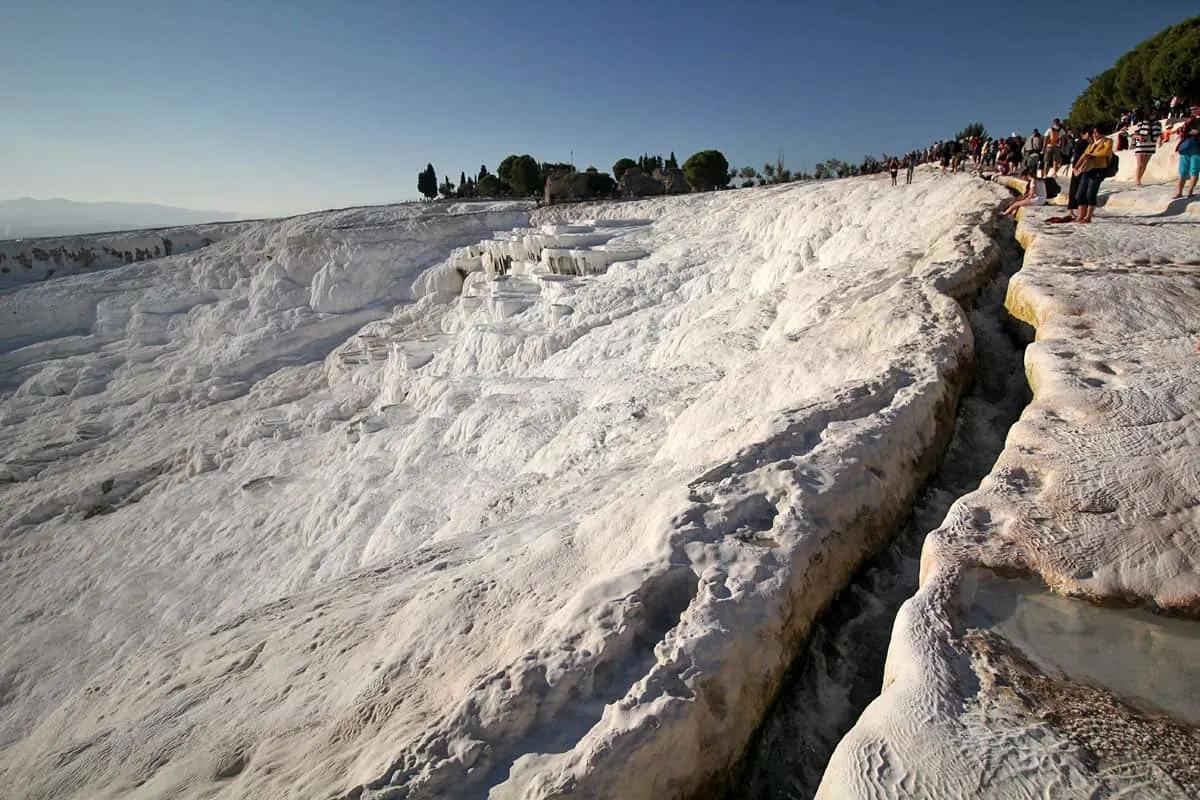 Pamukkale lake in the distance. See the drop on the right? Be careful when you walk here.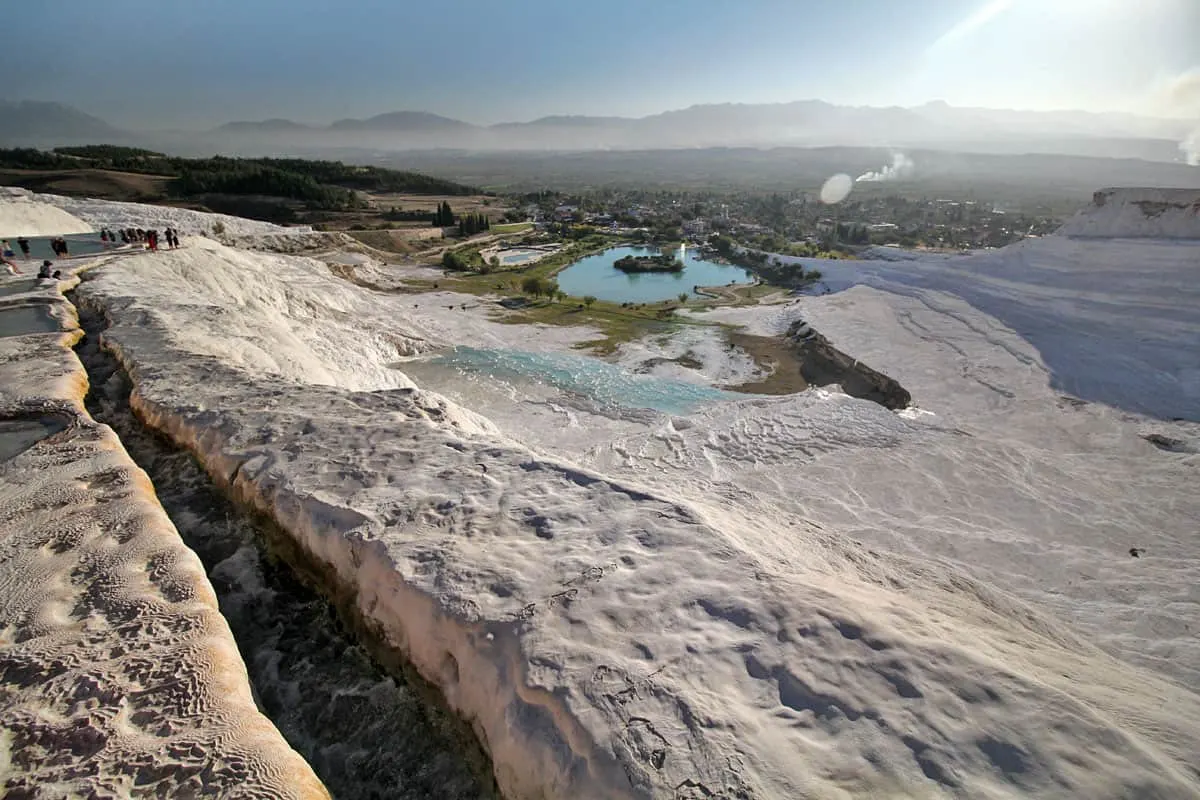 The pools to play in. Just a few inches deep, there were a couple of women in bikinis making pouty faces in the water. 😳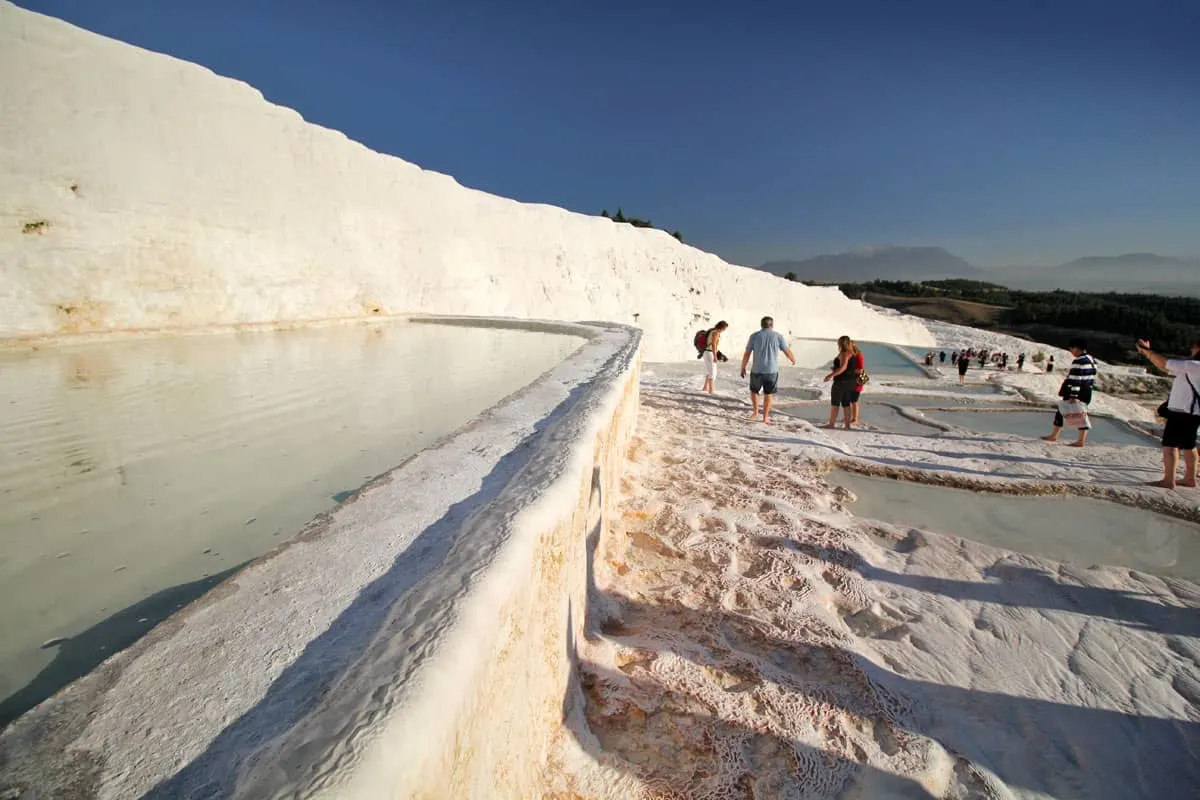 Amazing to think that this is all natural. You can't tell from this picture but the water in places was so caked with calcium that it was erupting from the earth in pure white bursts.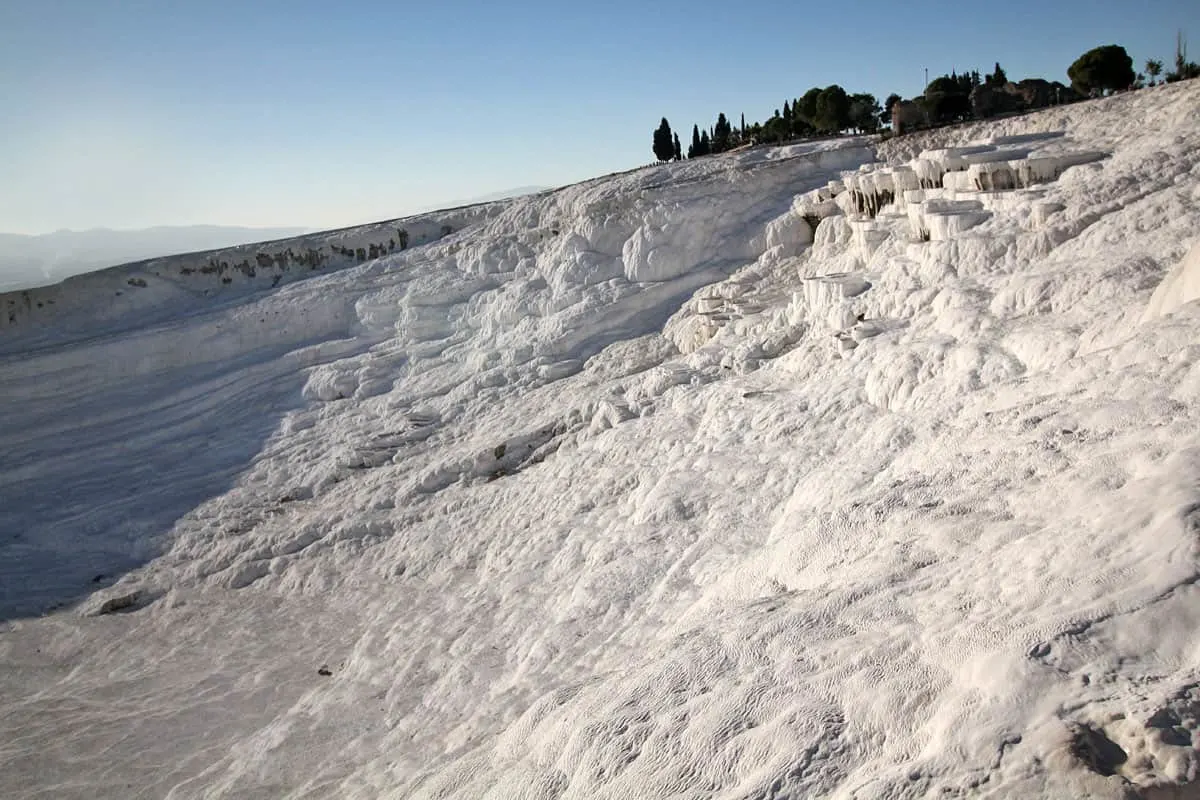 You can sit and soak your feet in the calcium canal if you like.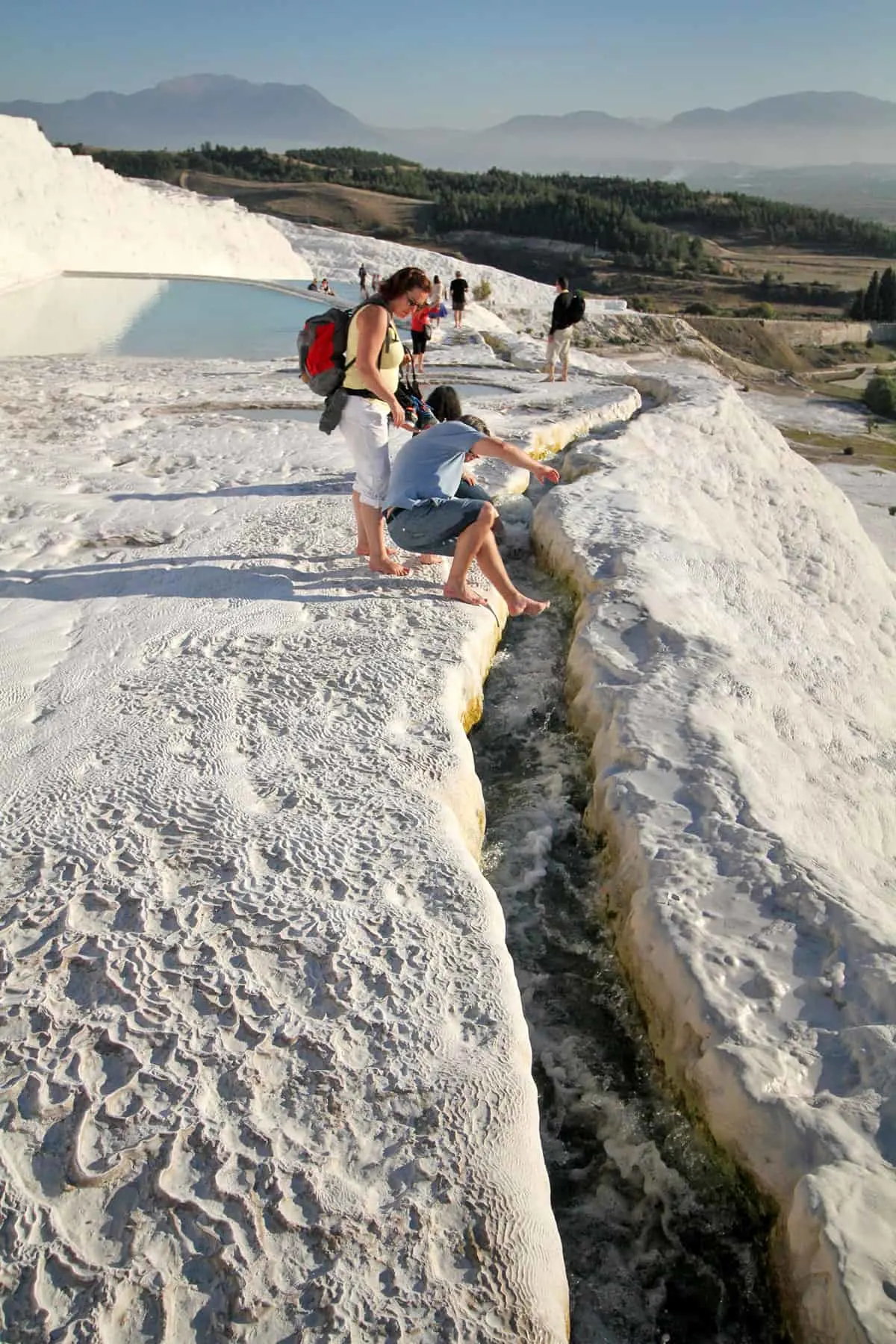 Nearing the end…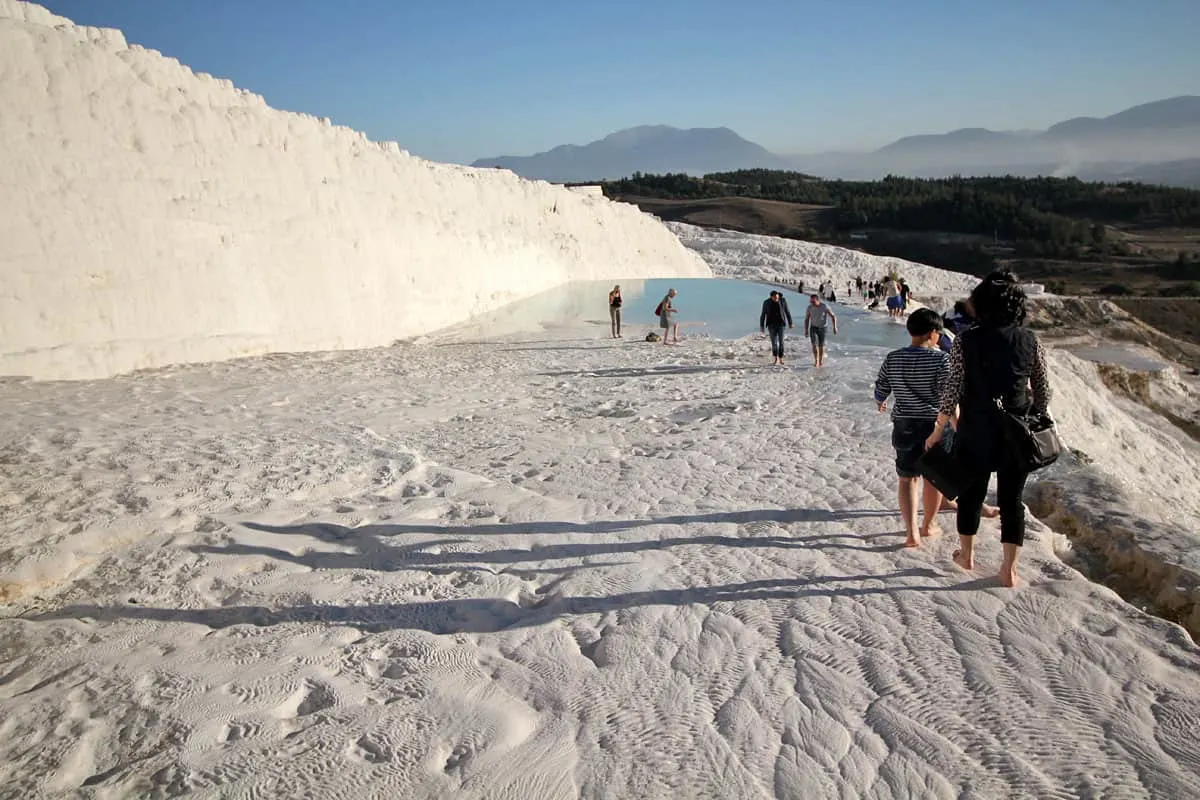 The calcium water rages here.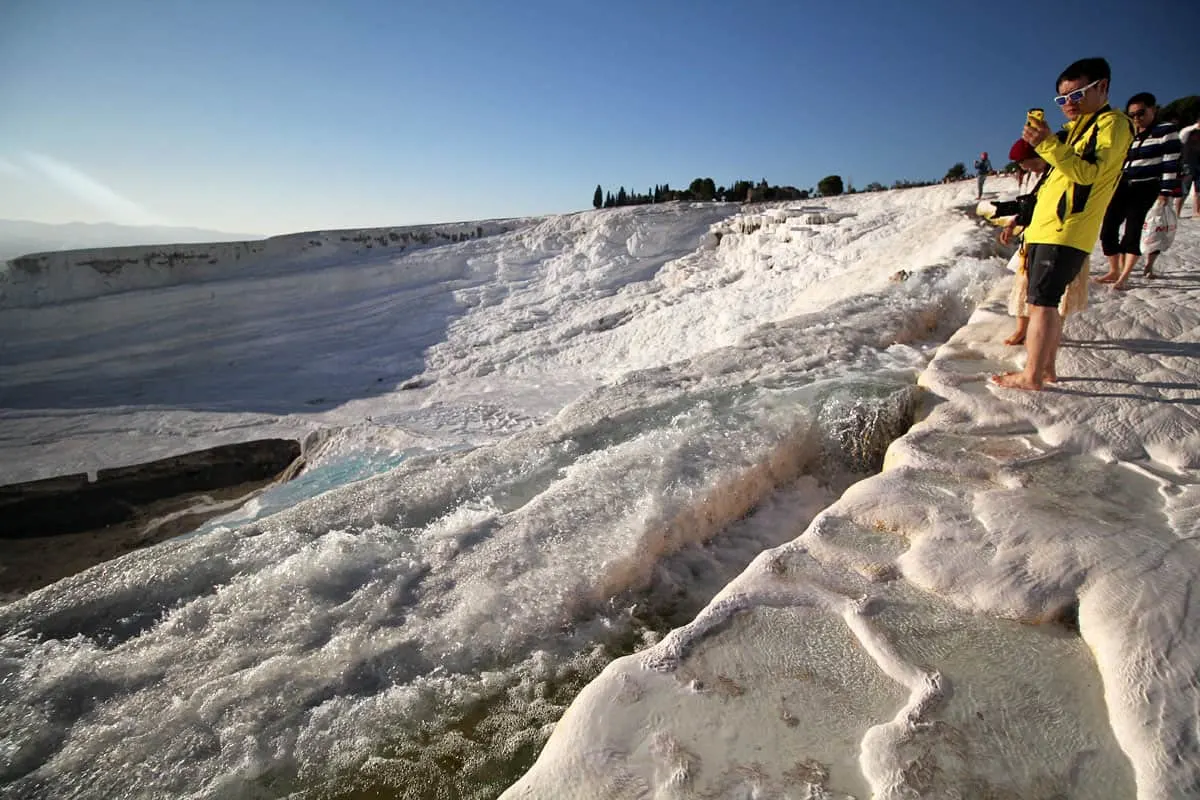 Despite a good portion of the travertines being wet, the surface is coarse so traction is good. Just walk carefully and watch out for those few slippery spots.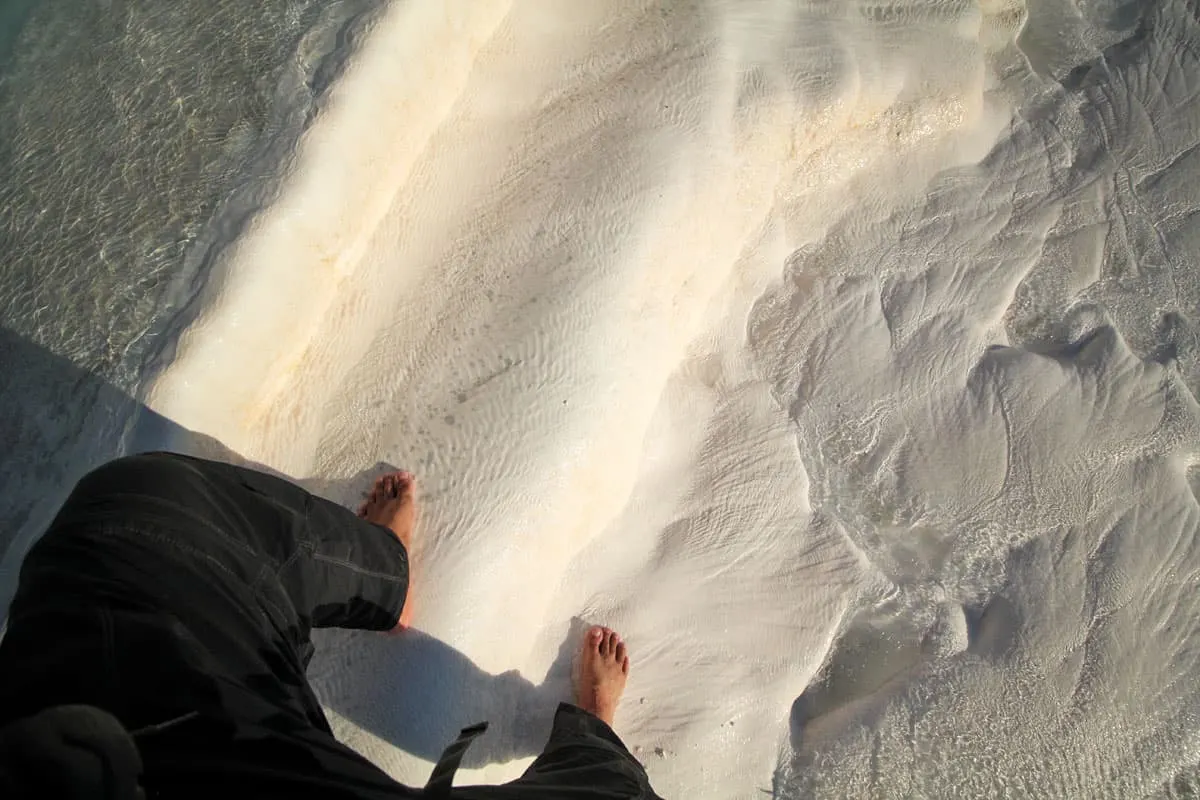 From Tom Brosnahan of turkeytravelplanner.com:
"When I first visited Pamukkale in 1967, the water was still pouring freely in floods over the cliffs, refreshing and re-purifying the white travertine cascades. Shopkeepers put bottles of local wine into the channels of hot water, and after a few days, each bottle would be completely coated in pure white calcium. What the wine tasted like I can't say, but the bottles were beautiful in their coats of pure white."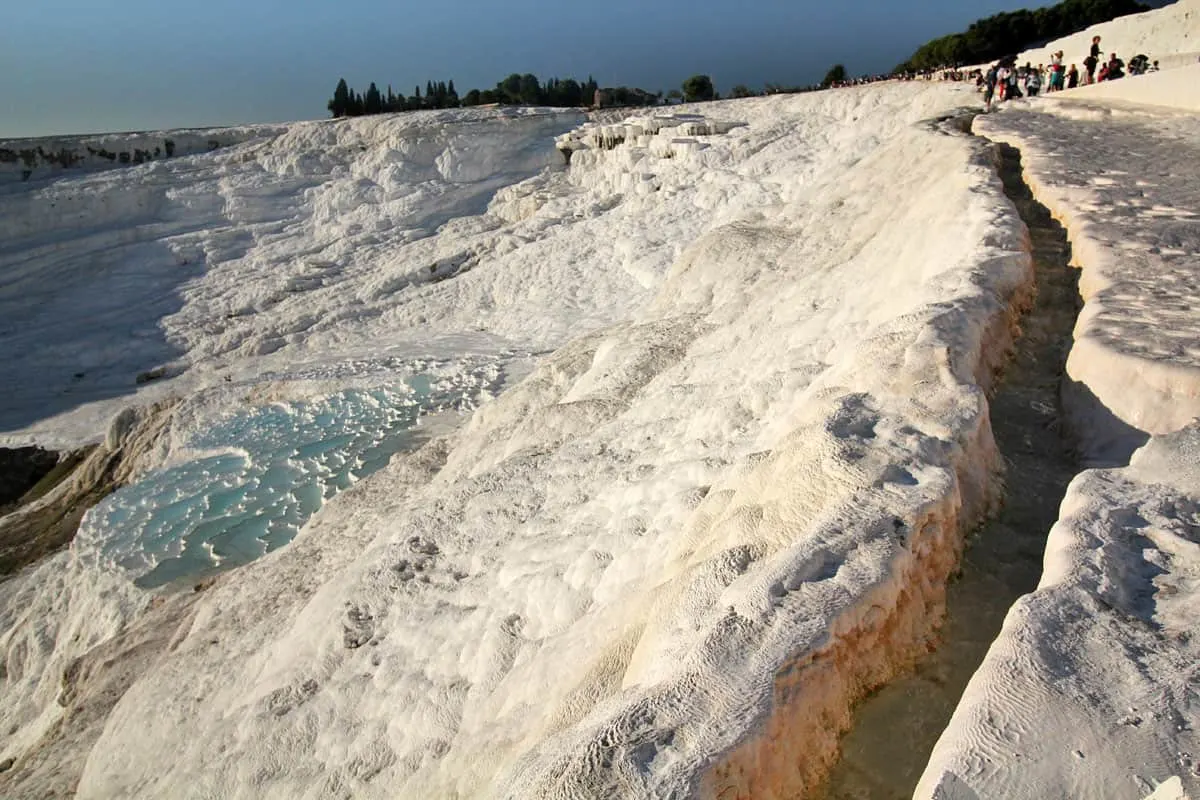 The final stretch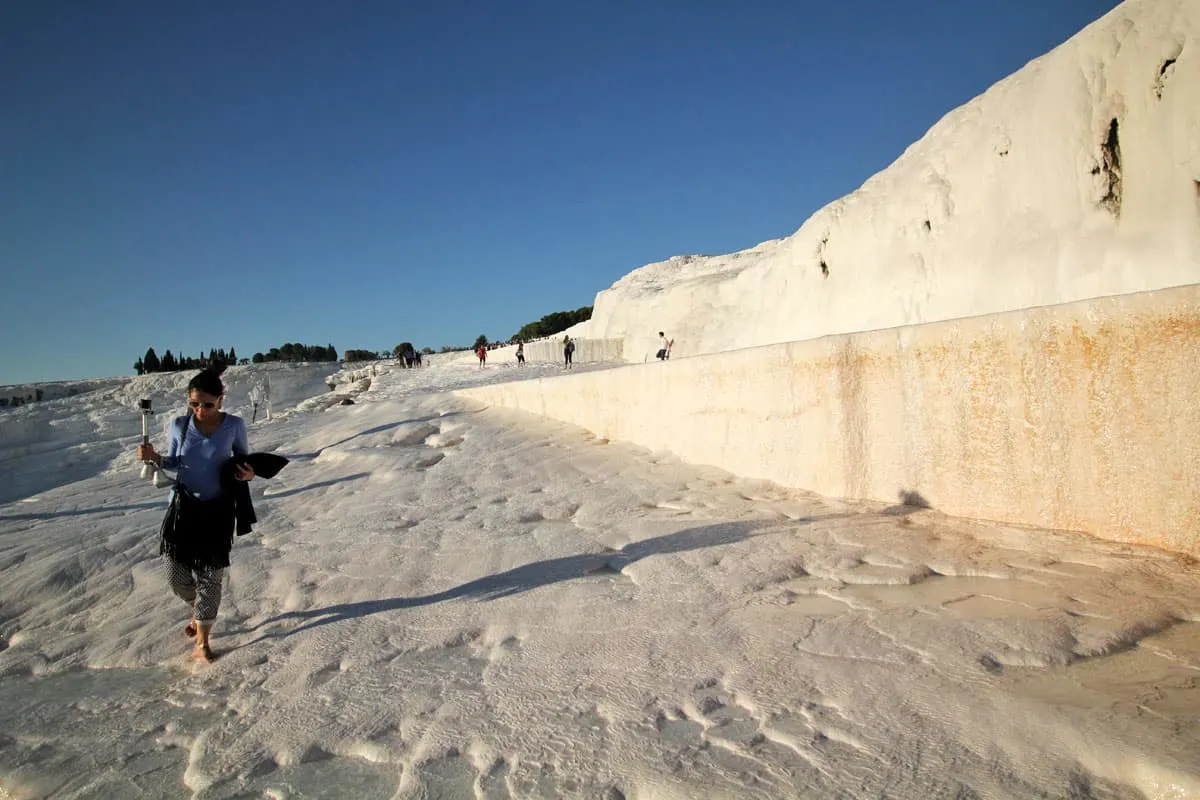 Wishing for a selfie!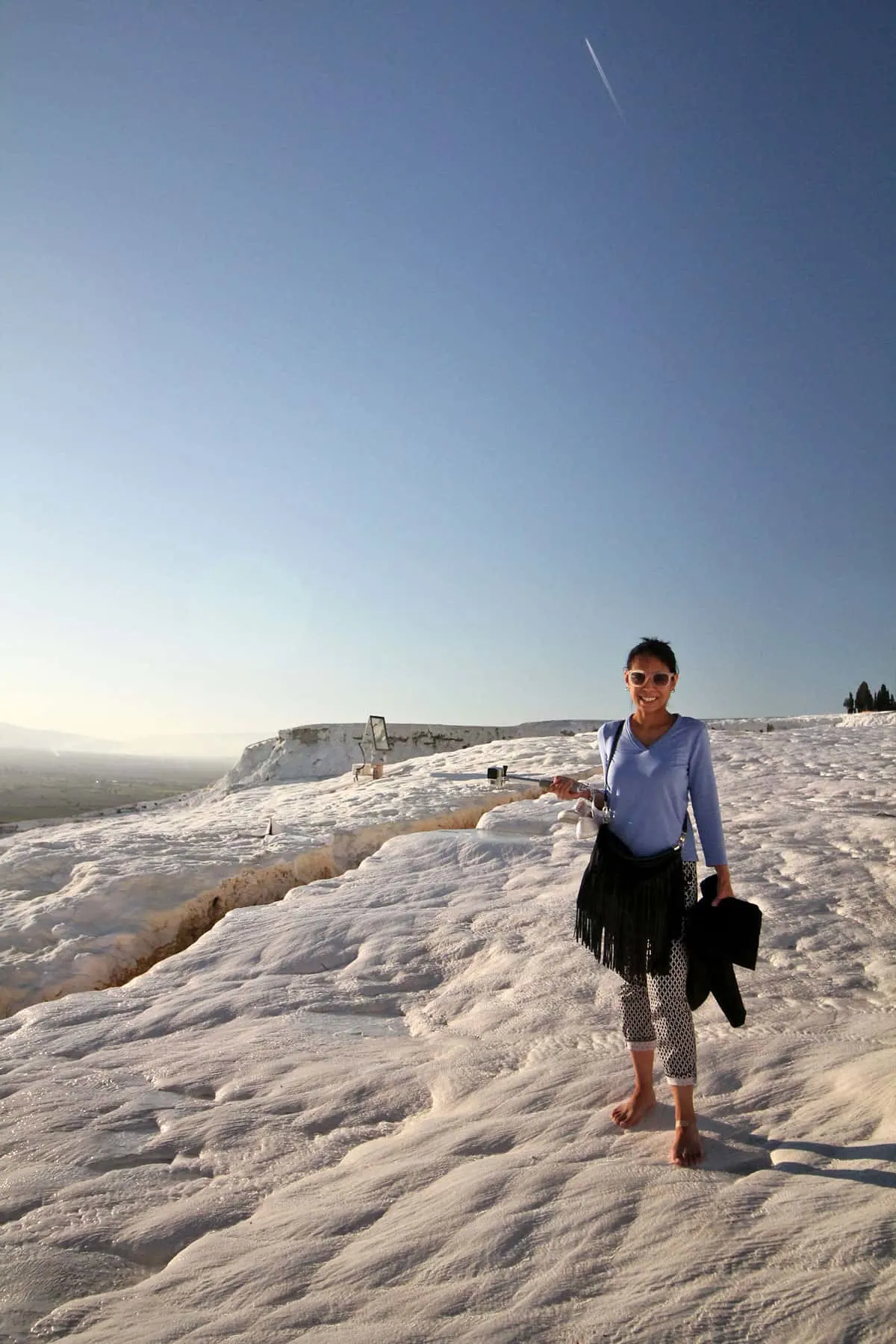 One last look. It's evident here why this site was named Pamukkale. Pamukkale, in Turkish, means "cotton castle".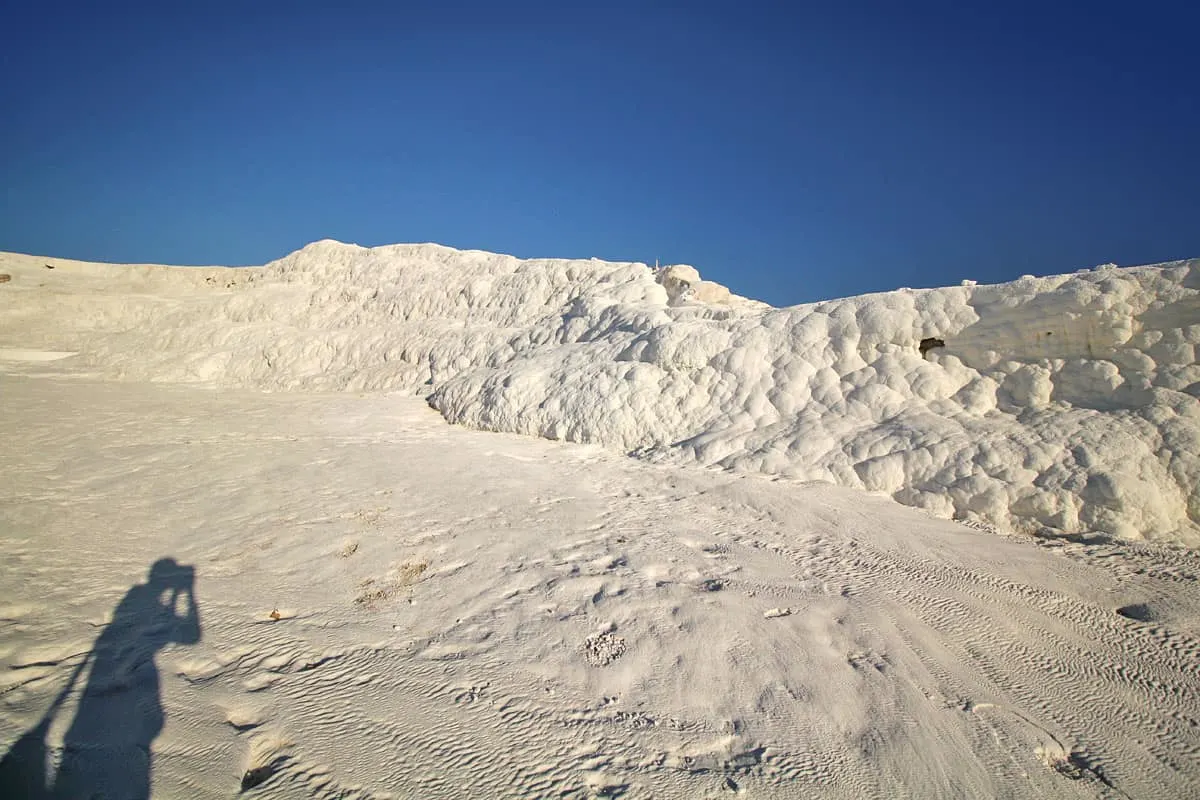 As mentioned up top, there are three entrances to Hierapolis and the travertines. Most people without rental cars will probably enter the plateau through the Pamukkale town entrance. This is fine but it means that you'll need to cross the travertines twice — going there and back — which isn't as easy as it looks. Instead, I suggest taking the minibus all the way up to the north entrance and walking in from there.
You can walk through the vast necropolis and explore the Hierapolis ruins in about 1-2 hours. You can then spend around half an hour at the museum, go for a swim in the Antique Pool if you like, before making your way down the travertines and exiting the plateau through the Pamukkale town entrance.
If you're interested in going on a guided tour to better understand the area, then you can book one through Get Your Guide. Follow the link to book a full-day Pamukkale tour with Get Your Guide.
Hierapolis & Pamukkale, Denizli, Turkey
20280 Denizli Merkez/Denizli, Turkey
Tel: +90 258 272 2034 (Museum) / +90 258 272 2024 (Antique Pool)
FEES & OPERATING HOURS:
Archaeological Site / Travertines:
Admission: 200TL
Summer (April 15 – October 2): 8AM-9PM, daily
Winter (October 3 – April 14): 8:30AM-5PM, daily
Archaeology Museum:
Admission: 8TL
Summer (April 15 – October 2): 8:30AM-7PM, daily
Winter (October 3 – April 14): 8:30AM-4:45PM, daily
Antique Pool:
Admission: FREE
Swimming: 100TL (ages 13+)
Locker Rental: 5TL
Summer (April 15 – October 2): 8AM-7:30PM, daily
Winter (October 3 – April 14): 8AM-5:30PM, daily
HOW TO GET THERE:
Pamukkale is around 18 km north of Denizli. Minibuses depart every 15-20 mins from gate 76 at the lower level of Denizli's otogar (bus station). They'll take you all the way up to the north entrance of the plateau. Just be sure to tell the driver that you'd like to go to Örenyeri Kuzey Giriş (ur-REHN-yeh-ree koo-ZEY gee-reesh), which means "archeological site north entrance". Alternatively, you can get off earlier on the main street (below the central mosque in Pamukkale) and enter the plateau through the Pamukkale Town Entrance.