The First-Timer's Travel Guide to Ephesus in Selçuk-Izmir, Turkey
If you're planning a trip to Selçuk, then it's a forgone conclusion that you'll be visiting Ephesus. It's one of the most well-preserved Roman ruins in the world and a top tourist destination in Turkey.
Receiving over 2 million visitors each year, it's no surprise then that much of the activity in this small town centers around Ephesus. Guided tours to the ancient city are ubiquitous, and there's a newly renovated museum in town dedicated to its archaeological treasures. But as much attention as the ruins get, it was nice to find that Ephesus isn't all this town has to offer. Selçuk itself is a pleasant destination. A picturesque little town with cobblestone streets and a rural vibe, it's got good food, a laid back atmosphere, and warm friendly people.
Here's a guide that I hope can help you plan that upcoming trip to Ephesus and Selçuk.
GUIDE TABLE OF CONTENTS
HOW TO APPLY FOR AN E-VISA TO TURKEY
Applying for an e-visa to Turkey was a cinch. Travelers used to purchase their tourist visas upon arrival in Turkey but the government decided to transition to e-Visas in 2015 to reduce waiting times at border crossings. If you're eligible, approval is instantaneous and you'll be able to print out your e-Visa from the comfort of your own home in minutes. Check out my post on how to apply for an e-Visa to Turkey for a step-by-step process.
WHEN TO GO
January-February is the coldest time in Selçuk with temperatures dropping down to around 8°C/46°F. On the opposite end is July-August when the mercury reaches 34°C/93°F. Temperature-wise, the best time to visit Selçuk is from April-May, followed by October-November. It's neither too hot nor too cold.
However, April-May is also high season in many parts of Turkey, including Istanbul, Cappadocia, and Selçuk. Many hotels will be fully booked and prices will be at their highest. It's for this reason why I think October-November is the ideal time to go. It's the shoulder season so prices are lower and crowds thinner. The temperature may not be as favorable as Spring, but it's just the start of winter so it isn't too cold yet. We went in early November and I was fine walking around in just a light sweater and t-shirt.
HOW TO GET THERE
There are many ways to get to Selçuk depending on where you're coming from. But for the purpose of this guide, let's assume you'll be coming from the popular tourist destinations of Istanbul, Pamukkale, and Cappadocia, and interested only in the fastest and/or cheapest options.
From Istanbul
I knew flying would be the fastest way to get to Selçuk from Istanbul, but I didn't expect it to be the cheapest too.
Depending on which airport in Istanbul you'll be flying out from (Ataturk or Sabiha Gocken), several carriers — Turkish Airlines, Pegasus Airlines, Onus Air, Atlas Global, Bora Jet, and Sun Express — can take you from Istanbul to Izmir Adnan Menderes, which is the closest airport to Selçuk. We flew out of Ataturk on Turkish Airlines and paid just 79TL each one-way. That's even cheaper than a bus (85TL)! What makes it even more amazing is that we were served a three-course meal despite the flight lasting just a little over an hour. Incredible. It's no wonder that Turkish Airlines has been voted the best airline in Europe for the last five years.
From Izmir Airport, you can then take a one-hour train ride to Selçuk for just 4.75TL. The gar (train station) is conveniently located across the street from the airport. Follow the link for the train schedule.
From Cappadocia
There are two carriers with direct flights from Kayseri to Izmir — Sun Express and Pegasus Airlines. From Izmir Airport, you can then take the same train to Selçuk as described above.
From Pamukkale
The cheapest and most reliable way to travel from Pamukkale to Selçuk is by train. Around three hours long, it costs 14.50TL to take the train from Denizli to Selçuk. Just catch a minibus from Pamukkale to Denizli's otogar (bus station), then walk to the gar (train station) which is on the other side of the highway. Follow the link for the train schedule.
You can take a bus from Denizli to Selçuk as well but I don't recommend it. Though comfortable, they sometimes wait to fill up their buses with passengers so the three-hour ride can become four or five. That's what happened to us when we took the bus from Selçuk to Denizli.
HOW LONG TO STAY
Selçuk is a small town. Assuming you'll be arriving around noon on the first day, then you should be able to do everything in this guide on a 2-night stay before moving on to your next destination in Turkey. But if you're not in any rush, then stretching it to a 3-night stay might be a good idea. This will allow you to take a day trip to Pammukale and/or stay overnight in the atmospheric hill town of Şirince.
WHICH CURRENCY & HOW MUCH TO BRING
The unit of currency in Turkey is the Turkish Lira (TL), though Euros and US Dollars are widely accepted as well. But just because you can pay for things with Euros or USD doesn't mean that you should. Some things are better off paid in TL because they can turn out to be more expensive when converted to Euros or USD. Basically anything that was quoted in Euros or USD — like hotels and tours — I paid for with USD, and everything else — like meals, souvenirs, transportation, entrance fees, etc. — I paid for with TL.
Assuming you'll be sharing a hotel room with one other person and doing everything in this guide, then a budget of around 170-185TL per day should be plenty. This takes into account your hotel room, entrance fees, transportation, meals, pocket wifi rental, and some light shopping. Keep in mind that this estimated daily budget is just for a 2-night stay in Selçuk and not necessarily applicable anywhere else in Turkey.
WHERE TO EXCHANGE CURRENCY
As far as I know, there are no currency exchange offices in Selçuk. You'll need to change your money at a bank or the post office. I've read that a few jewelry shops in town will exchange your currency as well, though I'm not sure about this.
Instead of exchanging currency, a common practice by travelers in Turkey is to withdraw TL from an ATM instead. This is what we did. Not only is it the quickest and most convenient way to get TL, but ATMs are said to give the best rates as well. Depending on which ATM you use, your bank may impose daily withdrawal limits and charge you a processing fee per withdrawal. You should clarify this with your bank before your trip. You may have to activate your ATM card for overseas use as well. I did.
On top of bringing your ATM card, I suggest bringing some cash and credit cards in the event that your ATM card is rejected. You never know what could happen so it's good to have a backup plan.
WHERE TO STAY: Amazon Petite Palace
We stayed in five different hotels during our 2-week trip to Turkey and Amazon Petite Palace was easily our favorite. Comfortable, centrally located, and teeming with charm and personality, it's an awesome value at just 31 Euros a night with breakfast for two already included. Can't recommended this place highly enough.
Check out my post on Amazon Petite Palace in Selçuk for more pictures and information.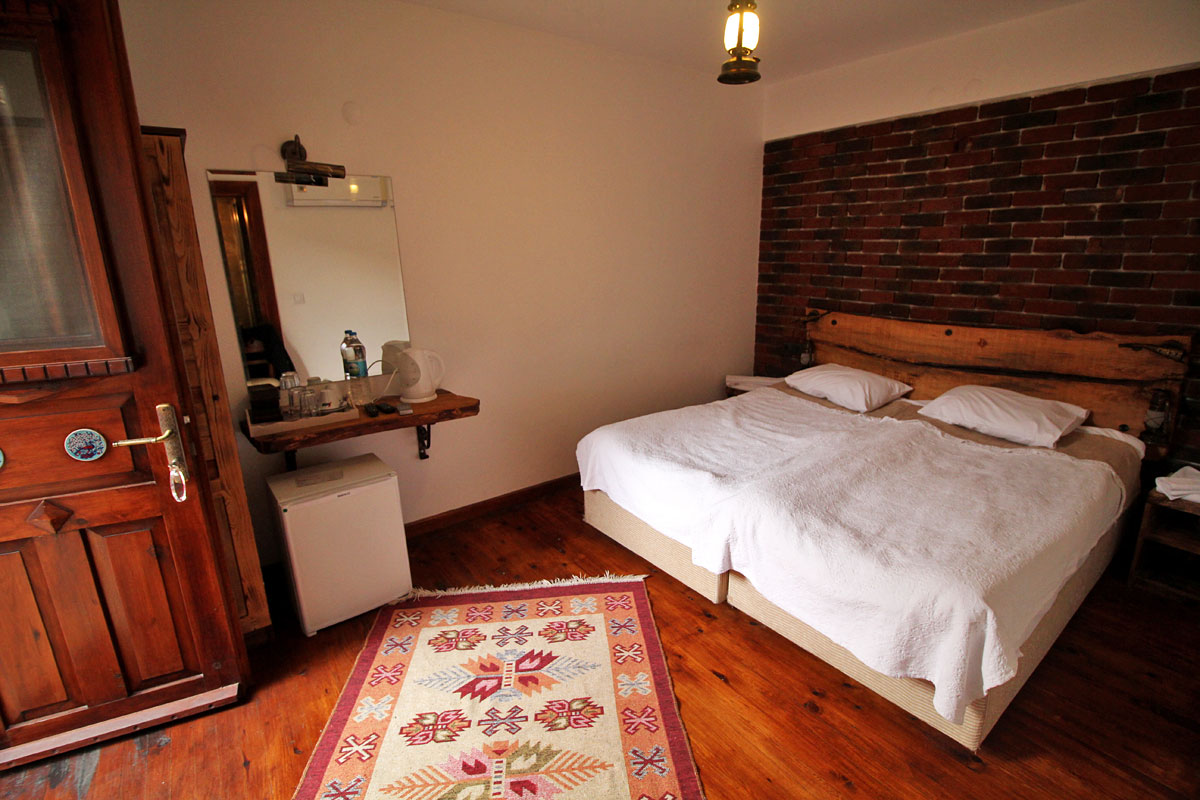 Approximate Room Rate: 31 Euros per night (as of Nov 2015)
WHERE TO GO / WHAT TO DO
1. Explore the Ancient City of Ephesus
If you're planning a trip to Selçuk, then chances are it's to visit one of Turkey's most popular tourist destinations — Ephesus. Built in the 10th Century BC, this ancient city was a key seaport that was once the center of trade and commerce in the ancient world as well as being a hub for early Christianity.
Check out my post on the ancient city of Ephesus for more pictures and information.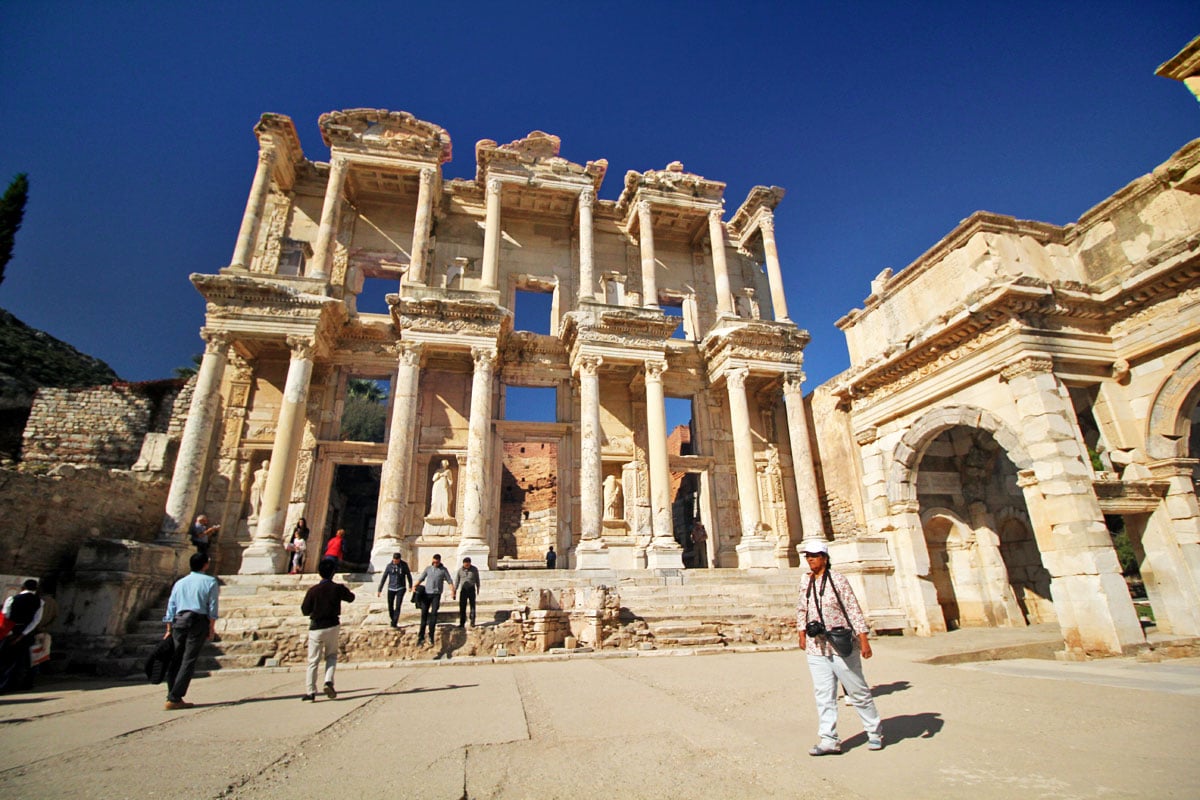 Suggested Length of Visit: 2-3 hrs / Admission: 30TL
2. View Ancient Artifacts at Ephesus Archaeological Museum
No visit to Ephesus can be complete without a stop at the archaeological museum. In a newly renovated building just minutes from the otogar (bus station), remnants of the Temple of Artemis and finds from Ephesus' most glorious Hellenistic and Roman periods are among the exhibits on display here.
Check out my post on the Ephesus Archaeological Museum in Selçuk for more pictures and information.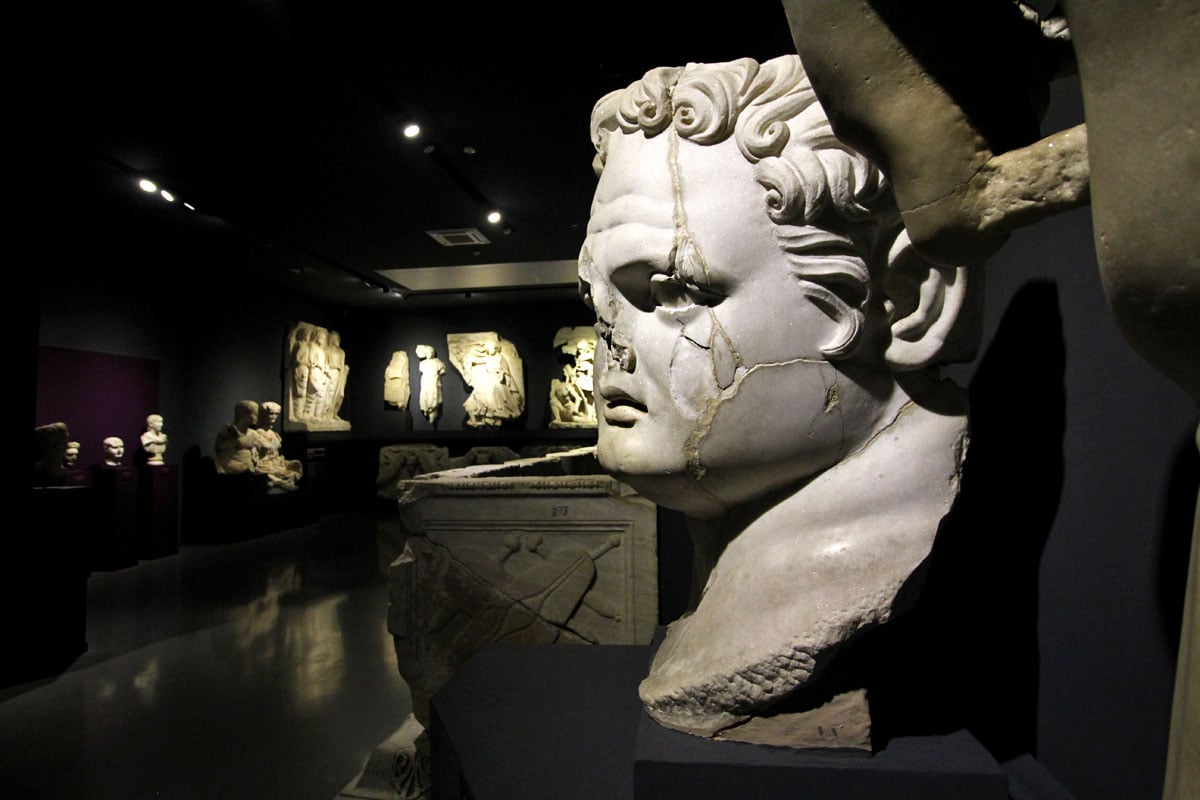 Suggested Length of Visit: 1-2 hrs / Admission: 10TL
3. Visit the Basilica of St. John & İsabey Mosque
Located in the heart of Selçuk, the Basilica is believed to be the burial site of St. John the Apostle while İsabey Mosque is regarded as one of the oldest and most impressive surviving examples of Anatolyan beylik architecture. Both are monuments to faith located just minutes from each other on Ayasuluk Hill.
Check out my post on the Basilica of St. John and İsabey Mosque in Selçuk for more pictures and information.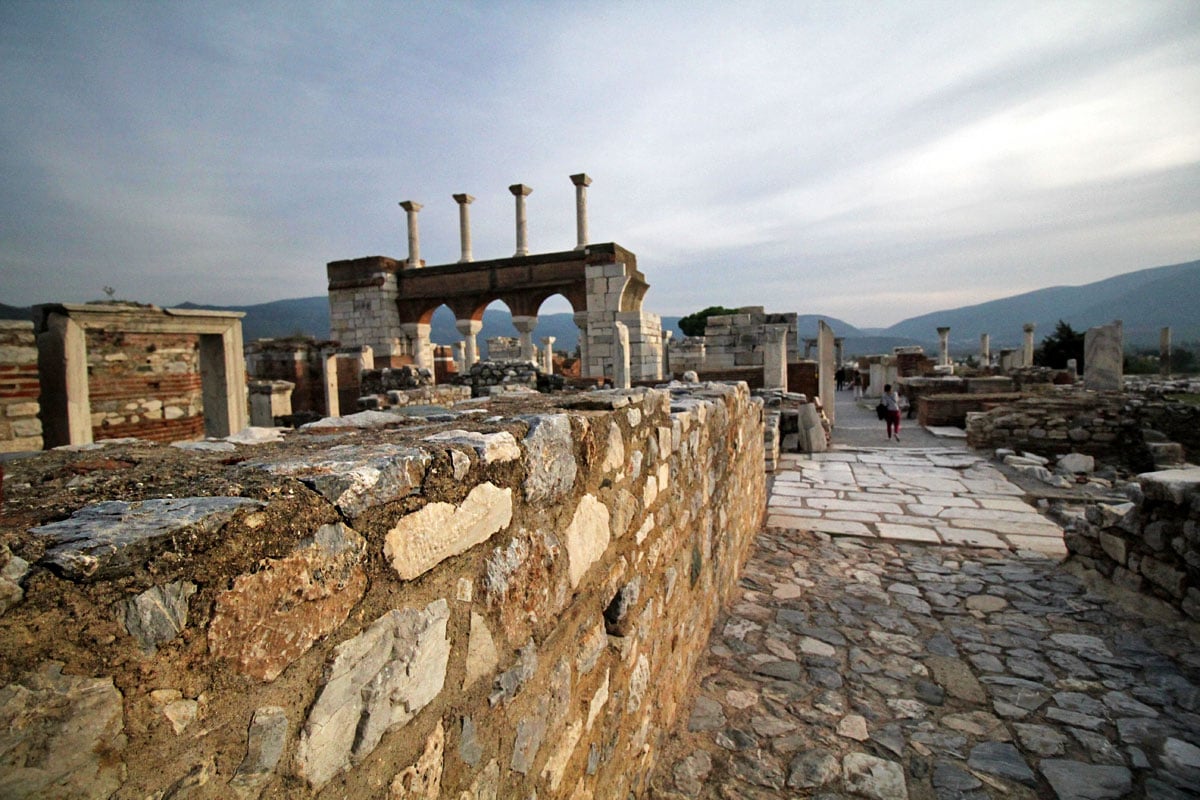 Suggested Length of Visit: 1-1.5 hrs for both / Admission: Basilica of St. John — 10TL / İsabey Mosque — FREE
4. Say a Prayer at Meryem Ana Evi
Meaning "Mother Mary's House" in Turkish, Meryem Ana Evi is said to be the last house where the Virgin Mother lived before Her Assumption. It's believed that she was taken here by John the Apostle shortly after the Crucifixion. Located on Mt. Koressos just 7 km from Selçuk, you can hire a taxi to take you here from the otogar for 70TL.
Check out my post on Meryem Ana Evi for more pictures and information.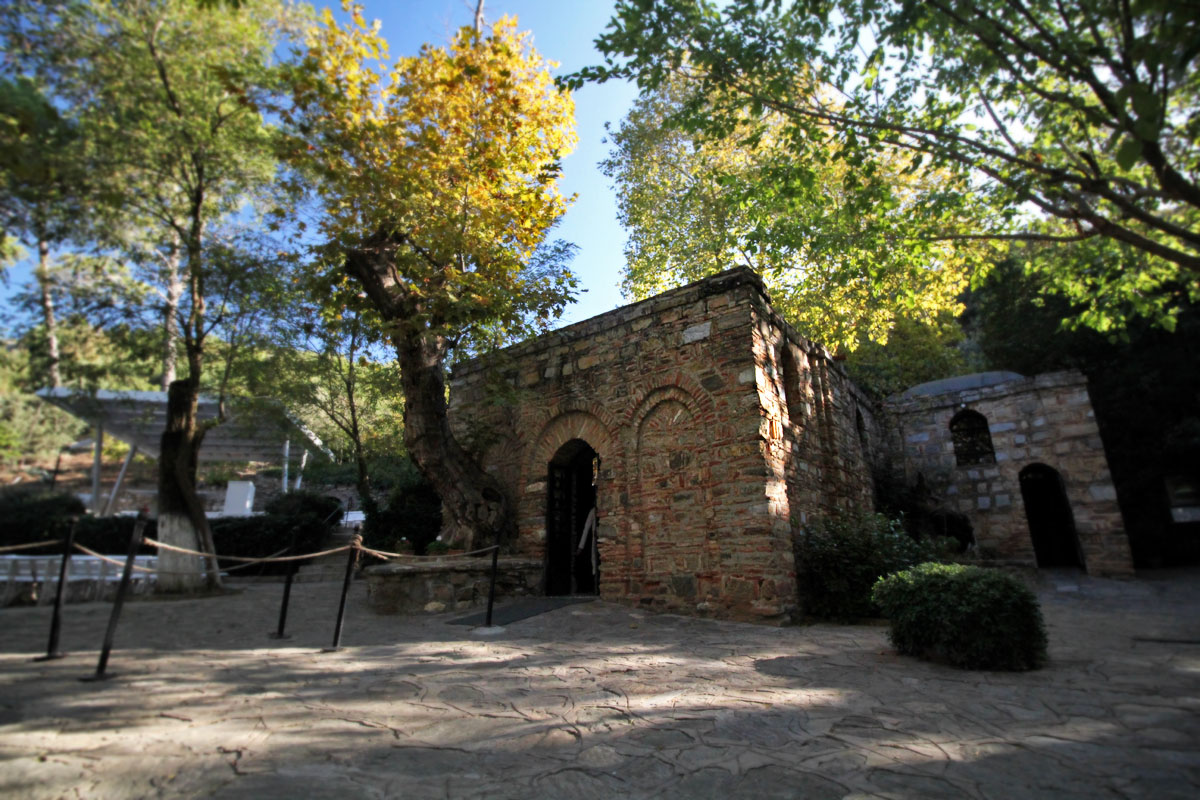 Suggested Length of Visit: 30-45 mins / Admission: 20TL
5. Enjoy the Sunset over a Glass of Wine in Şirince
Just 8 km east of Selçuk and accessible via minibus, Şirince is a charming hill town famous for its olive oil, fruit wines, and other natural products. We enjoyed this place so much that we wished we had an extra day in Selçuk, just so we could spend a night here.
Check out my post on Şirince for more pictures and information.

Suggested Length of Visit: 2-3 hrs / Cost: 6TL round trip
6. Pay your Respects at the Temple of Artemis
What a sad sight this was. One of the seven wonders of the ancient world, all that's left of the Temple of Artemis is this lonely column and a few sculptural fragments. Rebuilt three times before its ultimate destruction in 401 AD, any surviving pieces are now on display at the British and Ephesus Archaeological Museums. 😥
The temple is located just a short walk from the otogar. It's on the way to Ephesus so you can make a quick stop here on the way or coming back from the archaeological site.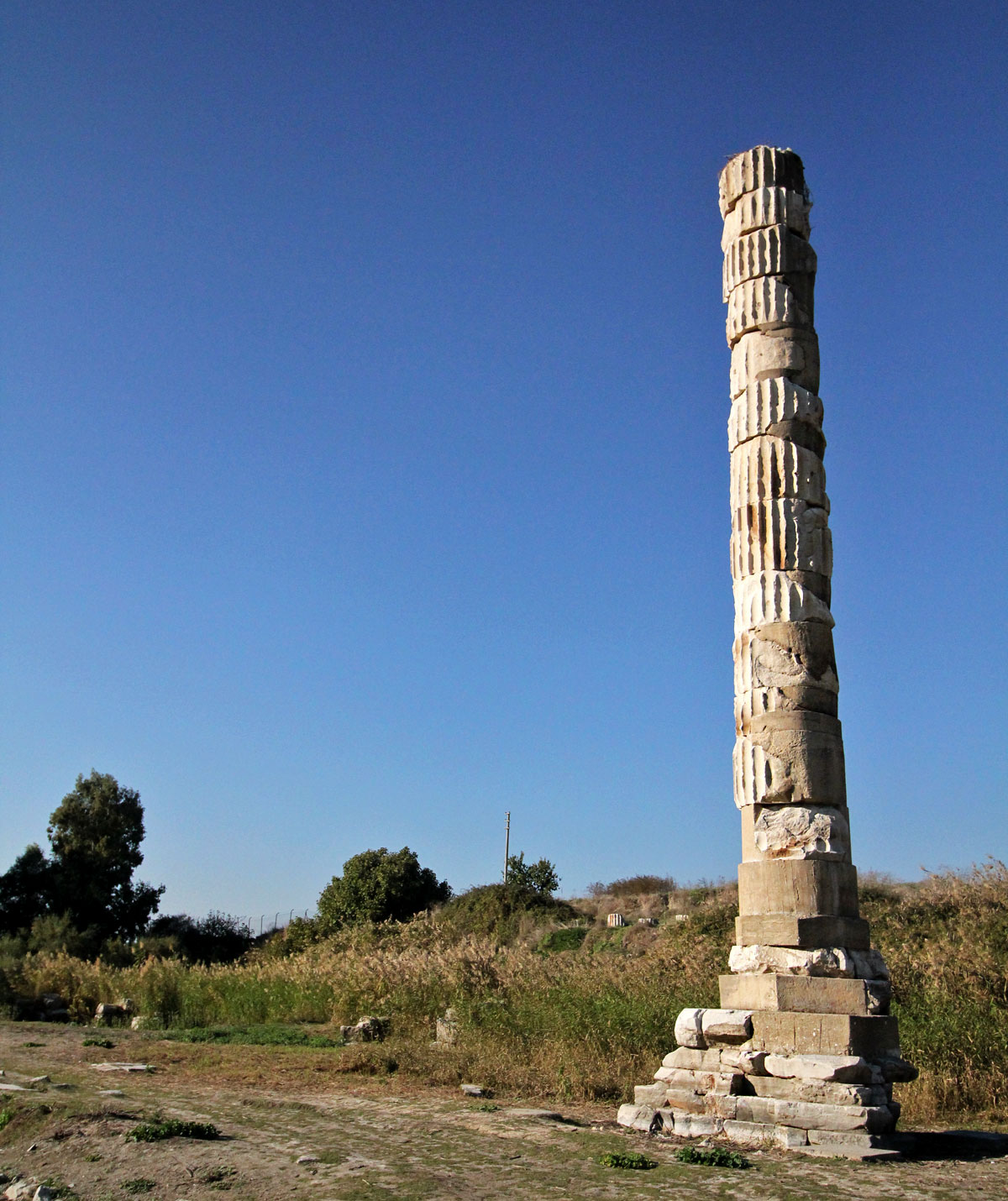 Suggested Length of Visit: 15 mins / Admission: FREE
27 THINGS TO EAT & DRINK
Considered one of the world's greatest cuisines because of its diversity, long history, and the legacy left behind by an imperial kitchen, it seemed that every region we visited had something interesting to offer. Check out my post for a list of 27 delicious things to eat and drink in Turkey.

Lahmacun, a type of wrap topped with minced meat (commonly beef or lamb), vegetables, herbs, onions, tomatoes, and parsley.
WHERE TO EAT
1. Ejder Restaurant
One of the highest-rated restaurants in Selçuk on TripAdvisor, not only did Ejder serve us the best lamb we had during our entire Turkey trip, but they also gave us a fantastic view of one of Selçuk's picturesque but less prioritized attractions. A must visit.
Check out my post on Ejder Restaurant in Selçuk for more pictures and information.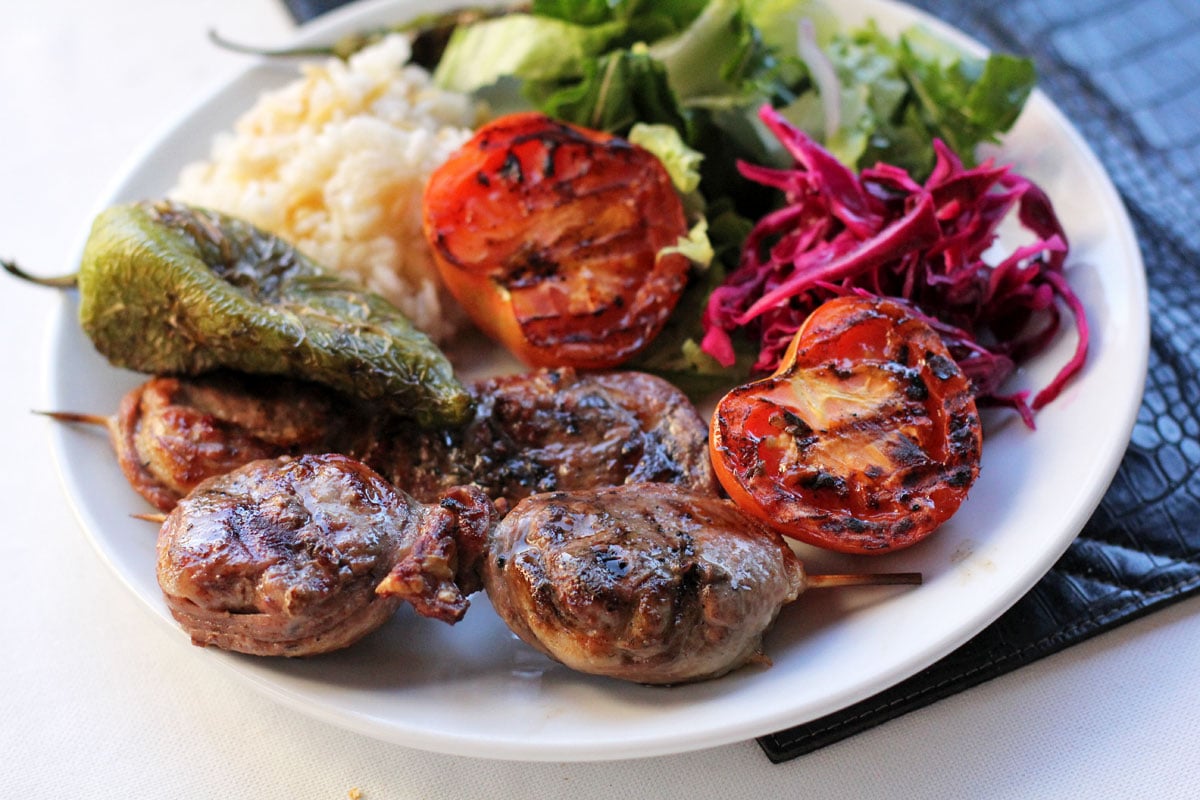 Expect to Spend: Around 30TL per person with drinks
2. Mehmet and Ali Baba Kebab House
Also on TripAdvisor's top restaurants list, Mehmet and Ali Baba Kebab House is located just around the corner from Ephesus Museum, making it an ideal spot to enjoy a meal before or after viewing the exhibits. We enjoyed this place so much that we wound up eating two meals here.
Check out my post on Mehmet and Ali Baba Kebab House in Selçuk for more pictures and information.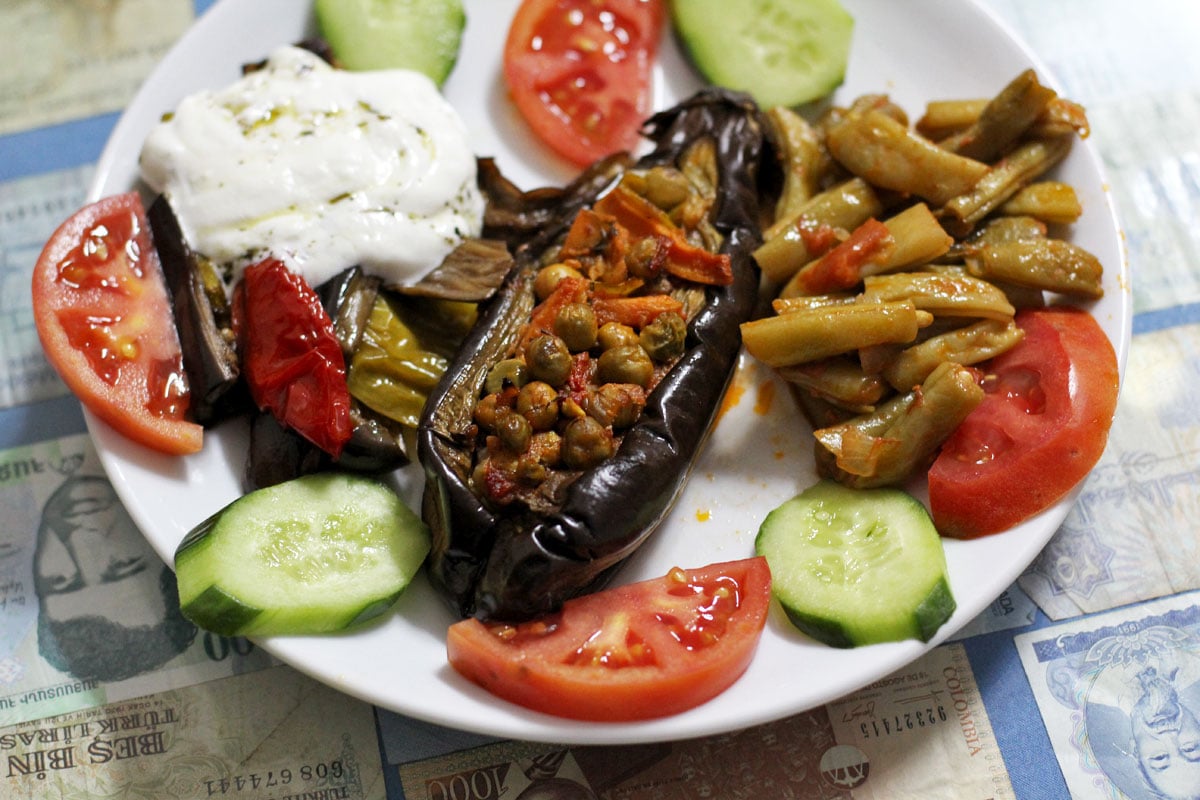 Expect to Spend: Around 25TL per person with drinks
TRAVEL TIPS
1. Plan your Trip with Sygic Travel (formerly Tripomatic)
I love this app. It makes travel planning a breeze. With this free app that you can use on your desktop and mobile devices, you can plot points of interest on a map, including your hotel, so you can see exactly how far you need to travel between points. It allows you to group attractions together per day based on their location. With pocket wifi, it can turn your mobile phone into a GPS tracking device so people with a terrible sense of direction (like me) never get lost again. Pretty cool awesome? Check out my post on the Sygic Travel app for more information.
You can follow the link to check out our Selçuk itinerary on Sygic Travel. It's for the Aegean region so it includes Pamukkale as well. You can also get a download link to our entire 2-week Turkey itinerary in editable Word format by signing up for our FREE newsletter below.
2. Rent a Pocket Wifi Device
A constant wifi connection is a must when traveling these days, especially with Sygic Travel's GPS tool being such a lifesaver. We never go anywhere now without renting a pocket wifi device first.
We rented the device from Alldaywifi for just USD 5 a day with unlimited data. We used it all throughout our Turkey trip — from Istanbul to Selçuk to Pamukkale to Cappadocia — without experiencing any interruptions in service. It also came with a powerbank which proved very handy. After using the device the entire day, the battery would go red around 6-7PM so we'd plug it in to the powerbank for a couple more hours of juice.
You can have it delivered to any hotel in Istanbul or pick it up at Ataturk Airport. Before departing Turkey, you can leave it with your hotel's reception desk as they currently don't offer airport drop-off. Delivery and pickup within Istanbul is free, but anywhere else will incur a shipment cost of USD 10 each way.
Follow the link to rent a pocket wifi device from Alldaywifi. I suggest reserving it at least a week before your trip.


3. Meryem Ana before Ephesus
If you're planning on visiting Meryem Ana Evi, then you should go there before making a trip to Ephesus. Taxis will charge you 70TL round trip. You'll pass the south gate of Ephesus on the way back to Selçuk so it's customary for them to drop you off there. You can then make your way from the south to the north gate of Ephesus, which is the ideal route to take. From the north gate, you can then walk (3 km) or catch a minibus back to Selçuk for 3TL.
4. Save 5TL with a Combo Pass
If you plan on visiting any two of these three destinations — Ephesus, Ephesus Museum, and Basilica of St. John — then you can save 5TL on a combo pass. You can also save 5TL if you buy a combo pass to Ephesus and the Terrace Houses. Entrance fees below:
30TL — Ephesus Archaeological Site
15TL — Terrace Houses
10TL — Ephesus Museum
10TL — Basilica of St. John
40TL — Ephesus Archaeological Site + Terrace Houses
35TL — Ephesus Archaeological Site + Ephesus Museum
35TL — Ephesus Archaeological Site + Basilica of St. John
15TL — Ephesus Museum + Basilica of St. John
5TL may not be much, but saving is always sexy no matter the amount. 😉
5. Check for Discount Passes
There are many websites that offer discount passes to tours and services. One of the biggest is Viator. They offer tours and activities to many cities around the world, including Selcuk. Viator is owned by TripAdvisor so you know they're solid. If you're looking for deals on tours, then you may want to search through this list of Seluck attractions on Viator. Alternatively, you can check on Kkday as well. I often use them to look for deals though they don't have a lot in Izmir at the moment.
6. Get Travel Insurance
To be honest, it was only recently when we started buying travel insurance. Back when we traveled just once or twice a year, travel insurance felt like an added expense, one we didn't need. But now that we travel more, I understand how important it is to have it. Fact is, you never know what can happen. It's one of those things that you hope you never have to use, but if you do wind up needing it, then you'll be thanking the gods that you had it. Or cursing them if you didn't.
Though I do find it more necessary now, it's still up to you if you think you need it. A 3-day trip to Hong Kong just shopping and eating may not really call for insurance but if you plan on doing more active things like bungee jumping, horseback riding, or going on a hot air balloon ride, then I'd say travel insurance is a must.
We buy travel insurance from World Nomads because every long-term traveler I know recommends it. From the sound of it, they're the best in the industry by a mile. Not only do they provide a high coverage limit for medical expenses (up to USD 5 million with the Standard package), they also cover things like trip delays, missed flight connections, theft/loss of passport and luggage, etc. Follow this link to learn more and get a free travel insurance quote from World Nomads. It's super quick and easy.
7. Wear Comfortable Shoes with Good Traction
Most of the paths at Ephesus, Basilica of St. John (especially the fortress), and Şirince are rough and/or uneven so it's important that you wear comfortable walking shoes with good grip. Many of the stones are marble so they can be slippery as well.
8. Know When and How Much to Tip
Tipping is generally modest in Turkey, around 5% at restaurants and a few lira for porters and other similar services. Try to tip in TL as much as possible and give it directly to your server. At inexpensive restaurants, around 5% is enough. At fine dining establishments, 10-15% is expected. For porters at hotels, airports, or train and bus stations, 2-3TL per bag should suffice. Taxi drivers usually aren't given a tip, but you should round the fare up to a convenient amount (ie 20.30TL to 21TL). Tips to tour guides and drivers are at your discretion. If you were happy with the day's tour, then a group tip of around 20TL for the guide and 15TL for the driver would be appreciated. Keep in mind that this is the total tip from the entire group, not each individual.
9. Bring the Right Power Adapter
Electrical outlets in Turkey are round so plugs are typically Type C or Type F. Be sure to bring the right power adapters for your devices. Electrical voltage is 230V.
A bible for all things Turkey. Tom Brosnahan is an American travel writer who's been visiting Turkey for the greater part of 40 years. He's about as knowledgeable and well-connected as any non-local, and his website — turkeytravelplanner.com — was an invaluable resource when planning our trip. The navigation is a little confusing but the wealth of information is impressive. I suggest referring to it should you need more in-depth knowledge of Turkey.
HOW TO GET AROUND
Selçuk is a small town so it's easy to get around on foot. If you download Sygic Travel and have GPS switched on, then you should have no problem finding anything. As described above, the only times you'll need to arrange for transportation is when visiting Meryem Ana, Şirince, and the Ephesus archaeological site.
Have fun!
I'm not an expert on Selçuk nor Turkey but I do hope that you find this guide useful. I'm only sharing some of the things I learned from our trip. If you have any suggestions or simply want to share your own experiences, then please feel free to do so in the comments section below. You're welcome to join our Facebook Travel Group as well. We'd love to hear from you.
Thanks for stopping by and have fun walking back in time at Ephesus!
OUR GEAR
These are some of the things we brought with us to Selçuk. As you can tell, I document a lot of content for this blog so most of the things I bring are photo and video equipment. 😆 If you'd like to see what other gear we use, then you can check out our "What's in Our Backpack?" post. (NOTE: The following links are Amazon affiliate links.)
Disclosure
Some of the links in this guide are affiliate links, meaning we'll get a small commission if you make a purchase at NO extra cost to you. We only recommend products and services that we use ourselves and firmly believe in. We really appreciate your support as this helps us make more of these free travel guides. Thank you!
JB is one half of Will Fly for Food and its chief itinerary maker.  He's the one to blame for all the crappy photos and verbal diarrhea on this blog.  Don't listen to him.
Latest posts by JB Macatulad (see all)