Get in Line for Seoul's Best Samgyetang at Tosokchon
If you'd like to try samgyetang, then Tosokchon should be at the top of your list. In Seoul, this place is legendary.
Samgyetang is a hot and nutritious soup made from a whole young chicken stuffed with glutinous rice, then boiled in a broth of Korean ginseng, jujube fruits, garlic, ginger, and various herbs and condiments. Believed to replenish lost heat and boost your energy, you'd think that samgyetang would be popular in winter, but it's actually considered a summer dish. Eating a whole chicken in hot broth might seem unappealing in summer, but the practice is founded on the notion of Yi Yeol Chi Yeol — "fighting heat with heat" — as derived from traditional Korean medicine principles. It's said that eating a hot, nourishing dish like samgyetang can facilitate blood flow in the internal organs and help lower body heat by emitting sweat.
Chicken soup of any kind isn't one of my favorite dishes, but I was convinced that Tosokchon's samgyetang was something that we had to try while in Seoul. I'm happy that we did.
There are two parts to the Tosokchon legend. One, they serve the best samgyetang in the city. Two, their lines can get long as hell. Both are true. The picture below was taken at 12:30PM. We got there at 11:30AM and there was no line yet, but the restaurant was almost full. Be sure to get there around that time or earlier so you don't have to wait too long.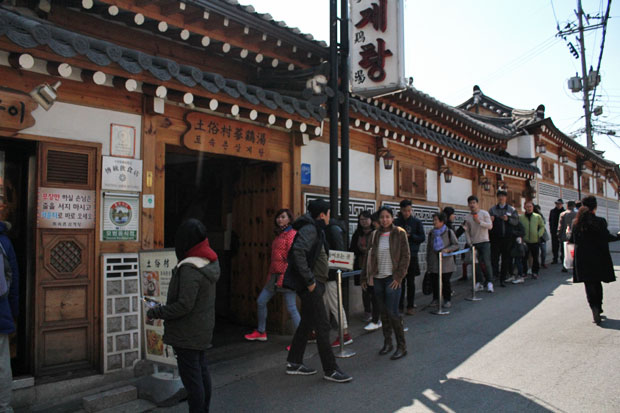 The restaurant is in a hanok or traditional Korean house. You have to sit on the floor Korean-style which can be a little challenging if you're not used to it. My legs kept falling asleep. 😆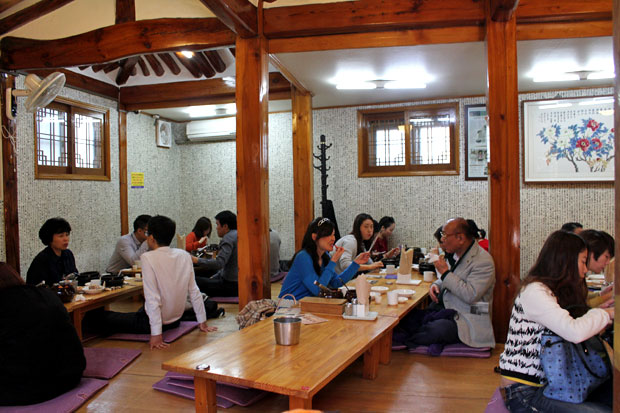 Bottomless jars of kimchi on every table. They also give you tea and a shot of soju (Korean rice wine).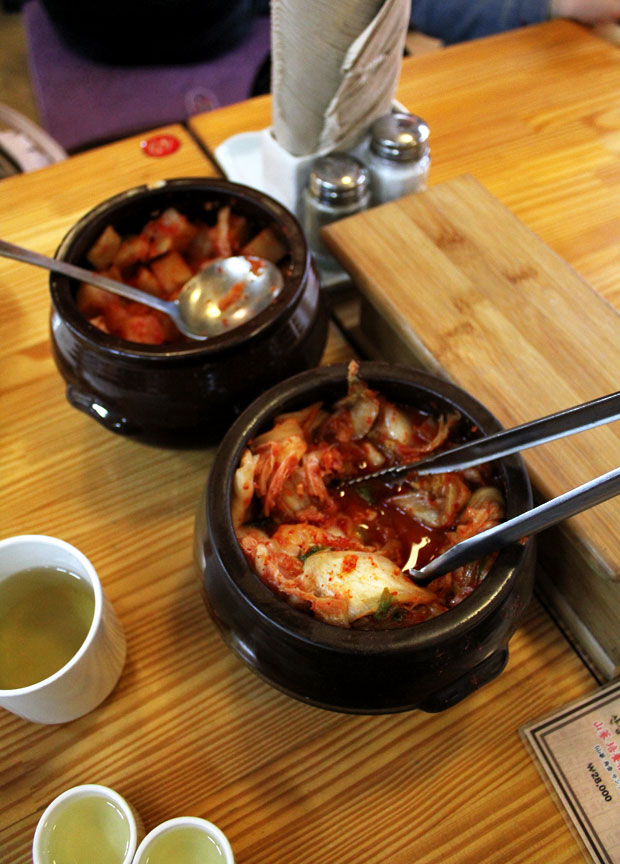 We didn't think that that one samgyetang would be enough for us so we ordered this pajeon for 15,000 KRW. If you've never had pajeon before, it's a pancake-like dish made with green onions as its predominant ingredient. Usually accompanied by beef, pork, kimchi, shellfish, and other seafood, this one was really good and was about the size of a small pizza.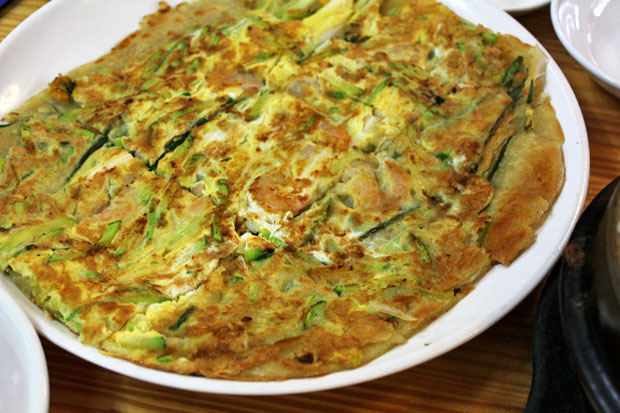 Tosokchon's legendary samgyetang. The regular samgyetang goes for 15,000 KRW, but we went with this version made with black chicken for 22,000 KRW.
Like most chicken soups, it tasted exactly how I expected — mild in flavor. To be honest, I was disappointed with its subtlety in flavor at first but it did grow on me in the end. Stuffed to the hilt with glutinous rice and jujubes, it's a substantial and nutritious dish that makes you feel good after eating it. Ren loved it and called it one of the best dishes that she ate on this trip.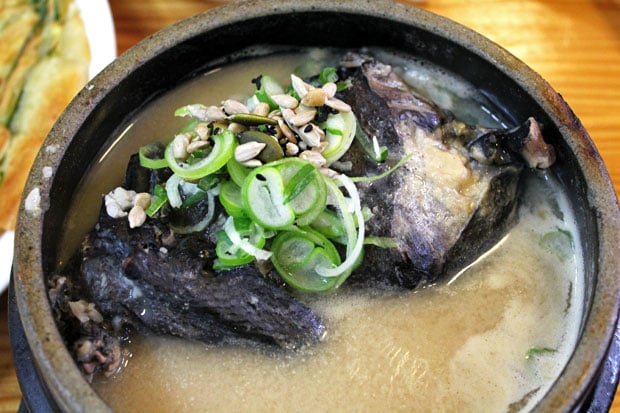 A closer look at the black chicken. Made with a young hen, one order may be too much for one person but not enough for two. If there are two of you, then I suggest sharing one samgyetang and one pajeon like we did.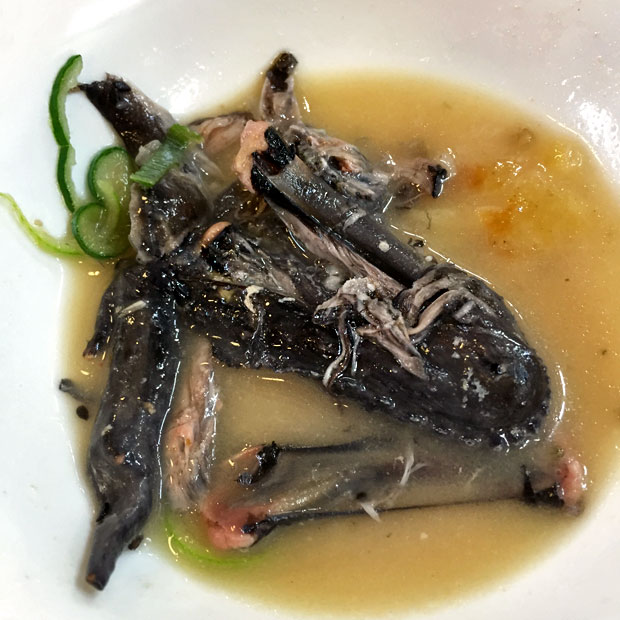 I don't care if it's summer or winter. If you're in Seoul, then you should definitely try Tosokchon's samgyetang. It's one of the city's iconic restaurants. In fact, so popular is this place that the late president Roh Moo-hyun was a frequent patron. Just a 10-minute walk from Gyeongbokgung Palace, I suggest enjoying a meal there before or after visiting the palace.
Tosokchon, Seoul, South Korea
토속촌
5, Jahamun-ro 5-gil, Jongno-gu, Seoul, South Korea
서울 종로구 자하문로5길 5 (체부동)
Tel: +82 2 737 7444
Fax: +82 2 733 6645
Website: tosokchon.com
Facebook: Tosokchon
Kakao: tosokchon
Weibo: tosokchonsamgyetang
Hours of Operation: Mon-Sun, 10AM-10PM
Expect to spend: Around 16,000 KRW per person with drinks
Reservations: Not required, but it's recommended that you go early
HOW TO GET THERE:
By subway, get off at Gyeongbokgung station (line 3), exit 2. Walk straight about 200m and turn left onto Jahamun-ro 5-gil Road. Tosokchon will be just ahead on the left.
JB is one half of Will Fly for Food and its chief itinerary maker.  He's the one to blame for all the crappy photos and verbal diarrhea on this blog.  Don't listen to him.
Latest posts by JB Macatulad (see all)