South Korean Food Trip: 7 Must-try Restaurants in Seoul
Preparing an itinerary can be daunting.
It's hard enough planning for all the must-see places, but restaurants are an entirely different matter altogether. The number of landmarks and interesting areas in any given place is limited. But when it comes to places to eat, you have hundreds, even thousands of restaurants to choose from, especially in a mega metropolis such as Seoul.
Food plays a major role in our trips so finding the right restaurants (and dishes) is equally important to us as visiting a UNESCO World Heritage Site. If it is for you as well, then here are 7 restaurants that I'd happily recommend to any first-time visitor to Seoul.
1. Myeongdong Kyoja
Myeongdong Kyoja is home to some of the best kalguksu in the city. Kalguksu is a noodle dish consisting of handmade, knife-cut wheat flour noodles served in a large bowl with broth and other ingredients. It's delicious and inexpensive, just 8,000 KRW per bowl. Myeongdong Kyoja only serves kalguksu, mandu (Korean-style dumplings) and a couple of other noodle dishes so you know their food is going to be good.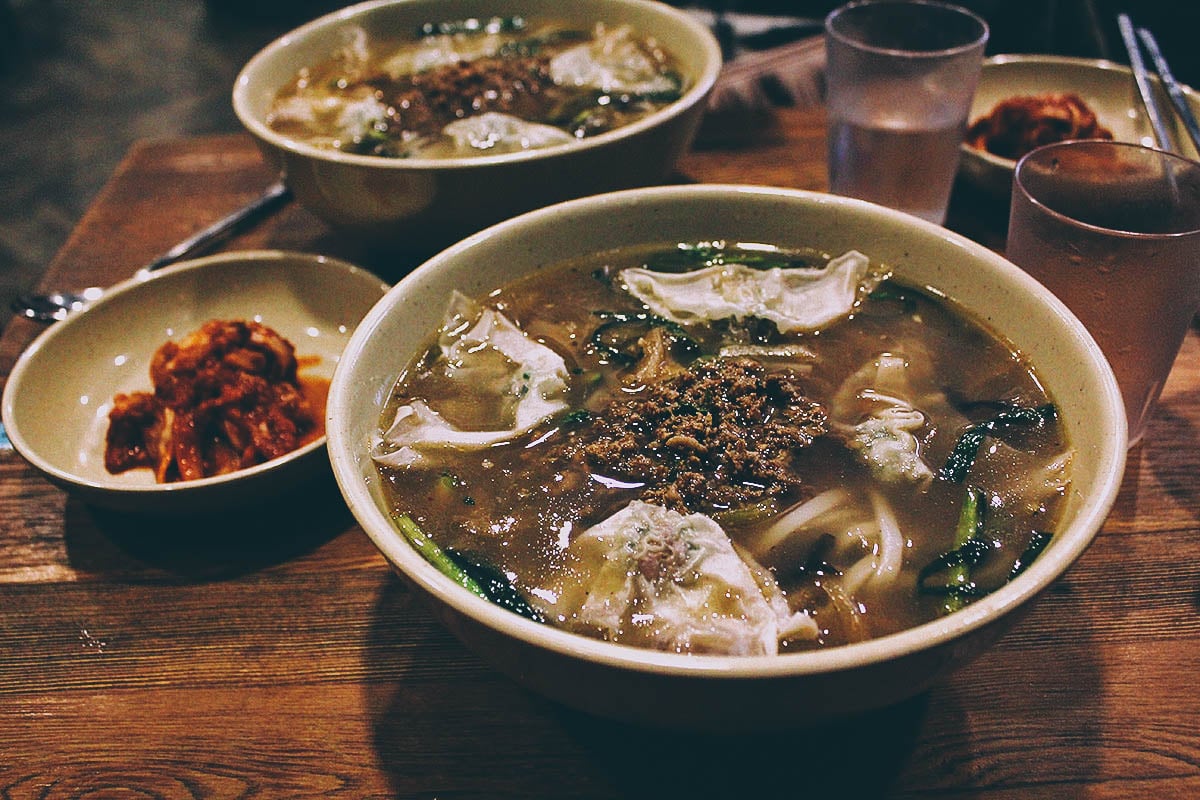 Expect to Spend: 8,000 KRW per person
To get to the restaurant by subway, get off at Myeong-dong station (line 4), exit 8. Soon as you exit the station, make an immediate left into the first alley that you see. Walk straight for about 5 minutes and you'll see the restaurant pictured below on your right. It's popular so don't hesitate to ask anyone if you can't find it. Here's the restaurant's name and address in Hangul: 명동교자. 서울특별시 중구 명동10길 29 (명동2가).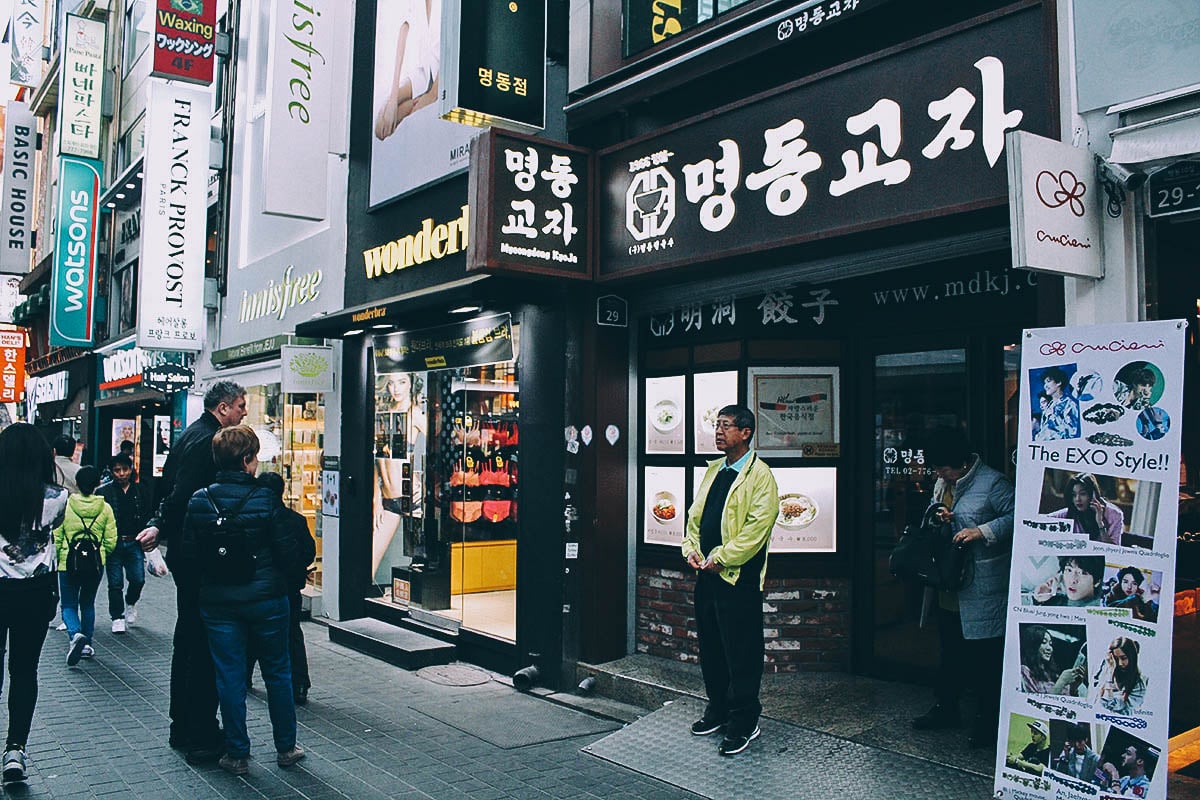 2. Tosokchon
If samgyetang is your thing, then Tosokchon is the place to be. Samgyetang is a hot and nutritious soup made from a whole young chicken stuffed with glutinous rice, then boiled in a broth of Korean ginseng, jujube fruits, garlic, ginger, and various herbs and condiments. A popular summer dish, Tosokchon's samgyetang is so good that late president Roh Moo-hyun was a frequent patron. The restaurant is just a 10-minute walk from Gyeongbokgung so I suggest enjoying a meal here before or after visiting the palace.
Follow the link for more pictures and information on Tosokchon.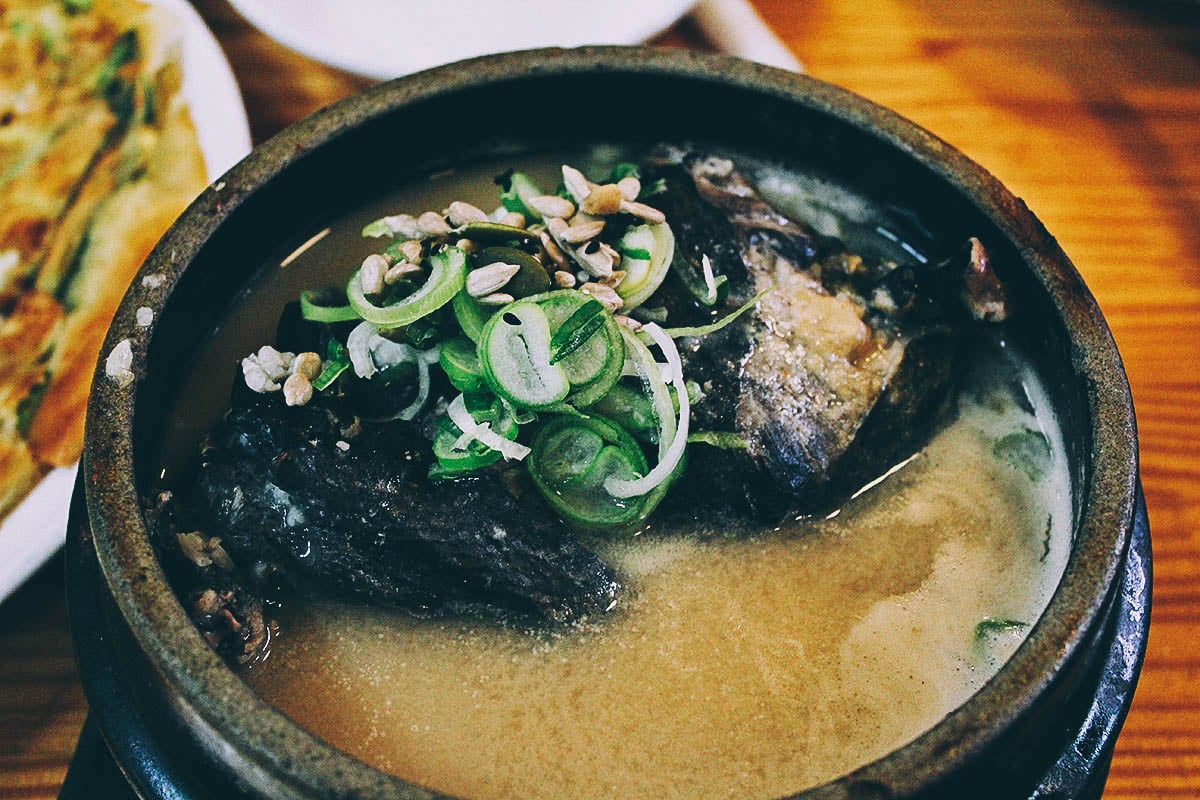 Expect to Spend: Around 16,000 KRW per person with drinks
3. Sigol Bapsang
Fans of those delicious Korean side dishes called banchan will surely love Sigol Bapsang. For just 8,000 KRW, you can have a feast of at least twenty different types of banchan to go with some rice and a steaming bowl of fermented soybean paste stew (jjigae). Really good and fun to eat.
Follow the link for more pictures and information on Sigol Bapsang.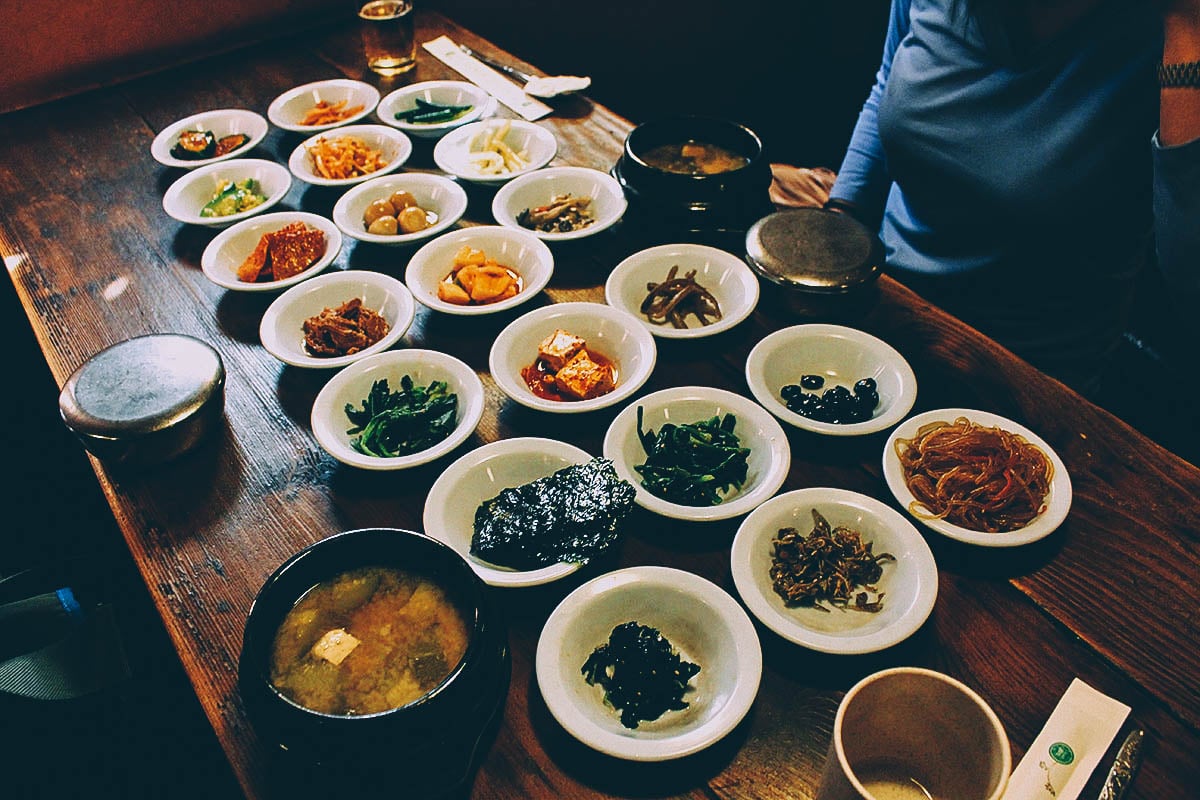 Expect to Spend: Around 12,000 KRW per person with drinks
4. Han Chu Korean Fried Chicken & Beer
Fried chicken and beer restaurants are ubiquitous in Seoul, but Han Chu is said to serve some of the best. Korean fried chicken is double-fried, resulting in crunchier and less greasy skin. As you can see from the picture below, they give you a lot so one order is enough for two. Their fried green peppers stuffed with pork are said to be very good as well.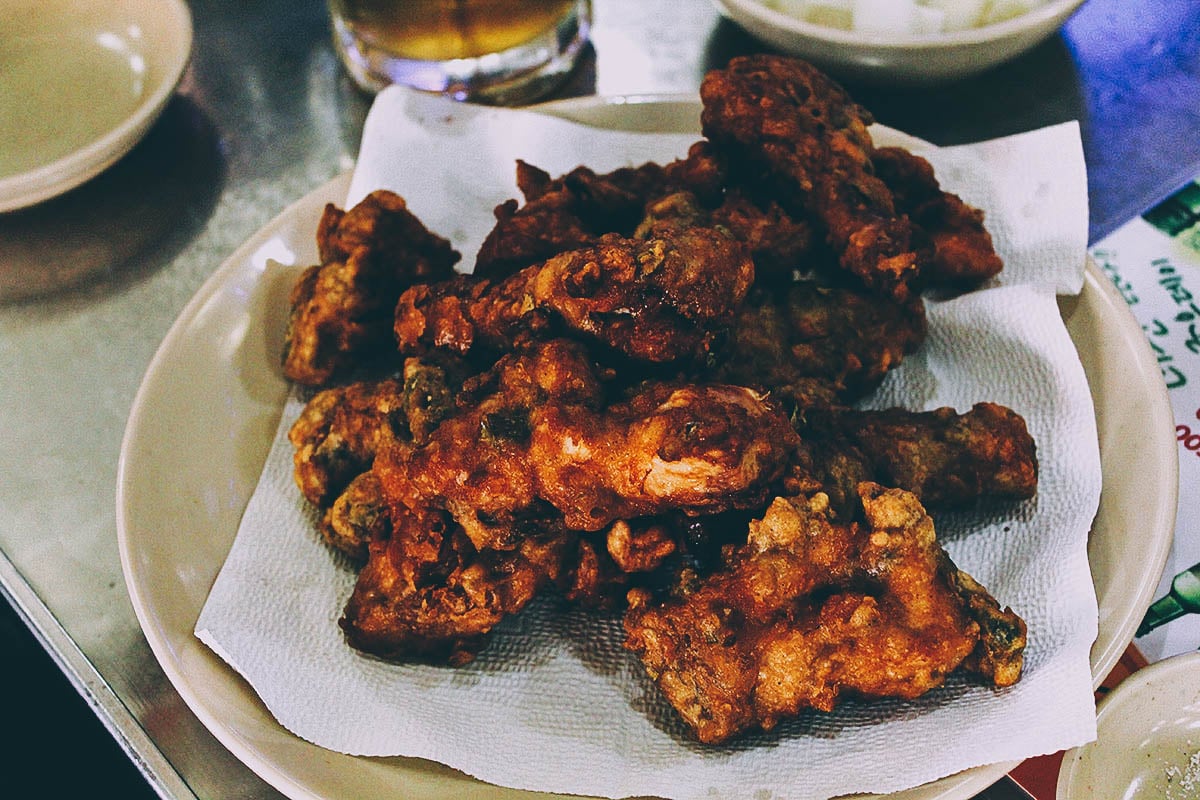 Expect to Spend: Around 13,500 KRW per person with drinks
To get to the restaurant by subway, get off at Sinsa station (line 3), exit 8. Walk straight until you see a Missha cosmetics store. Make a left into Garusogil Street. Walk straight and make a right into a small street after the Forever 21 building. Han Chu will be on your left. There's no English name so be sure to look for the orange restaurant pictured below. Here's the restaurant's name in Hangul: 한추.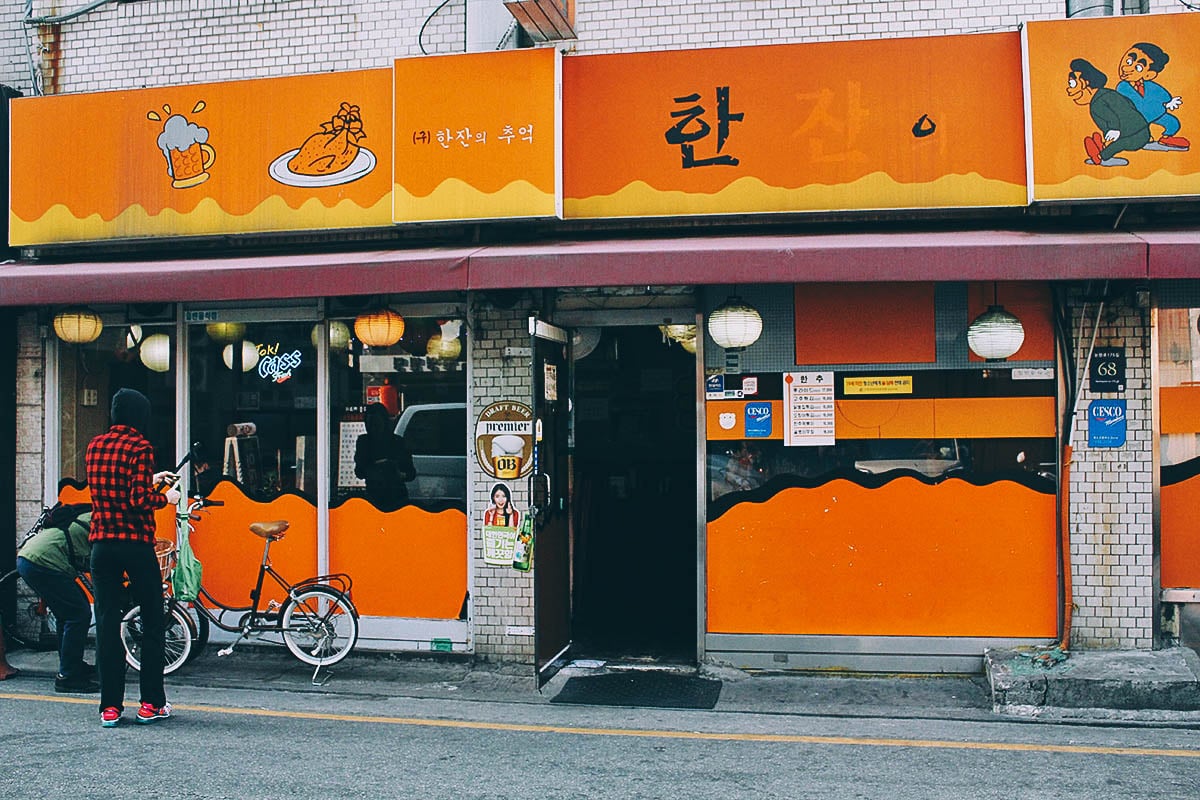 5. Si.Wha.Dam
An exceptionally artistic meal, I'm guessing that you've never had Korean food quite like this. With their stunningly beautiful tasting menus, Si.Wha.Dam is one of a handful of restaurants leading the way for modern Korean cuisine.
Follow the link for more pictures and information on Si.Wha.Dam.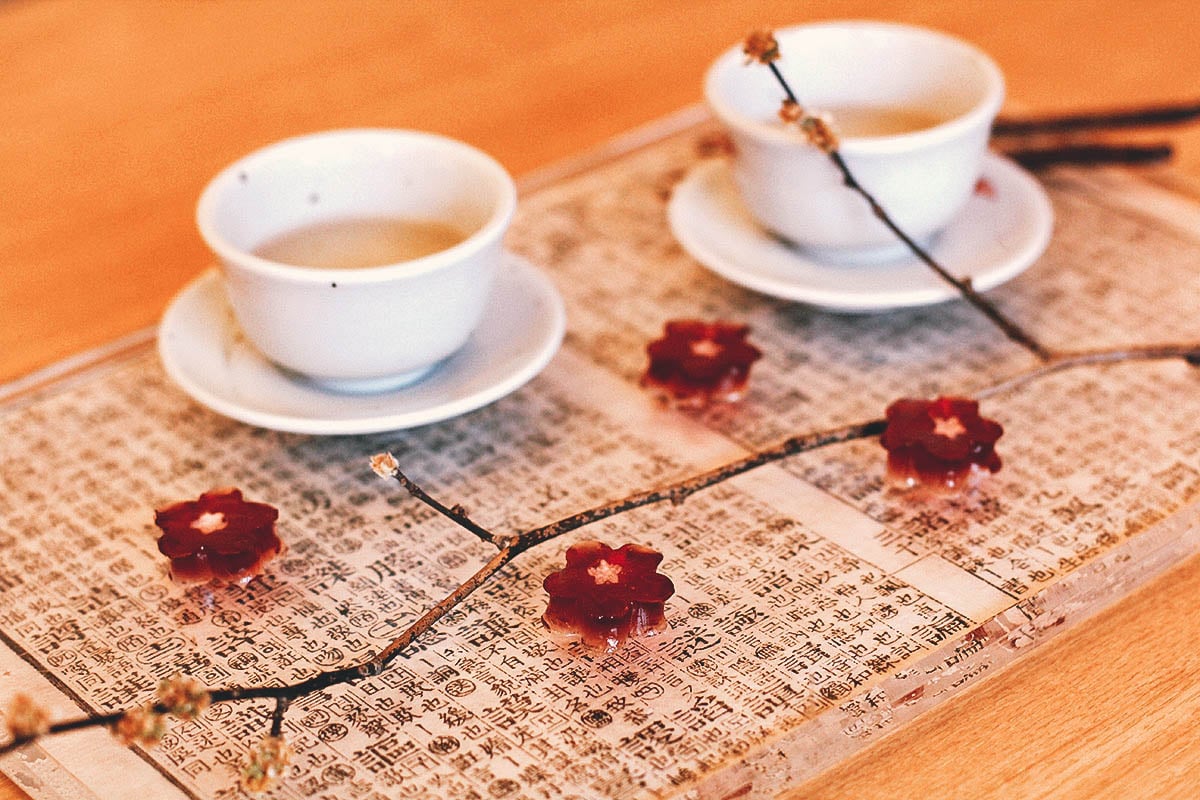 Expect to Spend: At least 28,000 KRW per person
6. Jjukumi Alley
Not a restaurant, but a network of eateries specializing in Jjukumi — a notoriously spicy dish of baby octopuses marinated in a red chili gochugaru sauce, then stir-fried. I thought I had a high tolerance for spicy food until I tried this. Huwaw that was hot!
To get there by subway, get off at Jegi-dong station (line 1), exit 6. Walk straight for about 5 minutes until you see a bronze octopus statue. Turn left into Jjukumi Alley. Here's "Jjukumi Alley" in Hangul: 용두동 주꾸미.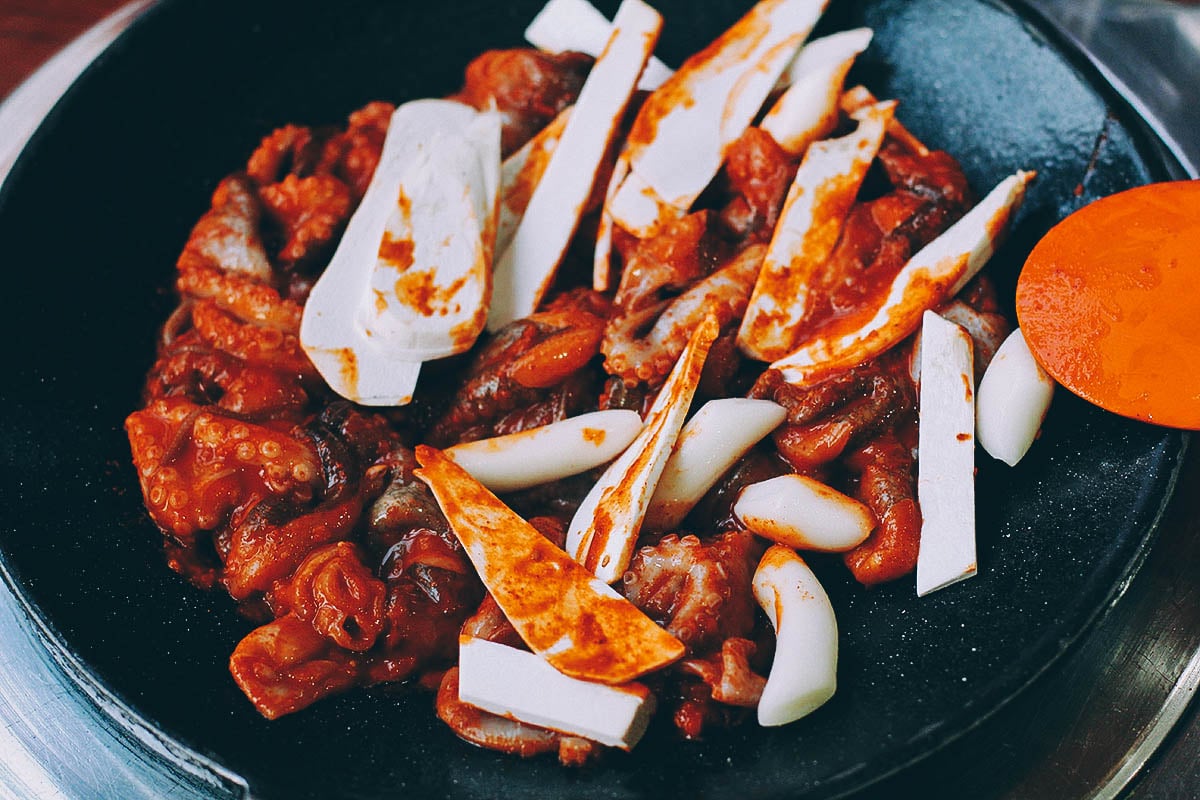 Expect to Spend: Around 13,000 KRW per person with drinks
7. Noryangjin Fish Market
Like Jjukumi Alley, this isn't a single restaurant but a cluster of them at Noryangjin Fish Market. If you like seafood, then a meal here is a must. The seafood is unbelievably fresh.
You buy your seafood from the market downstairs and have any of the restaurants upstairs cook it for you. Be sure to bargain the prices down for both the seafood and the preparation. I've read that they tend to jack up the prices here for foreigners. I think it's true.
Noryangjin is the best place to try sannakji, that infamous dish of octopus sashimi. One of my favorite things to eat on this trip, it's absolutely delicious if you can get past all the squirming tentacles.
Follow the link for more pictures and information on Noryangjin Fish Market.
Expect to Spend: Around 10,000 KRW per octopus (with preparation)
So there you have it, a list of 7 must-try reastaurants that any first-time visitor to Seoul will surely enjoy. This list is far from being complete but I do hope it helps you narrow down your choices.
Notably absent is a Korean BBQ restaurant. Meat, at least the best meat, is pretty expensive in Seoul. We walked into a couple of BBQ places and meat dishes typically cost around 35,000 KRW per order at an average restaurant.
Another dish I really wanted to try was ganjang gejang — a dish of soy-marinated raw crab served with an abundance of roe. A few of my Korean friends have called it their favorite dish. Like meat, it's expensive, around 55,000 KRW for one small crab at a decent restaurant. Keungiwajip (큰기와집) is said to serve some of the best ganjang gejang in the city.
If you have a large appetite and want a truly kingly feast, then you may be interested in hanjeongsik. A full-course Korean meal comprised of multiple courses with many dishes per course, hanjeongsik refers to traditional Korean royal court cuisine. As far as I know, these types of meals can't be had for cheap so be prepared to pay a hefty sum for an authentic hanjeongsik.
Seoul is so big with so many restaurants that you can spend a whole month there trying something new every meal. It's known for its wealth of street food as well, so you can follow the link for a list of 20 delicious things to eat in Seoul.
JB is one half of Will Fly for Food and its chief itinerary maker.  He's the one to blame for all the crappy photos and verbal diarrhea on this blog.  Don't listen to him.
Latest posts by JB Macatulad (see all)