EDITOR'S NOTE: We gravitate towards traditional food when we travel but learning where locals go is always a good thing. Zagreb is a cosmopolitan city offering a range of cuisines, so we asked Traveleater Ana Cerovski from KitchenToast to share with us a list of popular restaurants and bars where locals like to go.
Zagreb is the capital city of Croatia and a place with intertwined history, culture, and gastronomy. It's a place to explore and enjoy so any tips and tricks to help appreciate it like a local are always welcome.
Because of that, we decided to list ten of the best Zagreb restaurants and bars that utilize the trendy "street food" concept. They offer delicious food that's easy to eat with your hands, making them the ideal partners for exploring the city or simply finding a nice relaxing place to sit and soak up the sun.
Learn what and where to eat in Zagreb while discovering the flavors of the world!
FOOD IN ZAGREB QUICK LINKS
Eating at local restaurants is always fun, but so is going on food tours. If you'd like to eat your way through Zagreb with a local, then you may be interested in one of these food tours.
FOOD TOURS
Save This on Pinterest!
No time to read this Zagreb restaurant guide now? Click on the save button and pin it for later!
THE BEST ZAGREB RESTAURANTS & BARS
1. Brewbites
Brewbites is a true American restaurant and sports bar. It has unique decoration – simple, yet with interesting design lines and details. The Brewbites restaurant is a place where locals like to go to relax and watch sports matches. Because of that, you'll find TV screens all over the place so you don't miss out on any match balls or points!
When it comes to its food, the restaurant offers burgers, ribs, bar snacks, salads, wraps, pancakes, and desserts. Of course, it also has a wide selection of refreshing local and international beers. The Brewbites American restaurant and sports bar is a favorite spot to be, and aside from its cool design and pleasant atmosphere, it offers amazing food and flavors!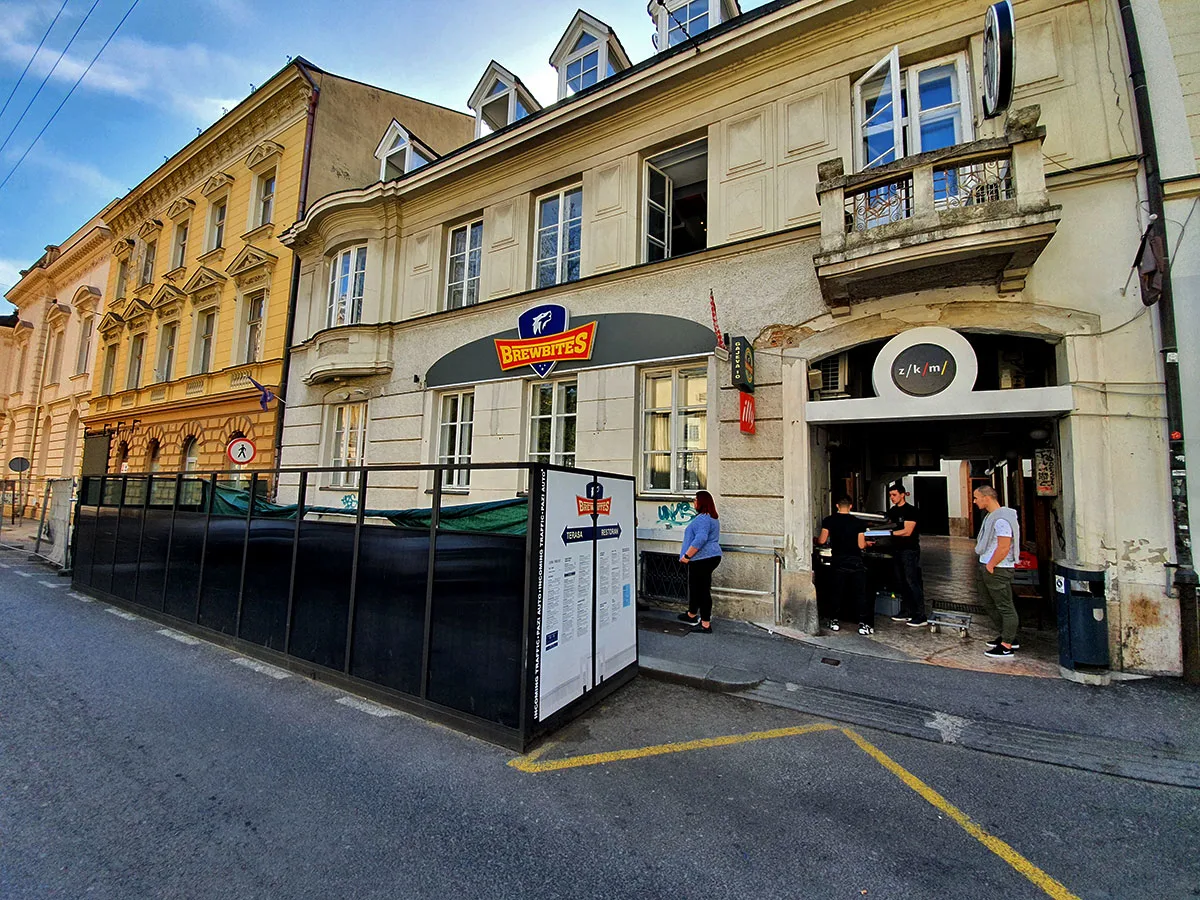 Ulica Ljudevita Gaja 10, Zagreb 10360 Croatia
Tel: +385 1 4820 800
What to Order: Burgers, ribs, bar snacks, beer
2. Ginger Sushi
The idea of this restaurant is quite simple – to offer top-quality sushi. With its colorful design, interesting details, and simple cuisine which emphasizes rich flavors and aromas, this restaurant has become a favorite sushi spot for both locals and tourists alike. It has an ideal location in the center of Zagreb so every tourist and visitor can enjoy it before, during, or after sightseeing.
Ginger Sushi offers amazing dishes with rich flavors and aromas. They have a great selection of sushi made with high-quality ingredients at affordable prices. All the dishes are carefully prepared so they bring a true touch of Japanese traditional recipes into the center of Zagreb.
Masarykova Ulica 21, Zagreb 10000 Croatia
Tel: +385 1 8897 086
What to Order: Sushi
3. Croatian Food Heritage
When we mention the word charming, this place immediately comes to mind. The Croatian Food Heritage combines two ideas – the traditional flavors of Croatia and the popular street food concept. With its recognizable blue sign with red letters, the Croatian Food Heritage is a small spot with a beautiful interior. It offers traditional products so you can always buy small dishes with unique flavors and take them home with you.
Besides flavors-to-go, the restaurant offers Crobites. These are small but creatively made bites from different regions of Croatia. From Slavonia and Međimurje to Istria and Dalmatia, the restaurant has it all – truffles, prosciutto, fish, cheeses, olive oil, local wines, brandies, craft beers, and more. Every dish presents a small, delicious, and unique taste of traditional Croatian cuisine.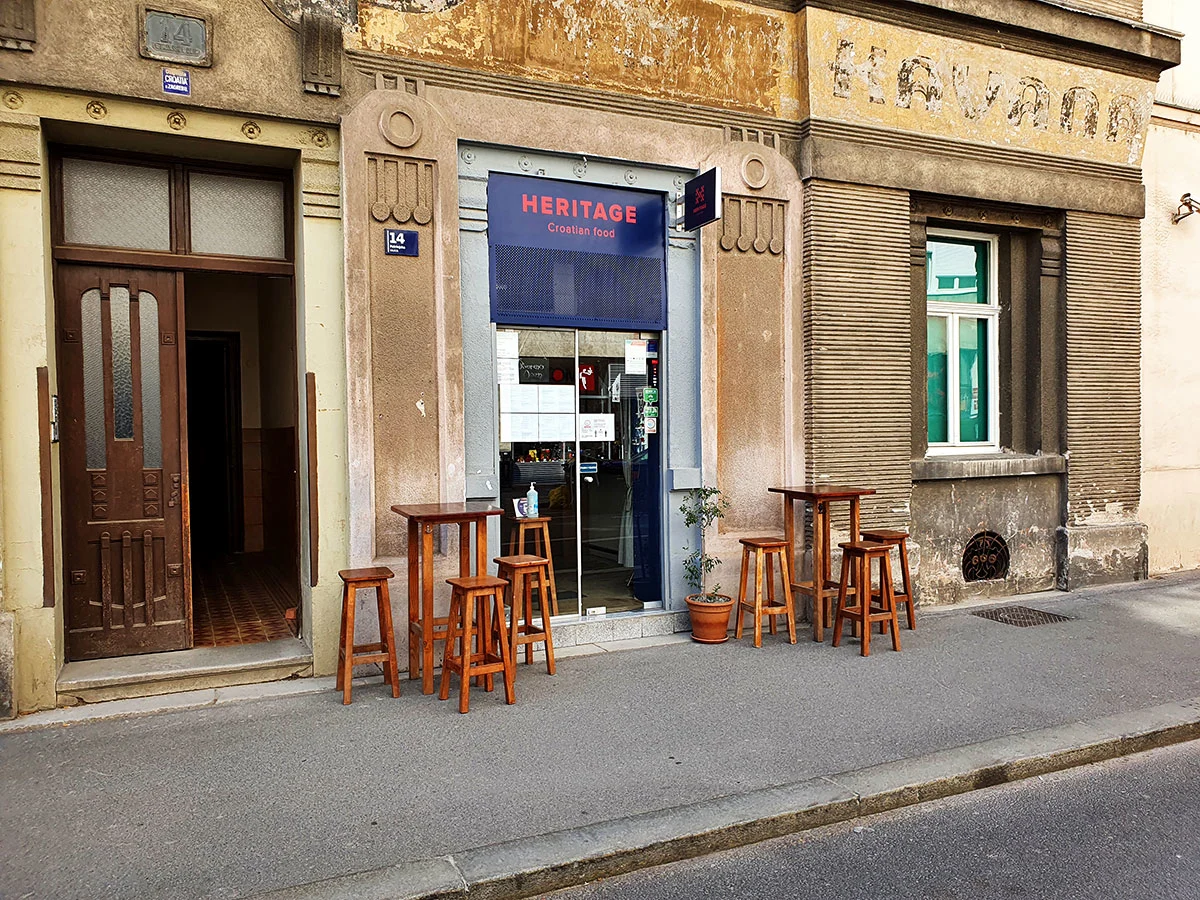 Petrinjska ulica 14, Zagreb 10000 Croatia
What to Order: Crobites
4. La Štruk
If you're looking for an authentic Croatian food experience with amazing gastronomy and a unique atmosphere, make sure to visit La Štruk! It's set in an old backyard surrounded by stone, and with charming details and colorful chairs. The restaurant offers romantic summer vibes which contribute to that authentic experience you're looking for!
La Štruk is not only unique because of its setting and design, but it also stands out because of its menu. It offers only one dish prepared in a variety of ways – štrukli! Štrukli is a Croatian traditional dish that can be cooked or baked with cheese, nuts, apples, blueberries, truffles, and more. We locals know and agree – this place is a must-visit and a must-try!
Skalinska Ul. 5, Zagreb 10000 Croatia
Tel: +385 1 4837 701
What to Order: Štrukli
5. Craft Room
The Craft Room is located inside a charming yellow house. It has a beautiful terrace while on the inside, there are green walls in combination with natural wood. This place is imagined as a classic bar and pub with an excellent selection of food and drinks. It's located in the center of Zagreb so you can enjoy the city's beautiful architecture and charming streets and after that, relax on the terrace of the Craft Room.
The chefs of this restaurant prepare amazing burgers in combination with beer and yes, they are really proud of their selection of beers. They offer 12 craft and over 100 local and international beers! The Craft Room is an ideal place to relax after a day of sightseeing or just catching up with some old friends over a tasty, juicy burger and a refreshing glass of beer.
Opatovina 35, Zagreb 10000 Croatia
Tel: +385 91 232 3289
What to Order: Burgers, craft beer
6. Ožujsko Pub Tkalča
If you're looking for a nice sunny terrace along Zagreb's most photogenic street – Ožujsko Pub Tkalča is your place. Aside from the terrace, the pub is placed inside an old house and its interior looks quite beautiful due to the stone walls and bright yellow chairs and tables. This street food pub combines old Zagreb's spirit with vintage style and thanks to that, it's a perfect match for all visitors and tourists.
When it comes to its menu, well, let us just tell you – it is amazing! The pub's specialties are ribs, T-bone, ramstek, Zagreb's burger, and beefsteak with various side dishes, salads, and drinks. Of course, there is a nice selection of different burgers, beer snacks, seafood, and more. Ožujsko Pub Tkalča is an excellent example of a pub offering a combination of different cuisines, recipes, and dishes that will have your mouth watering in just a few seconds!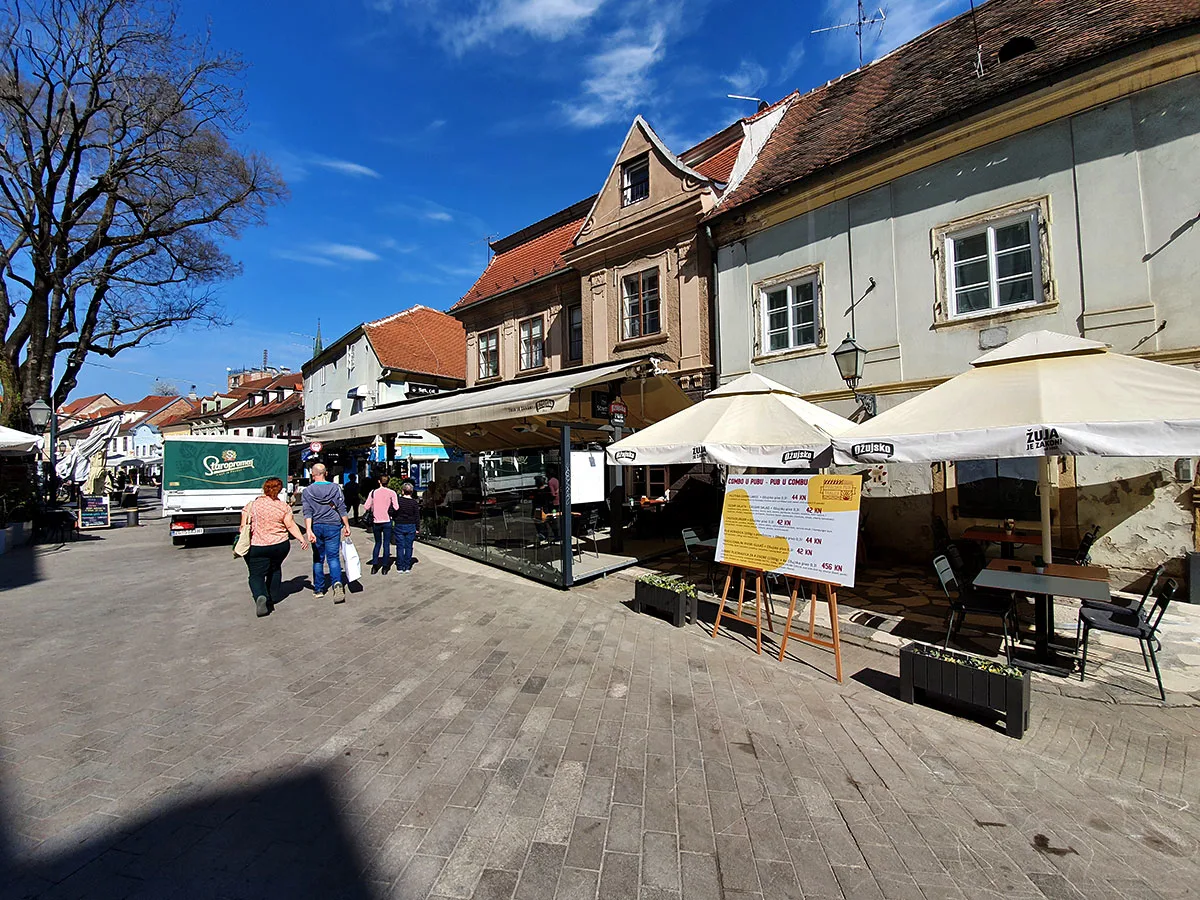 Skalinska Ulica 2A, Zagreb 10000 Croatia
Tel: +385 95 518 1900
What to Order: Ribs, steak, burgers
7. SOI Fusion Bar
Decorated with a combination of vintage and industrial vibes, SOI Fusion Bar is quite an interesting place to eat and hang out with your friends, or just relax after a long day of sightseeing. The restaurant is located in a little alley with graffiti and a couple of tables in front. On the inside, the brick dominates the space with simple brown and black details.
SOI Fusion Bar offers delicious Asian recipes and dishes. The chefs prepare a variety of starters, main dishes, and sweets which brings a bit of Asian spirit into the old town of Zagreb. The restaurant prepares classic Asian street food rich in flavors and aromas with a small selection of local craft drinks.
Ilica 50 Swanky Mint Hostel, Zagreb 10000 Croatia
Tel: +385 91 916 2101
What to Order: Asian food
8. Taquitos Bandidos
This street food restaurant is exactly what it sounds like – a classic Mexican cantina with a picturesque interior and design that will transport you to Mexico in the middle of dessert. But, unlike the movies, this time, you'll be transformed with amazing food and nice cold drinks!
The flavors you can taste at Taquitos Bandidos are classic Mexican aromas – from chilli con carne and taquitos to quesadillas, wraps, nachos, and salads in combination with jarritos (Mexican soda) or beer. The flavors may be classic but the chefs at Taquitos Bandidos know how to bring that special twist to meet all your expectations and more.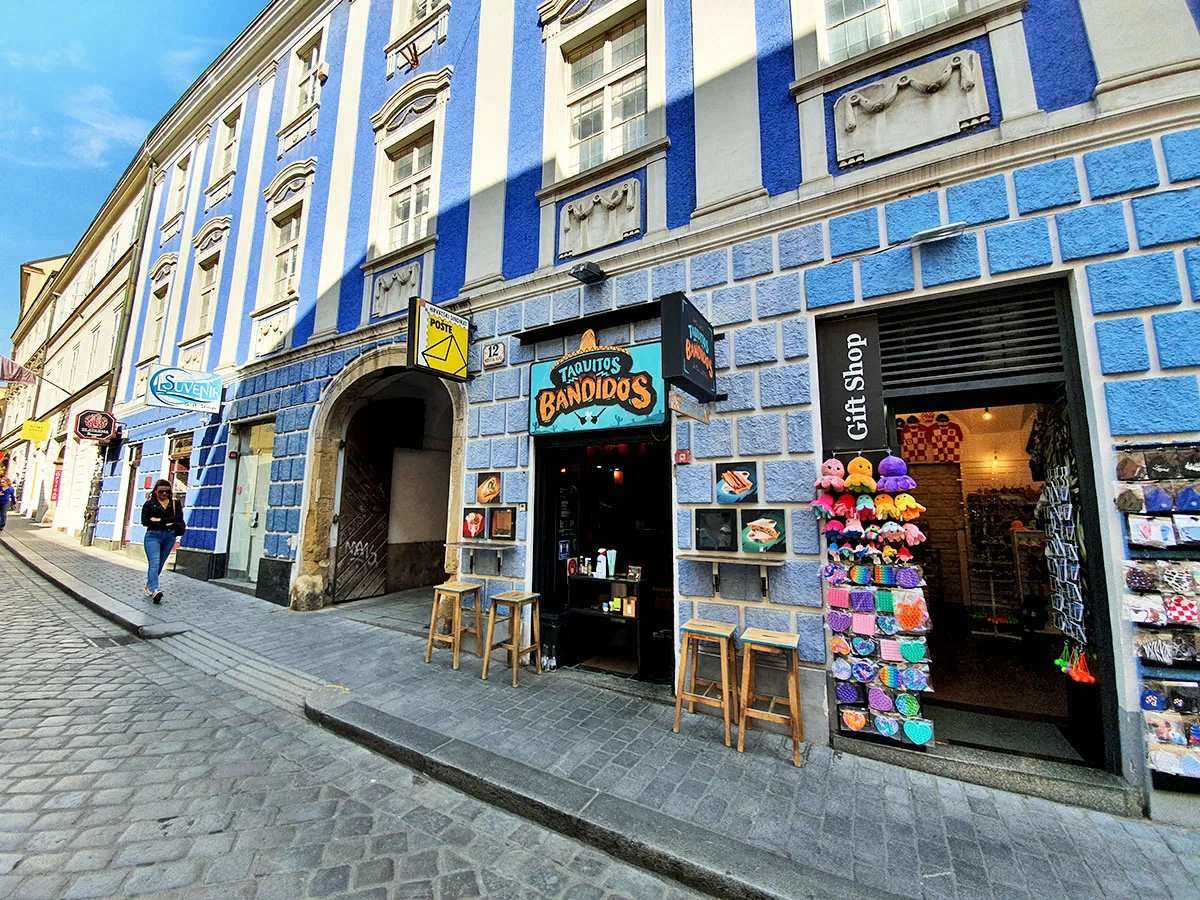 Radićeva ul.12, Zagreb 10000 Croatia
What to Order: Mexican food
9. El Toro Burger & Ribs – CLOSED
The concept of El Toro Burger & Ribs is to offer fast and simple dishes based on top-quality ingredients. It's located in the center of Zagreb and its design is just amazing! With classic black lines on the outside, the restaurant's interior has a combination of vintage and industrial details. With naked bricks, metal accents, and brown shades, El Toro Burger & Ribs is a unique place with amazing vibes!
The restaurant's menu offers a variety of juicy burgers, delicious ribs, and unique pizzas. Besides that, some of the chef's specialties are tacos with shrimp, tex mex chicken quesadilla, El Toro pulled bull quesadilla, and avocado salad. The variety of the menu and amazing flavors and aromas are the ones that make this restaurant stand out.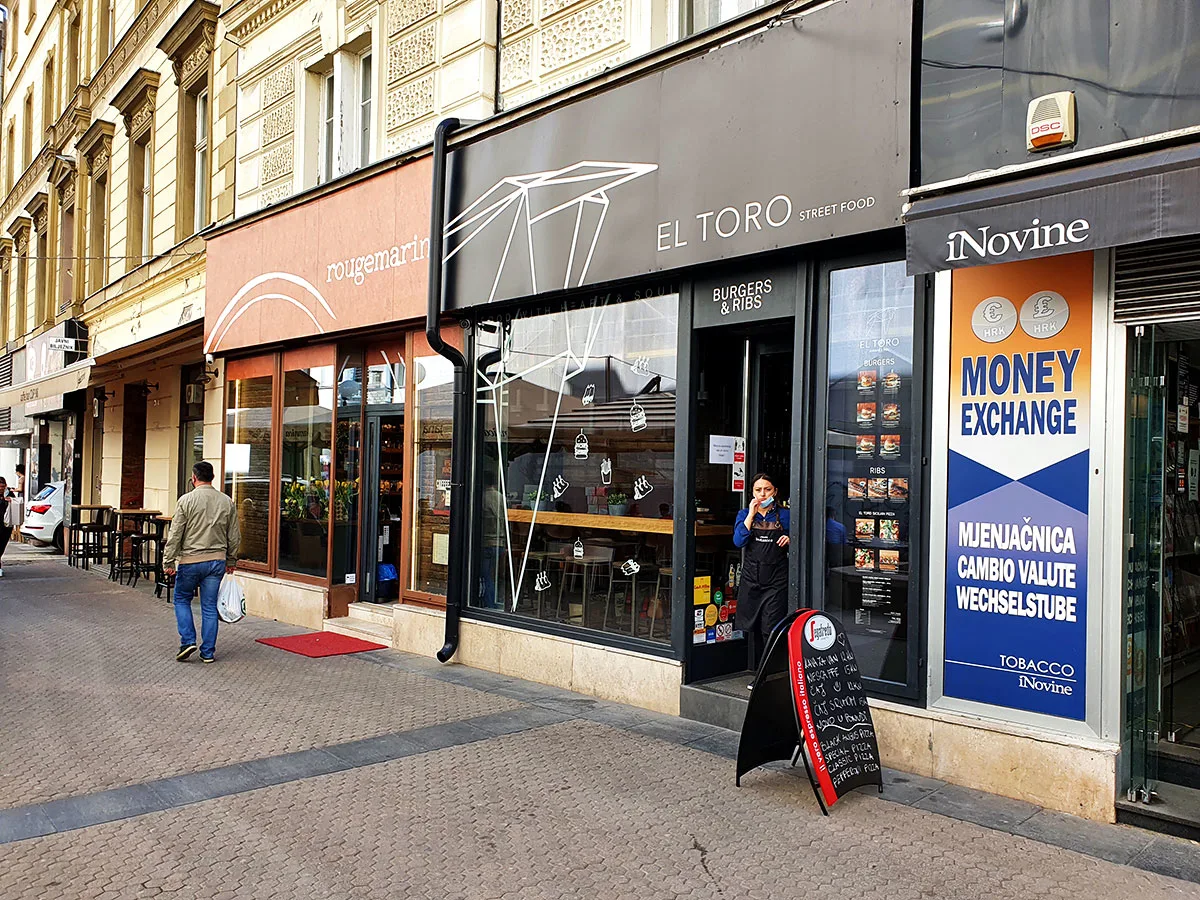 El Toro Burger & Ribs – CLOSED
Petrinjska ulica 2 30 meters from Ban Jelacic Square, Zagreb 10000 Croatia
Tel: +385 99 461 6306
What to Order: Tex-mex
10. Wok and Walk
The simple interior of Wok and Walk presents a nice contrast to all the rich dishes and flavors that await you there. The place is a classic Chinese restaurant focused on preparing Chinese recipes and dishes. The restaurant offers a wok for the walk or you can sit and enjoy all the flavors. The Wok and Walk has a pleasant atmosphere for enjoying a bit of Chinese cuisine.
The menu has a wide selection of classic dishes divided into hot appetizers, soups, dishes with noodles, dishes with different proteins, desserts, various specialties, and chef's recommendations. Of course, the dishes can be served in small or big portions. Wok and Walk is a great place for a taste of Chinese cuisine!
Ilica 60, Zagreb 10000 Croatia
Tel: +385 99 776 1163
What to Order: Chinese food
FINAL THOUGHTS ON THE FOOD IN ZAGREB
From classic burgers to the cuisines of the world, Zagreb truly has it all. You can enjoy American classic dishes or sing a mariachi song while enjoying Mexican food. You can taste Croatian traditional bites as well as indulge in Chinese or Japanese cuisines. The decision is yours.
Enjoy exploring the city, its amazing architecture, culture, and history, and then seduce your taste buds with amazing delicacies and specialties that await you at Zagreb's every corner!
Disclosure
Some of the links in this Zagreb restaurant guide are affiliate links. We'll get a small commission if you make a purchase at no additional cost to you. We only recommend products and services that we use ourselves and firmly believe in. We really appreciate your support as it helps us make more of these free travel guides. Thank you!
Photos by Ana Cerovski