EDITOR'S NOTE: Traveleater BJ Macatulad gives us ten compelling reasons why you SHOULD visit Croatia.
Croatia for me was one of those places that exceeded all expectations. After arriving in Zagreb, my husband and I spent 10 enchanting days in Dubrovnik, Split and the region of Istria in October.
Croatia offered up the most wonderful scenery and historical architecture, the most varied culinary pleasures and arguably the lowest price tags, and the nicest people. It is a trip that we will probably be gushing about for years.
To be honest, I struggled to write this post, because an encounter that felt magical during the experiencing often loses its magic during the re-telling.
Nonetheless, in my desire to pay homage to Croatia as one of the best travel destinations that may yet to enter your radar, I touch on just some of the delights that this Southeast European country has to offer. Be sure to check out this article as well for travel tips to Croatia for first-time visitors.
Hopefully, I provide just enough to whet your appetite while leaving out enough for you to save the joy of discovering this wonderful country for yourself.
Day 1, Reason 1
Experience Love at First Sight in Dubrovnik
Croatia is a country of only 4 million people with an astonishing 7 UNESCO World Heritage sights — none more majestic than the walled city of Dubrovnik.
Dubrovnik's perfectly preserved medieval city is surrounded by 2 km of stone walls protruding from the blue waters of the Adriatic, making this one of the prettiest fortified cities in the world.
But despite becoming familiar to us from glossy magazine spreads, the first sighting of Dubrovnik as our car approached from the hillside was still breathtaking.
As we made our way on foot through the blissfully car-free interior Old City, a maze of narrow, limestone alleys dotted with former palaces, churches and fountains, I was hooked.
Day 1 had barely started, and already I was elated that we chose to come to Croatia. This was a promising sign.
TIP: You can book tours in Dubrovnik on Get Your Guide.
Day 2, Reason 2
Try and Fail to be Disappointed by Seaside Life
Croatia is blessed with 2,000 km of mainland coast, and even the tiniest villages are littered with outdoor cafes and bars where one can sit back and contentedly enjoy the idyllic pleasures of life by the water. But wait, there's more.
In some parts of Dubrovnik's old city's 800-year-old walls, you can actually walk through small openings in the wall (there are two, to be exact), and find secret outdoor terraces built into the rocks.
We found the Buza (hole in the wall) through an entrance marked only by a discreet wooden sign, and were happy to find a few tables from where you can sip wine and listen to music while enjoying the view of nearby islands.
And did I mention that you can jump directly into the Adriatic for a refreshing swim when the mood strikes? Do this around sunset, and never will you find a more pleasurable manner to while away an afternoon.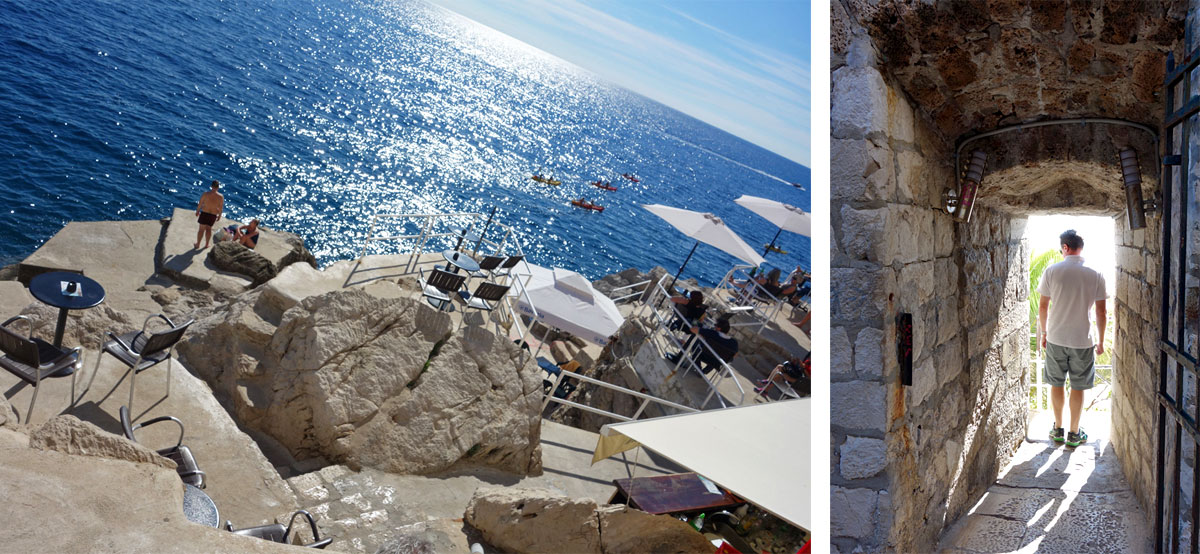 TIP: No hints for finding the Buza, which is best discovered on one's own.
Day 3, Reason 3
Explore One of Many Uninhabited Dalmatian Islands
A 15-minute ferry ride from Dubrovnik – or, for the more active, an invigorating but manageable trip by sea kayak – brings you to Lokrum, the closest of the Elafiti Islands.
Devoid of vehicles, paved roads and inhabited structures, the gently sloped pathways through olive groves that shroud this tiny island make for very pleasant meandering.
With each turn, you are likely to discover small swimming holes with nary another person in sight, like the spot on the rocks from where my husband and I braved our first dip into the sea.
I found myself grinning through chattering teeth. Lokrum is the perfect day trip for those seeking a quiet escape from tourists during high season.
One of the many swimming holes to discover in car-free Lokrum.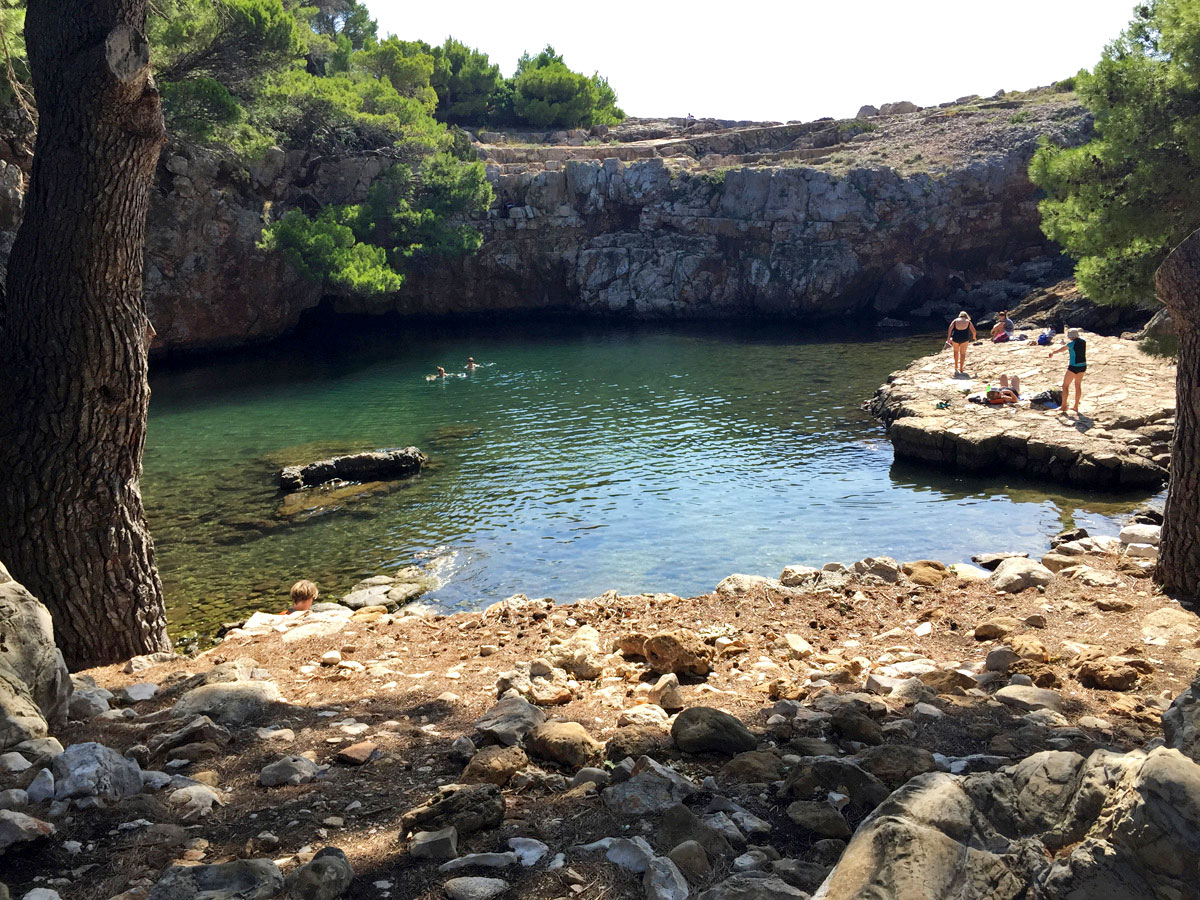 TIP: Daily ferries to Lokrum depart every half hour from the Old City harbor; no advance ticket purchase required.
Day 4, Reason 4
Rejoice If You Are an Oyster Lover in Mali Ston
The most efficient way to travel from Dubrovnik to Split is to hop on one of the regularly-scheduled ferries. Not so for gastronomes, who necessarily take the highway because they cannot fathom skipping roadside Mali Ston to savor the finest fresh oysters.
Even locals accustomed to finding great seafood everywhere in Croatia flock to this tiny town on weekends to indulge on the aphrodisiac oysters and lovely scenery.
There is also no shortage of other seafood like mussels, fish, squid and lobster, and we certainly made sure to be as inclusive as possible during our extended lunch stop. If ever we were guilty of Avarice, this was it.
Only the freshest catch is offered at Villa Koruna.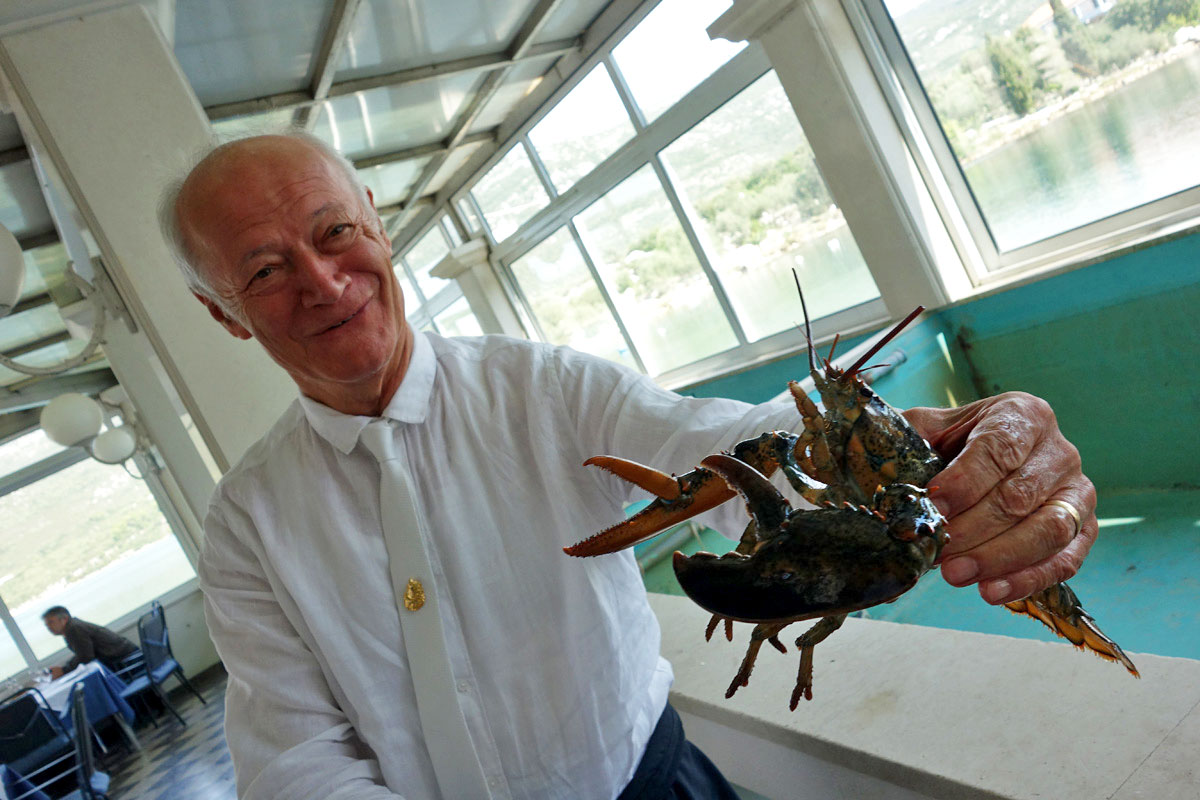 Day 5, Reason 5
Glimpse the Glory of Empires Past in Split
In the center of Split lies Diocletian's Palace, built as a grand retirement home in the 3rd century for the former Roman Emperor and today a UNESCO World Heritage site.
Now housing cafes and art galleries, history buffs will enjoy finding architectural details that have been lovingly preserved or restored to their former glory.
But there's also something for fans of modern-day fare, who may enjoy recognizing parts of the subterranean chambers featured in The Game of Thrones.
We decided to go in search of a bird's eye view from the top of Marjan Hill, a protected nature reserve that is easily reached via steps leading from the western side of Split's harbor. It's rare anywhere to have such a large swath of greenery adjacent to a city center.
We took advantage with an hour-long hike around Marjan Hill with joggers, cyclists and dog walkers before settling onto a couple of deck chairs, wine glasses in hand, and enjoyed spectacular views of the palace Bell Tower as the day faded.
Diocletian's Palace, as viewed from Marjan Hill at dusk.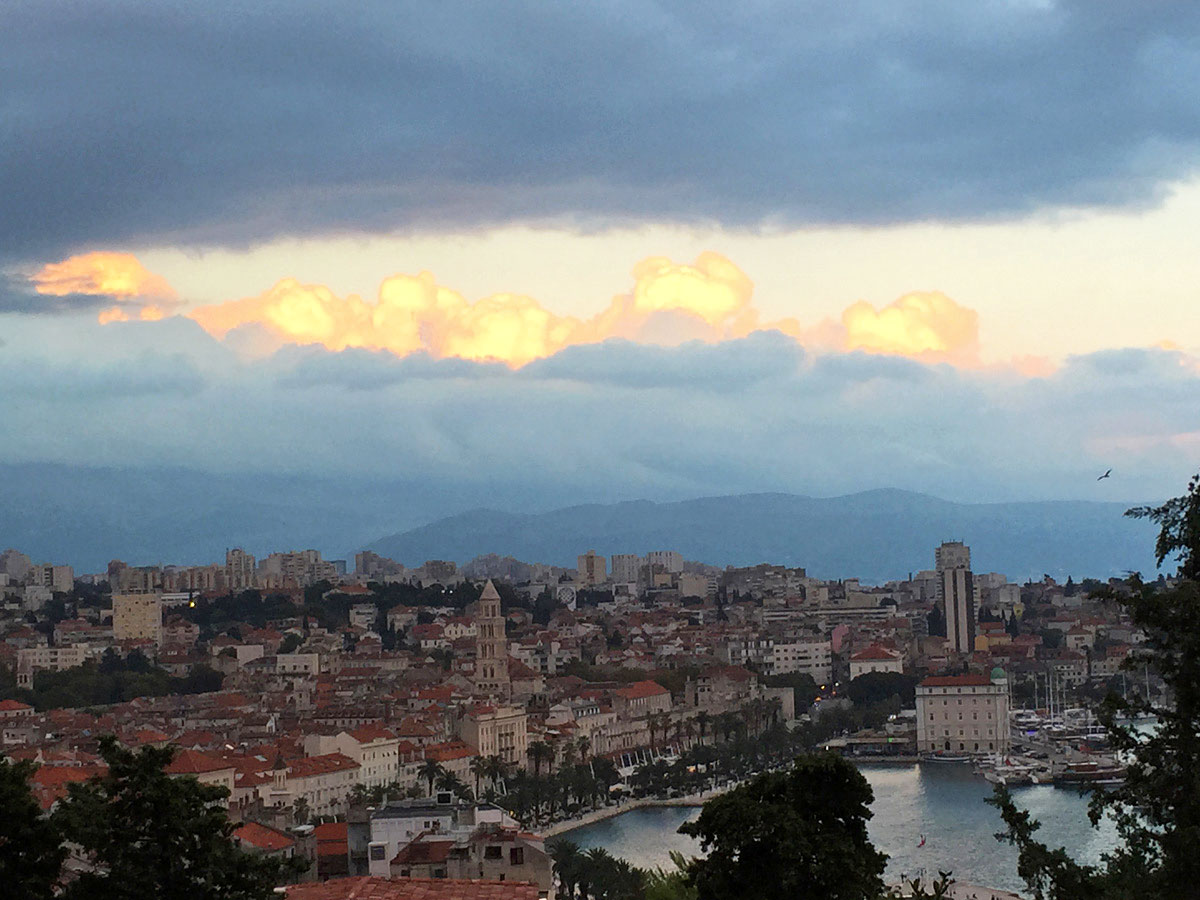 TIP: You can book tours in Split on Get Your Guide.
Day 6, Reason 6
Sail with the Cooking Captain to Brac
The Dalmatian Islands are situated very close to the mainland coast, which makes for easy island-hopping. There are numerous ferries, speedboats and even hydroplanes that can take you from Split to designated ports in neighboring islands.
But the ultimate way to explore the many small islands is by sailboat, enjoying the gentle hum of the wind on a motor-free vessel, anchor and swim wherever you please, and discover isolated coves only accessible from the water.
On our full-day sail to the island of Brac, we had the very able and accomplished 18-year old Marko as our skipper. Marko has been sailing since he was 6 and cooking with his grandmother since he was 8 (we immediately dubbed him the Cooking Captain), and skippers sailboats for visitors in between sailing competitions.
Upon reaching Brac Island, he steered our boat into an empty a lagoon and had scarcely dropped anchor before my husband and I dived in. While we were busy exploring the beach, our remarkable captain whipped up a vegetable risotto onboard from scratch.
Marko set up an awning for the sun, laid out a table on the boat, and appeared from below deck with a bottle of wine. The Cooking Captain certainly delivered.
Sailing back, I lounged at the port side throughout the entire trip and kept thinking: life just doesn't get better.
Relaxing port side while The Cooking Captain whips up lunch.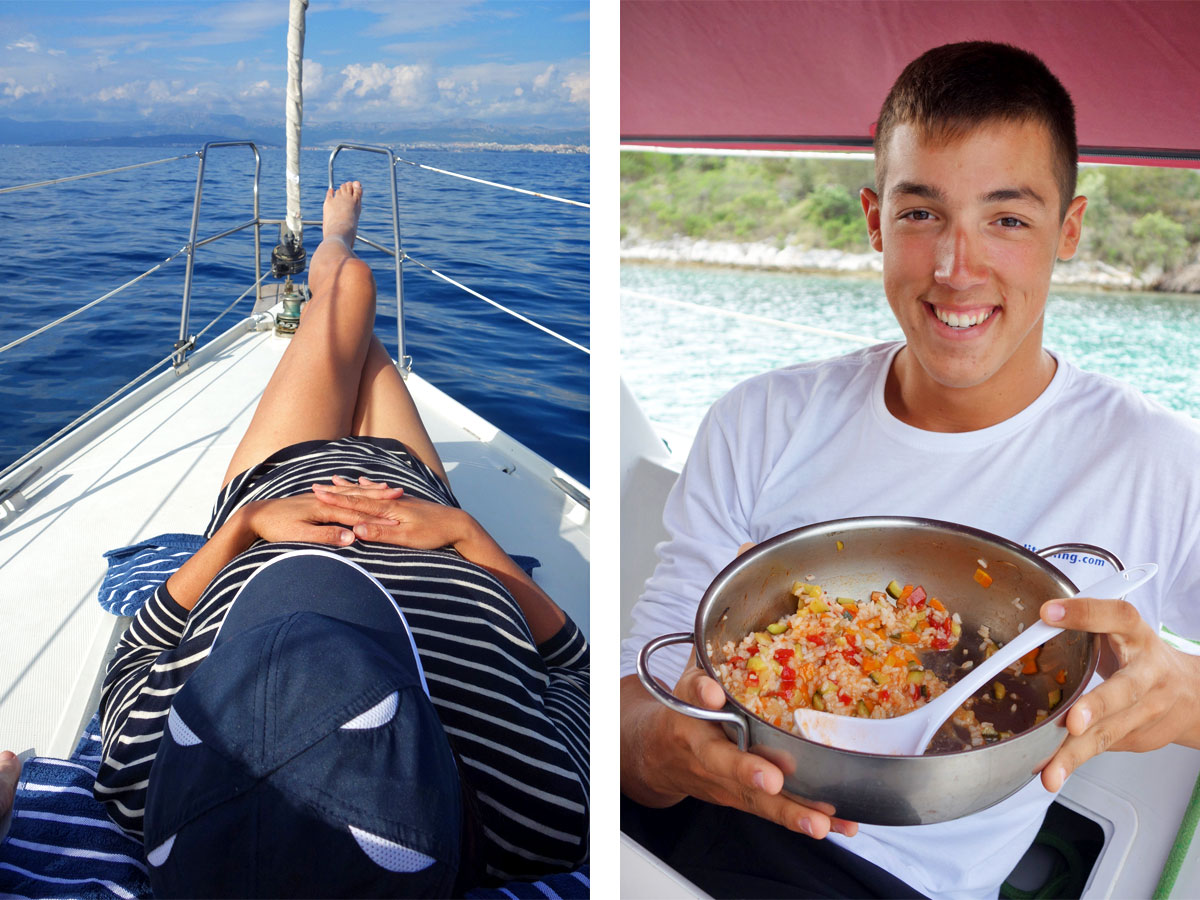 TIP: There are many sailboat operators in Split, but splitsailing.com limits group size to a maximum of 6 people (if you go outside of peak season, with luck, you may end up with a private sailboat like we did).
Day 7, Reason 7
Turn a Dud into a Delight with Service Above and Beyond
Further out from Split lies the Hvar, a favorite destination for the yachting set and, for in-the-know Europeans, the island that has displaced Ibiza as the nightlife summer capital of Europe.
For day trippers like us, though, our focus was on kayaking to the nearby uninhabited Pakleni Islands to enjoy a day of swimming and sun.
Unfortunately, what started out as ominous-looking clouds during our early-morning ferry ride turned into a full downpour by the time we docked at Hvar Town. Clearly, there would be no kayaking or sun for us.
What happened next confirmed our creeping suspicion that Croatians may be the nicest group of people we have encountered on our travels (except maybe for the Bhutanese, but one can argue that a country that measures Gross National Happiness has an unfair advantage in the category). Bending over backwards seems completely natural to Croatians, like a mere after-thought.
In this case, our hero was Ljubica Jevtic, who had arranged our ferries and kayak trip. We called her from Hvar Town to ask if we could instead do a wine tour before the return ferry, which wasn't until 7:30 that night.
She called back about a half hour later to inform us that all the day tours were filled (we were apparently the only ones unaware that the day would bring rain), but asked us to sit tight as she came up with other options.
Not 15 minutes later, Ljubica called again to say that she rustled up one of the tour guides who usually leads rock climbing groups and that he would pick us up in 5 minutes.
Kristian happened to love wine, and so a private wine tour was born (Ljubica did not even charge us the full cost of a private tour).
Kristian took us to two very different but equally interesting wine tastings, one at the famous Tomic winery and the other at our first tour of a "garage" winemaker, Dubokovic.
TIP: croactive-holidays.com arranges day trips for sailing, kayaking, hiking, rock-climbing, wine & food tasting, as well as multi-day sailing trips.
Day 8, Reason 8
Discover What You've Been Missing at a Humble Local Tavern
Excellent seafood is plentiful along the coast, but our most memorable meal was a simple grilled sea bream we had at Split's Konoba Marjan, a local favorite which has been run by the same family for generations.
The dish I had was a revelation to me. Despite being an island girl myself, only now did I truly appreciate what the right combination of truly fresh ingredients from the sea and simple but confident cooking could yield.
The grilled fish was exceedingly tender, and at the risk of sounding like a food snob, the garlic-olive oil-parsley sauce it came with lifted the dish and gave me the most enjoyment I've experienced from a modest fish meal.
My husband and I completely decimated this fish. Our host took one look at the fish bones we'd picked totally clean, and smiled a knowing smile. He understood.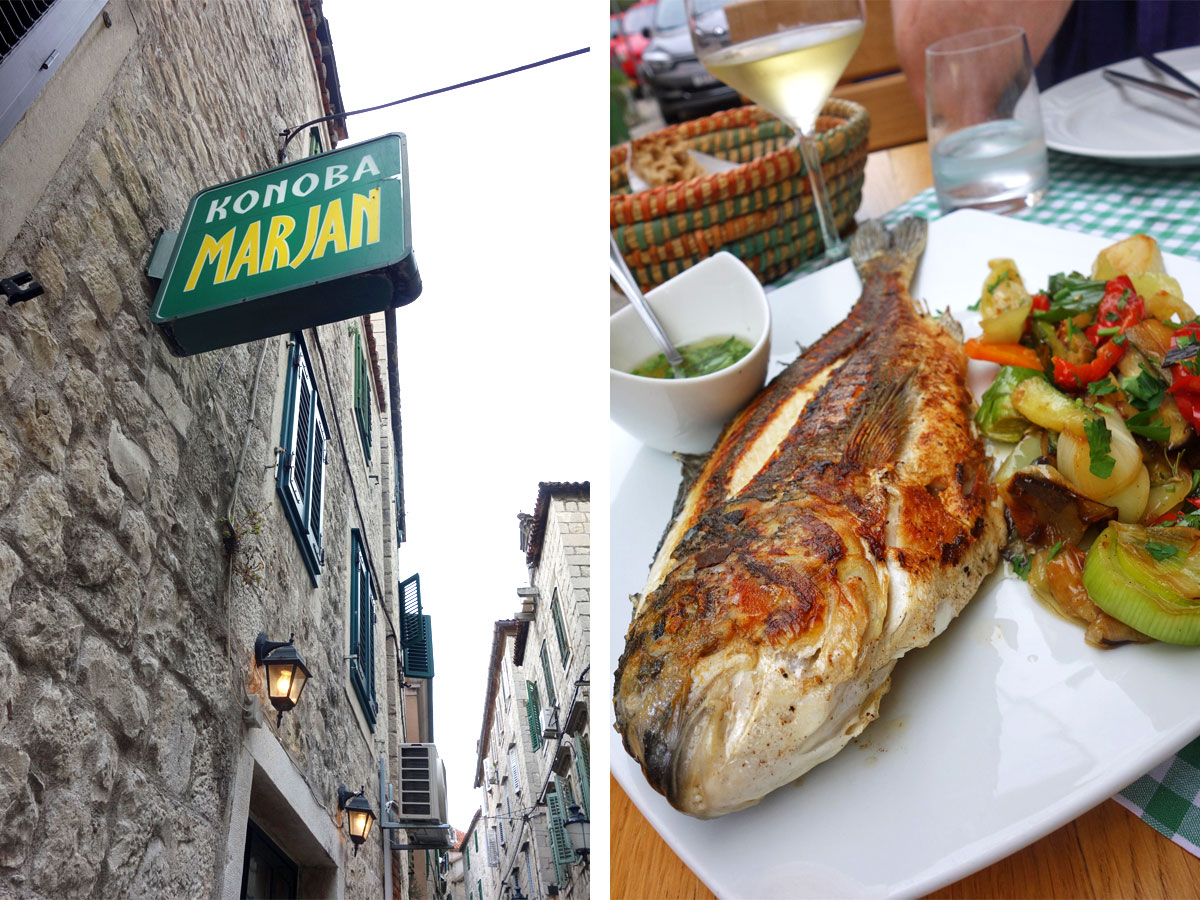 TIP: Read more about Croatian food on my post, 40 Traditional Dishes to Look For in Croatia.
Day 9, Reason 9
Be Charmed by the Pastel-Hued Town of Rovinj
In Istria, we chose to stay in Rovinj, whose proximity to Italy is evident in the Venetian-inspired architecture of pretty houses rising from the sea.
Dubrovnik and Split may be the country's most visited cities, but when I dream of going back to Croatia, I think about Rovinj. Perhaps it's the ban on big cruise ships, or the refreshing absence of glitz that gravitates to the Dalmatian Islands, or the less hurried pace of the region.
To be clear, though, Rovinj is by no means short of attractions that draw visitors every summer: Baroque monuments, a picture-perfect old town on a hilly peninsula, a wide harbor dotted with lively bars and cafes, awesome sunsets. But this is a place that feels more authentic.
It's no wonder that local artists, writers and musicians have flocked to this charming resort town for years and have set up galleries along its cobble stone alleys.
Rovinj is the intellectual, artistic and low-key counterpoint to the fashionable southern coastal cities. I decided I loved it, instantly.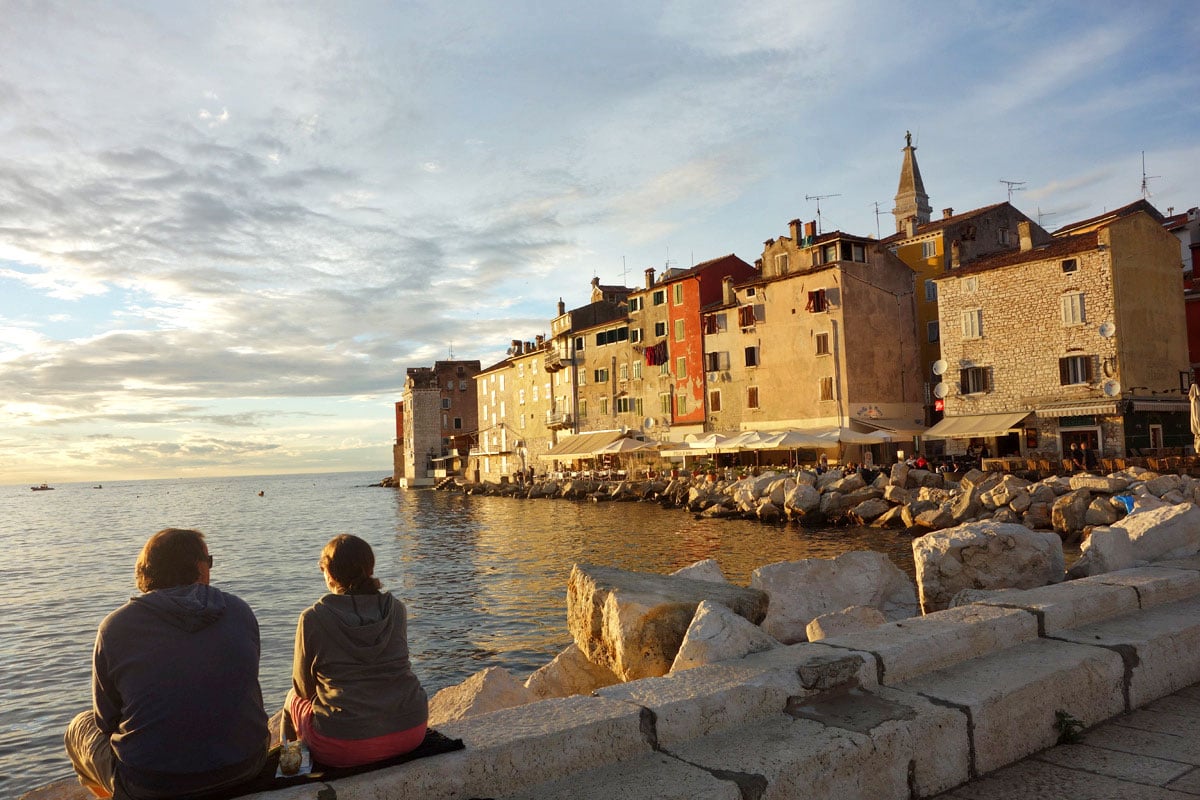 Day 10, Reason 10
Indulge in the Gastronomic Pleasures of Inland Istria
The best day of our trip was our last, which we spent with local guide Matijas Sekulic on a full-day food & wine tour throughout inland Istria. Istria is touted as a gourmand's dream, and rightfully so.
Istria has a centuries-old winemaking tradition and is the country's largest olive oil producer. There are local delicacies to enjoy for every season: white truffles, wild mushrooms and asparagus, oysters, anchovies and sardines, just to name a few.
Our day was crammed with culinary adventure. It included an eye-opening olive oil tour at Chiavalon Estate, white malvazija wine tasting at Winery Kozlovic, an introduction to red teran wine at Benvenuti, a stop to admire Lim Fjord and its oyster beds, and a decadent lunch of white truffles and home-made fuzi (pasta twists).
It was a wonderfully indulgent day, just as we hoped it would be.
A platter of prsut (prosciutto), Pag cheese, and various white truffle-infused treats.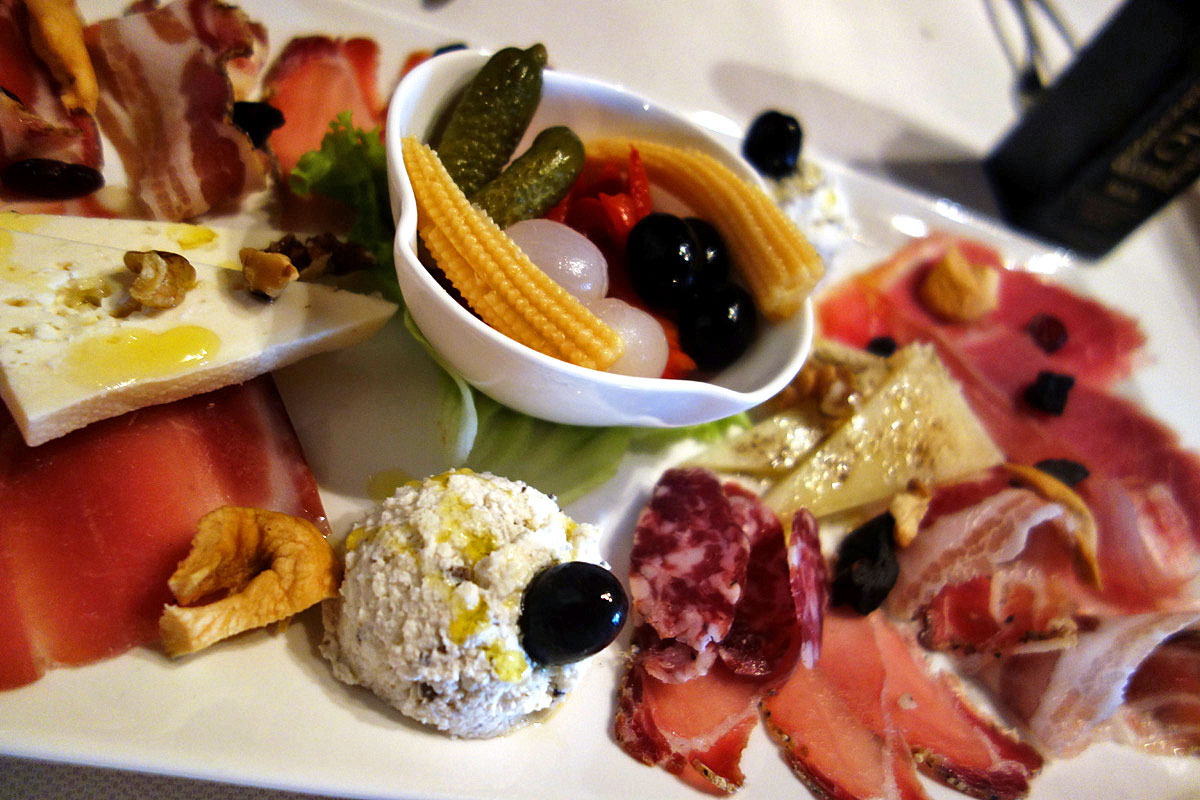 Between eating and drinking stops, Matijas took circuitous routes to introduce us to the dreamy landscapes of inland Istria.
Istria's undulating green countryside is dotted with vineyards, olive estates, and not just one, but several picturesque medieval hill towns like Motovun and Grozjnan.
We took walks through some of the smaller hilltop villages, admired chapels and frescoes, and took in views that rivaled Tuscany's.
The most majestic of Istria's hilltop towns, Motovun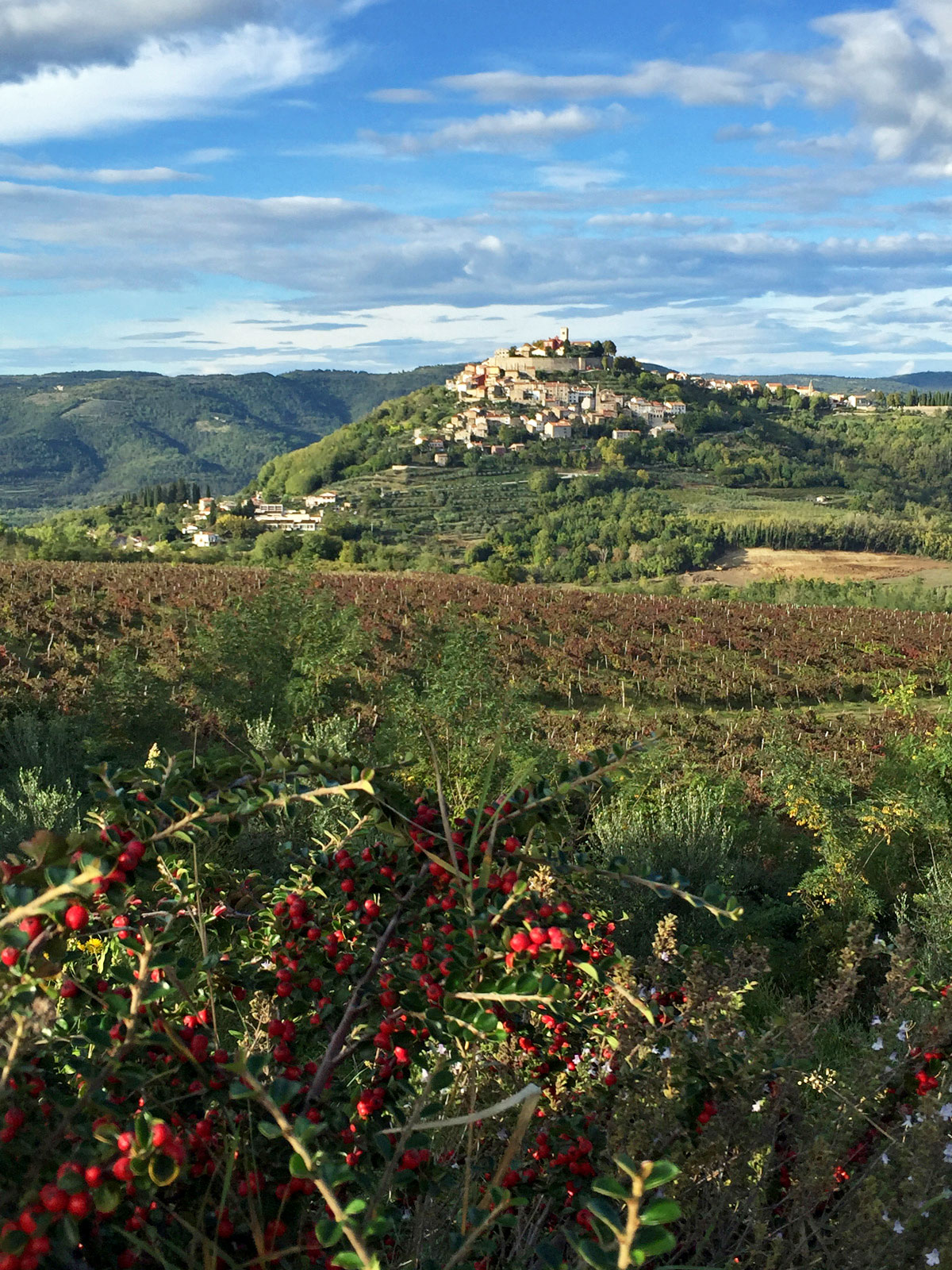 Our last day in Croatia encapsulated all the things that combined to make our trip to this country magical: gorgeous vistas, a rich history, captivating architecture, kind people, a laid-back vibe and oh, the food and drink!
I. Love. Croatia. I shall return!
TIP: Book a tour with Matijas Sekulic on toursbylocals.com. Read more about Chiavalon Estate on my post 11 Things You Need to Know about Honest Olive Oil.
Photos by BJ Macatulad