Hue was the one city I was most excited to visit on a recent trip to Vietnam. We skipped it two years ago and have been regretting it ever since, after hearing it's home to many interesting dishes like banh loc goi, bun bo hue, banh khoai, and com hen.
I did my research so I had all those dishes on my eat-tinerary, but what I didn't know until I got there was that Hue is home to a unique blend of coffee as well – ca phe muoi or salt coffee. As its name suggests, it's made with salt and fermented milk and served with ice. Interesting right?
Like ca phe trung to Hanoi, ca phe muoi is a coffee creation with its roots in Hue. It was invented in 2010 so it isn't as established and well-known as egg coffee, but it will be. It's delicious and makes you wonder why no one thought of it sooner.
Salt coffee piqued my curiosity and urged me to visit as many cafes as I could. If you're planning a trip to Hue and looking to explore its coffee along with its cuisine, then here are nine interesting (and Instagram-worthy) cafes to consider.
Be sure to check out our Hanoi coffee guide to learn about the different types of coffee you can have in Vietnam. If you're spending any time in Hoi An, then you may be interested in our Hoi An coffee guide as well.
HUE CAFES QUICK LINKS
To help with your Hue trip planning, I've compiled links to hotels, tours, and other services here.
HOTELS
Recommended hotels and homestays in the Imperial Citadel, one of the most convenient areas to stay for people on their first trip to Hue.
TOURS
OTHER SERVICES
HUE TRAVEL GUIDE
Before you visit Hue, be sure to check out our detailed Hue travel guide. It'll tell you all you need to know – like when to go, where to stay, what and where to eat, etc. – to help you plan your trip.
Save This on Pinterest!
No time to read this Hue coffee guide now? Click on the save button and pin it for later!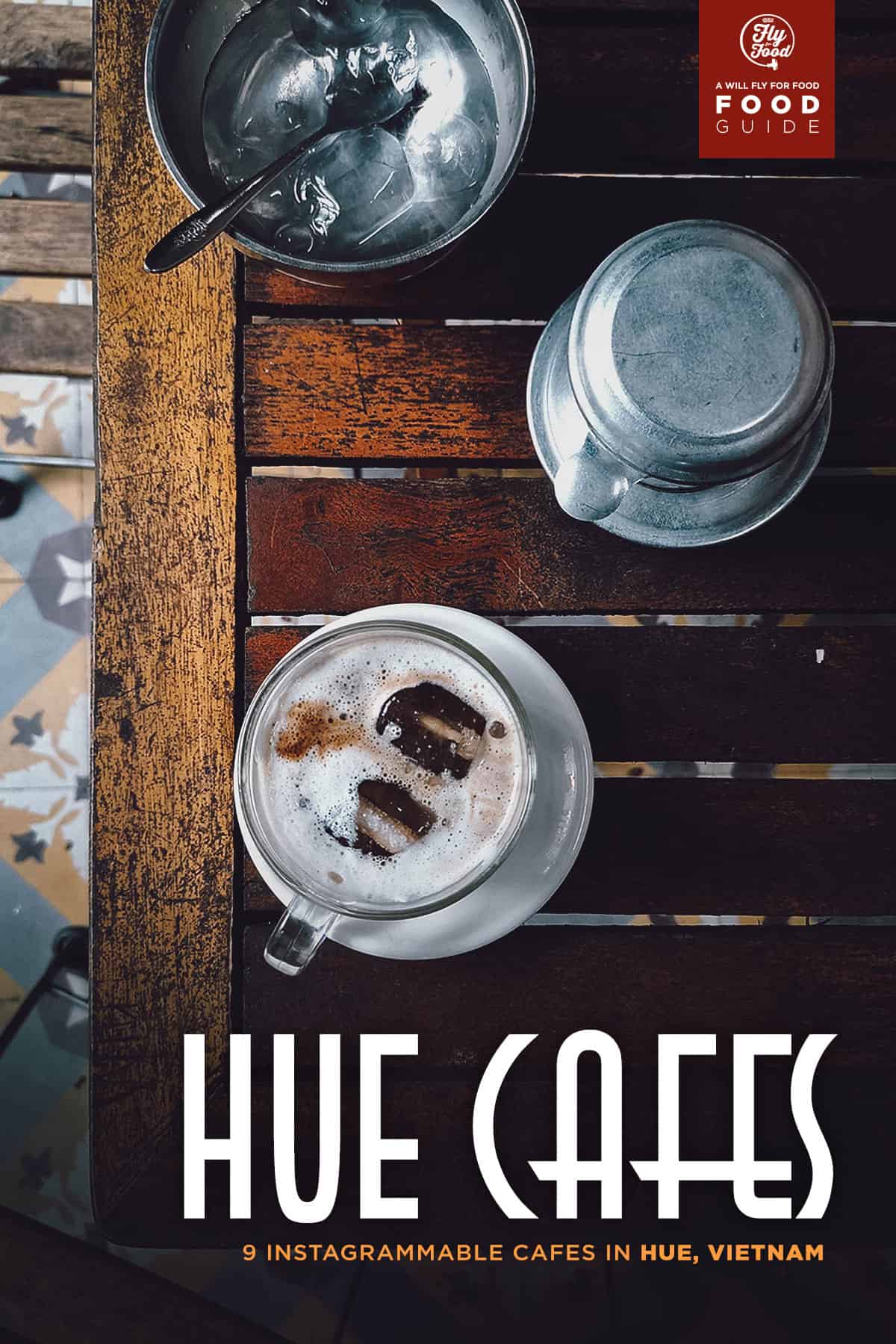 INSTAGRAMMABLE CAFES IN HUE
1. Ca Phe Muoi
If you had time to visit just one cafe in Hue, then this should definitely be it. Ca Phe Muoi is the coffeehouse credited for inventing the coffee drink of the same name. Ca phe muoi literally means "salt coffee".
I believe Ca Phe Muoi has two branches in Hue. I went to what appears to be the original branch, the one directly behind the north wall of the Imperial City. Just look for a Ca Phe Muoi sign at the mouth of an alley along Dang Thai Than Street. The coffeehouse is at the end.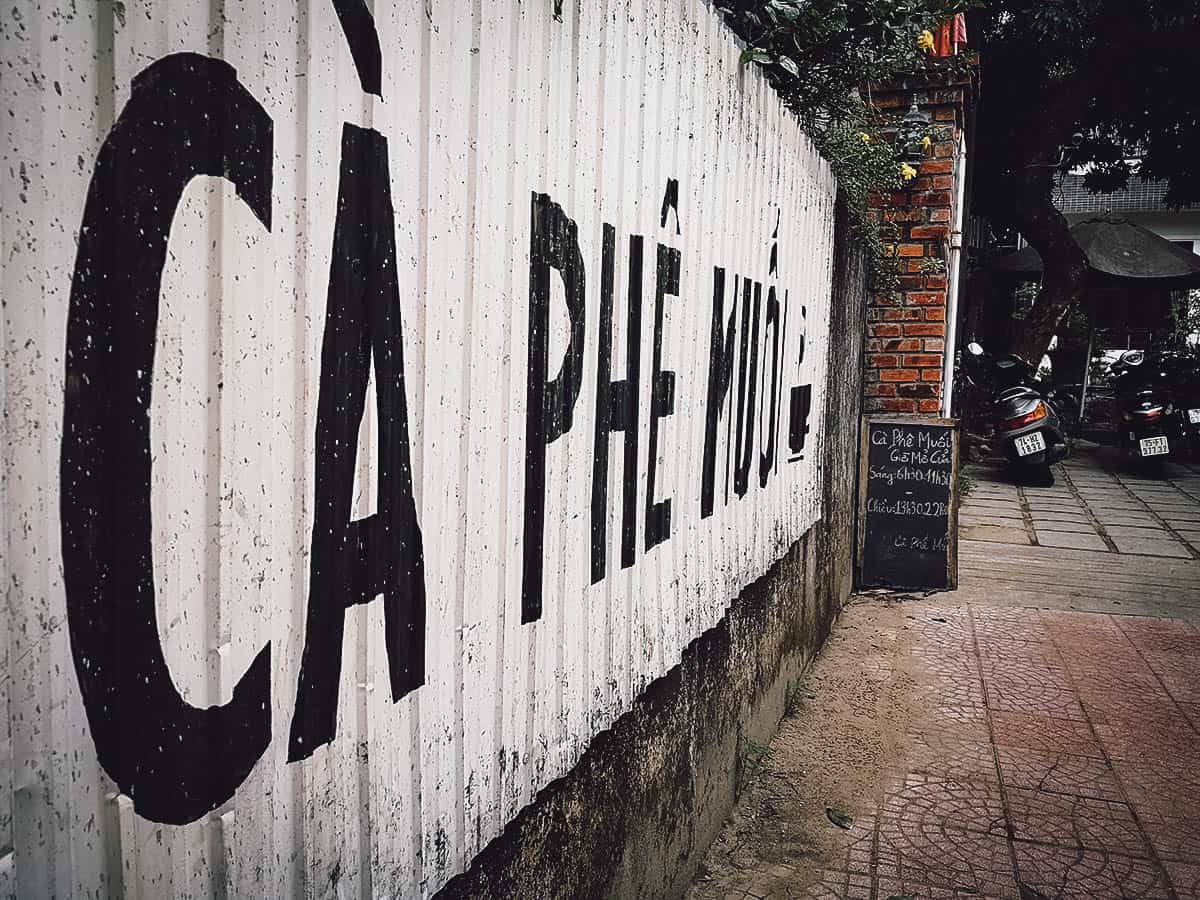 My cup of ca phe muoi (salt coffee, VND 15,000) with a tall glass of yaourt ca phe (yogurt coffee, VND 16,000) behind it. It was hot that day.
I'm not sure how it's prepared, but I believe the salty component is made by whipping salt with fermented milk and cocoa powder. It's transferred to a cup and served to you with a traditional phin filter over it. Like any cup of Vietnamese drip coffee, you wait for the brew to filter through before adding a few cubes of ice to the cup.
Salt coffee sounds off-putting at first but it's actually brilliant. It's just salty enough to bring out the sweetness of the cocoa and milk while tempering the bitterness of the coffee. Someone described it as being reminiscent of a chocolate brownie, which in a strange way, it is.
I had salt coffee at one other place in Hue and it wasn't as good as this one. It was noticeably saltier. I guess it isn't that easy to get the right balance of salty, sweet, creamy, and bitter. If you're curious about trying salt coffee, then you should definitely have it here at Ca Phe Muoi.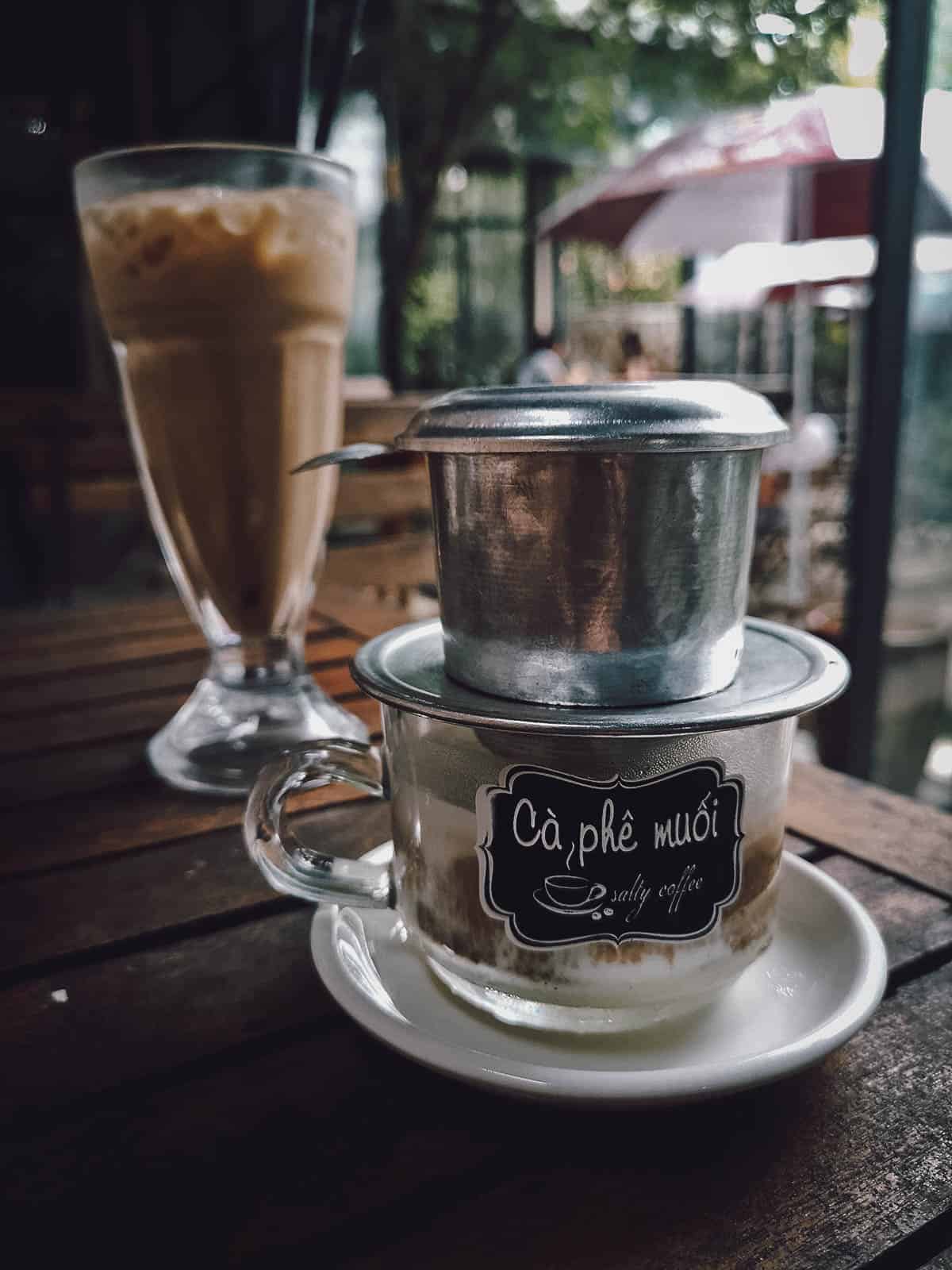 Ca Phe Muoi
Address: 142 Đặng Thái Thân, Thuận Hoà, Thành phố Huế, Thừa Thiên Huế, Vietnam
Operating Hours: 6:30-11:30AM, 1:30-10PM, Mon-Fri / 6:30AM-10PM, Sat-Sun
2. La Gare Bistro – CLOSED
This was perhaps the prettiest cafe I visited in Hue. I was in the area around Hue railway station and searching for a good coffeehouse on Google Maps. There were many around me but La Gare Bistro had the highest rating with the most number of reviewers. They're located along the banks of the An Cuu River in a renovated French-style colonial house.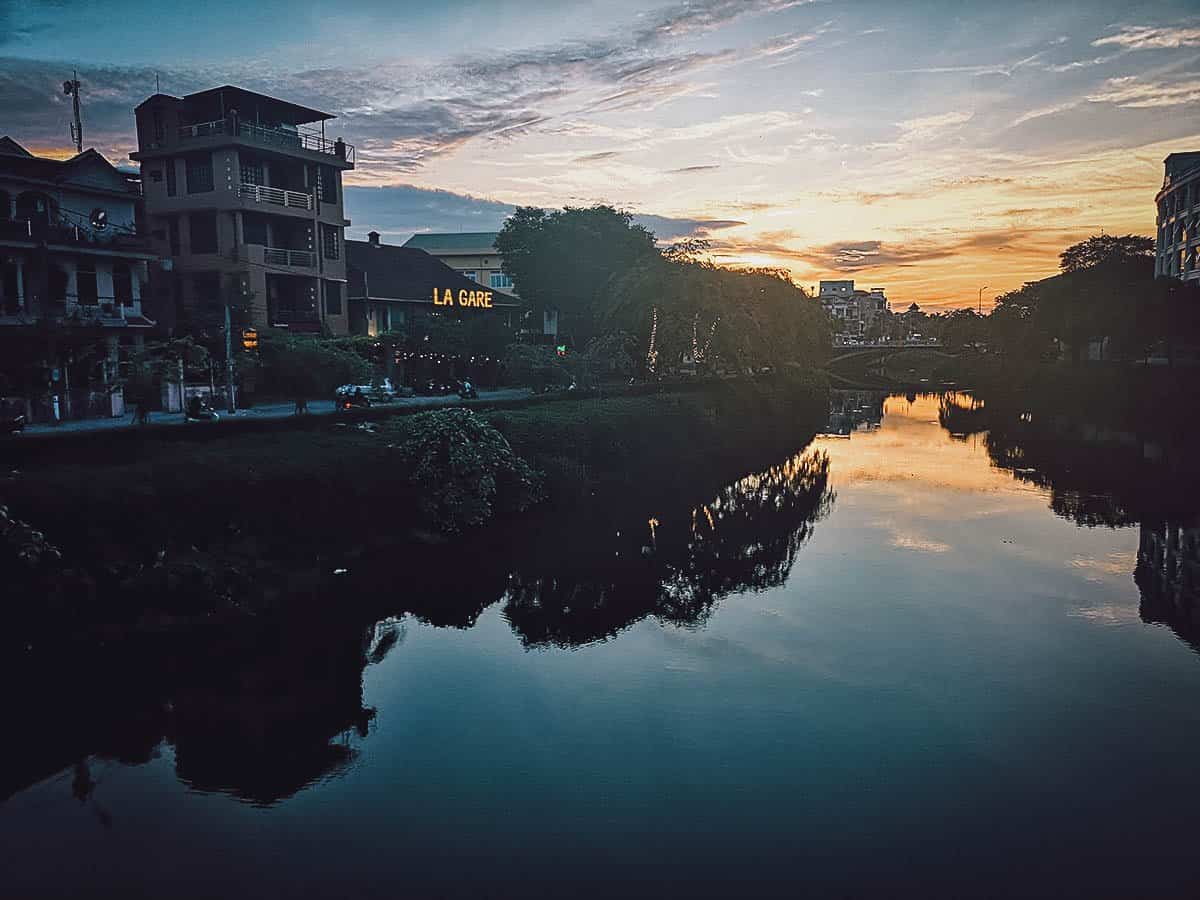 La Gare is spacious with two floors and large tables. They have fast wifi as well making this a great place to get some work done.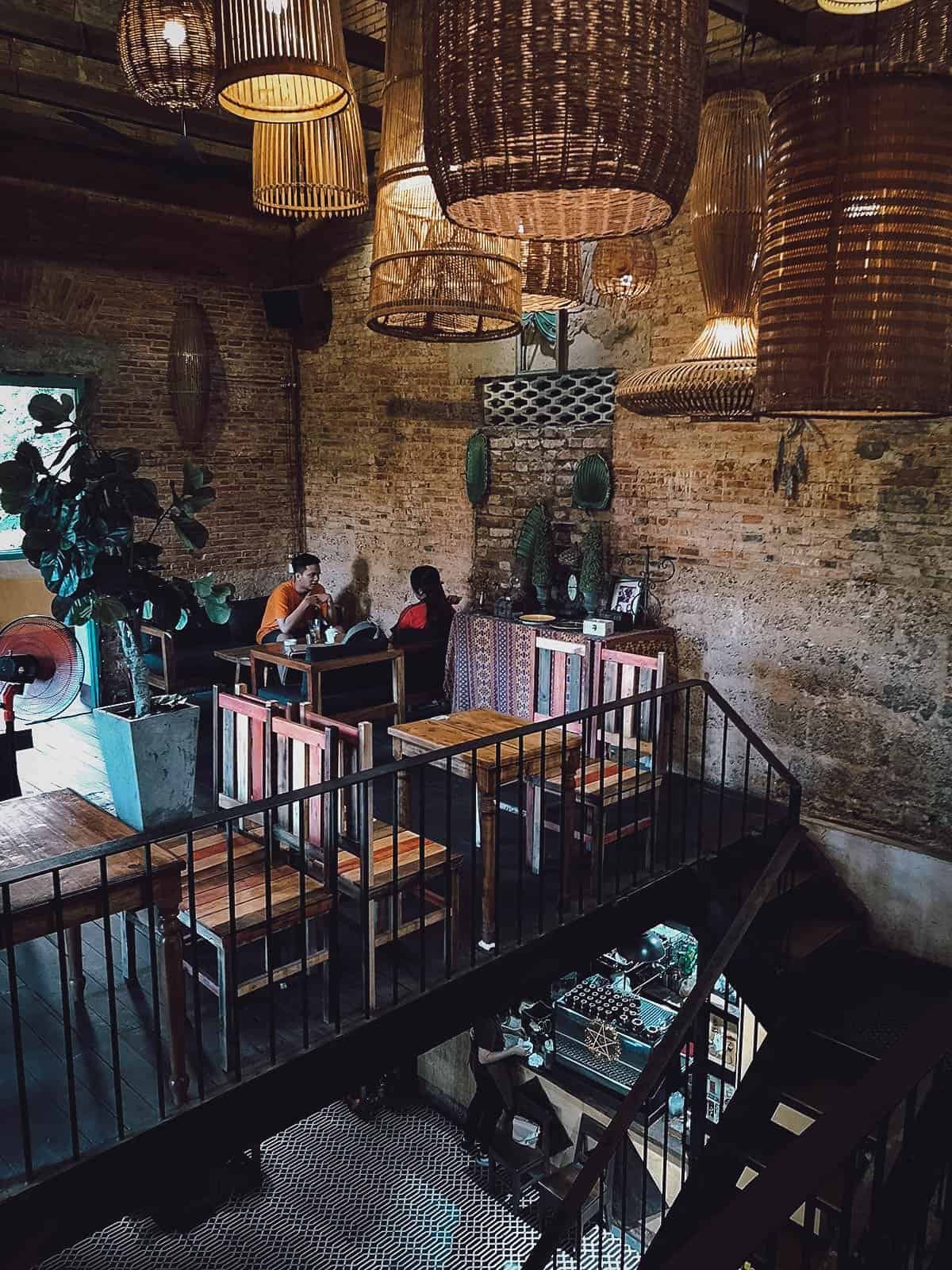 The interior of this cafe is lovely. I loved all the textures – from the original brick to the tiled floors to the motley mix of oversized basket chandeliers.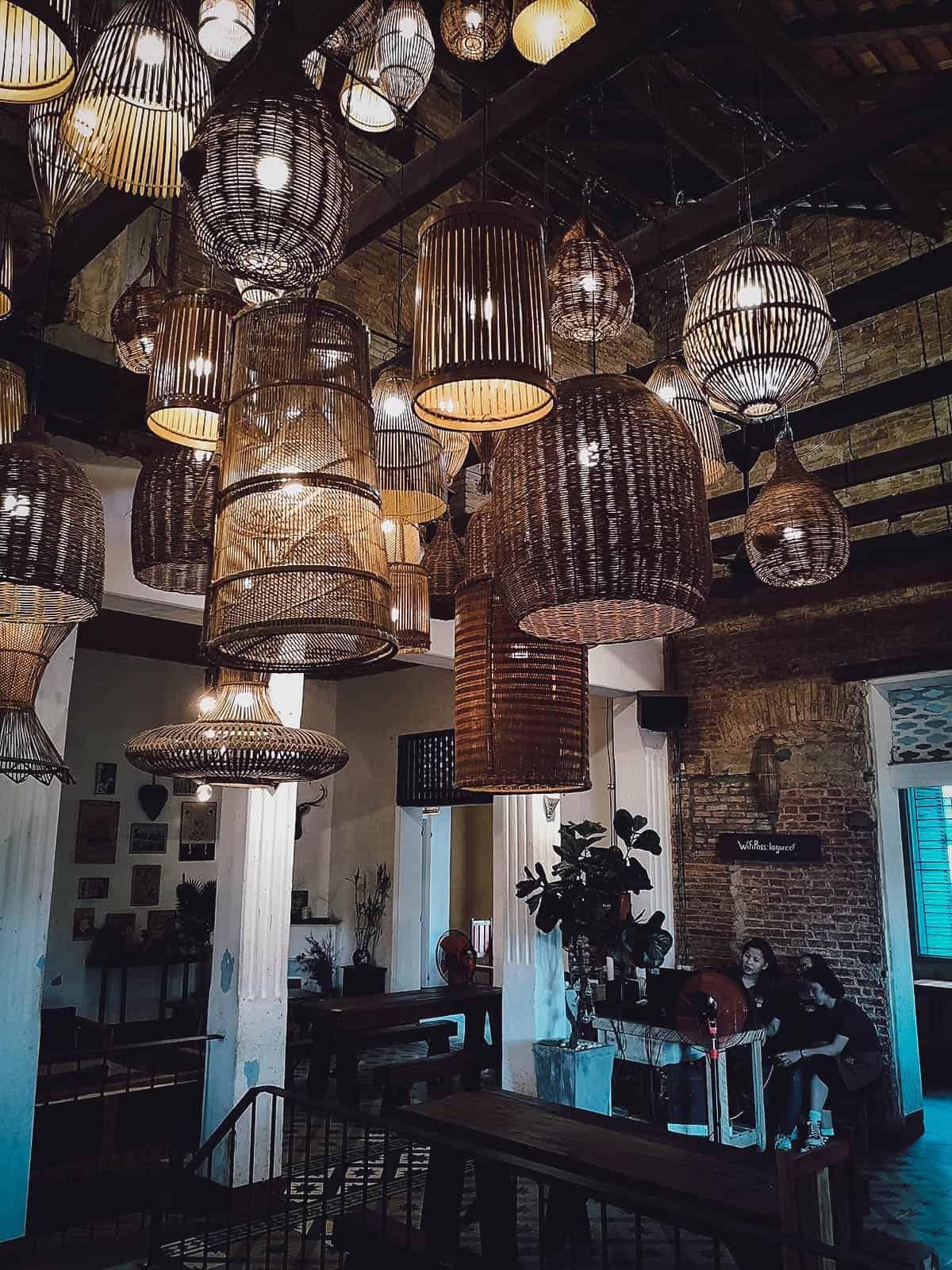 La Gare Bistro offers both Vietnamese and western coffee. They have salt coffee as well (for a much pricier VND 26,000) but I went with a cup of ca phe den nong (VND 16,000) or hot black coffee. It was nice sitting by the balcony on the second floor overlooking the river.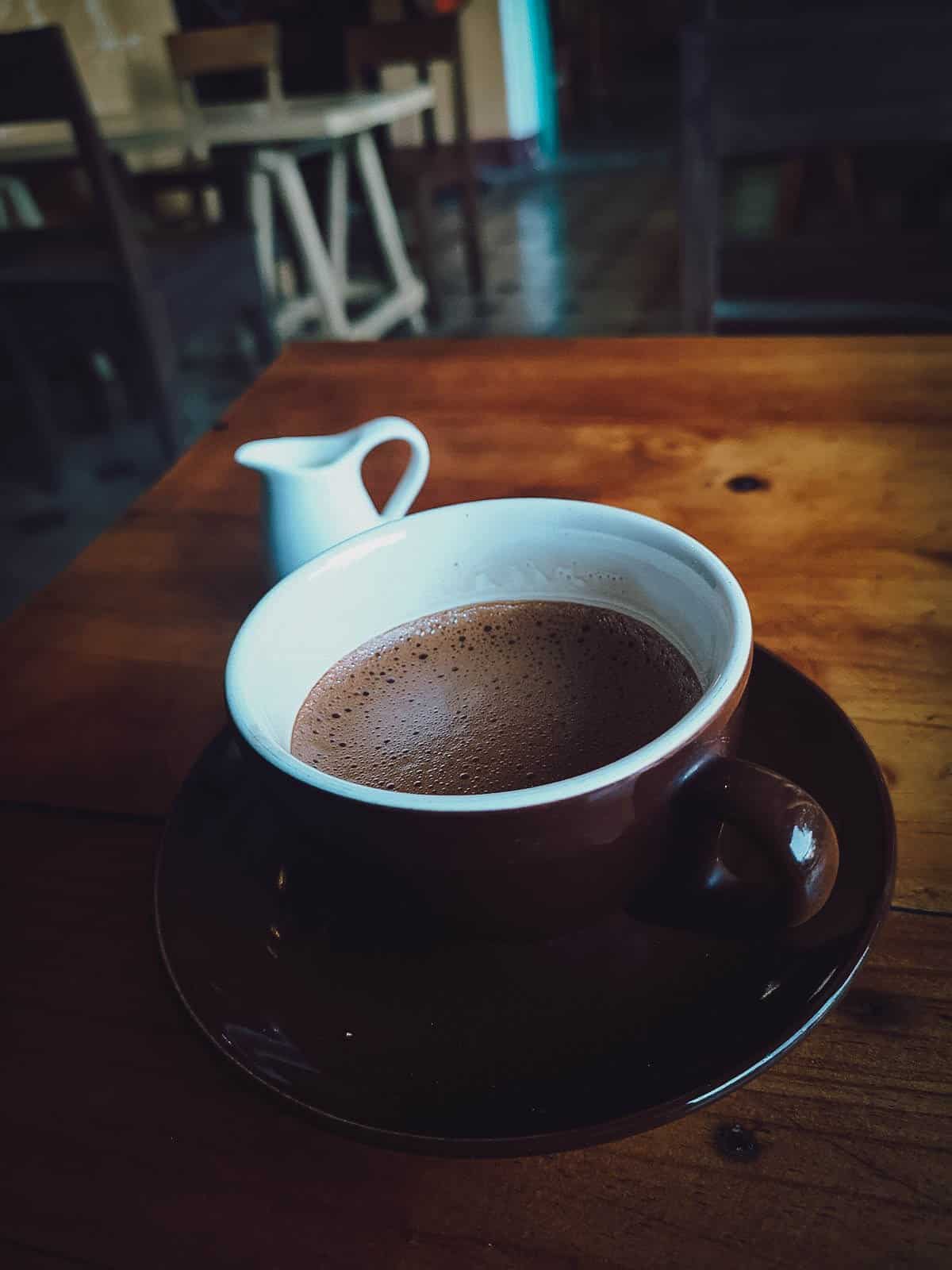 La Gare Bistro – CLOSED
Address: 14 Phan Chu Trinh, Vĩnh Ninh, Thành phố Huế, Thừa Thiên Huế, Vietnam
Operating Hours: 6:30AM-10:30PM, daily
3. The One Coffee & Bakery
I wasn't interested in this cafe at first because it looked like one of those big glitzy coffee giants like Starbucks. I prefer more quaint one-off cafes but reviewers kept heaping praises on their coffee, calling it "the best in Hue". They were right. Not counting specialty coffee like ca phe muoi, The One Coffee & Bakery served the best cup of coffee I had in Hue, perhaps in all of Vietnam.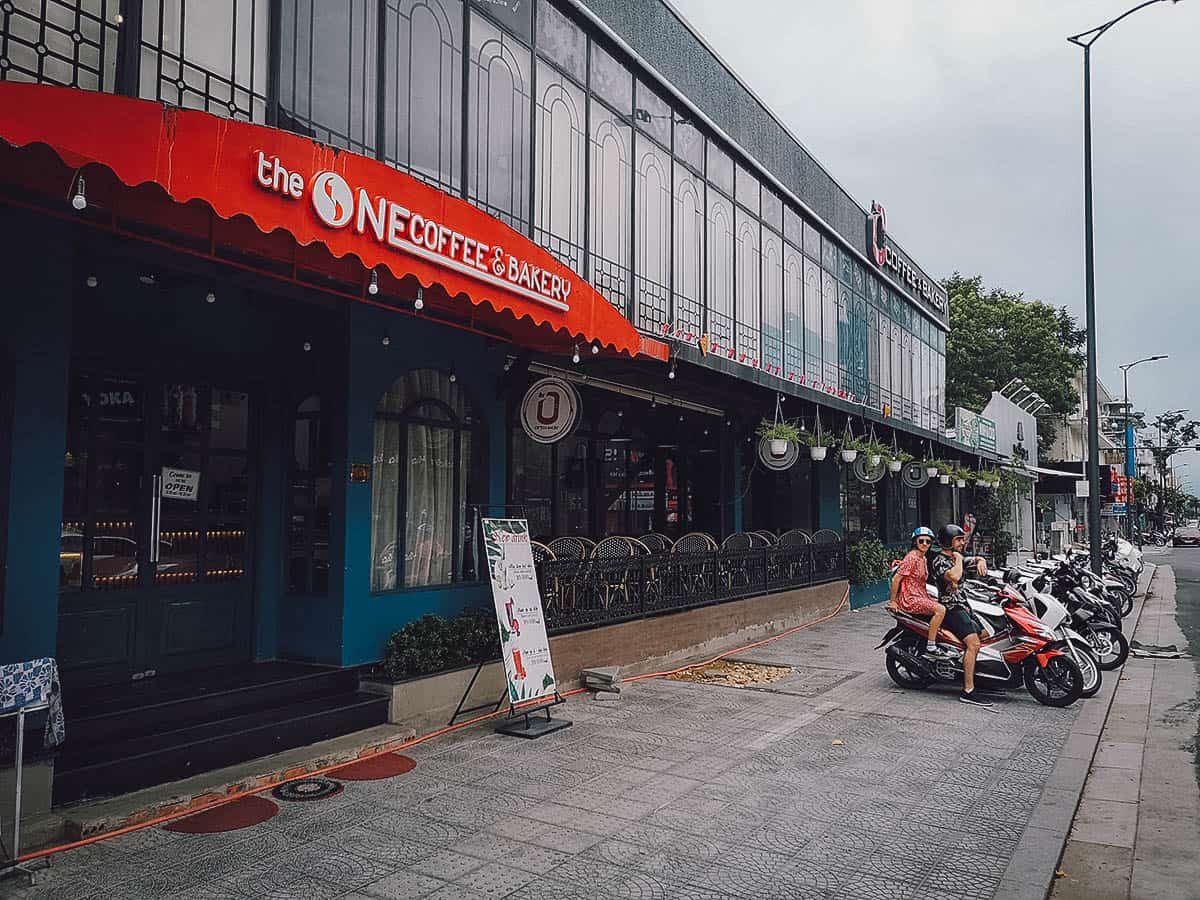 As far as I know, The One Coffee & Bakery isn't a chain but it is a large high-concept coffeehouse. It's probably the only place in the city where you can enjoy your coffee and dessert in a giant coffee cup.
This place has great air-conditioning and lighting fast wifi. It would be my first choice of cafe if I needed to get serious work done in Hue.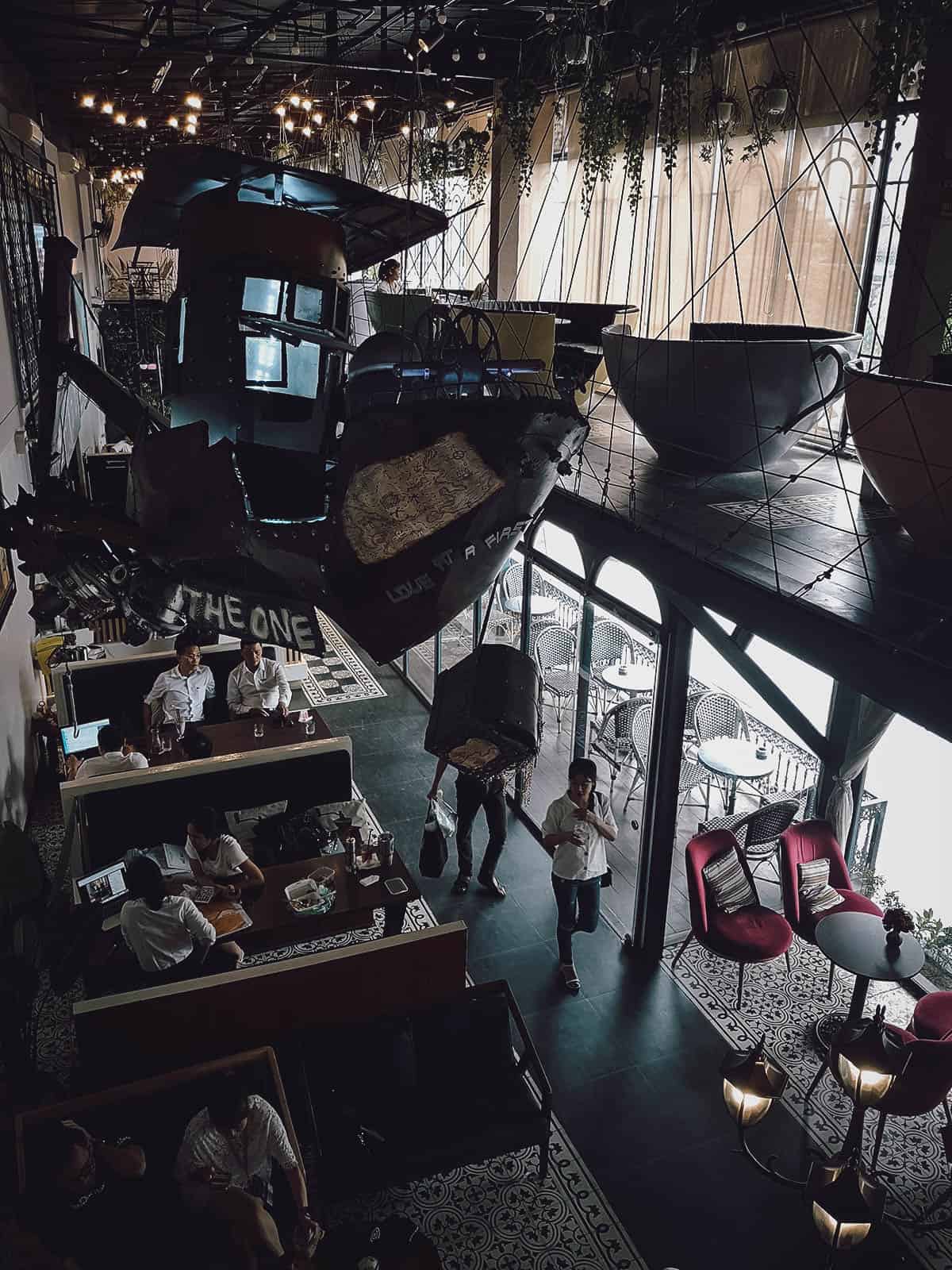 My ca phe sua da (VND 23,000) or iced milk coffee in an uber stylish glass. As described, this was the best cup of Vietnamese coffee I had in Hue. Vietnamese coffee is great wherever you go so most will taste pretty much the same, except for this one. It was noticeably better.
I don't have the proper coffee vocabulary to articulate it but it just tasted fuller and more refined, like I was obviously drinking a higher grade of coffee. If I didn't have the desire to visit as many cafes as I could, then I would have come to this place every morning for coffee. It was delicious.
I only had coffee but it looks like The One Coffee & Bakery has a full menu of savory food and desserts as well. They offer many types of drinks and western coffee as well.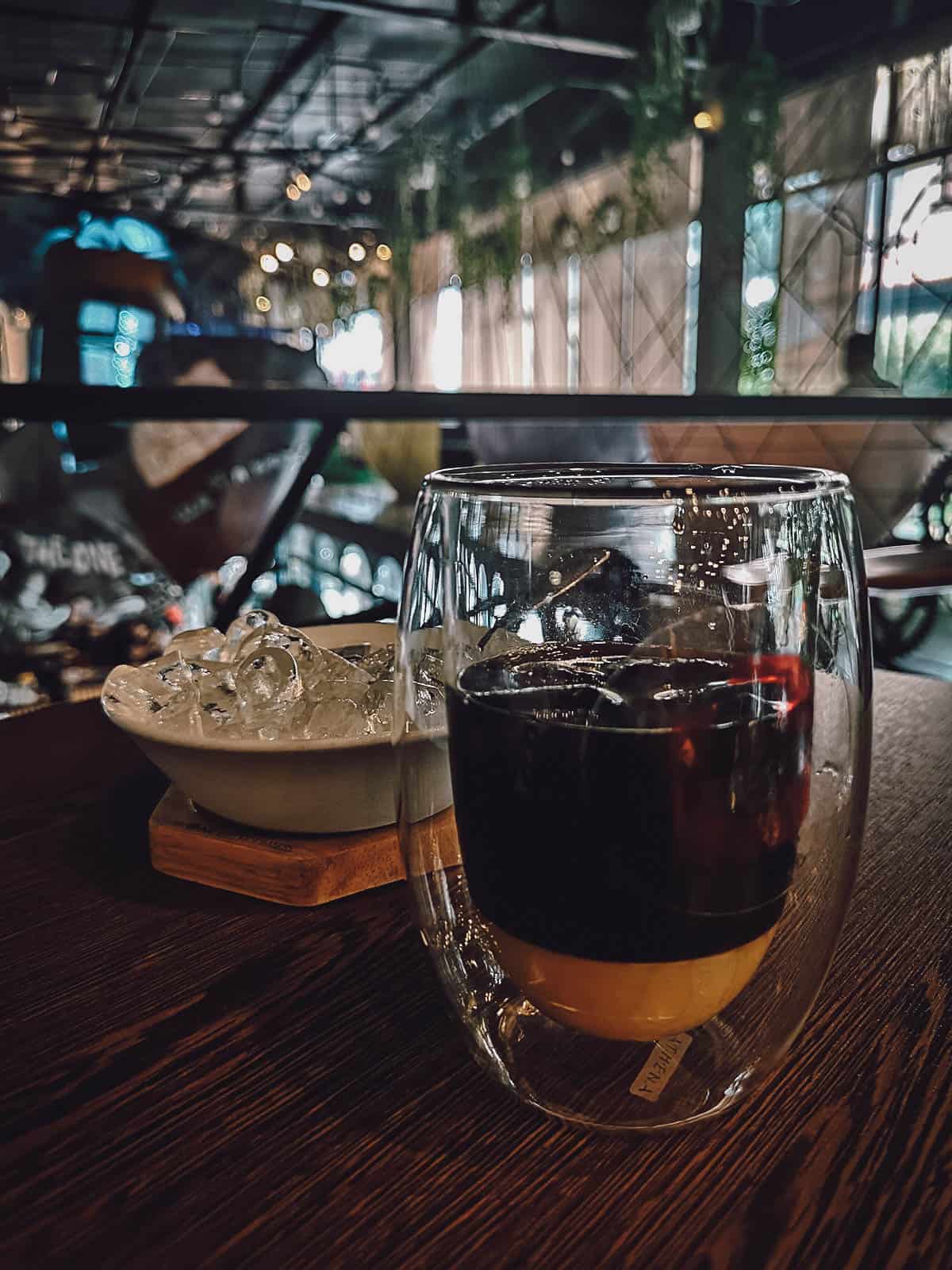 The One Coffee & Bakery
Address: 3 Hùng Vương, Phú Hội, Thành phố Huế, Thừa Thiên Huế, Vietnam
Operating Hours: 7AM-10PM, daily
4. Root Coffee
I found this place on my way home from dinner one night. I wanted to be spontaneous and visit the first interesting cafe along my route. Thankfully, I came across Root Coffee and its gritty but stylish interior.
I loved the urban look and feel of this cafe.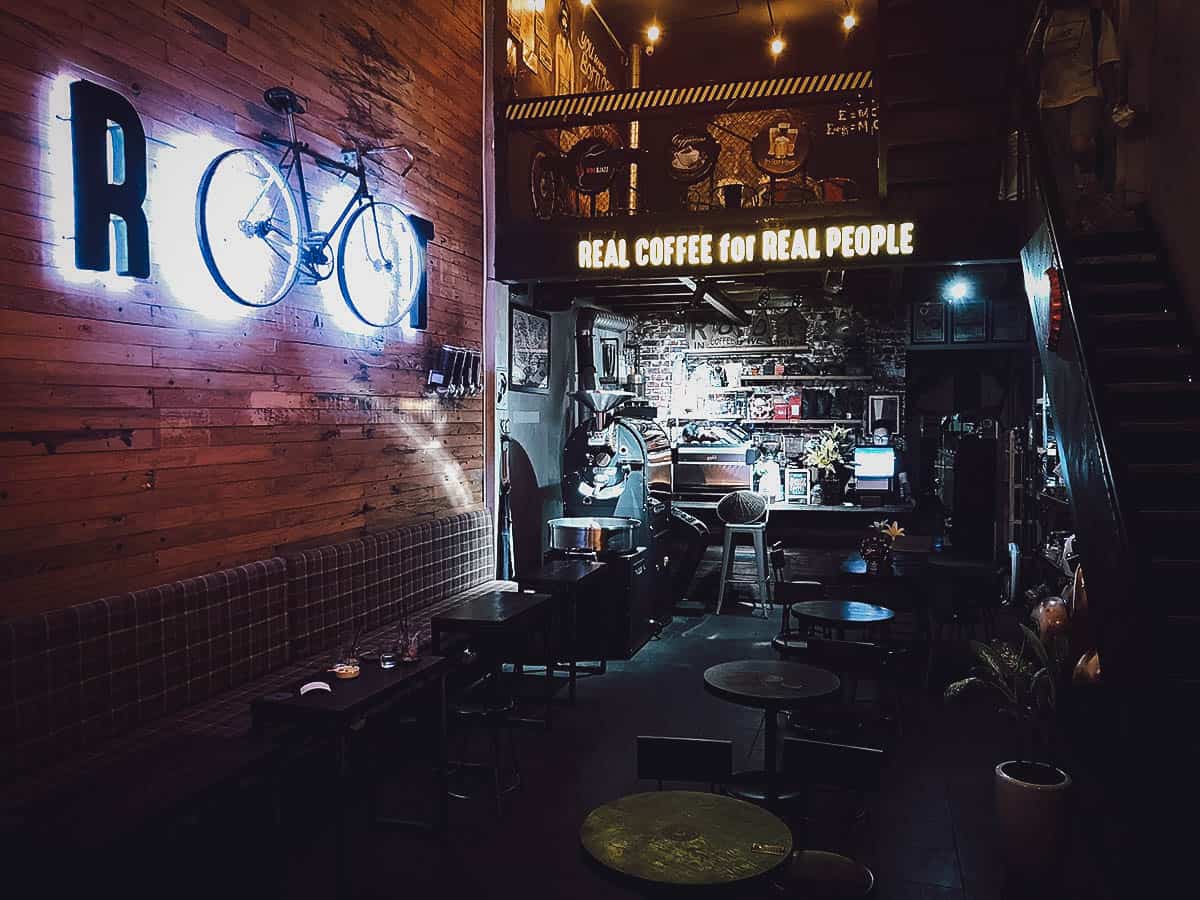 Tell me the interior of Root Coffee wasn't designed for Instagram. Attached perpendicular to the wall, you won't notice this sign unless you're looking down from the second floor railing.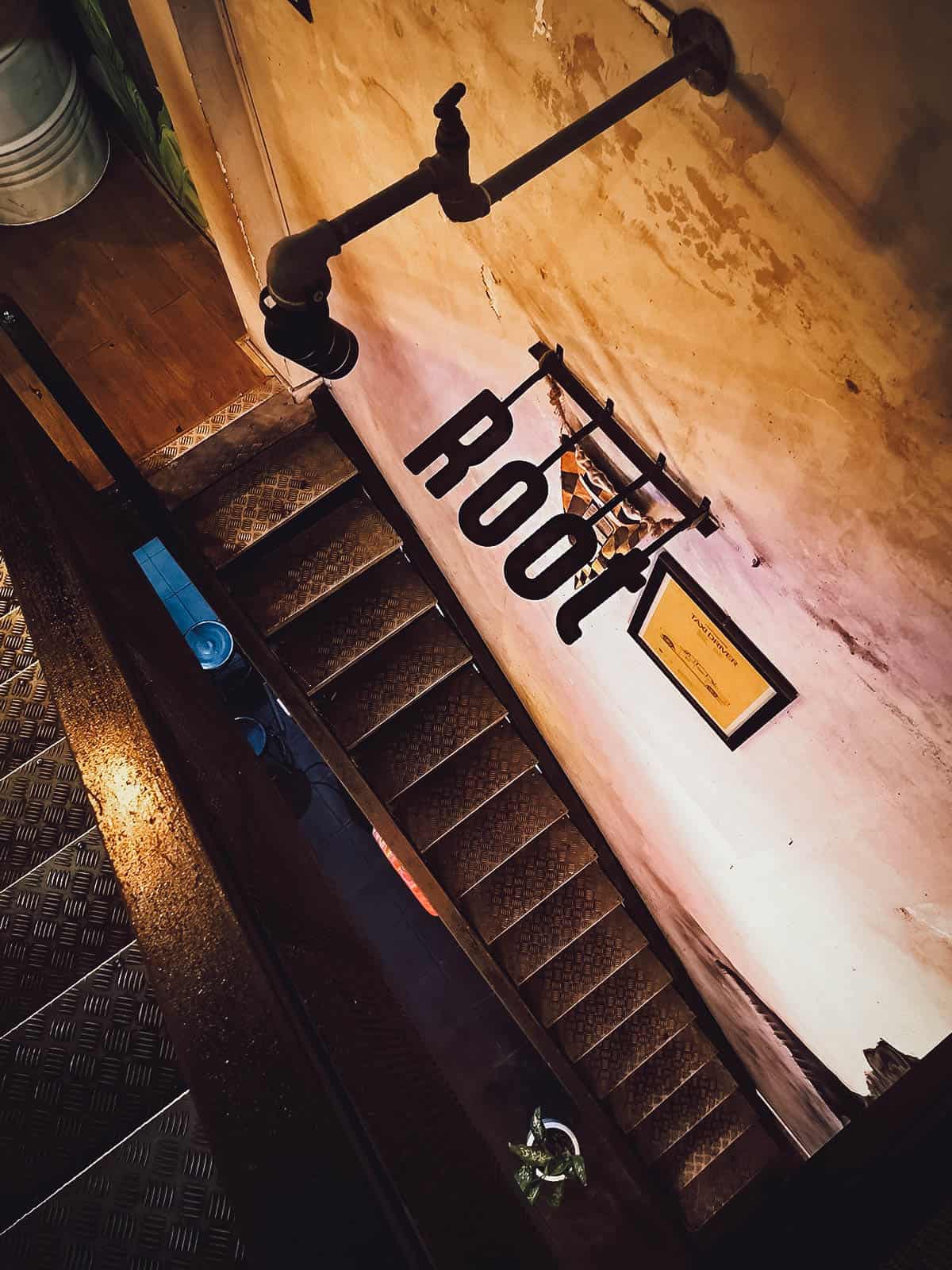 My server misheard me and thought I wanted my coffee to go. Root Coffee offers both Vietnamese and western coffee. I went with their "Secret Coffee" (VND 35,000) which I think is just a fancy way of saying cafe latte with a twist.
Root Coffee
Address: 43 Ngô Quyền, Vĩnh Ninh, Thành phố Huế, Thừa Thiên Huế, Vietnam
Operating Hours: 7AM-10PM, daily
5. Moka Cafe
I enjoyed an imperial cuisine dinner at Ancient Hue Garden Houses on my last night in Hue. It was a 5 km walk back to my hotel so I made a quick coffee stop here at Moka Cafe. It's a small coffeehouse across the bridge from Hue railway station.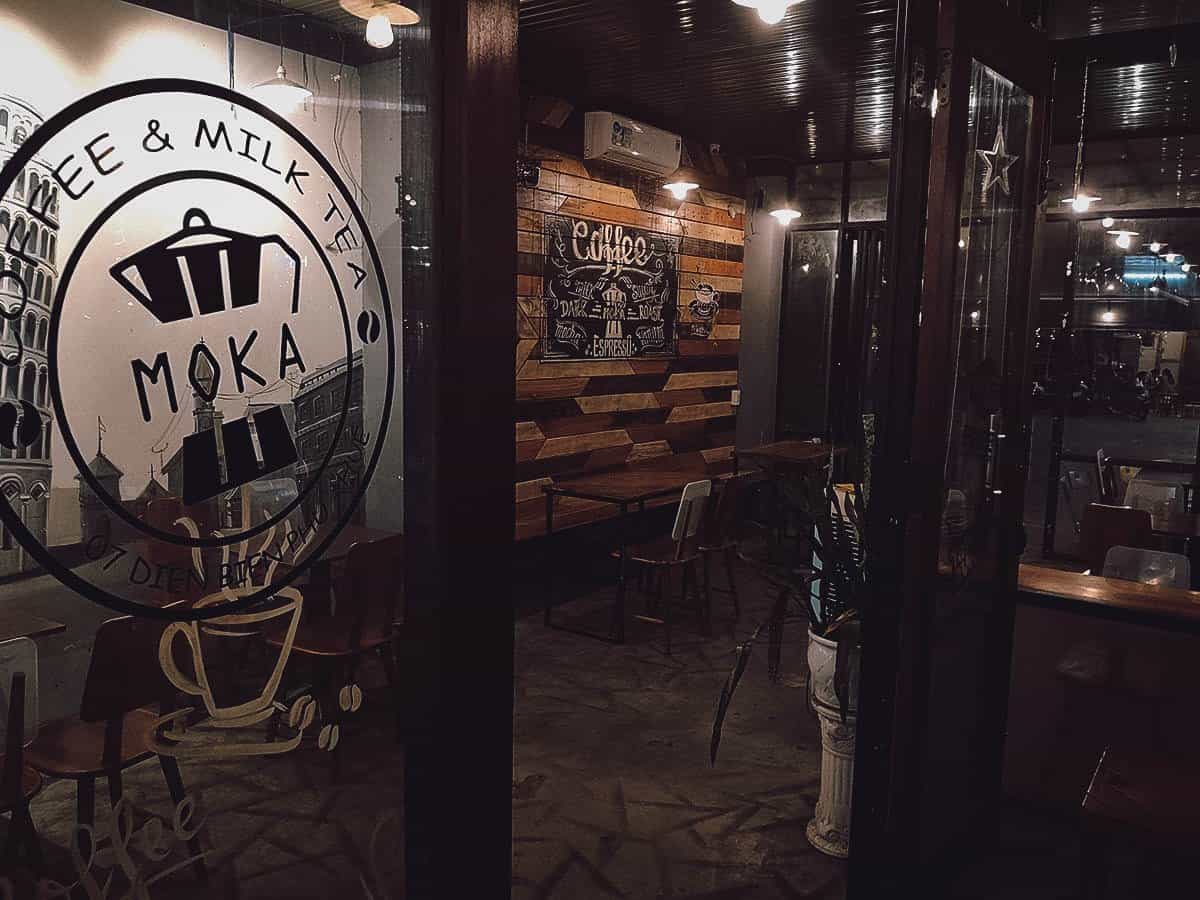 There's nothing fancy or distinct about Moka Cafe but they do serve good Vietnamese coffee at cheap prices. This ca phe den nong cost just VND 10,000.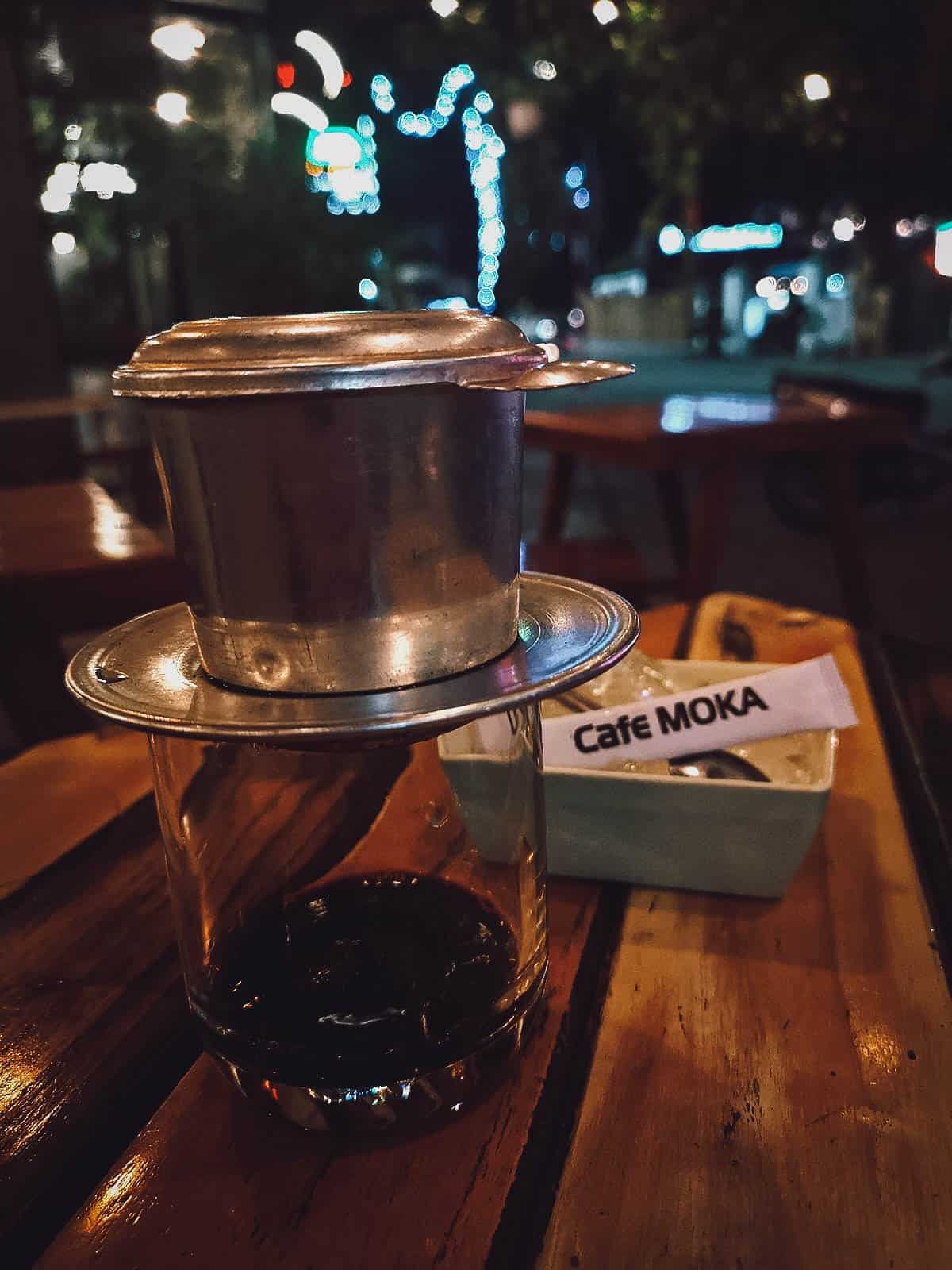 Moka Cafe
Address: 7 Điện Biên Phủ, Vĩnh Ninh, Thành phố Huế, Thừa Thiên Huế, Vietnam
Operating Hours: 7AM-10PM, daily
6. Ca Phe Vy Da Xua
This was one of a few riverside cafes I visited in Hue. Ca Phe Vy Da Xua is located along the banks of the Perfume River and appears to be a restaurant / banquet hall / traditional teahouse.
The cafe's grounds are lovely. Walk through the front entrance and you'll find this central dining area with plants, bonsai trees, and a stone garden with water features on either side. I wanted to sit by the river so I walked past this space and through what looked like a private events area to get to the outdoor cafe.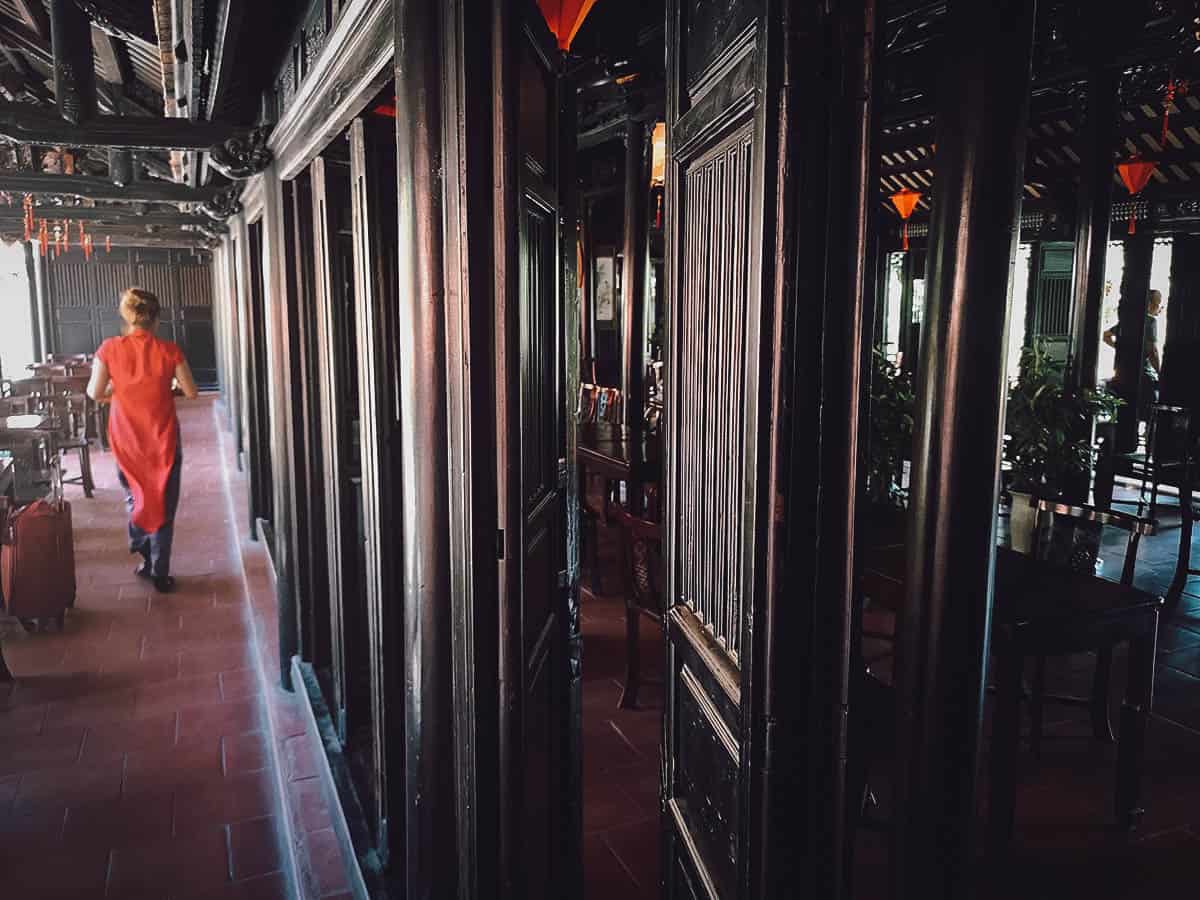 This was the best riverside cafe I visited in Hue. You're far enough away from the street so you don't hear any traffic. It was so relaxing to sit under this row of trees with a clear view of the river and Con Hen Island. I had their special ca phe vy da xua (VND 40,000) which tasted like black coffee spiked with alcohol. Perfect!
I didn't know this until I got to Ca Phe Vy Da Xua, but Con Hen Island is where local Hue delicacies com hen and che bap were invented. Those were the exact two dishes I had for lunch before going to this cafe! I walked to the island after my coffee for the best com hen and che bap I had in Hue.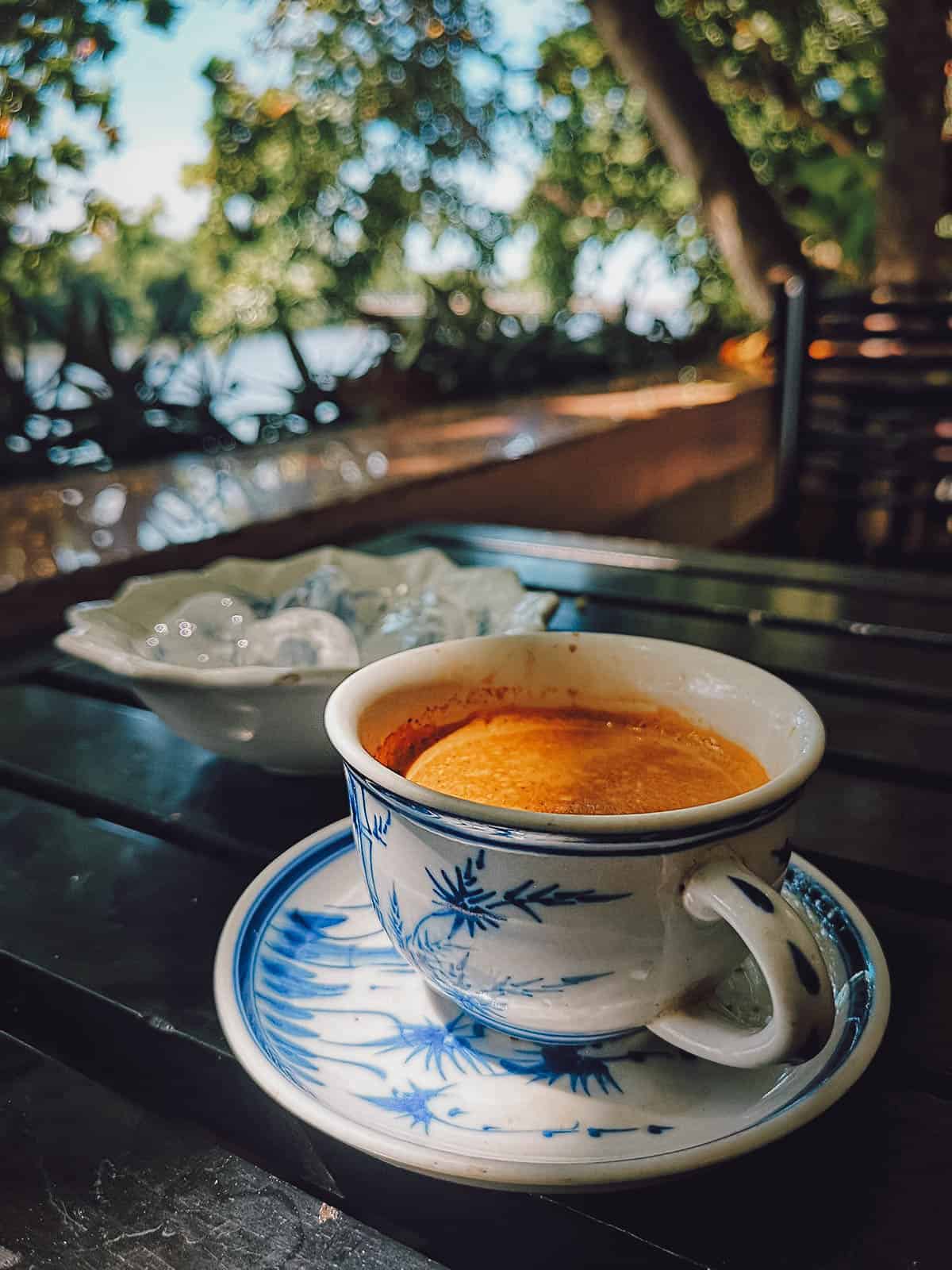 Ca Phe Vy Da Xua
Address: 131 Nguyễn Sinh Cung, Vỹ Dạ, Thành phố Huế, Thừa Thiên Huế, Vietnam
Operating Hours: 6AM-10PM, daily
7. Cà Phê Sông Xanh
Ca Phe Song Xanh is a lovely riverside cafe overlooking the confluence of the Perfume and Nhu Y Rivers. It isn't as fancy as Ca Phe Vy Da Xua but it's just as relaxing with even better views. I believe the cafe is right next to, or turns into the Garden Riverside Bar at night.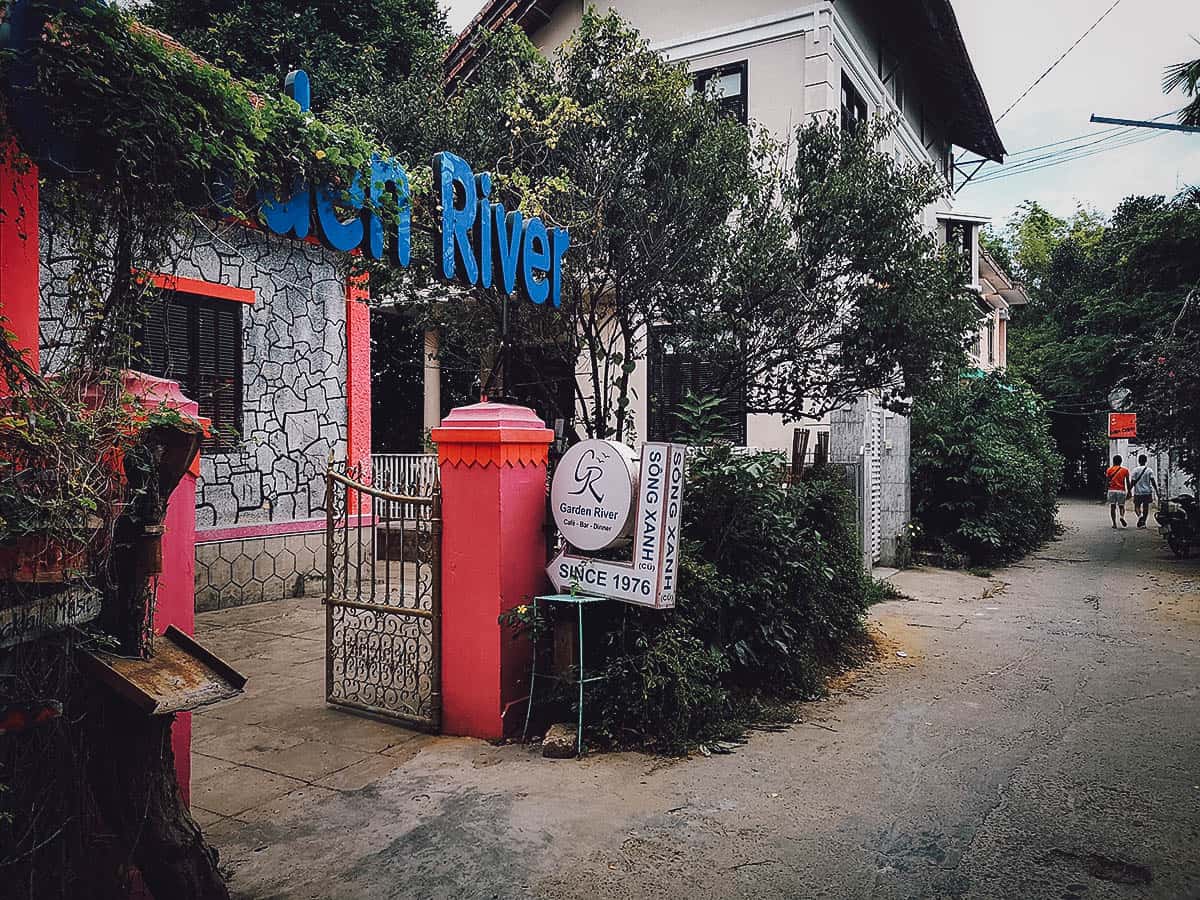 I don't know if they do this all the time but when I was there, they were giving every guest this complimentary fruit platter. I had only ordered a ca phe sua da (VND 30,000) at that point so I was pleasantly surprised when they set this down on my table. How nice!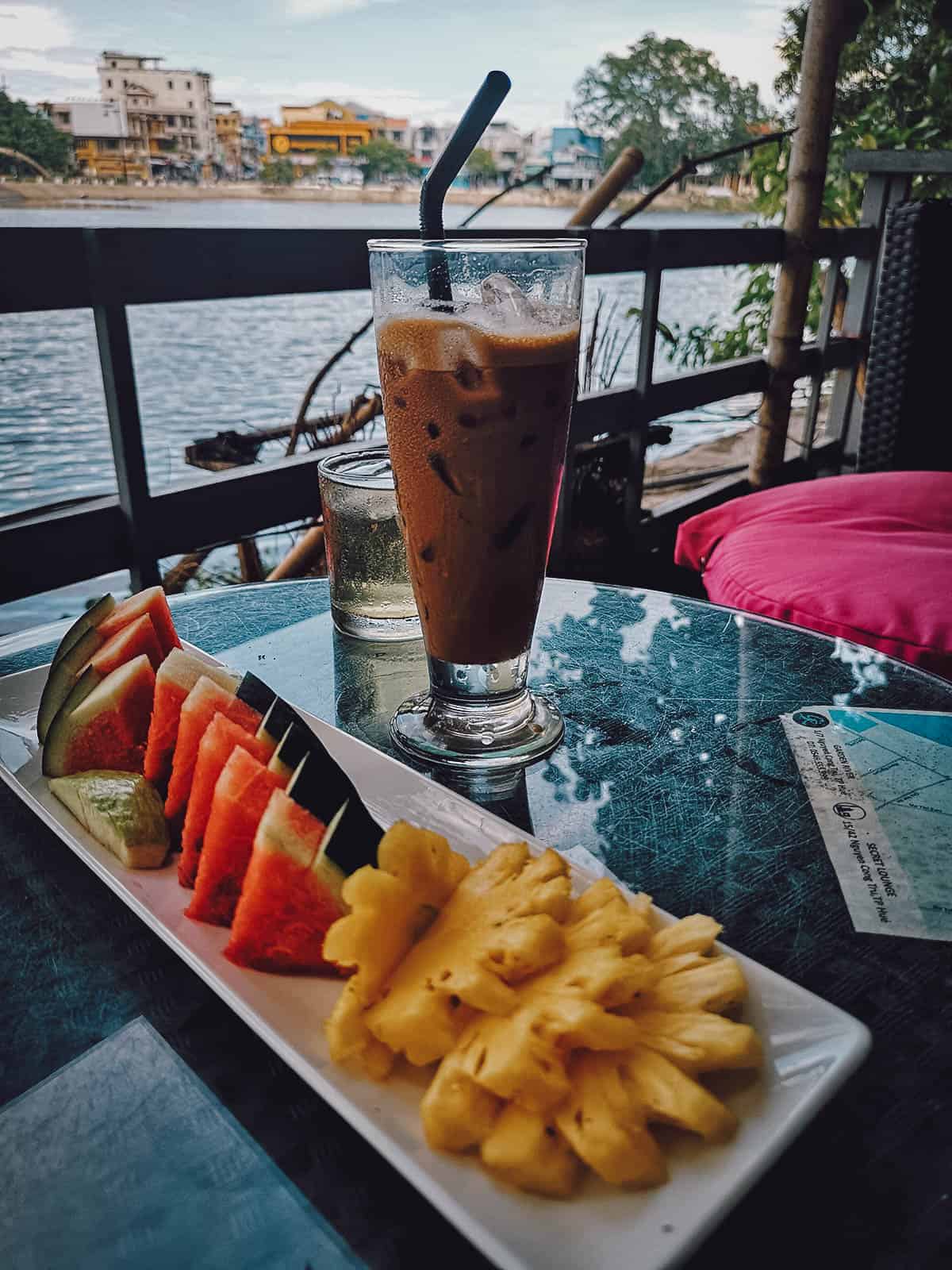 I was pleased to find outlets by every table so I decided to stay and work here. I ordered a second drink, this time a ca phe den da (VND 25,000). I would have stayed longer had the sun not inched its way over my laptop's screen. It's such a lovely and pleasant environment and from what I've read, a great place to watch the sunset.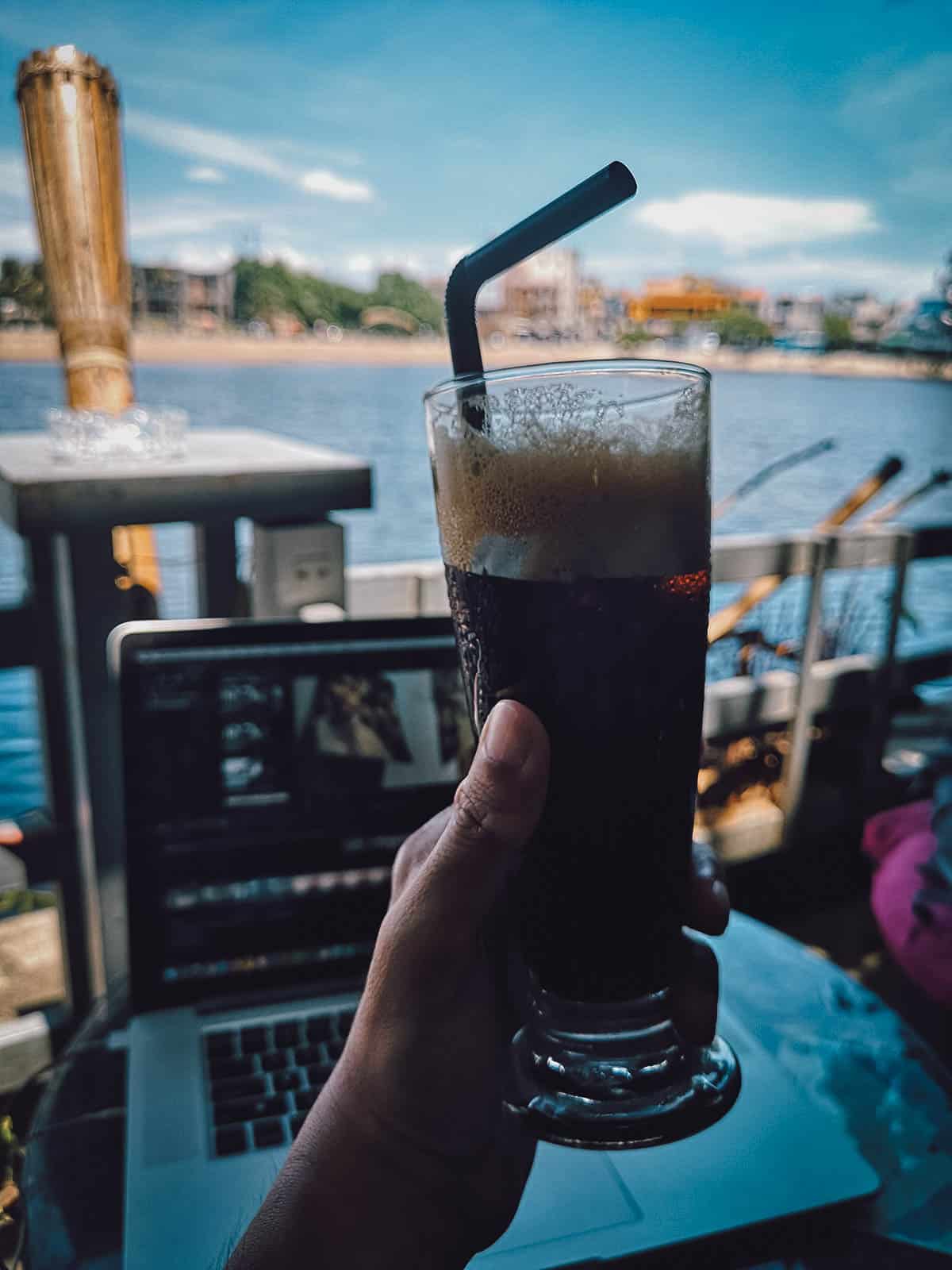 Cà Phê Sông Xanh
Address: 9 Nguyễn Công Trứ, Phú Hội, Thành phố Huế, Thừa Thiên Huế, Vietnam
Operating Hours: Open 24 hrs (?)
8. Itano Cafe – CLOSED
I had time to kill on my last day in Hue so I hopped on Google Maps and searched for highly rated cafes near me. My search led me to Itano Cafe. It has a spacious and airy interior with concrete floors and heavy metal tables and chairs.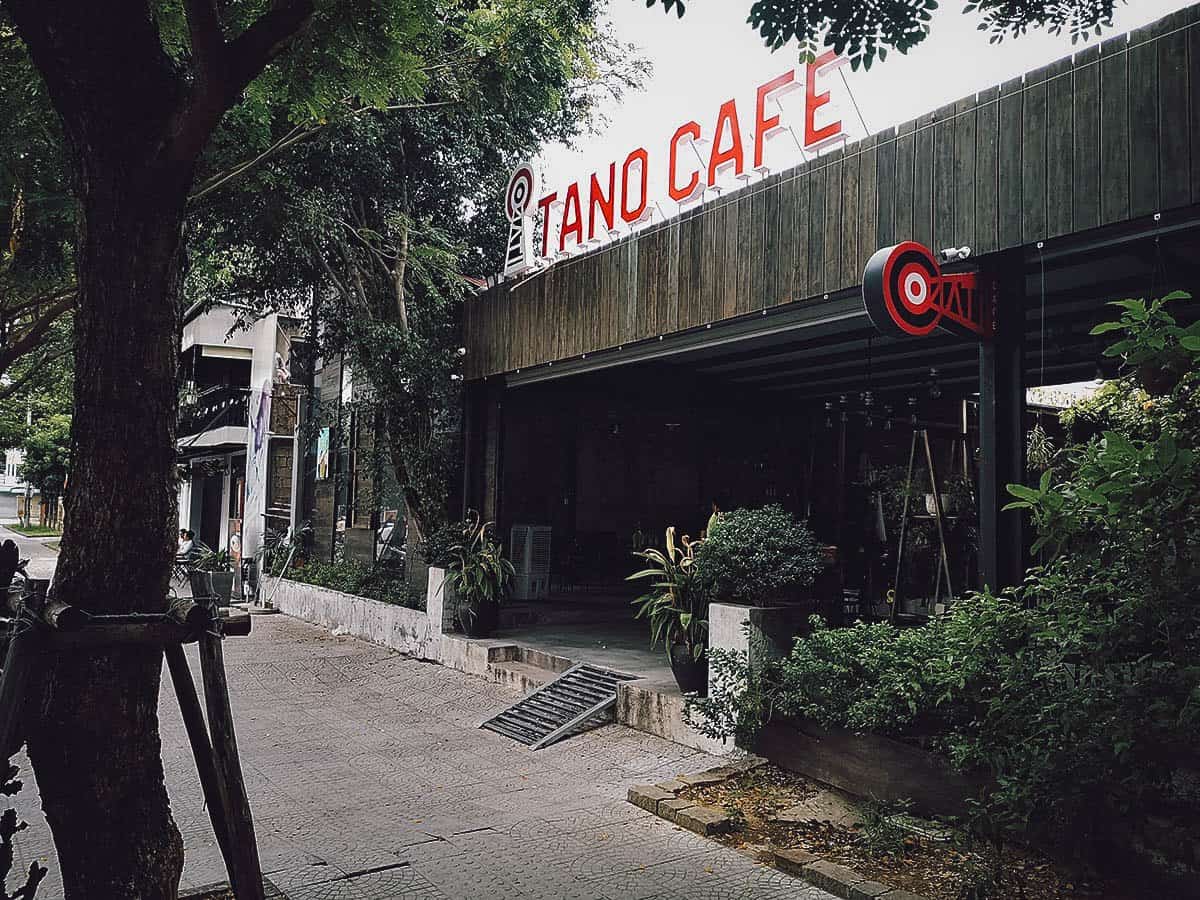 This was where I had my second cup of ca phe muoi (VND 20,000) in Hue. As described, it was noticeably saltier than the original. It wasn't as well balanced so I suggest trying salt coffee at Ca Phe Muoi and having something else here instead.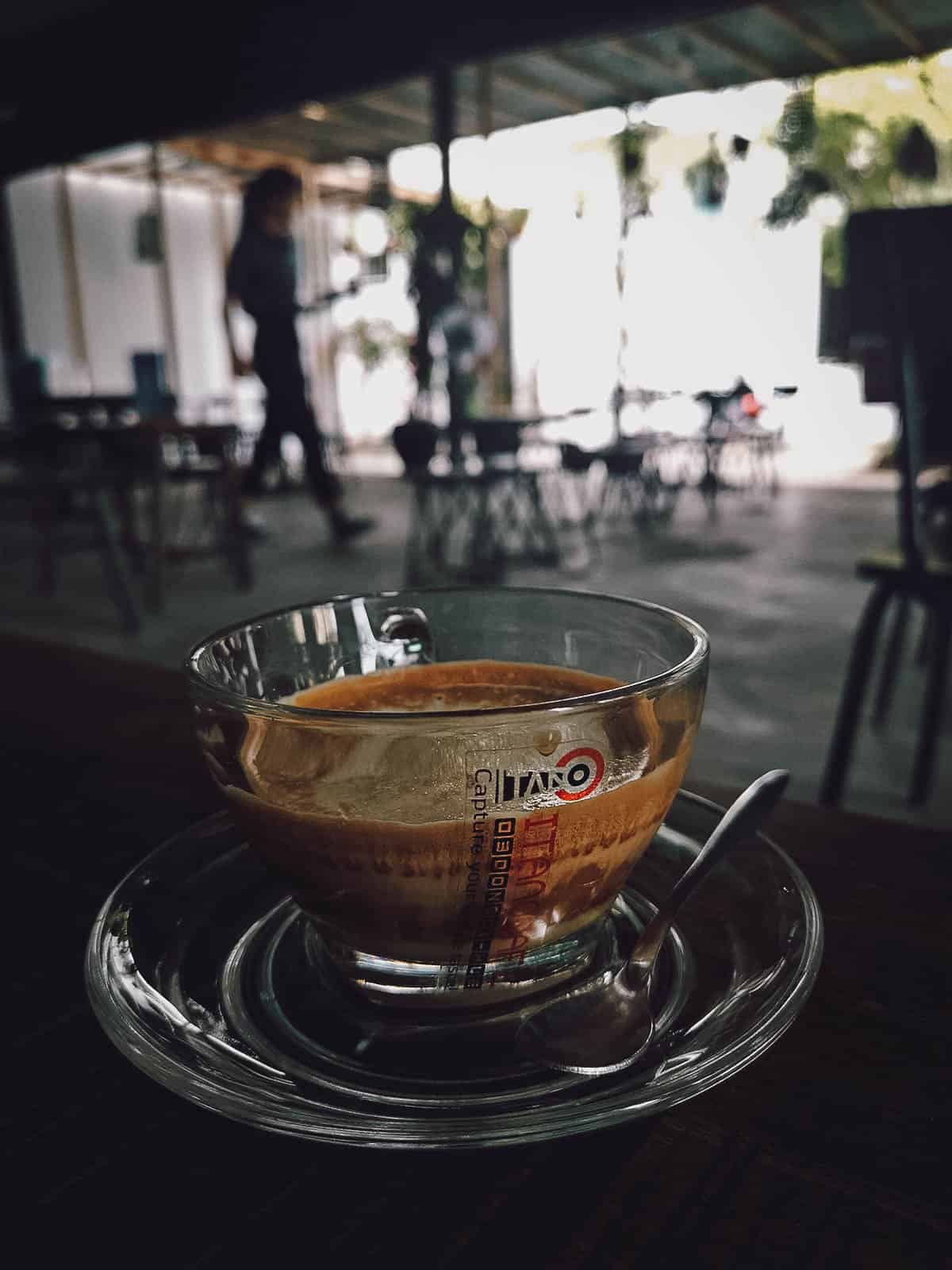 Itano Cafe – CLOSED
Address: 03 Đống Đa, Vĩnh Ninh, Thành phố Huế, Thừa Thiên Huế, Vietnam
Operating Hours: 6AM-12MN, daily
9. Cafe Ben Xua
Of all the cafes I went to in Hue, this one felt the most local. It's hard to spot so I don't think they get many tourists here. I went to Cafe Ben Xua first thing in the morning and it felt like every local customer turned to look at me when I walked in.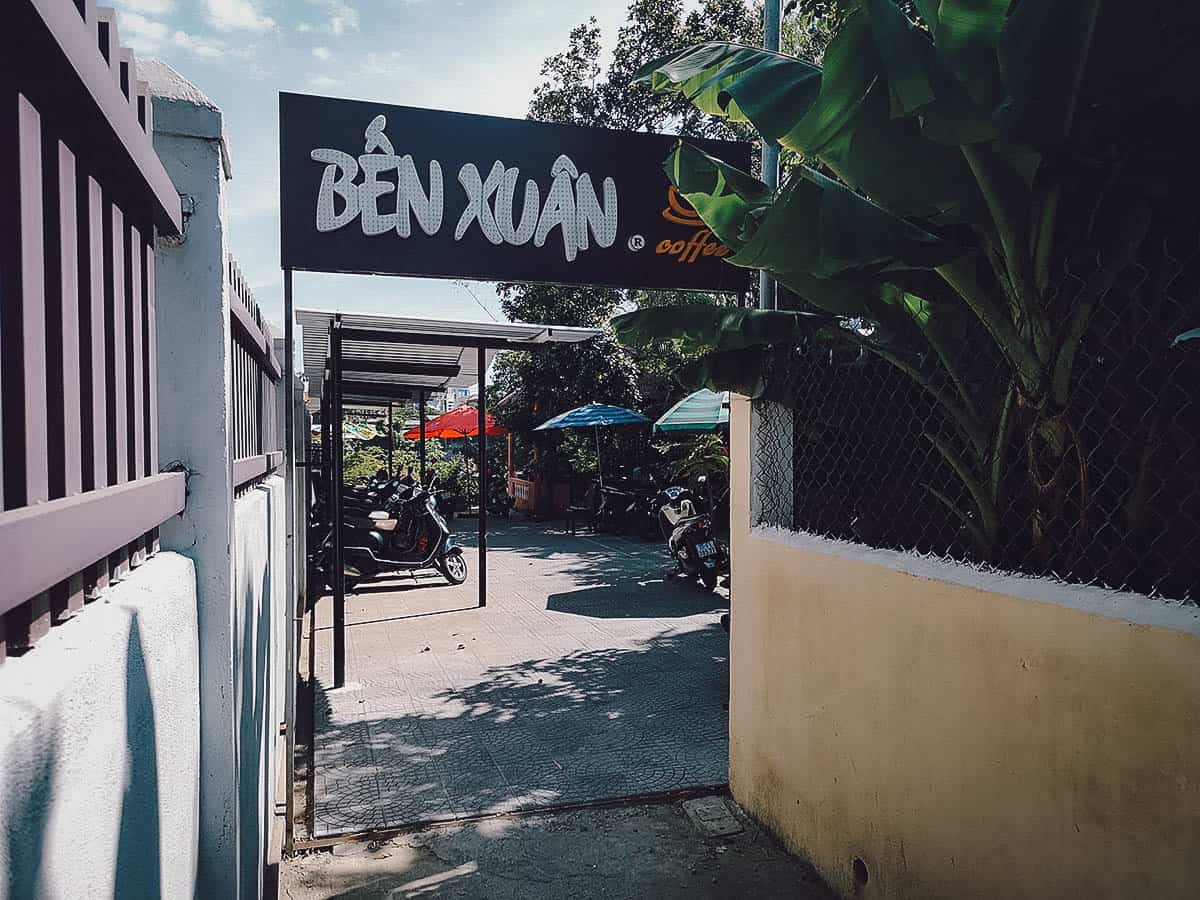 Cafe Ben Xua is a simple outdoor cafe with a few tables set up along the banks of the Nhu Y River. It resembles one of those roadside street food stalls with plastic tables and chairs. Its makeshift feel and lack of a real concrete space added to its appeal. Here, it's all about great coffee and an even better view.
Cafe Ben Xua is one of the cheapest cafes on this list. This ca phe den nong went for just VND 12,000.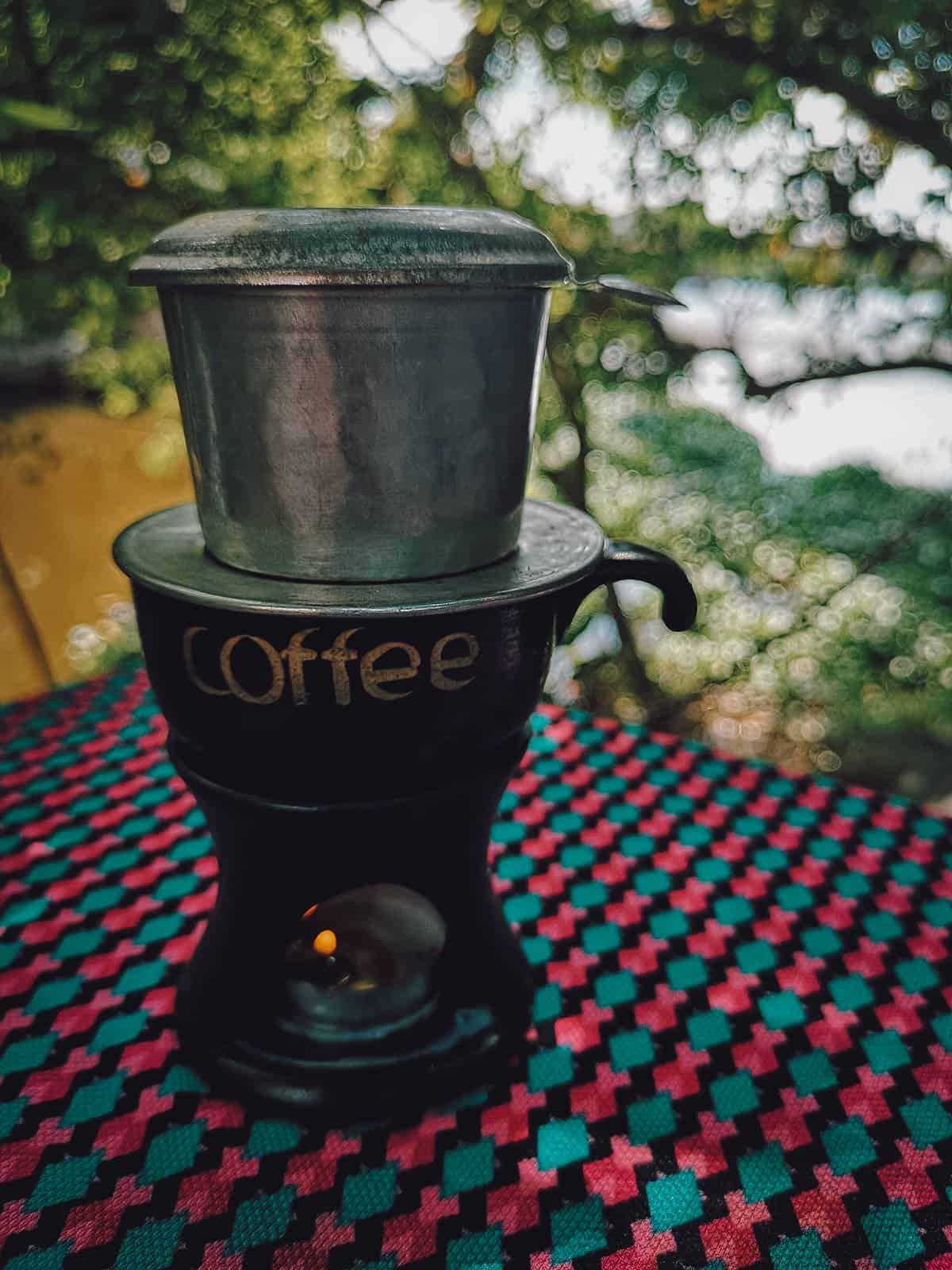 Cafe Ben Xua
Address: 5 kiet 57, 5 kiet 57 Nguyễn Công Trứ tổ 15, Phú Hội, Thành phố Huế, Thừa Thiên Huế, Vietnam
Operating Hours: 7AM-10PM, daily
HUE CAFES LOCATION MAP
To help you navigate to these Hue cafes, I've pinned them all on this map. Most are located south of the Perfume River. Click on the link for a live version of the map.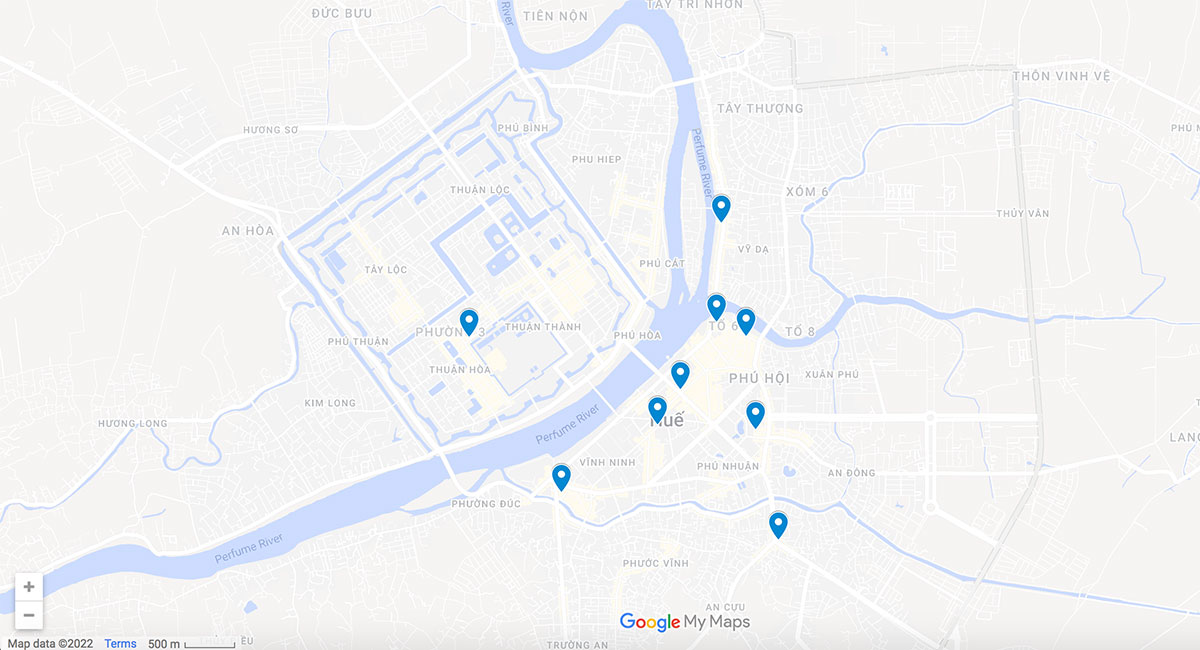 FINAL THOUGHTS ON THE COFFEE IN HUE
The coffee culture in Hue doesn't seem to be as storied as Hanoi or as diverse as Saigon, but having ca phe muoi makes it interesting. Like ca phe trung, it's unique to the city. It doesn't have the history and fame yet of egg coffee but it's something travelers will look for, if they know about it.
I posted pictures of salt coffee on our Instagram account and many people were excited about the concept, using adjectives like "interesting", "cool", and "bloody brilliant" to describe it. Half-jokingly, Ren's cousin even asked me to bring some home! Clearly, it was something people wanted to try given the opportunity.
If you like coffee, then you should definitely try ca phe muoi next time you're in Hue. I flew to this city to experience dishes like com hen, banh loc goi, and bun bo hue. Salt coffee deserves to be on that list as well.
Disclosure
This article on the best cafes in Hue contains affiliate links, meaning we'll earn a small commission if you make a purchase or booking at no extra cost to you. We really appreciate your support as it helps us keep this website going. Thank you!