Gamja Jorim (Korean Spicy Potato Side Dish)
In tune with Ren's recent fascination with gochujang, she prepared this wonderful Gamja Jorim side dish to complement our takeout of Chooks roast chicken. Putting her own unique spin on this popular Korean banchan, her version is spicy, savory, and sweet, and went smashingly well with the roast chicken. I rather enjoyed the momentary respite from rice as well, with these potaotes filling me up nicely without making me feel bloated.
If you like potatoes and appreciate some heat in your food, then you'll be sure to love this side dish. Enjoy!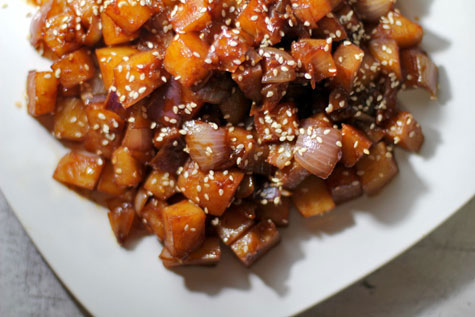 Ingredients
2 potatoes, peeled and cut
Onion, sliced
1 Tbsp Gochujang (Korean red pepper paste)
1 tsp Gochugaru (Korean red chile powder)
2 cloves garlic, crushed
1 Tbsp kecap manis (sweet soy sauce)
Sesame Seeds, for garnish
Directions
Stir fry potatoes and onions in oil.
Add gochujang, gochugaru, garlic, kecap manis, and a little water. Cover and turn down heat. Cook until potatoes are tender.
Serve with sesame seeds as garnish. Can be served hot or chilled.
DID YOU KNOW?
That Gamja Jorim is a popular side dish for lunch boxes in Korea? Many Korean parents prepare these for their children as part of their school lunch menus.