Oaxacan food is no secret. Even if you've never been to Mexico, you've probably heard that the food in Oaxaca (pronounced wa-ha-ka) represents some of the very best in traditional Mexican cuisine. Like Puebla, Mexico City, Guadalajara, and Merida, Oaxaca is one of the top food destinations in Mexico.
Together with the gastronomic meal of the French, traditional Mexican cuisine was the first to receive UNESCO culinary heritage status in 2010. What that means is that the culinary traditions of Mexican cuisine are worthy of preservation.
Mexican food is excellent throughout the country, but considering its reputation as the foodie capital of Mexico, I can't help but think that the food in Oaxaca had a lot to do with that.
Oaxacan dishes like mole, tlayuda, and memela are among the many delicious reasons why food-obsessed travelers flock to Oaxaca City every year. If you're one of those people and planning your first trip to Oaxaca, then you need to weave these 25 traditional dishes into your food itinerary.
OAXACAN CUISINE QUICK LINKS
To help you plan your trip to Oaxaca, we've compiled links to recommended hotels, tours, and other travel services here.
HOTELS
Top-rated hotels in Centro, one of the most convenient areas to stay for first-time visitors to Oaxaca.
TOURS
OTHER SERVICES
Save This on Pinterest!
No time to read this guide on the food in Oaxaca? Click on the save button and pin it for later!
WHAT IS TRADITIONAL OAXACAN CUISINE?
We sat down for dinner with Cesar, a proud Oaxaqueño foodie, and I asked him this question – "Why is the food in Oaxaca so good?" He's probably been asked that question many times over because it didn't take long for him to answer! According to him, it has much to do with Oaxaca's unique climate and mix of indigenous cultures.
Oaxaca City is located in the central portion of a valley surrounded by mountains in southern Mexico. Its many mountain ranges create multiple climates that help make Oaxacan cuisine one of the most varied in Mexico. The Central Valley area produces a wide variety of vegetables, the region near Veracruz grows an assortment of tropical fruits, while the state's southern coastal areas produce a steady supply of fresh seafood.
Like the rest of Mexico, corn, beans, and chili peppers are staples in Oaxacan cooking, but the cuisine makes use of many other ingredients and preparations as well like quesillo (Oaxaca cheese), chocolate, chapulines (grasshoppers), and mezcal. Various chili peppers are used as flavoring agents with some of the most distinctive herbs being hoja santa (Mexican pepperleaf), epazote (Mexican tea), and pitonia (lemon verbena).
On top of its varied climates and ingredients, Oaxaca state is home to seventeen indigenous groups, each with its own cooking traditions. Notable examples include the dominant Zapotecs and Mixtecs. The Triqui group, an indigenous people in the western part of Oaxaca, is known for its pit-barbecuing methods.
Cesar added that Oaxaqueños are extremely proud of their cuisine. Oaxaca is home to one of the richest pre-Hispanic culinary traditions in Mexico. They do what they can to protect and preserve these traditions that go back thousands of years.
Enjoy mole at any market fonda (family-owned eatery) or indulge in nieves (ice cream) flavored with chapulines and you'll know exactly what he means. Making good Oaxacan and Mexican food is in these people's blood.
WHAT FOOD IS OAXACA KNOWN FOR?
As you can imagine, Oaxacan cuisine is known for its many delicious dishes and street food. You could spend weeks in Oaxaca City and not discover every dish that this city and state is known for. Dishes like tlayuda and memela are everywhere but more obscure regional specialties like caldo de piedra (stone soup) and pozontle are harder to find.
For your convenience, we've compiled this list of 25 traditional Oaxacan dishes and drinks to get you started before your next trip to central Mexico. Once you've familiarized yourself with what to eat in Oaxaca, then be sure to check our guide on where to eat in Oaxaca for a curated list of the city's best restaurants, fondas, and roadside stalls.
¡Buen provecho!
1. Mole
When I think of Mexican food, the first dishes that come to mind are tacos and mole. Tacos are the ultimate street food while mole represents the pinnacle of traditional Mexican gastronomy.
Derived from the Nahuatl word mōlli meaning "sauce", mole refers to a family of sauces used in Mexican cuisine. There are hundreds of mole recipes throughout Mexico. In Oaxaca alone, there are over 200 known mole preparations. Some are quite complicated and can be made with over two dozen ingredients like chili peppers, fruits, nuts, seeds, cacao beans, and spices.
With so many ingredients to work with, it's no surprise that Oaxacan mole takes days to prepare. People use mole paste as a shortcut but according to Cesar, a proper mole takes about three days to make from scratch. It truly is a labor of love that's usually reserved for special occasions.
When prepared traditionally, ingredients for Oaxacan mole are often toasted or fried before being ground on a metate (mealing stone). The ingredients are mixed together to form a thick paste which is then simmered for several hours with water or stock to make a sauce. When ready, the mole is typically served with rice and some type of meat – commonly chicken or pork – or used as a sauce in dishes like enmoladas.
Land of the Seven Moles
Of all the Oaxacan moles, seven are most notable. It's for this reason why Oaxaca is often referred to (at least in western media) as the "land of the seven moles".
Each of these seven moles is distinguished by its color or main ingredient used – mole negro (black), mole rojo (red), mole amarillo (yellow), mole verde (green), mole coloradito (reddish), mole manchamanteles (tablecloth stainer), and mole chichilo (made from chilhuacle chili peppers). I'll give a brief description for each below.
Pictured here is mole negro, the most popular Oaxacan mole and the most difficult to prepare. Recipes vary but it typically contains 20-30+ ingredients, including six different types of chili peppers.
A signature dish in Oaxaca, mole negro is a hallmark of Oaxacan and Mexican food. It's a rich and complex-tasting sauce known for its sweet and savory flavors.
Mole negro is the most popular but mole coloradito may have been my favorite. Meaning a "little red" or "reddish" in Spanish, coloradito refers to a reddish-brown sauce that's slightly less sweet than mole negro. Some of its key ingredients include ancho chili peppers, tomatoes, garlic, almonds, sesame seeds, and spices.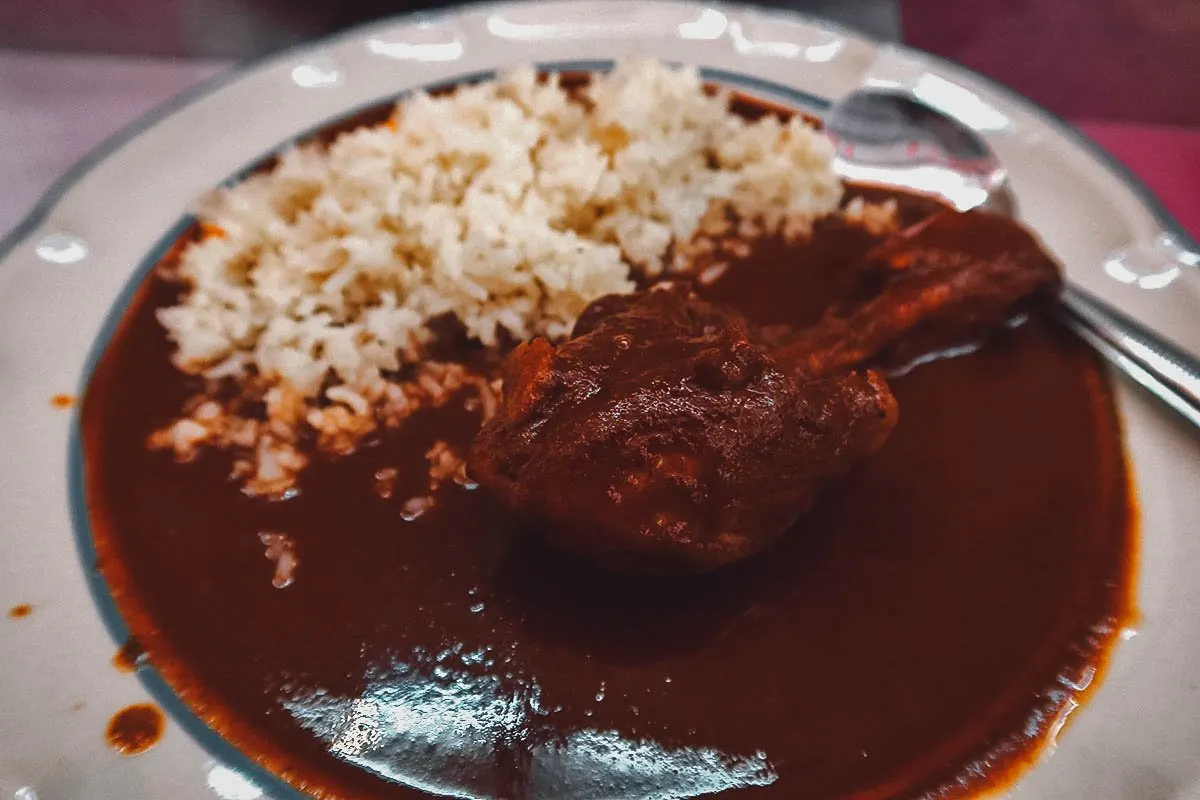 If you'd like to try all seven Oaxacan moles, then I suggest looking for a restaurant that offers mole degustation menus. You can try all 7 moles in small amounts, just enough to get a taste of each one. Many of these moles are quite rich so getting a small portion of each is the best way to experience all seven.
We went to Restaurante Coronita, a highly-regarded restaurant in the Hotel Valle de Oaxaca. Their mole degustation is good for two people and served with a bowl of rice, freshly made corn tortillas, and pickled vegetables. Almost all of the moles are topped with pieces of shredded chicken.
After serving the moles to you, the server will quickly describe each one (in Spanish) and advise you on how best to enjoy them. Some are best paired with rice while others are delicious on their own.
Clockwise from the bottom: Mole chichilo, mole amarillo, mole verde, mole manchamanteles, mole coloradito, mole rojo, and mole negro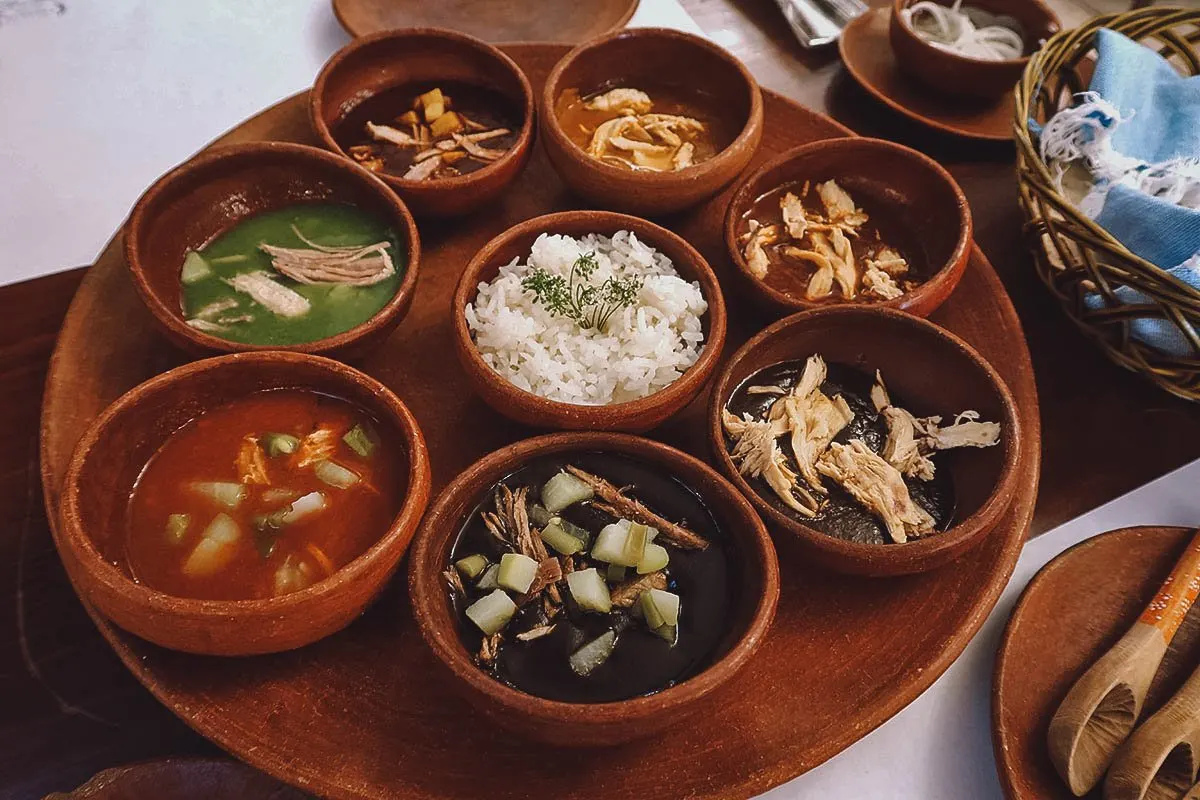 Mole recipes can vary greatly from cook to cook but I'll do my best to describe each one below.
Mole Negro
As described, mole negro or black mole is the most common type of Oaxacan mole. It's what you'd typically find at any market fonda. It's very dark, almost black in color, and can be made with over thirty ingredients including chocolate, plantains, tomatillos, nuts, tortillas, dried fruit, and six different types of chili pepper.
A well-made mole negro is the perfect balance of savory and sweet. At fondas, it's typically served with a piece of chicken and a side of rice. You can also enjoy it served over enchiladas in a dish called enmoladas.
Mole Rojo
Like mole negro, mole rojo or red mole is made with chocolate along with a laundry list of other ingredients like guajillo and pasilla chiles, tomatoes, almonds, peanuts, sesame seeds, and spices. It has a similar savory-sweet profile as mole negro so our server advised us to pair both with rice to help tone down their richness.
Many articles online claim that mole rojo is the same thing as mole poblano, which I find confusing. The red mole we had at Restaurante Coronita is clearly different from the mole poblano we enjoyed in Puebla. It's redder and less dark in color and doesn't taste nearly as rich as mole poblano.
In any case, I'll do more digging and update this article when I learn more. Based on our experience, red mole and mole poblano seem like two different types of mole.
Mole Amarillo
Mole amarillo or yellow mole is much lighter than the previous two. It's less thick and not nearly as rich. Typical ingredients in mole amarillo include green tomatoes, ancho and guajillo chili peppers, hoja santa, and spices. If I remember correctly, it was the only mole our server told us to pair with pickled vegetables.
Mole amarillo is the same sauce you'll find in Oaxacan empanadas. Personally, this was my least favorite type of mole. It's more raw in flavor compared to the richer moles, which is probably why it's paired with pickled vegetables.
Mole Verde
Mole verde or green mole tastes exactly how it looks. Light and herbal in flavor, it's even thinner than yellow mole and is the easiest of the seven moles to prepare because it doesn't require the toasting and rehydration of chili peppers.
Typical ingredients in mole verde include green chili peppers, tomatillos, pepitas (pumpkin seeds), hoja santa, epazote, and parsley. Based on its ingredients, Oaxacan mole verde seems to be a type of pipían. Pipían refers to a family of Mexican sauces made with pumpkin seeds as the main ingredient.
Mole Coloradito
Mole coloradito is another common type of mole that's often served at fondas. Some of the others are harder to find but practically every fonda we visited served mole negro and coloradito. Typical ingredients in coloradito include ancho chili peppers, garlic, tomatoes, sesame seeds, and spices.
Meaning "reddish" in Spanish, coloradito tastes similar to black mole but it's less sweet and not quite as rich. It's definitely something I could see myself eating everyday.
Mole Manchamanteles
According to our server, mole manchamanteles is one of the rarest of the seven moles. Not as many restaurants serve it so if you see it on a menu, then you should definitely order it. Not only is it harder to find, but it's also delicious and perhaps the most interesting of the seven.
Manchamantel literally means "tablecloth staining" and refers to the staining effect of the bright red chorizo grease and ancho chili peppers used in the recipe. Get a drop of this red mole on white tablecloth and it'll probably stain it for all eternity.
Other key ingredients in mole manchamanteles include tomatoes, onions, garlic, almonds, plantains, and fresh pineapple. The pineapple adds a hint of fruity tang and sweetness to the manchamanteles that you won't find in the other moles. It's delicious.
Mole Chichilo
Like mole manchamanteles, mole chichilo is a rarer type of mole that's quite different from the others. Similar in color as black mole but not quite as thick, it's the only mole among the seven that's flavored with beef.
Mole chichilo is made using beef bones and gets its name and color from chilhuacle negro, a dark chili pepper endemic to Oaxaca. Other key ingredients in mole chichilo include pasilla and mulato chili peppers, tomatoes, avocado leaves, and spices.
BONUS: Mole Blanco
Mole blanco isn't one of the seven but I thought I'd quickly mention it here. It's interesting and delicious and something you should try if you ever spot it on a Oaxaca restaurant menu.
Mole blanco or white mole refers to a type of mole from the Mixteca region of Oaxaca. Commonly prepared for Easter or Christmas, it's made with almonds, pine nuts, peanuts, sunflower seeds, white chocolate, milk, chili peppers, fruits, and spices. It's a milder type of mole often paired with rabbit, poultry, or chiles rellenos.
Though it's from Oaxaca, we were lucky to try mole blanco at the Casareyna restaurant in Puebla. It was part of a mole degustation platter with mole poblano, pipían verde, and pipían rojo.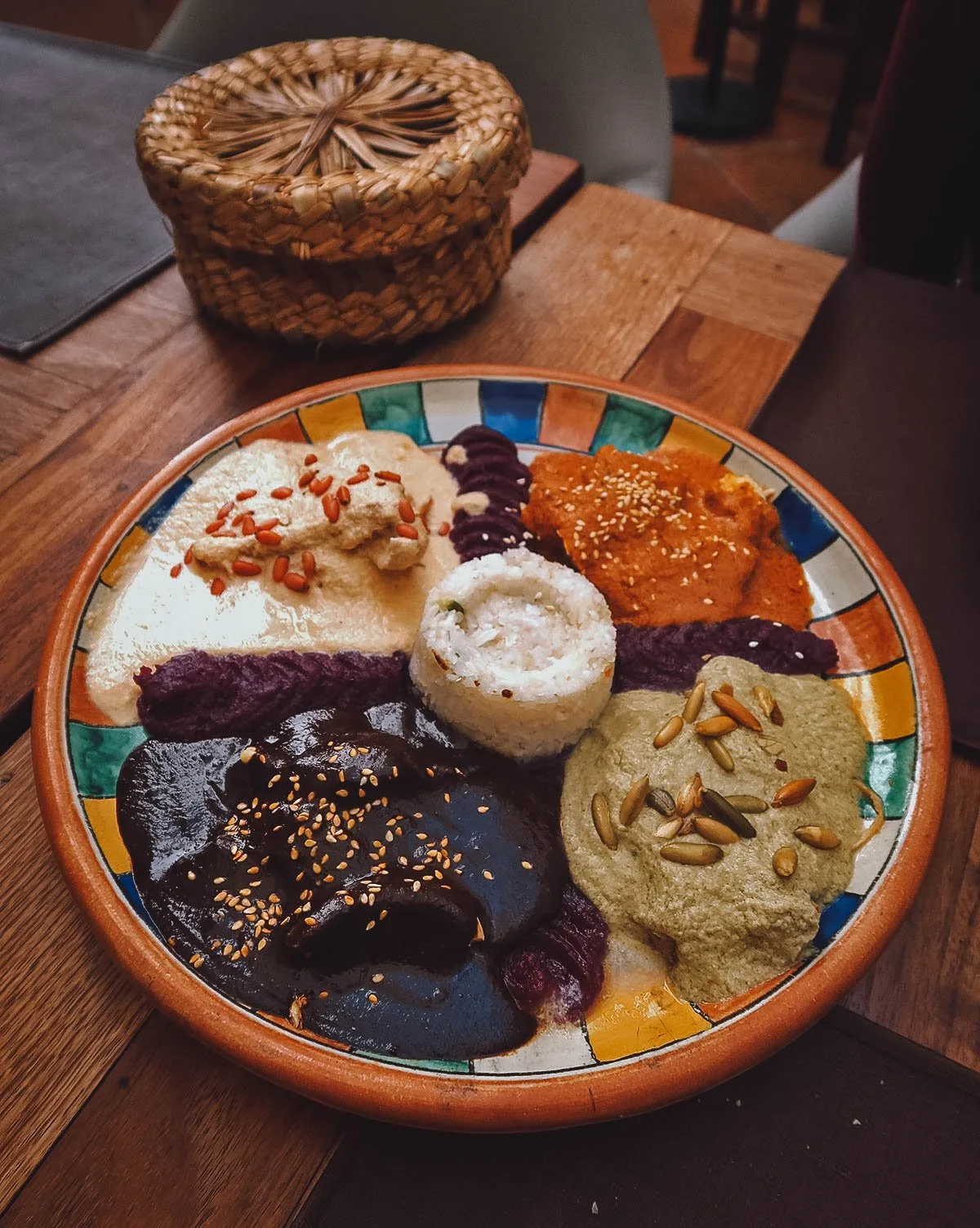 2. Tlayuda
It's only right for mole to lead any list of Oaxacan dishes. But when it comes to Oaxacan street food, nothing comes before tlayudas. Made with a large, partially fried or toasted tortilla slathered with refried beans, asiento (unrefined pork lard), Oaxacan cheese, and other ingredients, you can think of it as a type of Oaxacan pizza.
Tlayudas are a Oaxacan food favorite that's every bit as iconic as mole. They're native to the state of Oaxaca but they're especially popular as street food in Oaxaca City.
To prepare, a large thin tortilla disc is either seared on a comal or charred on a grill before being smeared with refried beans and unrefined pork lard. It's then topped with Oaxaca cheese, lettuce or cabbage, and slices of avocado before being served with different types of roasted meat, either on the side or as a topping. Common meats served with tlayudas include tasajo (dried beef), cecina (chili-powder-crusted pork), or chorizo (Mexican sausage).
Depending on the restaurant or stall, tlayuda can be served folded in half (see below) or open-faced, like a Mexican pizza. Some places may chop up the meat and incorporate it as a topping on the tlayuda, but most will serve it whole on the side.
PRO TIP: If you're accustomed to eating American-style pizza, then you may be tempted to slice up the meats and evenly distribute them on the tlayuda. Don't. They lose flavor if you do. Instead, take a bite from the meats after each bite of tlayuda. You'll appreciate the flavors of the grilled meat much more that way.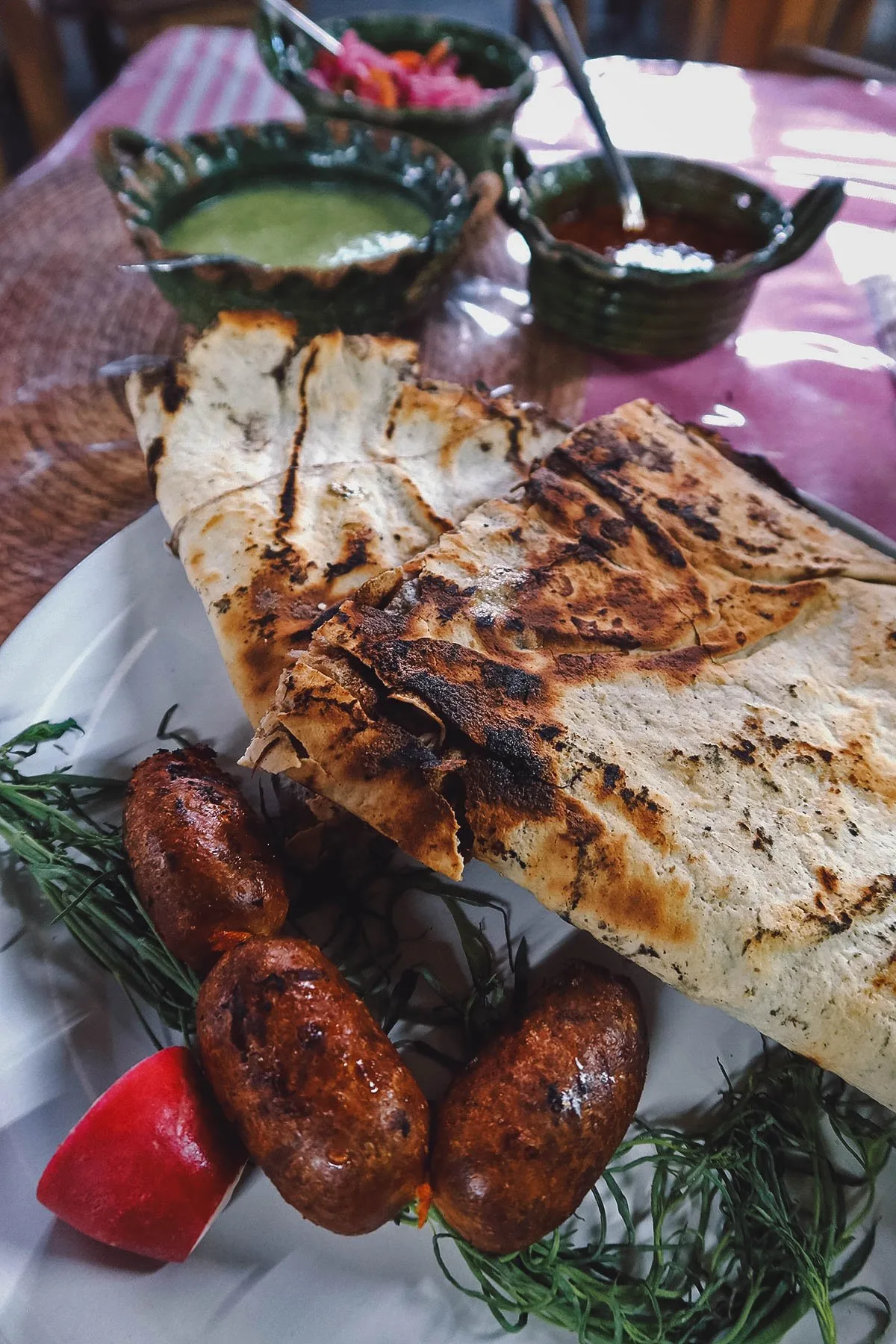 Here's an example of an open-faced tlayuda from a stall at Mercado 20 de Noviembre. The toppings are mostly the same from place to place but where tlayudas differ is in the texture of the tortilla. Some are chewier like a pizza while others, like this one, are thinner and crispier. We enjoyed both tremendously.
Tlayudas seem to be a popular drinking food in Oaxaca since most tlayuda specialty restaurants open only at night or sometime in the afternoon. At markets like Mercado 20 de Noviembre, you can have it at any time of the day.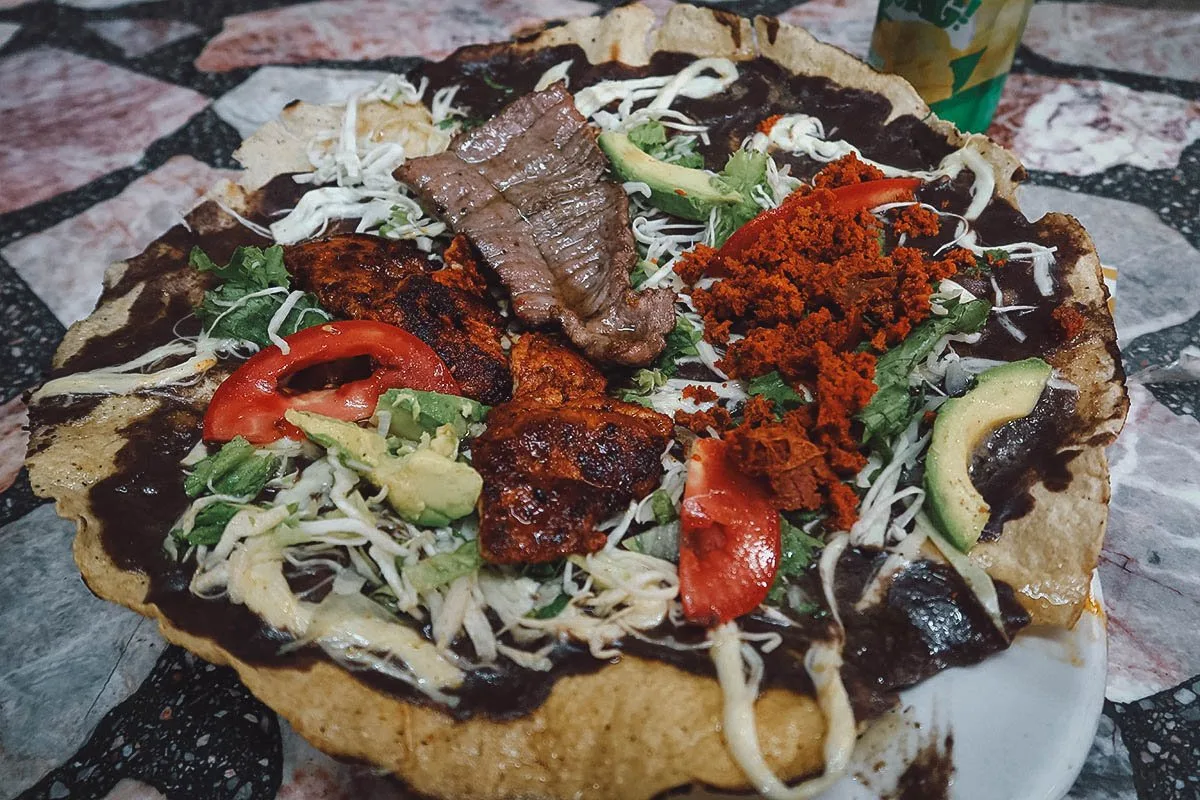 3. Memela
Memela is another popular street food in Oaxaca. Much smaller than tlayudas, memelas consist of fried or toasted masa discs topped with various ingredients like refried beans, black beans, salsa, tinga (shredded chicken with tomatoes), guacamole, and queso fresco (fresh cheese).
Memelas are popular antojitos or snacks in other parts of Mexico as well like Guerrero and Puebla. Depending on where it's from and what it's topped with, I believe the same dish can go by different names like sope or huarache.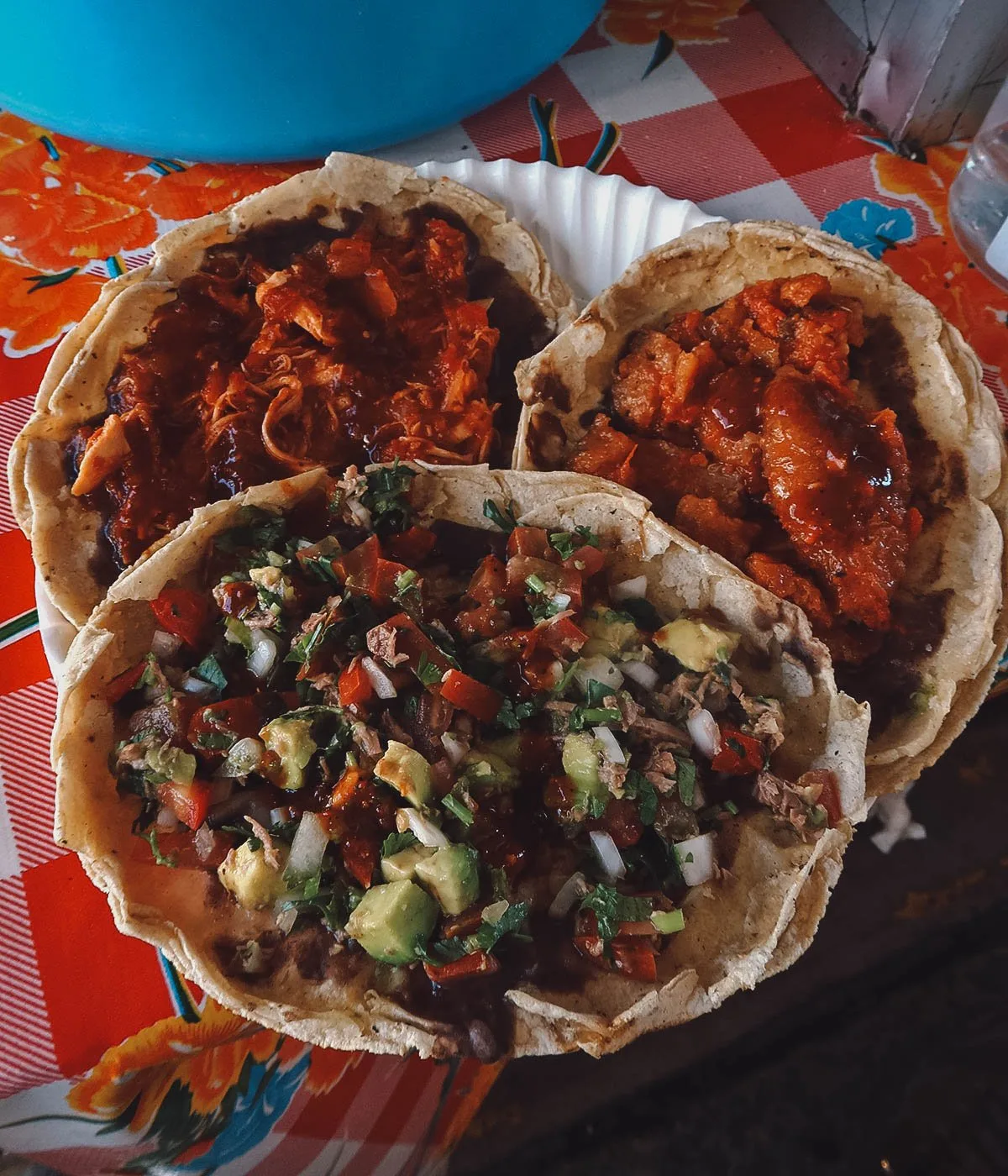 4. Empanada de Amarillo
Empanada de amarillo is another popular street food dish in Oaxaca City. Empanadas are enjoyed in many Latin American countries and can be made with different fillings, but Oaxacan empanadas are made with a specific set of ingredients – shredded chicken and mole amarillo.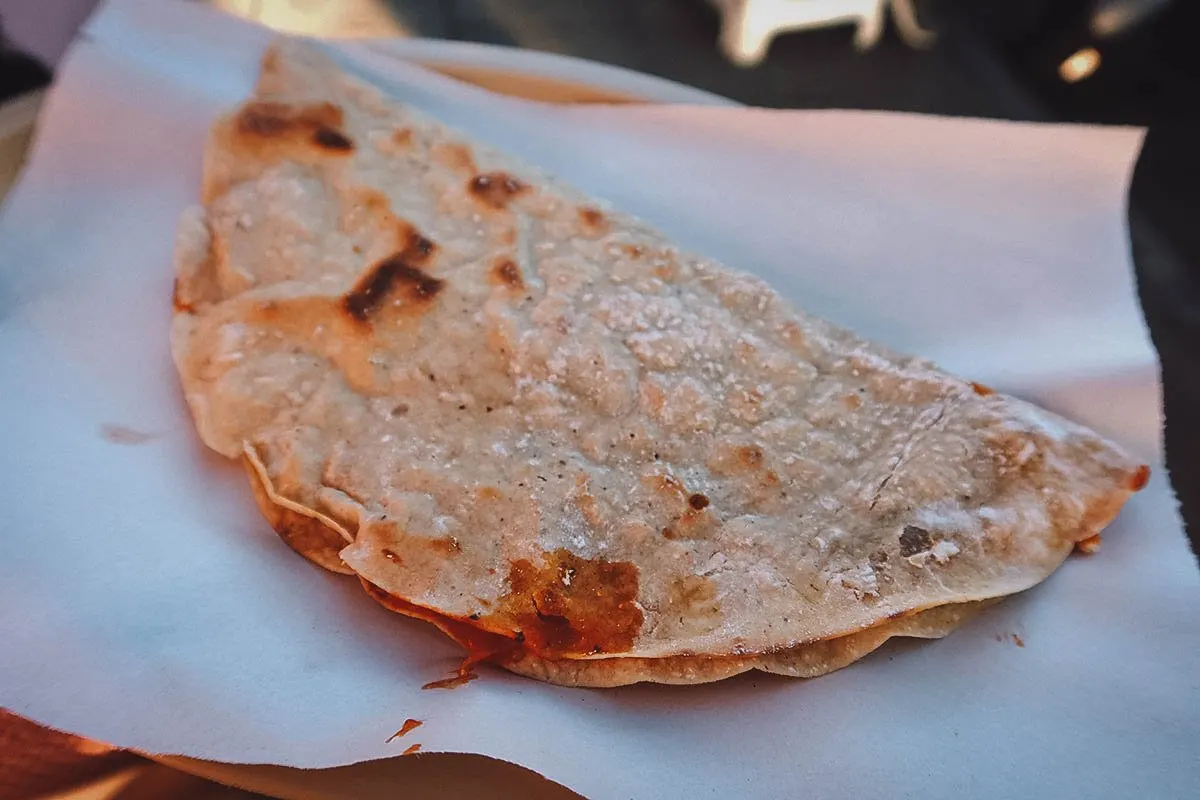 To make Oaxacan empanadas, a large corn tortilla is topped with yellow mole sauce and shredded chicken before being folded in half and cooked on a comal. It's a Oaxacan food favorite that's often sold at the same stalls that sell memelas.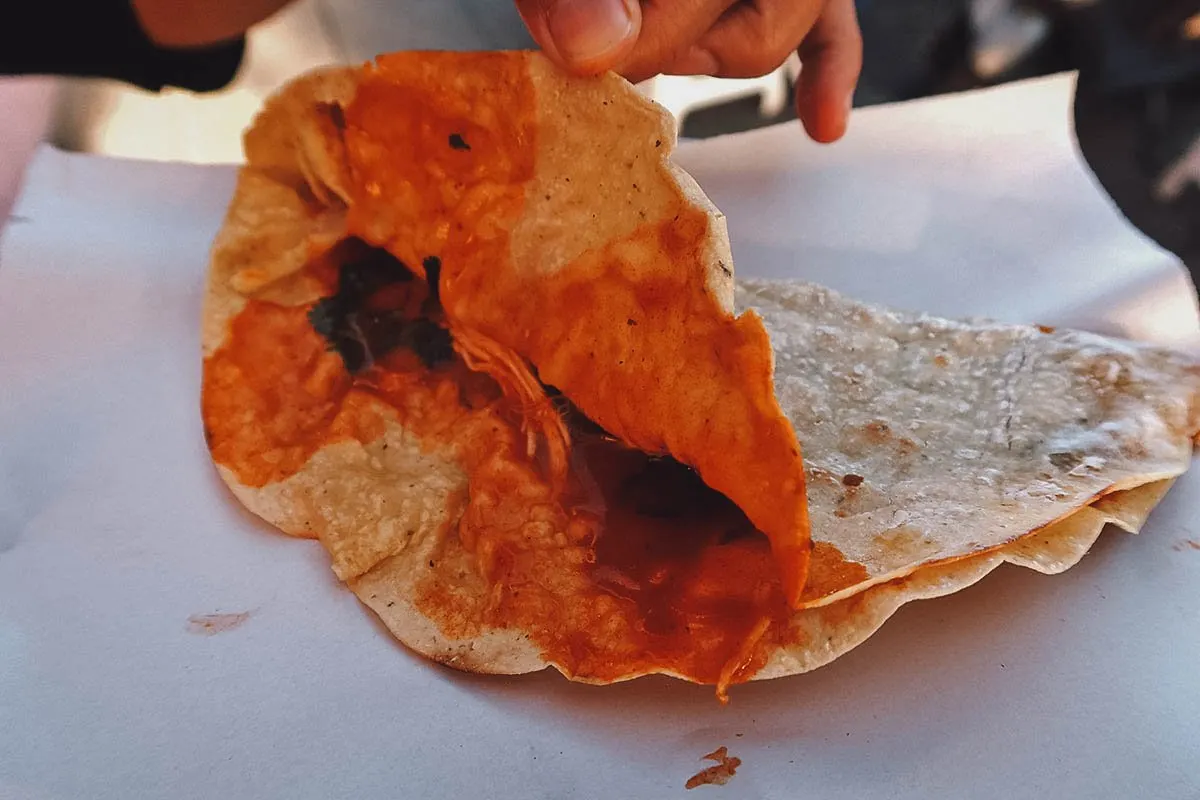 5. Enmoladas
As previously described, enmoladas are basically enchiladas drowned in mole negro. Popular throughout Mexico, enchiladas are tortillas wrapped around a variety of different fillings. They can be topped with any type of sauce but enmoladas are drenched in that deliciously dark mole sauce.
Enmoladas are a popular breakfast item and something you'd typically find at any market fonda in Oaxaca, together with entomatadas and enfrijoladas. Entomatadas are enchiladas covered in tomato sauce while enfrijoladas are topped in a black bean sauce.
Entomatadas and enfrijoladas can be found throughout Mexico while enmoladas are specific to Oaxaca. Pictured below is a version topped with tasajo and queso fresco (fresh cheese).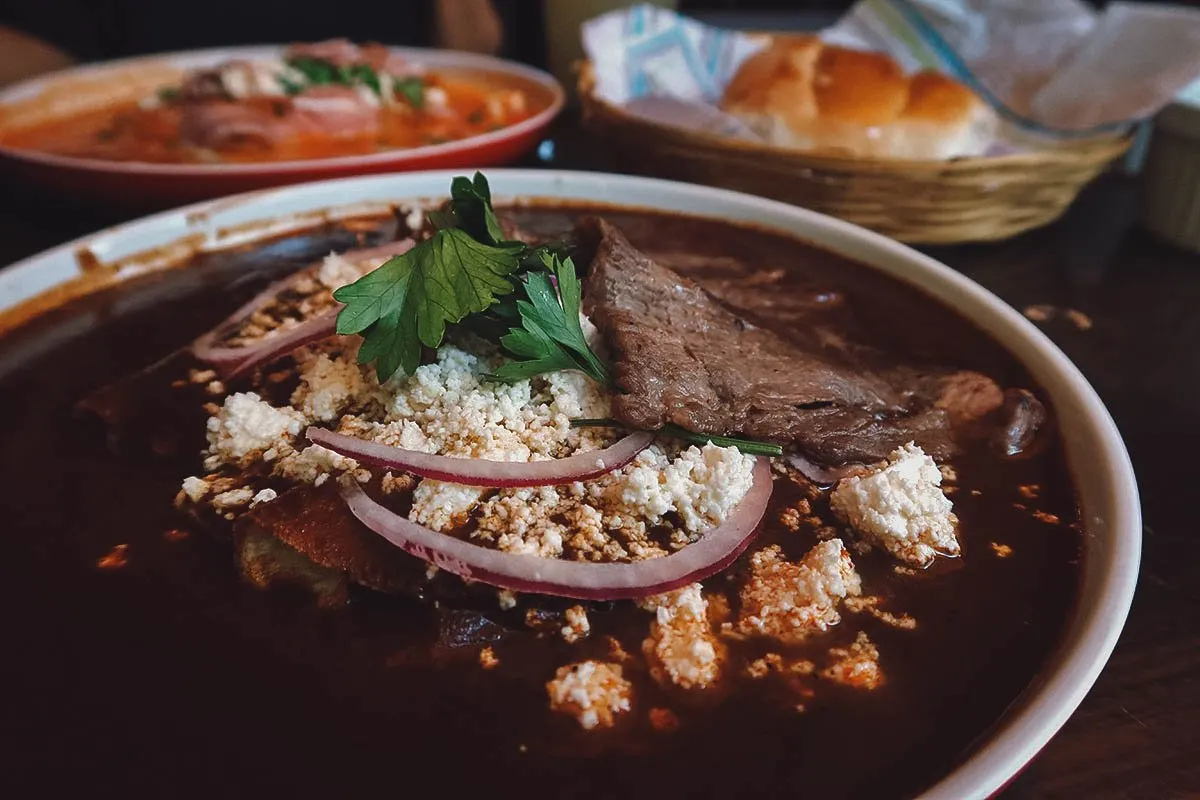 Here's a picture of entomatadas topped with queso fresco and served with a side of chorizo.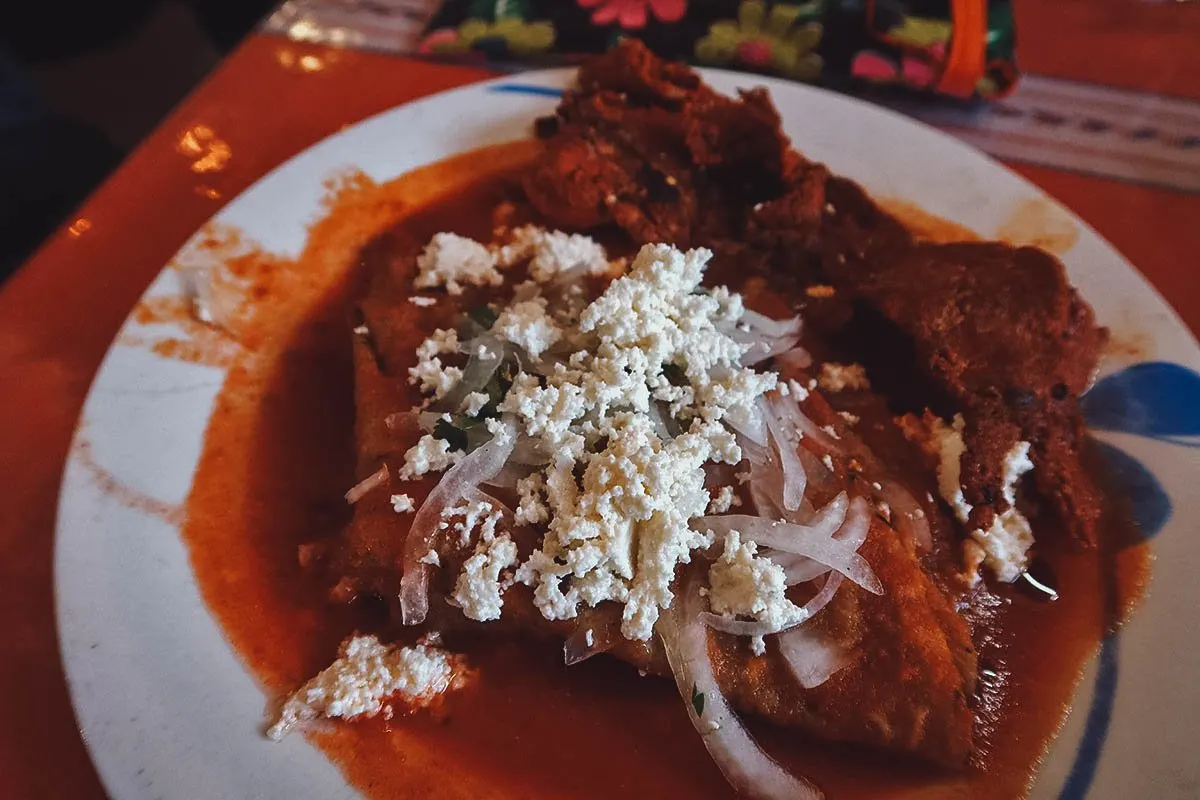 6. Tetela
Tetelas are triangular pockets of corn masa filled with a few simple ingredients like black beans, crema (cream), and fresh cheese. It's a pre-Hispanic dish that originates from the Mixtec region of Oaxaca.
To prepare, a large corn tortilla is filled with a seasoned paste made from mashed black beans or refried beans with onions. Depending on the cook, other ingredients can be added like crema, queso fresco, Oaxacan cheese, mushrooms, and hierba santa. The tortilla is then folded into a triangle and cooked on a comal.
We enjoyed tetelas from two different restaurants in Oaxaca. They seem to vary greatly in size. The first tetelas we had were about the size of samosas but this one, from popular restaurant Itanoni, was much bigger. It was about the size of a small flag.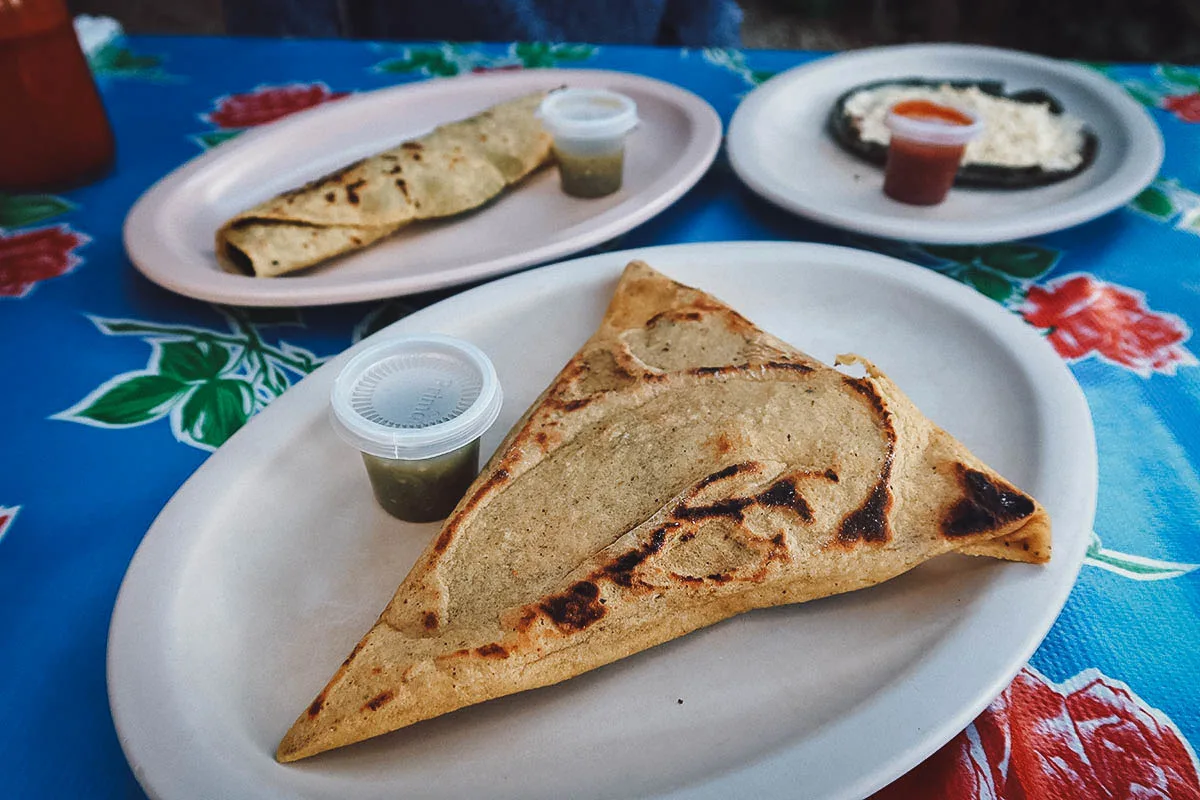 Here's an inside look at our tetela from Itanoni. Aside from the basic fillings, they offer tetelas stuffed with additional ingredients like chicharron, mushroom, and dogfish. The green sauce is a spicy salsa verde which they serve on the side.
Some websites describe tetela as a popular street food but we never saw it sold from any street food stands in Oaxaca. It doesn't seem to be as common as tlayudas or memelas so you should definitely order it if you see it on a restaurant's menu.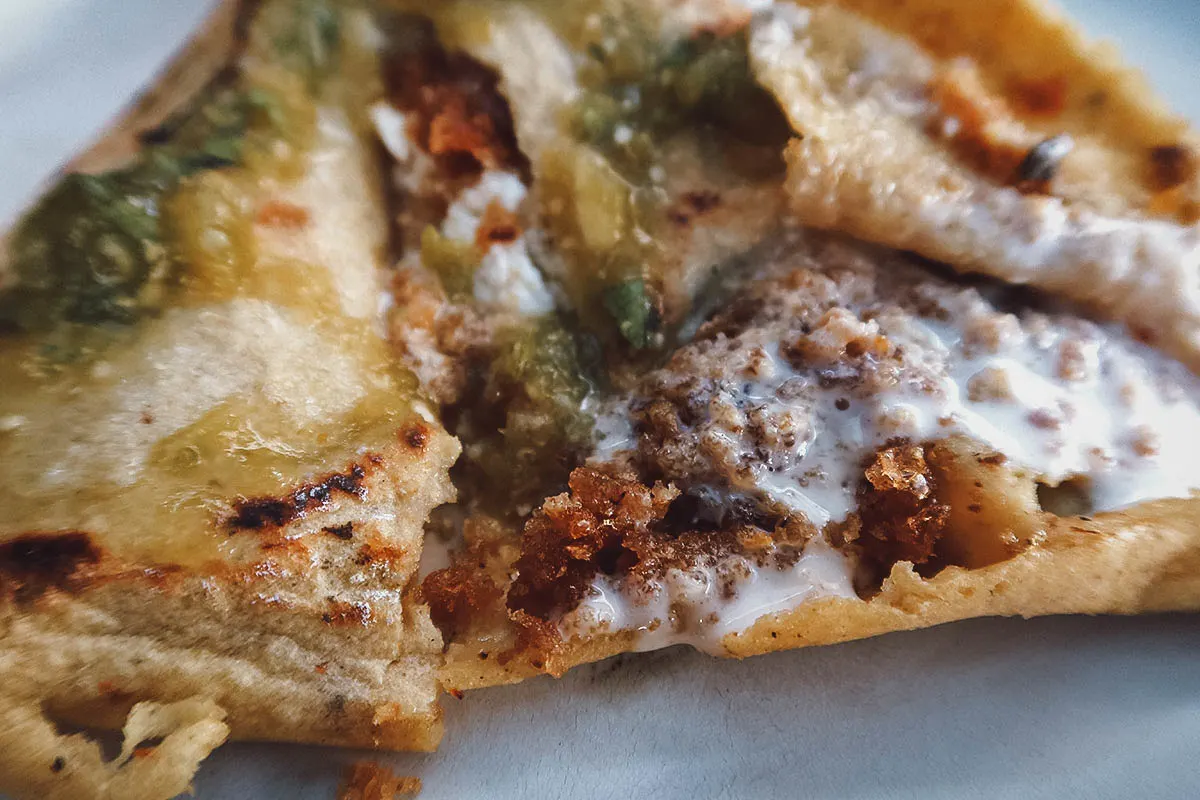 7. Garnachas Istmeñas
Garnachas istmeñas are a type of antojito originally from the Isthmus of Tehuantepec in Oaxaca. They're small, bite-sized snacks made with fried corn tortillas topped with shredded meat, pickled vegetables, salsa, and fresh cheese. From what I understand, garnachas can be made in different ways depending on where they're from, but the version from the Ishtmus of Tehuantepec is the most well-known.
We had garnachas twice in Oaxaca. We had it for the first time at Restaurante Catedral, one of the fanciest restaurants in Oaxaca City. Because they were so small – about the size of an Oreo cookie – I thought we were served gourmet versions of garnachas. As it turns out, they're always this size.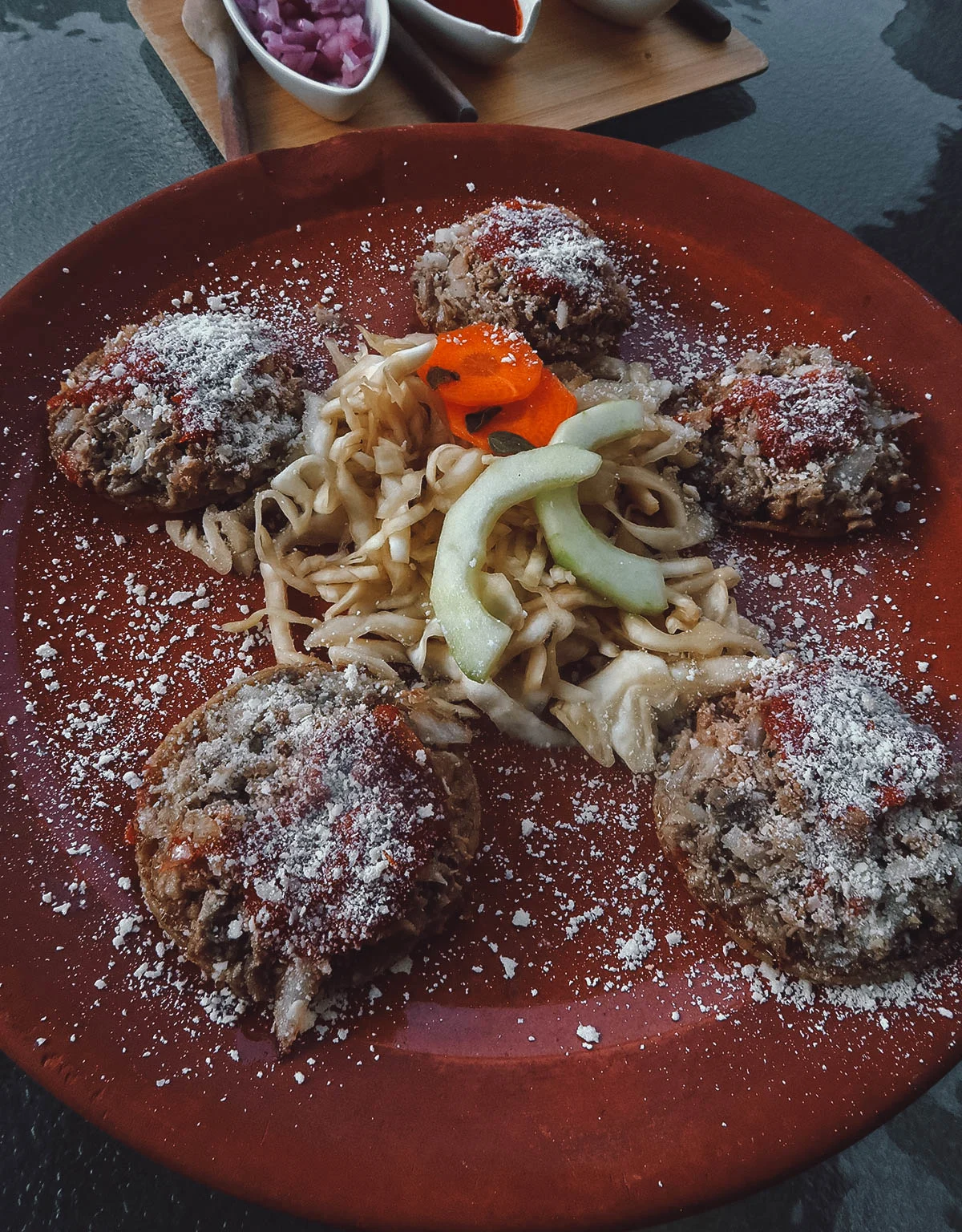 8. Piedrazo
If you enjoy highly acidic and spicy foods, then you need to try piedrazos. Meaning "stones" in Spanish, it refers to an interesting Oaxacan street food dish made with dehydrated bread soaked in fruit vinegar and served with onions, carrots, potatoes, Oaxacan cheese, chili powder, and spicy salsas.
Piedrazo gets its name from the bread. Traditionally dried on the roofs of houses, the bread is hard as a rock before soaking in vinegar. The acidity of the vinegar may be too much for some people but pair each bite with the creamy Oaxaca cheese and it all comes together beautifully.
Like tlayuda, memela, and empanada de amarillo, piedrazo was one of the Oaxacan dishes featured in the Mexico episode of Street Food Latin America. I enjoyed it so much I wound up getting another order to go.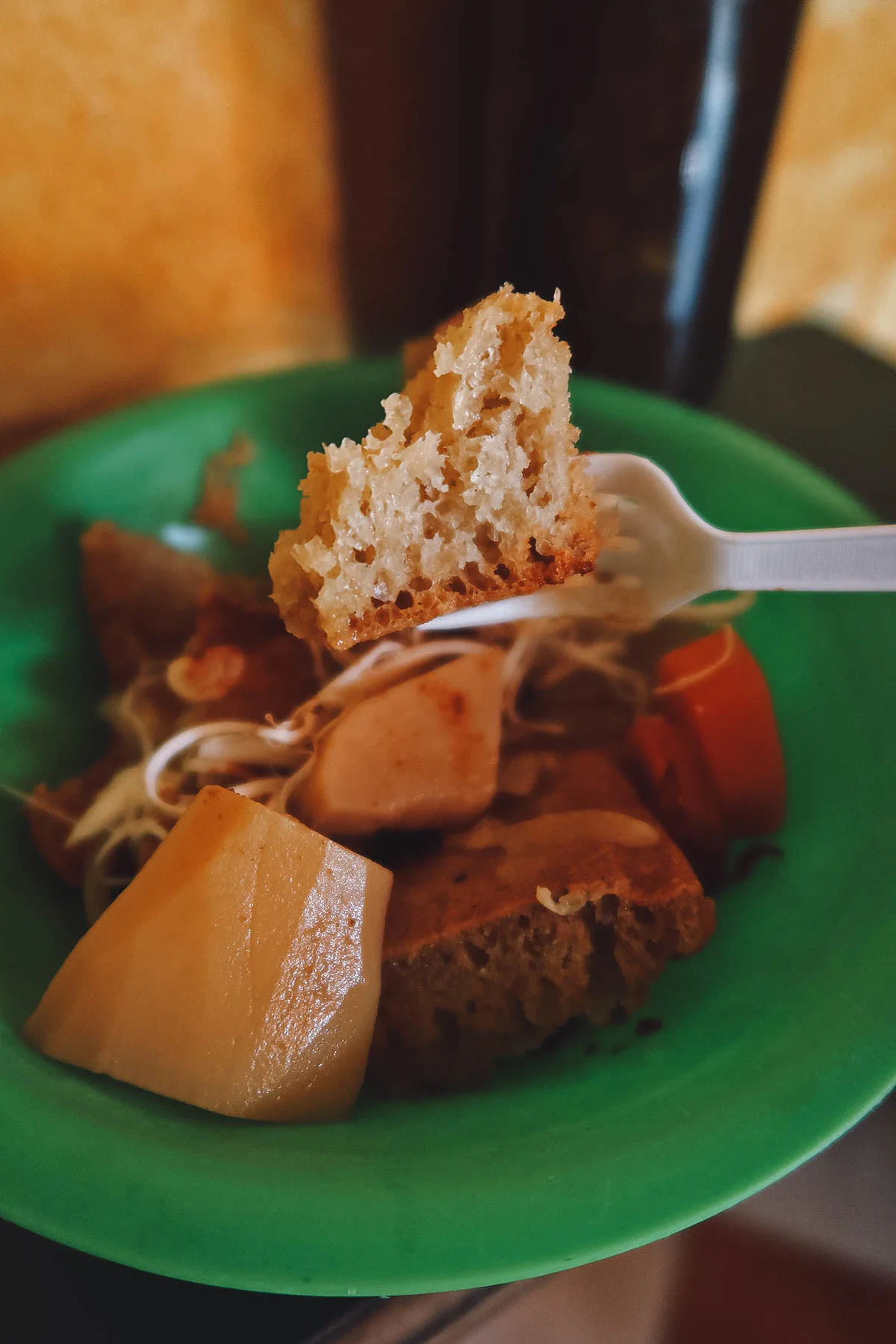 9. Caldo de Piedra
Caldo de piedra is a traditional Oaxacan dish that's every bit as beautiful as it is delicious. Meaning "stone soup" in Spanish, caldo de piedra is a type of pre-Hispanic seafood soup made with fish, tomatoes, onions, chili peppers, epazote, and cilantro served in a jícara or gourd bowl. What makes it special is that a heated river stone is dropped directly into the bowl to cook the soup.
Centuries ago, caldo de piedra was reserved only for people of the highest status but today, it's made to honor the women of Oaxaca and the alliance between the region's inhabitants.
Interestingly, caldo de piedra is prepared only by the men of the community. One group would go fishing, another would prepare the ingredients, while others would gather, clean, and heat river stones for up to three hours. Dropping the blazing hot stones into the bowl causes the broth to sizzle and boil, cooking the ingredients instantly.
When ready, the men would then bring the bowls of stone soup to their wives, mothers, grandmothers, sisters, and daughters. Traditionally, caldo de piedra is made with fish but in some parts of Oaxaca, it can be made with shrimp as well. I enjoyed mine with both fish and shrimp.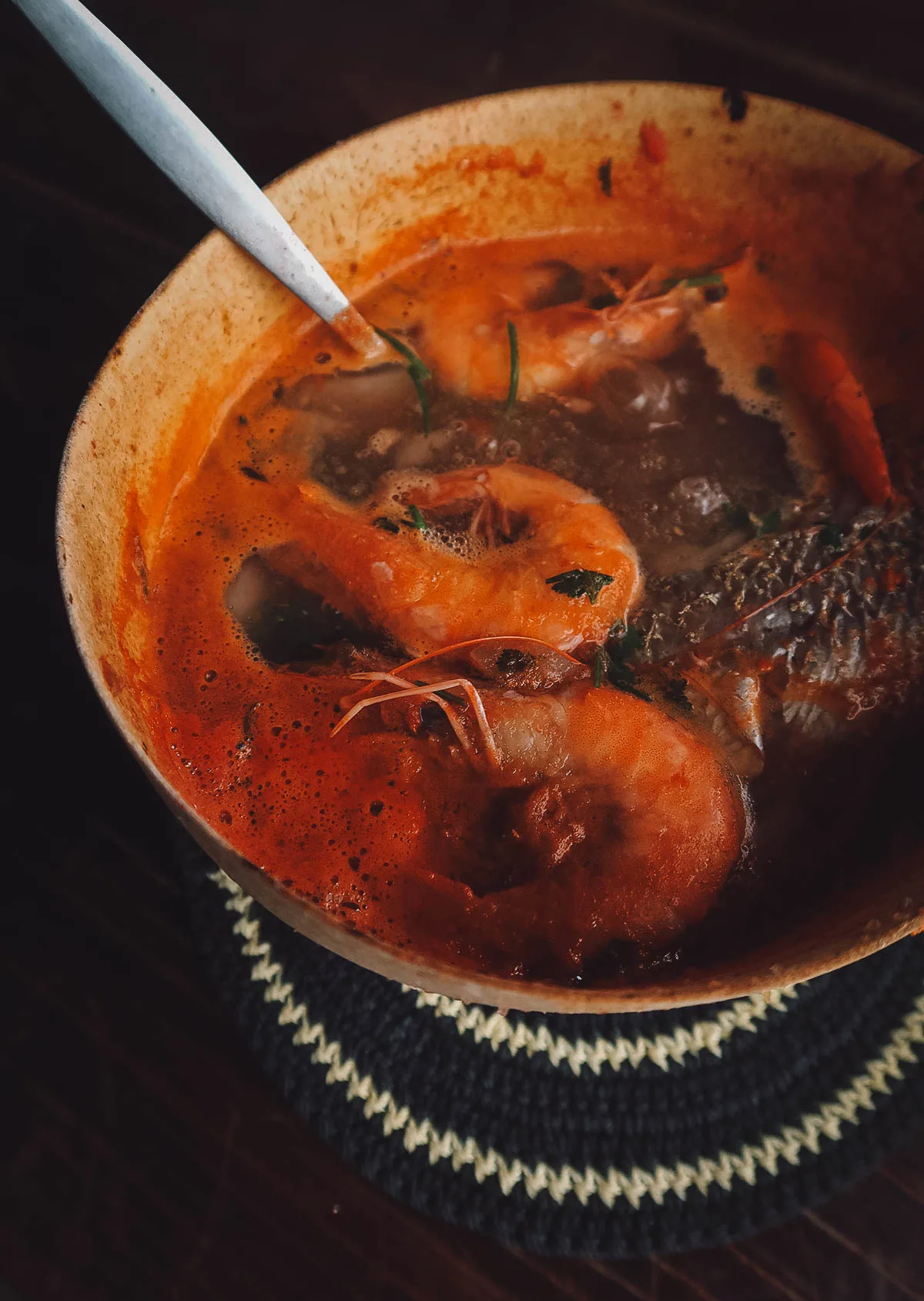 Caldo de piedra isn't easy to find. I could only find one restaurant that serves it and it's located along the Carretera Internacional highway, about 9 km east of Oaxaca City. It isn't the easiest place to get to but it's definitely worth the effort.
At the restaurant, you can watch as they prepare the soup. They keep a wood fire going throughout the day to have stones ready as customers order the soup. The stones are so hot that the broth literally erupts like a small volcano when the stones are dropped into the soup.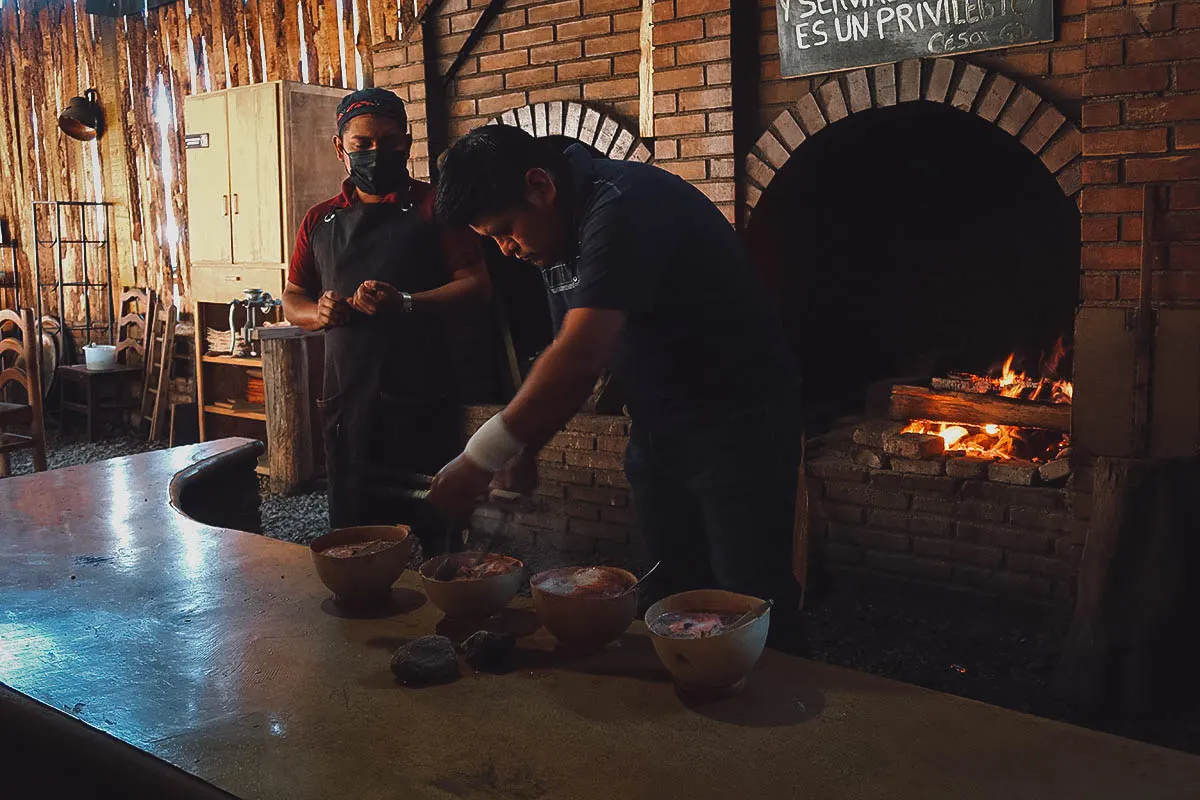 Here's a picture of the river stone inside the bowl of soup. Caldo de piedra was awarded Intangible Cultural Heritage status by the state of Oaxaca in 2021. It's a beautiful and interesting dish that you cannot miss while in Oaxaca.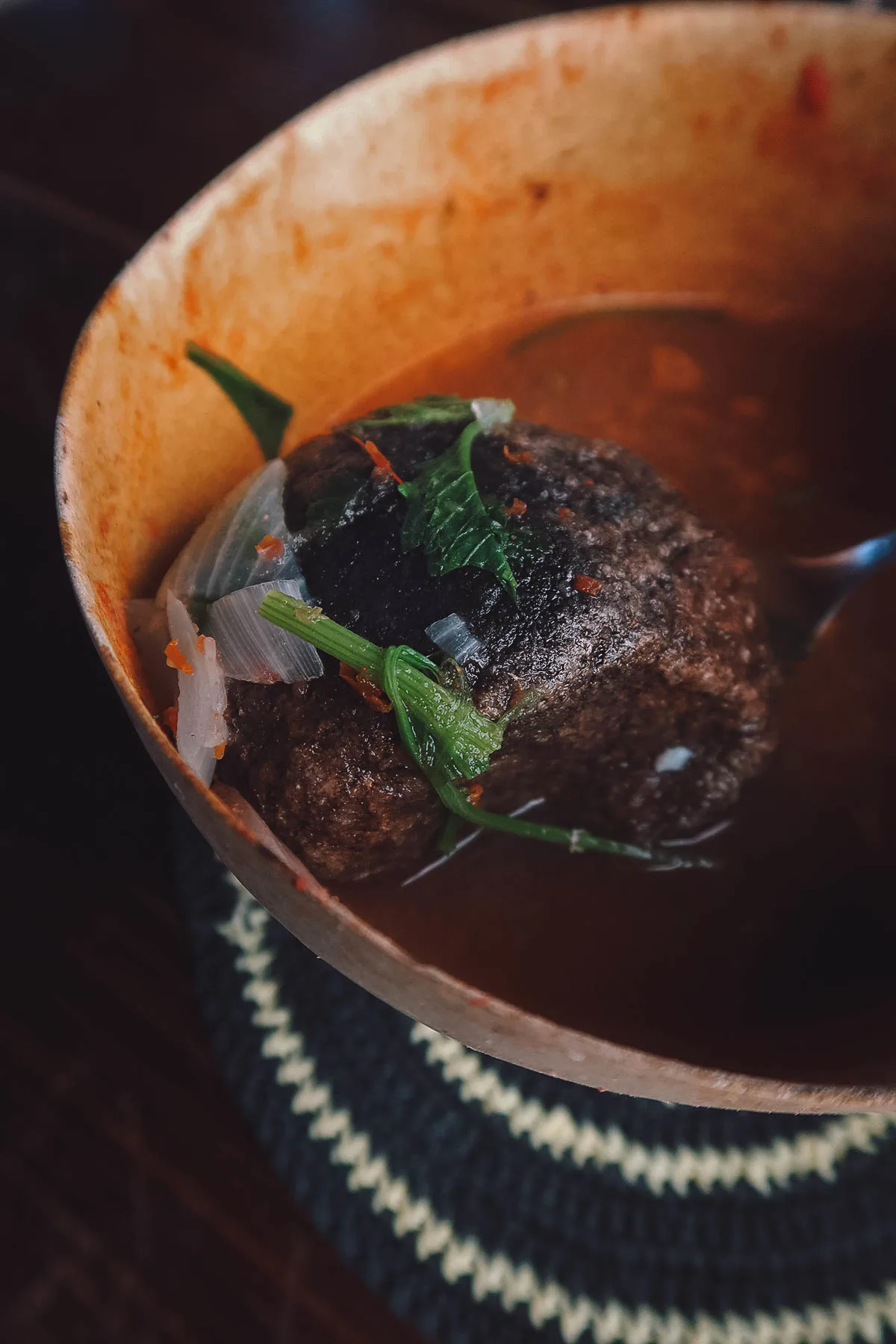 10. Tamales Oaxaqueños
The tamal is a pre-Hispanic dish that's popular throughout Mexico and Latin America. What makes tamales Oaxaqueños different is that they're enriched with mole and wrapped in banana leaves instead of the usual corn husk.
There are several types of tamales Oaxaqueños but the most common variety is made with masa, shredded chicken, and mole negro. It's an inexpensive and tasty snack that's widely available at local markets and from street food vendors.
If you see an abuela (grandmother) sitting on a street corner with a big bucket or basket next to her, then chances are, it's filled with delicious Oaxacan tamales.
11-13. Carnes Asadas (Tasajo, Cecina, Chorizo)
I'm lumping these next three Oaxacan dishes under one entry because you always see them together. Like tamales, carne asada (roast meat) is available throughout Mexico and beyond but these three types of roasted meat are specific to Oaxaca.
As previously described, tlayudas are mainly served with three types of meat – tasajo, cecina, and chorizo. If you visit pasillo de carnes asadas at Mercado 20 de Noviembre (where this picture was taken), then you'll find all three types of meat being roasted by every vendor at the market.
Clockwise from bottom: Cecina, tasajo, chorizo Oaxaqueño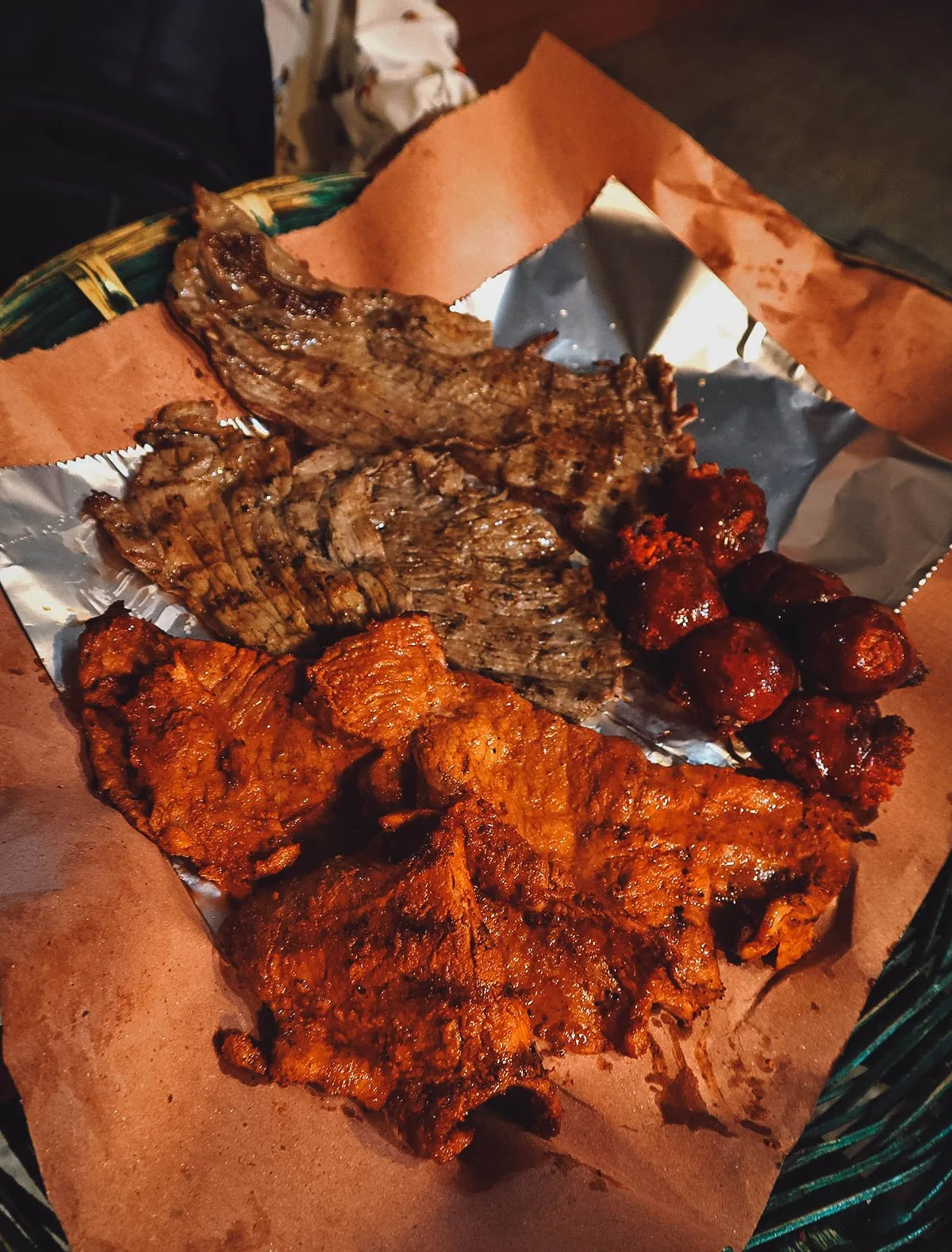 Tasajo
Tasajo refers to a thin cut of grilled dried beef commonly consumed in the Central Valley of Oaxaca. It's typically made with flank or skirt steak that's cured in salt before being partially sun-dried and then grilled. It's often served as a side dish with tlayudas, enmoladas, or chilaquiles.
Cecina
In Mexico, cecina refers to thin sheets of salted and partially dried beef or pork. But since thin sheets of dried beef are called tasajo in Oaxaca, the word cecina is never used for beef. It refers only to thin sheets of semi-dried pork coated with chili pepper.
Chorizo Oaxaqueño
Chorizo Oaxaqueño is a type of Oaxacan sausage made with a mixture of pork, vinegar, pasilla chili peppers, cloves, cinnamon, oregano, bay leaves, thyme, and marjoram. Like tasajo and cecina, it's often served as a side dish or filling for tlayudas, chilaquiles, quesadillas, or memelas.
14. Quesillo (Oaxacan Cheese)
Quesillo or Oaxacan cheese is a white, semi-hard cheese that's similar in texture to mozzarella. It's a popular Oaxacan food that's used as a topping or filling in many dishes like tlayudas, memelas, tostadas, and quesadillas.
Quesillo is made using the same string cheese process used to make mozzarella. Originally from Italy, the process was brought to Mexico by Dominican friars who settled in Oaxaca. Buffalo milk wasn't available at the time so they used cow's milk instead.
Pictured below is a tostada topped with refried beans, Oaxaca cheese, tomato, and avocado.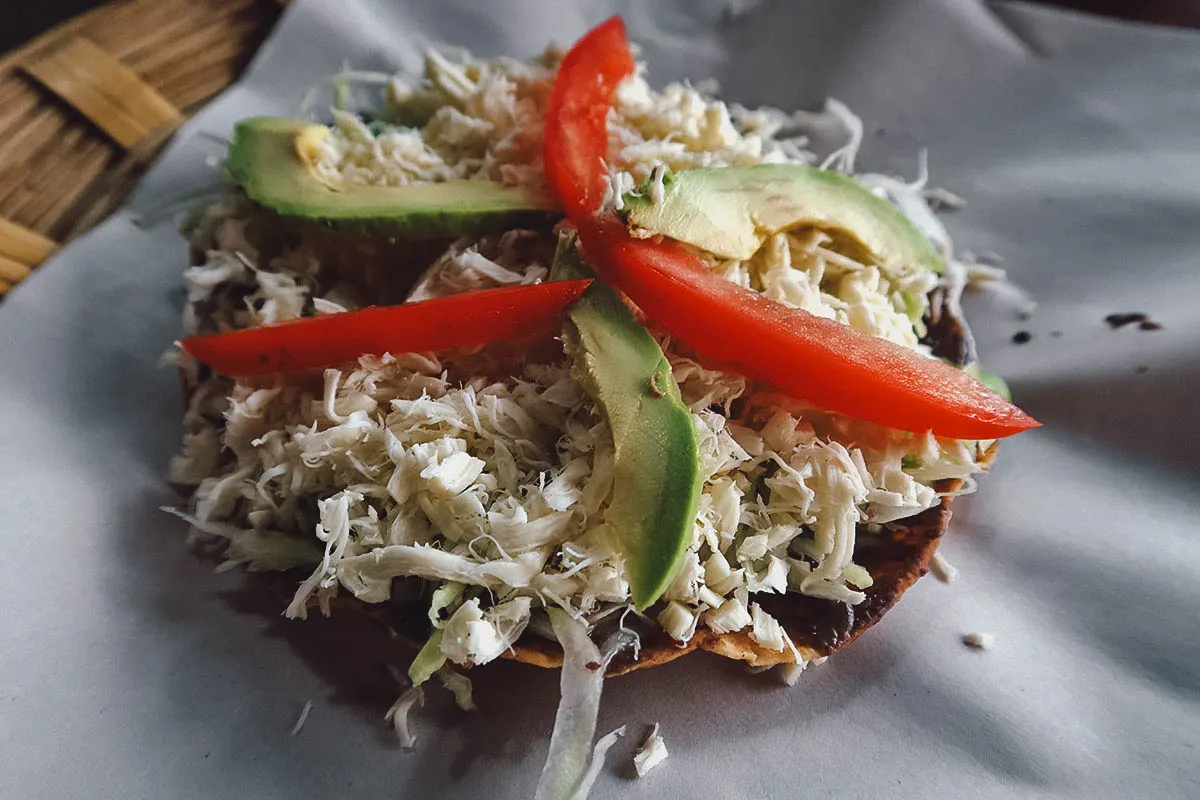 Here's a picture of a partially eaten tlayuda with quesillo and tasajo. Oaxaca cheese is absolutely delicious and something you'll be eating very often in Oaxaca.
We enjoyed quesillo many times in Puebla as well. It's a key ingredient in cemitas or Poblano sandwiches.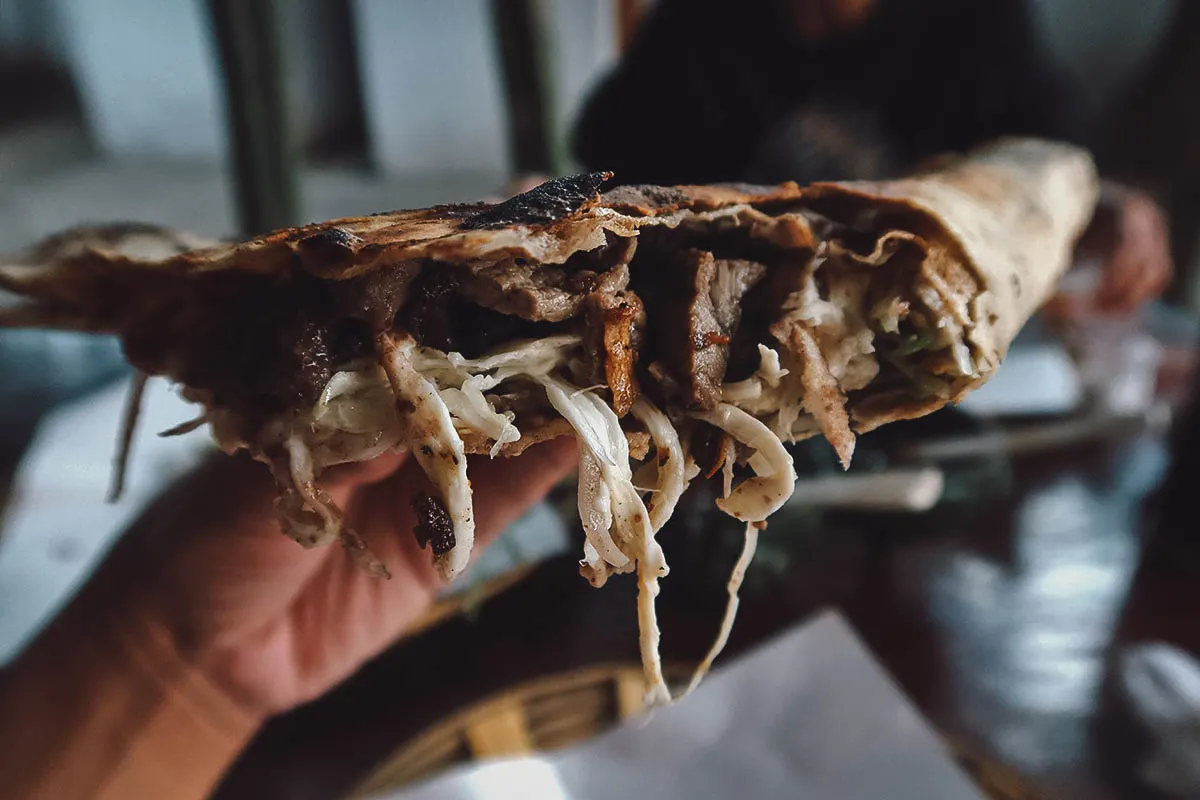 15. Chapulines
Chapulines or grasshoppers are one of the most interesting dishes on this list. Like quesillo, it's a popular Oaxacan food that you'll often find on restaurant menus and local Oaxaca markets like Mercado 20 de Noviembre.
Grasshoppers have been consumed in Mexico since pre-Hispanic times. They're harvested only at certain times of the year and are usually seasoned with garlic, lime juice, chili, and salt before being toasted on a comal. They're crunchy, salty, and can be a little sour or even spicy, depending on the seasoning.
You can munch on chapulines as a street food snack or enjoy them as an ingredient in dishes like tlayudas and tostadas. If you plan on going mezcal tasting in Oaxaca, then I highly recommend picking up a bag and bringing it with you to the mezcaleria. They're the perfect dish to snack on with mezcal.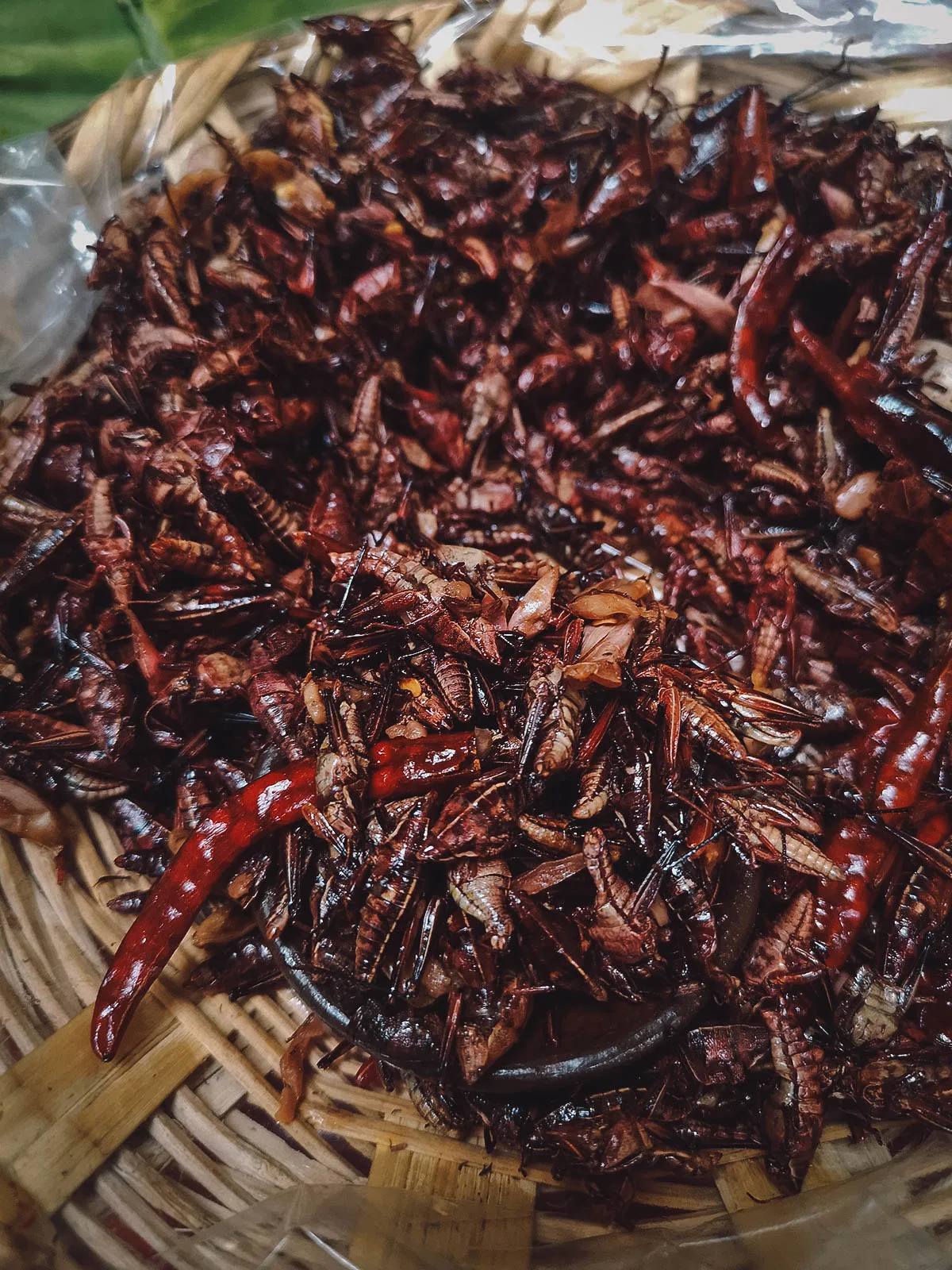 Pictured below are chapulines and quesillo used as toppings on a tostada. Grasshoppers (and other insects) are commonly consumed in central Mexico but none more widely than in Oaxaca.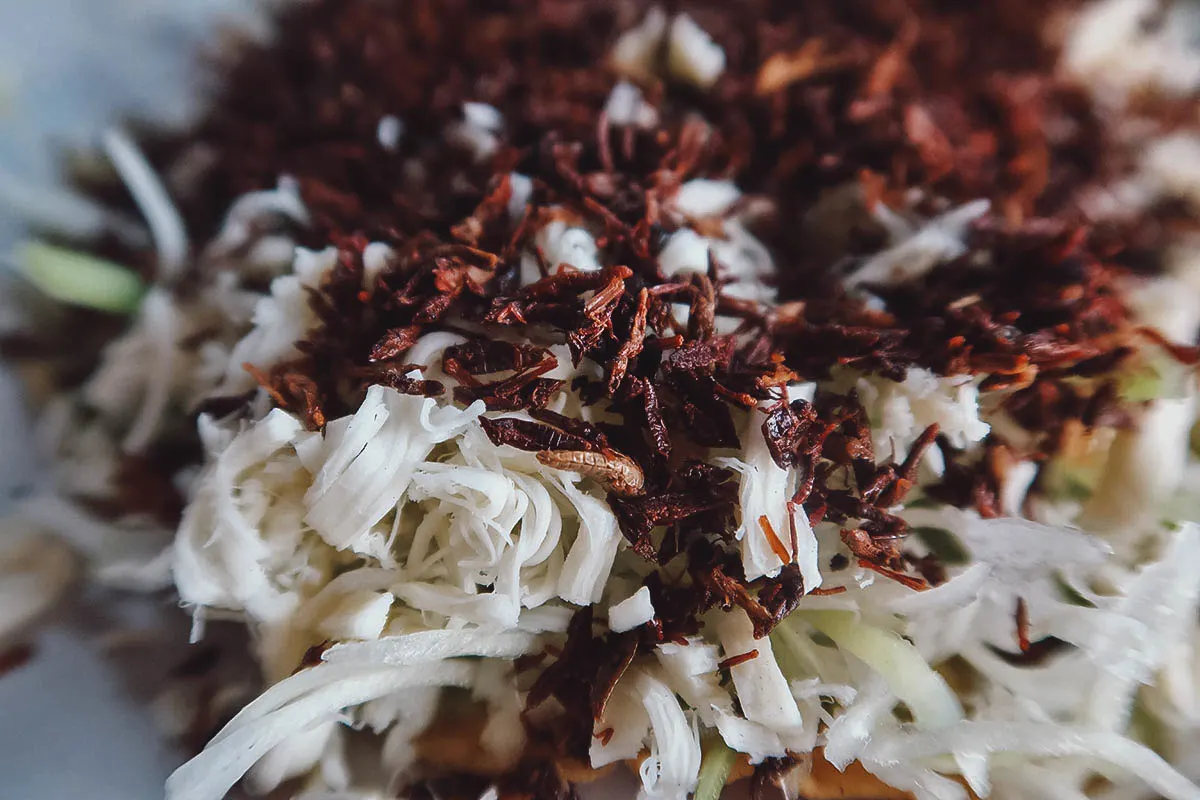 Here's an omelette filled with quesillo and chapulines. These two ingredients are often used together in Oaxaca. The saltiness of the grasshoppers goes so well with the creaminess of the cheese.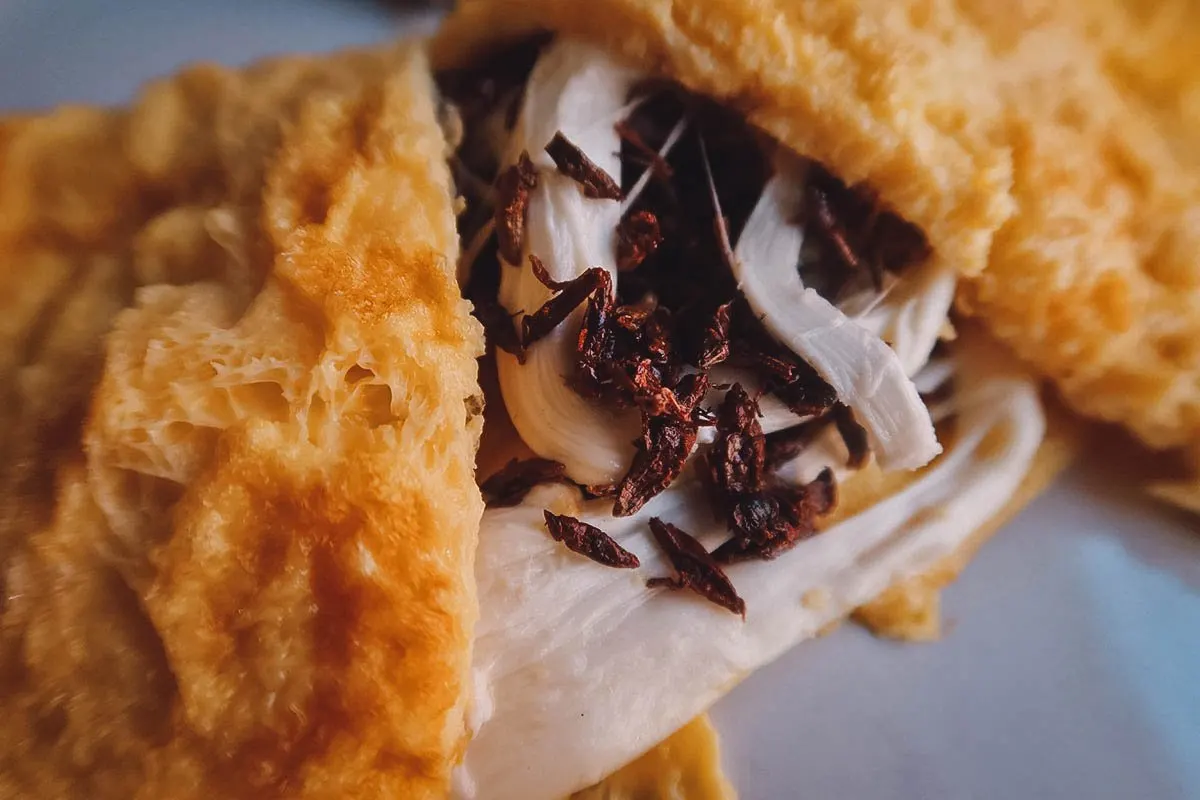 This was, without question, the most interesting use of chapulines we had in Oaxaca. What you're looking at is nieves or Mexican ice cream flavored with chapulines.
When we ordered this, I assumed they'd sprinkle the ice cream with chapulines but they actually grind them into the nieves. You can't see the grasshoppers at all but you can definitely taste them. The ice cream is sweet, salty, tangy, savory, and spicy all at once. It's strange but it works!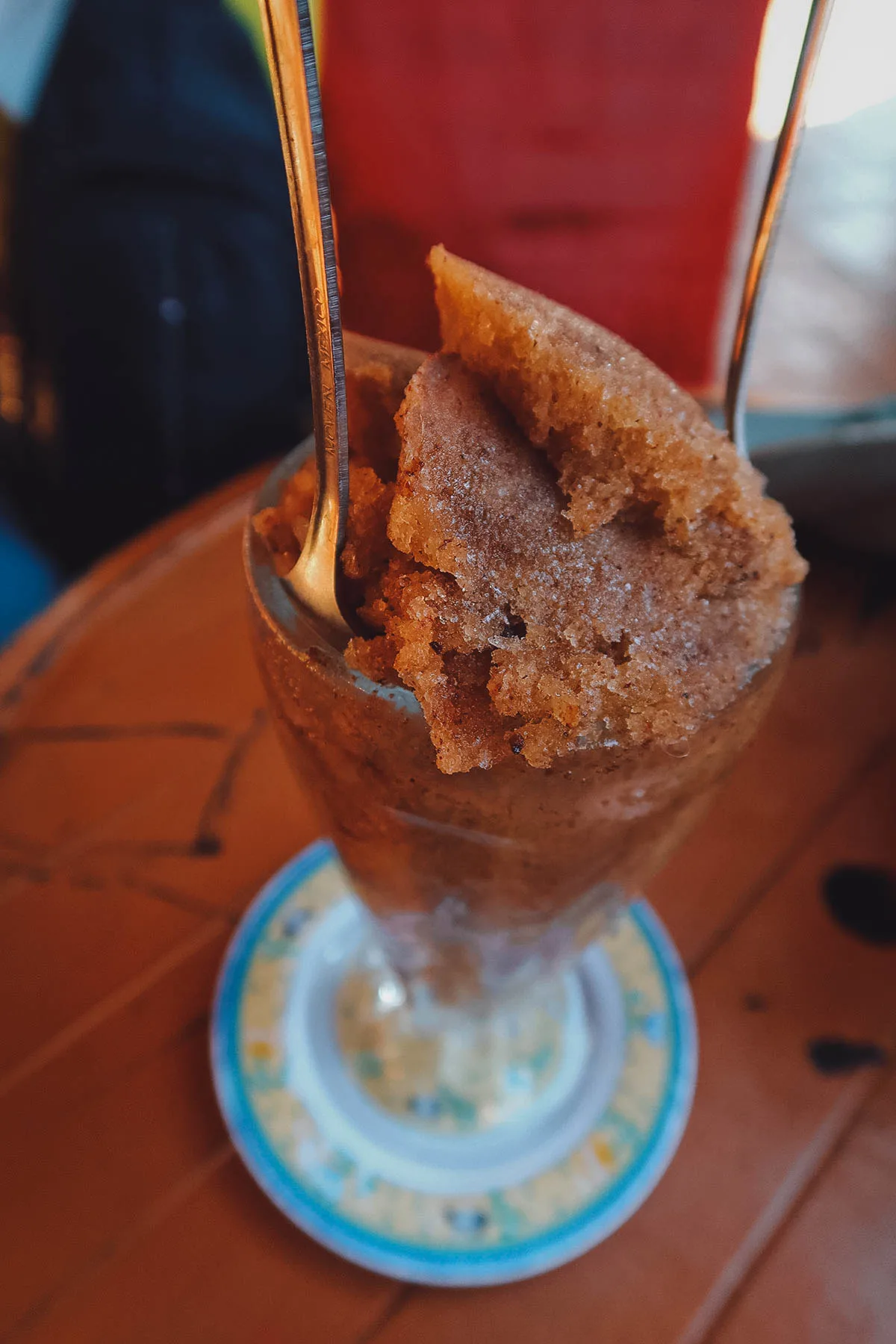 16. Nicuatole
Nicuatole is a pre-Hispanic dessert made from ground corn, milk, sugar (or piloncillo), and cinnamon. Originally from the town of San Agustín Yatareni in Oaxaca, it has a gelatinous flan-like texture and is typically sold cut into blocks or squares at local markets and street food stalls.
Nicuatole is usually whitish in color with a bright red outer layer (from red sugar). Corn, milk, sugar, and cinnamon form the basic set of ingredients though it can be enriched with additional flavorings as well like orange and lemon leaves, almonds, prickly pear, egg yolks, or grated coconut.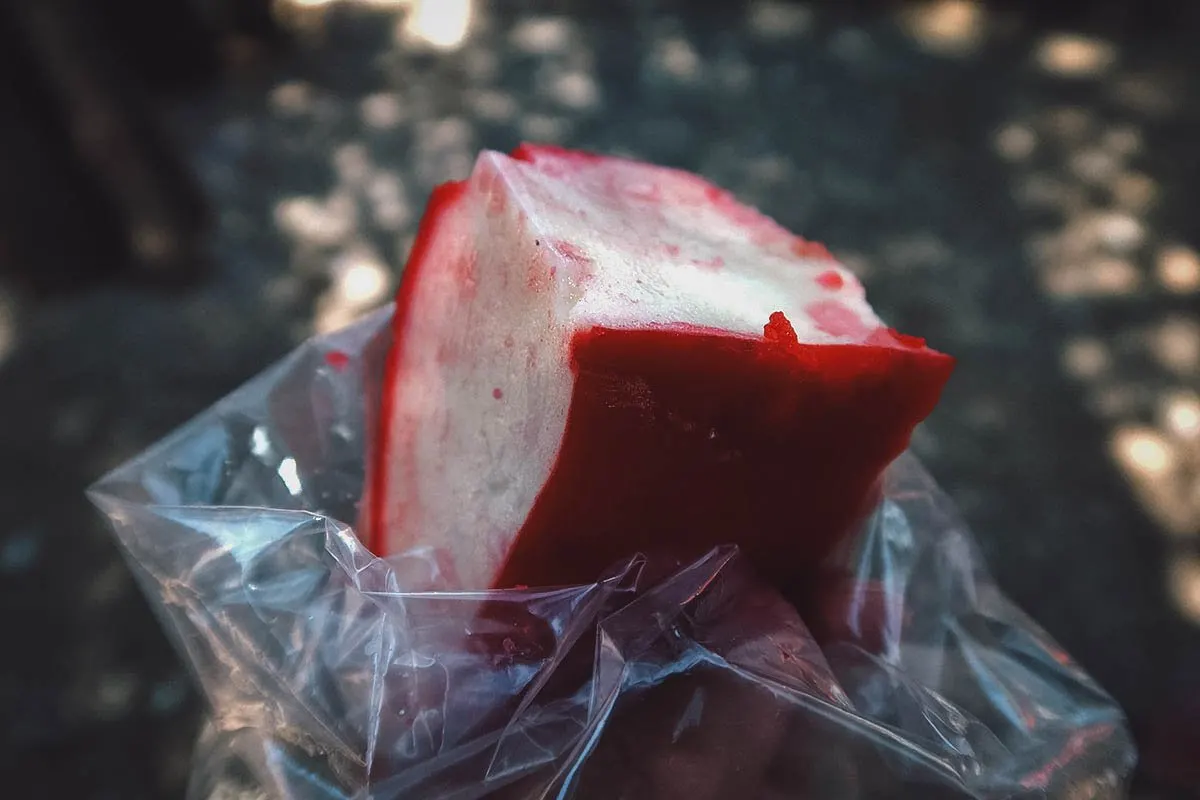 17. Molotes de Platano
In Puebla, we enjoyed a delicious street food called molotes. Shaped like an empanada, it was made with corn masa and flour (or mashed potatoes) filled with a variety of savory ingredients like tinga (shredded chicken), mushrooms, black beans, and huitlacoche (corn fungus).
You can find molotes in Oaxaca as well though they're made a little differently. Instead of the empanada-like half-moon shape, they resemble ovals or footballs. They're typically made with corn masa but the version we tried, called molotes de platano, were made with mashed plantains instead.
I did some digging and it seems like this version of molotes is originally from the Isthmus of Tehuantepec. Enjoyed as a snack or dessert, the ovals aren't filled but topped with a generous helping of cream and fresh cheese after frying.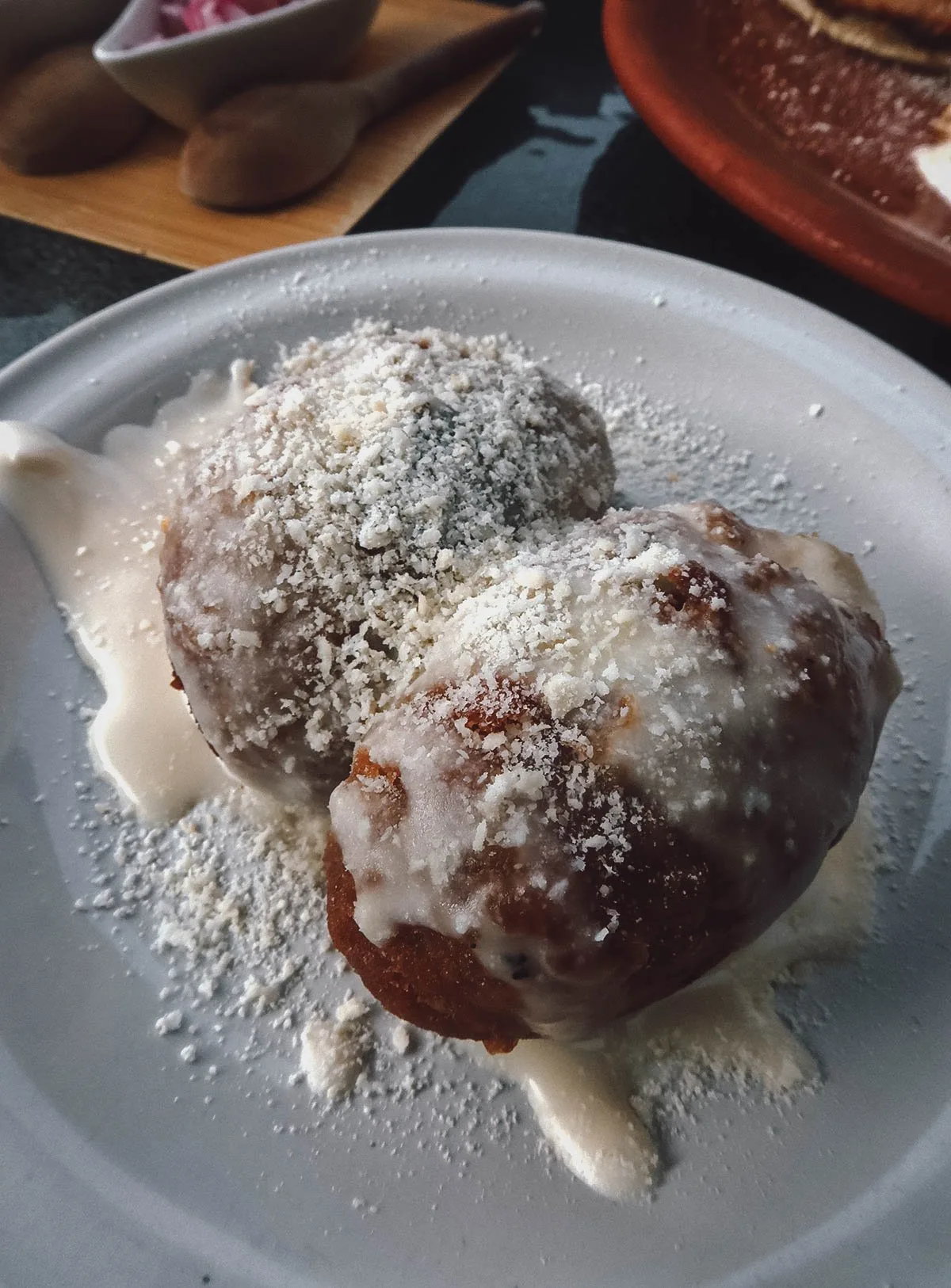 18. Pan de Yema
Visit Mercado 20 de Noviembre and you'll find over a dozen stalls selling pan de yema in different sizes. They make them in standard bread roll sizes to giant loaves that look like small boulders.
Pan de yama is a traditional sweet bread from Oaxaca. It's a light and airy bread made with egg yolks, hence its yellowish interior. It's basically the Oaxacan version of brioche.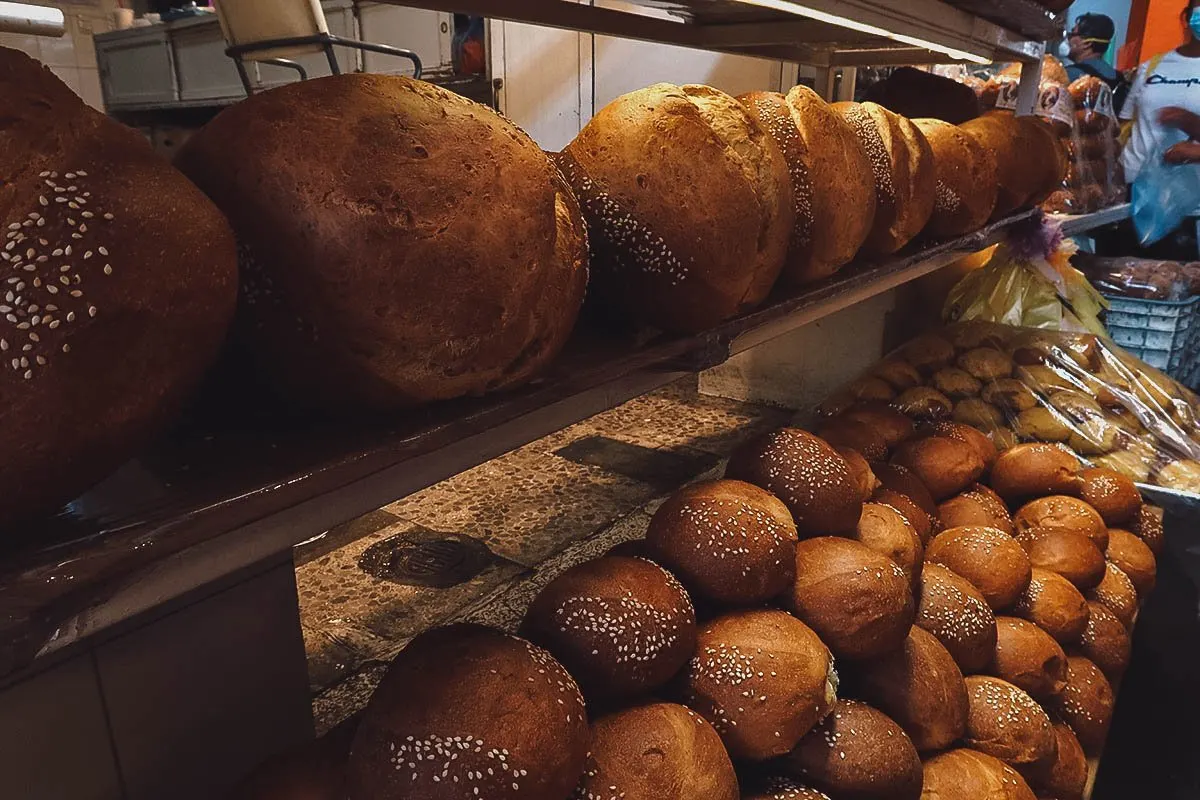 Order a cup of cafe or chocolate de olla for breakfast and it'll always be served with a roll of pan de yema. The bread is perfect for dipping in the coffee or hot chocolate.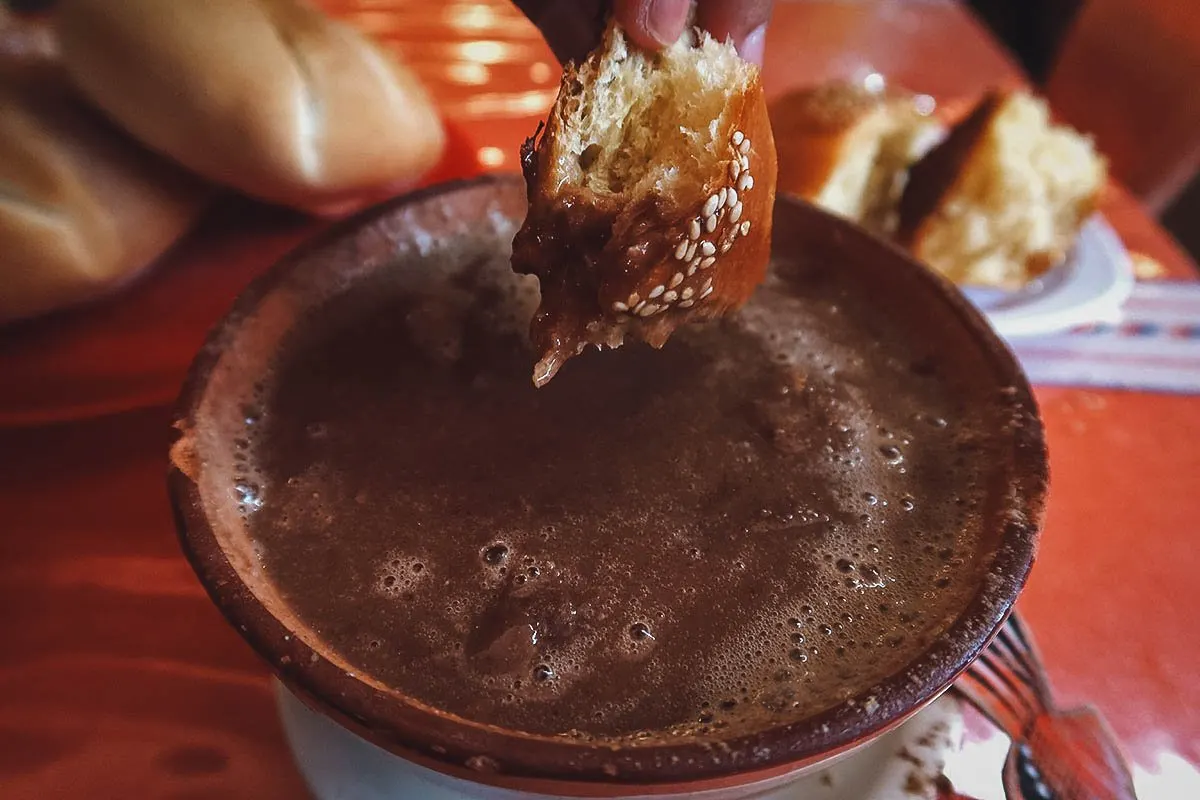 19. Oaxacan Hot Chocolate
Chocolate has been an important commodity in the Oaxaca region for thousands of years. It was first cultivated by the Olmecs followed by the Mayans and Aztecs who not only used it as food and drink, but also for trading and currency. So revered was the cacao tree that its scientific name – Theobroma cacao – translates to "food of the gods".
Today, not only is chocolate a daily staple in Oaxaca, it plays an important role in rituals and ceremonies like births, weddings, and funerals. Nowhere else in Mexico is chocolate more prevalent than in Oaxaca City.
Ironically, cacao trees aren't cultivated in Oaxaca – they're grown in Chiapas and Tabasco – but the city's location on an ancient trade route made it an important center for chocolate production in Mexico. In Oaxaca City, you can enjoy chocolate in a number of dishes and drinks like mole, tejate, pozontle, and tascalate. Personally, my favorite is hot chocolate.
Chocolate Oaxaqueño is made with cacao beans, sugar, almonds, and cinnamon dissolved in either water or milk. Traditionally, it's prepared with water but I personally prefer it with milk and a dash of chili.
Pictured below is my deliciously frothy pot of chocolate amargo (bitter) with milk and chili. Oaxacan hot chocolate is traditionally served in a clay pot (olla de barro) and whisked using a wooden molinillo to make it frothy.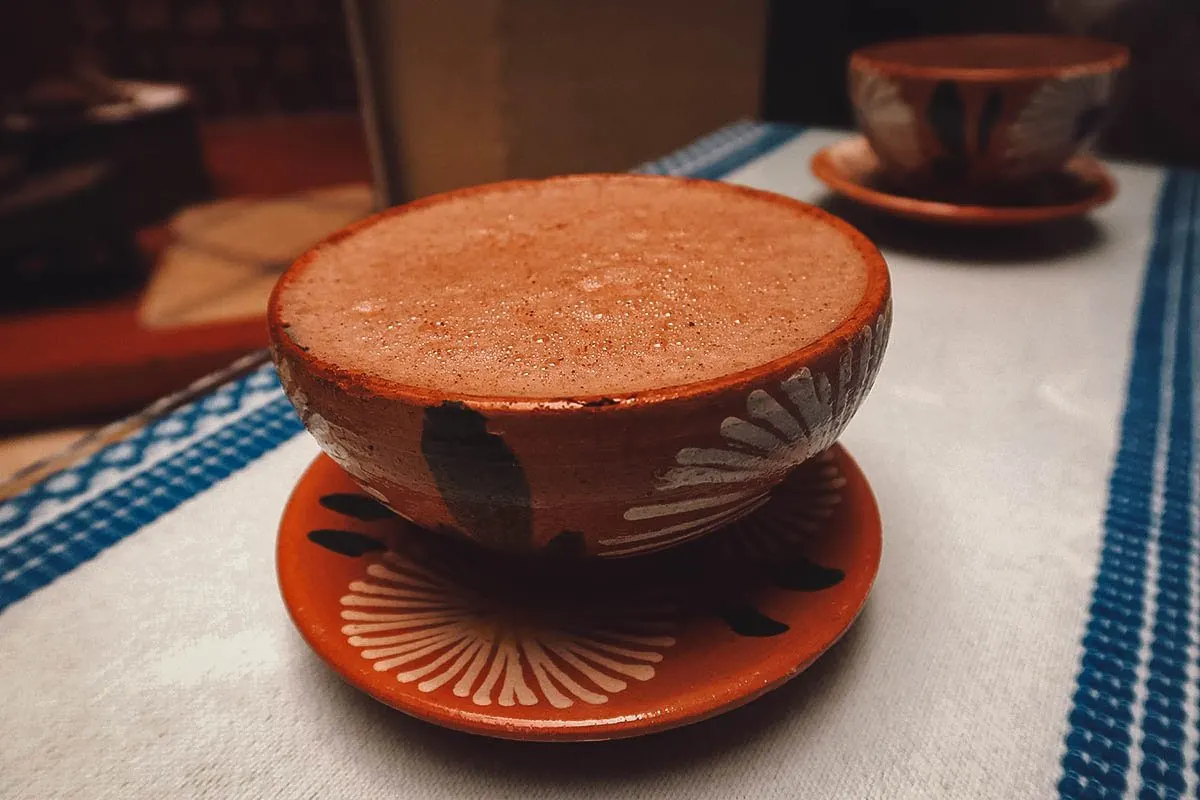 20. Oaxacan Coffee
I was chatting with a barista while enjoying my coffee in San Miguel de Allende and he told me that most of the coffee beans in Mexico are grown in Oaxaca, Veracruz, and Chiapas. According to him, Oaxacan coffee is the best so he prices it accordingly. At his shop, they're about twice the price of beans grown in the other two states.
Coffee produced in Oaxaca and Chiapas is known as Altura, meaning "high grown". when it comes to coffee production, higher altitudes will almost always lead to better results. It's for this reason why Altura coffee beans are considered some of the very best in the Americas.
I'm no connoisseur but I was a bit disappointed with the coffee in Mexico. The barista explained that Mexicans aren't big coffee drinkers and are usually satisfied with a cup of Nescafe. I like my coffee robust and found much of the coffee in Mexico – including San Miguel de Allende – to be a little weak and overly acidic. Not so in Oaxaca.
There's a strong coffee culture in Oaxaca and rightfully so, because their coffee is delicious. It's full-bodied and balanced and will give you a satisfying jolt every time.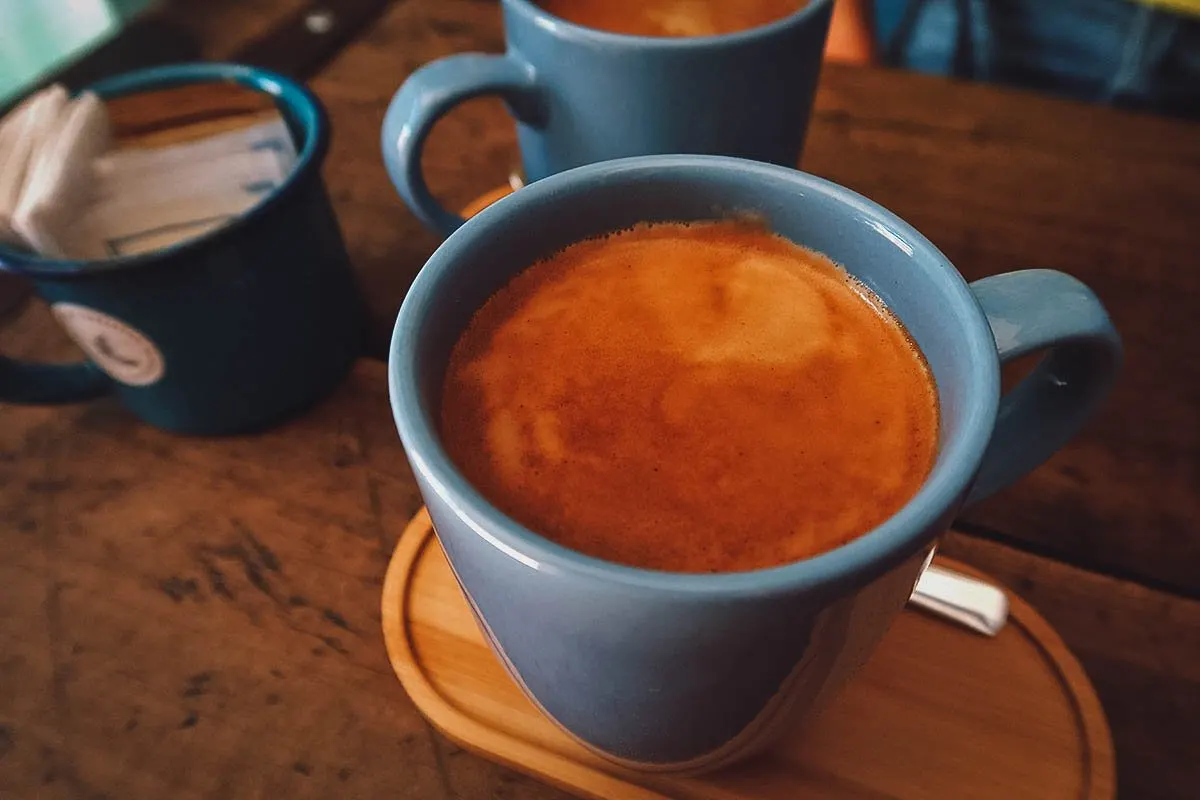 21. Pozontle
When we showed our Oaxaca food itinerary to Cesar, he gave us a thumbs up and told us we weren't missing anything. He was particularly impressed that we had tried pozontle, a ceremonial drink from the Sierra Norte region of Oaxaca.
According to Cesar, pozontle is common in the mountains but hard to find in Oaxaca City. He asked us where we found it, presumably so he could go there himself! We didn't fully appreciate how lucky we were to try pozontle until that dinner with Cesar.
Similar to tejate, pozontle is a light and refreshing drink made with corn, cacao, cocolmecatl (soured vine), panela, and water. It's prepared in a jícara and made frothy using a molinillo.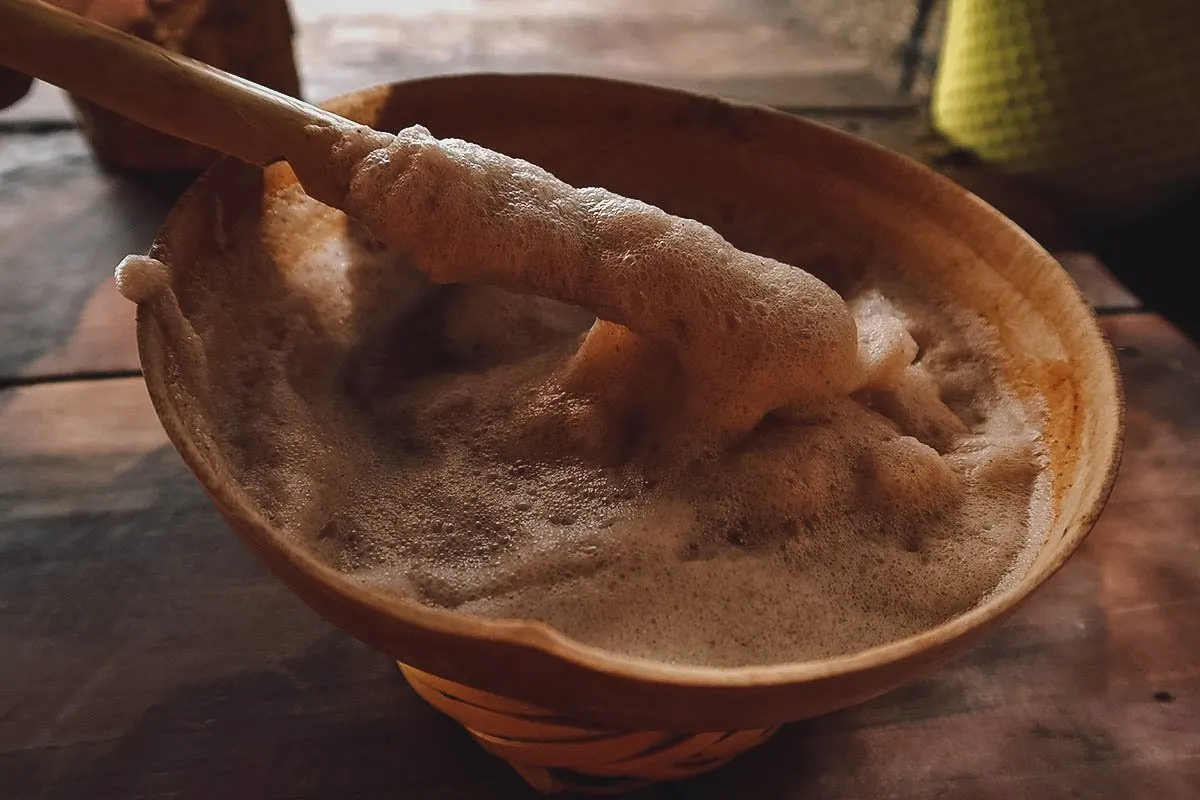 22. Tejate
Tejate is the much more common cousin of pozontle. You can find it pretty much anywhere in Oaxaca City – at local markets, street food stalls, and restaurants.
Like pozontle, tejate is a pre-Hispanic drink made with toasted corn, fermented cacao beans, toasted mamey pits (pixtle), and flor de cacao. The ingredients are finely ground into a paste and then mixed with water to make the drink.
The white curd-like substance on top is flor de cacao. It rises to the top and forms a thick, pasty foam.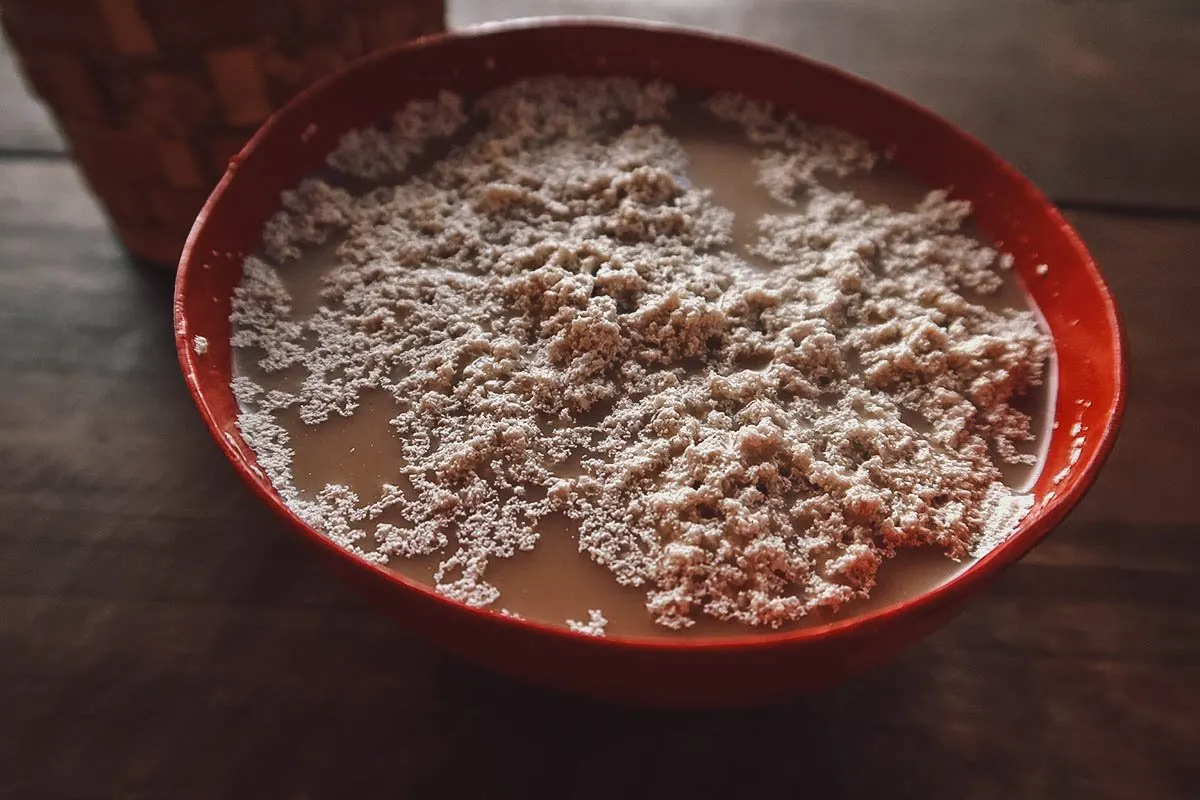 23. Agua de Chilacayota
Aguas frescas are among my favorite drinks in Mexico. Literally meaning "fresh waters", it refers to a family of non-alcoholic drinks made from a variety of fruits, flowers, seeds, and cereals blended with sugar and water. Among the most common are jamaica (hibiscus), horchata (seeds, nuts, or grains), and tamarindo (tamarind).
In Oaxaca, one of the most traditional flavors of aguas frescas is agua de chilacayota. It's a delicious and refreshing drink made with chilacayote squash (fig leaf gourd), piloncillo, cinnamon, and water.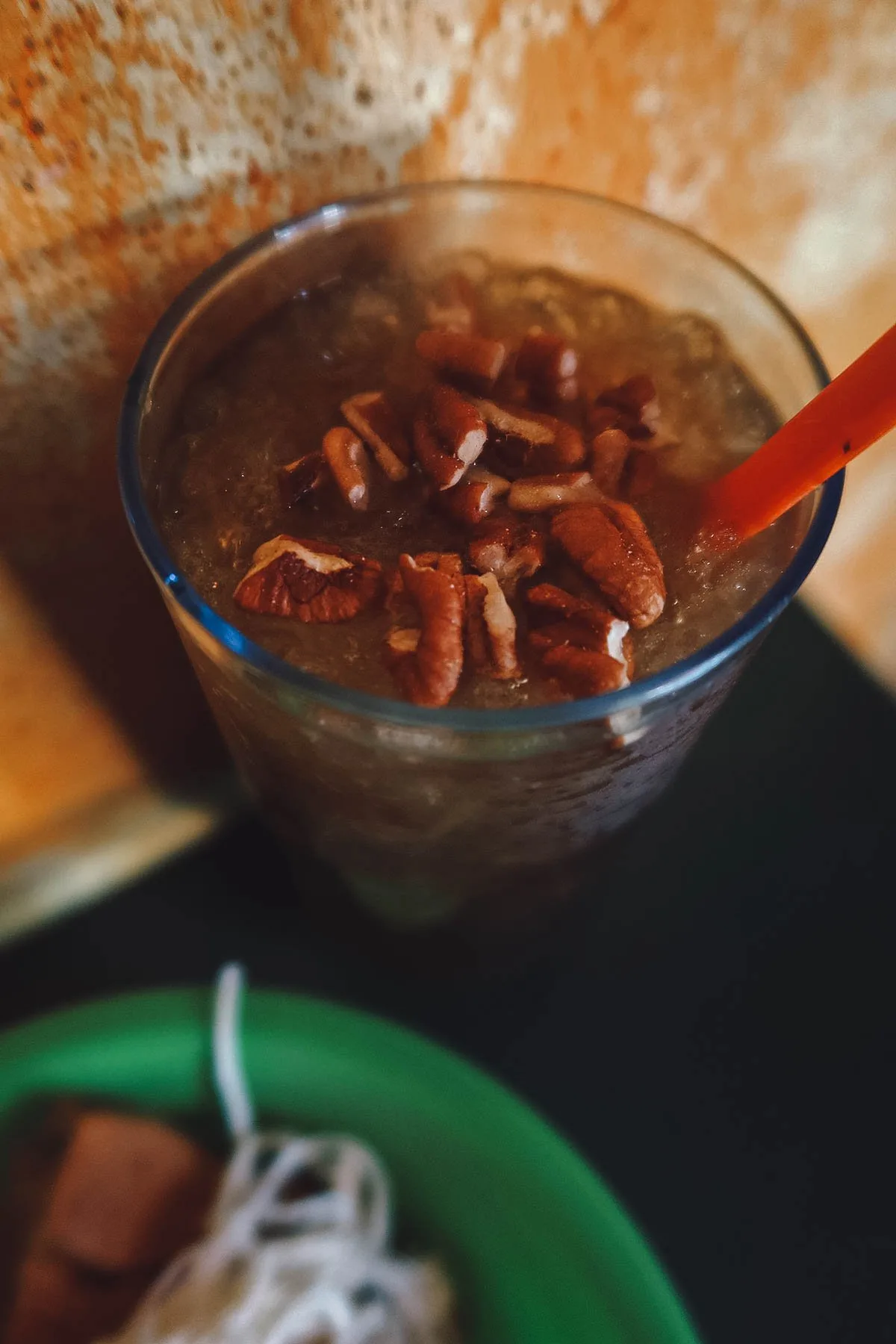 24. Agua de Horchata con Tuna
Like agua de chilacayota, agua de horchata con tuna is a flavor of agua fresca that's native to Oaxaca. Don't worry, it's a lot more appealing than it sounds. Tuna doesn't refer to the fish, but to the sweet fruit of the prickly pear cactus.
You can find agua de horchata everywhere in Mexico but agua de horchata con tuna is a variety that's especially popular in Oaxaca. It's basically a version of horchata made with the addition of prickly pear fruit that turns the normally milky white drink, pink.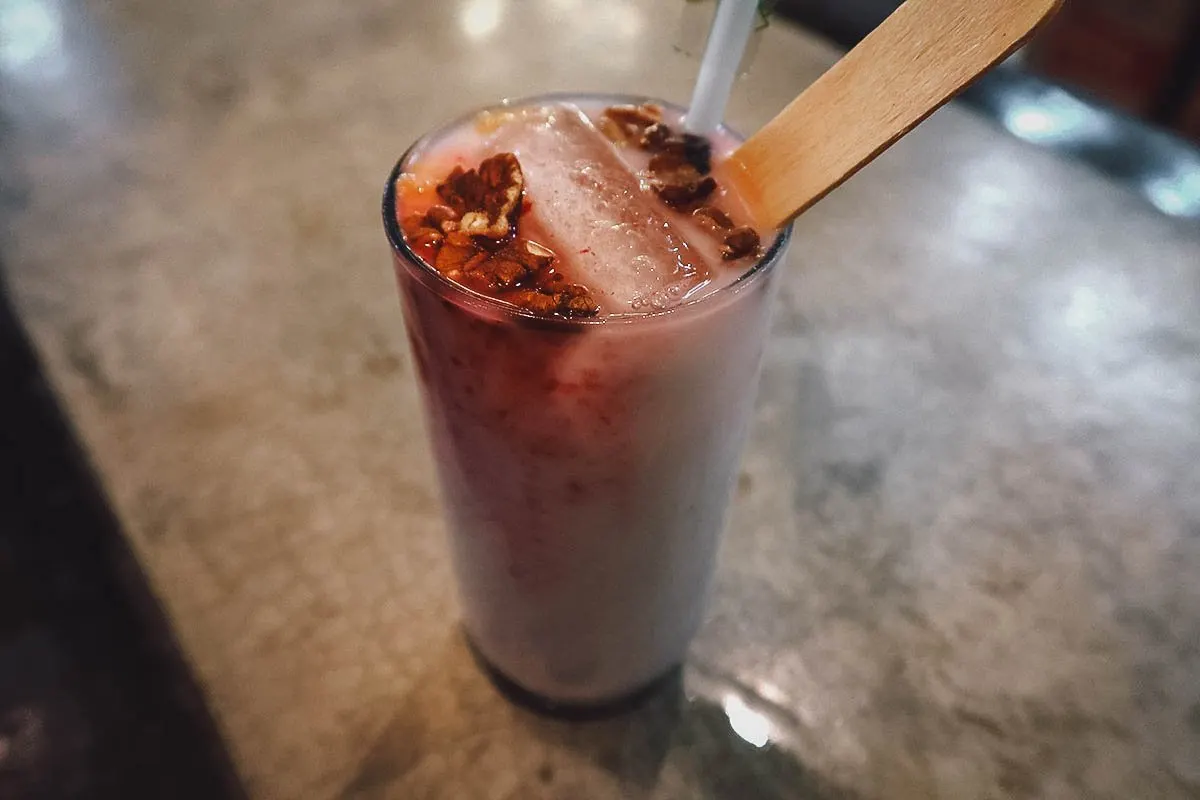 25. Mezcal
Last on this list but certainly not least is mezcal, a distilled alcoholic beverage made from the maguey (agave) plant. It's known for its deep smokey flavor derived from the cooking of the maguey before distillation.
Mezcal can be made in a handful of Mexican states but over 70% is produced in Oaxaca. It's not to be mistaken with tequila, another iconic Mexican spirit. While tequila is made exclusively with blue agave, mezcal can be made from any type of maguey.
Mezcal is served at nearly every bar or restaurant in Oaxaca. We highly recommend going to a mezcaleria that offers mezcal tastings. The bartenders are highly knowledgeable and will give you a crash course on all things mezcal.
If you'd like to take your mezcal experience further, then you may be interested in joining a Oaxaca mezcal tour.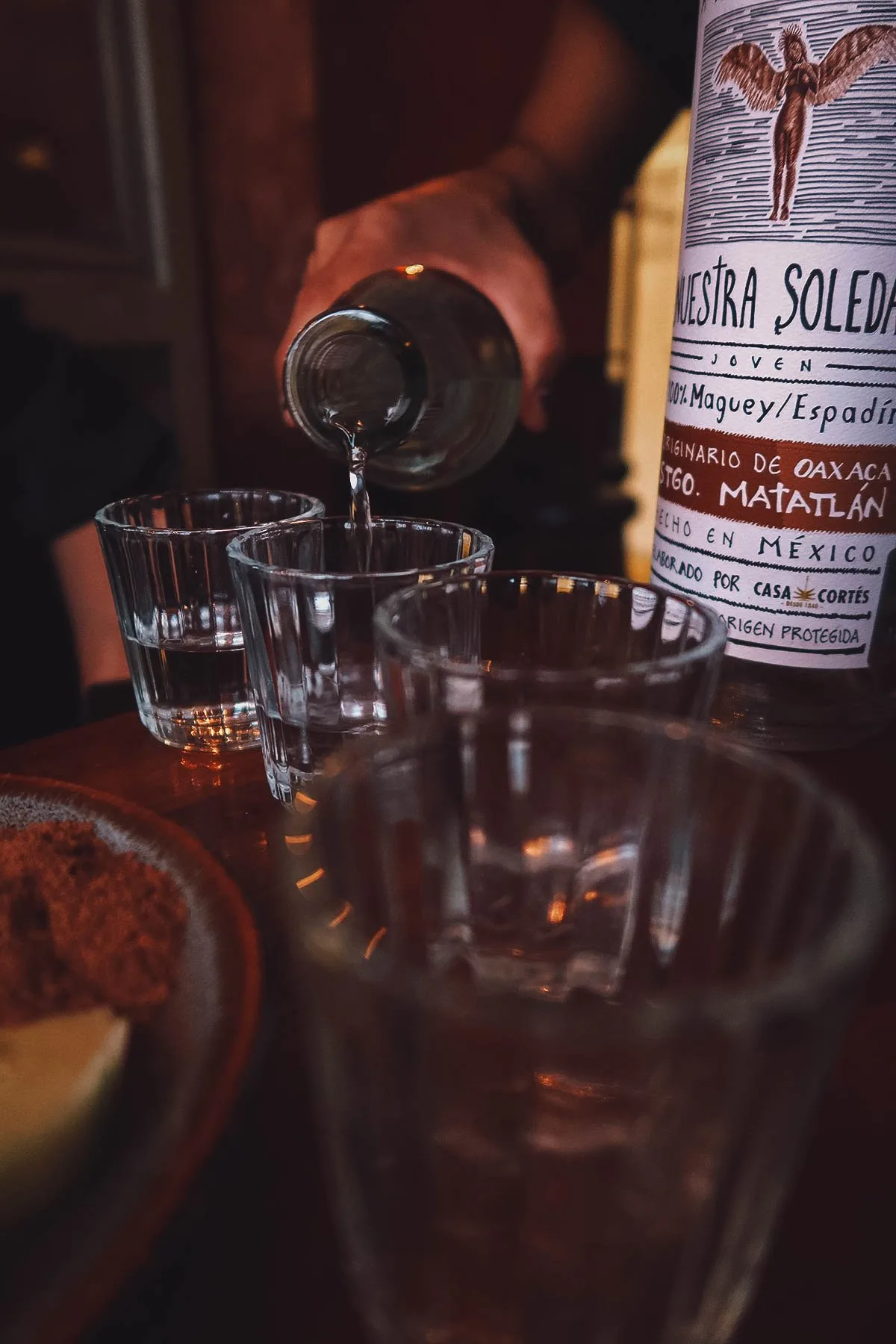 OAXACAN FOOD TOURS
Simply put, no one knows the food in Oaxaca better than a local, which is why I was so happy to break bread with Cesar. He assured me that we had done our homework and weren't missing anything important in Oaxaca.
If you don't know any locals to show you around in Oaxaca, then you may want to join a guided tour. Not only will a knowledgeable local take you to Oaxaca's best markets, restaurants, and street food stalls, but they'll be able to explain all the dishes to you in more detail. Check out Get Your Guide for a list of food tours in Oaxaca.
OAXACAN COOKING CLASSES
Eating the food in Oaxaca is one thing, but learning how to make them yourself is another. You can pick up a lot from joining a food tour, but you can learn even more by taking a cooking class. Working with the various ingredients and learning the different techniques is like looking under the cuisine's hood. Check out Cookly for a list of cooking classes in Oaxaca.
FINAL THOUGHTS ON OAXACAN CUISINE
I've written many of these articles but this Oaxaca food guide was especially difficult to write. It was challenging because there is so much to the Oaxaca food tradition that I didn't want to leave anything out. The moles alone required a few hours of research.
Being less than thorough would have been a disservice to this city and state that produces some of the best food in Mexico. This Oaxaca food guide isn't perfect (yet) but I hope I've done an adequate job.
I hope you enjoyed reading this article as much as I enjoyed writing and doing research for it. As always, it's a perennial work-in-progress that will continue to grow and improve after every return visit to Oaxaca City. With so many more dishes to discover, I have a feeling those trips will be quite frequent.
Thanks for reading and I hope this guide gives you lots to look forward to when you visit Oaxaca!
Disclosure
Some of the links in this Oaxacan food guide are affiliate links, meaning we'll earn a small commission if you make a purchase at no added cost to you. As always, we only recommend products and services that we use ourselves and firmly believe in. We really appreciate your support as this helps us make more of these free travel guides. Muchas gracias!