EDITOR'S NOTE: This guide to the best rooftop restaurants in Downtown LA was written in partnership with airporttransfer.com.
Deluxe skyscrapers towering over the Los Angeles skyline are a sight to behold. They're spectacular to look at, both from the street and from the rooftop bars and restaurants that grace their highest floors.
Thanks to its balmy weather and many high-rises, Downtown L.A. (DTLA) is a haven for outdoor dining spaces with lofty views. Many overlook some of LA's most iconic neighborhoods like Santa Monica (and the Pacific Ocean) and West Hollywood. Climb up to the right rooftop restaurant and Beverly Hills will feel within reach.
Whether you're looking for a Zen-like outdoor dining space or a rooftop bar buzzing with activity, LA has you covered. And so do we.
From rooftop restaurants with fire pits to elevated brunch spots offering globally-inspired cuisine, this list of sky-high restaurants will give you lots to look forward to on your next visit to LA.
Save This on Pinterest!
No time to read this guide on the best rooftop restaurants in Downtown Los Angeles? Click on the save button and pin it for later!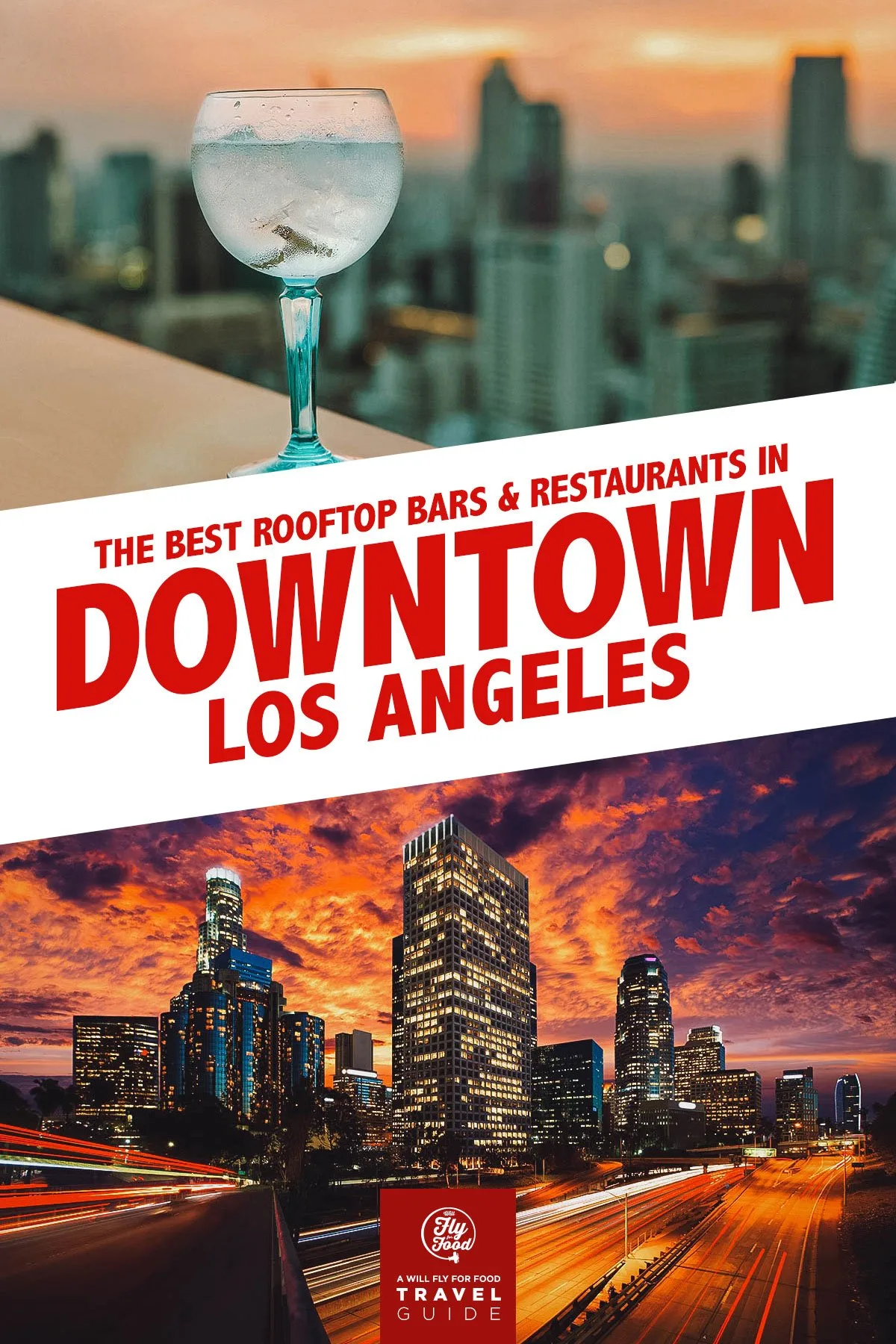 Photos by ake1150sb and lunamarina via Depositphotos
THE BEST ROOFTOP RESTAURANTS IN DOWNTOWN LA
1. Perch (Multi-Level Outdoor Dining)
For over ten years and counting, Perch has been one of the top rooftop restaurants in DTLA. Illuminated trees, an eclectic mish-mash of chairs, and patterned tile floors help make the rooftop experience at Perch even more magical.
Perch consists of two outdoor dining spaces decorated in the French style. The lower level is both a rooftop restaurant and bar while the top level is a terrace that functions solely as a bar. Great cocktails with sweeping views of the downtown skyline await you at Perch.
Location: 448 S Hill St, Los Angeles, CA 90013
Style: French, American, Bar
Price Range: $$-$$$
2. Broken Shaker (Most Fun Rooftop Bar!)
Freehand Hotel is home to one of DTLA's coolest cocktail bars – Broken Shaker. Situated on the hotel's rooftop next to its pool, this rooftop bar that arrived in L.A. via Miami sports a tropical but effortlessly chic aesthetic. With its lounge chairs and many potted plants, it's quite literally an oasis in Downtown L.A.
Soak in the tropical vibes at Broken Shaker while sipping on classic cocktails like Litty City and Seaweed Papi. If you're feeling a little hungry, then you can nibble on small bites like twice-fried chicken wings with spicy gochujang sauce or fried fish tacos with salsa roja. Globally-inspired comfort food is the norm here.
Unlike the other rooftop bars on this list, Broken Shaker has a casual vibe that's hard to match in DTLA.
Location: 416 W 8th St, Los Angeles, CA 90014
Style: American, Latin, Bar
Price Range: $$-$$$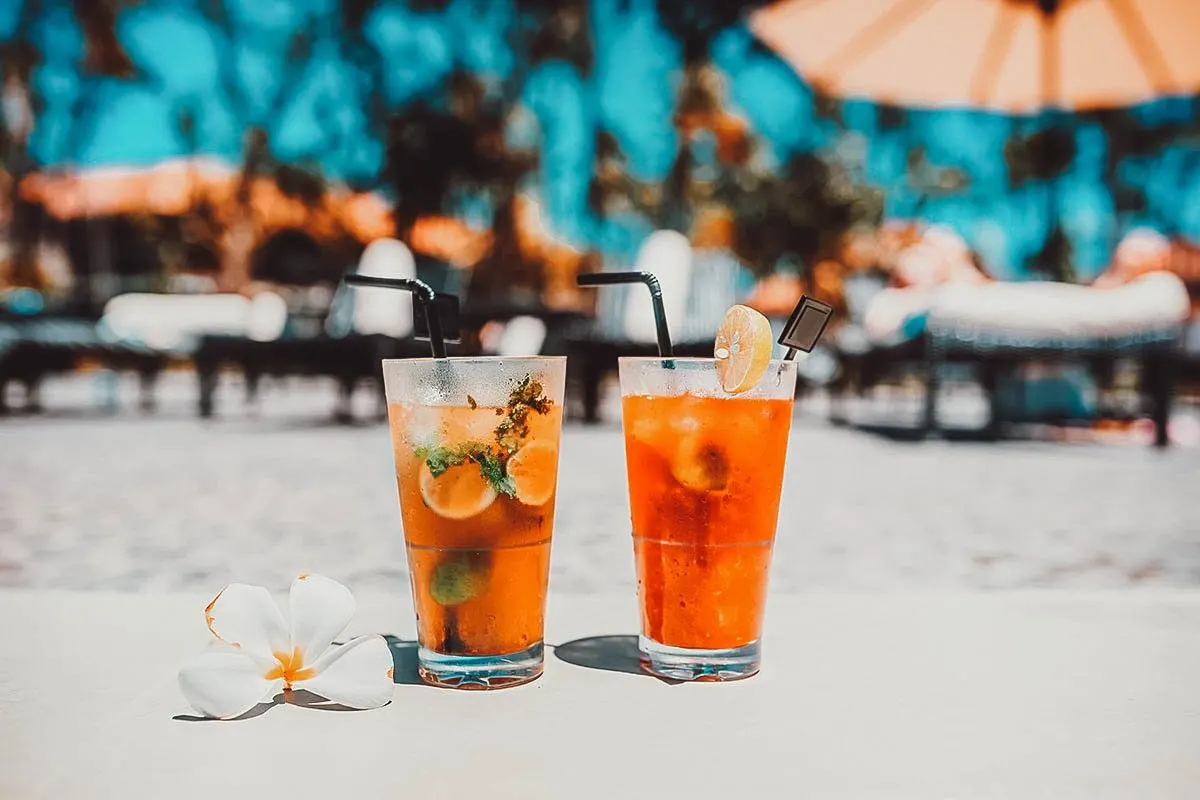 Cocktails by the pool. Photo by bogdan.hoda via Depositphotos.
3. LA Cha Cha Chá (Chic Mexican Rooftop Restaurant)
If tacos and tequila are your thing, then head on down to LA Cha Cha Chá, a Mexican rooftop restaurant and bar in the Arts District. Or should we say head on up?
Located in one of Downtown L.A.'s hottest neighborhoods, this modern cantina is effortlessly stylish and just flat-out beautiful. Exuding a modern Acapulco meets Palm Springs vibe, it's the sister restaurant of Mexico City's Terraza Cha Cha Chá, a similarly chic space helmed by Mexican L.A.-raised chef Alejandro Guzman.
If botanas and antojitos like tacos dorados, mollete, and rajas con crema strike your fancy, then you need to cha cha cha to LA Cha Cha Chá pronto.
Location: 812 E 3rd St, Los Angeles, CA 90013
Style: Mexican, Bar
Price Range: $$
4. Takami Sushi & Robata
Takami Sushi & Robata isn't a true rooftop restaurant in Los Angeles. It isn't a dedicated outdoor dining space but they do offer open-air patio views 21 floors above DTLA's financial district. Oh, and did we mention they serve high-quality…no, sky-high-quality sushi and Japanese cuisine?
Located on the penthouse floor of 811 Wilshire Boulevard, you can enjoy Tokyo-quality Japanese food with Takami's extensive list of sake, wine, and handcrafted cocktails. It's the perfect venue to dine on sushi and robatayaki while enjoying sunset views of Downtown L.A.
Location: 811 Wilshire Blvd #2100, Los Angeles, CA 90017
Style: Japanese, Sushi, Asian
Price Range: $$$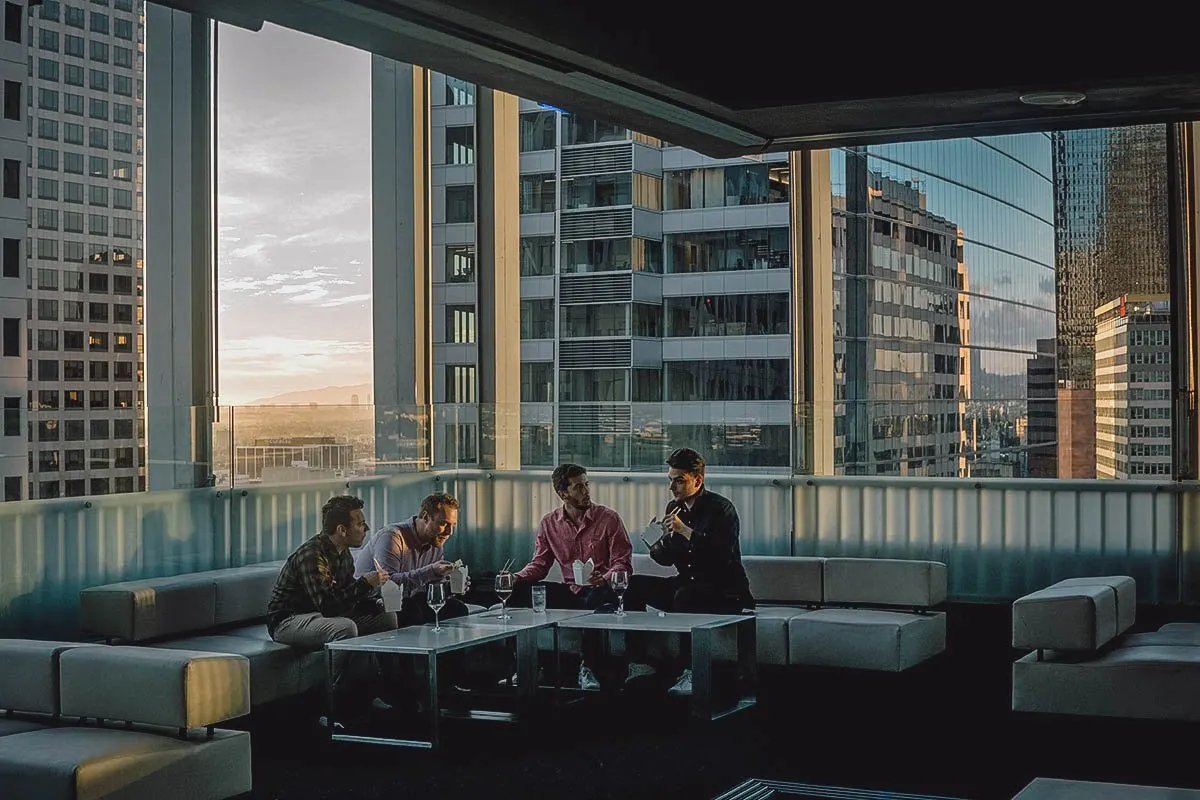 Photo by Aaron Thomas via Unsplash
5. The Rooftop at The Wayfarer
If weekend brunch is your thing, then look no further than The Rooftop at The Wayfarer. Featuring a 10-Course Exectuive Chef Brunch Menu, it's where everyone's rooftop brunch dreams come true.
Available on Saturdays and Sundays from 10AM till 3PM, Executive Chef Collin Smelser will take you on a gastronomic journey of ten dishes and drinks, featuring brunch favorites like Belgian waffles, salmon benedict, beignets, and prime New York steak. It's the perfect brunch experience for diners looking for something a little beyond the ordinary.
Located on the 12th floor of The Wayfarer, right in the heart of the Broadway corridor on Flower Street, you can think of The Rooftop as your hidden oasis in Downtown L.A.
Location: 813 Flower St, Los Angeles, CA 90017
Style: American, Asian-inspired, Bar
Price Range: $$$
6. 71Above
Like Takami Sushi & Robata, 71Above isn't your classic rooftop restaurant. It isn't a true outdoor dining venue but what it is, is a visually stunning restaurant that's about as impressive as any you'll find in Downtown Los Angeles.
As its name suggests, 71Above is located on the 71st floor of the US Bank Tower. It features sweeping 360º views of the Los Angeles skyline, making it one of the most unique and striking restaurant venues in Downtown LA.
Helmed by Chef Vartan Abgaryan, standout dishes at 71Above include hamachi crudo, crispy octopus, grilled ribeye, and A5+ Japanese wagyu.
Location: 633 W 5th St 71st floor, Los Angeles, CA 90071
Style: American, Vegetarian-friendly, Vegan options
Price Range: $$$$
7. Upstairs at the Ace Hotel
Like Broken Shaker, Upstairs is a rooftop pool bar perched above the Gothic-inspired Ace Hotel in Downtown LA. Like every rooftop restaurant on this list, it offers magnificent views of the downtown skyline and its surroundings.
Upstairs is comprised of two parts – a tented bar section and an open pool lounge area. The aesthetic is relaxed and earthy, featuring tree trunk tables, vintage Mexican Equipale chairs, and Moroccan-style printed cushions. They offer an extensive cocktail menu and small bites that pair well with their drinks like tacos, ceviche, and housemade chips and salsa.
During the day, Upstairs has a relaxed vibe but come sundown, the place gets a dose of adrenaline with its nightly events featuring DJs, live bands, pop-ups, and other creative collaborations. If you're looking for the perfect LA rooftop pool party, then Upstairs is where you'll want to be.
Location: 929 S Broadway, Los Angeles, CA 90015
Style: Mexican, American, Bar
Price Range: $$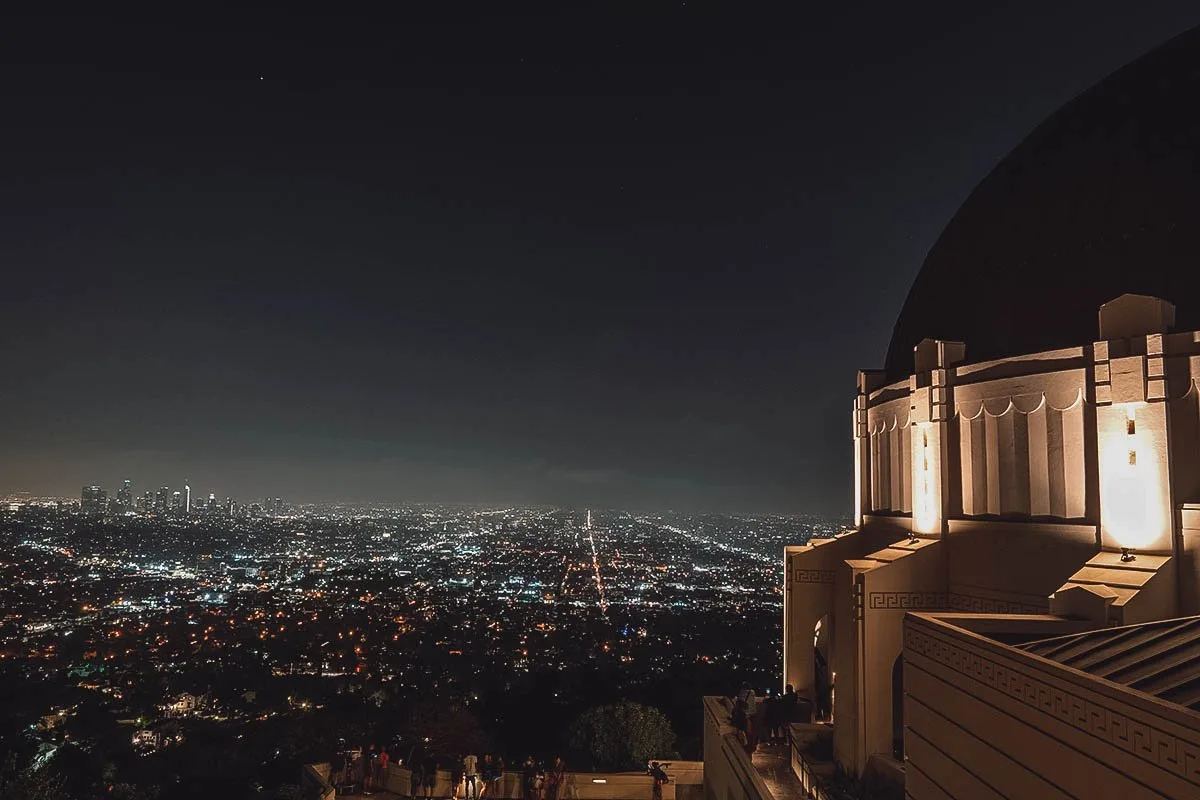 View of DTLA from Griffith Observatory. Photo by Joshua Case via Unsplash.
From LAX Airport to the Rooftop Restaurants in Downtown L.A.
After arriving at one of the busiest airports in the United States, many of you will undoubtedly be tired and a little hungry. Before your business meeting or city tour, how about taking a quick transfer from LAX Airport to any of the rooftop restaurants featured in this article?
airporttransfer.com is an online marketplace for some of the best private transfer providers in Downtown L.A. If you aren't familiar with the city, then our experienced chauffeurs will be both your driver and guide. Different types of vehicles are available at airporttransfer.com – SUVs, sedans, executive cars, limousines, MPVs, minivans, and more.
Depending on your needs, you can benefit from additional services like child seats, elderly assistance, VIP meet and greet, roof racks, bicycle racks, and luggage assistance, all at a fixed price. Your security and peace of mind are our priority. We offer a 100% refund guarantee, free cancellation within 48 hours, and a fixed-price policy.
Before you know it, you could find yourself sipping on classic cocktails at a rooftop restaurant in DTLA, thanks in part to airporttransfer.com's hassle-free transfer.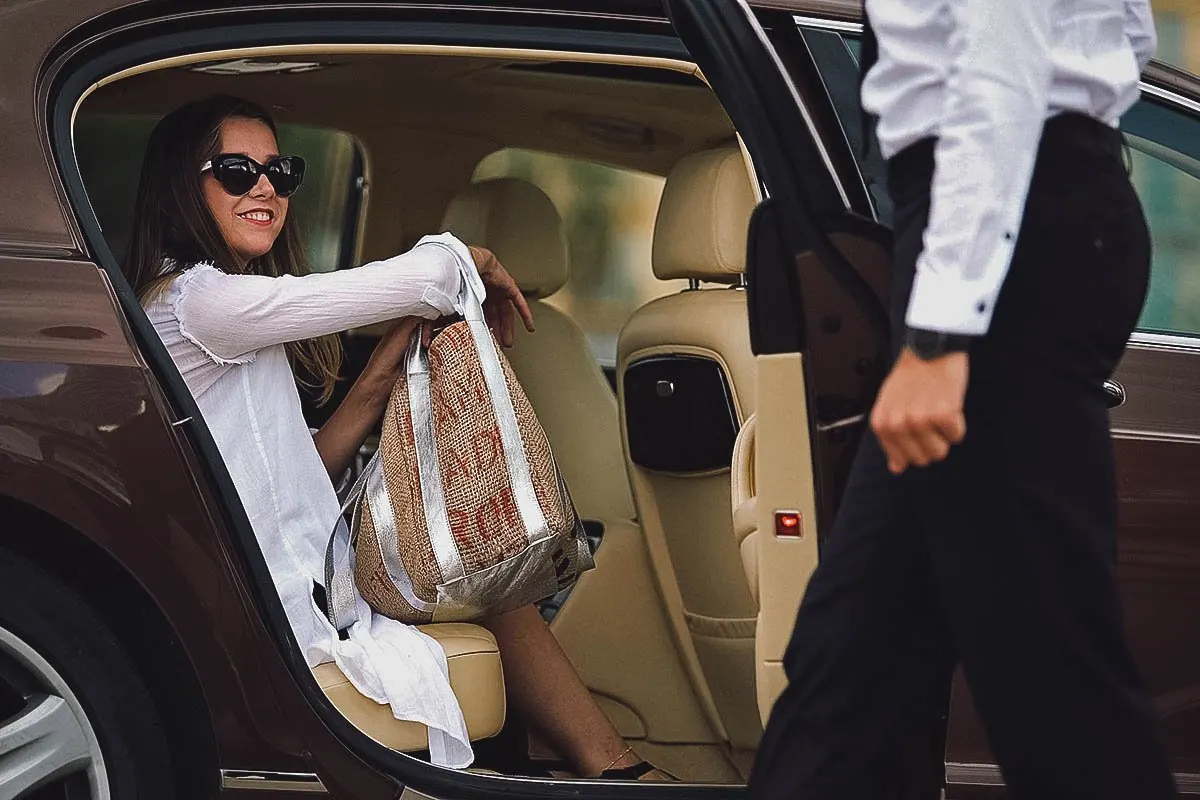 Photo by motortion via Depositphotos
Disclosure
This article on the best rooftop restaurants in Downtown L.A. was written in partnership with airporttransfer.com. We haven't personally used their services yet but we will on an upcoming trip. I'll be sure to tell you about our experience when we do.
Cover image by Dave Lastovskiy via Unsplash