It was our last full day in Sydney.
We had already visited Taronga Zoo, walked the powdery beaches of Bondi, taken a memory card full of Opera House photos, perused the flea markets of Paddington, fiddled with gadgets and gizmos at Powerhouse, binged on fresh seafood at the Fish Market, and hopped on and off that bright red, double-decker bus numerous times.
So how did we decide to spend our final day in Australia? With a private charter tour of the Blue Mountains, of course!
A World Heritage site, the Blue Mountains is a mountainous region that's roughly an hour and a half west of Sydney. It's home to the Three Sisters, an unusual rock formation that is undeniably the area's most popular and spectacular landmark. Densely populated by Eucalyptus trees, The Blue Mountains is so named for the bluish haze cast by finely dispersed droplets of Eucalyptus oil in the atmosphere. When combined with dust particles and water vapor, these droplets scatter rays of light that are predominantly blue in color.
Though we hired a private charter minibus and guide to take 9 adults and 2 children on a full day's tour of the Blue Mountains for AUD 1,040, non-private tours are also available for AUD 95 per adult and AUD 82 per child under 12. Both versions of the tour include entrance to Featherdale Wildlife Park, a visit to the Sydney Olympic Village, and an optional return river cruise.
Boarding the Activity Tours Australia bus at a bright and early 7:15 AM, off we cruised to the Blue Mountains to enjoy what would be the grand finale of our week-long Australian adventure. All aboard mates!
Echo Point Lookout & The Three Sisters
Our first stop at the Blue Mountains and home to the best view of the Three Sisters. Standing at 922, 918, and 906 metres tall respectively, the legend of how these rock formations came to be called the Three Sisters goes something like this:
Three sisters, "Meehni", "Wimlah", and "Gunnedoo", lived in the Jamison Valley as members of the Katoomba tribe. These beautiful young ladies had fallen in love with three brothers from the Nepean tribe, but tribal law forbade them to marry. The brothers didn't want to accept this law, so decided to use force to capture the three sisters which then started a major tribal battle.
With the lives of the three sisters in serious danger, a witchdoctor from the Katoomba tribe took it upon himself to turn them into stone to protect them from harm. While he had intended to reverse the spell after the battle was over, the witchdoctor himself was killed, and no one else could turn them back.
The moral of the story? Insolent young women make for captivating rock formations.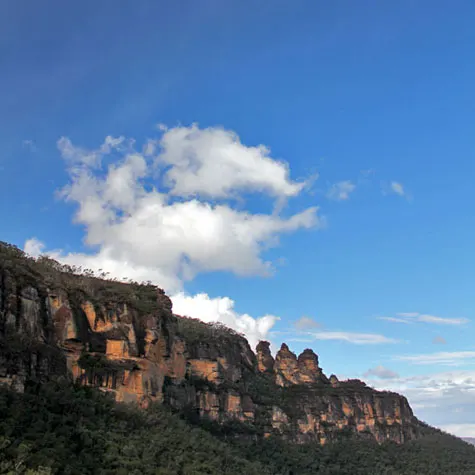 Please note that the two pictures here of the Three Sisters weren't actually taken from Echo Point, but from further away Eaglehawk, if I remember correctly. It was raining when we got to Echo Point, so all my pictures came out pretty crappy. Not that these are much better, but at least the skies in them are blue.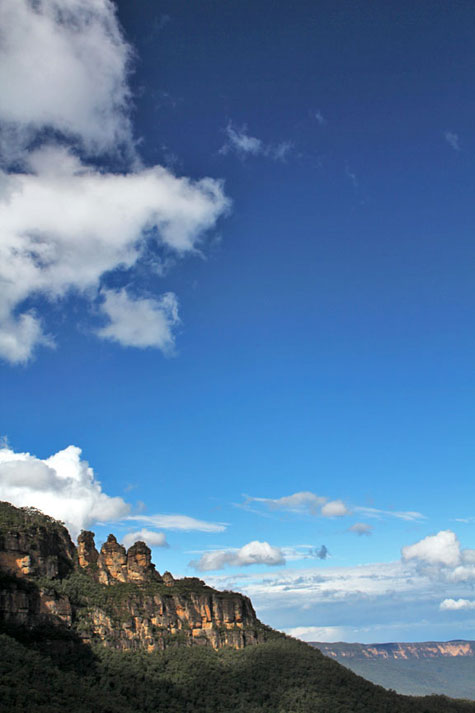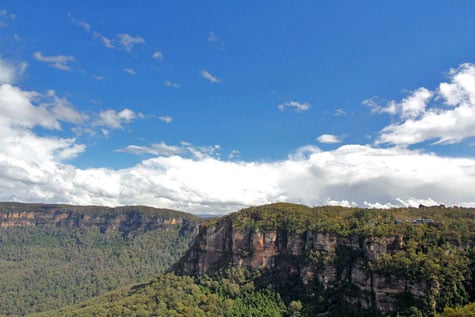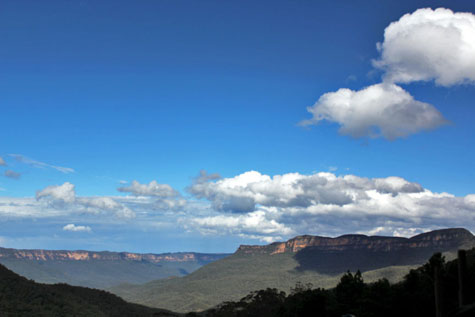 Ren squinting in amazement at the beauty of the place, or was it because she left her sunglasses in the bus?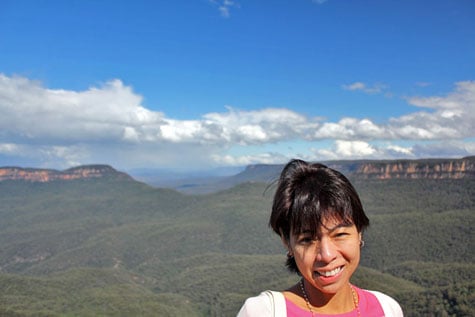 Scenic World, Blue Mountains
Scenic World is one of the most popular stops in the Blue Mountains, with three scenic rides and 2.8 kms of boardwalk through the rainforest to help you enjoy the mountain views. Tickets weren't included in our tour, but you can purchase them for AUD 25 per adult and AUD 13 per child. This includes access to all three rides and the boardwalk.
Skyway & Cableway
A 720 meter journey 270 meters above the rainforest, the Skyway is the first of the three Scenic World rides. It boasts an "Electro-Sceniglass" floor that provides breathtaking views of the valley. On this ride you can get terrific 360 degree views of the Three Sisters and Katoomba Falls.
The Skyway takes you to the Scenic World Top Station where you can have lunch before hopping on the Cableway.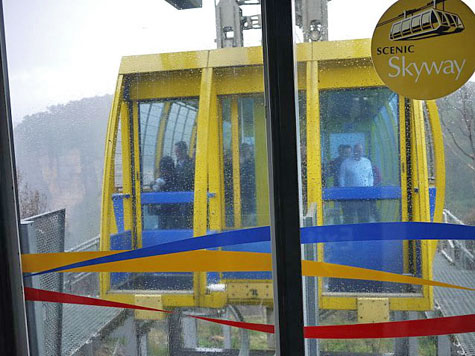 The above mentioned "Electro-Sceniglass" floor, which turns opaque to transparent at the flip of a switch. Pretty nifty, eh?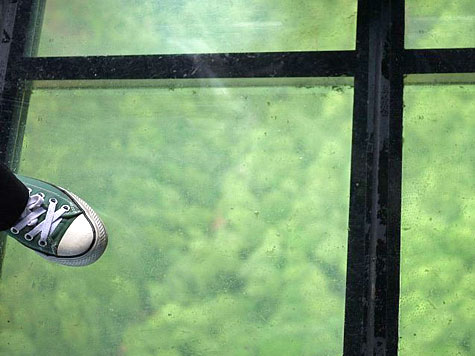 Katoomba Falls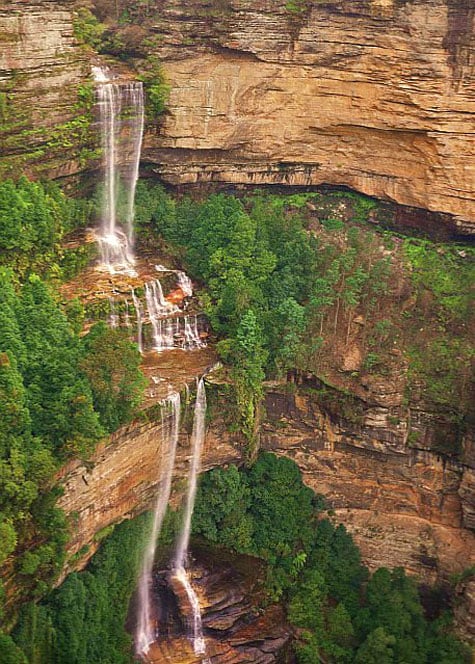 I didn't have any images of the Cableway, but it's very similar to the Skyway, except a little shorter at 545 meters and with a steeper incline. It takes you down to the 2.8 km stretch of boardwalk below known as the Walkway.
Walkway
This was awesome. Easy to walk through and wheelchair accessible in parts, it was fun exploring the rainforest through this stretch of solid, well-built boardwalk. You won't find anything this solidly-built and unprecarious in the Philippines. 😆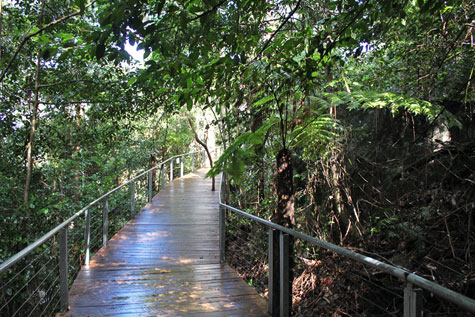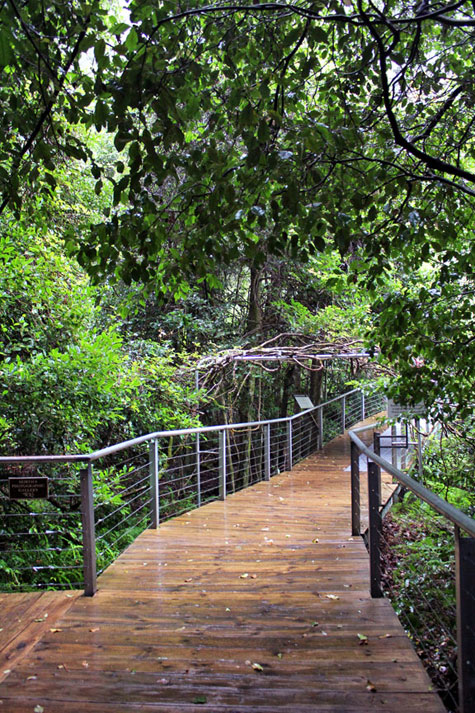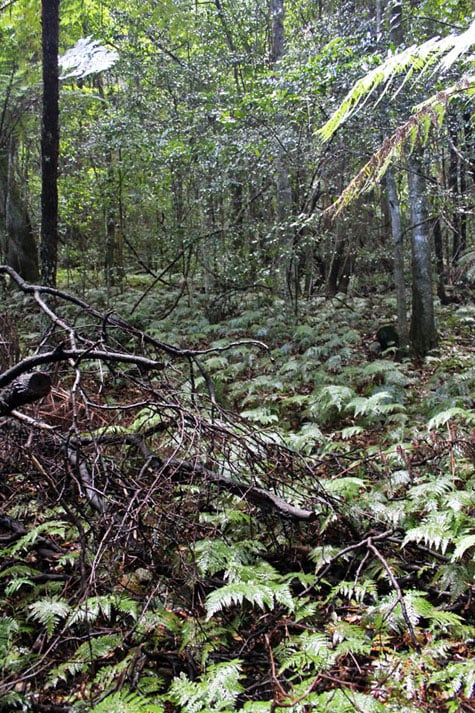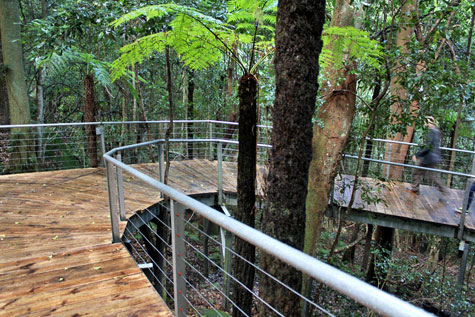 A distant shot of Katoomba Falls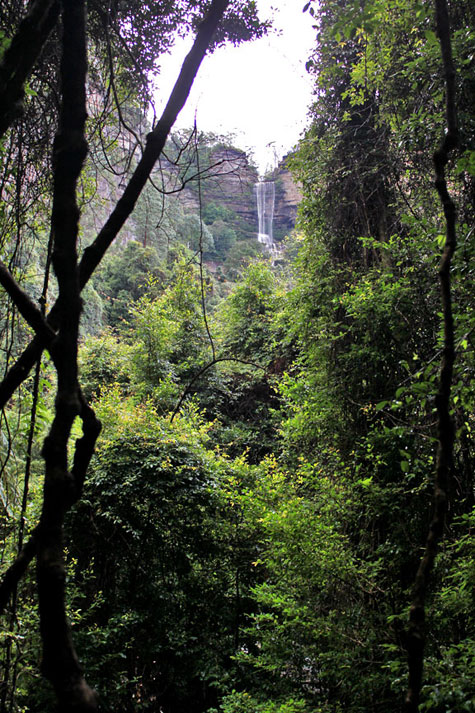 Railway
Of the three rides, this one was the most thrilling. Unlike the previous two which were more scenic, this one was an exhilarating ride back up to the Scenic World Top Station. Dubbed "The Mountain Devil", it's a 415 meter ascent at an incline of 52 degrees, making it the steepest railway in the world.
As you can see from this picture, it starts out fairly flat but quickly shoots up the side of the cliff. Fun!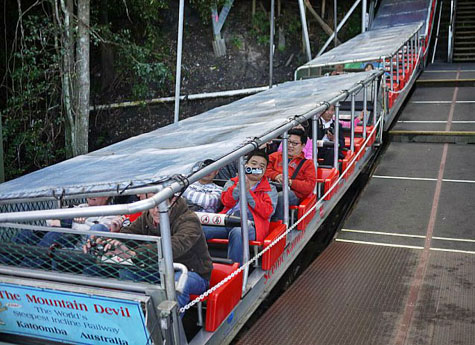 Marianna screaming like a little girl. Oh wait, she is a little girl. 😆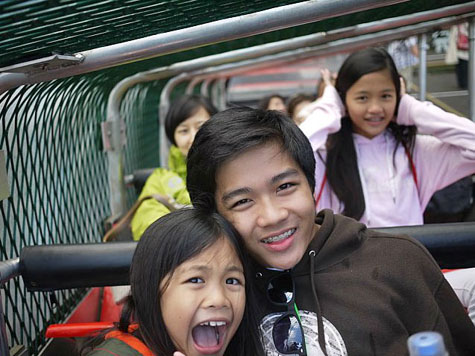 Here's me playing it cool, all the while wetting my shorts. Just kidding. 🙂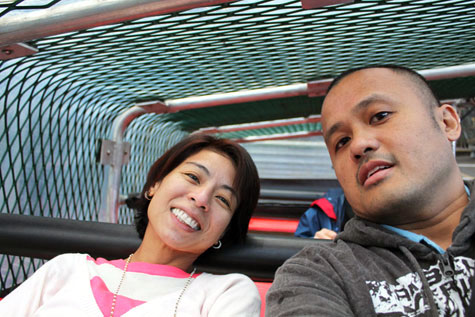 Though we rode the Cableway down to the valley and hopped on the Railway to get back up, you can do it in the reverse order as well.
Eaglehawk Lookout
Our last lookout point before driving back to Sydney. As you can tell from the branches, it was ferociously windy. And cold!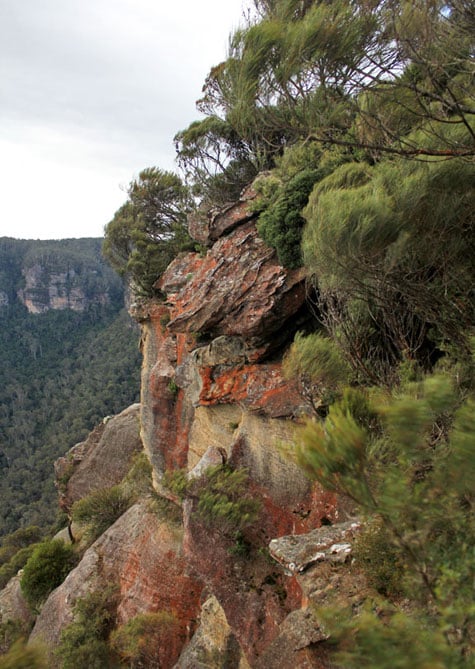 If you look closely enough, you can see two tiny little specks side by side on the cliffside, one blue and the other red. These specks were two adrenaline-seeking lunatics climbing up the face of the mountain. In these winds?! Insane!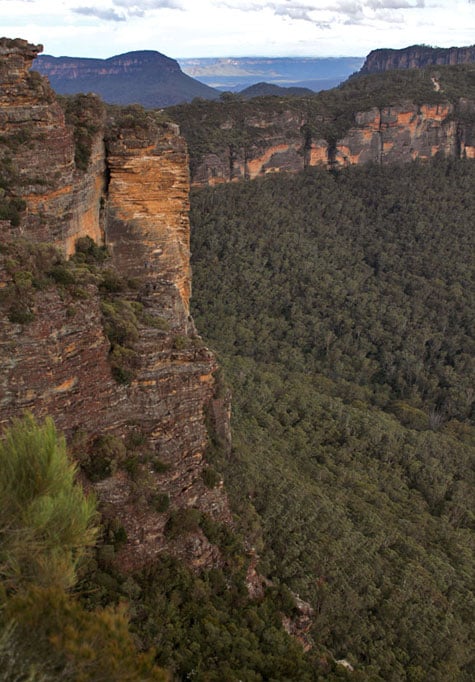 Spectacular cloud formations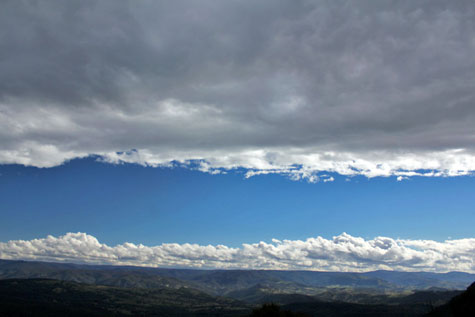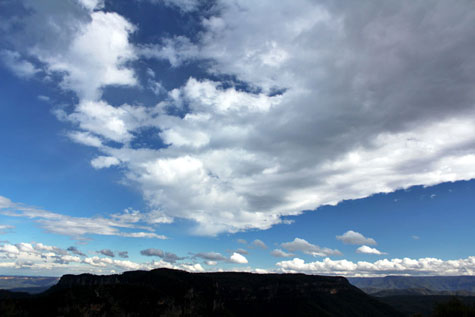 I don't have any pictures since we opted not to get off the bus, but we drove through the Sydney Olympic Village as part of the tour on our way back to the city. Never having seen Olympic facilities before, I thought it was pretty wicked and got me pumped up for this year's games in London. How fun and positively abuzz this place must have been in 2000!
As mentioned up top, we had the option of going back to the city via a sunset river cruise, but we had ridden enough ferries on this week-long trip and were pooped from all the day's walking, so we decided to skip out on that altogether.
Though admittedly not as awe-inspiring as the Grand Canyon in Arizona, it was a fun experience nonetheless and worth visiting if you have some time (and money) to spare in Sydney. There's tons more to see and do at Blue Mountains, so if you have plenty of time to kill, it might be worthwhile to actually spend a few days there. It's a tranquil, charming area that feels a lot like a mountainous version of Carmel or Monterey in California.
As far as this tour went, I'm a lover of animals so the Featherdale Wildlife Park portion of the tour was easily my favorite. I enjoyed the Scenic Walkway as well, but we were on a pretty tight schedule so we breezed through it faster than I would have liked. With more time, I really would have loved to camp out here with my tripod, as there were quite a few picturesque scenes to photograph.
If you're interested in booking the same tour we did, please visit the Activity Tours Australia website for more information. You can also visit the Blue Mountains website to read up on the history of this beautiful place and everything it has to offer.
More on Sydney
Opera House and Harbour Bridge, Sydney, Australia
Powerhouse Museum, Sydney, Australia
Sydney Fish Market, Australia
Sydney Aquarium, Darling Harbour, Australia
Taronga Zoo, Sydney, Australia
Birthday Bush Tucker Dinner at Wolfies, Sydney, Australia
Featherdale Wildlife Park, Sydney, Australia
Bondi Beach, Sydney, Australia
Oporto, Sydney, Australia