Do you remember those fun, colorful iMac G3 desktop computers released in the late 1990s? It was produced in many translucent colors (thirteen to be exact) ranging from strawberry, to sage, to snow. It even came in that hideously ugly color / pattern called "flower power." Remember that one? It was voted one of the ugliest tech products ever.
Well, the very first color released in that revolutionary line of G3s came in this beautiful blue-green shade known as "Bondi Blue." A stunning deep turquoise-like color reminiscent of the ocean, this is the Bondi which that iconic version was named after.
A popular beach and the name of the surrounding suburb in Sydney, Bondi Beach is roughly a one-kilometer stretch of white, powdery beach that receives thousands of visitors throughout the year. Pronounced BON-Dye, Bondi is an Aboriginal word meaning "water breaking over rocks" or "noise of water breaking over rocks."
An Australian National Heritage site, it's famous not only for inspiring the color of that game-changing iMac, but it's also the location where many Australian and international movies, television shows, and music videos have been filmed. Arguably Australia's most popular beach, it's no surprise that Bondi Beach was also the site where the Guinness World Record for the largest swimsuit photo shoot ever was set, with 1,010 bikini-clad women taking part in 2007. 😉
Beautiful Bondi Blue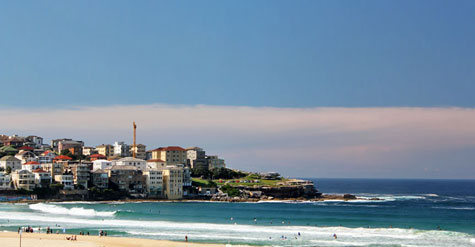 Playing with my neutral density filter and slightly longer exposures.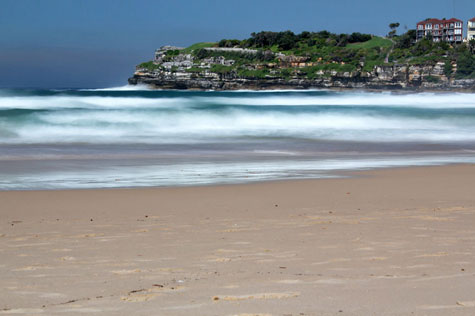 Australian shores having the shark-infested waters that it does, what you can't see in these photos are the shark nets that keep man-eating bull sharks away from swimmers. I'm deathly afraid of sharks so despite this barricade, no way will you ever spot me dipping even my weenie toes in these waters.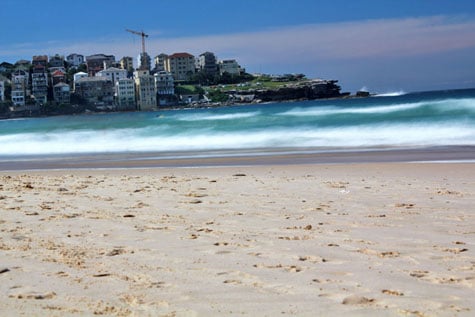 My brother Francis watching my favorite younger nephew Raffa doing what kids do in sand.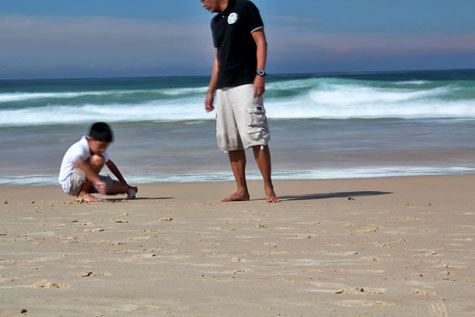 Ren looking ravishing against that deep blue sky. Love the pug shirt.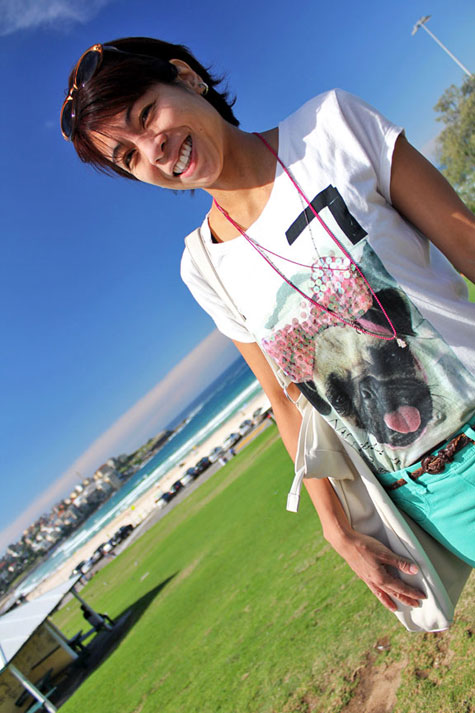 Ren wishing my favorite older nephew Miguel a fist pound of luck at Bondi skate park. It looked pretty wicked so be sure to bring your skateboard if you like to goofy-foot, grind, or do the McTwist.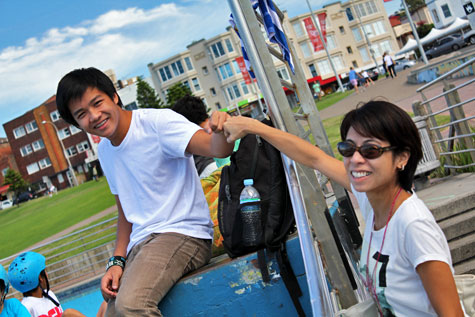 Me? This is pretty much all I can do. Wheeeeeeeeee!!…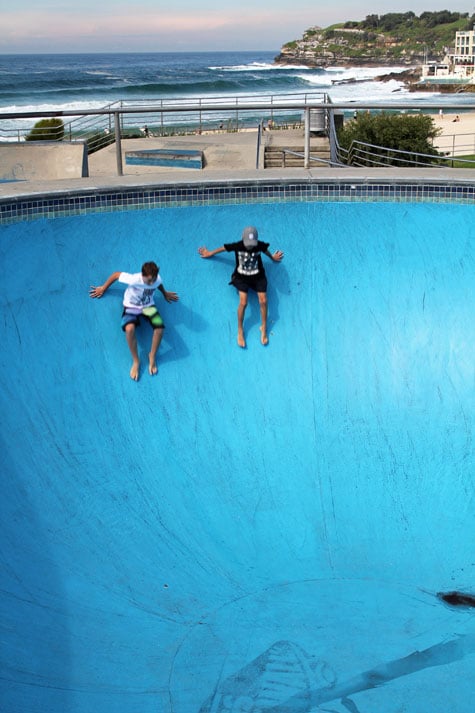 ♥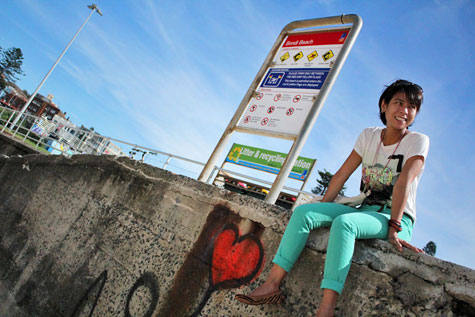 A Flock of Seagulls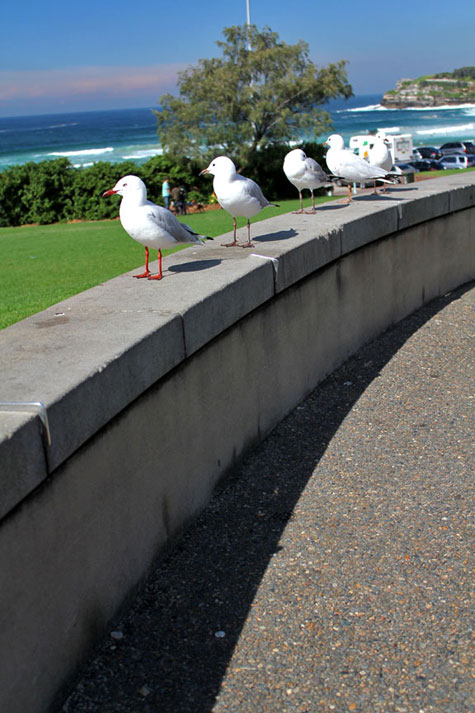 "And I raaan…I ran so far awaaay…I just raaan…I ran all night and daaay…I couldn't get awaay." Sorry, 80s child.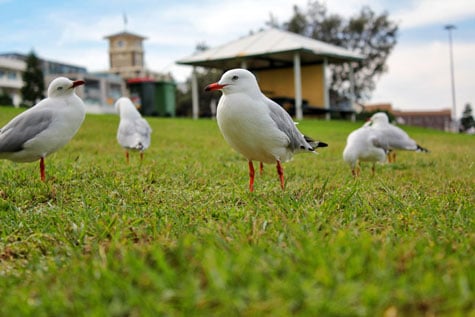 Bondi Art
I'm not much of a beach person so I found myself more fascinated with the grafitti murals than with the beach itself. Some of these were stunning.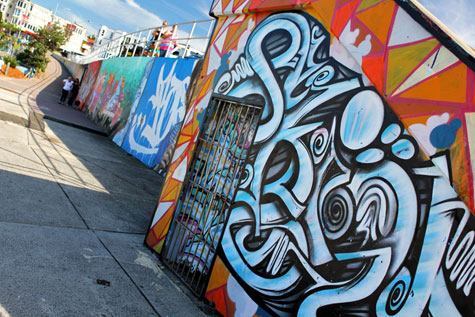 Ren doing a good job blending in.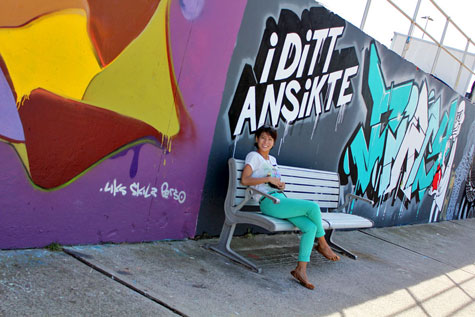 What the heck is Ren doing?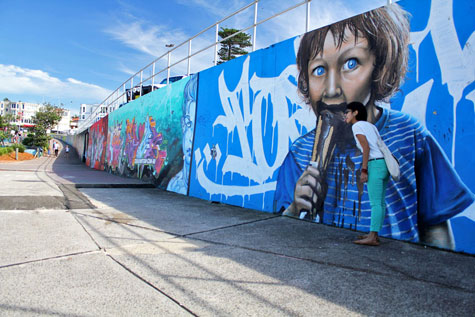 Okaaaaaaaay…..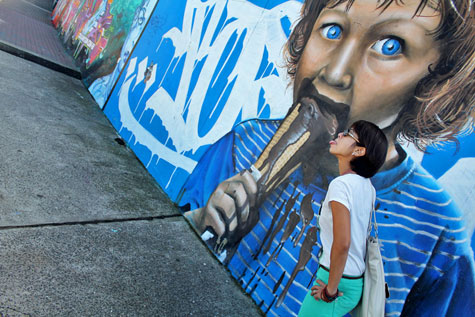 Wessssiiiiiiideeee!…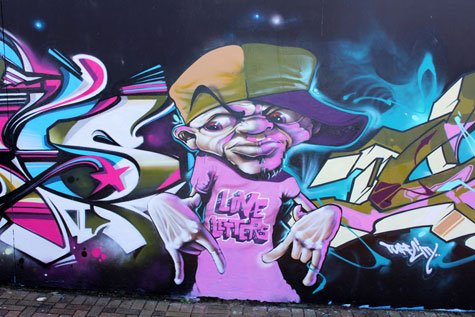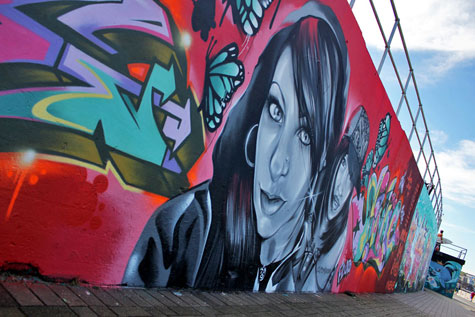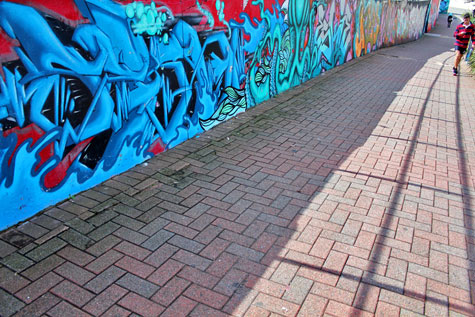 Many of the benches and planters peppering the boutique- and restaurant-lined streets were covered in these beautiful mosaic tile patterns.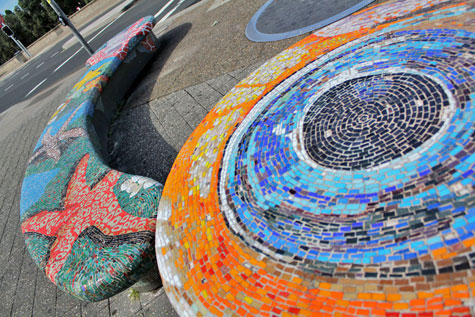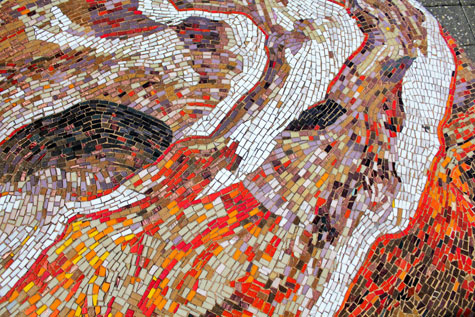 Ok, so I was on my way to the southwest end of Bondi to get a shot of the entire stretch of beach when I was distracted by the cute sight of this soccer-playing dog. Bob Marley would pass the ball to him and he'd bounce it back with his snout. Tail wagging with a big smiile on his face, he looked like he was having a ball. Man, I love dogs.
What I enjoyed more than the actual beach was the overall vibe of the place. It just felt great to be here. Charming one-off boutiques, restaurants, cafes, and gelato shops lined the streets and alleys. Bondi is apparently a popular backpacker haven as well, so you'll find plenty of places to stay here, ranging from the luxurious to the economical (by Sydney standards that is).
Ren wasn't feeling well and we didn't have much time that day, but there are a couple of popular scenic coastal walks that you can do here. One is a 2.5 km walk from Bondi Beach to Bronte, and the other is a shorter 1.4 km walk from Bronte Beach to Waverly Cemetery. If you have time to spare, I suggest doing one or both as they apparently offer quite spectacular views.
For more information on these coastal walks and on Bondi Beach in general, please visit the Bondi Village website.
More on Sydney
Opera House and Harbour Bridge, Sydney, Australia
Blue Mountains, New South Wales, Australia
Sydney Fish Market, Australia
Sydney Aquarium, Darling Harbour, Australia
Taronga Zoo, Sydney, Australia
Birthday Bush Tucker Dinner at Wolfies, Sydney, Australia
Featherdale Wildlife Park, Sydney, Australia
Powerhouse Museum, Sydney, Australia
Oporto, Sydney, Australia