Sydney Opera House
You can't utter the words "iconic" and "architecture" in the same sentence without thinking of the Sydney Opera House. You just can't. A masterpiece of late modern architecture, it stands as one of the great iconic buildings of the 20th century and is without a doubt the most beautiful man-made structure that I have ever seen in my life.
Born from a competition challenging international architects to come up with a structural design that would house two performance halls, one for opera and another for symphony concerts, the winning entry was submitted by a young visionary Danish architect named Jørn Utzon, who was a virtual unknown at the time. A bold but graceful piece of urban sculpture covered in shimmering patterned tiles, Utzon's design featured a distinctive roof comprised of sets of interlocking vaulted "shells" set upon a vast terraced platform.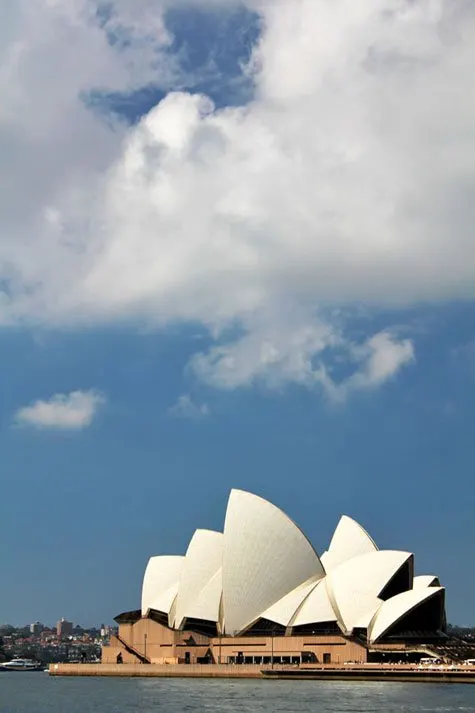 Construction for the building began in 1959 with the original completion date set for 1963. But due to a string of economic, environmental, and political difficulties which ultimately led to Utzon's resignation from the project in 1966, it wasn't completed until 1973 at a cost of AUD 102 million (AUD 922 million by today's standards), well over the original estimate of AUD 7 million.
Sadly, Utzon never again returned to Australia to see his finished masterpiece. In fact, he wasn't even invited to its opening in October 1973, nor had his name mentioned during the ceremony which was presided over by Queen Elizabeth II.
It wasn't until the late 1990s that the Sydney Opera House Trust began to communicate again with Jørn Utzon in an attempt to effect a reconciliation and secure his involvement in future changes to the building.
In 2003, the same year the Opera House celebrated its 30th birthday, he was awarded the Pritzker Prize, which is international architecture's highest honor.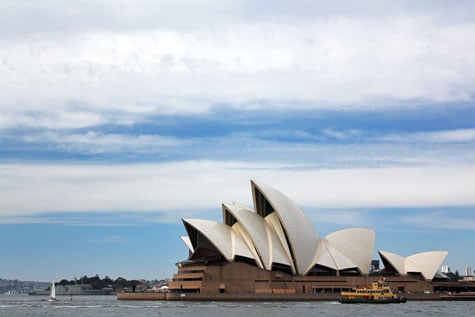 In 2004, the newly refurbished Reception Hall which was built based on an Utzon design, was renamed the "Utzon Room". When asked if he would agree to the room being named after him, Utzon said it was the greatest honor he could ever receive.
Jørn Utzon died peacefully in his sleep in 2008 at the age of 90.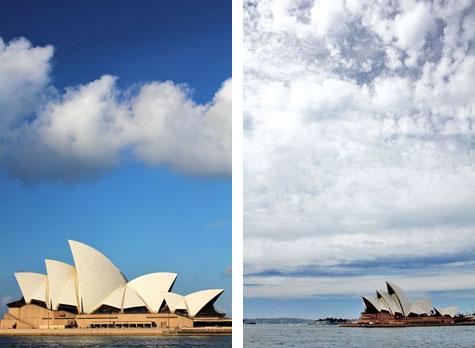 Sunset, around 5:30 PM. This was one of the most beautiful skies I'd seen in a long time.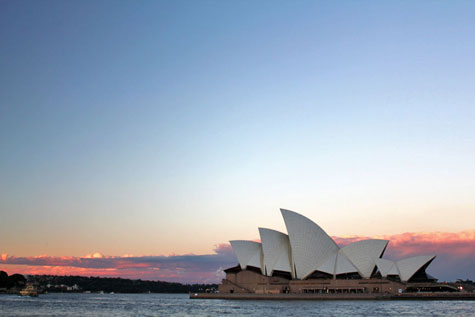 When comparing the images below to the more familiar vantage points above, it's plain to see that the Opera House looks starkly different when viewed from different directions. One thing however, remains consistent. Regardless of the angle, it ALWAYS looks spectacular.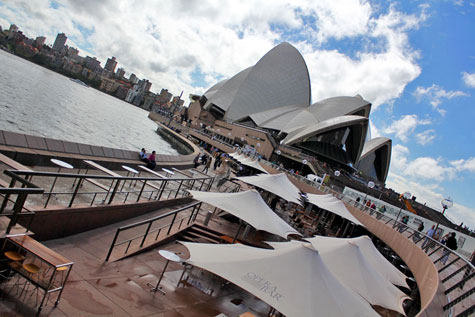 From here it looks to have been inspired by some half-submerged, burrowing, subterranean sand-dwelling boa, ala the giant worms in those Tremors movies.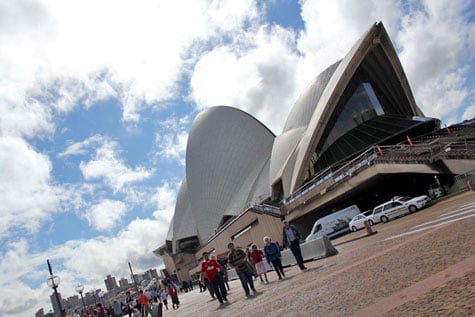 L: Its glistening, chevron-patterned skin covered in 1,056,006 glossy-white and matte-cream colored Swedish-made tiles. R: Ren looks like she's wearing some funky giant fascinator in this photo.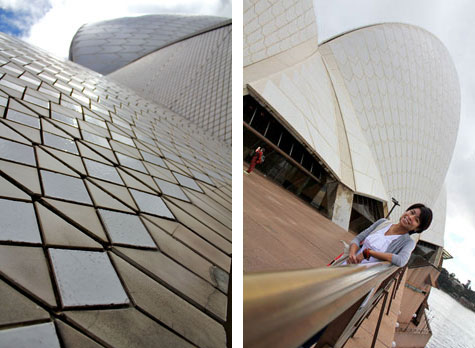 These look like parked sand racers stolen from the deserts of Tatooine.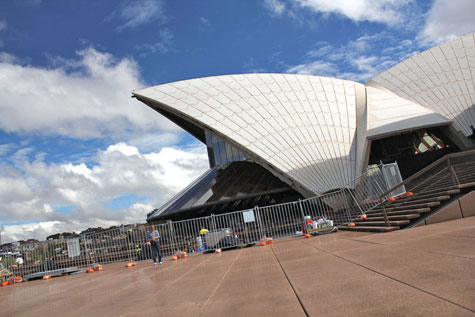 From this angle, the terraced shells remind me of medieval helmets.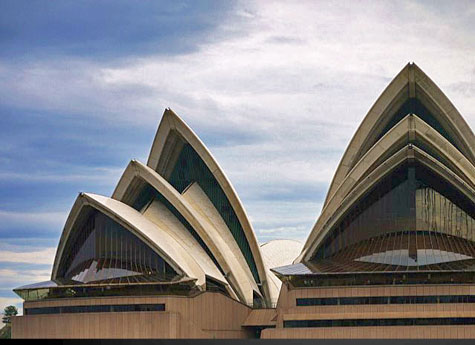 A terrific shot of my mom, courtesy of my niece Gabby. Kid's got a good eye, eh?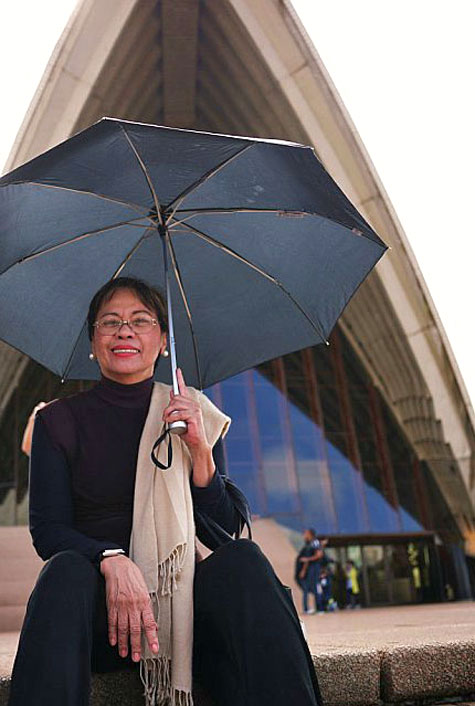 From here they look like giant oriental fans.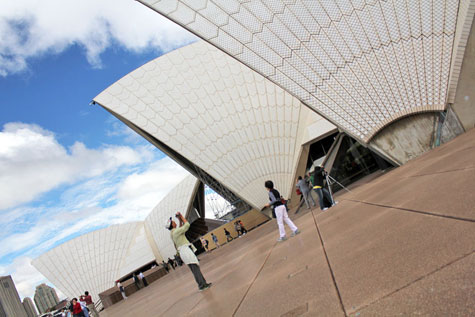 This looks to have been the inspiration for Lady Gaga's brassiere.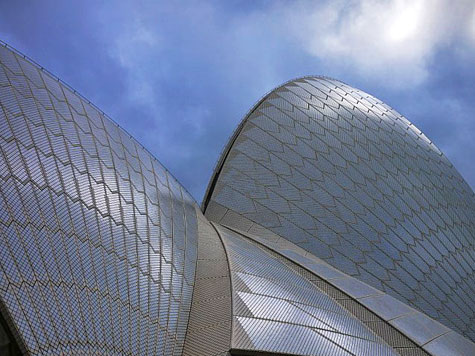 Ren and Marianna looking intensely happy while Raffa quietly contemplates the meaning of his existence.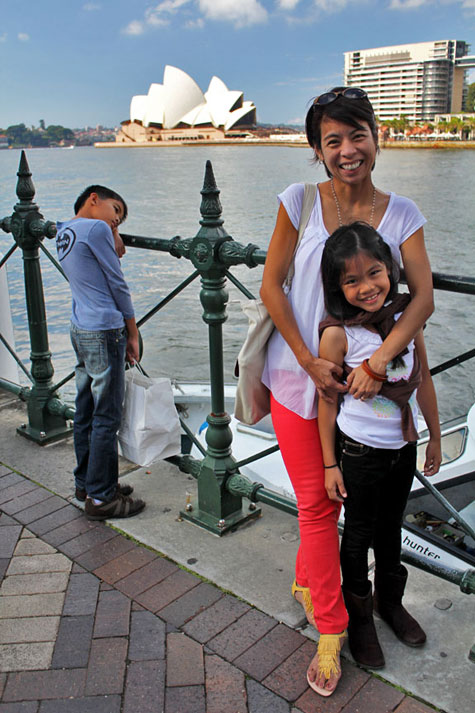 Set in beautiful Sydney Harbour, the Opera House is the most spectacularly beautiful building that I've ever laid eyes on. As a visual artist / designer, I appreciate architecture but I never thought that I could be this moved by a building. This one just blew me away. Even 40 years after its construction, it still looks well ahead of its time. An icon of the 20th century indeed.
Sydney Harbour Bridge
No discussion (nor photograph) of the Opera House would be complete without the Harbour Bridge. A steel "through arch" bridge across Sydney Harbour that carries rail, vehicular, bicycle and pedestrian traffic between the Central Business District and the North Shore, the dramatic view of the bridge, the harbor, and the Opera House is an iconic image of both Sydney and Australia.
Like the Statue of Liberty in New York, the Harbour Bridge has a similar place in Sydney History for its immigrants. Soon as you saw the bridge, you knew that you had made it.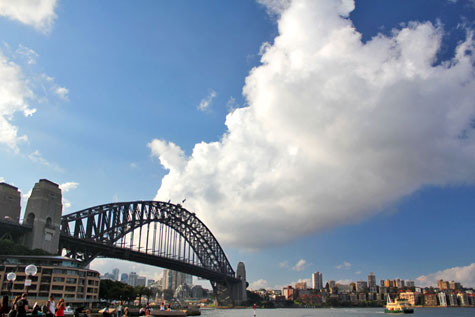 Nicknamed "The Coathanger" because of its arch-based design, the bridge, according to the Guinness World Records, is the world's widest long-span bridge. It's also the fifth longest spanning-arch bridge, and the tallest steel arch bridge in the world.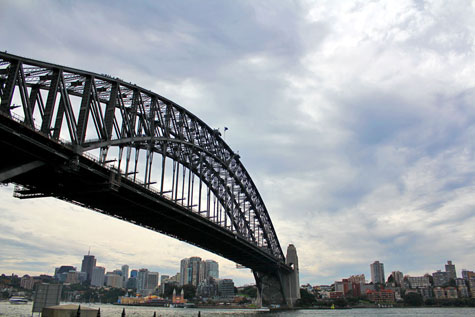 Interestingly, the twin pair of pylons on either side serve no structural purpose. Not part of the original design, they were included only to give better visual balance to the bridge and to allay public concerns, albeit unfounded, about its structural integrity.
Though added solely for their aesthetic value, all four pylons have now been put to good use. Most notably from a tourism standpoint, the south-eastern pylon contains a museum and tourist centre, with a 360° lookout at the top providing views across the harbor and city.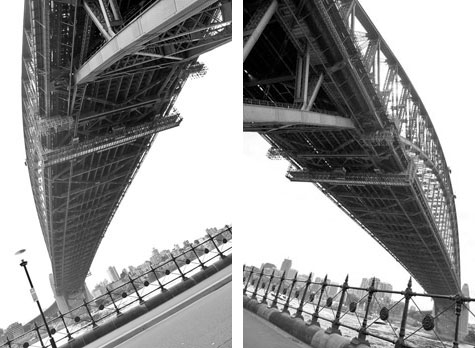 Probably my favorite shot of the entire trip, it's a different, albeit more industrial approach to the usual Opera House / Harbour Bridge photograph.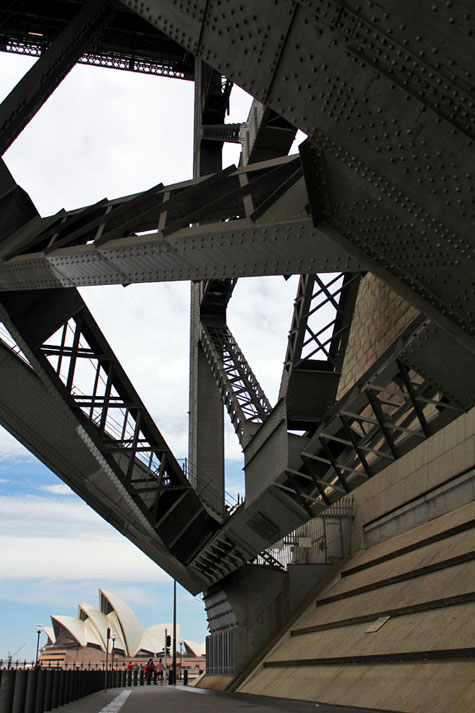 Since 1998, BridgeClimb, as its name suggests, has made it possible for tourists to climb the bridge. Depending on which time of the day you choose, climbers pay between AUD 198-298 to ascend the southern half of the bridge and get spectacular, unparalleled views of the harbor and city.
This is something that I would have seriously considered doing had it not been for their "no cameras" policy, which they implement as an understandable safety precaution. Though obviously pricey, I don't mind paying for once-in-a-lifetime experiences. I would have loved to do this if only we had more time and I'd been allowed to bring my camera to document the ascent. Without a doubt, it would have been the ultimate Sydney experience. *sigh*
If you're planning a trip to Sydney and are interested in doing the bridge climb, please visit their website for more information.
More on Sydney
Blue Mountains, New South Wales, Australia
Powerhouse Museum, Sydney, Australia
Sydney Fish Market, Australia
Sydney Aquarium, Darling Harbour, Australia
Taronga Zoo, Sydney, Australia
Birthday Bush Tucker Dinner at Wolfies, Sydney, Australia
Featherdale Wildlife Park, Sydney, Australia
Bondi Beach, Sydney, Australia
Oporto, Sydney, Australia