As a keeper of recipes and paramour of seafood, you can bet that I was really excited to visit this place. The largest market of its kind in the Southern Hemisphere and the second largest seafood market in the world behind only Tsukiji in Japan, the Sydney Fish Market trades over 14,500 tons of seafood annually, with up to a hundred species traded every day.
Sounds like the perfect place to have lunch right?
Jumping off the Hop-On-Hop-Off bus around noon, we walked to the market and enjoyed some of the freshest, most delicious seafood any of us had ever tasted. Being ocean-loving folk who live on an archipelago comprised of 7,107 islands, you know that's saying a lot. 😉
The Sydney Fish Market, with the Sydney Seafood School on the second floor. With over 13,000 guests attending classes every year, the Sydney Seafood School is Australia's leading cooking school.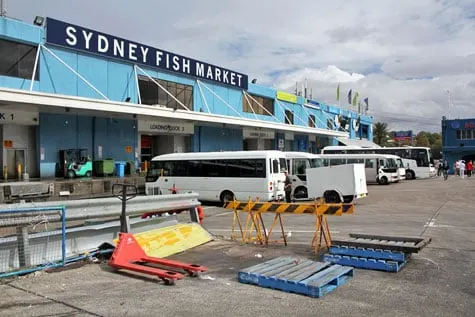 As with pretty much everything in Sydney, the prices here were through the roof. I'll list the peso equivalent next to all the Australian prices so you don't have to peform any mental matematics.
Tenderized Baby Octopus – AUD 17.99/kilo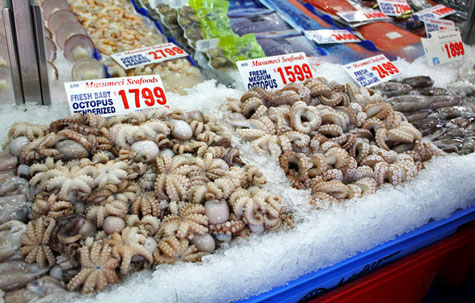 Whole Coral Trout – AUD 28.99/kilo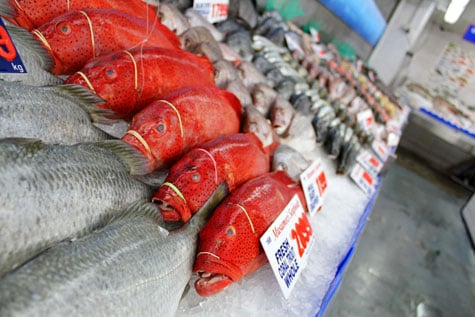 Bacalao – AUD 19.99/kilo – According to Ren, the price of the bacalao wasn't too bad.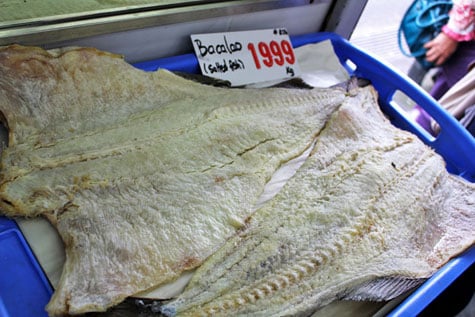 Cooked Lobster – AUD 59.90/kilo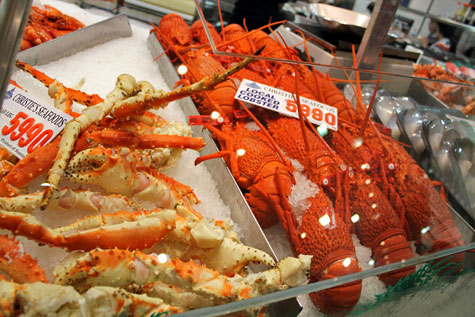 Loligo Squid – AUD 11.99/kilo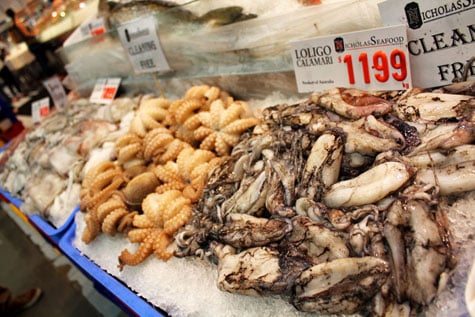 King Crab Clusters – AUD 49.95/kilo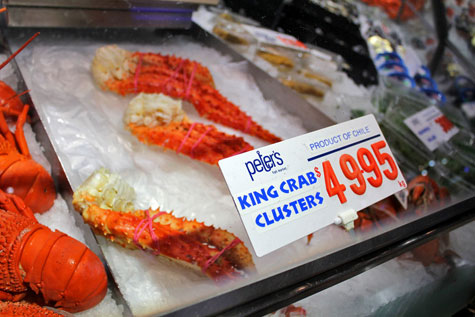 Green Blue Swimmer Crabs – AUD 19.99/kilo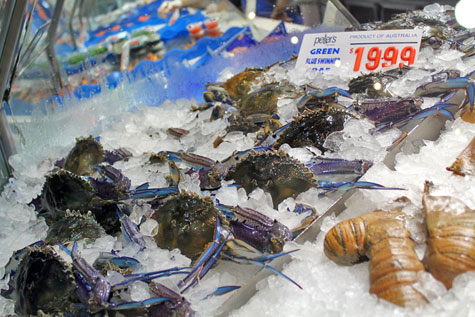 Large Rock Oysters – AUD 16/dozen – Though definitely a lot more than what you'd pay in the Philippines for oysters, I didn't think these were too bad. Among my favorite foods, I would have loved to try some of Sydney's oysters as I heard (after our trip) that they're very good.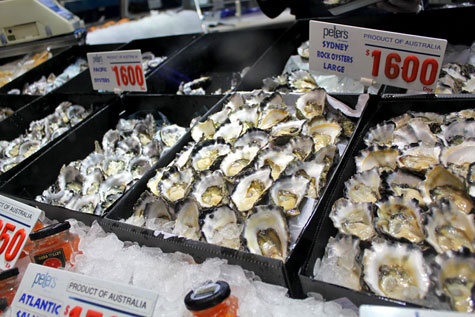 Eastern Rock Lobster – AUD 69.95/kilo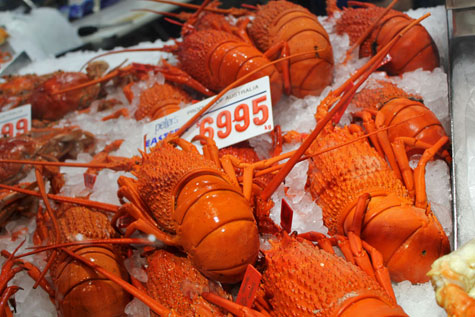 Whole Snapper – AUD 9.99/kilo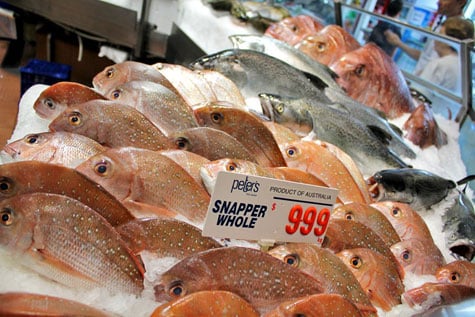 Salmon sinigang anyone?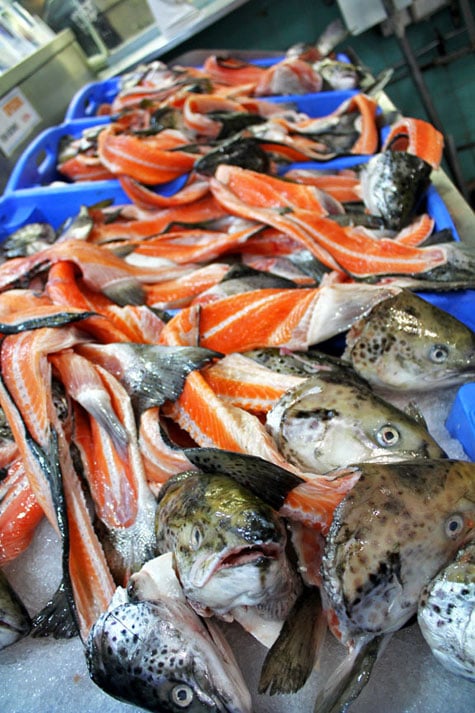 The many exciting Australian food stalls selling fresh seafood for lunch. We walked by a table of Chinese customers who were visibly enjoying their meal so much that they looked like they were literally INHALING their food. A very encouraging sight indeed.
Ren and I wound up having sushi and soft shell crab for lunch, both of which were among the best that we had ever tried. In fact, it's been a small dream of mine to feast on sushi at the Tsukiji Fish Market one day. This wasn't Japan, but it was close enough. Absolutely dee-licious.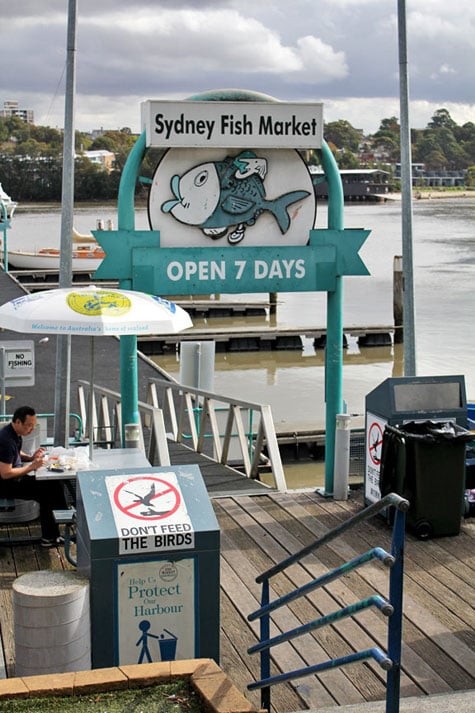 Outdoor harborside seating area with a view of Anzac Bridge.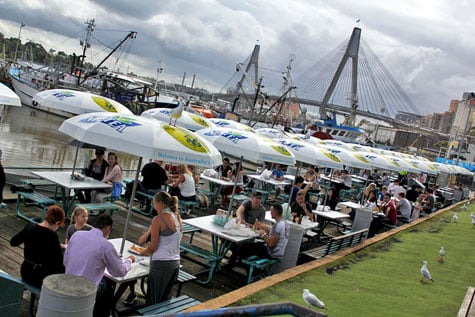 Classic. Can't read lady? 😆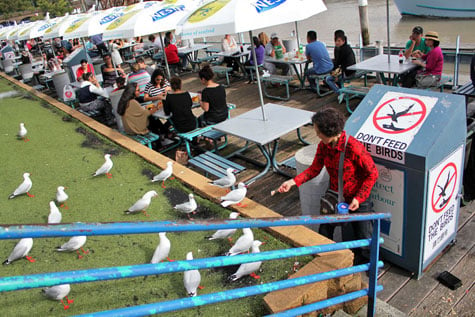 Obviosuly, there was lots more to see at the market but the weather wasn't great that day. We were in a rush to eat as quickly as we could and get back to the bus stop before the rain started coming down again. It's good that we did since it really did start pouring shortly after.
If you love seafood or even just food in general, then the Fish Market is a must visit on any trip to Sydney. It's a large complex with many fine seafood restaurants and stalls to choose from. As mentioned up top, the Hop-On-Hop-Off bus stops fairly close to the market, so you can time your trip and get off here for lunch or dinner, then get back on the bus when you're done.
For more information and directions on how to get here, please visit their website. For anyone interested, there's an interesting section under the Seafood School tab that provides advice on seafood purchasing, storage, cooking, and recipes, as well as general information on a wide variety of seafood species.
More on Sydney
Opera House and Harbour Bridge, Sydney, Australia
Blue Mountains, New South Wales, Australia
Bondi Beach, Sydney, Australia
Sydney Aquarium, Darling Harbour, Australia
Taronga Zoo, Sydney, Australia
Birthday Bush Tucker Dinner at Wolfies, Sydney, Australia
Featherdale Wildlife Park, Sydney, Australia
Powerhouse Museum, Sydney, Australia
Oporto, Sydney, Australia