Balaw Balaw Specialty Restaurant & Art Gallery is located at 16 Doña Justa Subdivision, Phase I, Manila East Highway, Angono, Rizal. Tel: 651-0110. Mobile: 0923-714-4209.
Ren and I LOVE new food experiences. We're both adventurous in that regard. In fact, Ren frequently recalls with much fondness the advice her grandfather used to give them as children – "Try everything once." Sage advice indeed and one that I can readily identify with.
During all our travels, Ren and I often shun frou-frou touristy food in favor of much more interesting street eats. Actively seeking out local delicacies, we've been fortunate to discover exotic fare such as tamilok in Palawan, bebek betutu in Indonesia, mountain ant larvae in Ilocos Sur, and bush tucker in Australia, just to recount a few. We're going to Siem Reap in Cambodia this December, so you can be sure that we'll be searching out bizarre foods there as well. I've read that they do a mean fruit bat soup. 😉
Having heard so much about the bizarre Filipino dishes at Balaw Balaw like soup no. 5, uok, and kamaro, we made the decision not to order anything that wasn't in the exotic section of their menu. With 1,500 pesos worth of Groupon voucher to "try everything once," you didn't think that we'd drive all the way to Angono, Rizal just to order a plate of liempo did you? 😉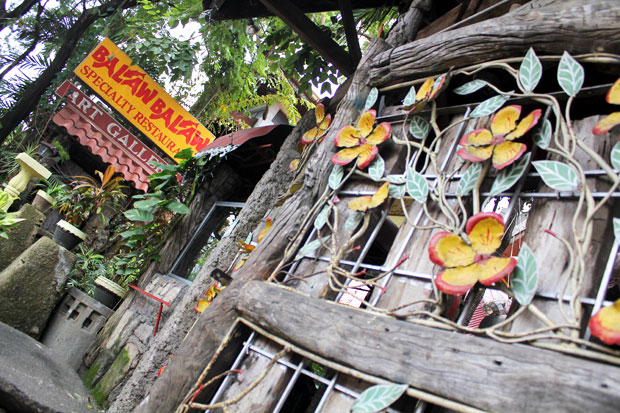 Masks are all the rage here at Balaw Balaw.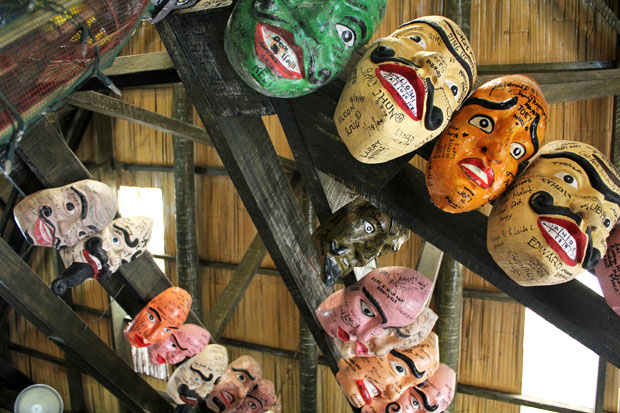 Just look at how people vandalized and defiled all those beautiful masks. Have they no respect?! Kidding. 😉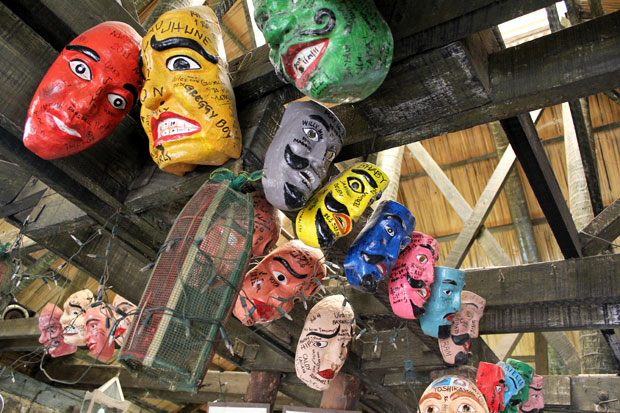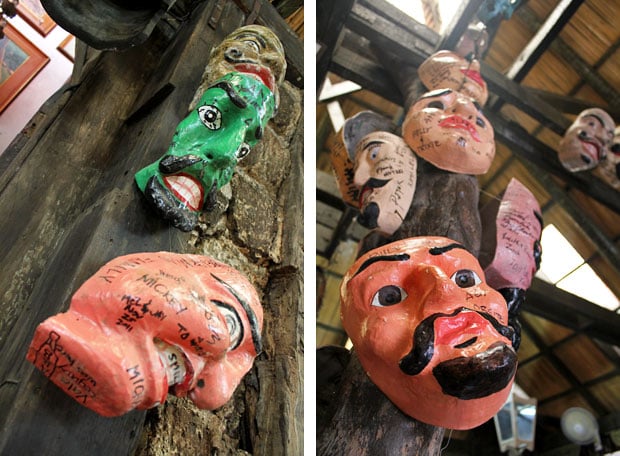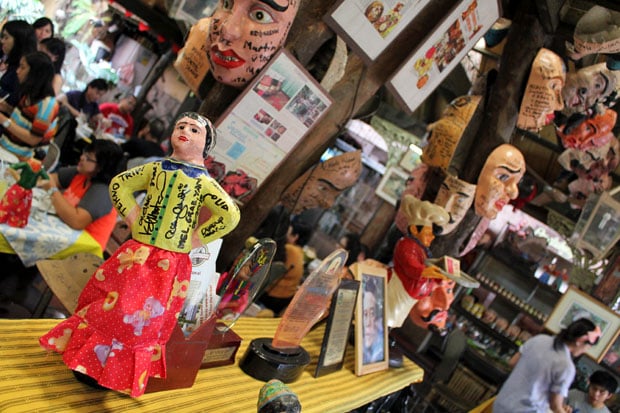 There's manong handpainting his papier mache creations way up top on the third floor, away from all those snap-happy wannabes with DSLRs. Wait… 😆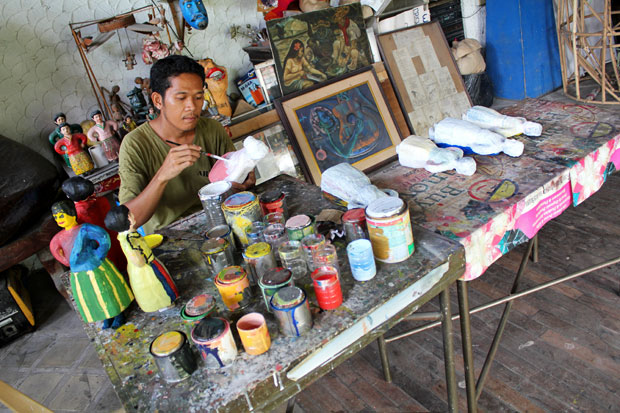 Sizzling Butt and Balls – PHP 235 – Butt and balls of beef cooked as adobo.
The sizzling version of the infamous Soup No. 5, a delightful and decidedly exotic concoction made from a bull's gluteus maximus and testes. Cooked in adobo sauce and served on a sizzling plate, it had that same lightly gummy, gelatinous texture as beef cheeks that I love. This was easily my favorite dish of the day and probably the only thing that I'd order again.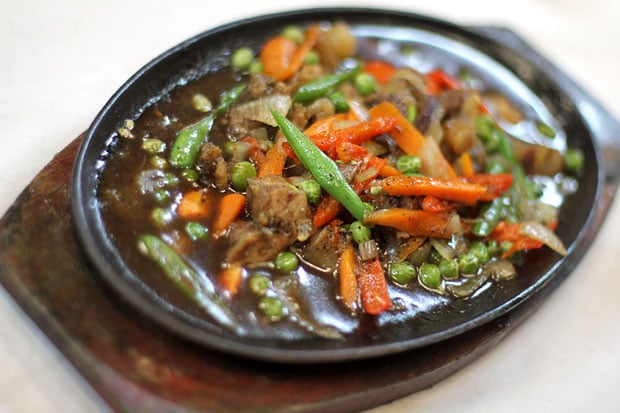 Crispy Alagaw Leaves – PHP 125 – herbal mint leaves dipped in butter and deep fried.
This was nice, very similar to crispy kangkong. Ren said that she got a hint of the mint flavor at the back of her palate. Probably way, way, way back because I couldn't detect it myself. What I did find however was its oiliness, which proved a little much for me. Yecch.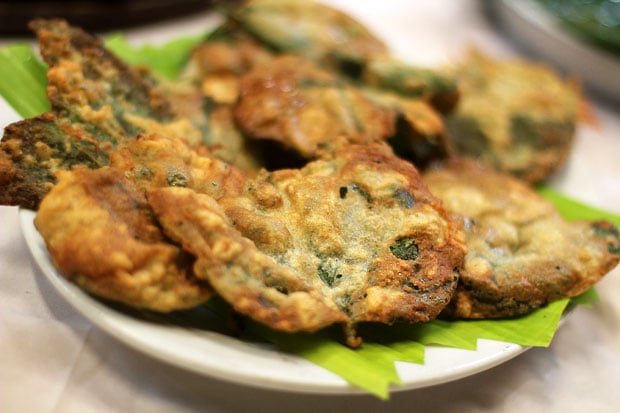 Tapang Baboy Damo – PHP 250 – Cured dried wild boar.
Distinctly gamey and a little tough, as expected. Between this and the cured venison below, which is uniquely gamey in its own right, I preferred this one, though I probably wouldn't order it again. Not because I didn't like its gaminess, but because I found it too tough! In any case, if you don't like gamey food, then I suggest you steer clear from both.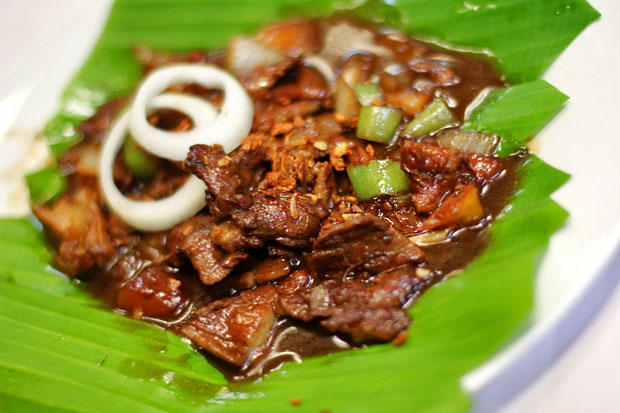 Tapang Usa – PHP 250 – Cured venison.
Nearly indistinguishable from the cured wild boar above, except drier and a little different in its gaminess. None of us really liked either one.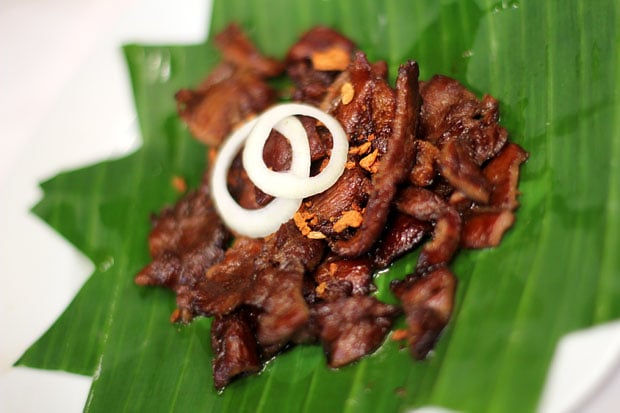 Kamaro – PHP 300 – Field crickets cooked in garlic and spices.
Unlike Abe which serves just the abdomens, these included the heads and legs, making them a little harder to eat, especially for Ren's cousin Sep. Extremely hesitant with this being his first time trying crickets, I advised him to close his eyes and pretend they were just fried cockroaches. 😆
Crunchy in texture with an adobo-like flavor, these are quite good and make great pulutan (bar chow), provided you can get past the initial aversion to eating insects. Like all bugs, they're high in protein and low in fat, so would make a great, healthy, sustainable food source. More on that later.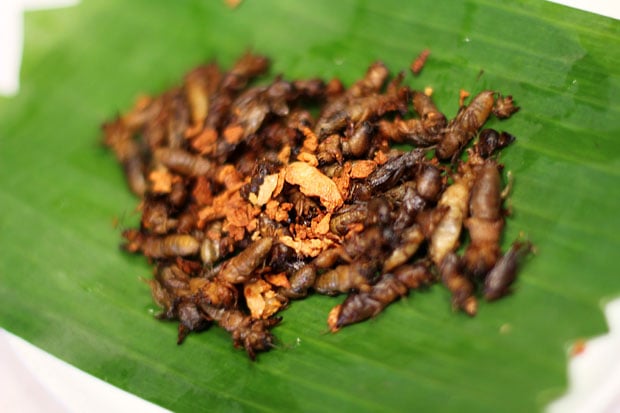 Ginisang Balaw Balaw sa Baboy at Talong – PHP 170 – Fermented shrimp sauteed with pork and eggplant.
Apart from the garlic fried rice below, this was the only thing we ordered today that wasn't on their exotics menu. The place was named after this dish after all, so we thought we should try it. "Balaw Balaw" is just another name for "Buro", which is fermented shrimp paste. With that distinctly pinkish, salmon-y color, Balaw Balaw's version is good but very sharp-tasting, so it would probably be best tempered with some rice.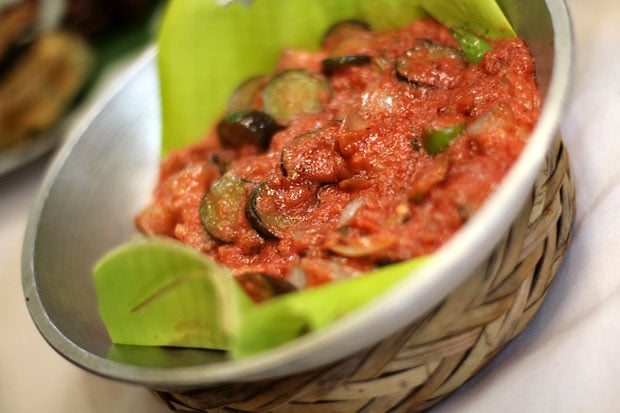 Garlic Fried Rice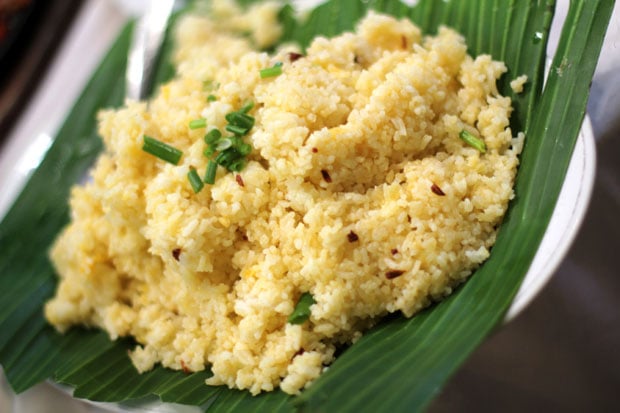 The exceedingly popular "Minaluto", which most people order. Similar to those "boodles", it's basically a banana-leaf lined bilao (panner) with mussels, shrimp, kangkong, fried adobo, fish, and salted eggs strewn about on a molehill of rice. I remember seeing several kinds on their menu, so you can probably choose different combinations and amounts to suit your group. These were the minaluto remains from the table next to ours.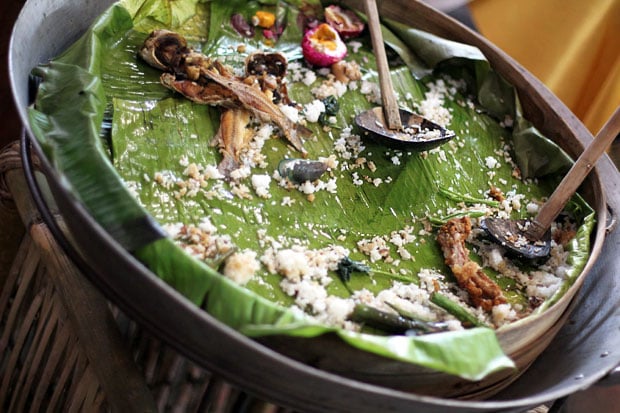 A few take-home goodies like their famous Balaw Balaw and papier mache masks.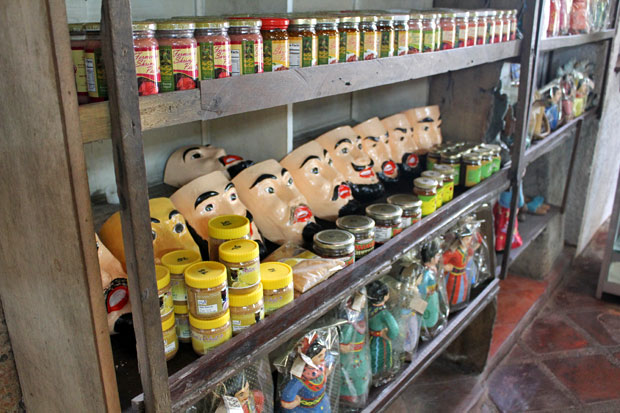 Crapnabbit. The one thing that we all really wanted to try wasn't available today, which was uok or beetle larvae. Collected from felled coconut trees, they're either cooked as adobo or steamed in tamarind fruit and tomatoes like snails. Oh well.
Speaking of insects as a food source, I've been really curious about the possibilities ever since I saw an episode of Bizarre Foods set in San Francisco. This artist couple would farm insects like crickets, superwoms, and mealworms in their backyard, then incorporate them into fritters, omelettes, tempura, you name it. I fucking adore San Francisco. So many open-minded, artistic, socially responsible people.
As mentioned above, insects are high in protein, low in fat, inexpensive, easy to cultivate, don't need much space, and highly sustainable. With all those positives, it almost seems irresponsible not to give it a shot, which is why I ordered the Eat-a-bug Cookbook by David George Gordon from Amazon. I keep pet lizards that feed on these insects, so I already care for a variety of bugs like superworms, mealworms, crickets, and different types of flightless roaches. It only makes sense for me to go one step further and start farming them for ourselves, beginning with the superworms. Lucky for me, I have an amazing wife who's not only open to the idea, but embraces it as well. ♥
In about two weeks' time, I'll be going to Cartimar to replenish my stock of superworms, except this time I'll be buying a bunch not just for my pets, but for Ren and I as well. I'll be sure to post my progress on this blog and share with you all the delectable dishes I come up with.
JB-licious recipes anyone? 😉