Breakfast at Antonio's is located at Bgy. Neogan, Tagaytay City, Cavite. Mobile: (0918) 899-2866.
Though we've enjoyed many breakfasts here, it's been several years since our last visit. Nearly a decade between Antonio's breakfasts, it's good to see that their food has essentially remained the same. I even ordered my favorite chorizo rösti.
Despite the food tasting exactly the way I remember it to be, today's experience was entirely different. No longer situated along the main road in Tagaytay, Breakfast at Antonio's, for several years now, has been tucked away within the Antonio's Farm compound, in a building next to the main restaurant. Gone is the ultramodern, minimalist, all-white with green astroturf venue overlooking picturesque Taal Lake and Volcano.
I miss that place. 🙁
Though the lush, but stuffier hacienda-like atmosphere of the present location makes for a wonderful breakfast setting, it culminates in an experience that's starkly different from the original. The food may be the same, but it tastes a little less enjoyable here, at least for me. This seemingly insignificant, non-palate related change reminds me of something that Anthony Bourdain likes to say, whenever he's barbarously feasting on surf and turf on a remote island somewhere, with sand caught between his toes:
"Food tastes better with your shoes off."
Thinking back on the many times that I've enjoyed this familiar plate of chorizo rösti, gazing out onto scenic Taal Lake between bites with the synthetic, but strangely soothing feel of astroturf beneath my feet, I would have to agree.
Corned Beef with Gruyere Super Omelette – PHP 400 – 3 eggs omelette with house potato and panini
A man-sized omelette made with three eggs, it's pricey at PHP 400, but would make a hearty breakfast for anyone. The corned beef was just terrific. More than likely homemade, it was tender, moist, mildly pickled in flavor, and ever so slightly briny. The house potato and panini were delicious as well. I adore Antonio's bread.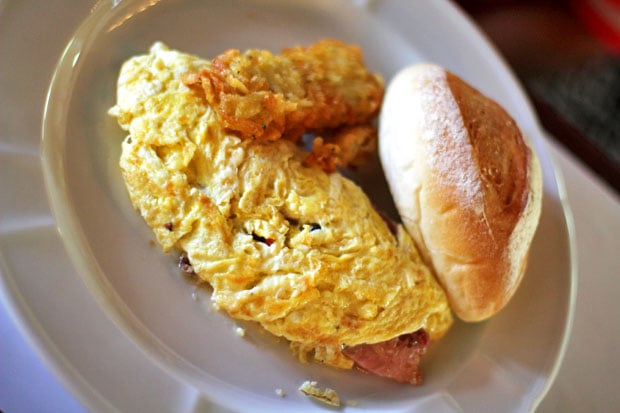 Chorizo Rösti – PHP 385 – Crisp potato pancake served with panini
My favorite breakfast dish at Antonio's. If you've never had rösti before, it's a Swiss pancake made with coarsely grated potato, either cooked or raw. Crunchy and starchy, on it are generous chunks of earthy, pimenton-seasoned chorizo, slivers of crisp, sweet, green and red bell peppers, and a rich, perfectly runny, fried egg. Again, a little pricey at PHP 385, but a satisfying and filling breakfast.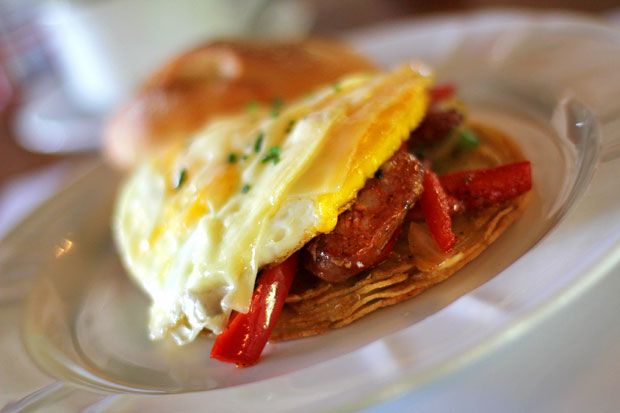 It's worth mentioning that before we turned right off the main road and began the labyrinthine drive towards the farm, we spotted a sign that read "Breakfast at Antonio's, Soon to Open." Hmmm, does this mean then that they'll be relocating to the original venue? I hope so. But regardless of where this new location will be, here's to wishing that it comes with a killer view, and a familiar, pleasantly prickly, patch of astroturf. 😉
UPDATE (24 January 2013): Breakfast at Antonio's is indeed back at its original location, along the main road in Tagaytay and overlooking Taal Volcano. Don't quote me on this, but rumor has it that they were only leasing the space and were asked to vacate when the owner of the property came back to the Philippines after living overseas. The owner however, never did anything with the space, eventually allowing Breakfast at Antonio's to come back. Coolness! 😀