Oporto is an Australian fast food chain famous for their chicken burgers and grilled chicken. CLICK HERE to visit their website.
Founded by Portuguese national Antonio Cerqueira, Oporto is a Portuguese-style chicken restaurant that first opened along Sydney's famous Bondi Beach in 1986. Well-received for its unique, traditional chili sauce known as "Bondi sauce", they've since become one of Australia's most popular fast food chains with a total of 140 outlets and counting to their credit. A quick Google search told me that Oporto is a major urban area in Southern Europe and the second-largest city in Portugal after Lisbon.
When Ren and I first spotted this branch during our recent trip to Sydney, I was instantly reminded of the O'pollo chicken burger restaurant that once stood in front of St. Luke's Hospital in Quezon City.* Guessing that Oporto may have been the inspiration for O'pollo (fair assumption, right?), Ren and I decided to have dinner here one night to see if that was indeed the case.
*No longer located there, I'm not sure whether they've moved to a new location or closed shop permanently. In all fairness, that spot in front of St. Luke's appears to be cursed. Many restaurants have opened there, including established brands like Pizza Hut, without much success.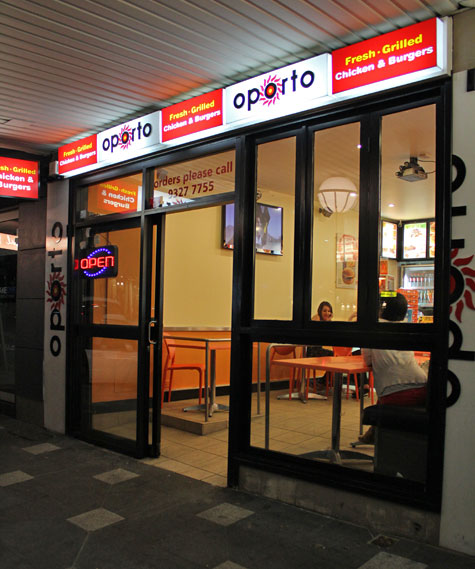 Bondi Burger – AUD 4.98 – Fresh-grilled 100% chicken breast fillet with cheese, lettuce, and legendary Bondi chili sauce.
This was pretty good, as far as chicken burgers go. The chicken fillet was moist and juicy while the Bondi chili sauce was flavorful and just mildly spicy. I'm much more of a beef burger person though, so in all likelihood won't be ordering these chicken burgers too often given the choice.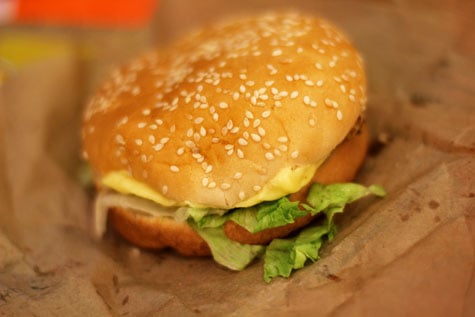 So how similar was O'pollo to Oporto?
Both serve grilled chicken. Both serve chicken burgers with chili sauce. Both have three-syllable names beginning with the letter "O". 😕
The similarities, however, end there.
A double fillet chicken burger meal at O'pollo with fries and a drink went for just PHP 159. At Oporto? A single fillet a la carte sandwich (no fries nor drink) went for a whopping 210 when converted to pesos.
Where it matters most to us bargain-hunting Pinoys, I guess they're not too similar after all, eh mate? 😆
More on Sydney
Opera House and Harbour Bridge, Sydney, Australia
Blue Mountains, New South Wales, Australia
Powerhouse Museum, Sydney, Australia
Sydney Fish Market, Australia
Sydney Aquarium, Darling Harbour, Australia
Taronga Zoo, Sydney, Australia
Birthday Bush Tucker Dinner at Wolfies, Sydney, Australia
Featherdale Wildlife Park, Sydney, Australia
Bondi Beach, Sydney, Australia