Wolfies is located at 17 – 21 Circular Quay West, The Rocks, Sydney NSW 2000. Tel: +61 2 9247 3666.
Being adventurous eaters, what really gets Ren and I excited about a trip is the food. We want to experience as much of the local indigenous cuisine as we can. With this continent being home to aboriginals for some 40,000-60,000 years, local cuisine in the strictest sense meant bush food, or "bush tucker" as its commonly known in Australia.
A unique hunter / gatherer diet, bush tucker is drawn from regional Australian flora and fauna, which includes kangaroo, emu, and crocodile. Not exotic enough for you? How about a plate of goanna or witchetty grubs? A bit more interesting than modern British staples like meat pies and fish n' chips I'd say.
With this holiday being a relatively short family trip to attend my sister's wedding, we didn't have time to really delve into the local food culture and seek out places that served these exotic delicacies, so we had to settle for the most well-known and easily accessible of them all, the kangaroo.
Tonight being Ren's birthday dinner, this was as good a time as any to splurge a little and get a taste of bush tucker at a beautiful restaurant situated in the most historic and iconic area of Sydney, The Rocks. Interesting Australian food, fine wine, and a killer view to match. Not a bad way to spend your birthday eh? 😉
Seated along the perimeter wall of the open-air restaurant, we had an unobstructed view of the Sydney Opera House and Harbour Bridge. (pictures at bottom)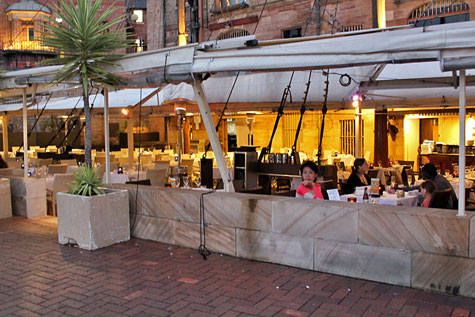 Char Grilled Octopus – AUD 22 – With chorizo sausage, crisp potato, and chili dressing.
This octopus with chorizo salad was unequivocally delicious and the best octopus dish, outside of a Korean restaurant, that I've ever enjoyed in my life. It was succulent and very tender, not at all tough and rubbery as poorly prepared octopus can sometimes be.
The chorizo was a great addition as it imparted robust smoky-earthy flavors to complement the more delicate taste and texture of the octopus. The rocket (arugula) was crisp and peppery, the potatoes were soft, and the chili dressing added a touch of spice and mild heat to finish the dish.
Easily my favorite dish of the evening, this salad was absolutely dee-licious and (almost) worth its steep menu price. PHP 976 for a frikking salad?!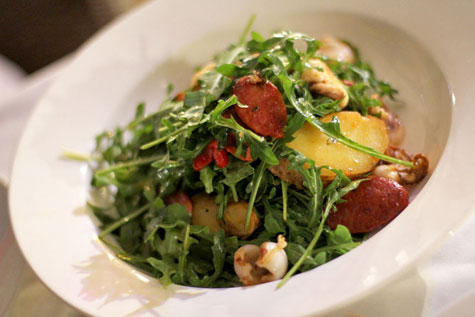 Pork & Taleggio Pizza – AUD 27 – Slow roasted shredded pork belly, taleggio, lemon thyme, and rocket.
Funny how even in Australia, Ren and I still wind up ordering liempo (pork belly). 😆
Though we've been eating pork belly all our lives, this was the first time that we ever tried it on a pizza. It makes perfect sense and sounds great in theory, but like sisig pizza, the combination just didn't pan out for me.
On its own, the pizza was fantastic. The thin crust was chewy and crisp in parts, the arugula was nice and peppery, and the taleggio had a strong, pungent flavor that reminded me of blue cheese. I just didn't think that the pork belly went well with the tomato sauce and cheese, plus it imparted a stringy, somewhat dry sensation and texture that I didn't much care for.
With that said though, it's worth mentioning that Ren didn't have as much of a problem with the pork belly as I did, so my aversion to it may just have been a case of personal preference.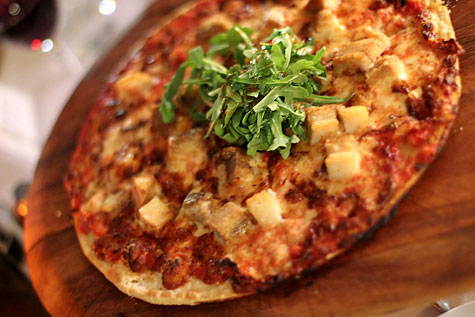 Mixed Grill – AUD 48 – Kangaroo steak, petite beef tenderloin, lamb rump, ribs, and sausage. Served with potato, slow roasted tomato, vegemite butter, and red wine jus.
And just when I had resigned myself to the likelihood that we weren't going to get a taste of kangaroo on this trip, here we finally get to try it on our very last meal in Australia. Things always seem to work out in the end, don't they? 😉
When the plate arrived, we couldn't initially distinguish the kangaroo from the beef. They looked almost identical. It was only after we tasted both that we could finally tell them apart. Similar in taste and texture, you could tell it was kangaroo only by its gaminess, which I very much enjoyed. It was lean and delicious, maybe even better-tasting than beef. Beef can sometimes be bland when underseasoned, which is why I appreciate the gamey flavors of proteins like lamb and venison.
Though delicious, everything else on the plate was somewhat of an afterthought for me, as we ordered this really for the experience of tasting kangaroo for the first and probably only time in our lives. If I were to have any complaints, it would be that the proteins, which we requested medium rare, were all a tad overcooked. Despite that however, this was a great plate of food that did not disappoint.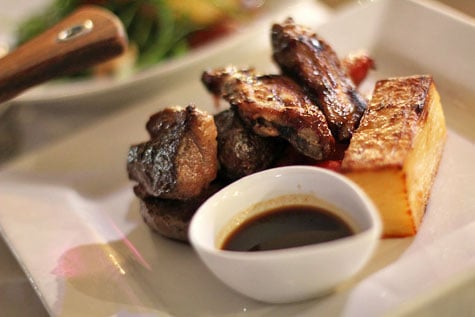 A toast to my gorgeous wife Renee and a lifetime of culinary and travel adventures. Happy happy birthday sweetheart! I love you much! ♥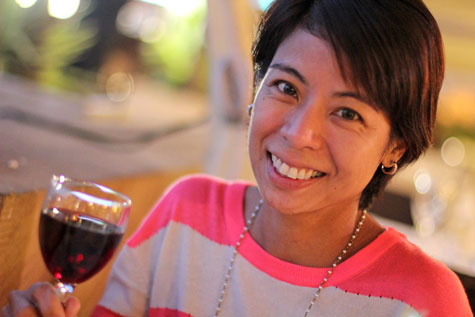 James Squire Four Wives Pilsner – AUD 8
Since I'm not a wine drinker, I had a bottle of Australian pilsner instead. PHP 355 is a few tax brackets up from our PHP 35 bottles of San Mig Light back home, so I was confined to this one bottle instead of my usual five or six. 😆 On the bright side, it momentarily bequethed me the illusion of refinement as I was forced to sip instead of chug.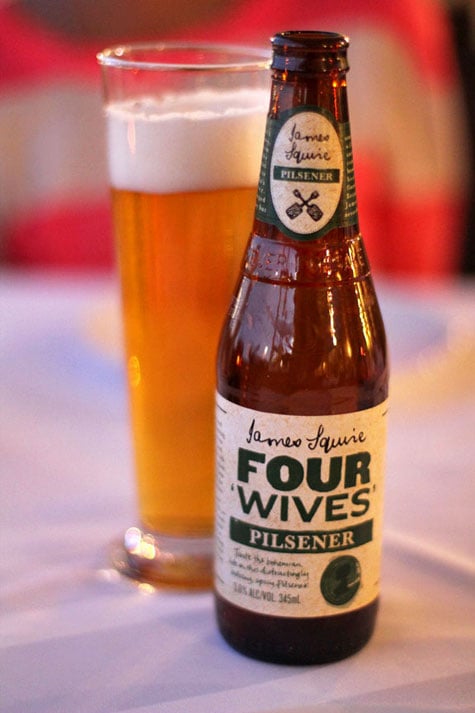 Our View
Can you really ask for a better view than this? The best sunset I've seen in a long time, watching the clouds behind the Opera House turn from a rich, golden orange to a watercolor-like pale blue to a deep indigo and then finally to black made for a most magical dining experience.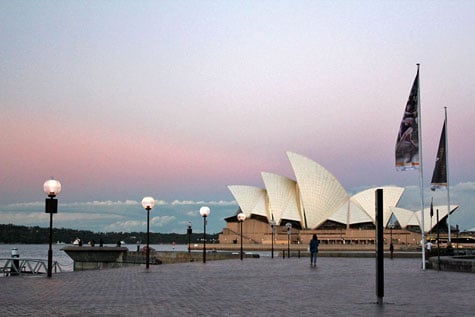 My camera set to take longer exposures, the streaks of light that you see on the three images below were from passing ferries. Pretty cool, huh?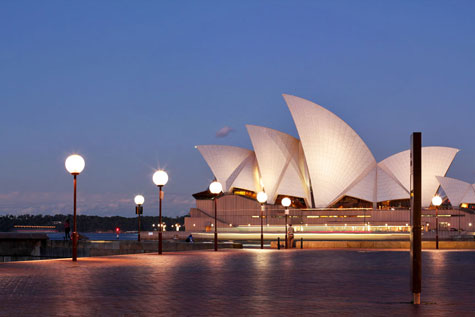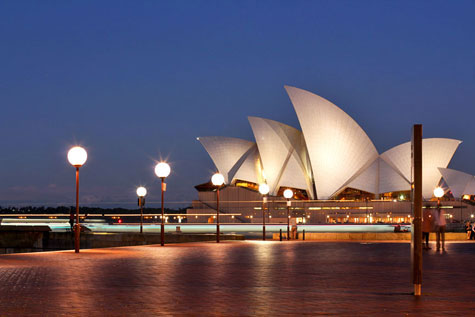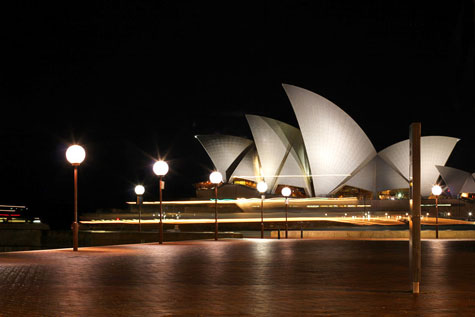 In my opinion, the Harbour Bridge is at its most spectacular at night.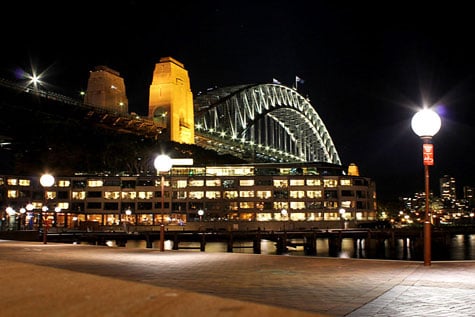 Though we didn't get to try as much bush tucker as we would have liked, I left feeling satisifed nonetheless. The kangaroo was great and something I'd like to eat on a regular basis if only we had access to it.
They were selling it at the supermarket in fillet and ground form at around AUD 18 per kilo if I remember correctly. Like everything else in Sydney, it's pricey, but considering that this is probably the only place in the world where you can get it, I gladly would have brought some home had it only come vacuum-sealed for the trip.
Oh well. At least we got to try some here.
More on Sydney
Opera House and Harbour Bridge, Sydney, Australia
Blue Mountains, New South Wales, Australia
Bondi Beach, Sydney, Australia
Taronga Zoo, Sydney, Australia
Featherdale Wildlife Park, Sydney, Australia
Sydney Aquarium, Darling Harbour, Australia
Sydney Fish Market, Australia
Powerhouse Museum, Sydney, Australia
Oporto, Sydney, Australia