On Tasting the World's Best Xiao Long Bao at Din Tai Fung in Taipei
I don't remember the first time I ever tried xiao long bao, but I do remember the first time I heard about it.
"Zhaawww looong bhaawww." That's exactly how my friend Brian from Milwaukee would say it — long and drawn out with an exaggerated Midwestern twang. Kinda like he had a hot dumpling in his mouth.
"When you gonna take us out for some zhaawww looong bhaawww Fei dogg?", he would joke with our Taiwanese friend Pat.
I love dimsum but I had never heard of (let alone tasted) this enigma called xiao long bao. How exotic sounding this zhaawww looong bhaawww. In spite of the murdered pronunciation, I became intrigued with the concept. Pork dumplings filled with hot soup? What sorcery was that?!
Not too common in the US back then, Pat never did take us out for some zhaawww looong bhaawww, but I've been ordering and loving it at dimsum restaurants ever since. Today, at the famed Din Tai Fung chain in Taipei, it was time to try what many argued to be the Bruce Lee of xiao long baos.
Immensely popular, the Taipei 101 branch gets very crowded so arrive early if you can. This was the line around 30 minutes to opening. They have their system down pat though so despite the mass of diners, the line moves pretty quickly.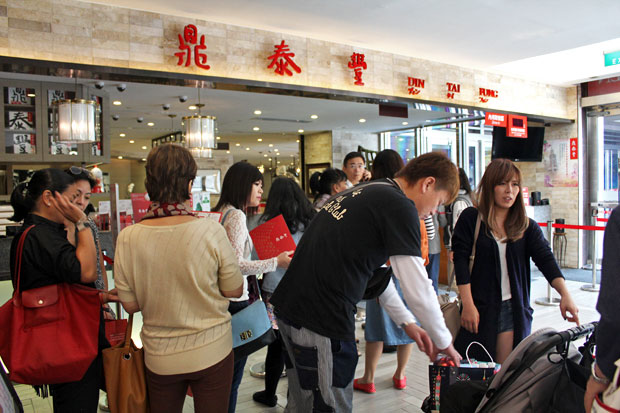 Stewed Spongy Gluten (Kao Fu) – NT$ 90
My sister lives in Shanghai so she did most of the ordering. I don't know what this sweet spongy gluten is, but it was good. It was sweet and spongy.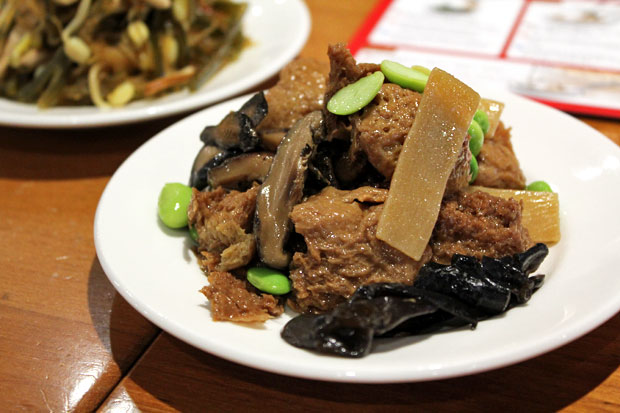 Din Tai Fung House Special – NT$ 65
This was good too. Nice crunchy texture and a little spicy.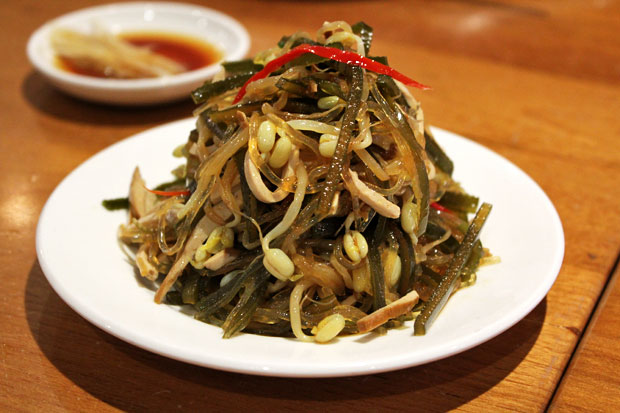 Stir-fried Pea Shoots with Shrimp – NT$ 540
This was really good. I don't think I've ever had pea shoots before. They were crunchy and tasted very fresh.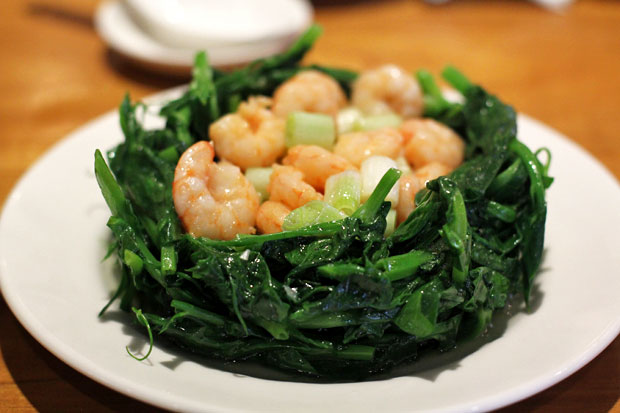 Crab Roe & Pork Xiao Long Bao – NT$ 340, 10 pcs / NT$ 170, 5 pcs
And at last, the famed xiao long bao. Aren't they gorgeous? Though the most popular verison is made with just pork, we had to get ours with crab roe. Can you blame us? 🙂
I haven't eaten too many xiao long baos in my life, but these were by far the best. So delicate and delicious and worthy of all the hype. The secret, many say, lies in the wrapper. Din Tai Fung's are the thinnest of the thin.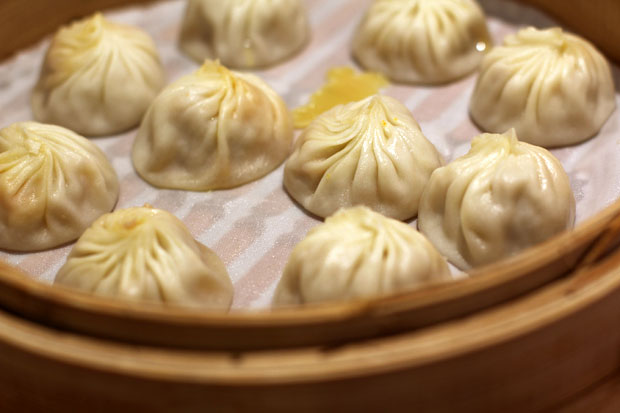 Truffle & Pork Xiao Long Bao – NT$ 450, 5 pcs
East meets west — pork xiao long bao made with truffle. I was skeptical at first about how much truffle they actually put in there, but one whiff tells you that they put a lot. It was ebullient with truffle flavor and aroma. Really, really good.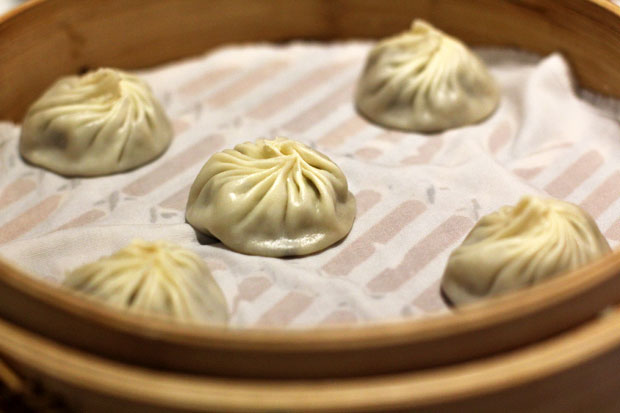 Steamed Taro Xiao Long Bao – NT$ 170, 10 pcs / NT$ 85, 5 pcs
Dessert dumplings filled with taro.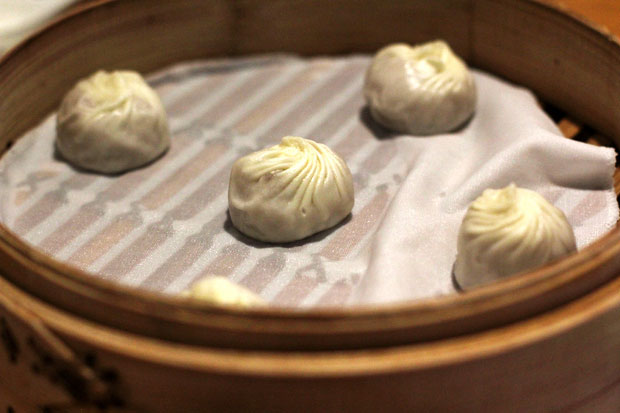 The proper way to eat xiao long bao: 1) Pick up dumpling with chopsticks; 2) Dip into sauce and place on spoon; 3) Pierce skin and slurp out soup before eating; 4) Make yummy faces.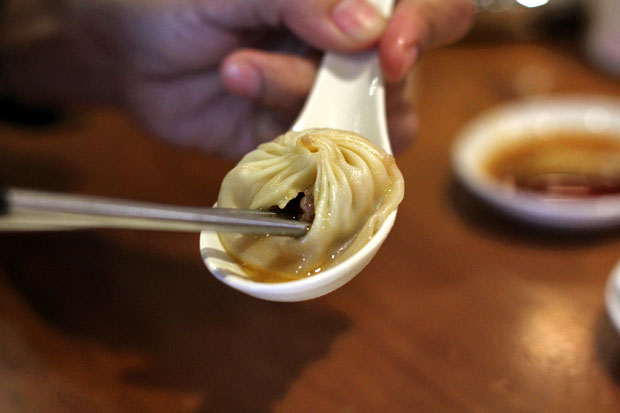 The Din Tai Fung elves (or Oompa Loompas) toiling away in the lab. It reminded me of that laboratory scene in Jurassic Park, except here they were hatching dumplings, not dinosaurs.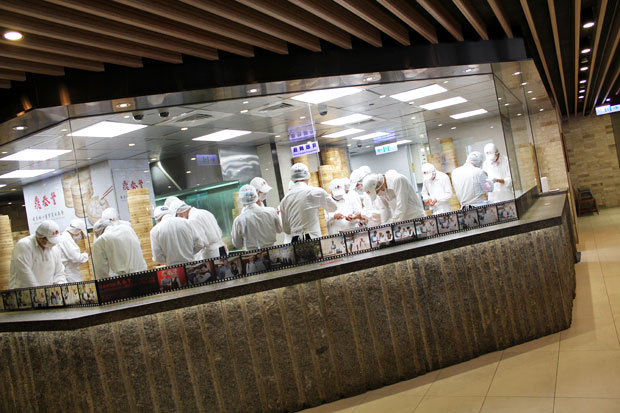 It's amazing how quickly they churn these things out.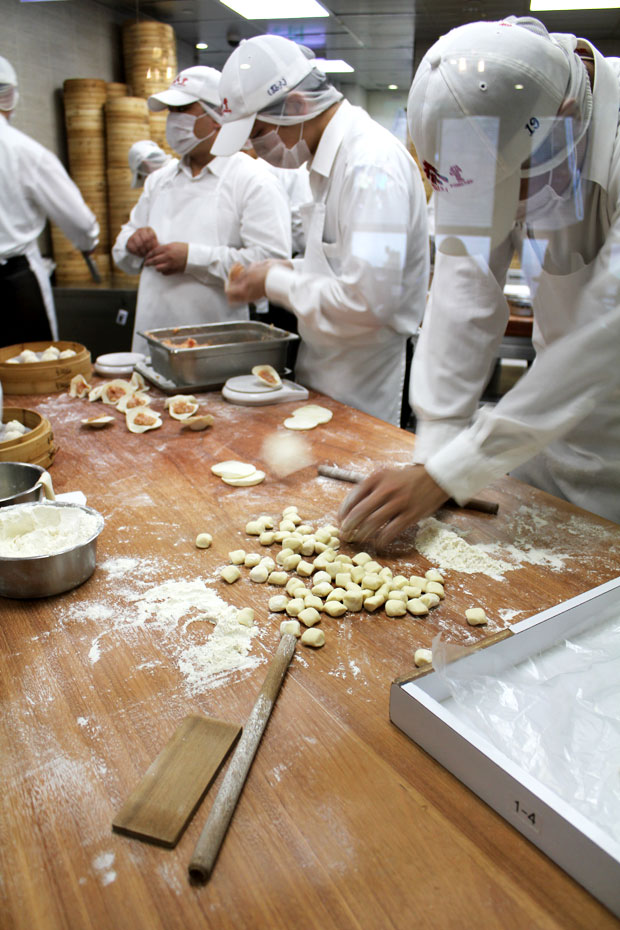 Rolling out the circles of dough to make that perfect thin skin. A study in precision, Din Tai Fung's xiao long baos have 18 pleats apiece and weigh exactly 21 grams before steaming. I think obsessive-compulsive disorder is a plus here.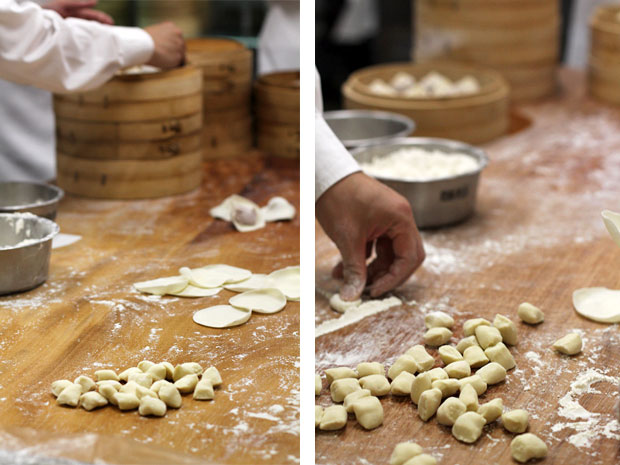 And voila! Another batch of perfectly made xiao long baos ready for the steamer.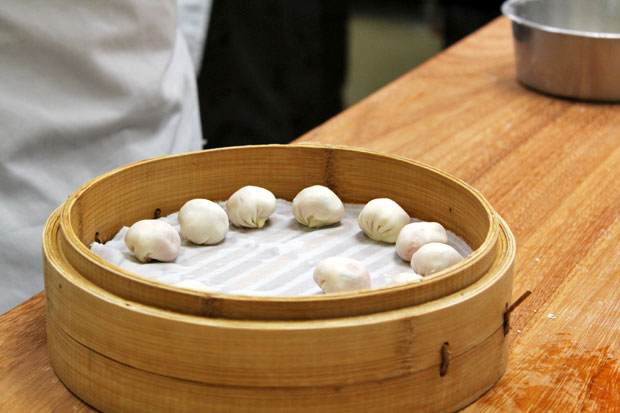 Check out these guys. Set up by the entrance on a small pedestal behind velvet ropes, these two elves were busy making Din Tai Fung chopsticks! I guess people like buying them as souvenirs?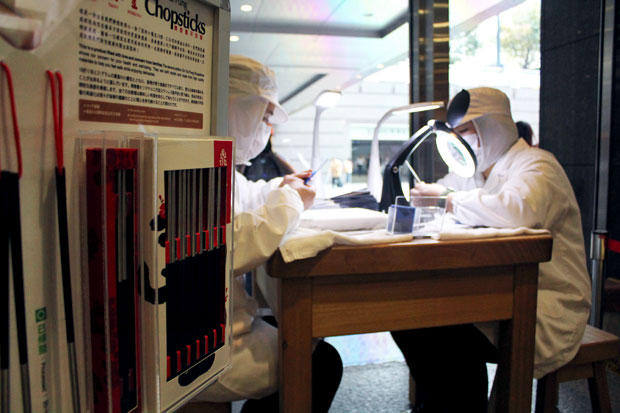 Needless to say, if you like dimsum and have never tried a Din Tai Fung xiao long bao, then this is defintitely a must visit in Taipei. Though now an international chain with branches all over Asia, the US, and Australia, nothing beats getting it in Taiwan. This is its home, so the xiao long baos here will always be the best.
Going back to Brian and Pat, I remember one exchange that still gets me laughing to this day. I don't know how to spell it, but Pat's name in Chinese sounds like "Tsing Hee". We were in a theater once about to watch a movie when my sister asked him what his name meant. Before he could answer, Brian said:
"It means 'Little Teapot' ".
I was ready to burst out laughing when Pat retorted:
"No, it means 'White Man Killah' ".
I nearly died. Best fucking comeback ever. 😆
Din Tai Fung, Taipei 101
B1, No. 45, Shifu Rd., Taipei 101 Mall, Taipei City, Taiwan, ROC
Tel: +866 2 8101 7799
Fax: +866 2 8101 7800
Website: dintaifung.com.tw
Hours of Operation: Sun-Thurs, 11AM-9:30PM / Fri, Sat, Day before Holiday, 11AM-10PM
Expect to spend: NT$ 500 per person with drinks
Reservations: Not required, but it's recommended that you go early
HOW TO GET THERE:
By subway, get off at Taipei 101 World Trade Center MRT station. Look for exit 4. Soon as you exit, you'll see Din Tai Fung on your right at the basement level of Taipei 101 Mall.
JB is one half of Will Fly for Food and its chief itinerary maker.  He's the one to blame for all the crappy photos and verbal diarrhea on this blog.  Don't listen to him.
Latest posts by JB Macatulad (see all)