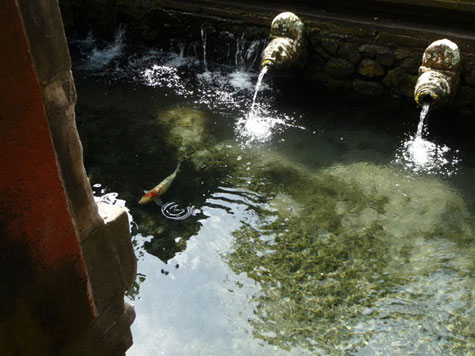 NOTICE: Some of our articles contain affiliate links. The ones that do will have a disclosure statement at the bottom. You can refer to our privacy policy and terms of use for more information.
Ren and I enjoy hiking and don't really care much for the beach. So when we decided to celebrate our 5th year wedding anniversary in Bali, it was a no brainer for us to stay in the more mountainous, inland town of Ubud. It proved to be a perfect choice as it provided the calm, serene atmosphere we were looking for. Lush greens abounded, art galleries lined the narrow curvy streets, local warungs (restaurants) serving delicious Indonesian and Western food were all around. Ubud reminded me of a more rustic, Asian version of Carmel, CA. We fell in love with it instantly. 🙂
Here are some pictures from our week-long adventure.
Ubud Bungalows
Our home for one week. What a great place to stay and highly recommended to anyone who visits Ubud. Instead of typical hotel rooms, you'll be treated instead to these gorgeous little stand alone bungalows surrounded by lush greenery. We stayed in the airconditioned honeymoon cottage 😉 which went for USD 40/night inclusive of breakfast.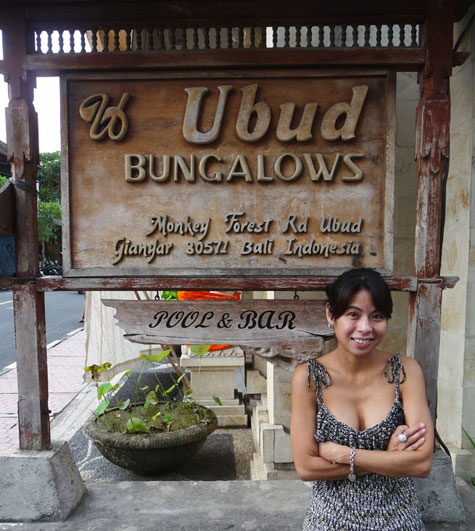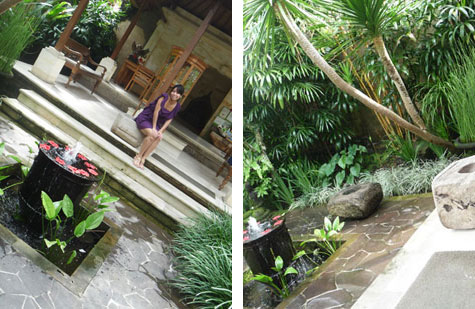 Our little nook in paradise – bungalow number sex…I mean six… 😉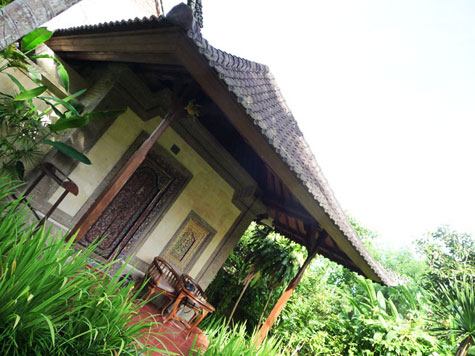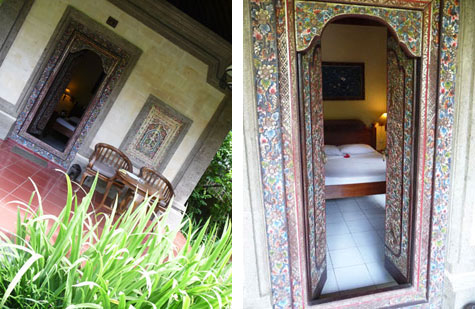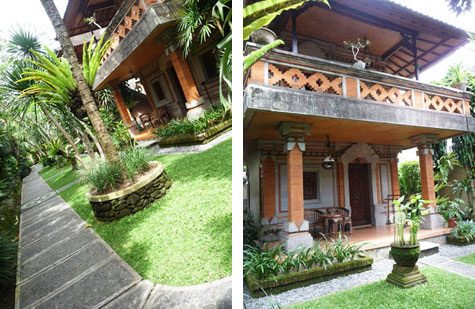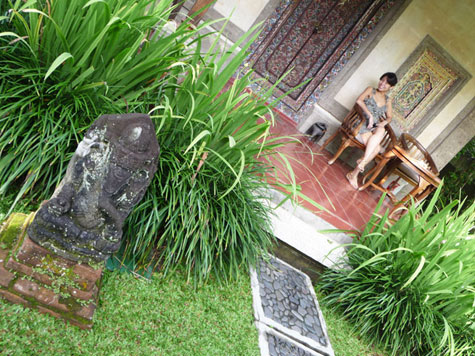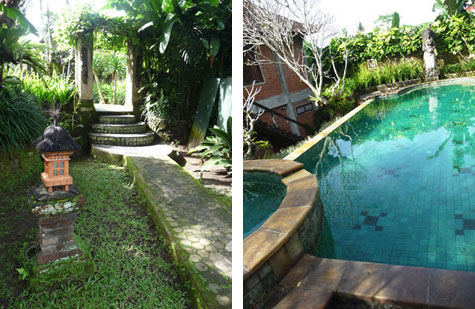 Ren showing off her new bikini. Vavavoom! 😯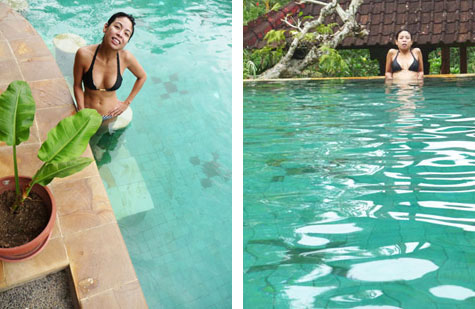 In & Around Ubud
Suffice to say, Ubud was pure ecstasy for the senses.
There was no shortage of intricate statues…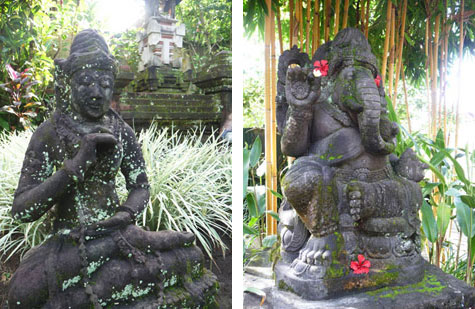 …calming water features…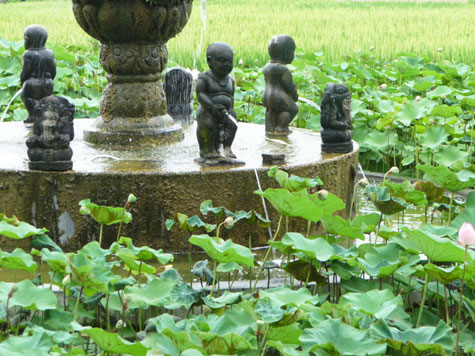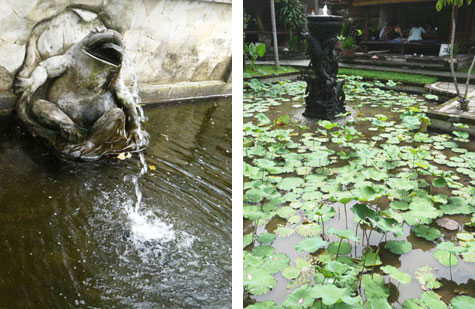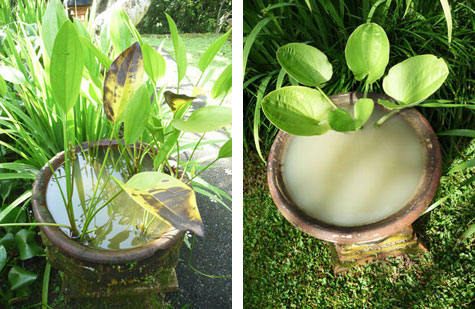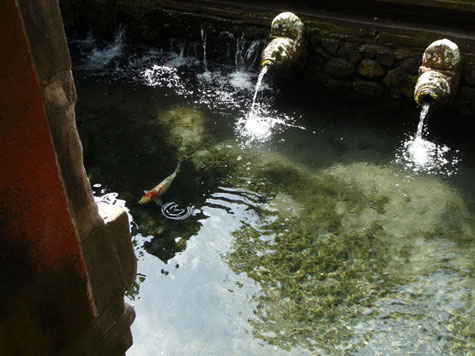 …or funky shops in Ubud.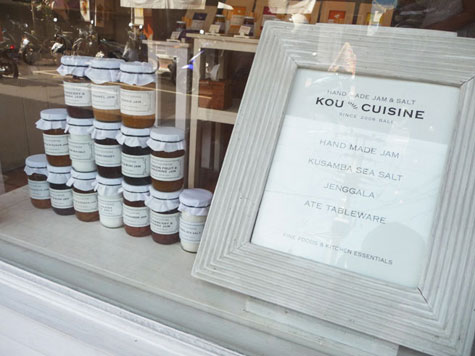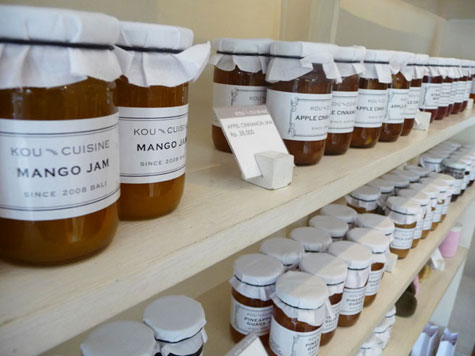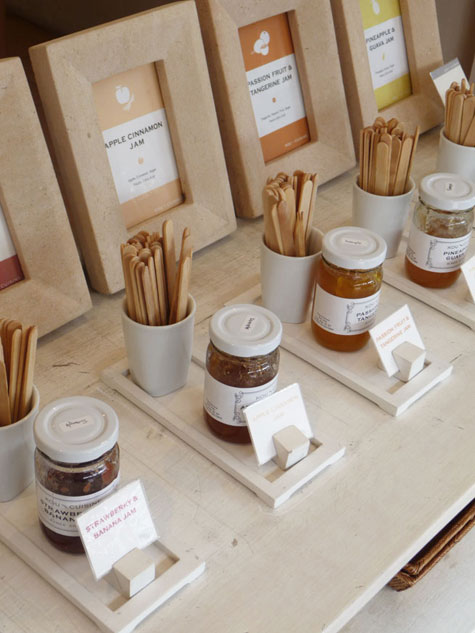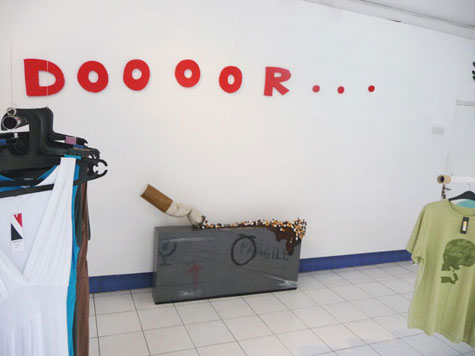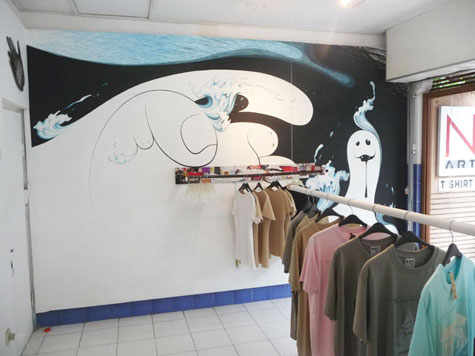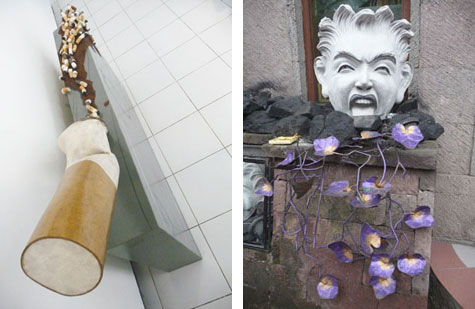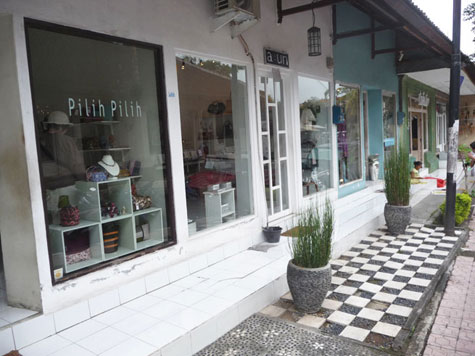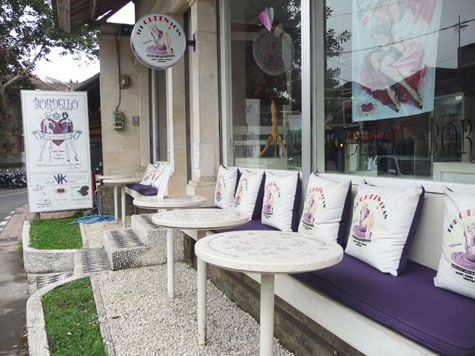 Gastronomic Adventures
Two of the most important things for me when visiting a new place is hiking and sampling the local fare. In searching out some of these remote, off-the-beaten path restaurants, we were able to satisfy both.
Bebek Bengil
One of the most popular restaurants in Ubud. So popular that we were advised by the immigrations officer immediately upon landing to try it out. Apparently the president of Indonesia can't visit Ubud without enjoying a meal here.
Bebek Bengil means "dirty duck." Apparently the name came about when a flock of muddied ducks waddled from the rice paddies onto the restaurant grounds. Serendipitous? The restaurant has been serving their specialty of crispy fried duck for the past twenty years. 😆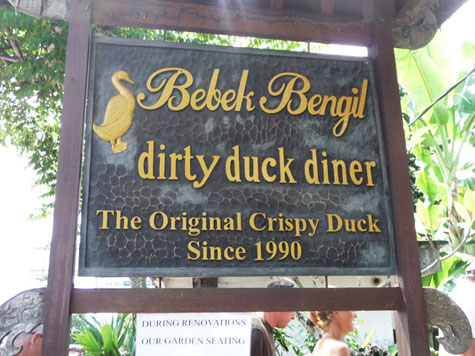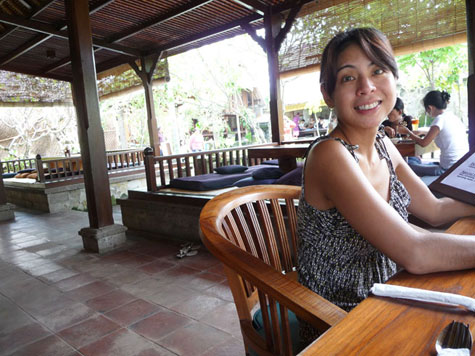 Snail stuffed mushrooms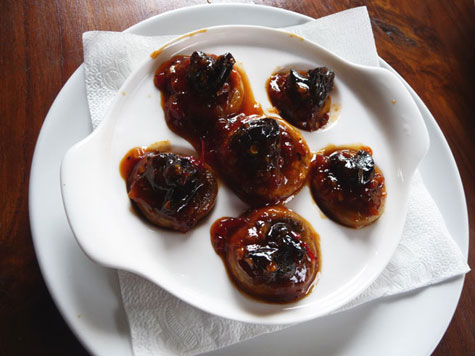 Pepes Ikan Bumbu Bali – Fish with Balinese spices wrapped in banana leaves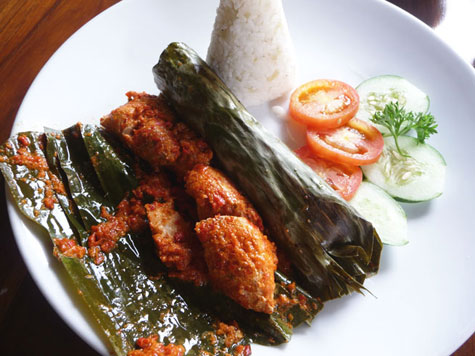 The famous Bebek Bengil or crisy fried duck. Delicious!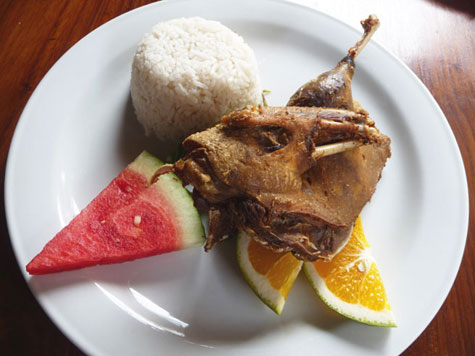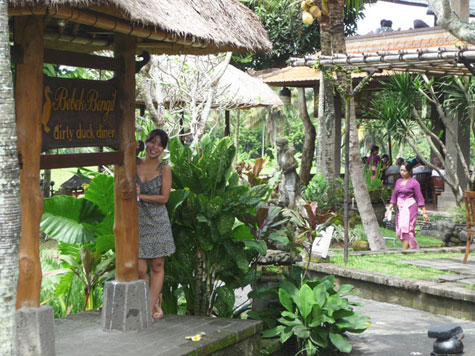 Kopi Luwak
The world's most expensive coffee. For those unfamiliar with it, it's made from the beans of coffee berries which have been eaten by the Asian Palm Civet. This animal searches out and eats only the choicest coffee berries. The beans pass through it's digestive system intact and are then collected from its droppings and processed. Yummeh. 😆
The poor guy looks stressed. 🙁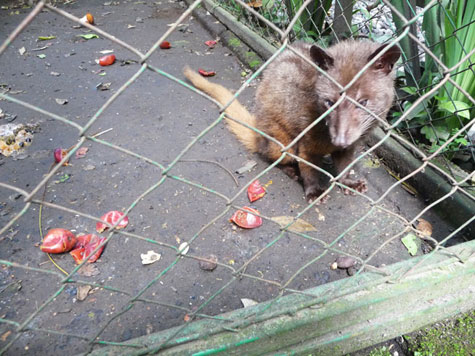 Ren tries her hand at coffee bean roasting.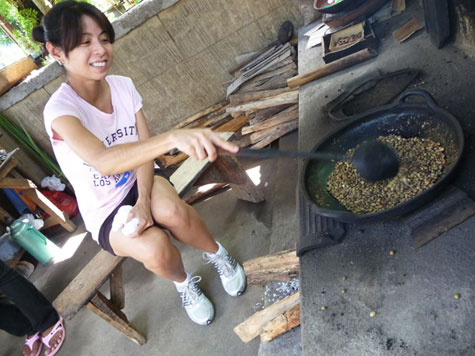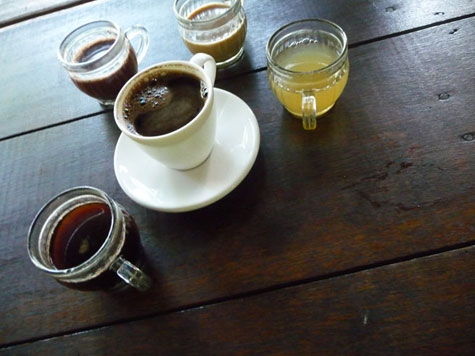 The infamous Kopi Luwak! At the plantation, each cup went for Rp 30,000. In town, they go for twice that at Rp 60,000. At a Starbucks, they retail for USD 20 a pop.
How was it? Good shit I must say. 😆 I love my coffee strong and this had a potent but pleasant aftertaste that lingered on your tastebuds minutes after each sip. It was unlike any coffee I've ever tasted. But at Rp 300,000 for a small jar, I think I'll stick to my instant. 🙂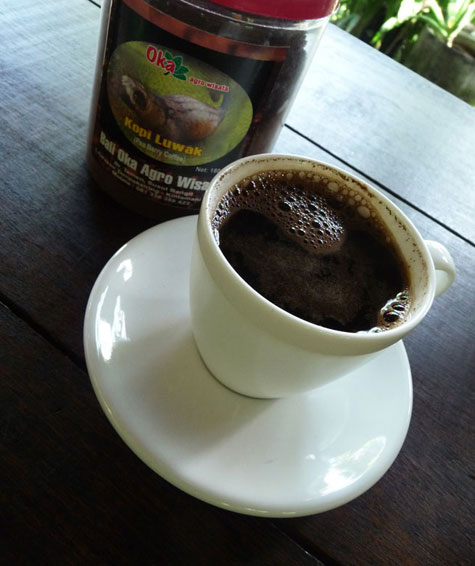 Ibu Oka
Another must-try restaurant. They serve only Babi Guling, which is roasted suckling pig. Instead of the liver sauce which accompanies the Philippine version, they served it instead with a nice, spicy sambal. Delicious! I prefer this version since I love spicy food and have never been a fan of sarsa.
The restaurant is only open for lunch and is always packed, so we decided to get ours to go.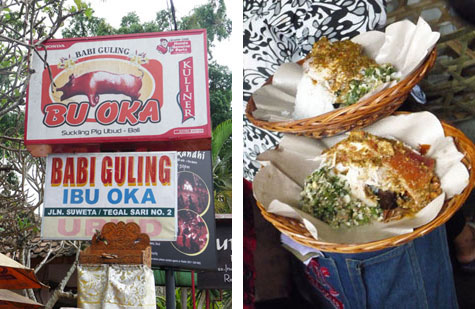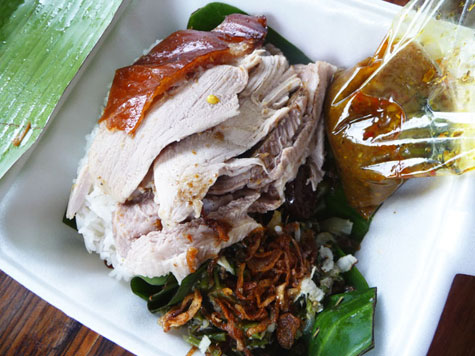 Naughty Nuri's
Another one of the destination restaurants in Ubud. They're known for serving the best pork ribs as well as the world's best martini, according to Anthony Bourdain. Amen on both counts!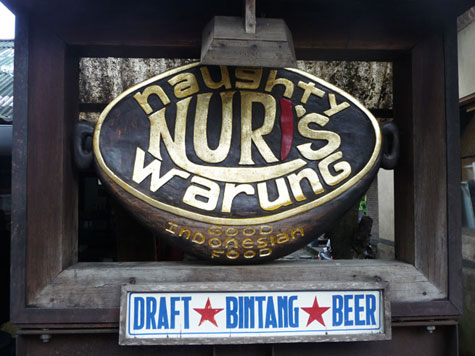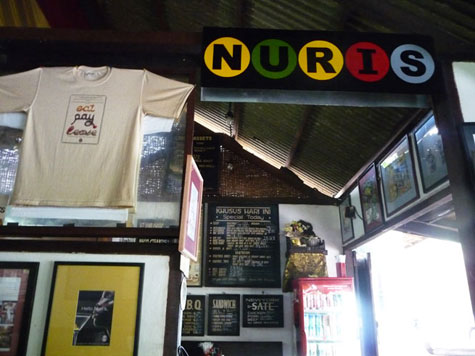 The ribs were so tender that the meat literally slid off the bone. Yum yum yum!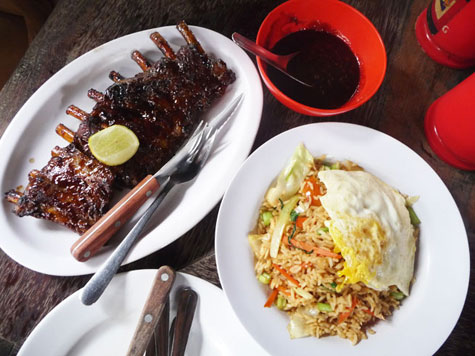 Ren looks like one satisfied customer in that picture. 😆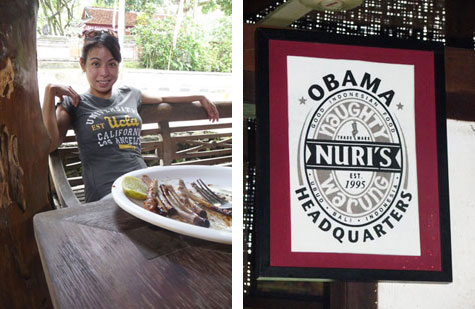 Meet the world's best martini. I'm no expert but Ren says it's deserving. At Rp 100,000 per glass it better be! Check us out trying to look all serious and mature before drinking it. 😆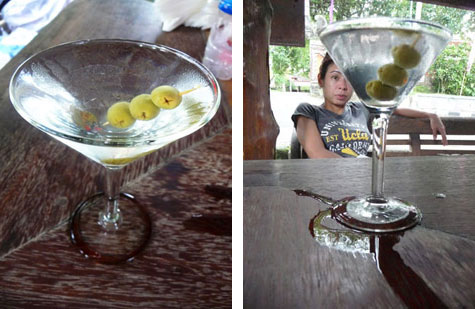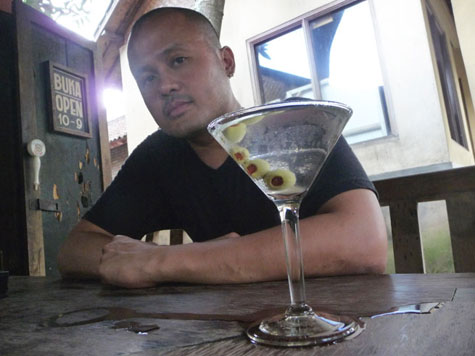 Sari Organik
A scenic twenty-minute hike through the rice paddies took us to Sari Organik – rated by TripAdvisor as the number one place to eat in Ubud. They showcased a menu of healthy, organic fresh food and drinks.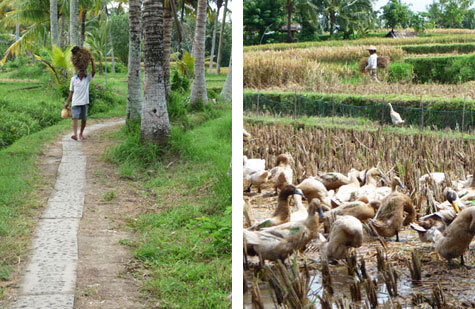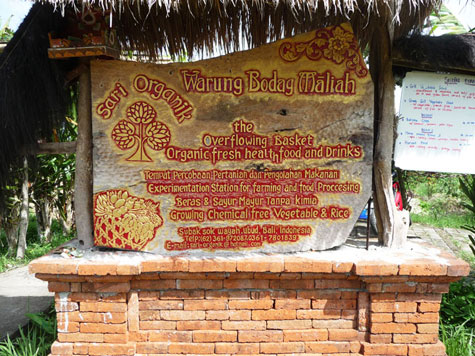 Situated in the middle of rice paddies away from the hustle and bustle of urban living, what made this place special was the experience. Looking back on our trip, this was one of my favorite moments. Having the opportunity to spend the afternoon with Ren eating mushroom pizza and sipping watermelon shakes in the middle of rice paddies reminded me of how lucky I truly am. Life is GREAT. 🙂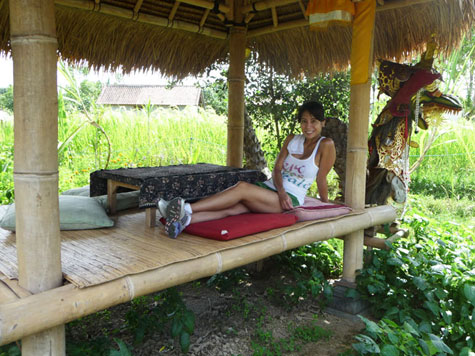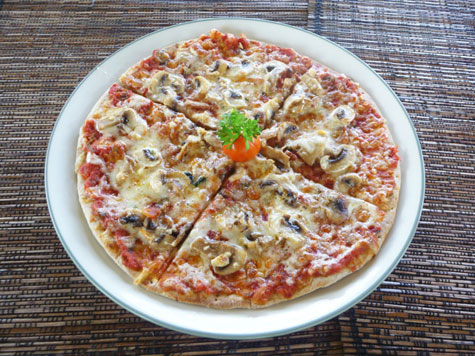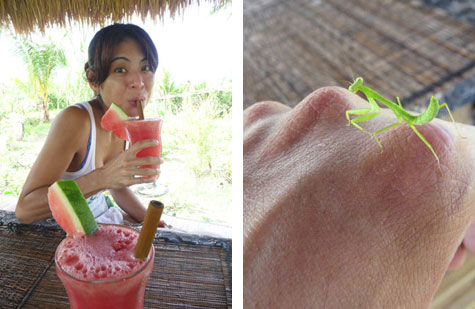 Rai Pasti & Bebek Betutu
This warung sort of became our local hang out. They served delicious food at reasonable prices against a scenic backdrop. Walking through a long, dimly-lit hallway led you to a balcony overlooking the rice paddies. It was here where we decided to enjoy Bali's most succulent and extravagant local specialty – Bebek Betutu.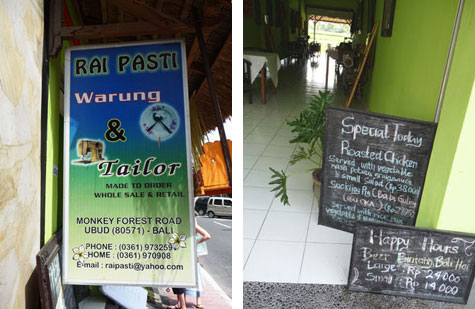 Ren looking all cute for the camera.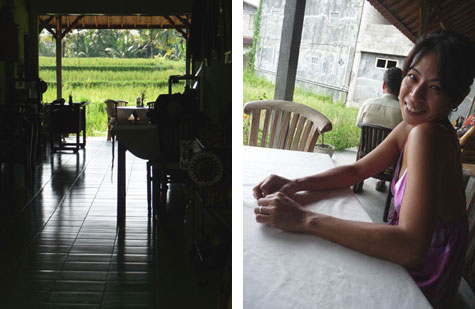 Here's me telling Ren not to take a picture of me.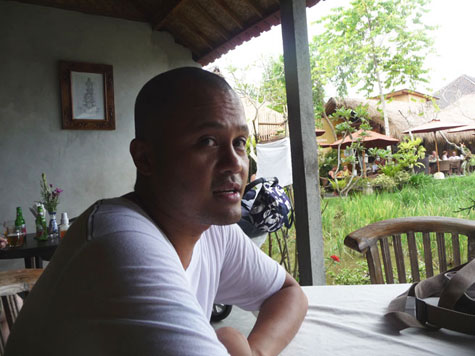 The scenic backdrop for our most special and anticipated dinner. (Picture taken with a 15-second stutter…I…I…I mean shutter. 😛 )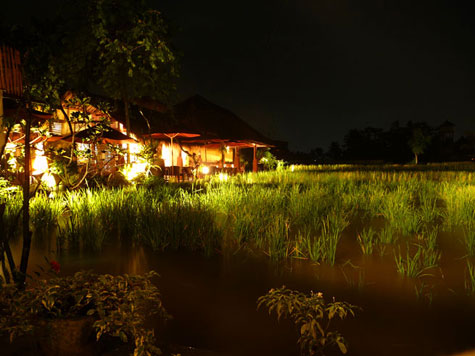 Behold the Bebek Betutu! Normally prepared on special occasions only, the duck is massaged with a secret blend of herbs and spices before being wrapped in banana leaves and baked buried under a pyre of rice husks and burning coconut fiber for eight hours. It's so time-consuming to prepare that you have to order it a day in advance. Judging by how quickly we devoured it, it was well worth the wait!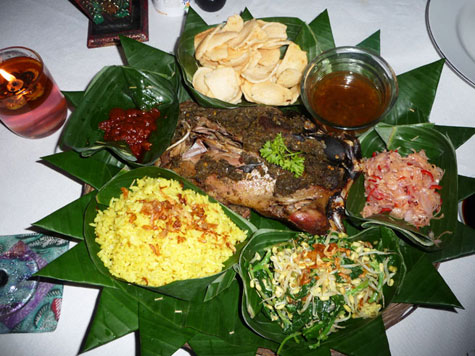 Mt Batur Local Warung
We took a day trip to Mt Batur and requested our guide to take us to a local warung instead of the usual tourist trap restaurant. What we were treated to was a delicious Lake Batur specialty of crispy fried fish served with a spicy sambal and soup. Mmmmmm!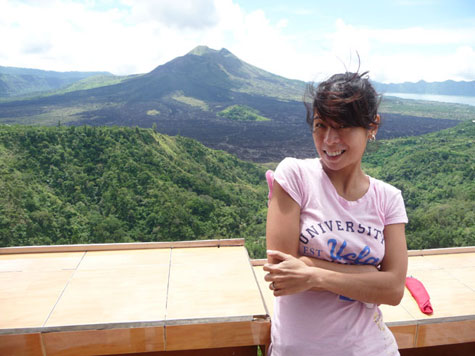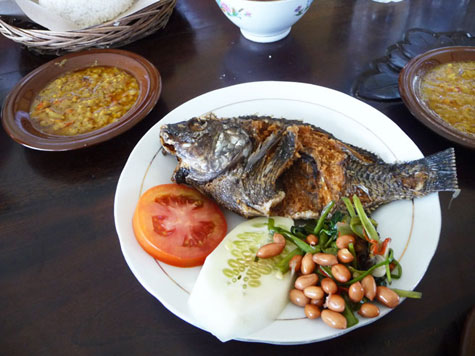 Other Dishes
Mie Goreng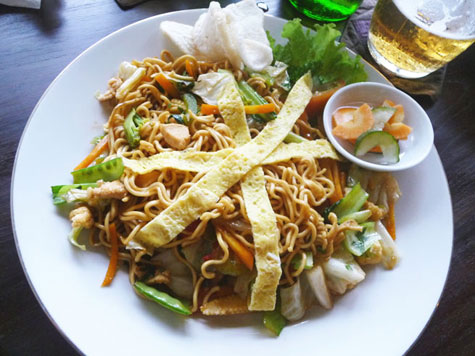 Satay Babi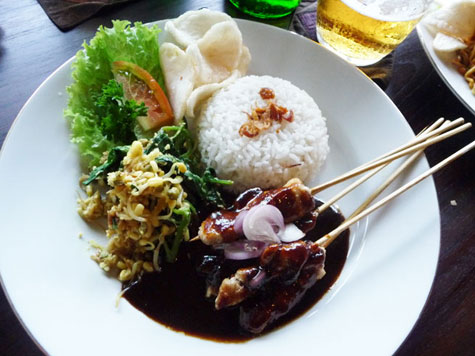 Ubud Paella – A little less traditional but equally delicious 🙂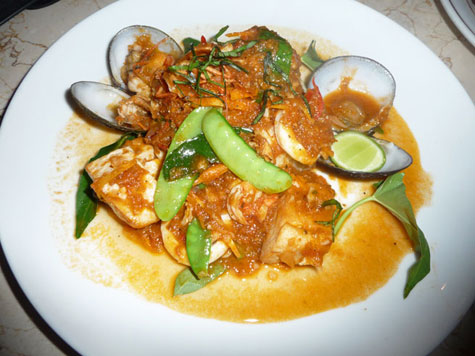 Pizza del Sol – Mozzarella, pesto, and sun-dried tomatoes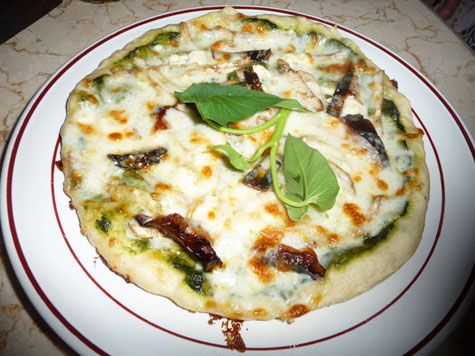 Aaaaaaah Bintang beer! Our third wheel for a week. 😆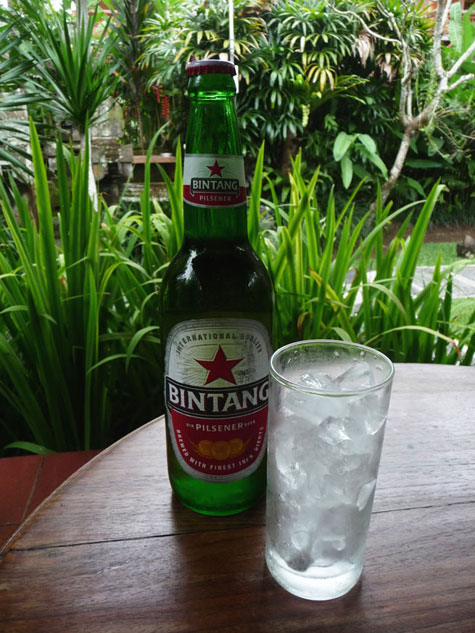 Art Galleries & Museums
Though a majority of the galleries showcased traditional folk art, a few of them displayed some fantastic contemporary work. Judging by how vital art is to their culture, I now understand why Indonesia is king of the South East Asian contemporary art scene. Even their carvings were amazingly intricate and had so much more character than anything I've ever seen.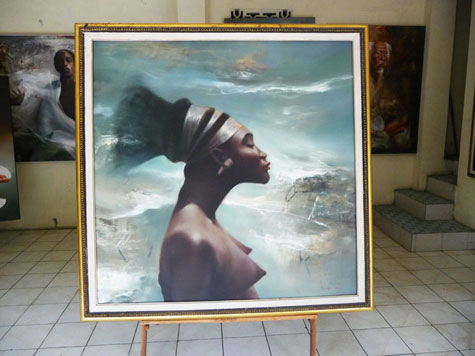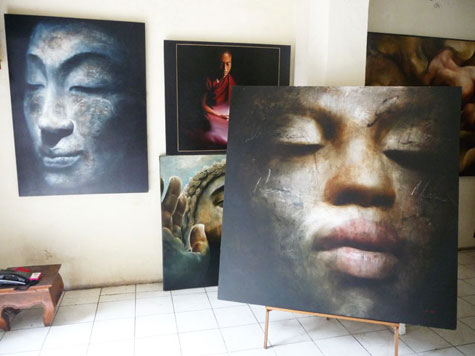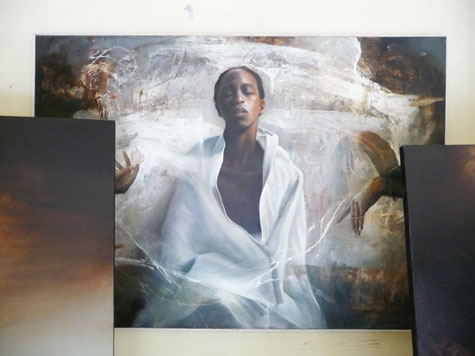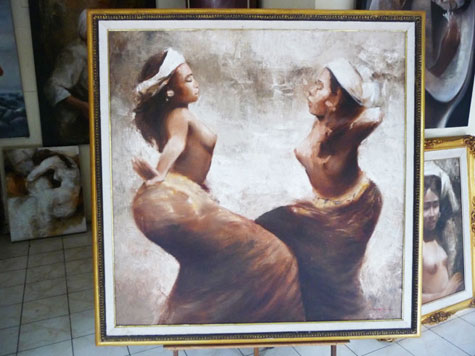 You can't tell from these pictures but these paintings are massive, maybe around 6-8 feet tall each.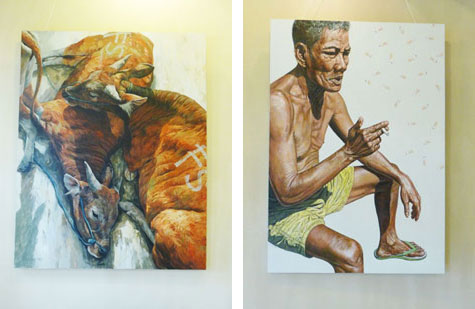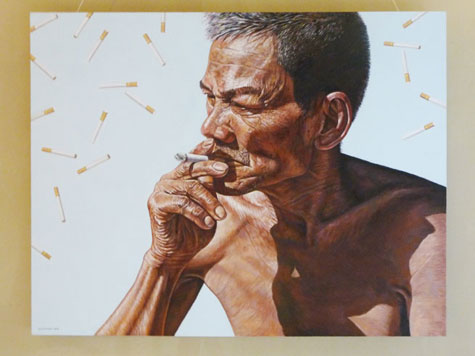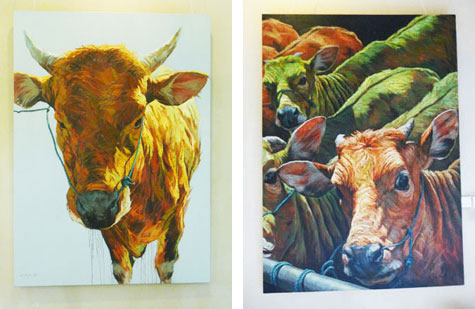 Some nice examples of trompe l'oeil work. These are paintings, not photographs.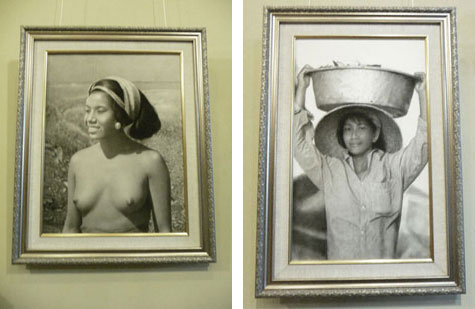 "You're like a baby. Make noise…don't know what to do." 😆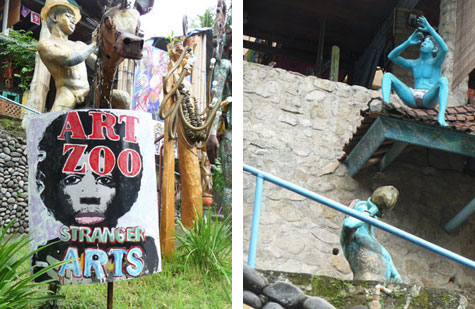 Animal Encounters
How can a trip be complete without a few animal encounters?
Bali Bird Park
Behold the magnificent Komodo Dragon! This was the reason why we visited Bali Bird Park, to see these amazing animals in the flesh. It was truly an incredible experience to see these giant lizards for the first time, one I'll proudly be crossing off my bucket list. 🙂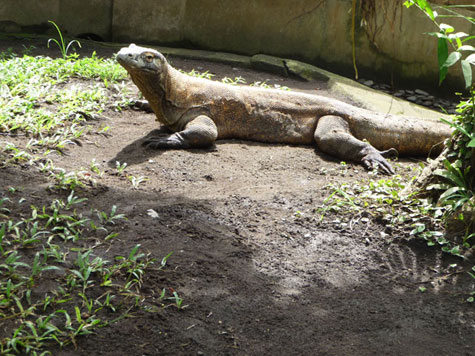 Deadly bacteria-laden saliva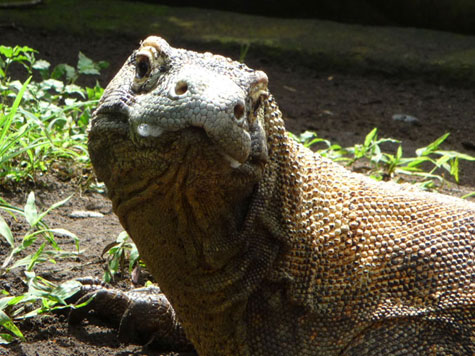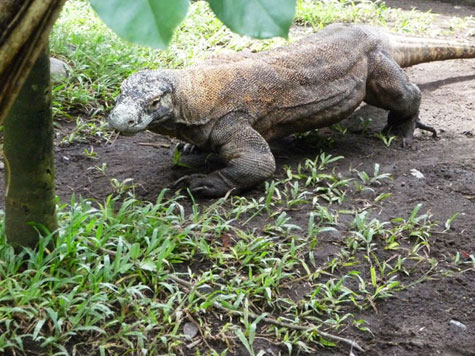 Feeding time!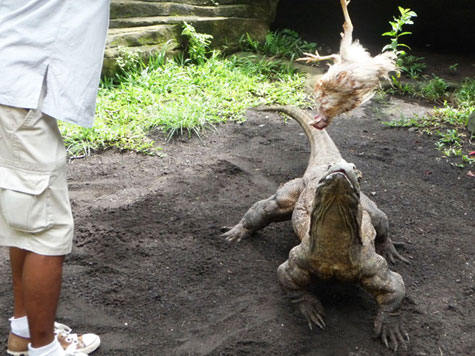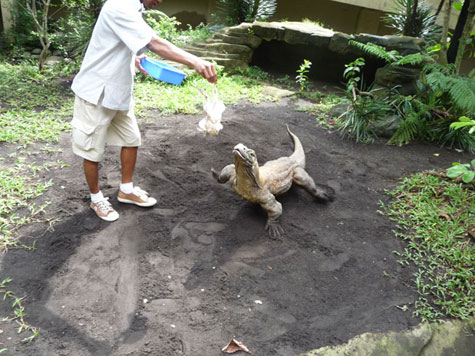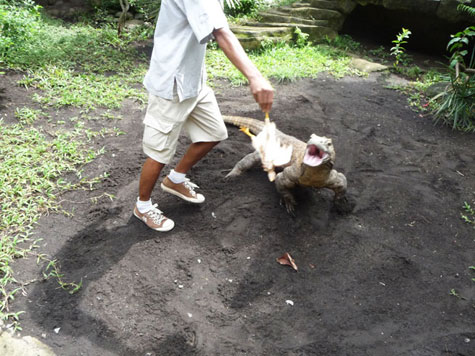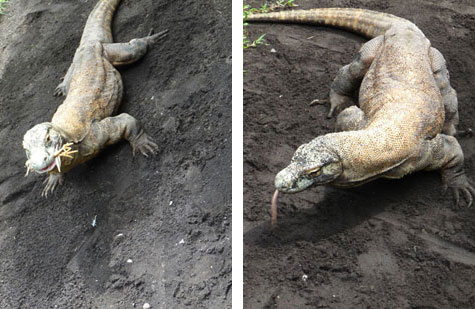 Bali Starling – One of the world's rarest (and most beautiful) birds. Endemic to Bali, it's now believed to be extinct in the wild. If I'm not mistaken, Bali Bird Park is the only place in the world where you can see these striking animals.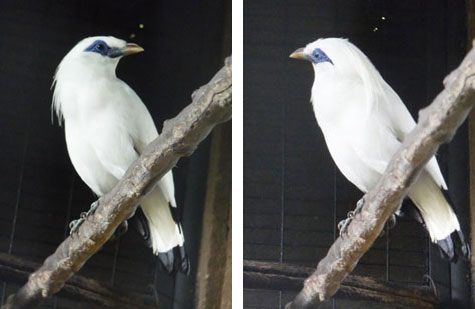 Sailfin Dragon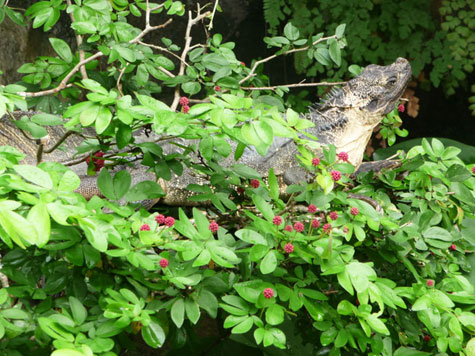 Rhinoceros Iguana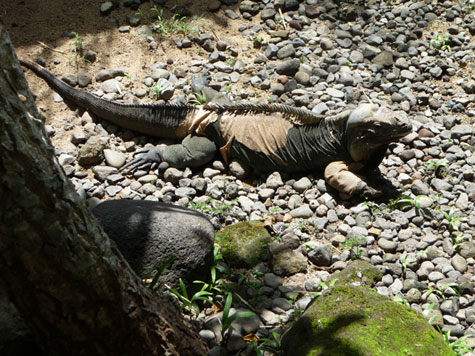 Ren looking vibrant with a pair of Scarlet Macaws.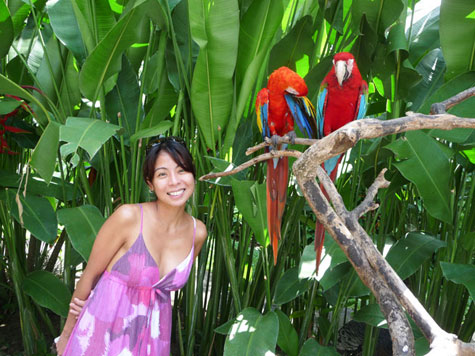 L: Ren holding a big lizard. Not the first time if you know what I mean… 😉 R: Blue-Tongued Skink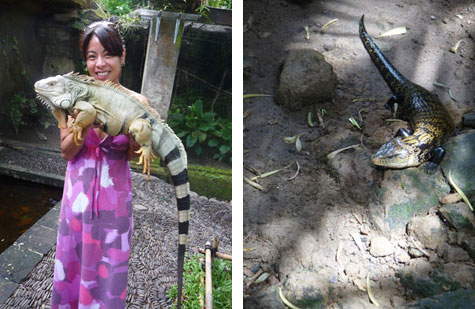 Big-ass Varanus Salvator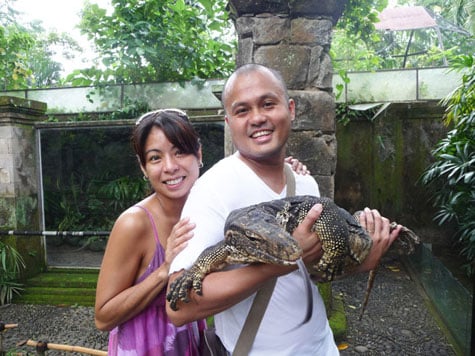 Cassowary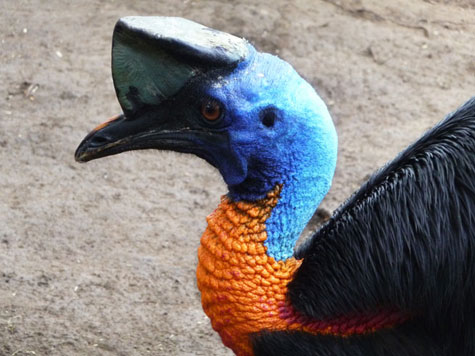 Two pretty birds. That's all I know.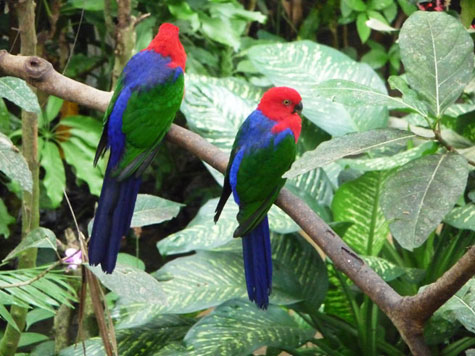 L: Some type of owl R: From the Birds of Prey show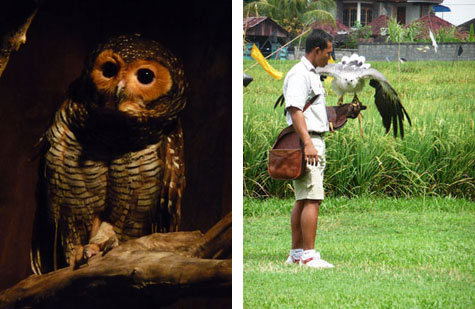 Cute little grasshopper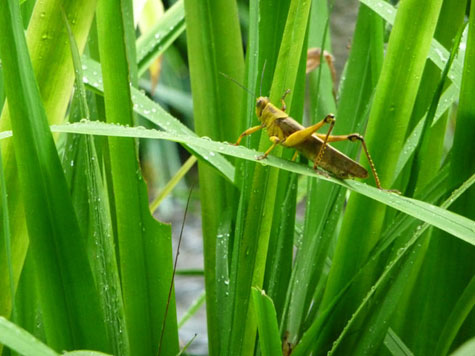 Sacred Monkey Forest Sanctuary
This place was fun. Cool walking paths abounded under a dense canopy of leaves, with Macaques roaming freely along the trails.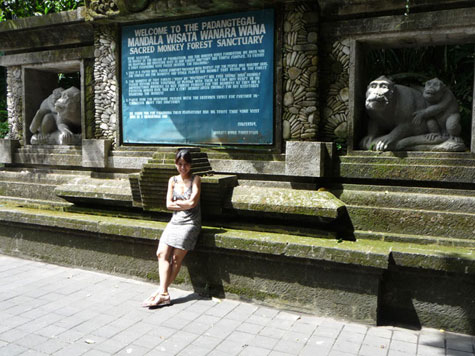 R: Behold the biggest nuts in the forest. 😆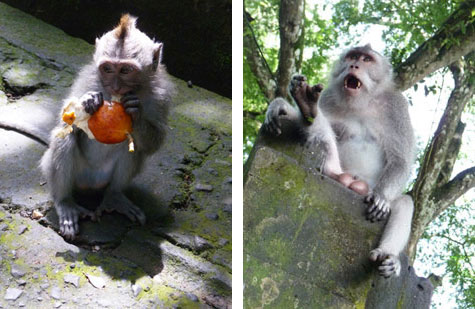 L: A big leaf for a big boy. 😉 R: Habang buhay ako sayo'y maghihintay…umaraw man o umulan, di sasablay…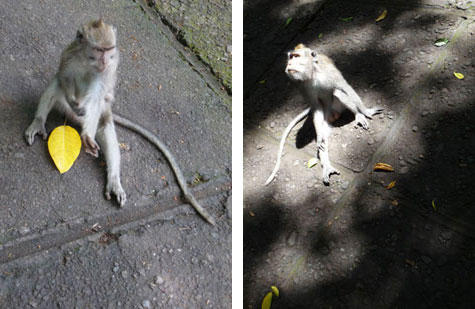 There are 5 cute little monkeys in this picture. Can you spot them all?
Hint: the fifth one can cook. 😆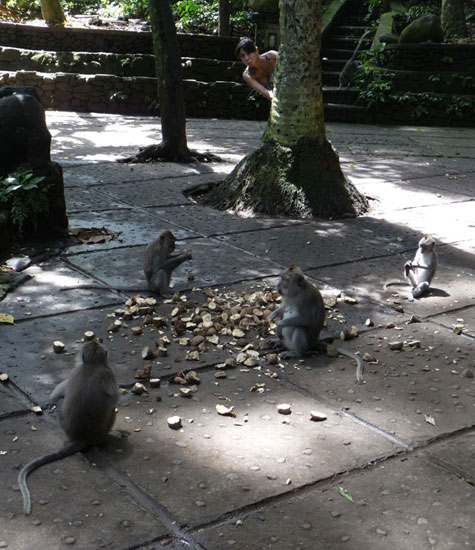 Ubud Textures
Just a montage of the many beautiful and varied textures in and around Ubud.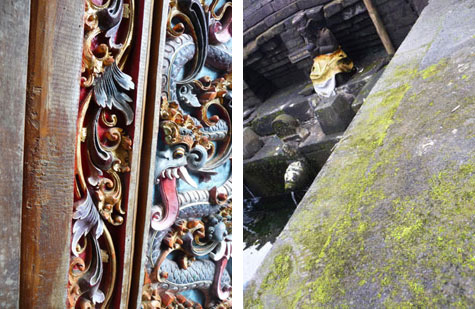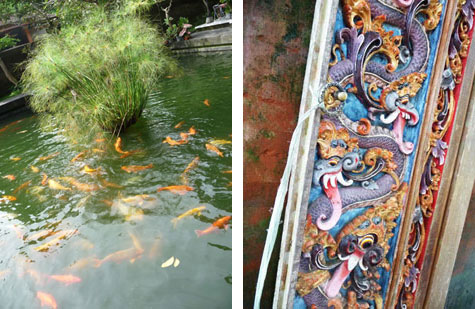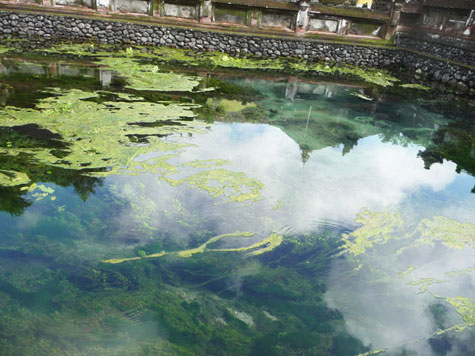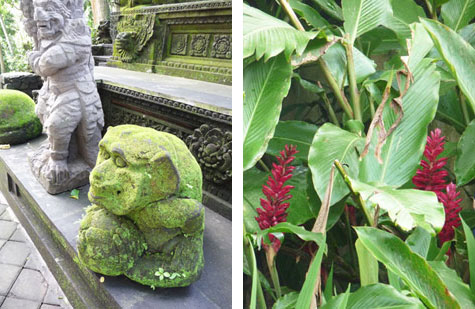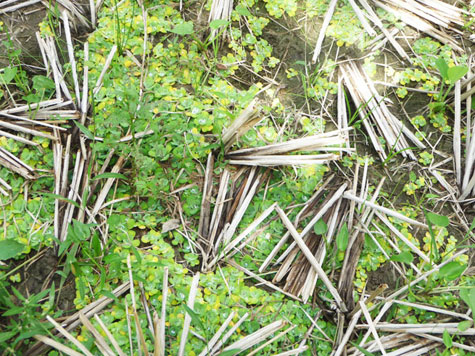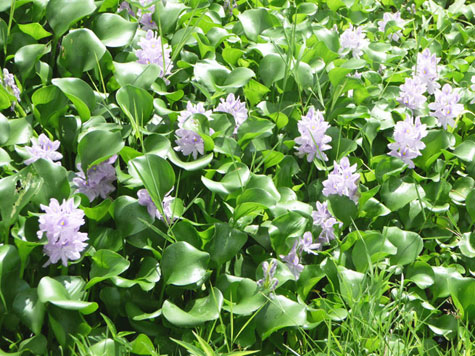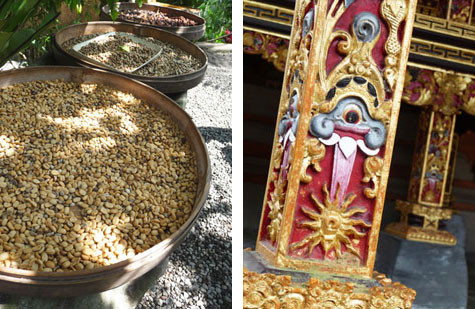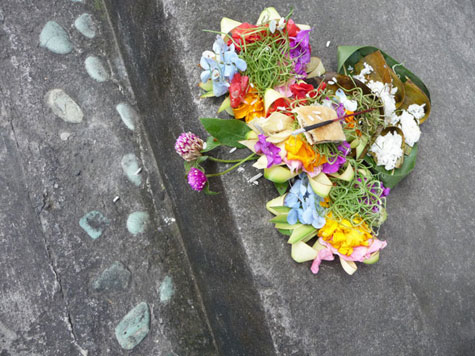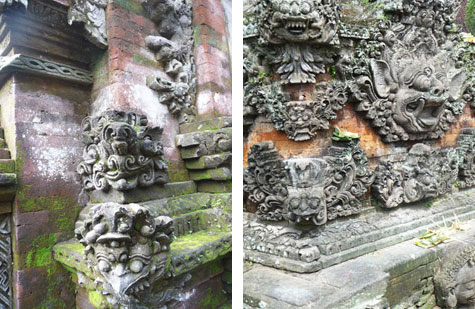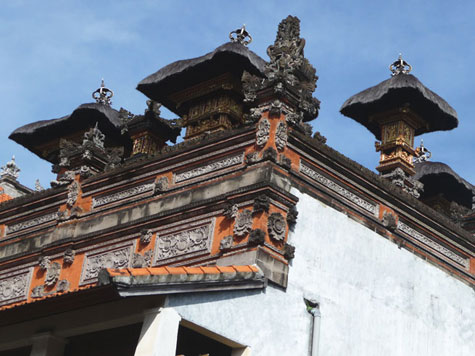 Miscellaneous
Just a few random images

We were there in time for the holy day of Galungan – a celebration of darma's (good) victory against adharma (evil). As part of Galungan holy day, every house in Bali erects a beautifully decorated tall bamboo pole called a penjor. These were everywhere.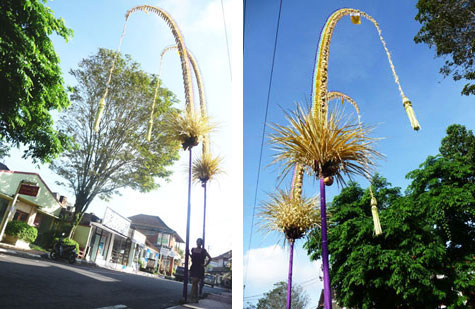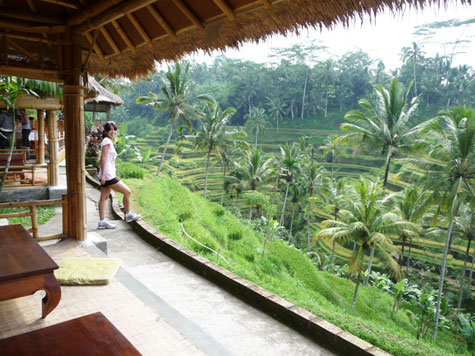 L: Statue feeling threatened? 😆 R: I look like a Sumo wrestler. 🙁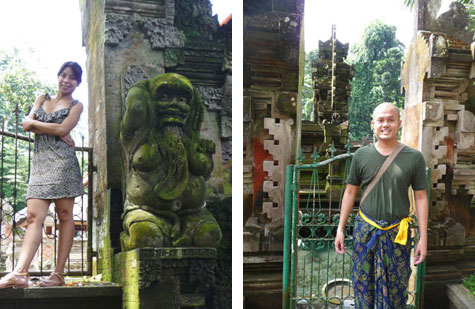 Ren looks much better in her sari.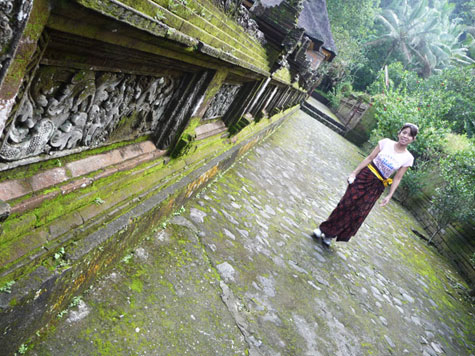 Worshipers bathing at the water temple.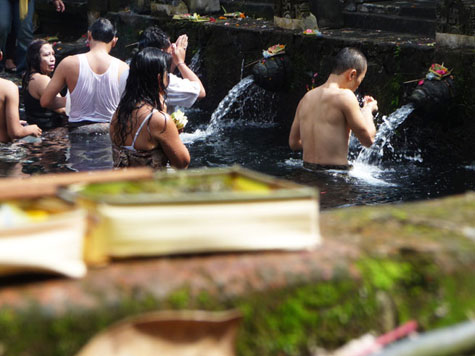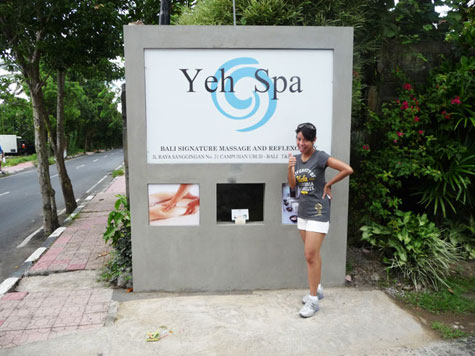 R: RAWRR! I fear nothing…except the rain cause I am made of paper.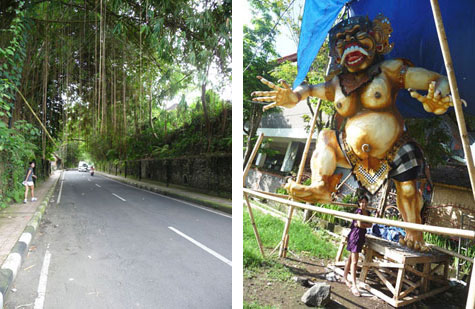 The Company You Keep
At the end of the day, apart from all the beautiful sights you've seen, the delicious food you've eaten, and the adventures you've experienced, what makes a trip truly special are the people that you meet along the way. Here are a few people that made our trip all the more memorable.

Kadek – Our driver and guide for several excursions. Really nice guy always with a bright smile on his face.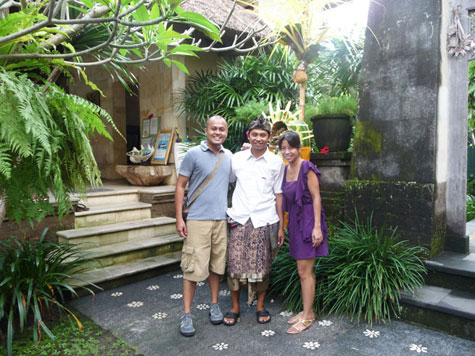 Moyu and Katut – Ubud Bungalows staff members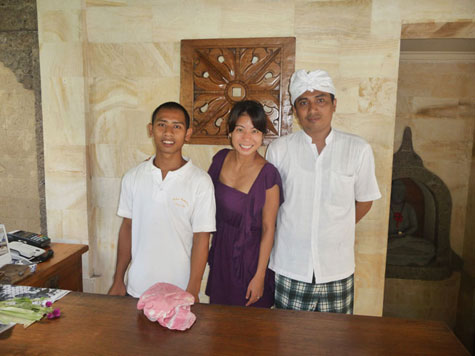 And of course my beautiful baby Renee – Best friend, loving wife, lifelong travel companion with whom I'll share a lifetime of adventures and memories. Nepal 2011?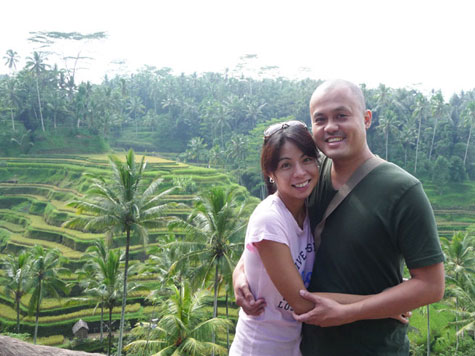 I'll take that as a yes. 🙂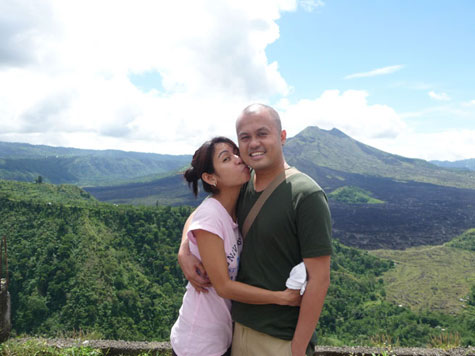 Disclosure
Some of the links in this post are affiliate links, meaning we'll get a small commission if you make a purchase or reservation at NO extra cost to you. We really appreciate your support as this helps us keep this website going. Thank you!
JB and Renée are the Traveleaters behind Will Fly for Food, a travel blog for the gastronomically inclined.  They enjoy experiencing food from different cultures so they've made it their mission to try every country's national dish.  Read more about them and their National Dish Quest here.