How to Apply for a Taiwan Tourist Visa for Filipinos
Since I first wrote this post, three significant changes have been implemented to the Taiwan visa process. One, TECO has made it easier to get visa-free entry. In the past, you needed a valid tourist visa to the US, Canada, the UK, Japan, Korea, Australia, New Zealand, and/or any of the Schengen countries to qualify for visa-free entry. Now, even expired visas (less than 10 years) to those countries are accepted. Two, applicants who aren't eligible for visa-free entry don't have to apply at TECO anymore. They have the option of applying online for an e-visa which is super convenient. And three, and this is the biggest and best change of them all, TECO has announced a visa exemption trial program for all Philippine passport holders. This means that all Filipinos will be able to enter Taiwan visa-free, just like they would Hong Kong! Yipeee!
When they first made the announcement, they said it would be implemented beginning 1 June 2017. But an article on ABS-CBN reported that the visa exemption trial program could be pushed back a month or two. Turns out it was true. TECO announced on 16 May 2017 that the visa exemption program will begin in September 2017. Dr. Gary Song-Huann Lin, Representative of the ROC (Taiwan) to the Philippines, explained that the postponement is simply to smoothen out operations, create more effective immigration procedures, and to safeguard the security of all passengers. He assured that the direction towards the visa exemption program remains unchanged so we'll just have to wait until September 2017 to visit Taiwan visa-free. You can follow this link to read TECO's official announcement.
Until the visa exemption program begins, the information on this page is still relevant. Filipinos will still need to apply for a tourist visa to enter Taiwan. The first version of this post amassed over 1,000 comments, most of which were questions about the visa application process, so I've decided to add an FAQs section at the bottom of this post. I hope it answers any questions you may have. If not, then feel free to post your question in the comments. Thanks and good luck! 🙂
VISA-FREE ENTRY
BASIC REQUIREMENTS
Philippine passport holders may be eligible for visa-free entry if the following conditions are met:
The applicant's passport is valid for at least six months starting from the date of arrival in Taiwan.
The applicant has an onward/return air/ferry ticket.
The applicant has never been employed as a blue-collar worker in Taiwan.
ADDITIONAL REQUIREMENTS
In addition, one of the following conditions must also be met:
You must possess one of these documents issued by the US, CANADA, the UK, JAPAN, KOREA, AUSTRALIA, NEW ZEALAND, and/or any of the SCHENGEN countries:
Valid resident or permanent resident card
Valid entry visa (may be electronic visa)
Visa or resident card that has expired less than ten (10) years prior to the date of arrival in Taiwan
The applicant possesses a Taiwan visa or resident card issued over the last 10 years and has no immigration irregularities or violations in Taiwan. However, Taiwan visa holders with a remark of "FL" (foreign labor) or "X" (others) and resident cards with the purpose of "Foreign Labor" are not eligible for the travel certificate.
If you meet these requirements, then you can go to their website and fill up the travel authorization certificate form. When done, just print out the certificate and you're good to go. Applying for the travel certificate is FREE of charge and the whole process takes about 5-10 minutes.
The travel certificate is valid for ninety (90) days and good for multiple entries within those ninety (90) days. You'll have thirty (30) days of stay starting from the day after your arrival in Taiwan. Be sure to bring the documents listed above along with your travel certificate when entering Taiwan. They won't let you through without it. You can check out the TECO website for more information regarding visa-free entry to Taiwan.
E-VISA
If you're not eligible for visa-free entry, then you can apply for an e-visa online. You don't have to physically go to TECO anymore. It costs TWD 1,632 to apply for an e-visa and it takes three (3) working days to process. If approved, e-visas are valid for three (3) months from the date of issue and allow you a stay of up to thirty (30) days. This new e-visa policy will be on trial basis for one (1) year. Follow this link to apply for an e-visa to Taiwan. You can check this link as well for frequently asked questions about the Taiwan e-visa.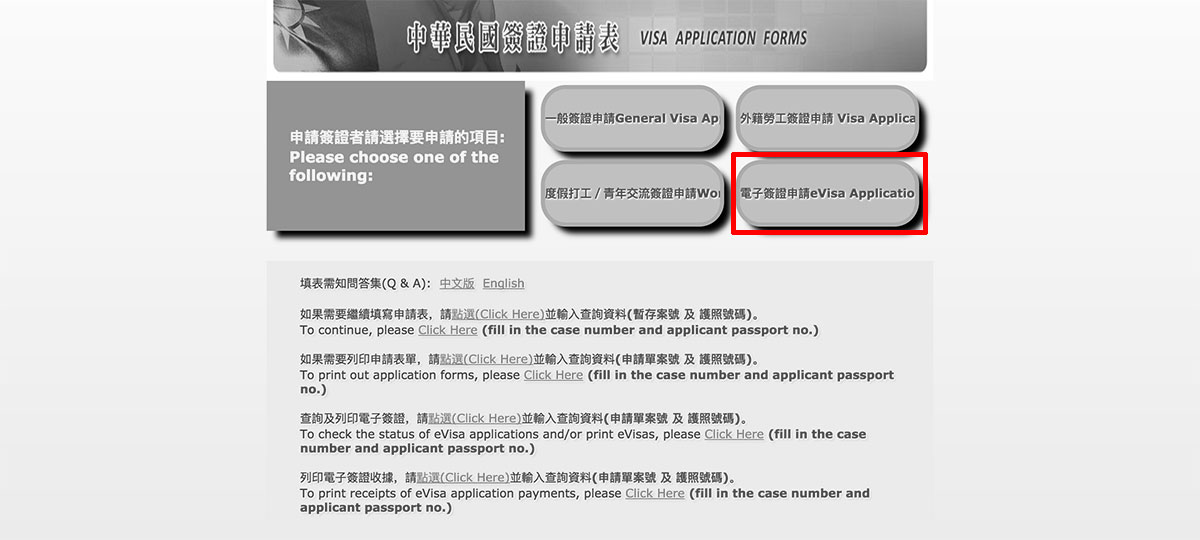 TOURIST VISA
If you aren't eligible for visa-free entry or don't want to apply for an e-visa, then you can apply for a tourist visa through the TECO office.
Step 1: SUBMIT VISA REQUIREMENTS
Here are the basic documents you'll need to file your application. Please be advised that all documents submitted should be original and with one (1) photocopy.
Valid Philippine passport. Must have at least 6 months remaining validity. Any old passports showing previous travels can be submitted as well.
A completed visa application form. Go to their website to fill out the visa application form and print it out. Once you've printed the form and signed the last page, you can submit this together with all other requirements to TECO. More details in STEP 2.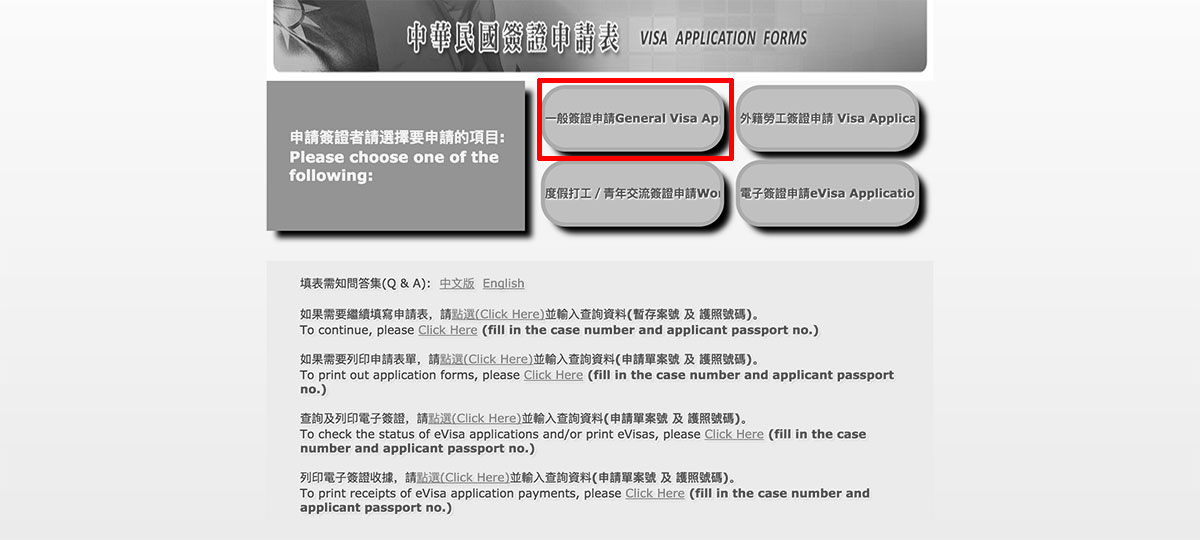 Two (2) 1.5″ x 2″ passport photos against a white background taken within the last three (3) months. Sign the backs of both photos and paste one of them on the form. Put the other one in clear plastic and attach it to the form.
PSA-issued birth certificate
PSA-issued marriage certificate. Obviously, this only applies to married applicants. Single applicants can ignore this.
Certificate of Employment
Evidence of enrollment at school/college for minors (under 18) or students
Financial statements (Bank Book or Bank Statements reflecting at least 6 months of transactions)
Applicants over 60 years old who are visiting Taiwan for tourism need not submit documents 6 and 7 above. Also, please note that the requirements for applicants looking to visit relatives in Taiwan are different. You can follow this link for a list of requirements for visas to visit relatives in Taiwan.
If you'll be traveling on BUSINESS, then you'll also need to submit the following:
Certificate of business name registration and SEC registration(if company owner)
Certificate of Employment (if employed)
Invitation letter from Taiwanese company/organization in Chinese letterhead clearly outlining purpose of visit and duration of stay
Request letters from applicant's company
Step 2: SUBMIT, PAY, & PRAY
You can now submit your application and documents to the Taipei Economic and Cultural Office. Filing of applications can be done from Monday-Friday, 8:45-11:45AM. Their office is located on the 41st floor of Tower 1, RCBC Plaza, 6819 Ayala Avenue, Makati. As of 13 May 2017, visa processing fees are as follows: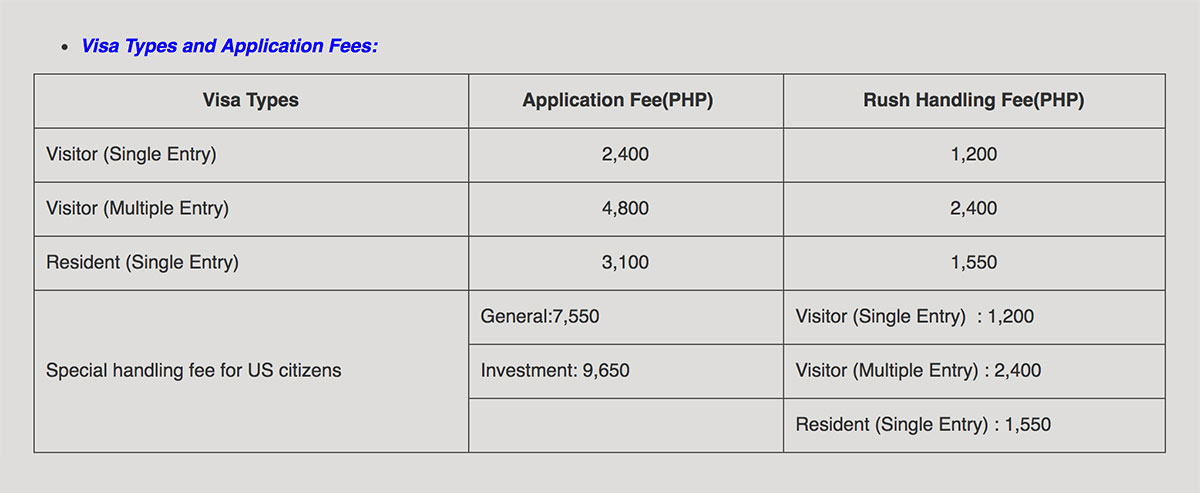 After submitting your documents and paying, you'll be given a receipt which you (or a representative) will need to present after three (3) working days to claim your passport. If you have it expedited, then you can get it in one (1) working day. Releasing times are from Monday-Friday, 1:45-4:45PM.
According to TECO, the visa's validity, number of entries, and duration of stay will be determined by the applicant's purpose of visit.
FREQUENTLY ASKED QUESTIONS (FAQs)
How much do I need to have in my bank account to be granted a visa?
There's no official amount. People have said at least PHP 50,000 but there's no confirmation on this. People have mentioned that they've been approved with less. Some have been rejected with more. Your application is contingent on many factors so there's no amount that can guarantee approval. As long as your application doesn't raise any red flags and you have enough money to support yourself for the duration of your stay, then you should have a good chance of getting approved.
Do I need to have confirmed flight and hotel bookings?
No, you don't. Confirmed flight and hotel bookings are not required. On the application form, you can just put down the contact details of the hotel you intend to stay at. It doesn't have to be a finalized booking. You can always change after you've been granted a visa.
Is there an interview?
Not necessarily. You'll only be asked in for an interview if they have questions about your application, but most people aren't.
Do I have to go to Manila to apply?
Not anymore. With the implementation of the e-visa, you can now apply online. People outside of Manila used to course it through travel agencies but you don't have to do that anymore.
I have a tourist visa to Korea that expired 3 years ago. Am I eligible for visa-free entry?
Yes, you are. As stated above, you're eligible for visa-free entry if your tourist visa or resident card to the US, CANADA, the UK, JAPAN, KOREA, AUSTRALIA, NEW ZEALAND, and/or any of the SCHENGEN countries expired less than ten (10) years prior to your arrival in Taiwan.
I have a tourist visa to Japan that expired 5 years ago. Am I eligible for visa-free entry?
See above. 🙄
I have a tourist visa to Australia that expired 7 yea…
Ok, that's enough questions for today. 😡
Taipei Economic & Cultural Office in the Philippines
41F, Tower 1, RCBC Plaza, 6819 Ayala Avenue, Makati
Tel: +632 887-6688
Website: roc-taiwan.org
Email: phl@mofa.gov.tw
Office Hours: Mon-Fri, 8:45AM-4:45PM
Filing: Mon-Fri, 8:45-11:45AM
Releasing: Mon-Fri, 1:45-4:45PM
I'm not an expert on Taiwan tourist visas. Like you, I'm just a traveler. I'll try to help as much as I can but please understand that my knowledge is finite and limited to my experience only. Unless otherwise noted, all requirements listed above were valid at the time of my application. Please be sure to check the embassy's WEBSITE for updates. If you need answers to any pressing issues, then it's best that you call the embassy directly.
CLICK HERE for more on this website's terms of use.
JB is one half of Will Fly for Food and its chief itinerary maker.  He's the one to blame for all the crappy photos and verbal diarrhea on this blog.  Don't listen to him.
Latest posts by JB Macatulad (see all)