"Oh my god! It's nice to finally meet you! I've heard so much about you!"
That's exactly what I wanted to say the moment I walked into this Zubuchon in Cebu. Having been a fan of Market Man for so long, I felt well acquainted with his restaurant even though tonight was my first time there. The contentious belly roll, the pin pricks, the gingerbread house, I had read about these things so often in his blog that it was nice to finally see them with my very own eyes.
Making a stop at the Escario Central branch to get our first taste of Zubuchon, I straightened my shirt and steadied my nerves before formally introducing myself to what Anthony Bourdain once described as, the "best pig…EVER!"
And as I always imagined, it was much better-tasting in person. 😉
Market Man & Zubuchon
Aaah, the perky pig logo, on more than one occasion the hapless victim of "logo-napping". Logo-napper mugshots HERE, HERE, HERE, and HERE. 😆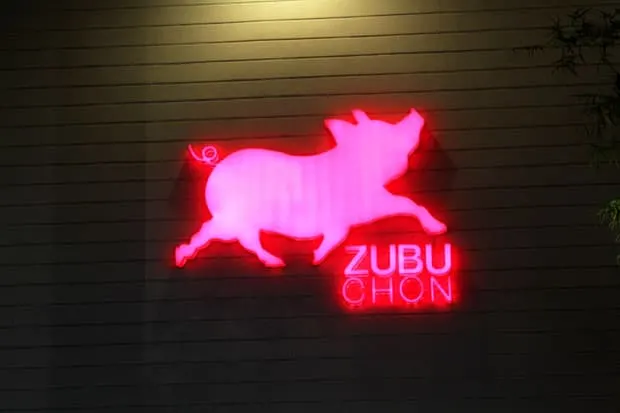 The surprisingly stylish interior of the Escario Central branch. I say "surprising" only because you don't often walk into lechon restaurants that are this chic and contemporary in design. At least I haven't. Post on Escario Central grand opening HERE.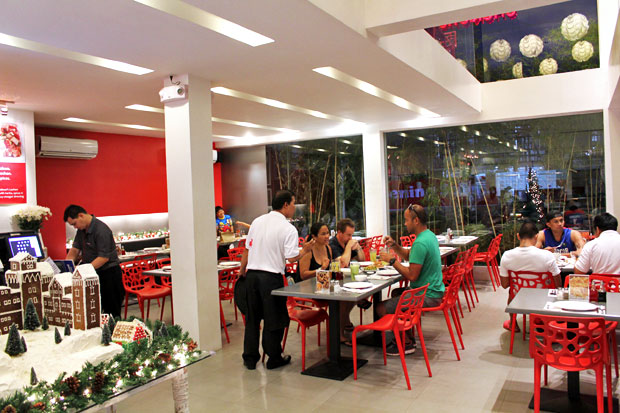 What a prick! On pricking pork and crispy skin HERE.

The highly controversial lechon belly roll. On Zubuliempo, libel, and a genius eighteen-year old with appaling language facility HERE. It's long, but you GOTTA read this! 😆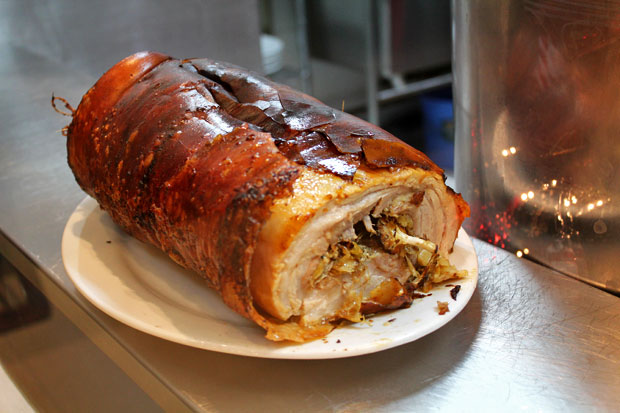 The annual gingerbread house. This year, most of the credit goes to the teen. Watch it get built HERE.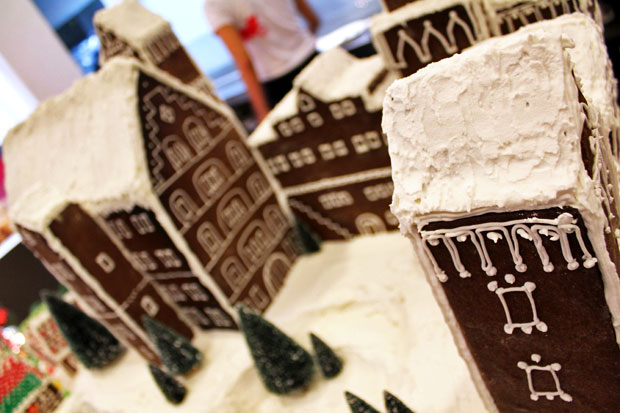 L: "Best pig…EVER!" Anthony Bourdain in Cebu HERE.
R: Iba (Kamias) Shake – PHP 95. Refreshingly tangy, the sharpness of this kamias shake cut the pig's unctuosness beautifully. Highly recommended.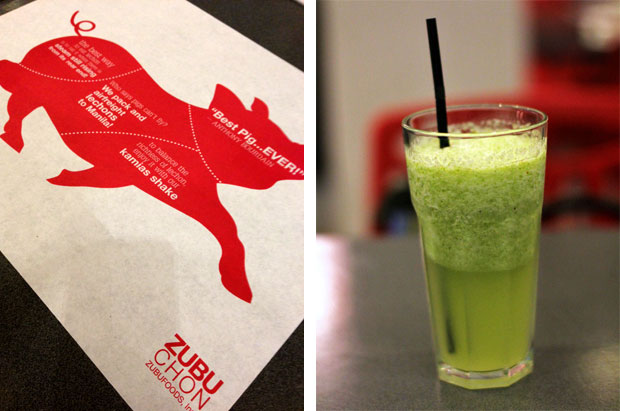 Chicharon Bulaklak – PHP 170
Seasoned and deep-fried to order, this is unctuousness to the max! Great with some chili vinegar and ice-cold beer.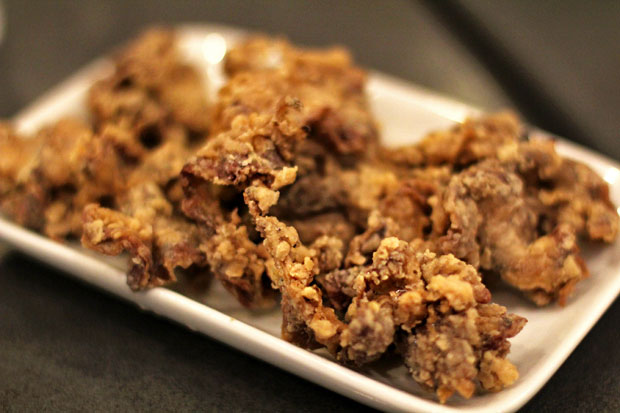 Pritchon – PHP 420
Our consensus least favorite dish of the day. Pritchon, or "pritong lechon", is deep-fried suckling pig usually served Peking-duck-style. Served minus the pitas and sauces, we felt that this Zubuchon version, though tasty, was a little too chewy.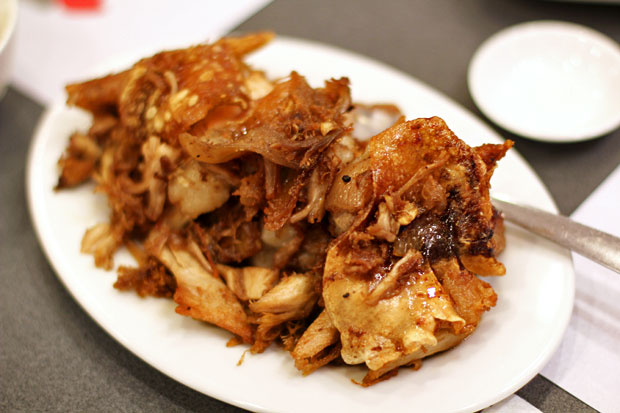 Zubuchon – PHP 530/kilo | PHP 280/half-kilo
Pin-pricked then roasted to perfection, the skin was crackingly crisp and the meat deeply flavorful. I don't eat enough lechon to be an authority, but I can definitely understand the glowing response from Mr. Bourdain. This was really good, some of the best lechon that I've ever had. Cebu lechon overall is just so much better than the stuff we get back in Manila.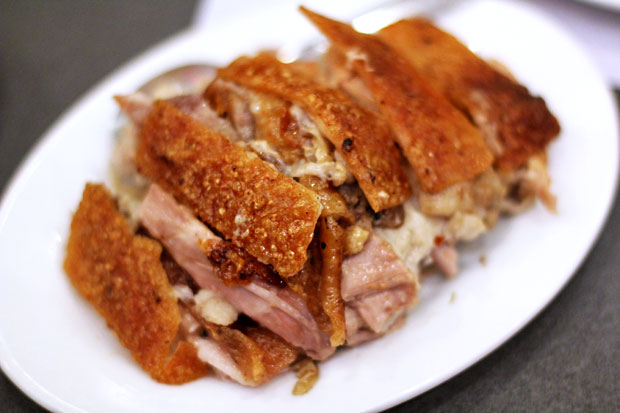 Adobong Kangkong with Chicharon – PHP 100
Adobong kangkong topped with crunchy chicharon bits. Should there be any other way? 😆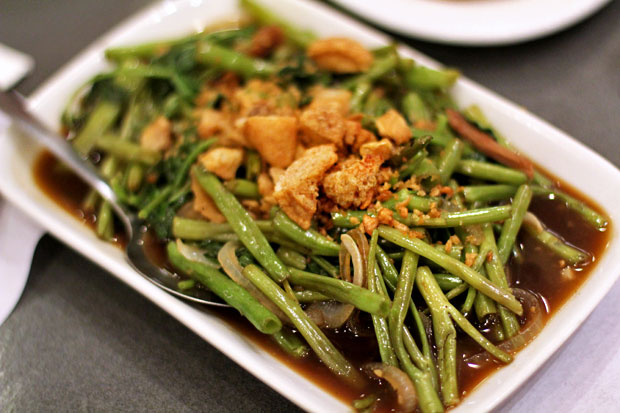 Banana Turon with Dulce de Leche – PHP 90
Some sweet after all that salty. The others found the dulce de leche a little too sweet, but I didn't mind it. I thought it went pretty well with the turon.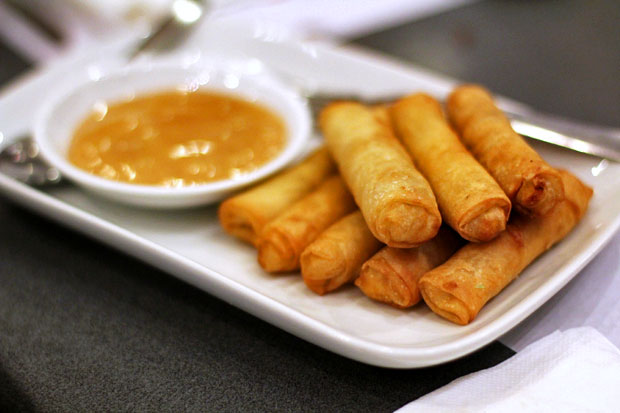 As mentioned in THIS POST, Ren wasn't able to join us on this trip because of a family emergency. As big a fan of Market Man as I am, she had never tasted Zubuchon before either, so I instantly knew what to bring her back as pasalubong (welcome gift). Seriously, could there have been a more epic gift than two kilos worth of frozen Zubuchon?! Cute takeout box in hand, I felt like Christopher Columbus bringing gold back to the queen. 😆
At our server's suggestion, I saved a few pesos by paying for the two kilos here, then picking them up at the airport (PHP 530/kilo vs PHP 590/kilo). They have a kiosk at the departure area which offers hot meals as well as prepackaged, frozen Zubuzhon (complete with reheating instructions!). Enjoying it for lunch the very next day, it got rave reviews all around.
Happy as I was to finally meet Zubuchon and its cast of Market Manila characters, I have to admit that there was one major personality that I was disappointed not to see. Next time we're in Cebu, we're not leaving without meeting that infamous, elitist fishpan. 😆
Zubuchon Escario Central
Escario Street, Cebu City
Tel: (032) 254-0247
Facebook: Zubuchon
Email: [email protected]
CLICK HERE for all other branches
More on Cebu
Where to Stay in Cebu: Club Serena Resort, White Beach, Moalboal, Cebu, Philippines
Swimming with Whale Sharks in Oslob, Cebu, Philippines
On Taking the Road More Traveled to Kawasan Falls, Badian, Cebu, Philippines
Plantation Bay Resort and Spa, Marigondon, Mactan Island, Cebu, Philippines
Kenneth Cobonpue Showroom, Cebu City, Philippines
Ayer Lechon, Cebu City, Philippines