After spending over a week each in Dubrovnik and Split, two of the country's most popular tourist destinations, it was silly of me to assume that we had already seen the best of Croatia. One morning spent exploring Zadar's Old Town was all it took to remind me we were just getting started.
Zadar Old Town feels similar to its counterparts in Dubrovnik and Split, but this city in Northern Dalmatia has a charm that's unmistakably its own. The Sea Organ and Greeting to the Sun are uniquely cool attractions while the riva on the western side of the Old Town has been our single favorite place in Croatia thus far.
A one-kilometer stretch of waterfront free of any boats to block or sully your view, it made the Adriatic feel like a limitless, ocean-blue swimming pool. It would have been impossible not to dive in on warmer days!
Alas, it was the start of winter so as a consolation, we made it our nightly ritual to brew hot cups of tea at our Airbnb and watch the sun go down from the riva. Not as exciting perhaps, but every bit as unforgettable.
The ten days we spent in Zadar flew by like a dream. Cold and rainy as it may have been on some days, there was never a dull moment thanks to the beauty of the riva, the charms of the Old Town, and the city's delicious food.
Here are ten of the best restaurants to help you make the most of your time in Zadar.
ZADAR RESTAURANTS QUICK LINKS
To help you plan your trip to Zadar, we've put together links to top-rated hotels, tours, and other travel-related services here.
HOTELS
Recommended hotels and apartments in the Old Town, the best place to stay for first-time visitors to Zadar.
TOURS
OTHER SERVICES
Save This on Pinterest!
No time to read this guide on the best restaurants in Zadar? Click on the save button and pin it for later!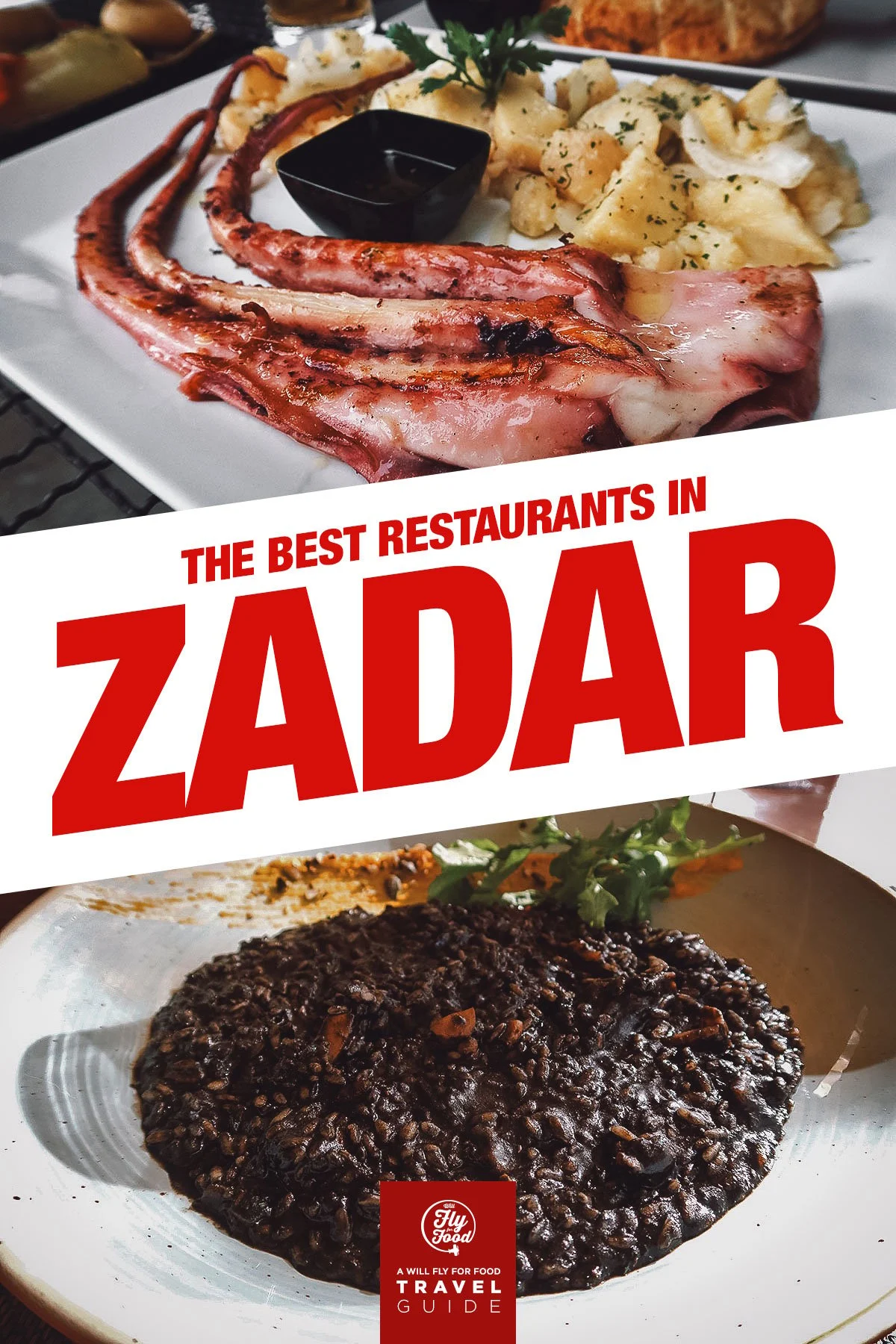 THE BEST RESTAURANTS IN ZADAR
1. Restaurant Bruschetta
On the way to our Airbnb, our Uber driver pointed to Bruschetta and called it "one of the most expensive restaurants in Zadar". Naturally, we were intrigued.
We looked it up and were pleasantly surprised to find that it didn't seem to be all that expensive, at least not significantly more than any other restaurant we had already scoped out in Zadar. Offering fresh seafood, meat dishes, pasta, and of course bruschetta, we were happy to add them to our list.
Adriatic bluefin tuna is a specialty in coastal Croatia so I ordered their tuna steak. I've enjoyed tuna steak multiple times in Croatia but this was far and away the best I've had thus far. Bruschetta has been the only place to ask me how I wanted it done, which says a lot about their dedication to food preparation.
I asked for medium rare and got exactly that – a perfectly cooked steak that was juicy, flavorful, and still pinkish-red in the middle. It was absolutely delicious and one of the best meals I've enjoyed in Croatia thus far. If you like fresh fish, then I highly recommend trying this.
At the time of our visit in October 2023, seafood dishes were priced at around EUR 20-25 a plate, which is about what you can expect at any decent restaurant in Croatia's old towns.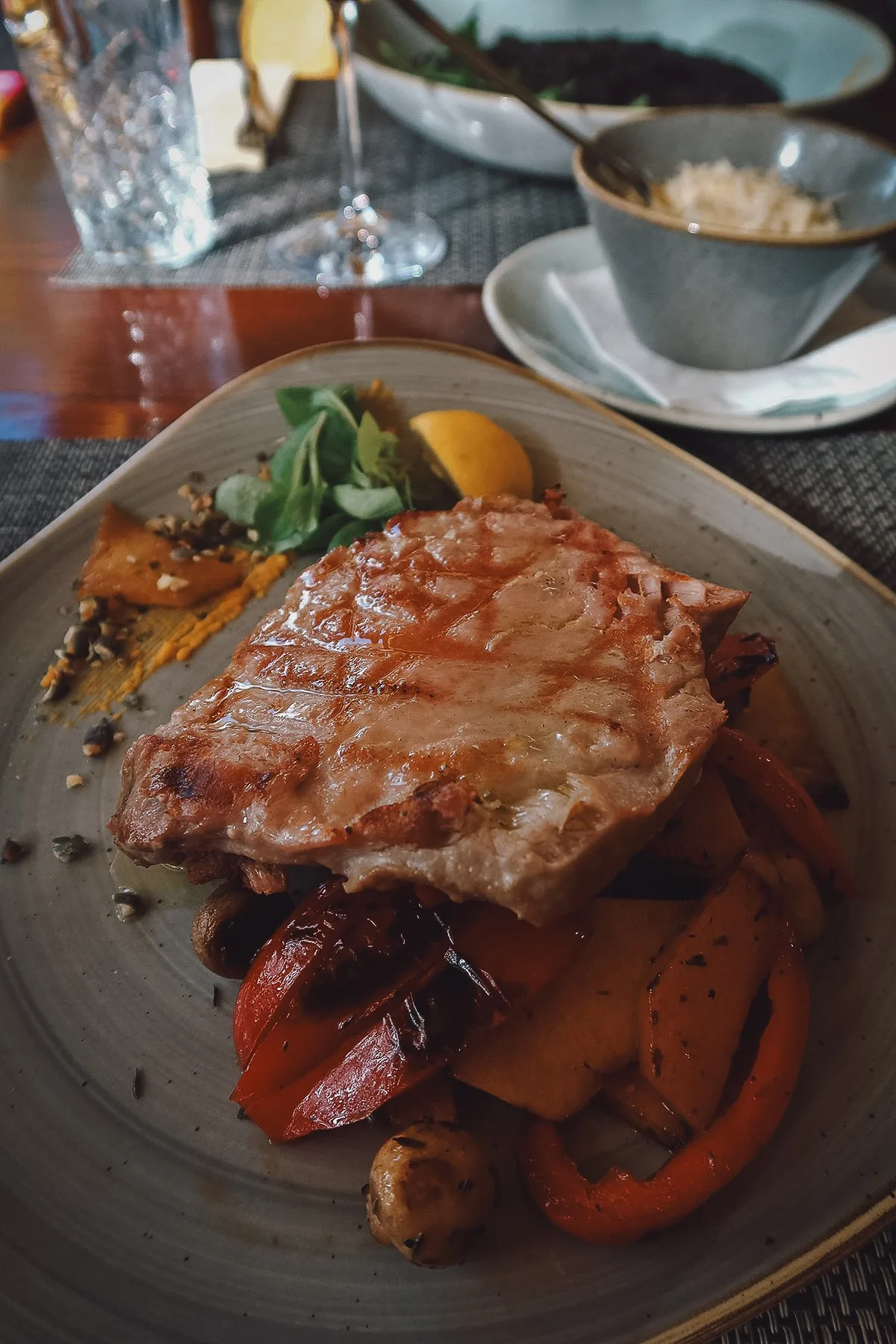 The tuna steak is a great choice for seafood lovers, but so is this bowl of black risotto. It's a supremely flavorful Croatian dish consisting of risotto cooked with squid or cuttlefish.
Like Spanish paella negra, black risotto gets its rich dark color from being cooked with squid or cuttlefish ink. My god was this delicious!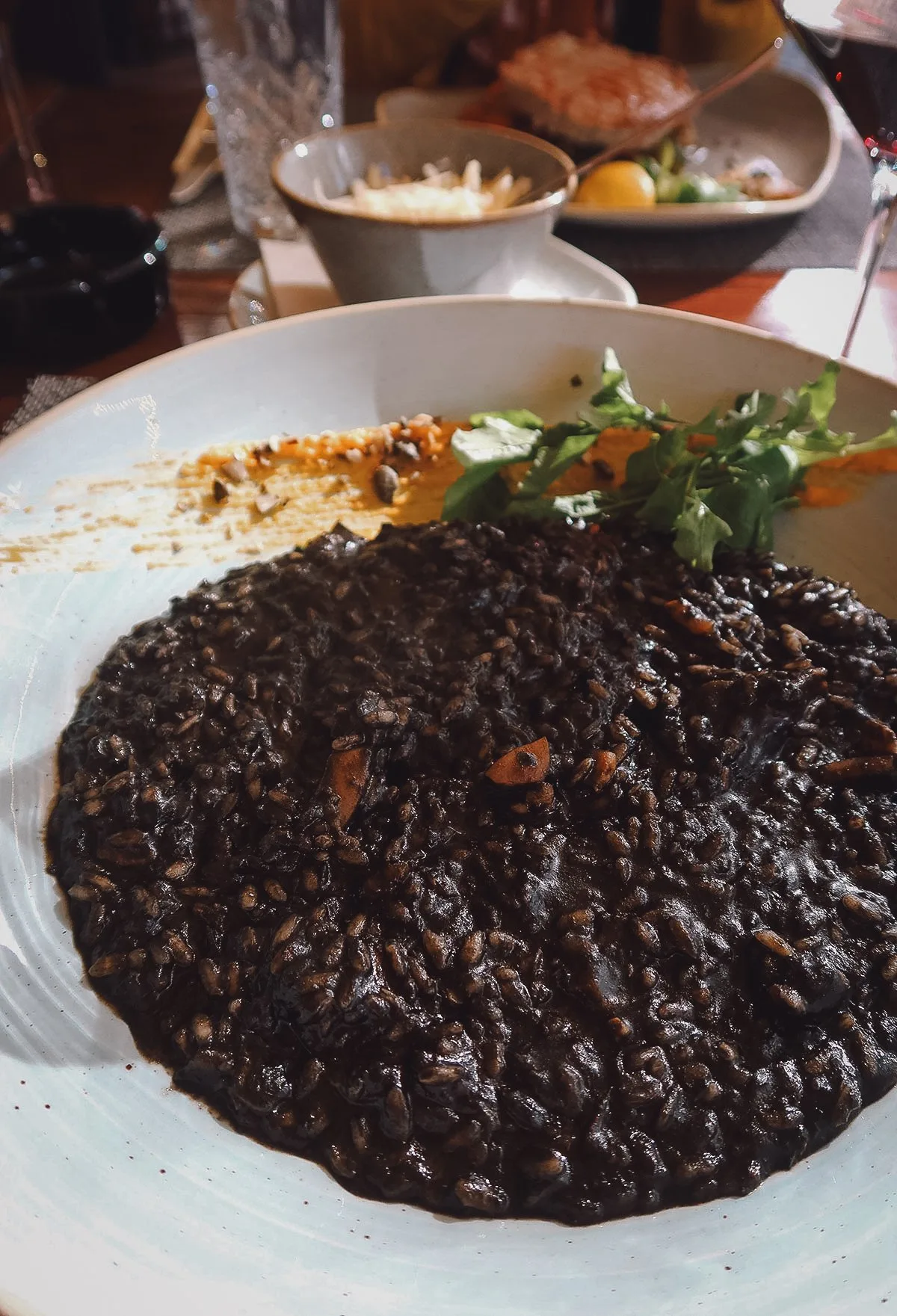 If you're a fan of Mediterranean cuisine, then Restaurant Bruschetta is a great place to visit. Aside from serving amazing food, they have an extensive wine list as well.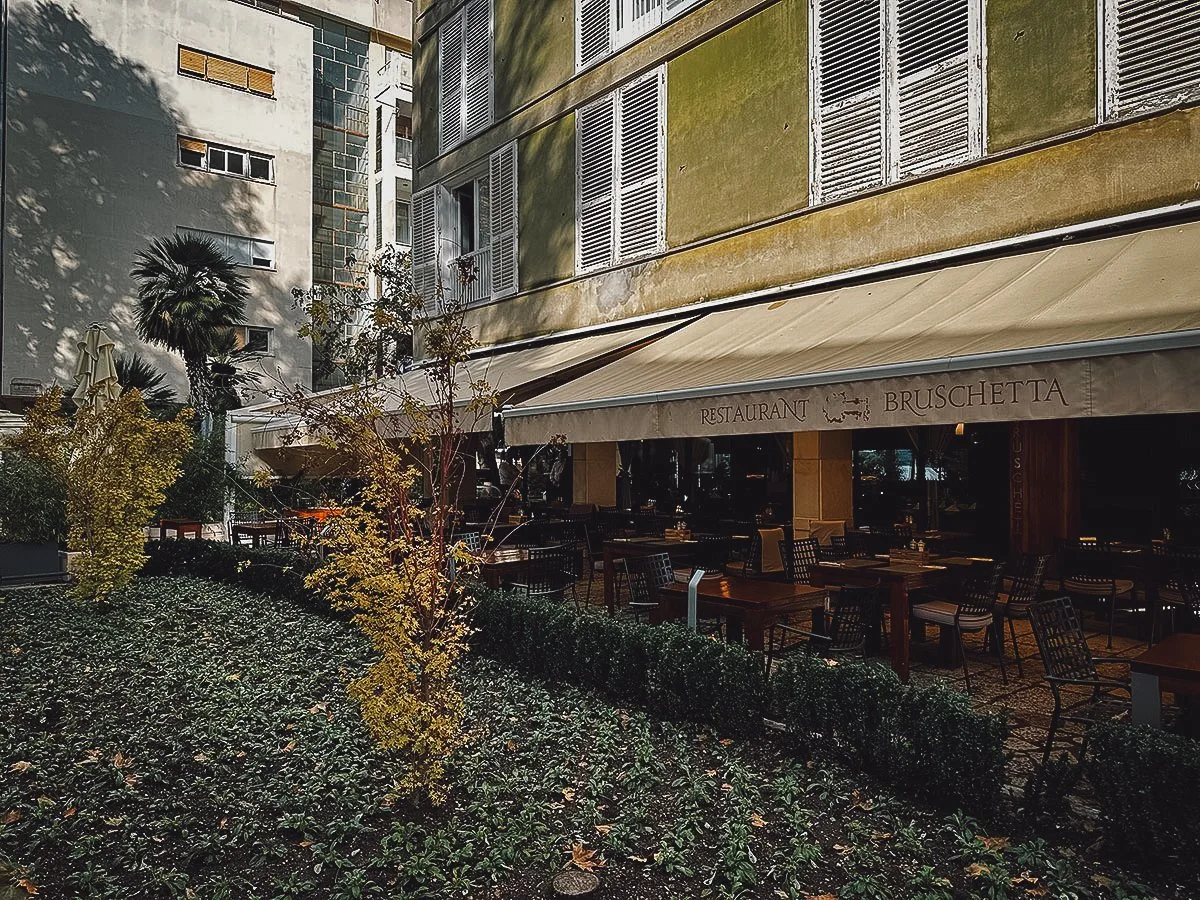 Thankfully, it wasn't too cold for us to enjoy our lunch on the restaurant's outdoor terrace. The restaurant has a simple but cosy atmosphere that makes meals here even more enjoyable. The service was excellent as well.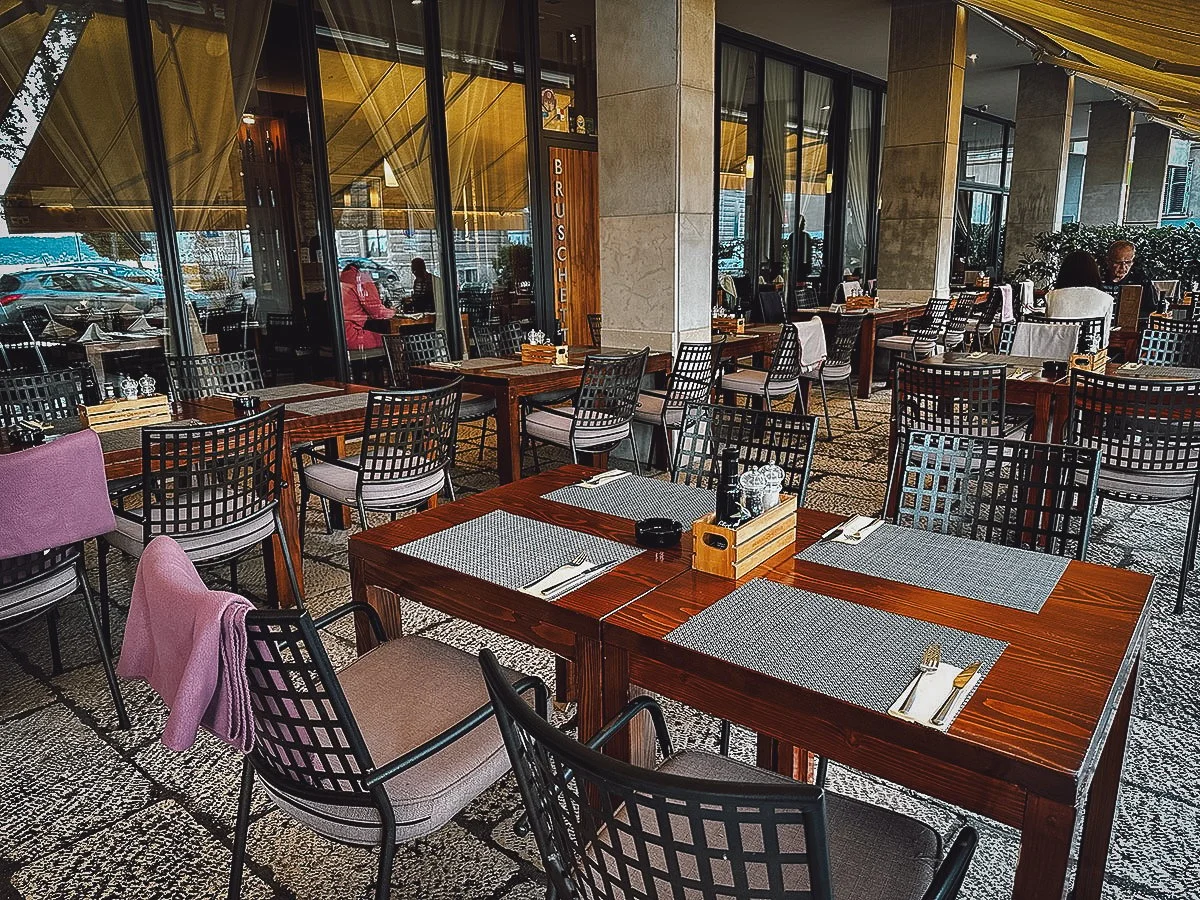 Restaurant Bruschetta
Address: Ul. Mihovila Pavlinovića 12, 23000, Zadar
Operating Hours: 12NN-10:30PM, daily
What They Offer: Mediterranean cuisine, pasta dishes
2. 4 Kantuna
Like Bruschetta, 4 Kantuna was one of our favorite restaurants in Zadar. They offer a similar menu with lots of fresh fish and seafood, meat dishes, risotto and gnocchi, fresh pasta dishes, and pizza.
We had many delicious dishes in Zadar but this plate of monkfish in truffle sauce with homade fuzi (Istrian pasta) was one of our favorites. Meaty monkfish paired with chewy homemade pasta redolent with the flavor of fresh black truffles. If we didn't have so many restaurants to visit in a limited amount of time, then I would have loved to have this again. It was so good!
We were sharing one pizza and one pasta dish so our server was kind enough to split our order over two plates. For just EUR 23, they give you a generous amount of food.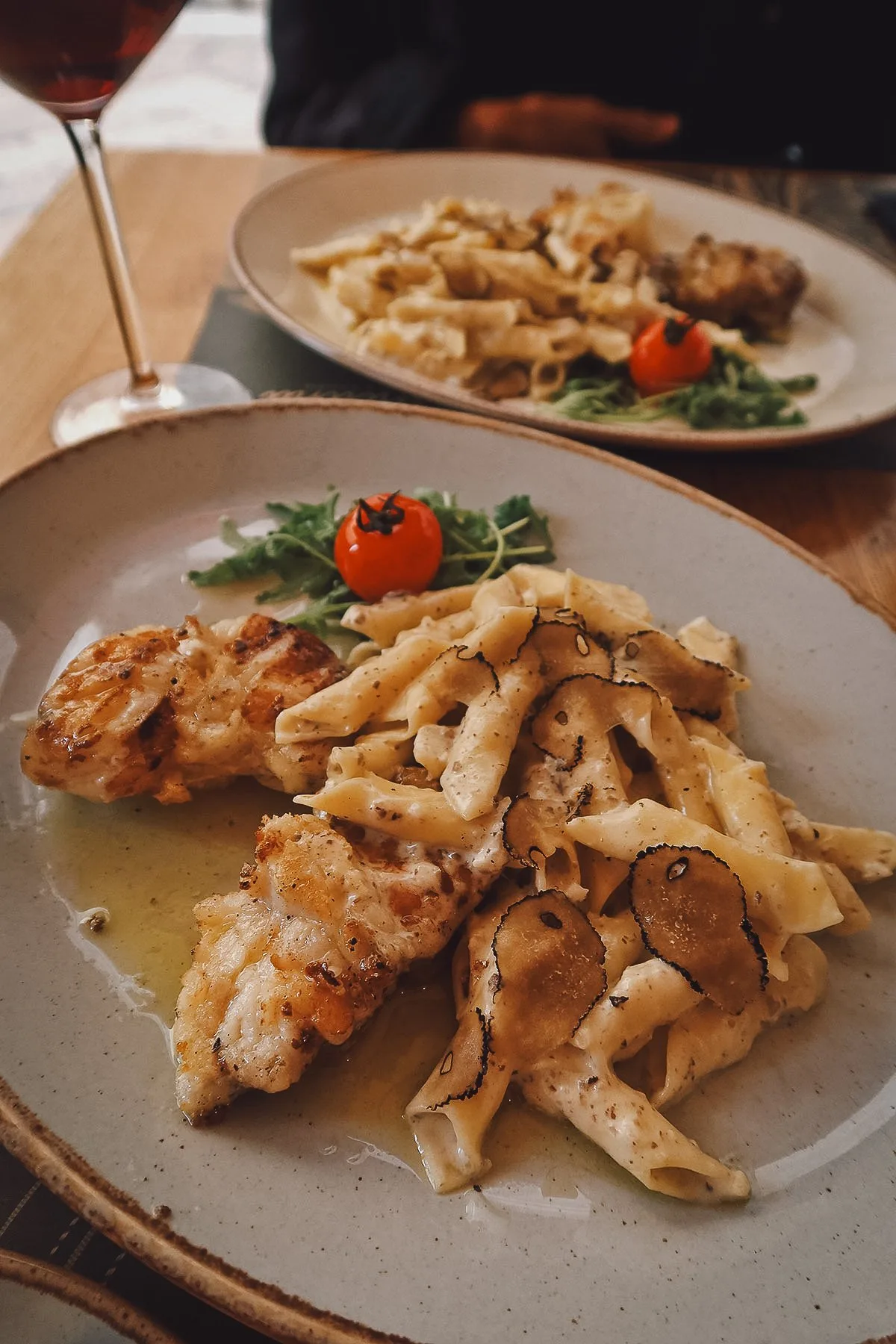 Pizza isn't an example of Croatian cuisine but this favorite Italian dish is popular throughout Croatia. Croatians make insanely delicious Neapolitan-style pizzas so it's probably something you'll want to have more than once in Zadar (or in any Croatian city for that matter).
4 Kantuna offers over a dozen topping combinations. What you're looking at below is our favorite funghi or mushroom pizza. Made with a thin and bubbly crust topped with brown mushrooms, olives, and fresh basil, it was delicious and just as good as any pizza we've had anywhere in Croatia.
For about EUR 4-7 (depending on the restaurant and city), many restaurants in Croatia offer a variety of side dishes. Today, we enjoyed our meal with a side of grilled vegetables.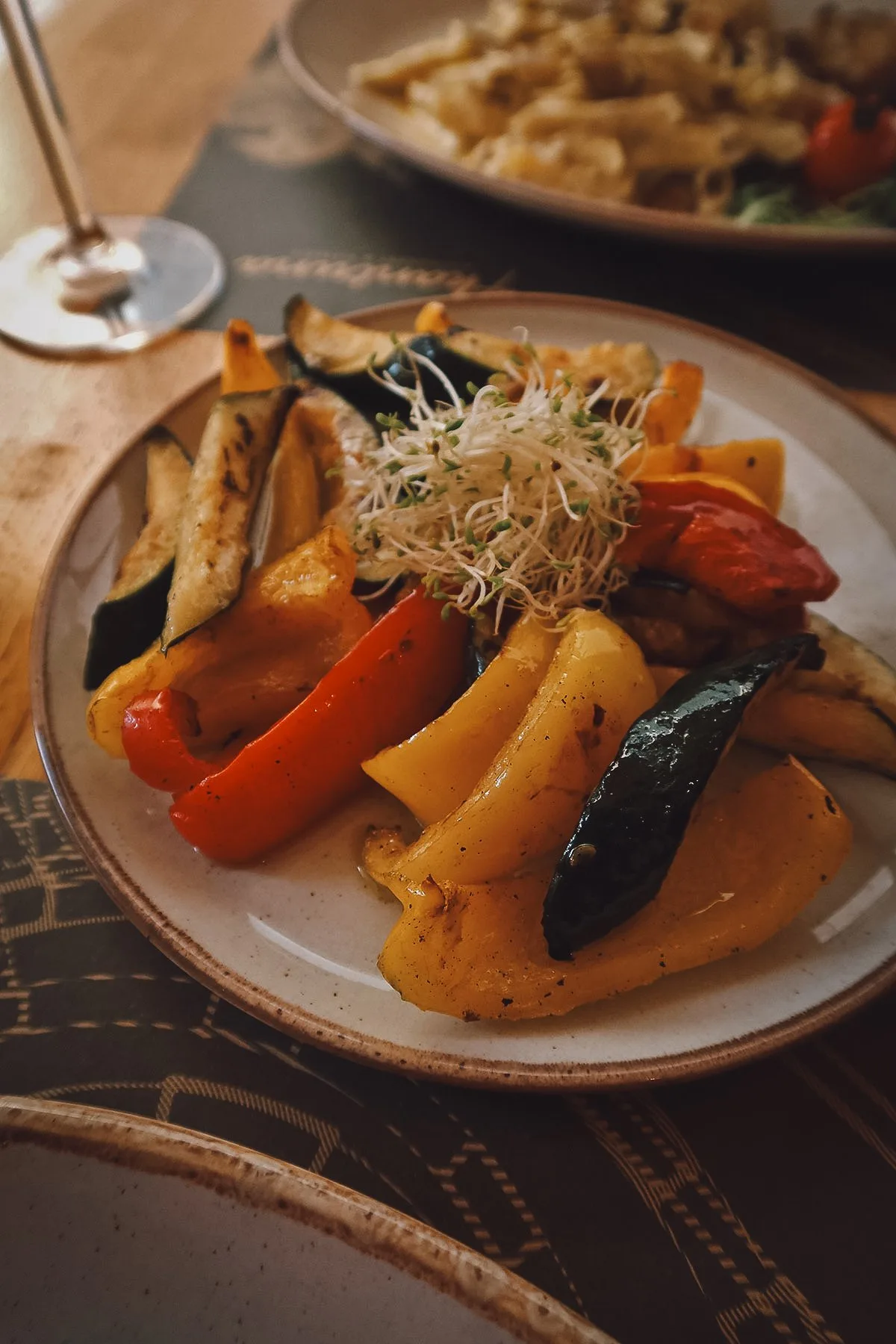 4 Kantuna is located in a busy part of Zadar Old Town so it shouldn't be hard to spot. Like Bruschetta, they offer a good selection of local wines.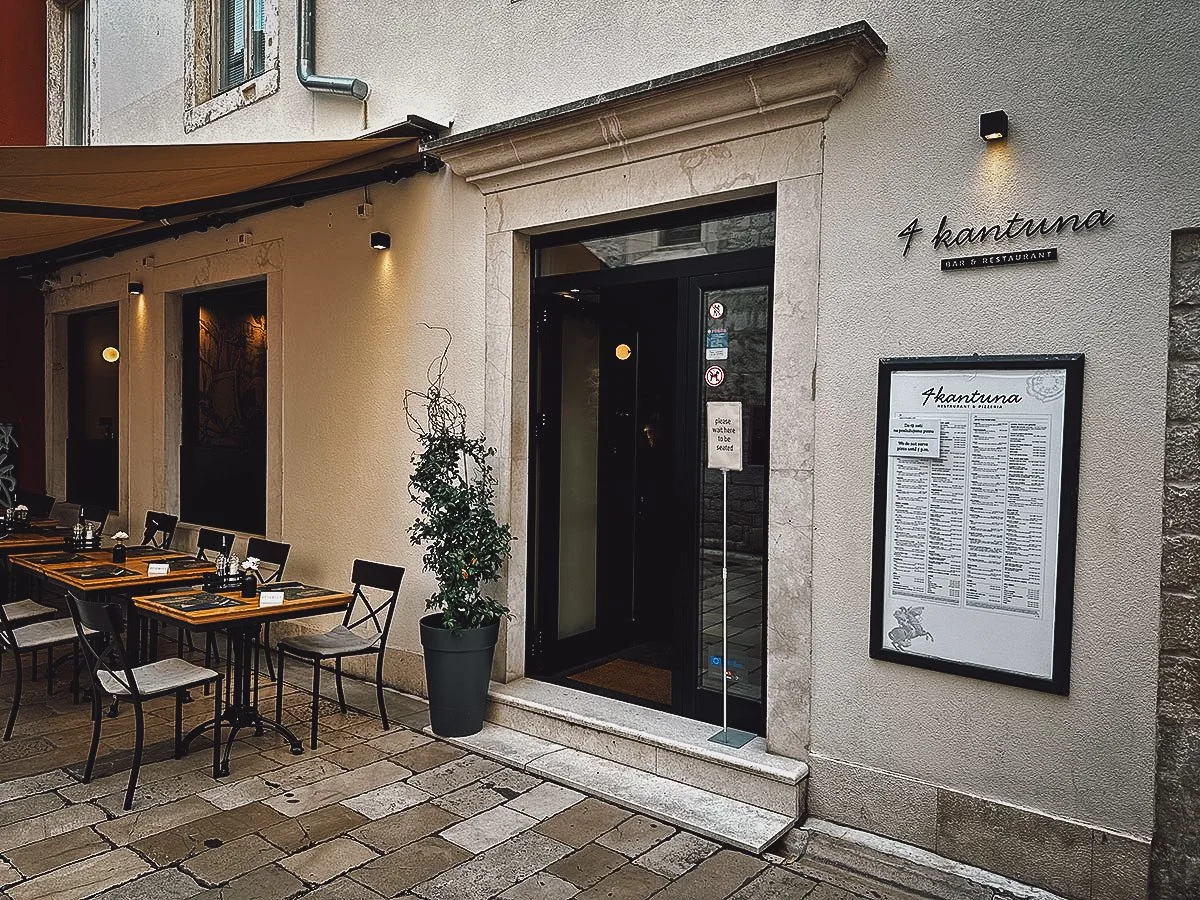 Like many restaurants in Zadar (and in any of Croatia's Old Towns), you can sit inside or at one of these outdoor tables set up in an alley.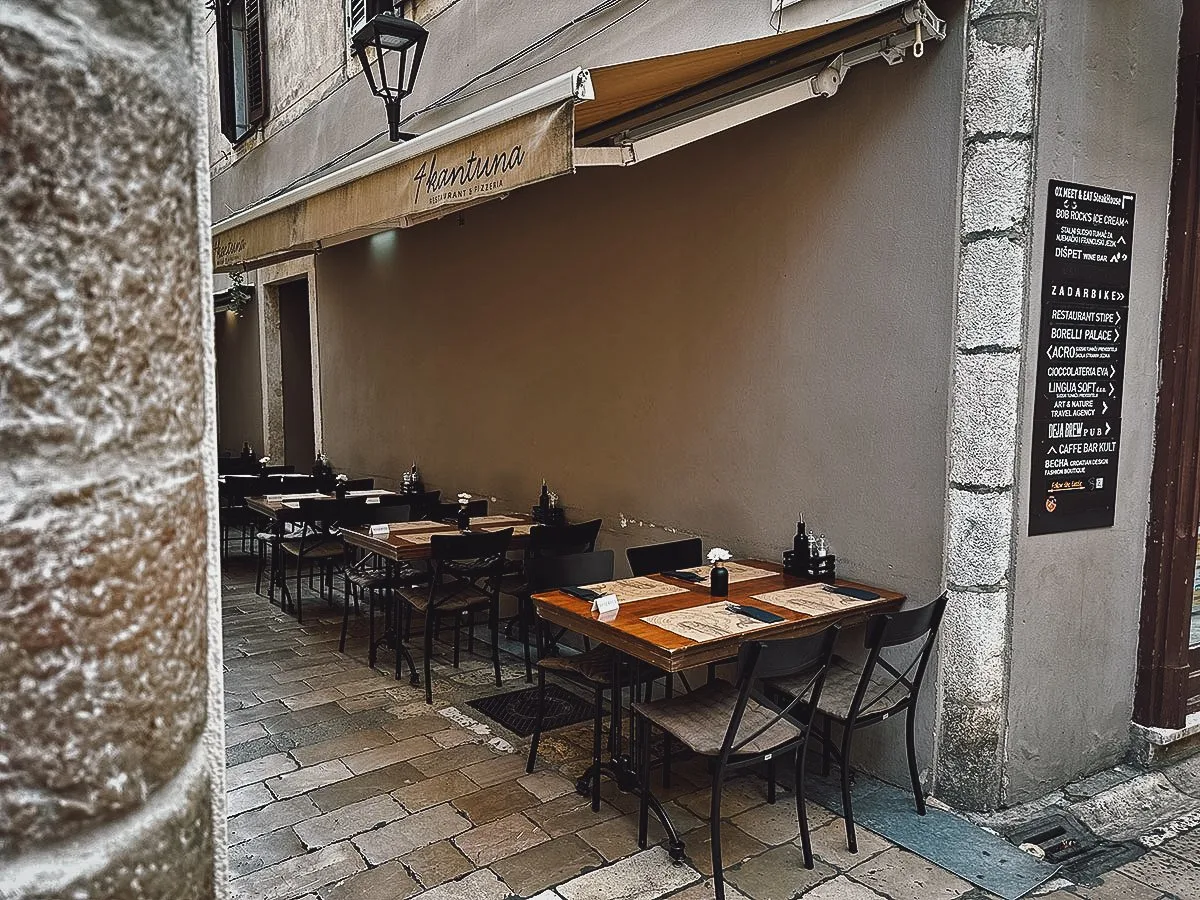 4 Kantuna
Address: Varoška ul. 1, 23000, Zadar
Operating Hours: 12NN-12MN, daily
What They Offer: Mediterranean cuisine, fresh seafood, pizza
3. Pet Bunara
Pet Bunara is another great place we found when we were searching for the best traditional restaurants in Zadar. We had lunch here mainly to try their pasticada (Croatian braised beef dish) but they offer tasty seafood dishes and a few vegetarian options as well.
Pictured below is a ball of Adriatic hake cooked with Zadar saffron and brandy. A more delicate type of fish, it was served with a side of boiled potatoes and broccoli.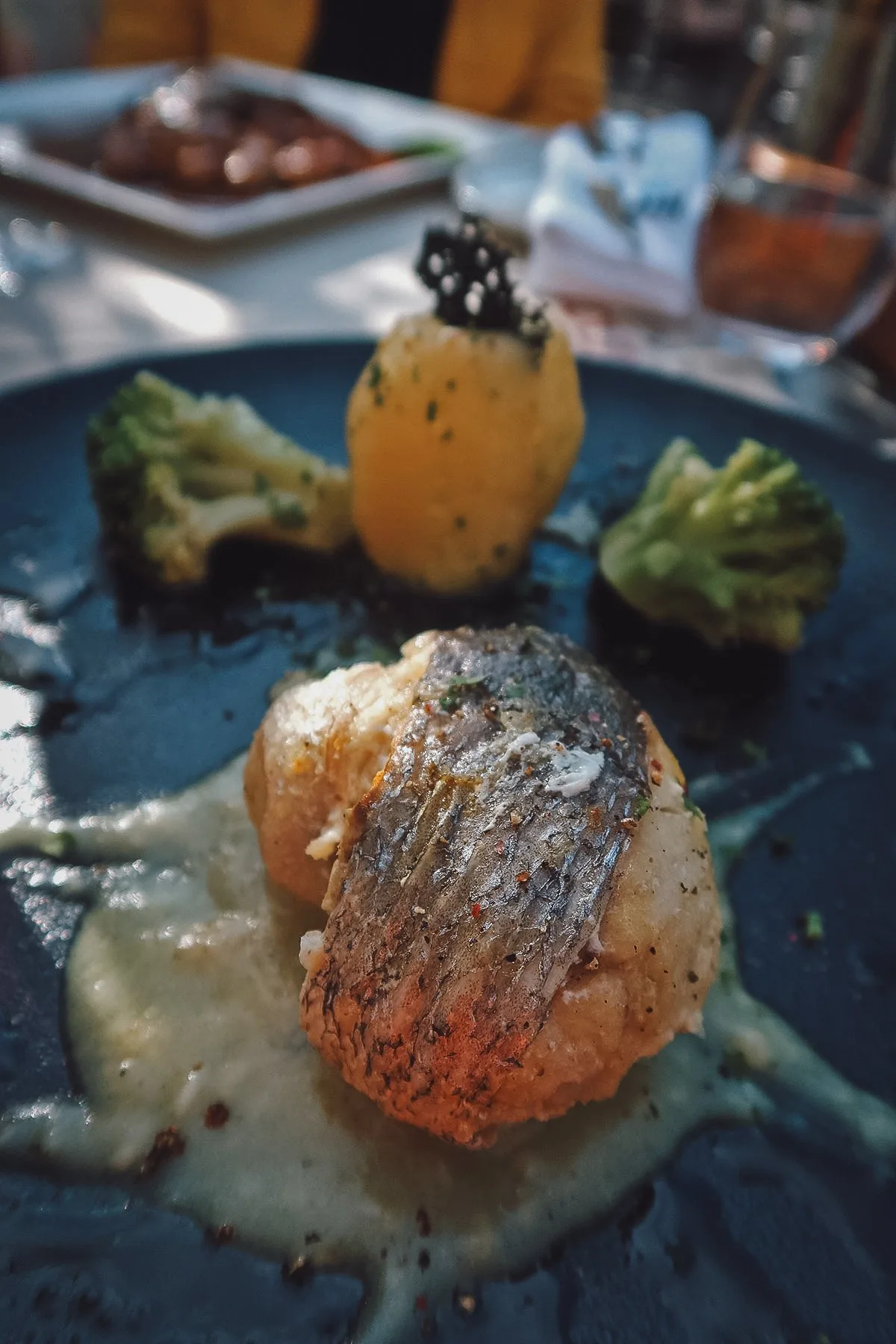 If you're interested in sampling the local cuisine, then pasticada is something you need to try in Zadar. Also known as Dalmatinska pasticada, it's a type of sweet and sour braised beef dish that originated in Dalmatia.
We're partial to seafood but this pasticada was a nice surprise. It was definitely one of the most delicious dishes we had in Zadar and Dalmatia.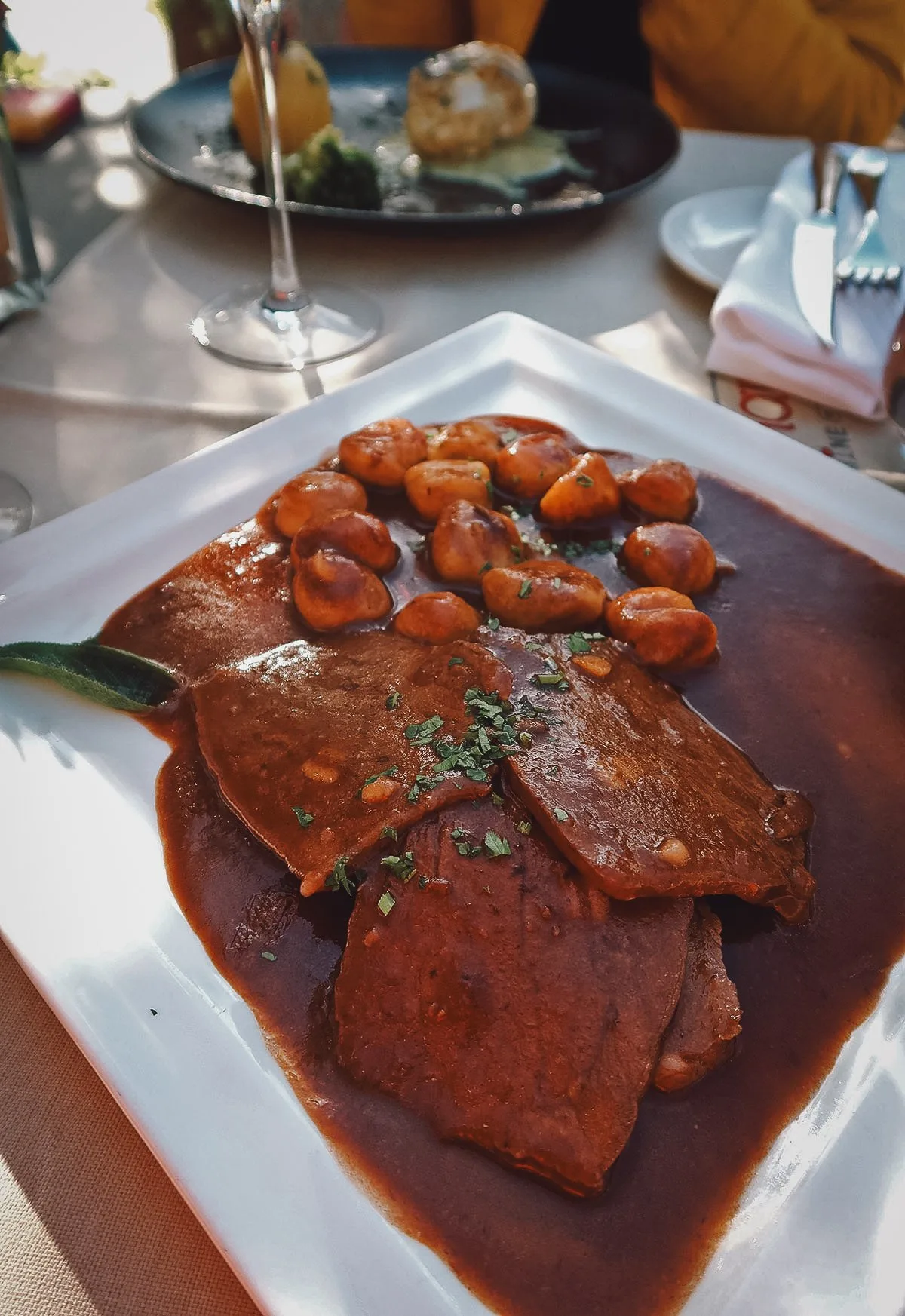 Located in the southern part of the Old Town, near the city walls, Pet Bunara is a wonderful restaurant that serves traditional Dalmatian cuisine. The hake was nice but their pasticada was definitely something we'd look for again.
I don't know how it is during the summer but this area was quieter than the more central parts of the Old Town. Sitting on their outdoor terrace, it was a great place to have a more leisurely lunch in Zadar.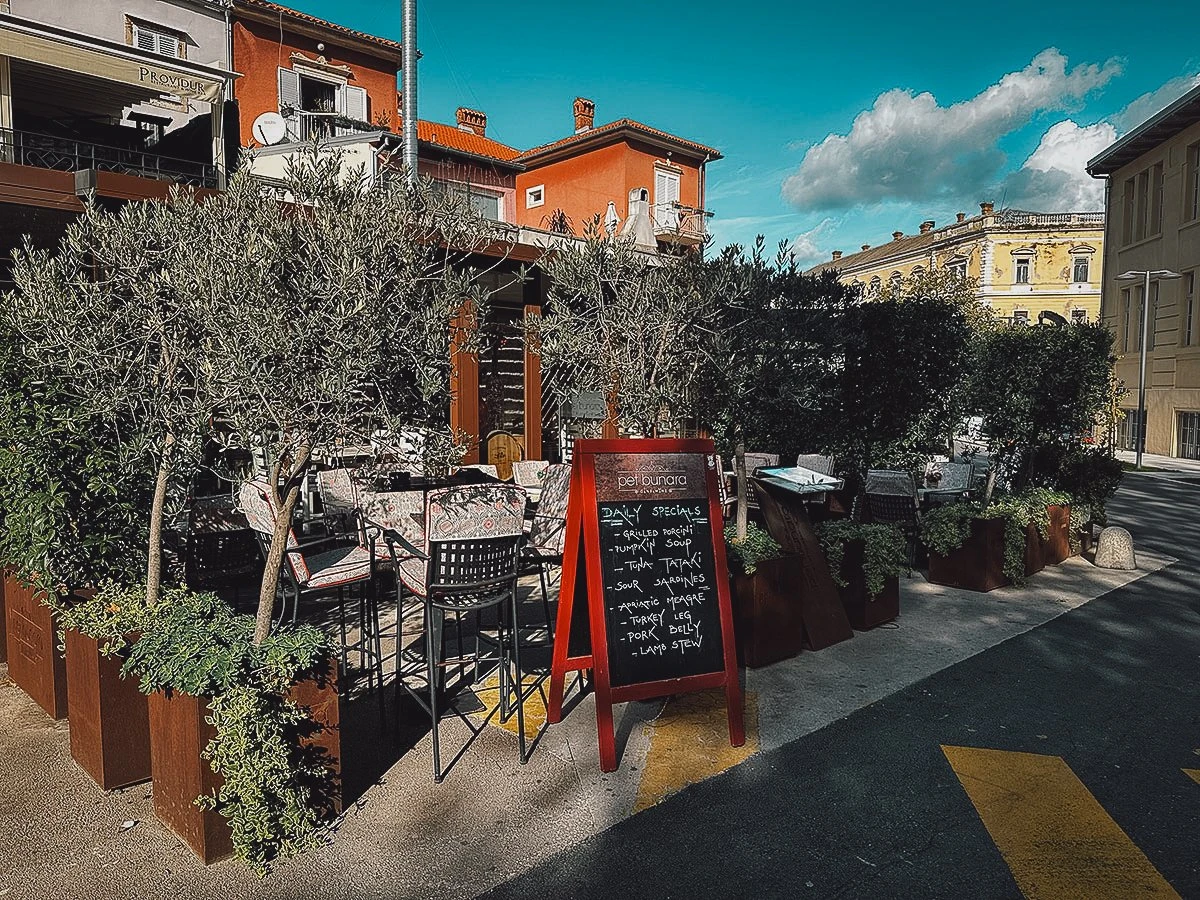 Pet Bunara
Address: Stratico ul. 1, 23000, Zadar
Operating Hours: 12NNM-10:30PM, Wed-Mon (closed Tuesdays)
What They Offer: Seafood dishes, meat dishes, vegetarian options
4. Lo-Cal Grill
Restaurant prices are higher in the Old Town. This has been the case in every city we've visited thus far in Croatia so if you want cheaper food prices, then it's best to find restaurants outside the historical part of the city. Lo-Cal Grill, a local eatery about a 30-minute walk northeast of the Old Town, is the perfect example of that.
In Zadar Old Town, grilled octopus dishes like this one will typically cost you around EUR 20-25 but at Lo-Cal Grill, you can enjoy it for just EUR 15 (October 2023). And it's just as good as any you'll find in the historical center.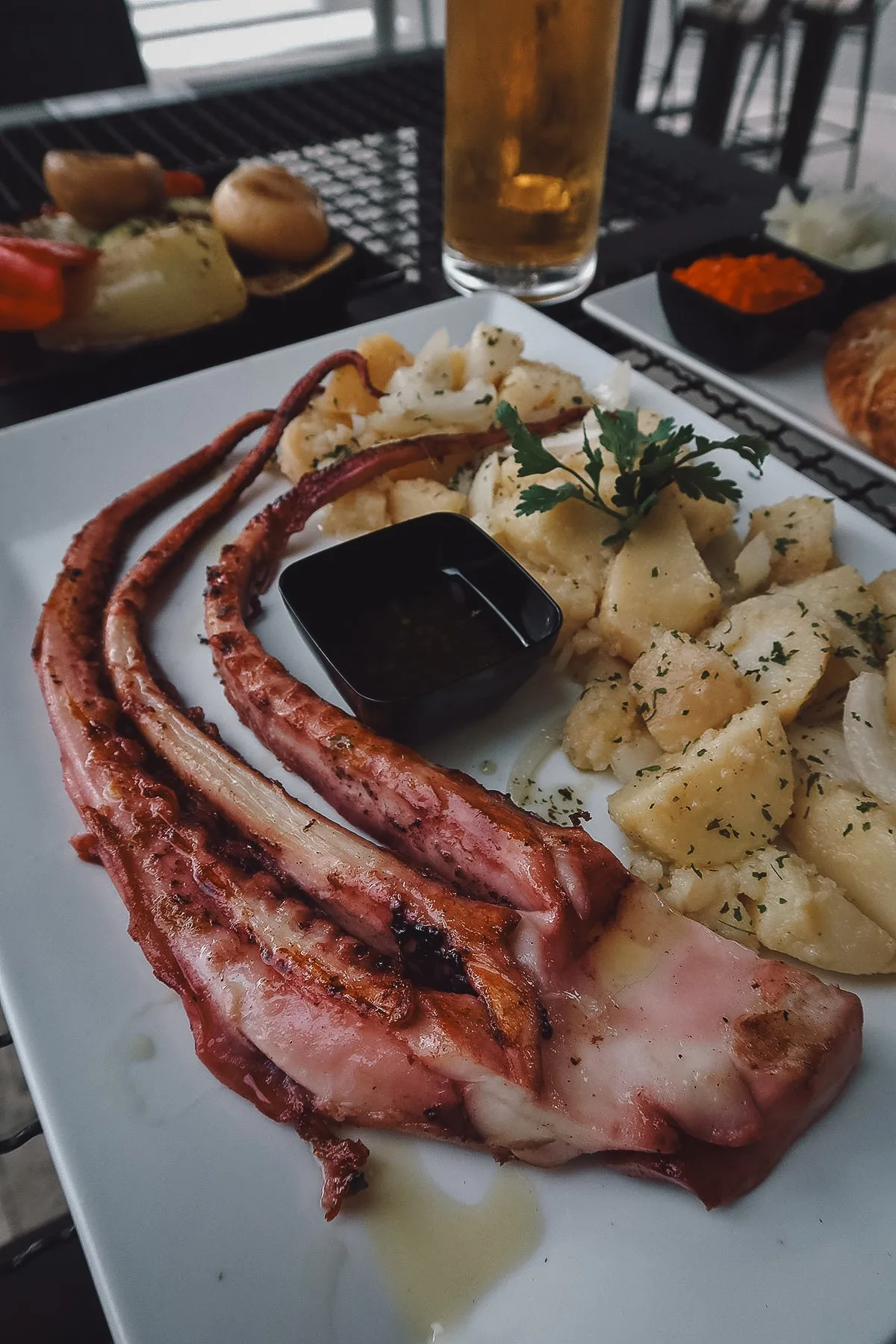 We were happy to find grilled octopus at Lo-Cal Grill but they're mainly a Croatian comfort food restaurant that specializes in cevapcici and other meat dishes. We read more than one local call their cevapcici one of the best in Zadar so we had to try it for ourselves. They may be right.
Cevapcici (or cevapi) refers to these grilled meat sausages that you can enjoy on their own or served in lepinja flatbread as a sandwich filling with onions and ajvar (pepper condiment). Similar to Turkish kofte, it's a hugely popular comfort food in Croatia and in other Balkan countries like Serbia and Bosnia and Herzegovina.
In Croatia, forget hamburgers. Go for a cevapcici instead. They're inexpensive, filling, and delicious.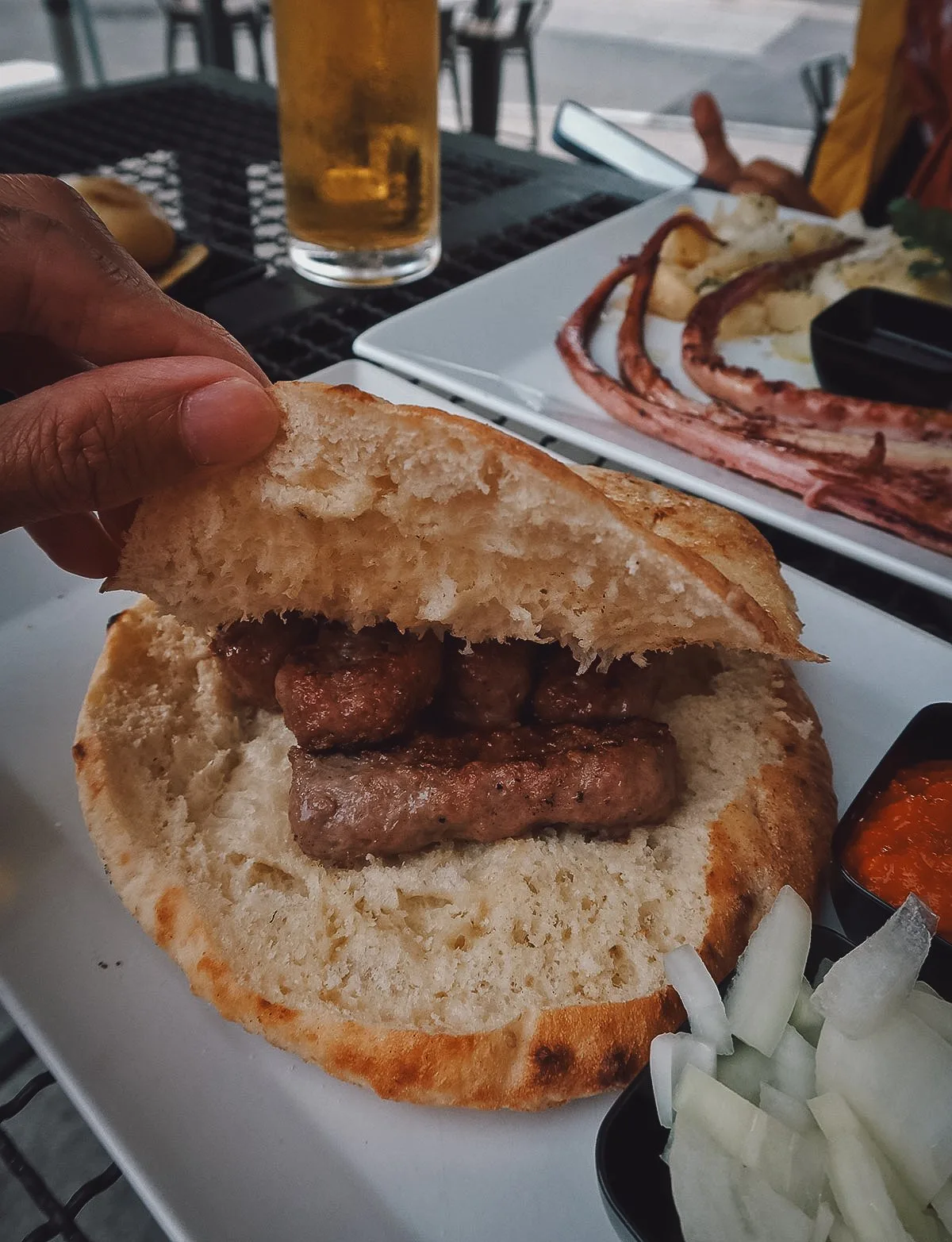 As always, we enjoy supplementing our meal with a side of grilled veggies.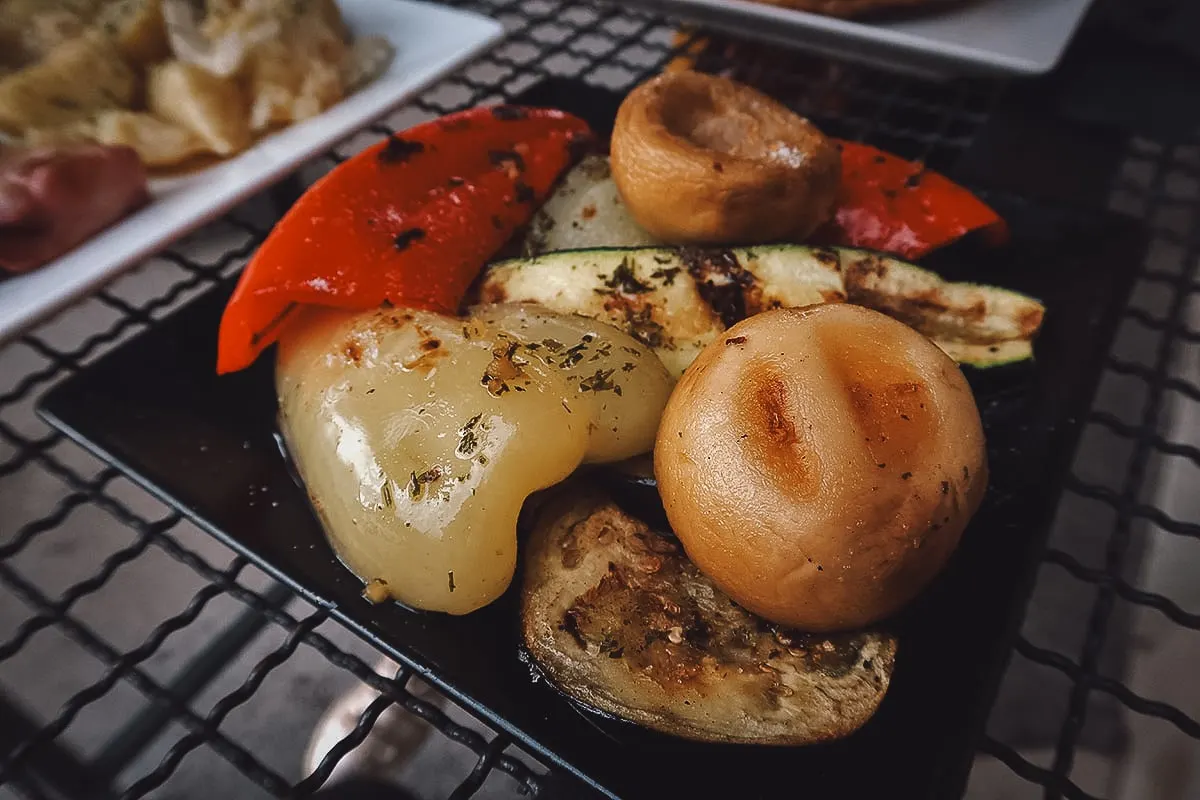 Lo-Cal Grill is hardly low cal but they are a local restaurant that serves tasty food at very reasonable prices. It's a little less than 2 km from the Old Town but considering all the calories you'll be consuming, you'll welcome the walk. You can refer to our map for its exact location.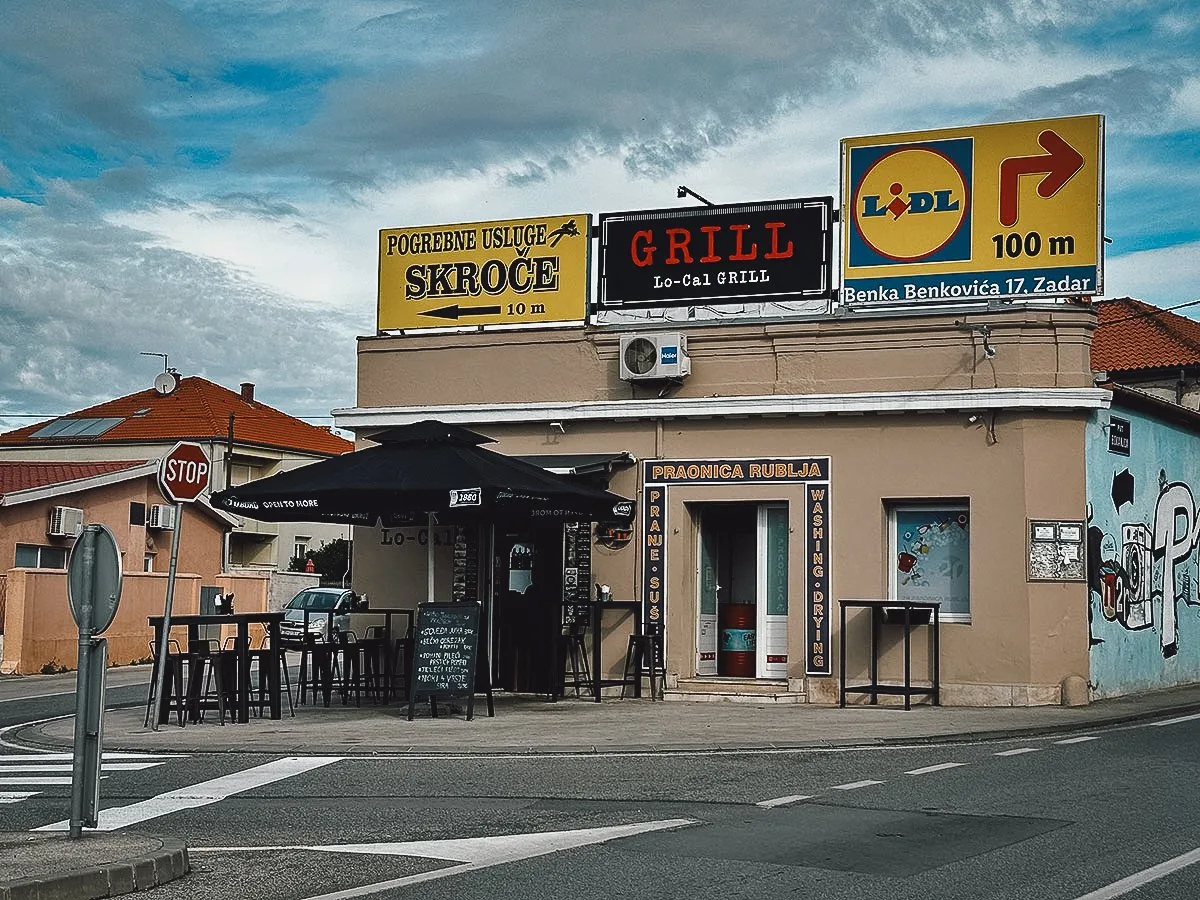 Lo-Cal Grill
Address: Put Nina 2, 23000, Zadar
Operating Hours: 8AM-11PM, daily
What They Offer: Croatian comfort food
5. The Botanist
If you're a vegan or vegetarian, then you need to enjoy a meal at The Botanist. Not only are they one of the best vegan restaurants in Zadar, they're one of its best restaurants period.
We aren't vegan but we appreciate and respect people who abstain from eating meat and animal by-products. We've been to a few vegan and vegetarian restaurants around the world but I can confidently say that The Botanist is the best vegan restaurant we've been to thus far. Not only is their food delicious, but it's incredibly creative as well. As you can see from the dish below, this isn't your typical raw food restaurant.
They name their dishes after animals and they call this one olm. It's their take on "fish" cooked in a white wine reduction with Swiss chard and a potato and cauliflower puree. Of course, the fish isn't made with any fish at all. Instead, it's made with a combination of celery, tofu, garlic, and seaweed.
Though it didn't have the same flakey texture of real fish, its flavors were indeed reminiscent of cooked white fish. It tasted like fish pate wrapped in seaweed. I loved it.
I liked the fact they served it with their own creative spin on blitva – a garlicky Dalmatian dish of Swiss chard and boiled potatoes that's commonly served on the side with seafood.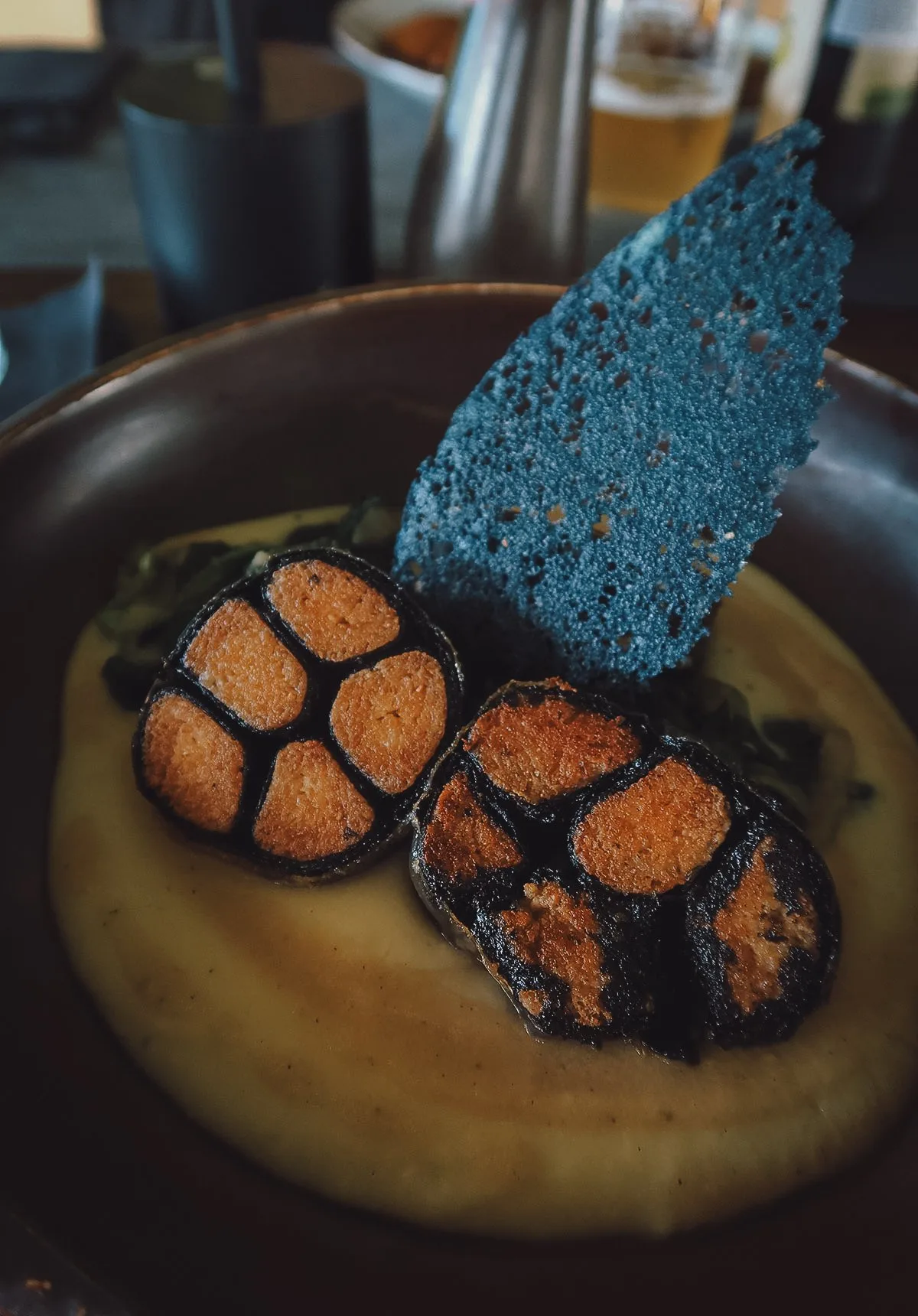 The chefs at The Botanist draw their inspiration from Croatian and Mediterranean cuisine. Can you guess what traditional Dalmatian dish this next one is meant to mimic? Clue, I already showed it to you earlier in this article.
Called common cockchafer, what you're looking at here is The Botanist's take on the classic pasticada. Instead of beef, it's made with marinated soy steaks served with potato and sweet potato gnocchi drenched in a sweet and sour vegetable, plum, and prosecco sauce.
If you've already had the classic version of pasticada, then you need to try this vegan rendition as well. It's delicious.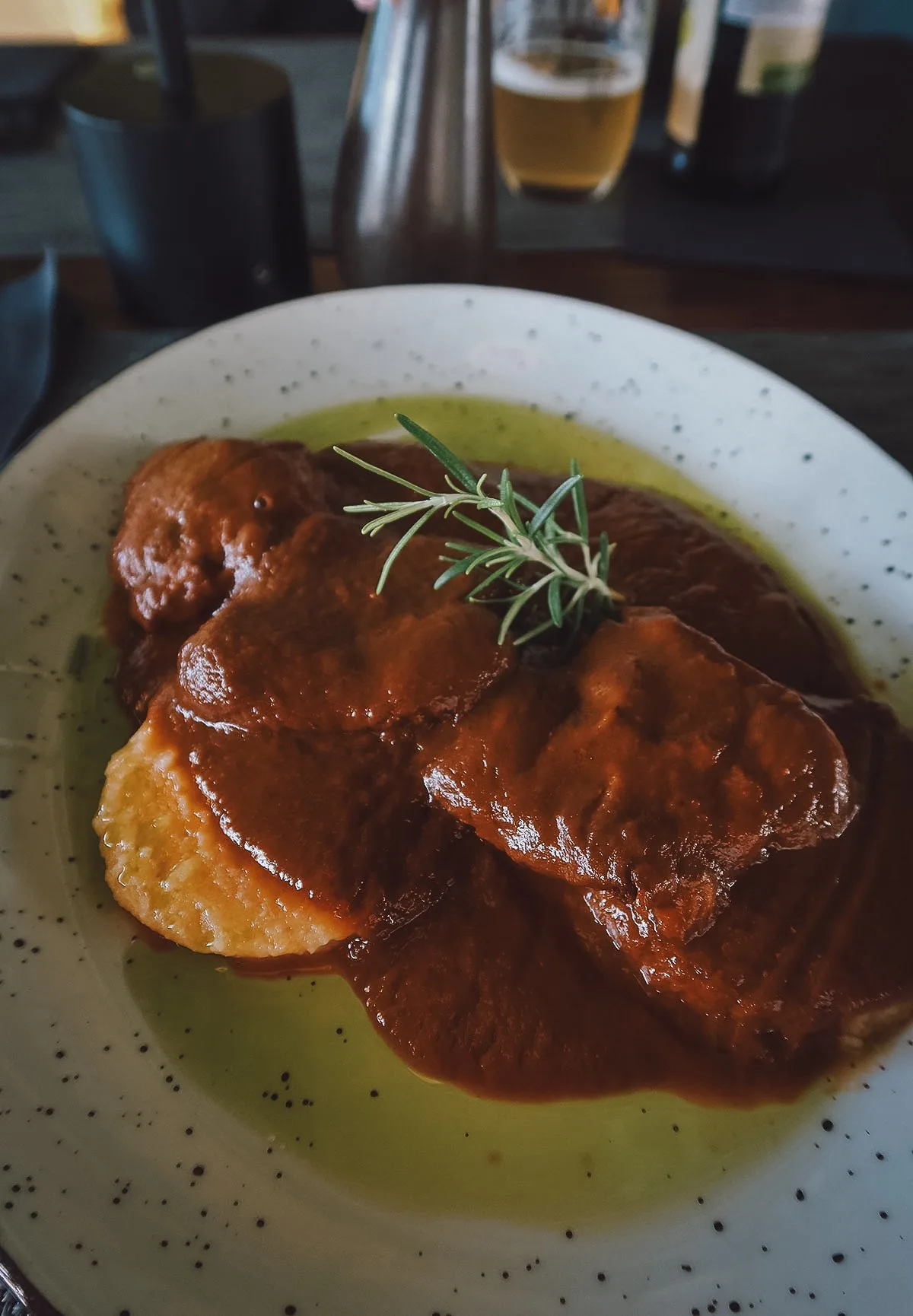 Opened by four brothers from the small town of Petrcane, The Botanist is more than just your average wrap and bowl vegan restaurant. It's essentially vegan fine dining and to us, easily one of the best restaurants in Zadar. Aside from vegan main courses, they also offer vegan burgers and desserts, even a vegan children's menu.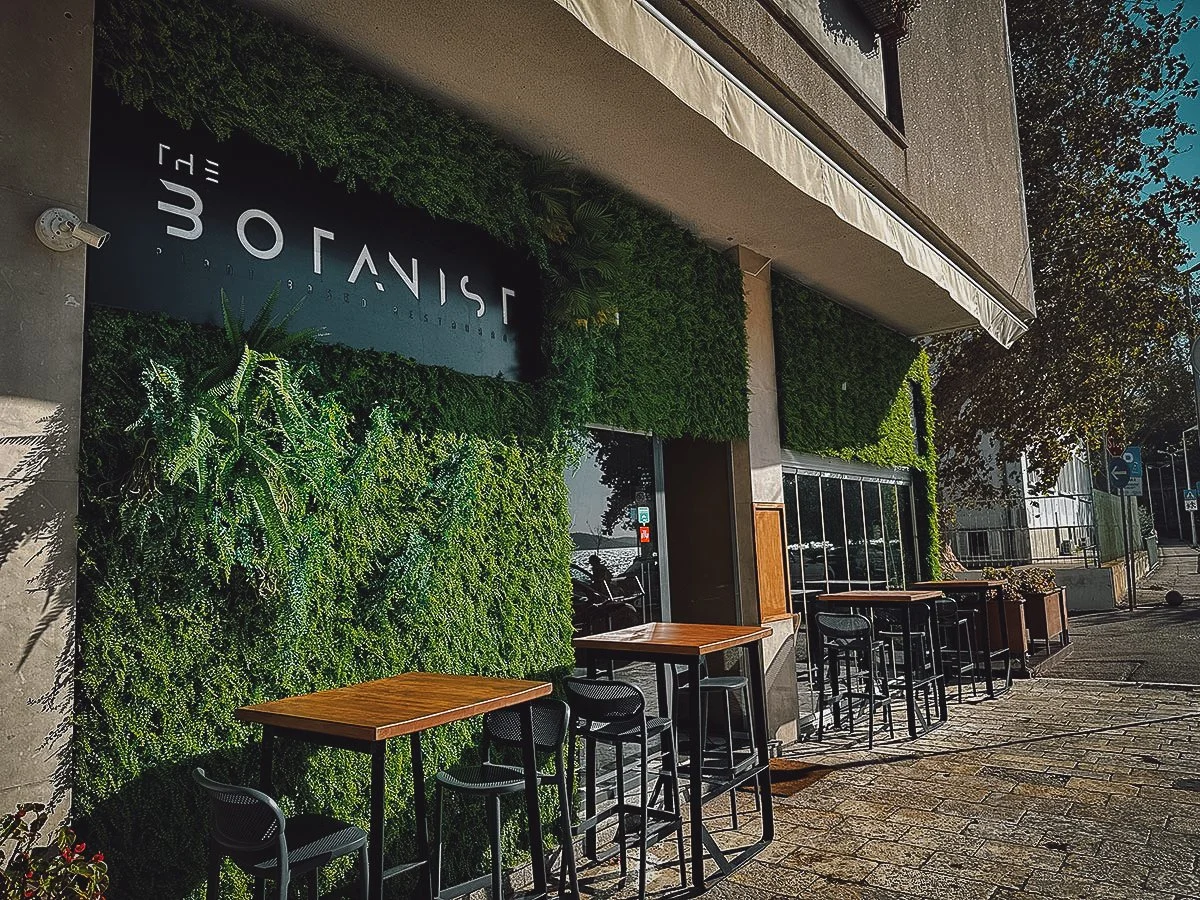 Here's a look at The Botanist's verdant interior. Tasty and cruelty-free, they offer mouthwatering dishes in a relaxed atmosphere with a view of the Adriatic Sea.
It was too cold at the time but they have outdoor seating as well, including a patio of tables across the street closer to the riva.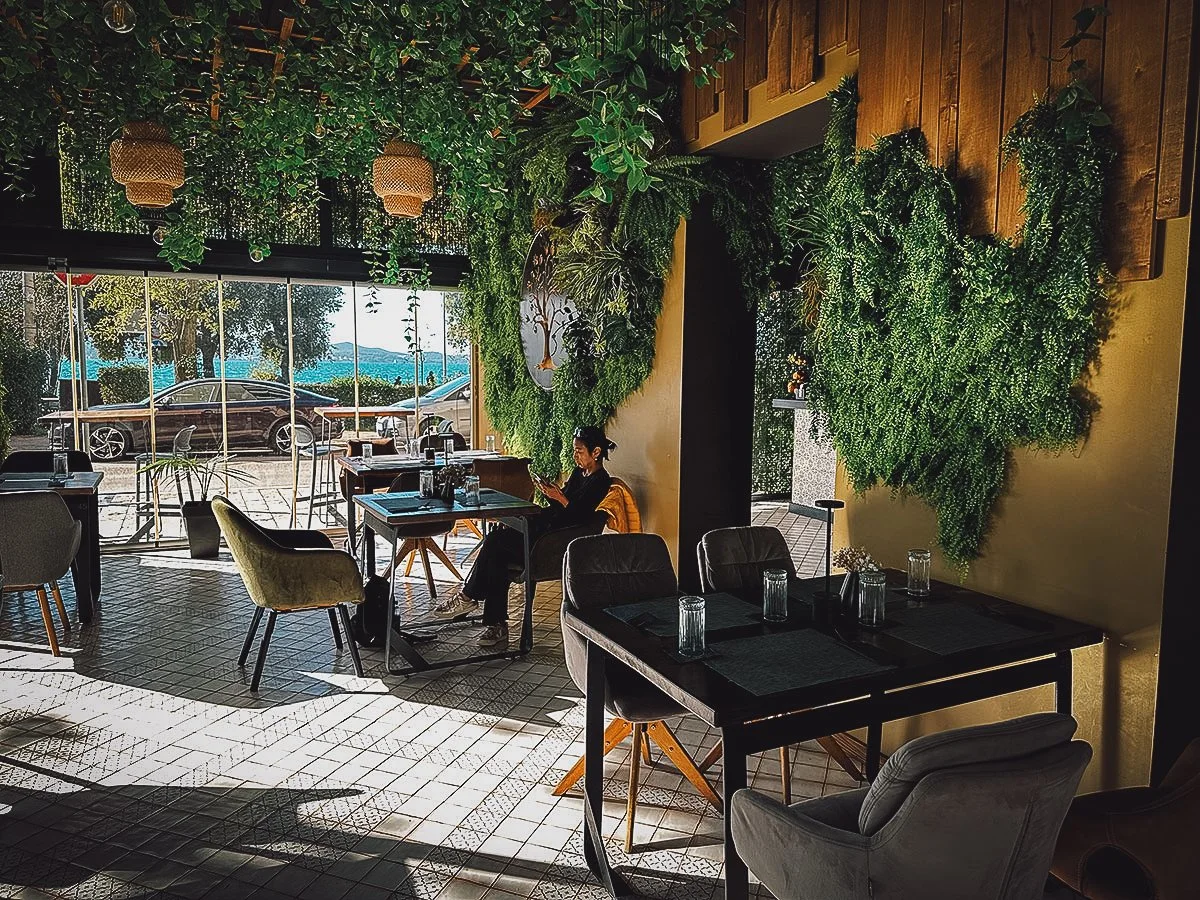 The Botanist
Address: Ul. Mihovila Pavlinovića 4, 23000, Zadar
Operating Hours: 12NN-11PM, daily
What They Offer: Creative vegan food
6. Coffee and Cake
The combination of coffee and cake doesn't sound all that good for you but if you're looking for healthy breakfast options in the Old Town, then this is a great place to visit. Aside from many different types of coffee and cake, this popular brunch spot offers heart-healthy breakfast options like granola parfait, chia pudding, and hummus bowls.
As for me, I'm a simple guy. If I see acai bowls on a restaurant's menu, then there's a good chance I'll order it. This acai bowl was topped with a generous amount of granola and slices of seasonal fruit. Yummers.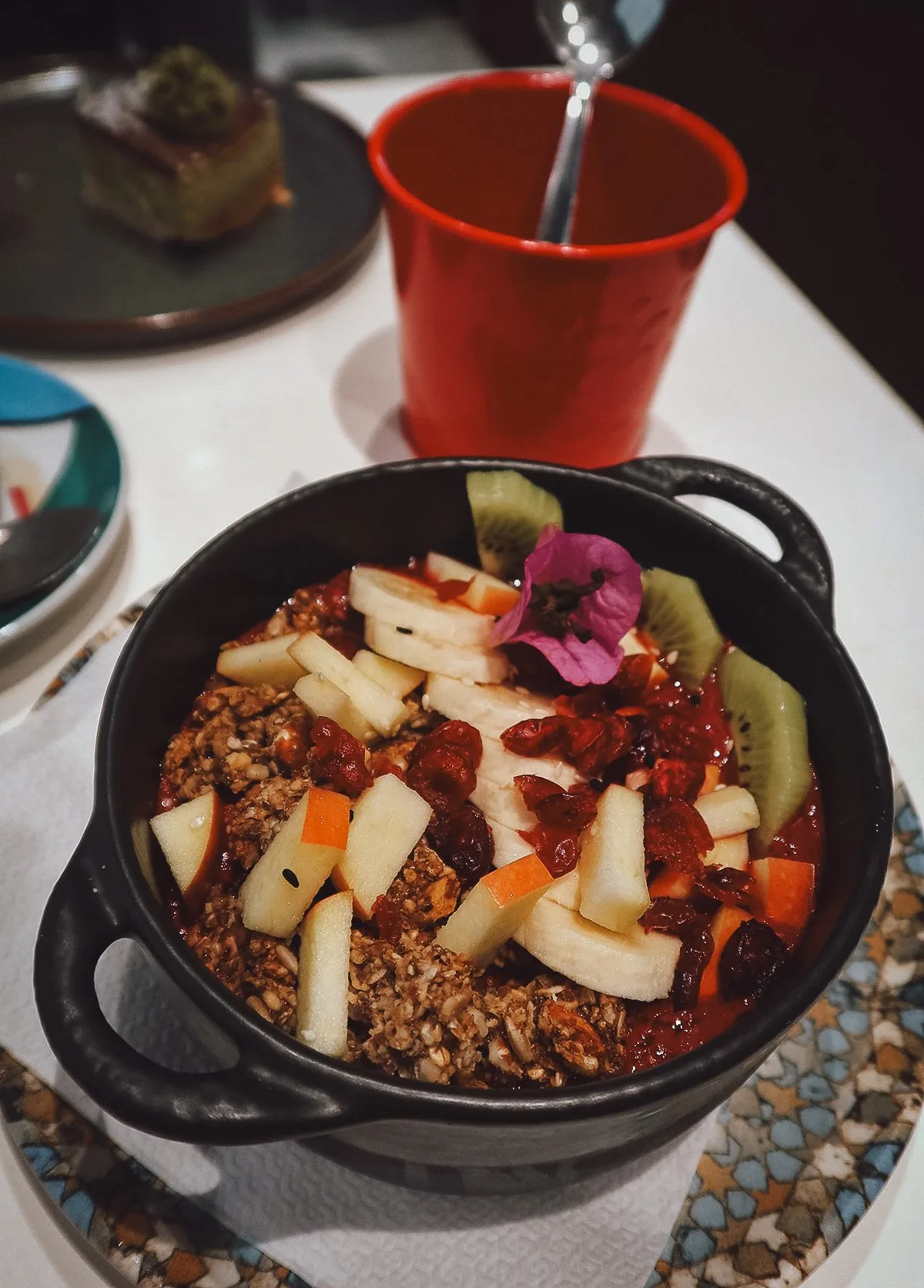 As delicious as my acai bowl was, it's obvious what Coffee and Cake is really known for. We were here in the shoulder season and the place was packed with locals, many of whom were ordering cakes at 10AM in the morning!
Coffee and Cake offers almost three dozen different types of cake. We tried this yummy pistachio cake which seems to be one of their best sellers.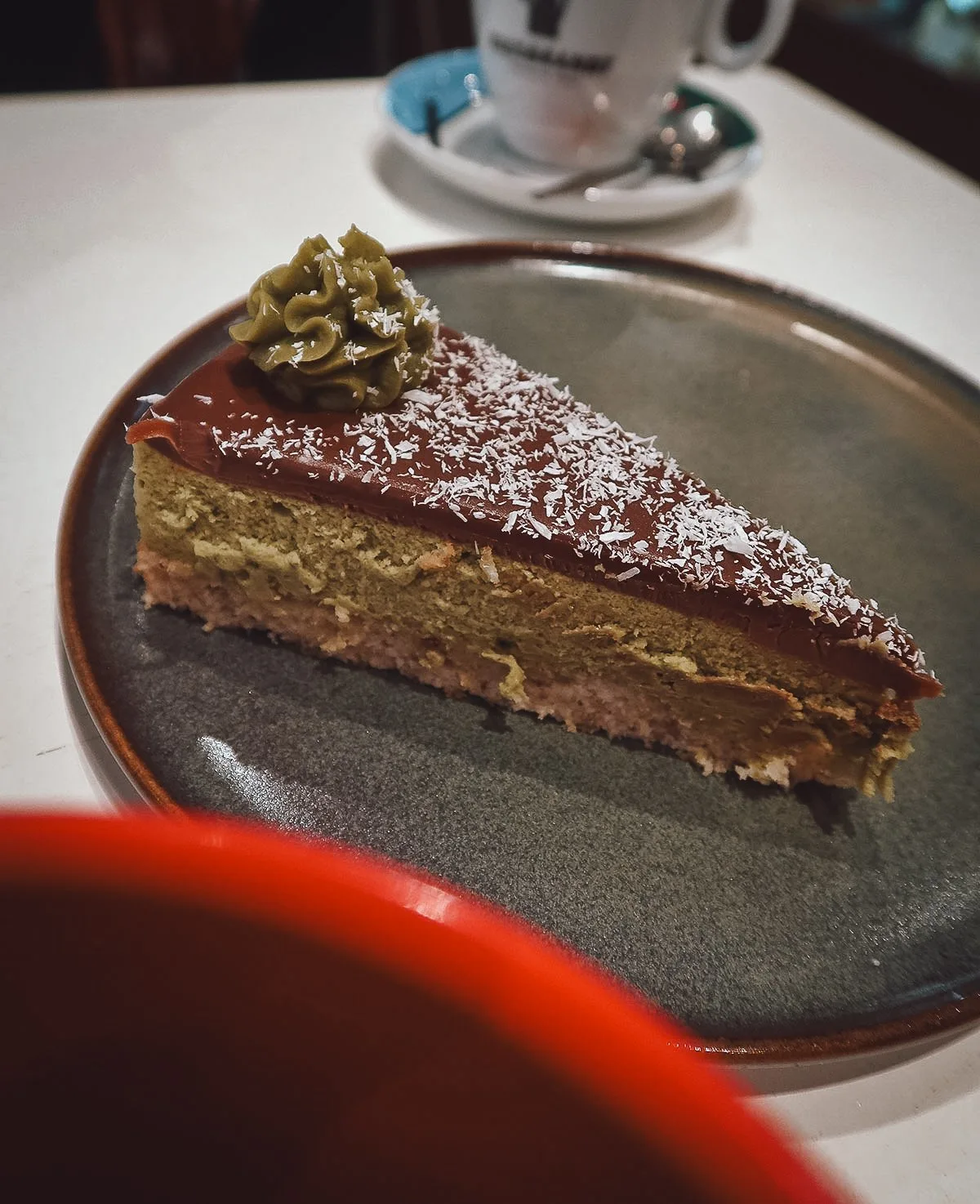 We visited Coffee and Cake in early November 2023, when the vast majority of tourists were already gone, and we were surprised to find the place filled with local diners. Nearly every table was already taken so I can only imagine how busy they must get during the summer.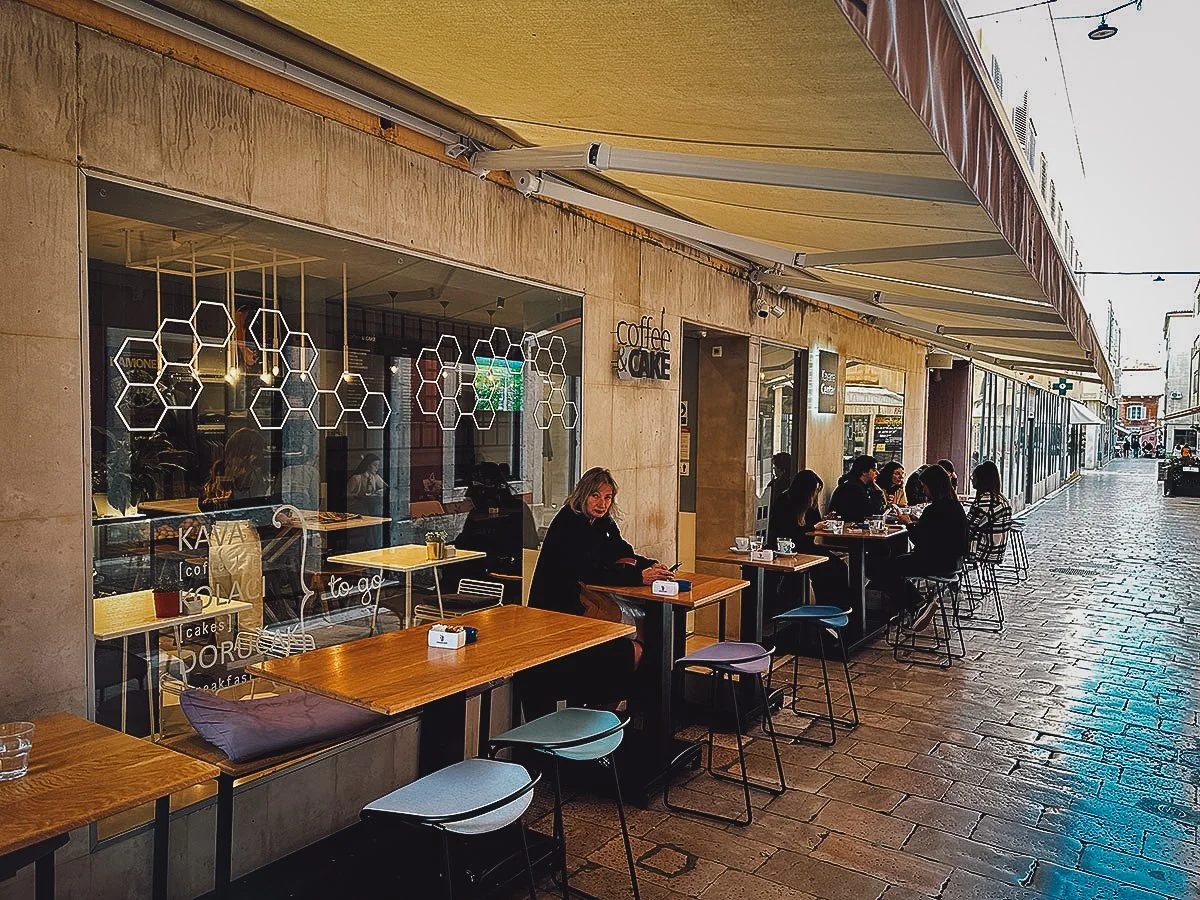 Coffee and Cake
Address: Ul. Braće Vranjana 12, 23000, Zadar
Operating Hours: 7AM-8PM, Mon-Sat / 8AM-8PM, Sun
What They Offer: Breakfast, cakes
7. Crazy Pizza
We stayed at an Aribnb overlooking this pizzeria and we would watch the hordes of students devouring their New York-style pizzas from our apartment window everyday. According to many locals, Crazy Pizza serves some of the best pizzas in Zadar which was all the convincing we needed to try it.
Crazy Pizza serves two sizes of pizza – regular and jumbo. We never saw the regular because everyone seemed to be ordering slices of the jumbo, which is basically an 18-20″ thin-crust New York-style pizza. For just EUR 3, you get a quarter of a pie. No wonder this place is so popular!
The pizzas here are delicious. Like a true New York-style pizza, you need to fold each slice in half or eat them with two hands because they're so big and thin. I love Neapolitan-style pizzas but this will always be my favorite type of pizza.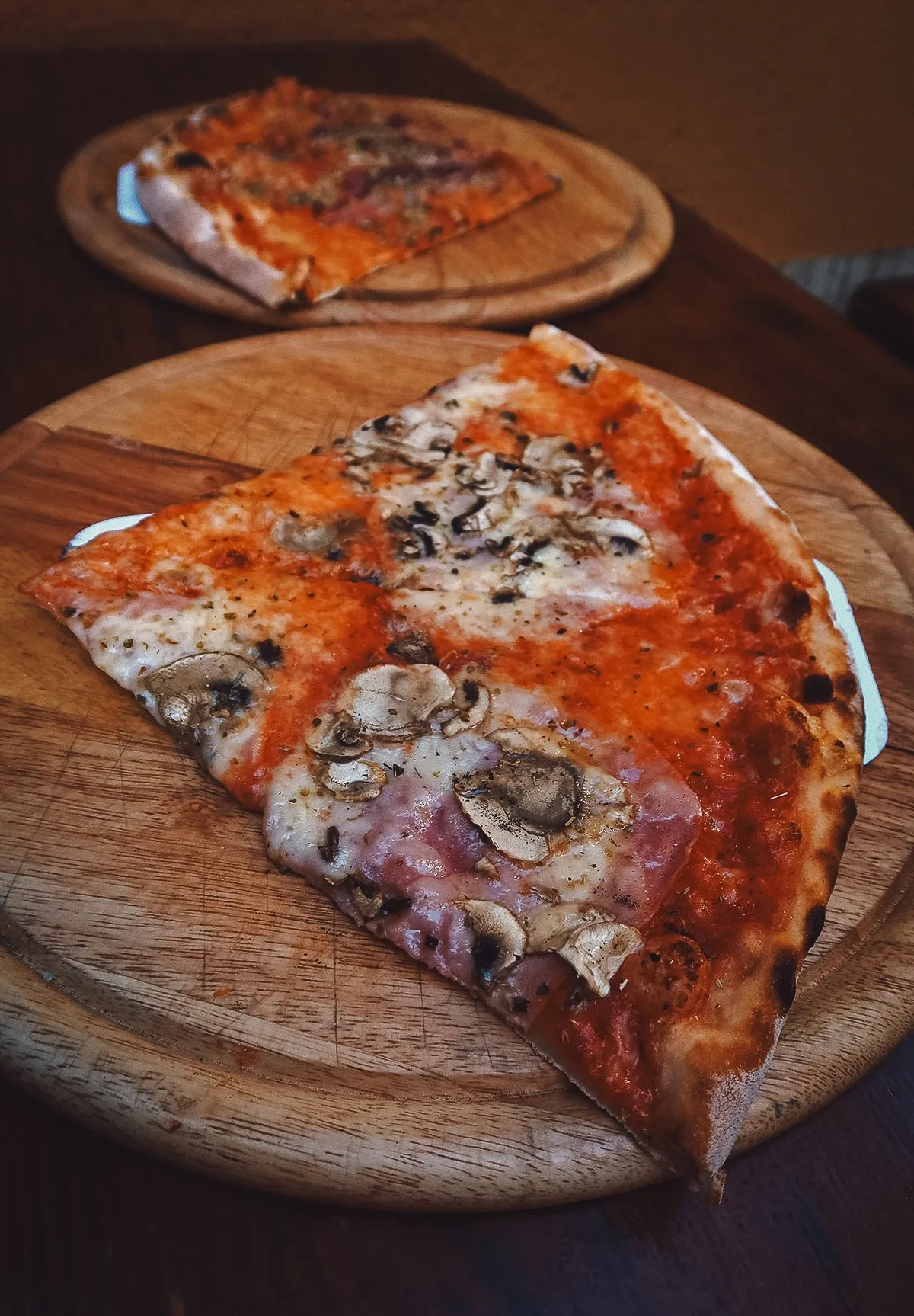 I had the funghi while my better half had the house specialty. Aptly named "crazy pizza", it's topped with mushrooms, oregano, and a generous amount of bacon.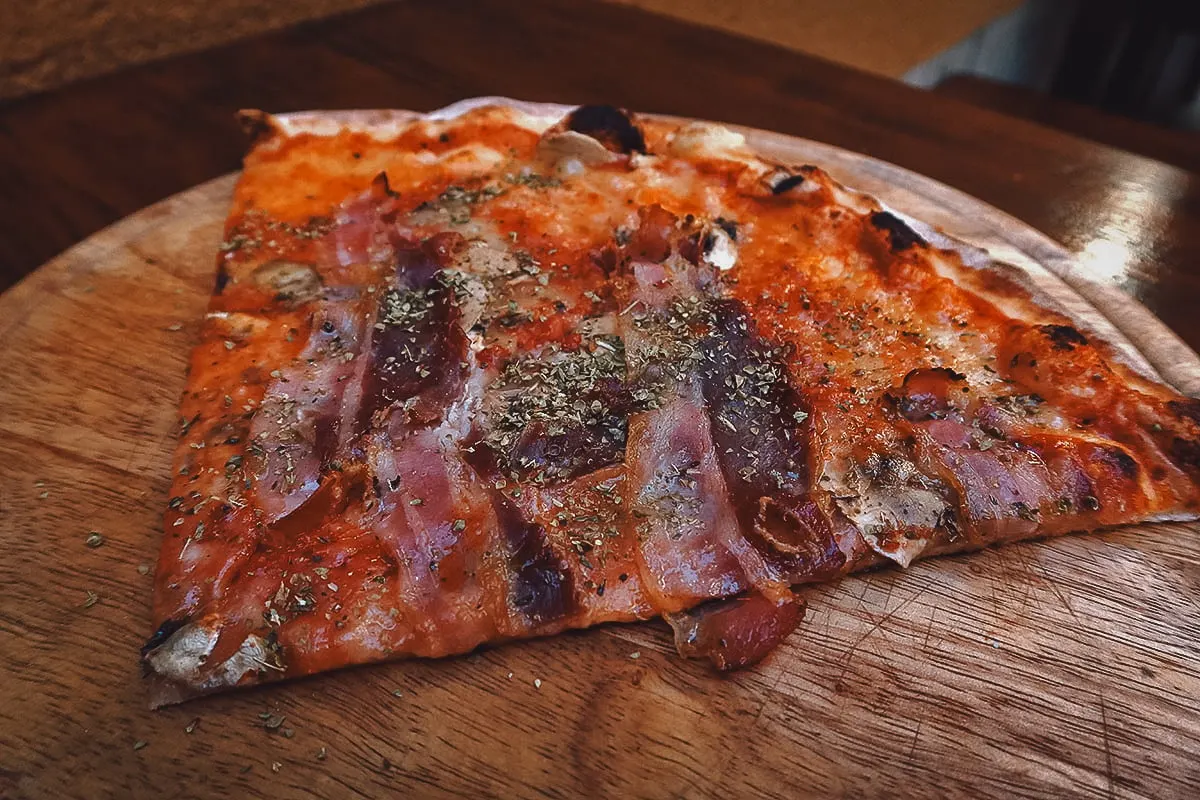 If you're looking for a cheap and delicious meal in Zadar, then look no further than Crazy Pizza. You're basically getting two big slices for just EUR 3!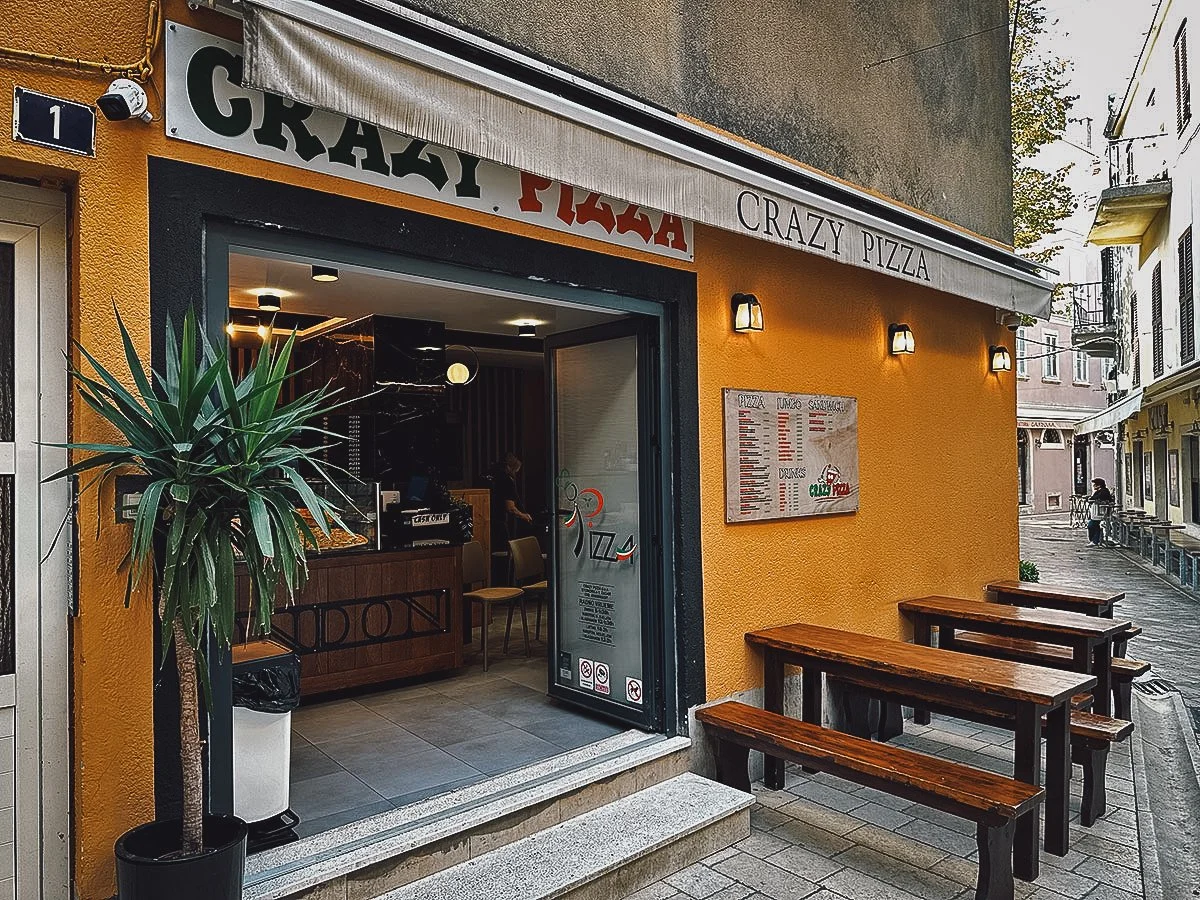 Slow food is nice but so are ready-to-eat pizzas like this. Crazy Pizza offers over a dozen topping combinations that they make from scratch, but these five jumbo pies were always ready to go.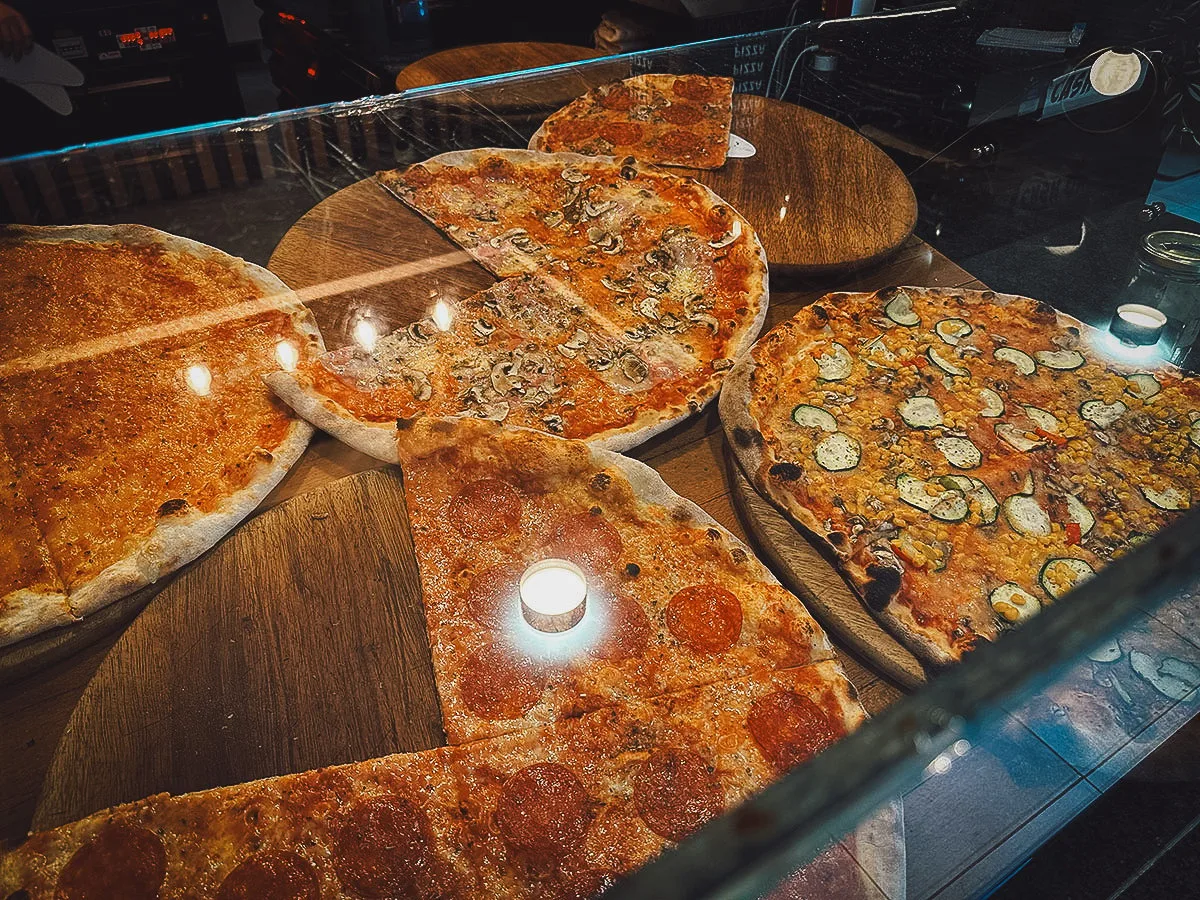 Crazy Pizza
Address: Stomorica ul. 1, 23000, Zadar
Operating Hours: 9AM-12MN, Mon-Fri / 12NN-12MN, Sat-Sun
What They Offer: Pizza
8. Bob Rock's
Like pizzerias, gelaterias are a dime a dozen in Croatia's old towns. We wanted to find the best and our research led us to Bob Rock's. It's a cute ice cream shop located in an alley between Crazy Pizza and 4 Kantuna.
Luckily for us, Bob Rock's was still open for the first half of our stay before closing down for the winter. They didn't seem to be offering all their flavors at the time anymore but we did get to try two – pistachio and amarena yoghurt.
Both were delicious but amarena is something you need to try in Zadar. It refers to a line of syrups, nectars, and juices made from Dalmatia's famed marasca cherries. More on marasca cherries in the last entry on this list.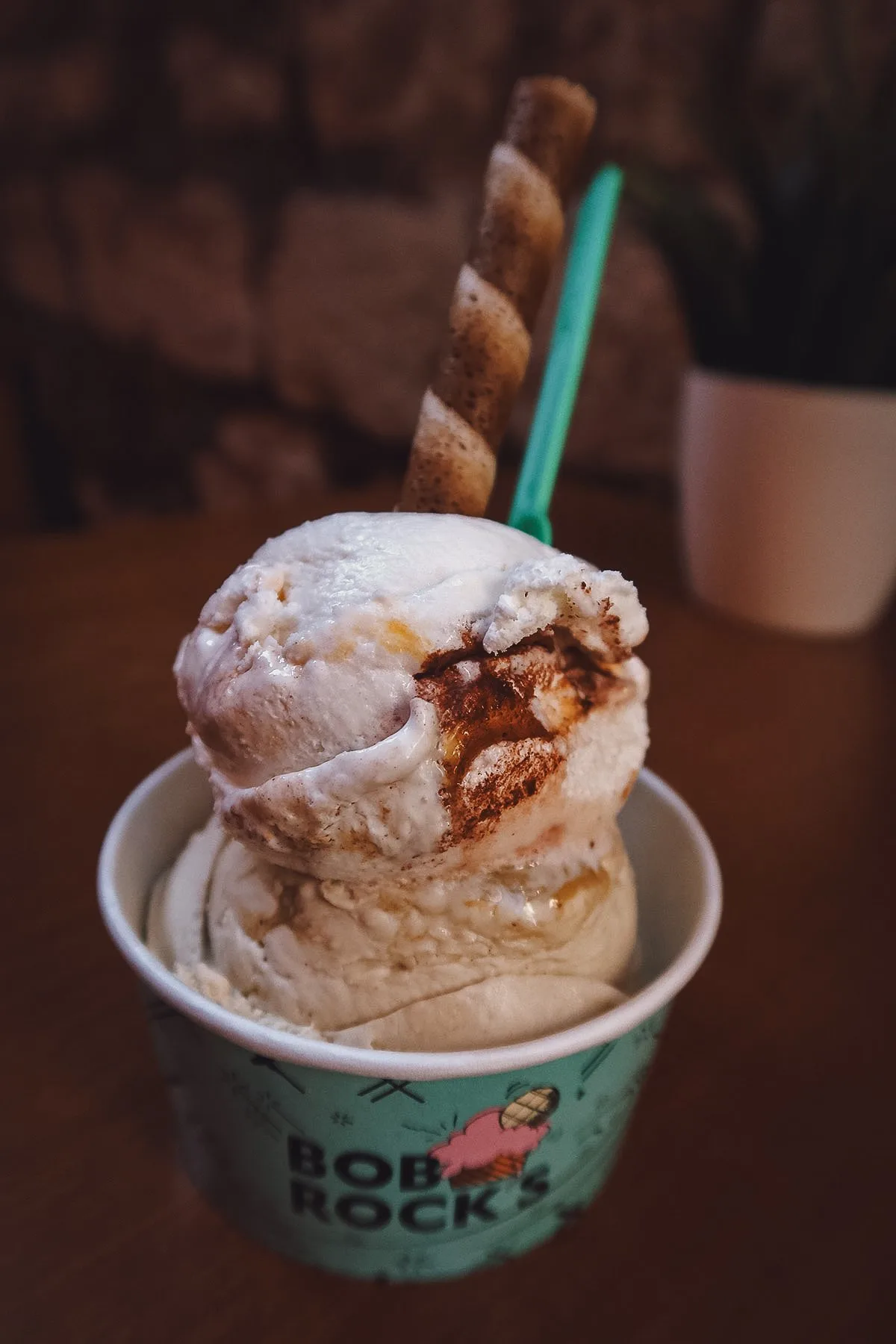 Despite the cold, we were ecstatic to find Bob Rock's still open during the first few days of our stay. They're a TripAdvisor Traveler's Choice awardee and their top-rated dessert shop in Zadar.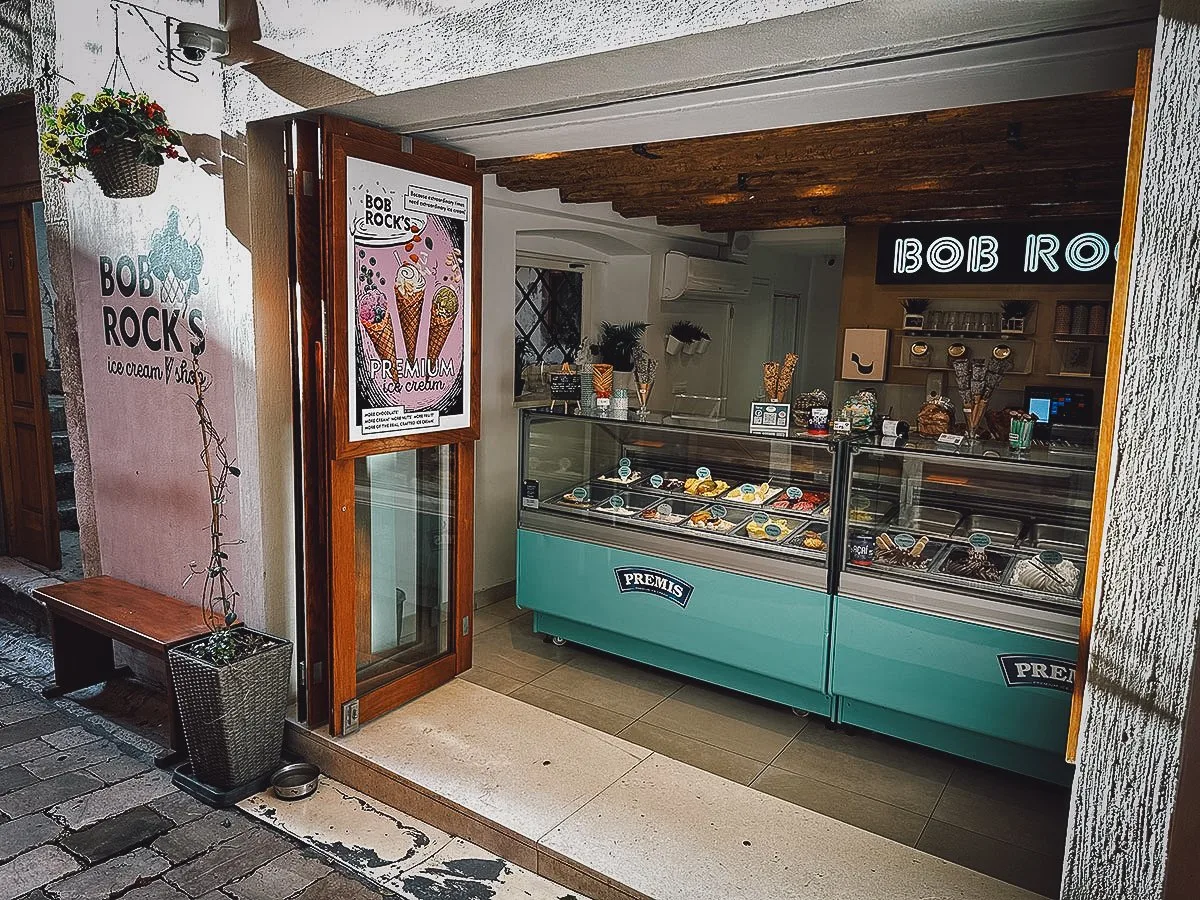 At the time of our visit, only about half the containers in the chiller still had gelato in them. I'm sure they offer a lot more flavors during the peak summer season.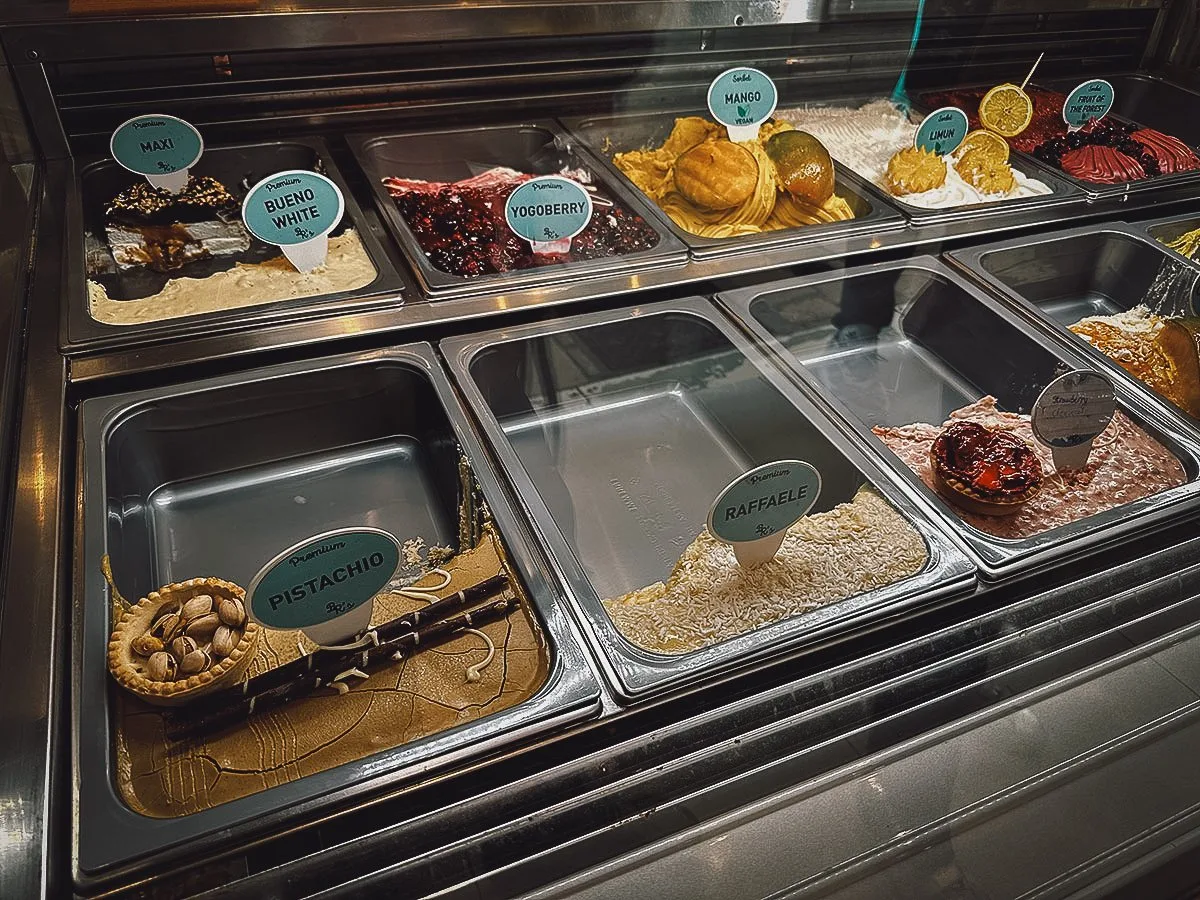 Bob Rock's
Address: Varoška ul. 6, 23000, Zadar
Operating Hours: 11AM-10PM, Mon-Fri / 11AM-11PM, Sat-Sun
What They Offer: Gelato
9. Gligora
These last two entries aren't restaurants but if you have a curiosity for the local cuisine, then you'll definitely want to visit them as well.
Gligora Dairy is an award-winning cheese producer based in Kolan on the island of Pag. They produce many different types of cheese but what they're really known for is Paski sir, otherwise known as Pag cheese. Originating from the Adriatic island of Pag, Paski sir is a type of sheep's milk cheese that's widely regarded to be Croatia's most prized type of artisanal cheese.
What makes Pag cheese distinct is that it's made from the milk of sheep that graze on the island's uniquely salty and aromatic vegetation. In winter, hot and cold air amass on the island's snowy peaks to give rise to the Pag bora. When the bora dries, it turns into salt dust which blankets the island's vegetation. The sheep grazing on this salt-crusted vegetation is what gives Pag cheese its unique qualities.
We've tried Paski sir at restaurants and from supermarkets but the Pag cheese from Gligora was the best.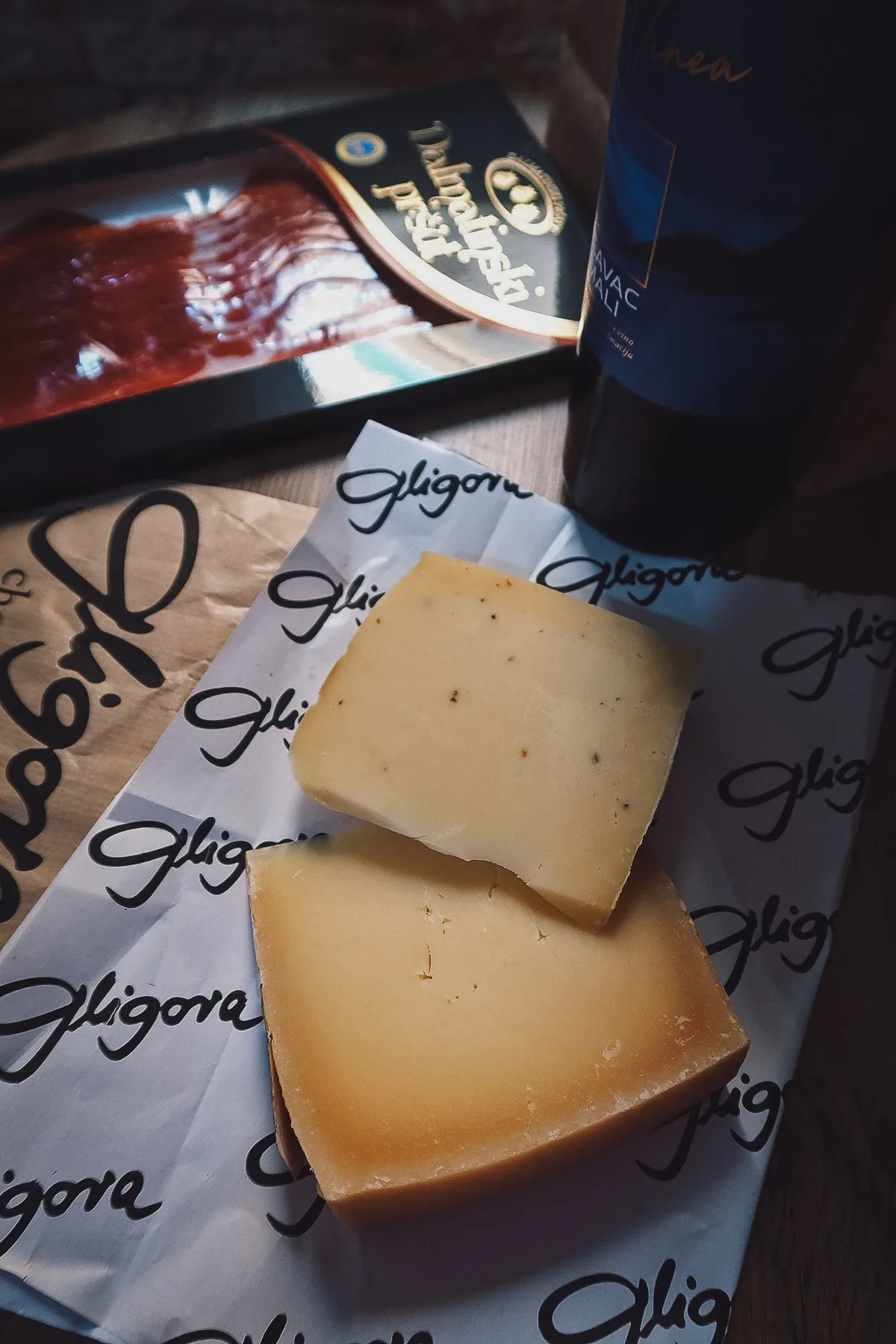 What goes best with Pag cheese? Dalmatinski prsut! Another local specialty, it refers to a type of dry-cured ham similar to Italian prosciutto. You'll find it everywhere – at supermarkets, restaurants, and specialty food shops like Gligora.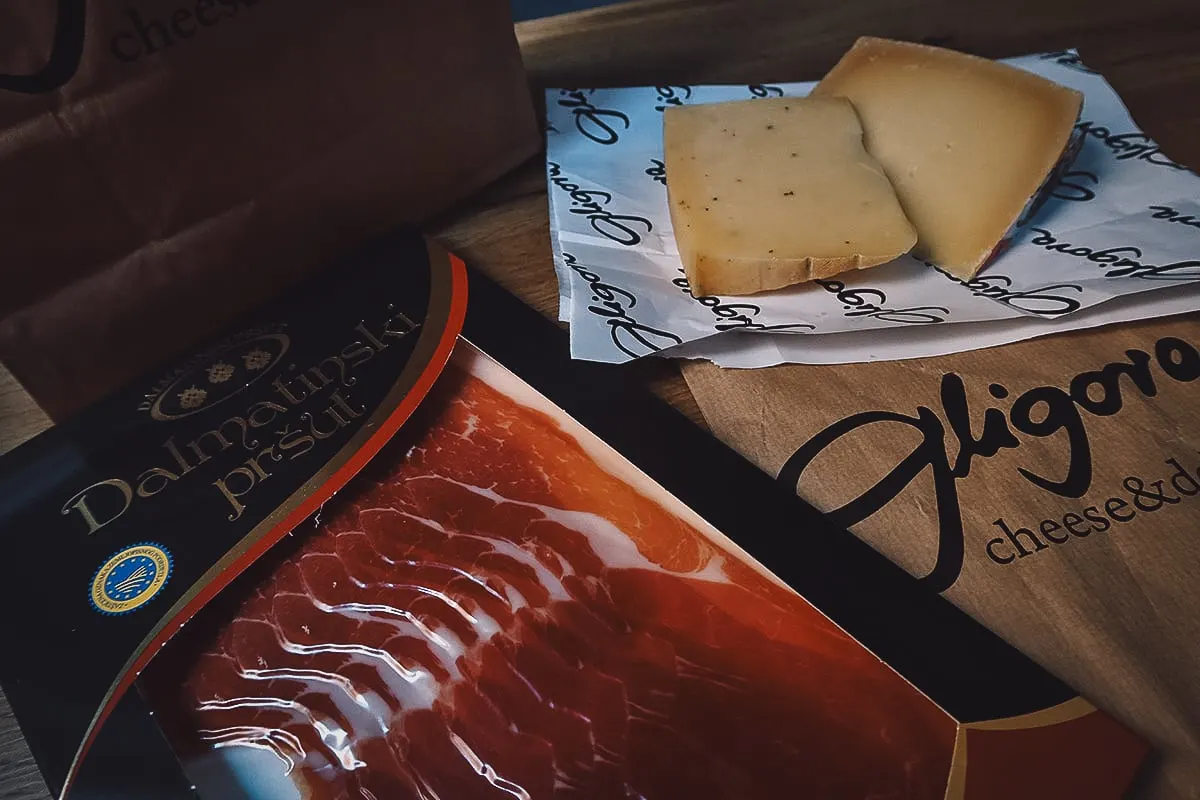 You can find Pag cheese and prsut at supermarkets and many restaurants in Zadar. We wanted to buy cheese and cold cuts for a picnic on the riva, and our search for the best led us to Gligora. So happy we found this place.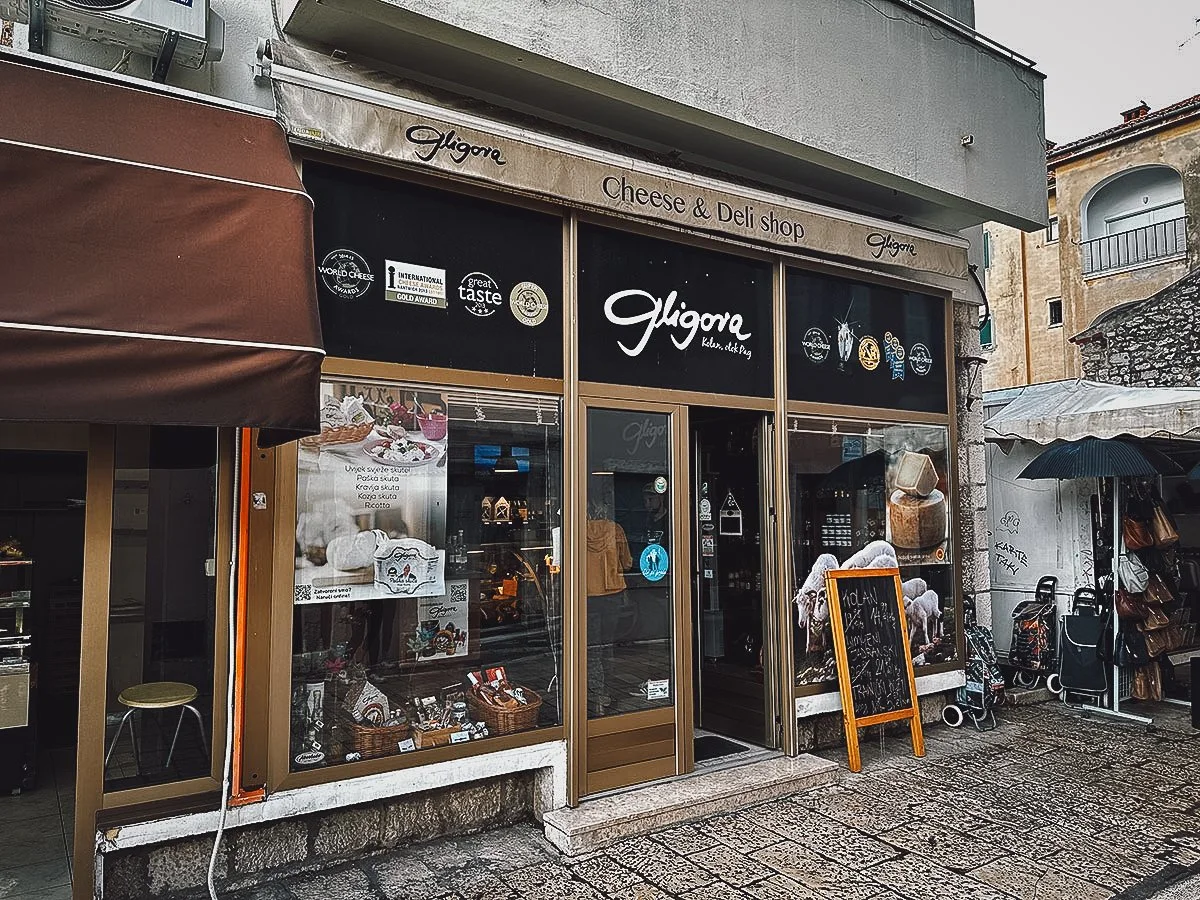 Gligora's award-winning Paski sir on display. Pag cheese is delicious and something every food traveler needs to try in Dalmatia.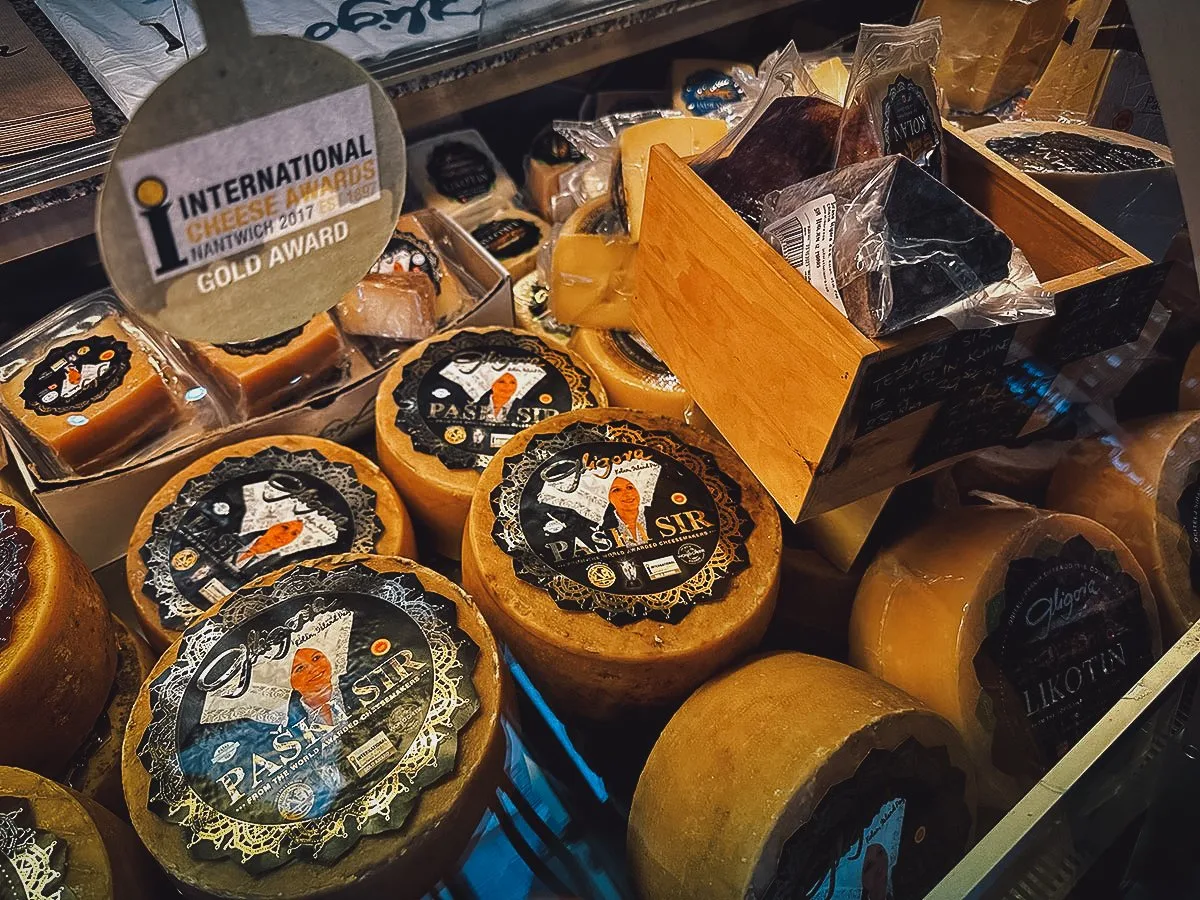 Vacuum-sealed packets of prsut waiting to be purchased with your Pag cheese.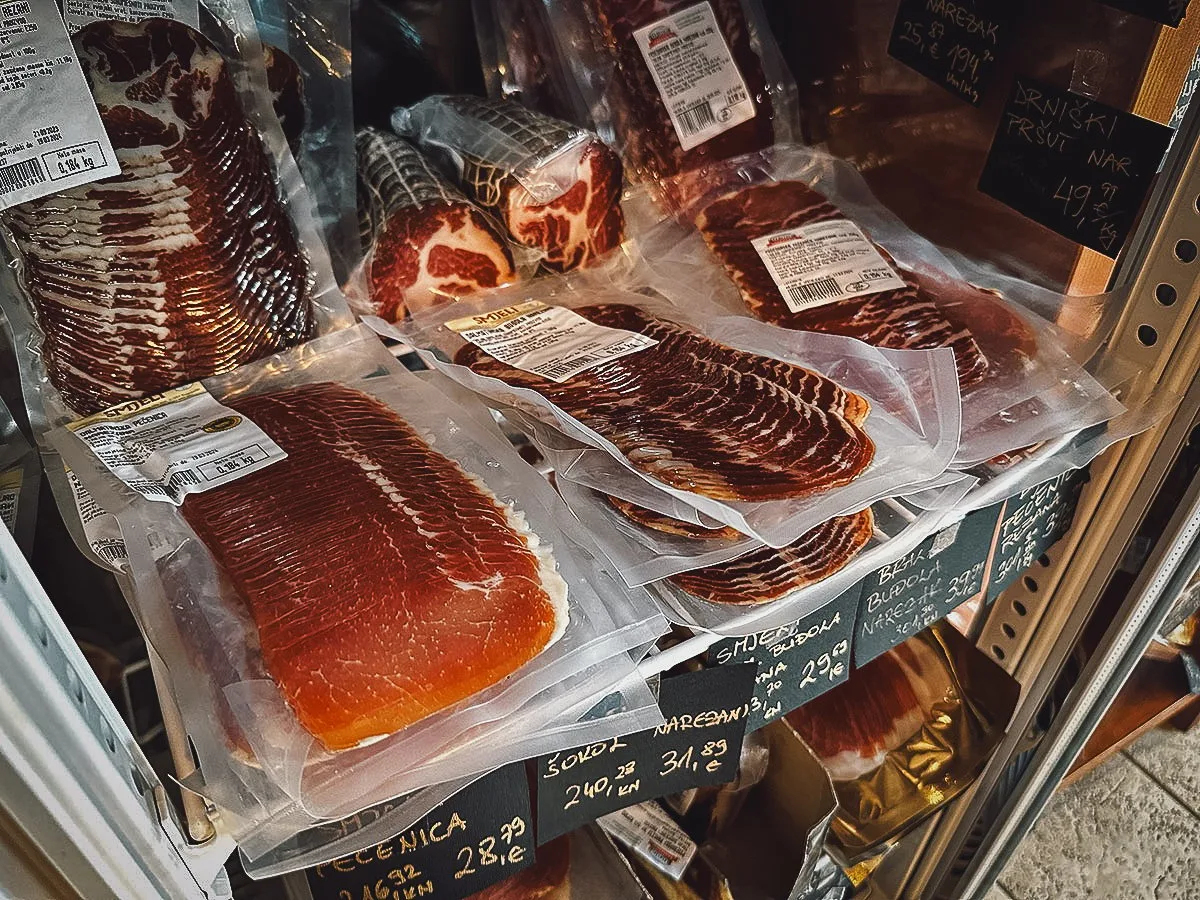 Aside from cheese and deli meats, you'll find a variety of gourmet food products at Gligora as well, like these spreads made with Istrian white truffles.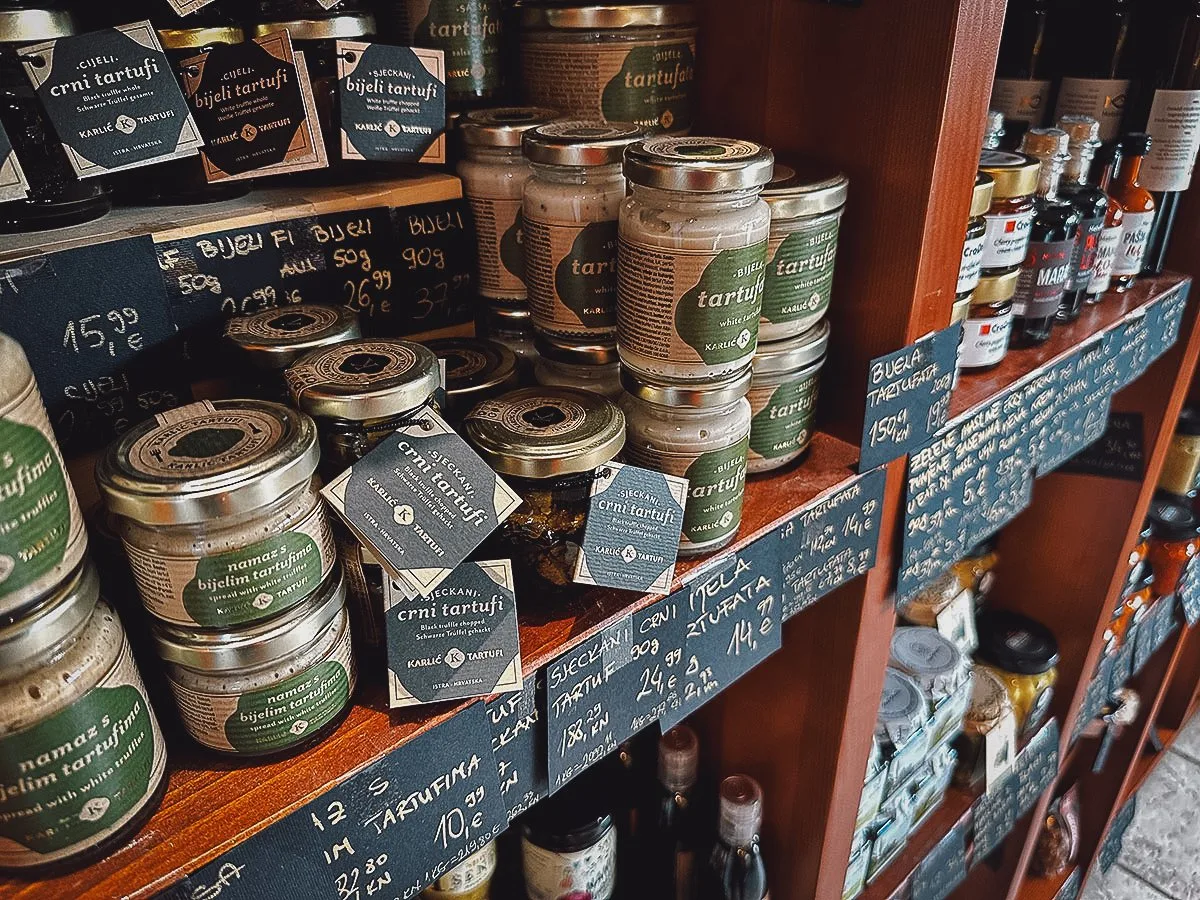 Don't forget to pick up a bottle of wine as well! Gligora offers a good selection of local wines to round out your picnic spread.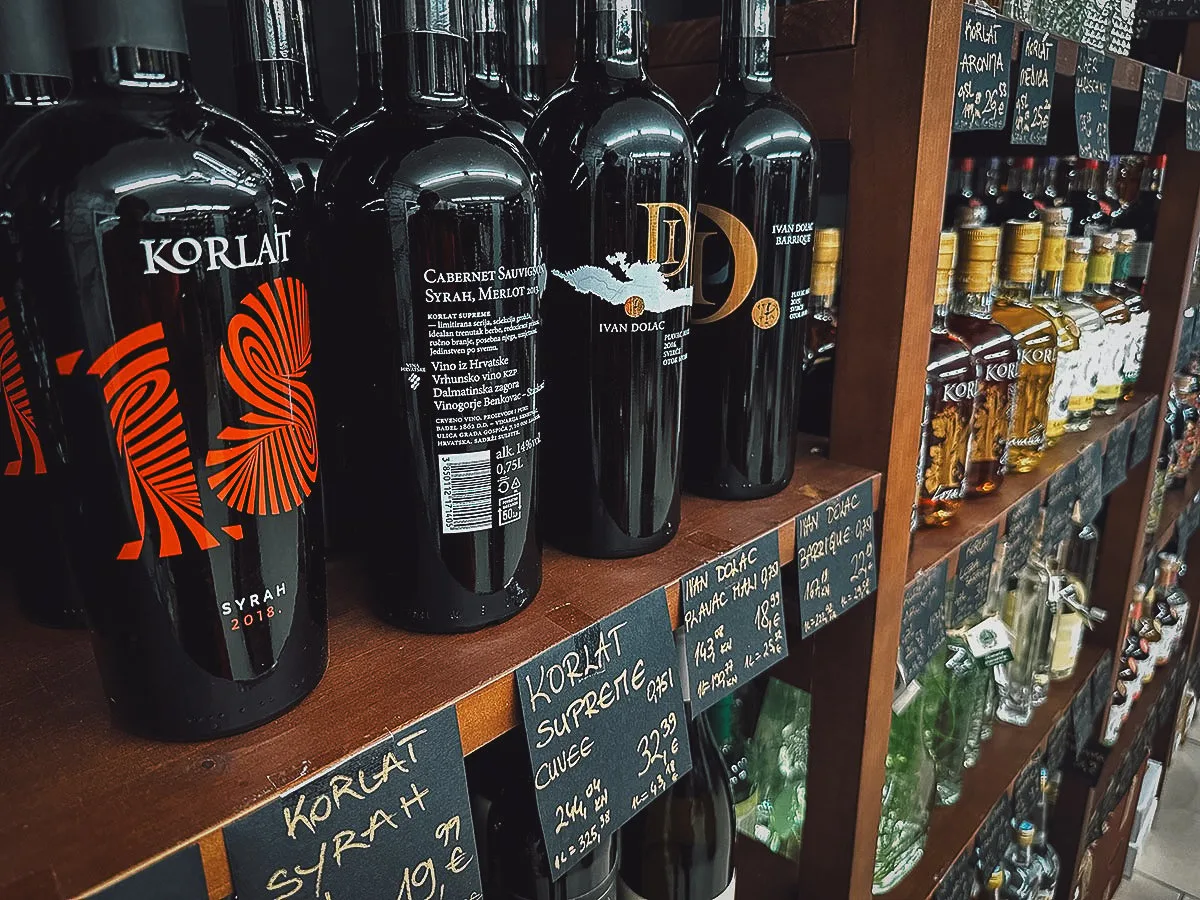 Gligora
Address: Hrvoja V. Hrvatinića 5, 23000, Zadar
Operating Hours: 8AM-3PM, Mon-Fri / 7AM-1PM, Sat (closed Sundays)
What They Offer: Cheese, deli meats, local wines, gourmet food products
10. Maraska
Do you like maraschino cherries? Those bright red sweetened cherries that are preserved in syrup and often served as a garnish with cocktails?
I've always loved maraschino cherries so I was surprised to learn that the cherries I've been eating straight from the jar since childhood aren't true maraschino cherries, but an Americanized version based on the real thing that originated right here in Zadar.
Real maraschino cherries are made from Croatian marasca cherries, a type of sour Morello cherry that grows in Zadar and other parts of Dalmatia. They're preserved whole in maraschino liqueur, a type of liqueur that's obtained from the distillation of marasca cherries.
If you like to make your own cocktails and would like to get your hands (and lips) on real maraschino cherries, then the Maraska shop in the Old Town is a great place to pick up a jar.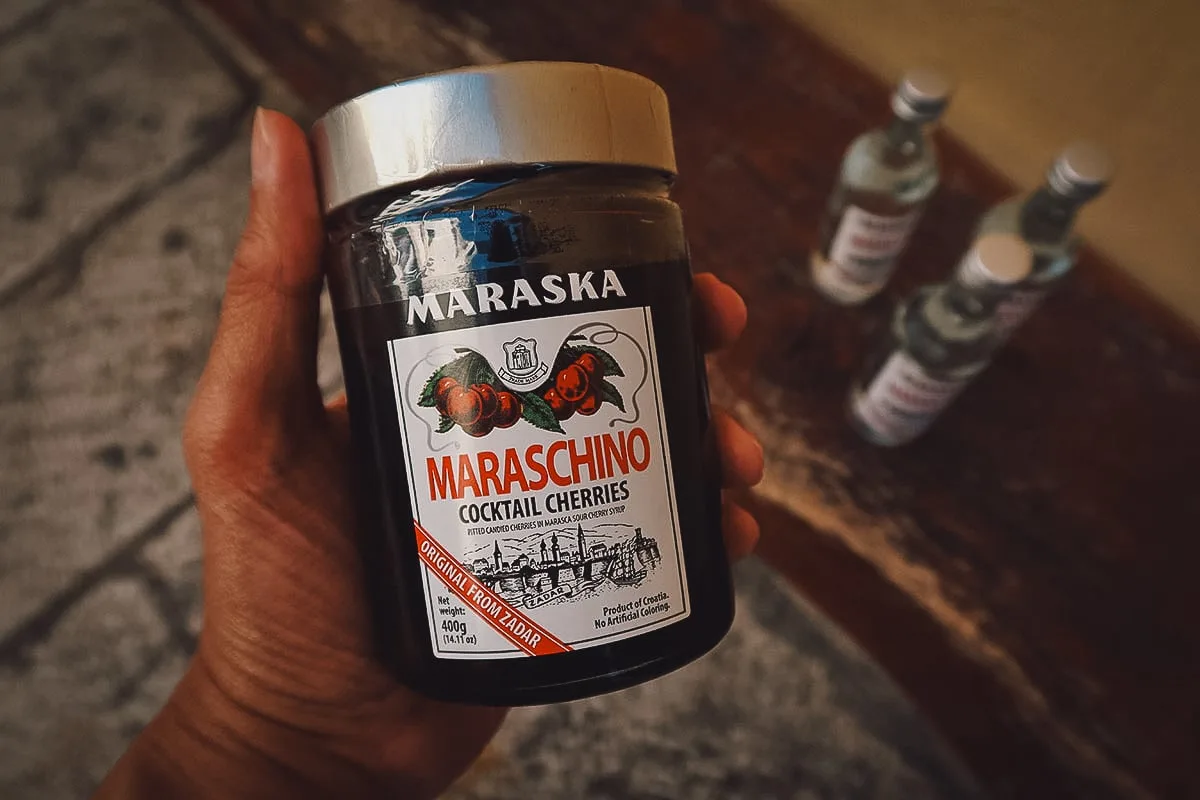 Unlike Americanized maraschino cherries that taste almost candy-like in their sweetness, true maraschino cherries are sweet but still retain the flavor of actual cherries.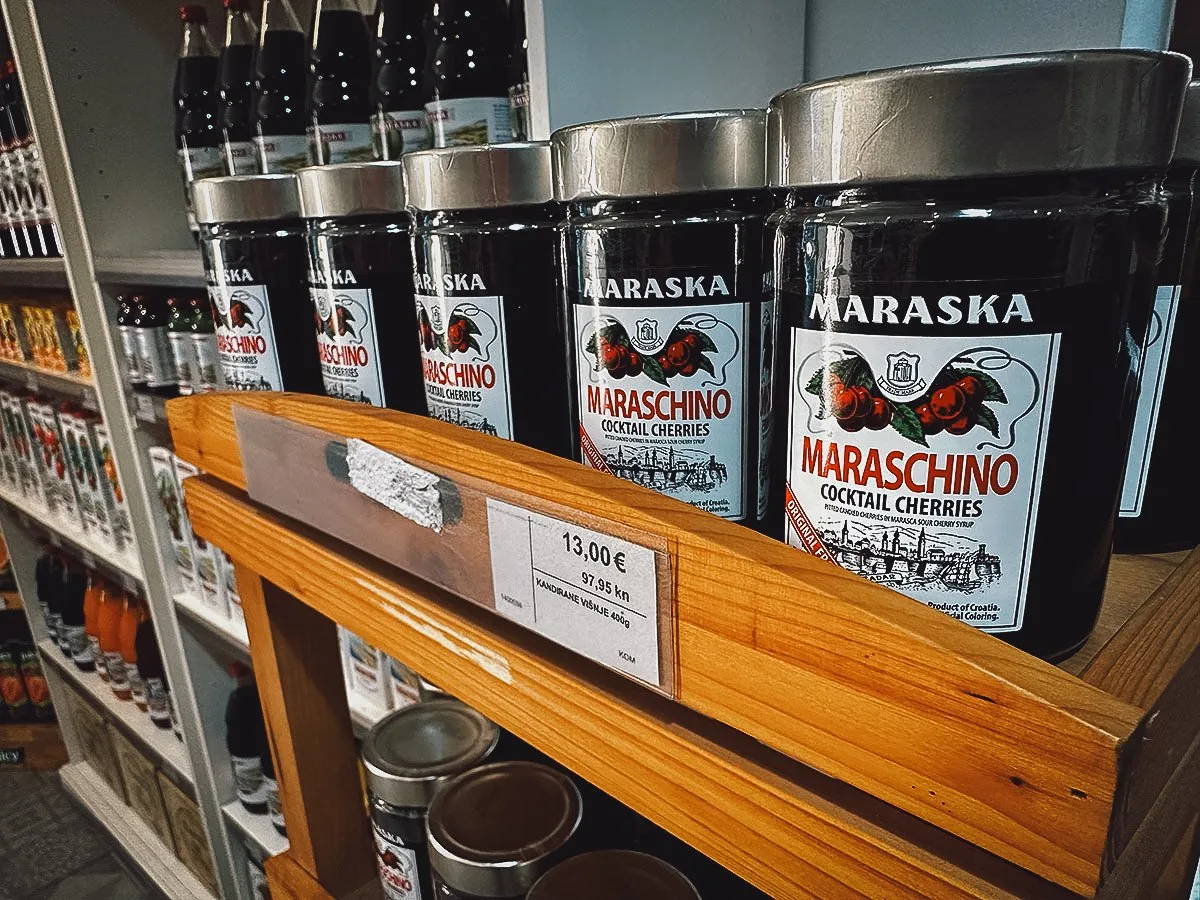 If you're buying maraschino cherries, then you may want to pick up a few bottles of maraschino liqueur as well. A state enterprise that was formed in 1946, Maraska stands as the only large producer of maraschino liqueur in Croatia.
We didn't compare but based on what we've read, the prices here are way cheaper than at souvenir shops and even supermarkets.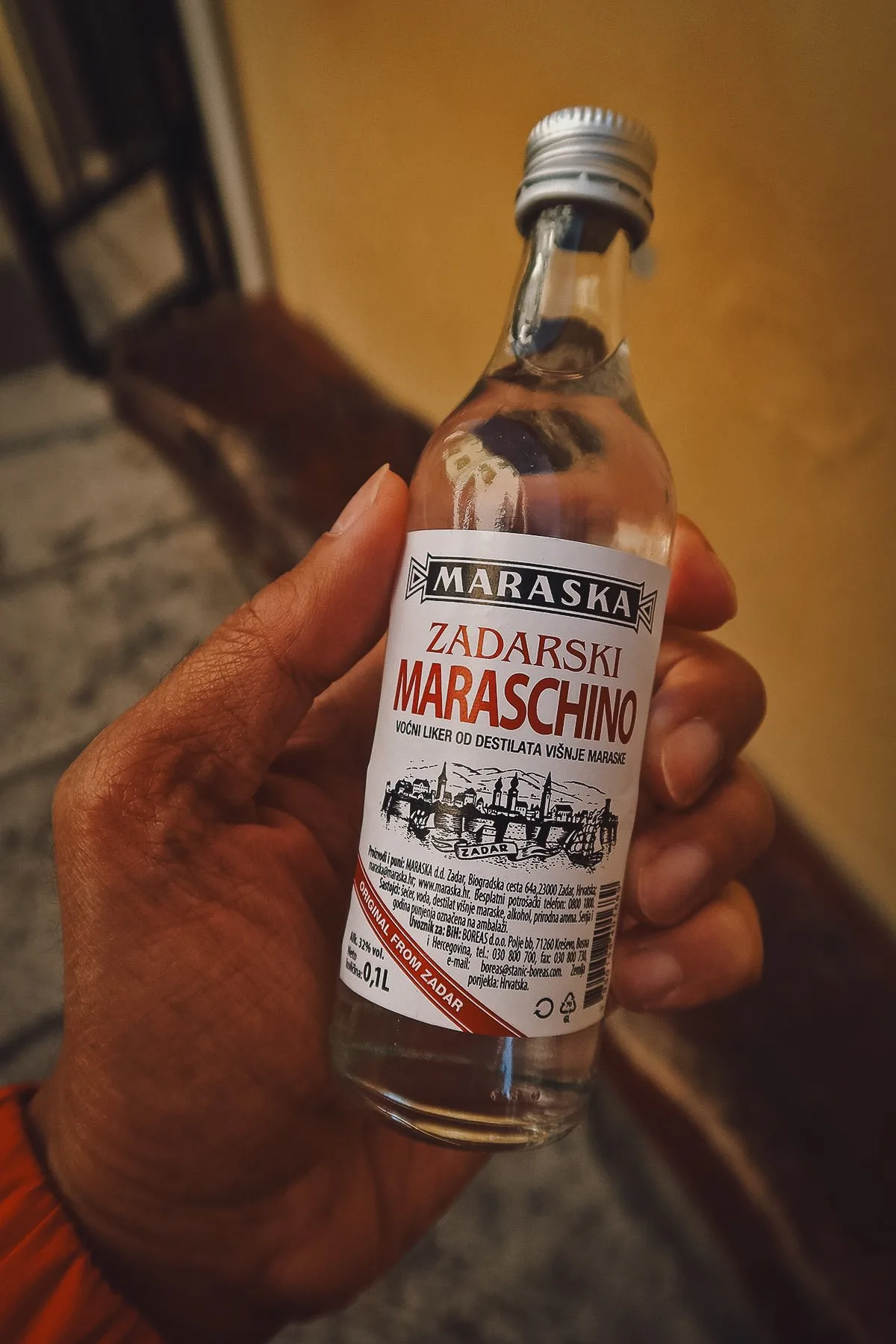 We bought several small bottles but they're available in different sizes and bottle designs. Oddly enough, the smallest bottles (100 ml) offered the best value for money.
Based on what I've read, maraschino liqueur has gone out of fashion and isn't something locals really drink anymore. It's become more of a novelty – something tourists buy and only old-timers drink – but it's interesting nonetheless and something we were happy to try in Zadar.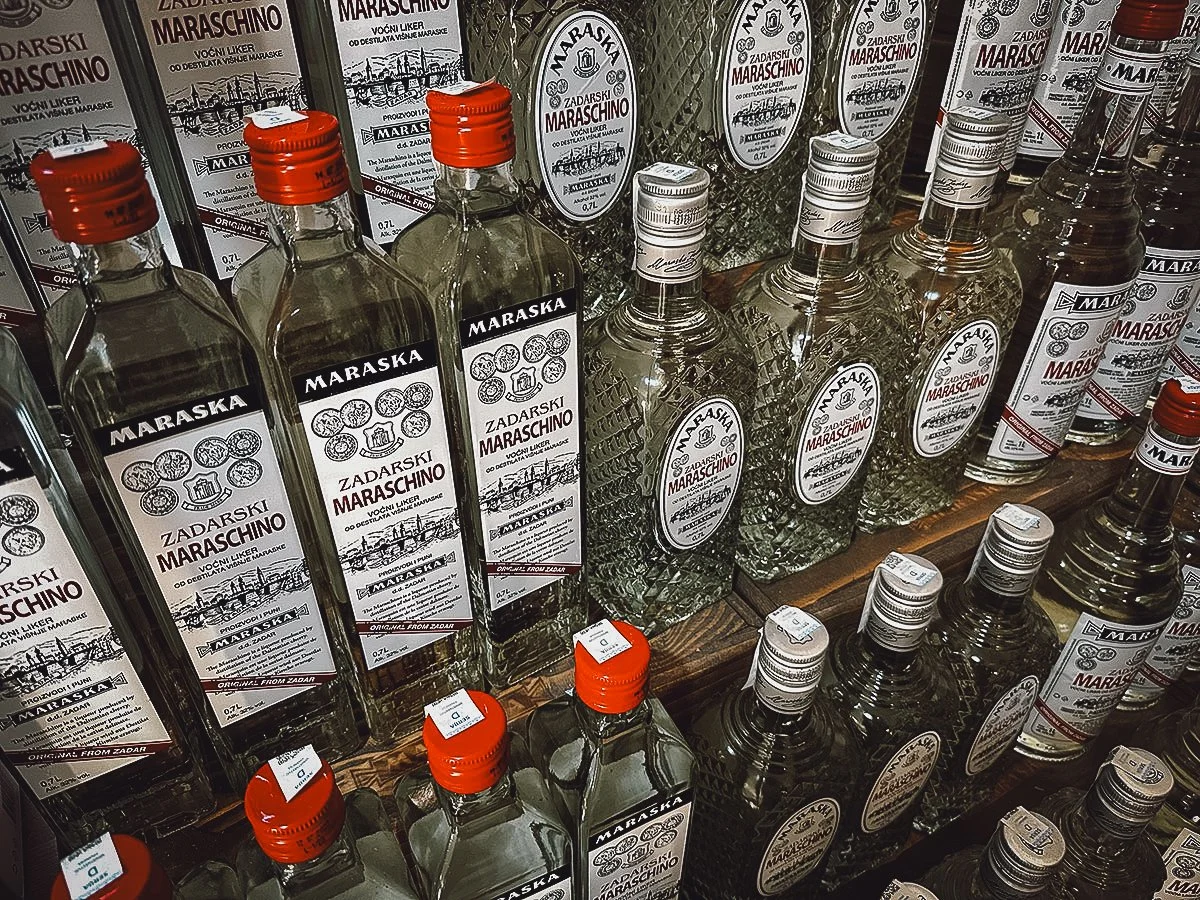 Maraschino liqueur remains Maraska's flagship drink but they do offer many other types of alcoholic beverages as well.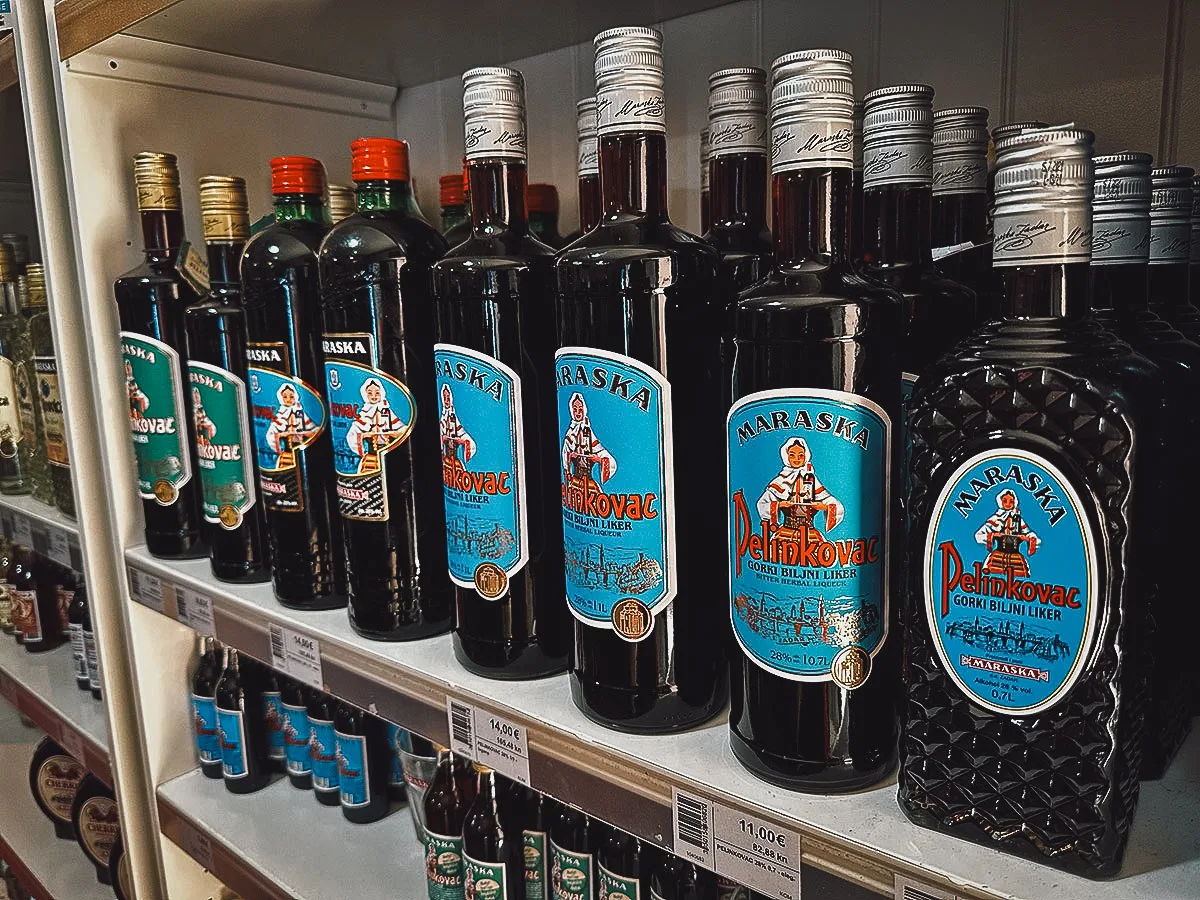 Here's a look at the Maraska shop in Zadar Old Town. You can refer to our location map to help you find it.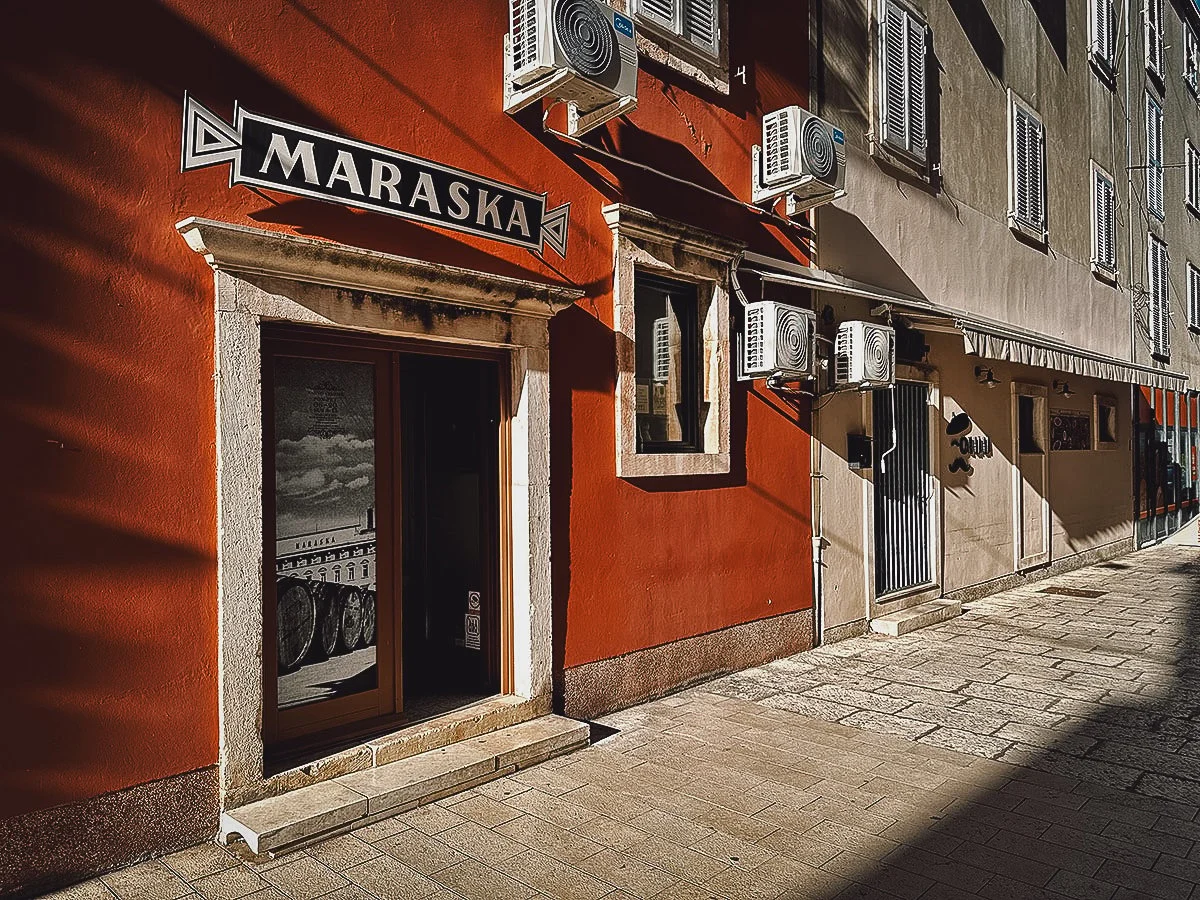 While we're on the topic of marasca cherries, one pastry that you should definitely try in Zadar is the sour cherry strudel (savijača od višanja). Sweet, tart, soft, and all kinds of delicious, it's something we enjoyed at least once in every city we visited in Dalmatia.
You'll find sour cherry strudels in every bakery so go ahead and try as many as you like. This gorgeous oozing specimen was from Pekarna Dalmatinka in the Old Town.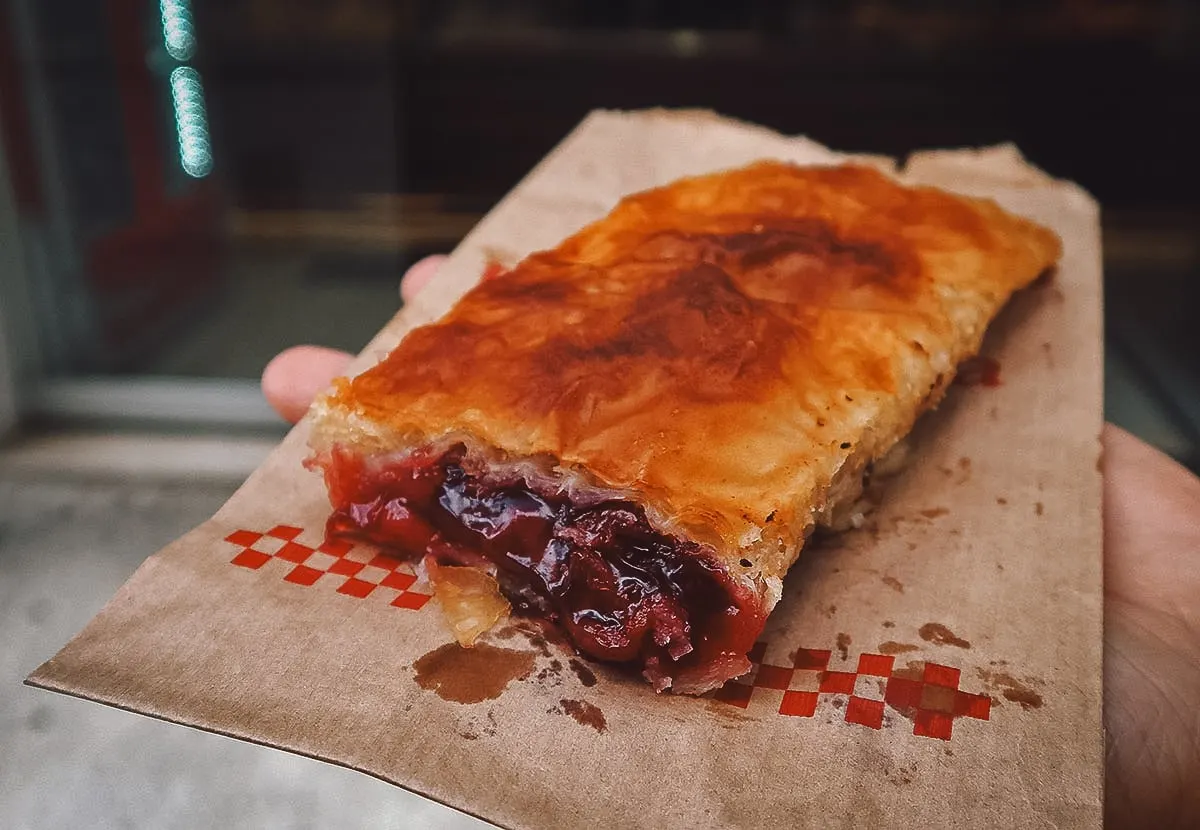 Maraska
Address: Ul. Nadbiskupa Mate Karamana 3, 23000, Zadar
Operating Hours: 8AM-8PM, Mon-Fri/ 8AM-1PM, Sat (closed Sundays)
What They Offer: Maraschino liqueur, maraschino cherries
LOCATION MAP
To help you find these restaurants in Zadar, I've pinned them all on the map below. Click on the link for a live version of the map.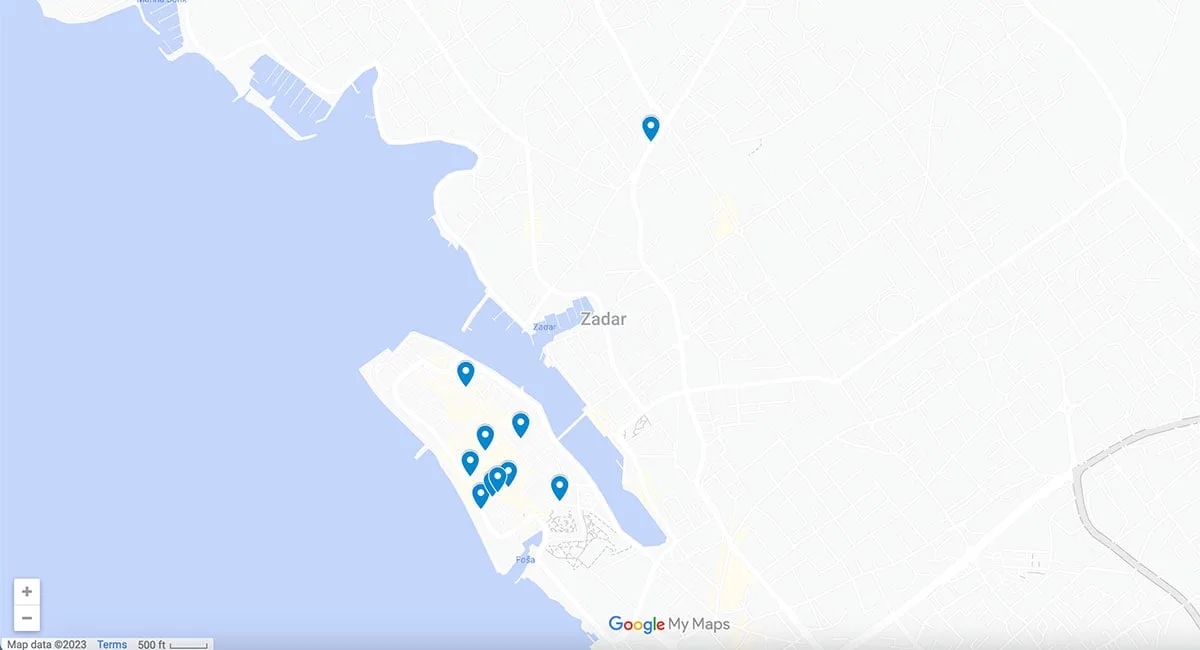 FINAL THOUGHTS ON THE BEST RESTAURANTS IN ZADAR
They were already on break for winter by the time we got to Zadar but one restaurant we've often read about is The Garden Lounge. It's a stylish vegan and raw food restaurant with a relaxed atmosphere and stunning views of the harbor.
By many accounts, The Garden Lounge is a great place to eat healthy food or enjoy an evening out with cocktails. Based on what we've read, they have resident and guest DJs playing music every night.
Whether you're into innovative vegan food, seafood restaurants, traditional konobas (taverns), or pizza and pasta, there's certainly no shortage of great food in Zadar. I hope this article leads you to a few memorable meals during your visit.
Thanks for visiting and have an amazing time in Zadar! Say hello to the riva for me.
Disclosure
This article on the best restaurants in Zadar includes affiliate links, meaning we'll earn a small commission if you make a booking at no additional cost to you. We truly appreciate your support as it helps us make more of these free travel and food guides. Hvala!