Like Dubrovnik, Split is one of the most visited destinations in Croatia. Stretching out over a peninsula on the eastern shore of the Adriatic Sea, it's an achingly beautiful city that had us swooning within minutes of being lost in its Old Town.
Narrow pedestrian-only streets would open up to large plazas and centuries-old churches with dozens of shops and restaurants waiting to be discovered in its network of alleyways. Climb the bell tower for sweeping views of the city before enjoying a drink on the Riva, a seafront promenade lined with bars, restaurants, and cafes. Sipping tea or coffee while looking out at the Adriatic was one of our favorite things to do in Split.
Being the biggest city in Dalmatia, there's a greater diversity of restaurants in Split. There weren't too many vegetarian/vegan options in Dubrovnik but in Split, we never had to look too hard to find healthy eating options.
Being middle-aged travelers with curious palates, we prioritize traditional food and healthy restaurants on trips. If you're visiting Split and looking for good Dalmatian cuisine and healthy eating options, then here are ten restaurants for you to consider.
SPLIT RESTAURANTS QUICK LINKS
To help you plan your trip to Split, we've compiled links to recommended hotels, tours, and other travel-related services here.
HOTELS
Recommended hotels and apartments in and around Split Old Town, the most convenient area to stay for first-time visitors to Split.
TOURS
OTHER SERVICES
Save This on Pinterest!
No time to read this guide to the best restaurants in Split? Click on the save button and pin it for later!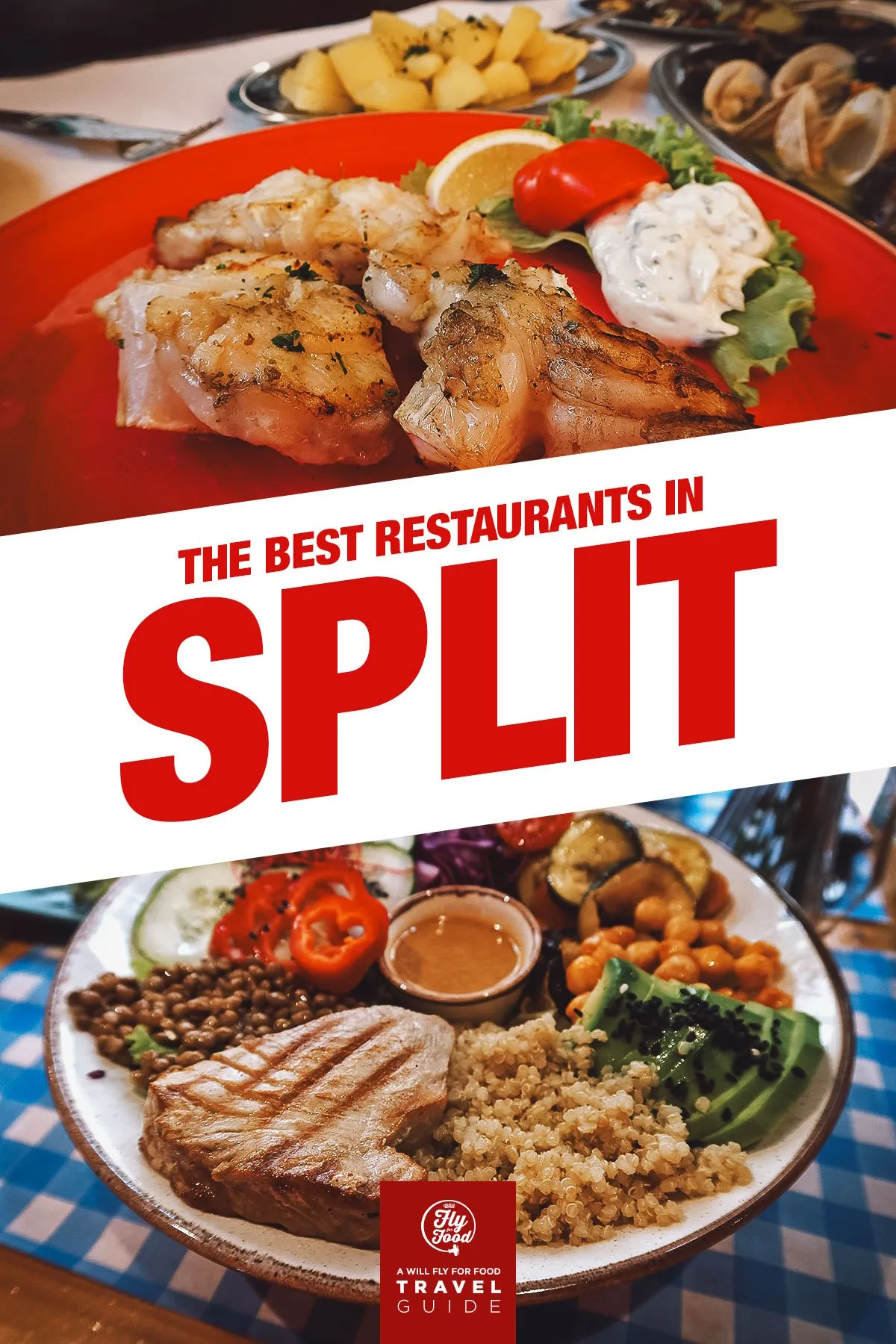 THE BEST SPLIT RESTAURANTS
For your convenience, I've divided this Split food guide into three sections – traditional Croatian restaurants, healthy restaurants, and dessert shops. You can click on a link to jump to any section of the guide.
TRADITIONAL CROATIAN RESTAURANTS
1. Šug
I looked up the Split Michelin Guide and as of this writing, there are only three Michelin-recommended restaurants in Split, both of which carry the Bib Gourmand distinction. Sug is one of them.
Like any Michelin Bib Gourmand awardee, Sug isn't exactly a fine dining establishment but it's a solid restaurant that serves good food at affordable prices. If you want to enjoy delicious Dalmatian cuisine at a restaurant that's nicer than a konoba (traditional Croatian restaurant) but isn't much more expensive, then Sug is a great place to visit.
For our main course, we ordered the tecada which can take up to half an hour to prepare so we started with this appetizer of Pag goat cheese. Pag Island is famous for this distinctively flavored hard cheese (slightly sharp, salty) that's produced from sheep that graze on its uniquely salty and aromatic vegetation.
Pag cheese is arguably the most prized type of Croatian cheese and something every cheese lover needs to try in Dalmatia. We've enjoyed it in every Dalmatian city we've visited thus far – Dubrovnik, Zadar, and today, in Split.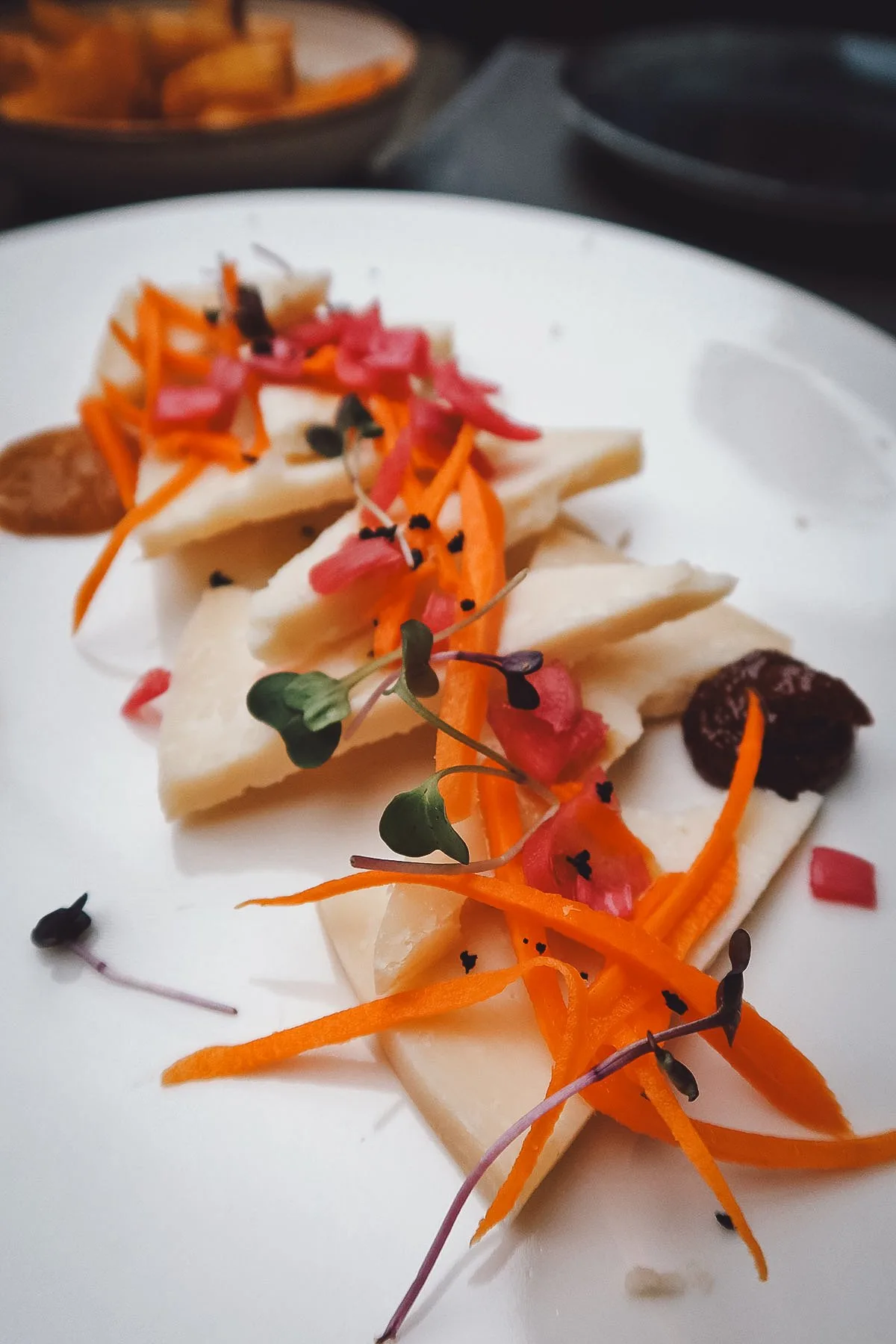 Sug offers a handful of side dishes, one of them being this seasonal salad served with a honey vinaigrette dressing.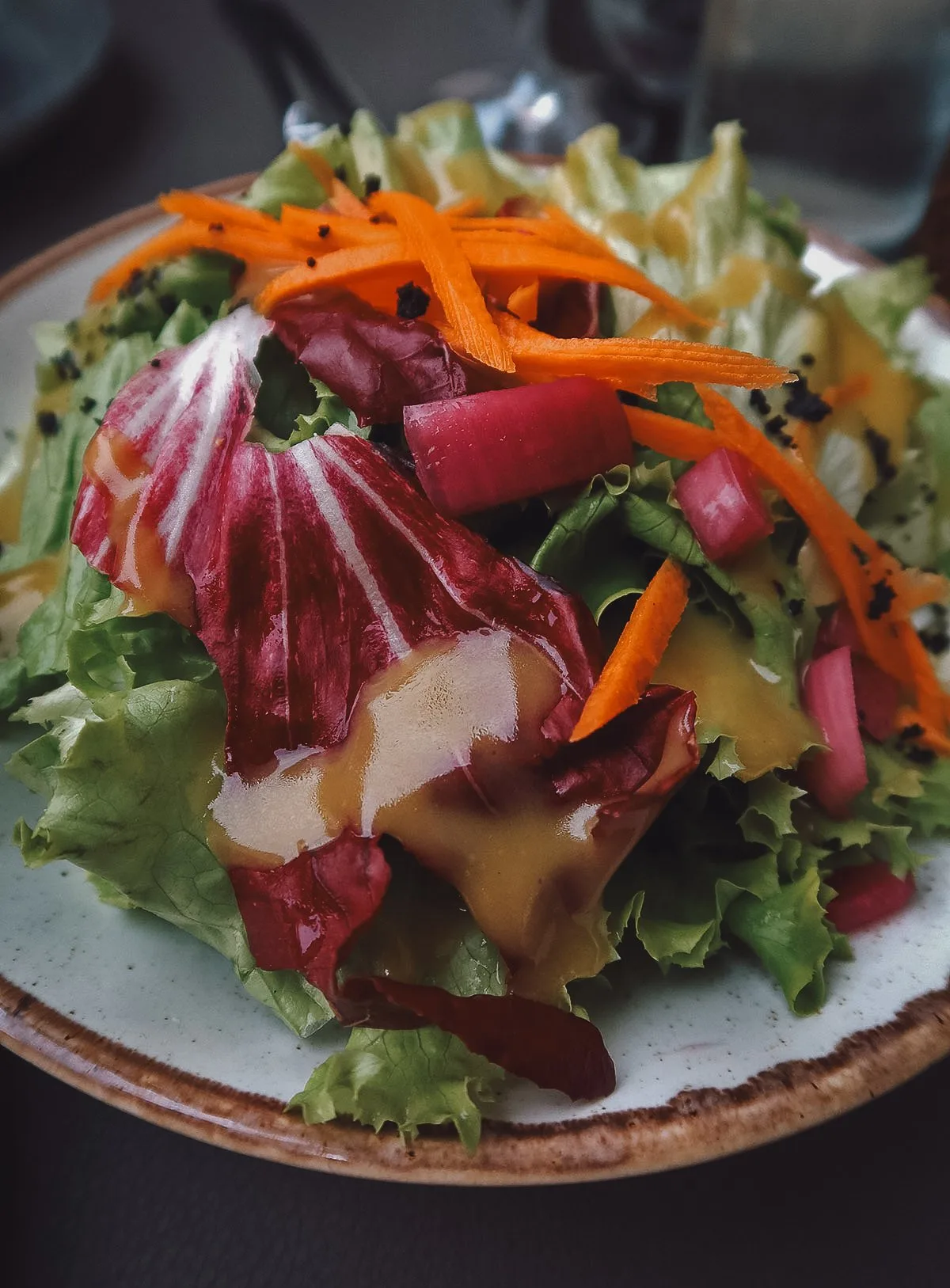 Thirty minutes is a long time for hangry diners so we ordered this side dish of roasted potatoes as well to tide us over.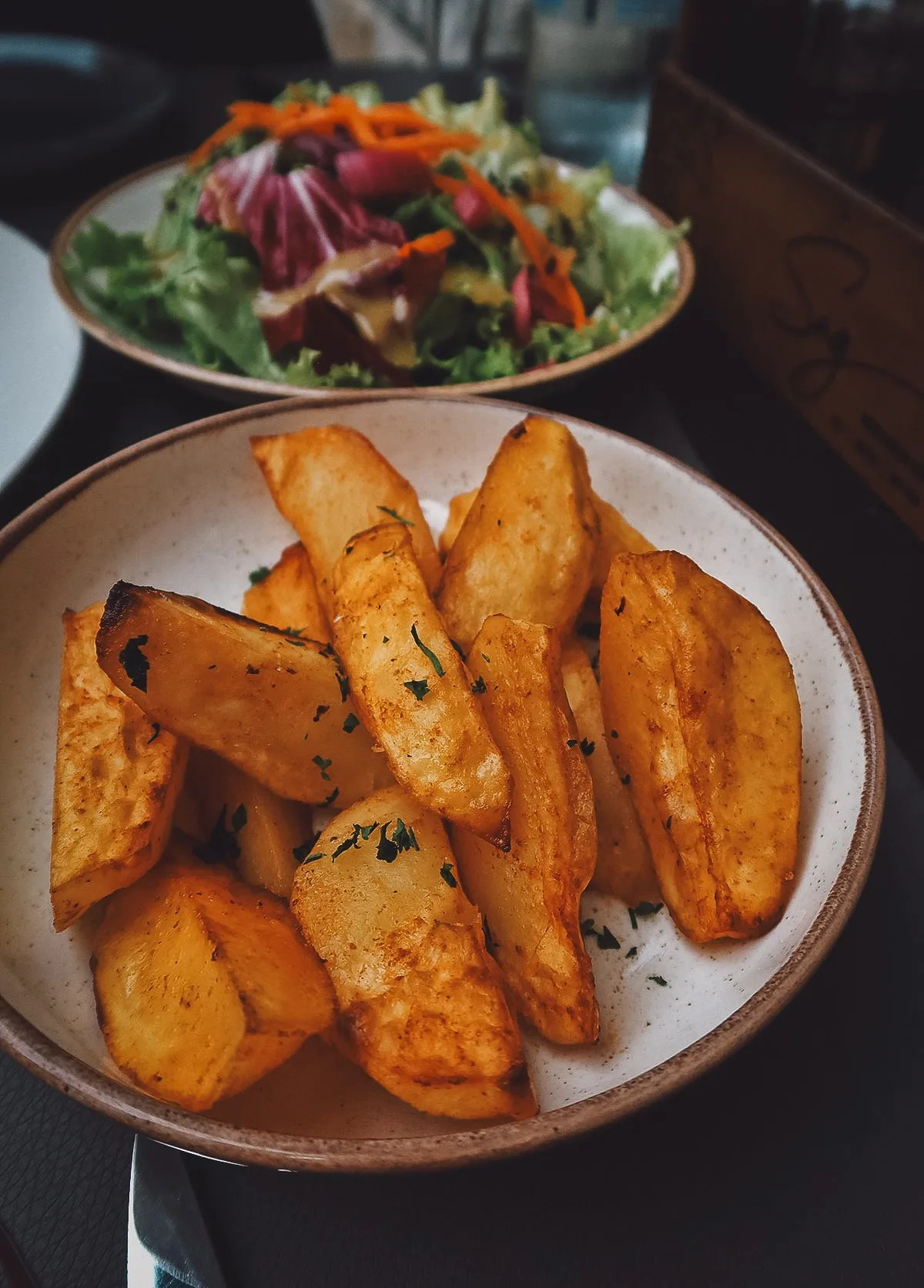 And the wait was definitely worth it! What you're looking at here is the tecada for two, a hearty tomato-based stew made with different types of seafood and a type of long hand-rolled Croatian pasta called makaruni. I couldn't find much information about "tecada" online but I believe this may be Sug's version of Croatian brodet (fish stew).
In any case, our tasty tecada was made with fish, mussels, langoustine, and octopus but Sug offers another more decadent version called "royal tecada for two". It's almost twice the price thanks to the addition of lobster.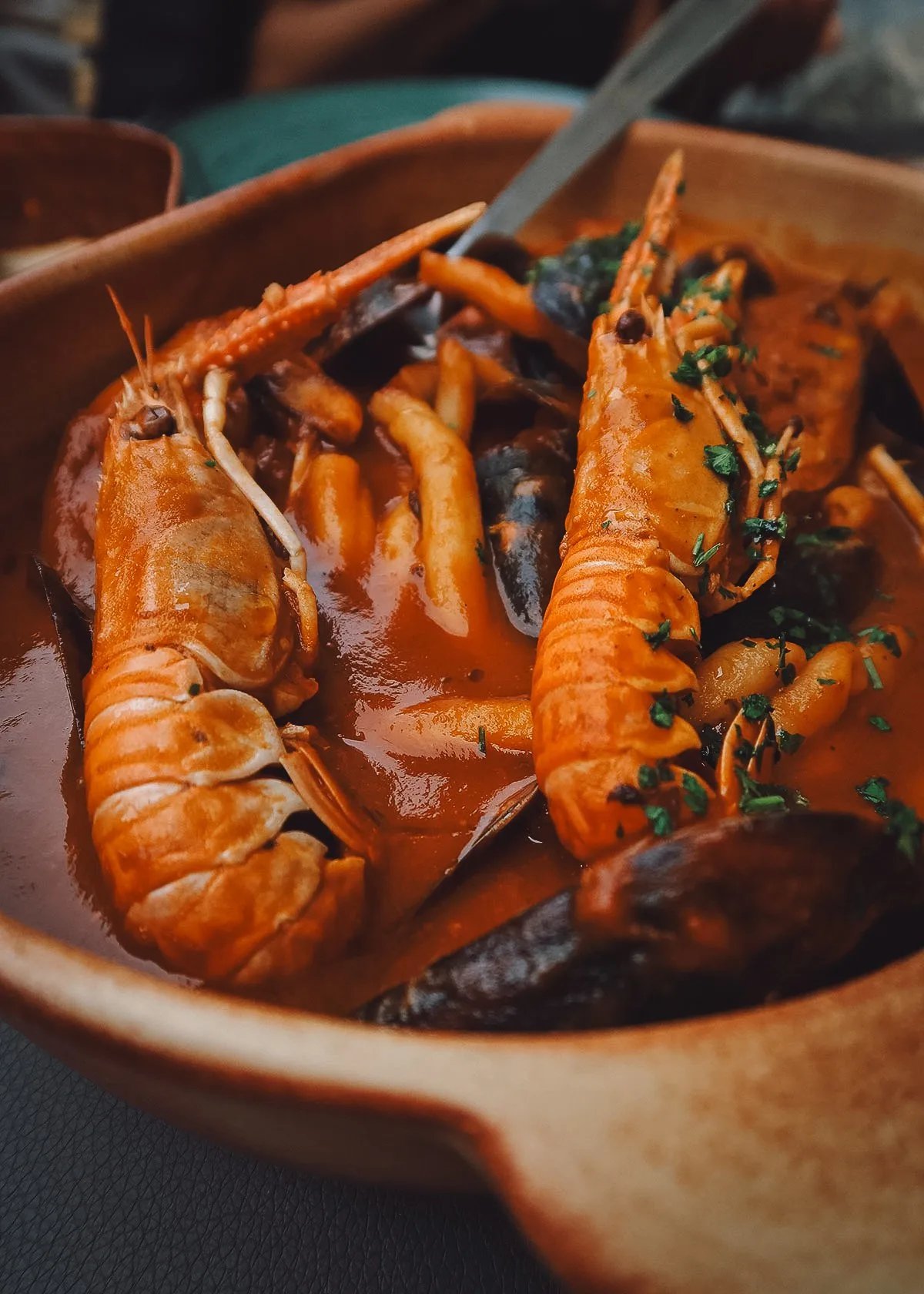 To help mop up all that delicious tecada broth, we ordered this side of homemade bread. I don't know what type of bread it is but it had an interesting texture – like dense, moist cornbread.
Sug is located just outside the northeastern corner of the Old Town. With its Michelin Big Gourmand distinction and TripAdvisor Traveler's Choice award, you can say that it's definitely one of the best restaurants in Split.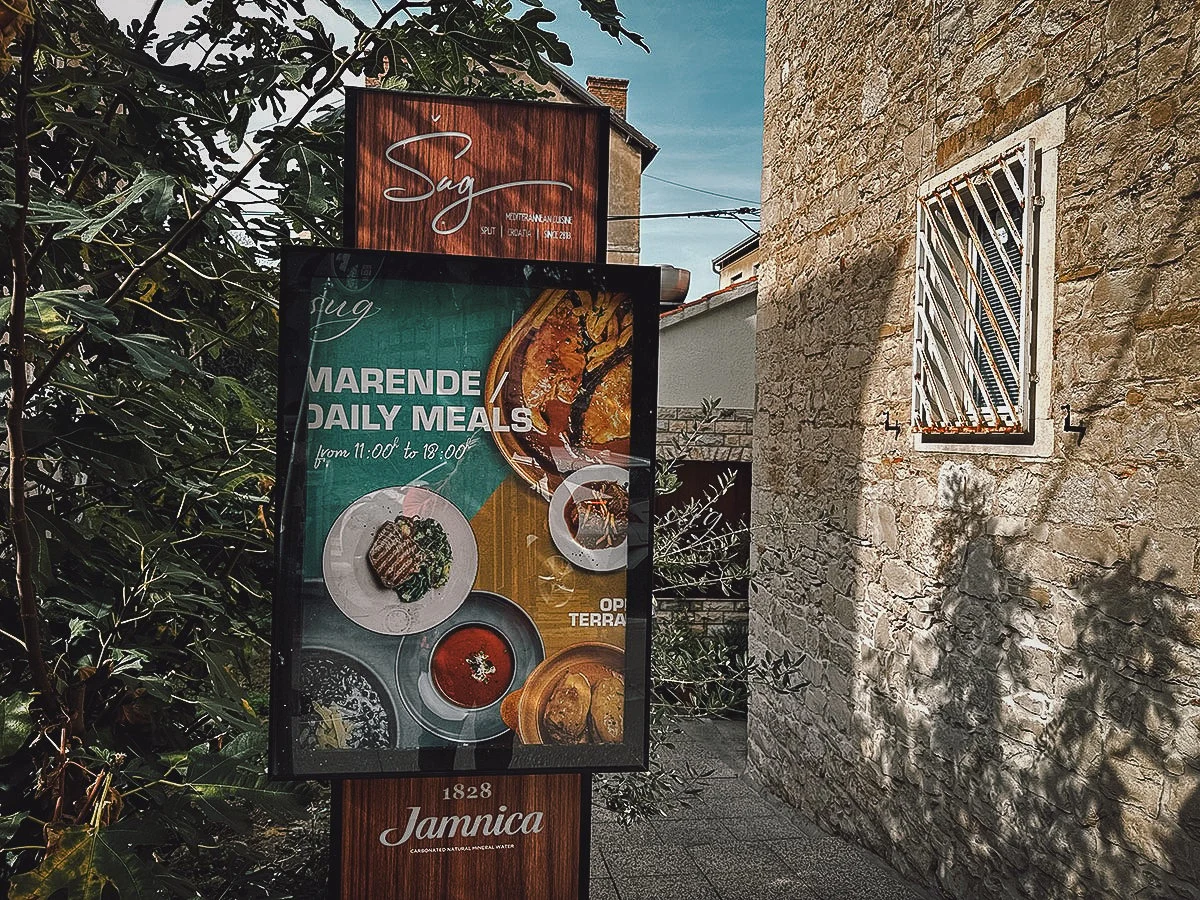 Sug offers both indoor and outdoor seating in a simple but elegant dining space. Like I said, it isn't exactly fine dining but they do offer some of the best food in town. If I remember correctly, they offer a good selection of Croatian wines as well.
We ordered a la carte but if you prefer, then you can try their 5-course tasting menu with or without wine pairing. At the time of our visit in October 2023, the tasting menu without wine pairing was priced at EUR 90 per person.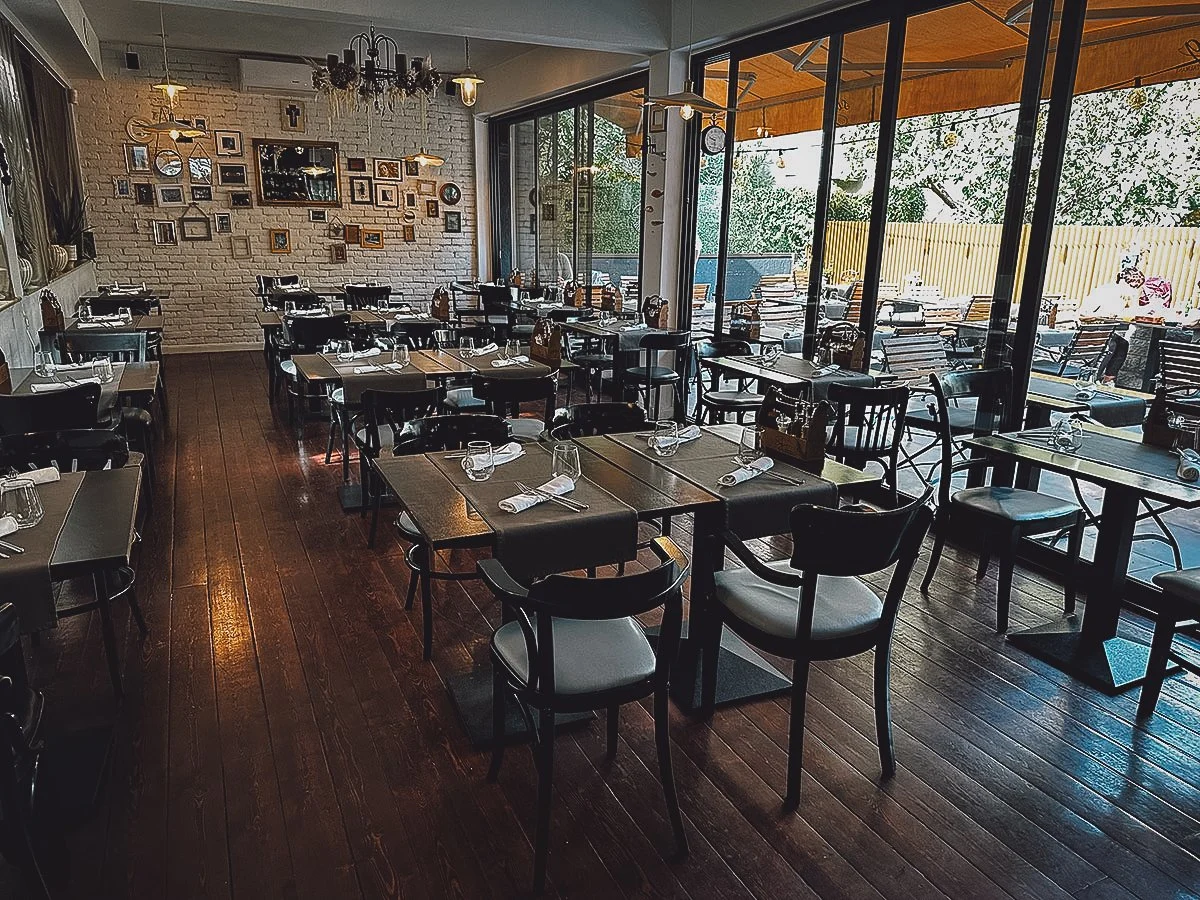 Šug
Address: Ul. Tolstojeva 1a, 21000, Split
Operating Hours: 8AM-11PM, Mon-Sat (closed Sundays)
What They Offer: Traditional Dalmatian dishes, tasting menus
2. Apetit
Similar to Sug, Apetit isn't a fine dining restaurant but they do serve tasty traditional Dalmatian dishes in a slightly more upscale, more modern interior. If you're looking to enjoy a terrific meal within the Old Town, then this is a great restaurant you can go to.
Pictured below is their delicious sea bass fillet served with grilled vegetables. It's normally served with rice and wok vegetables but at my request, they were kind enough to serve it with roasted vegetables instead.
I've had sea bass several times in Croatia and this has arguably been the best so far. It was perfectly cooked with nice and crispy skin. Delicious!
Dalmatia is famous for its spit-roasted lamb so if you prefer meat dishes over seafood, then you may want to try this. Served on a skewer with roasted potatoes and olive oil, it was tender, juicy, charred in parts, and with just the right amount of fat. It was seriously delicious and easily one of the best things we ate in Split.
We paired our main courses with glasses of Apetit's house wine.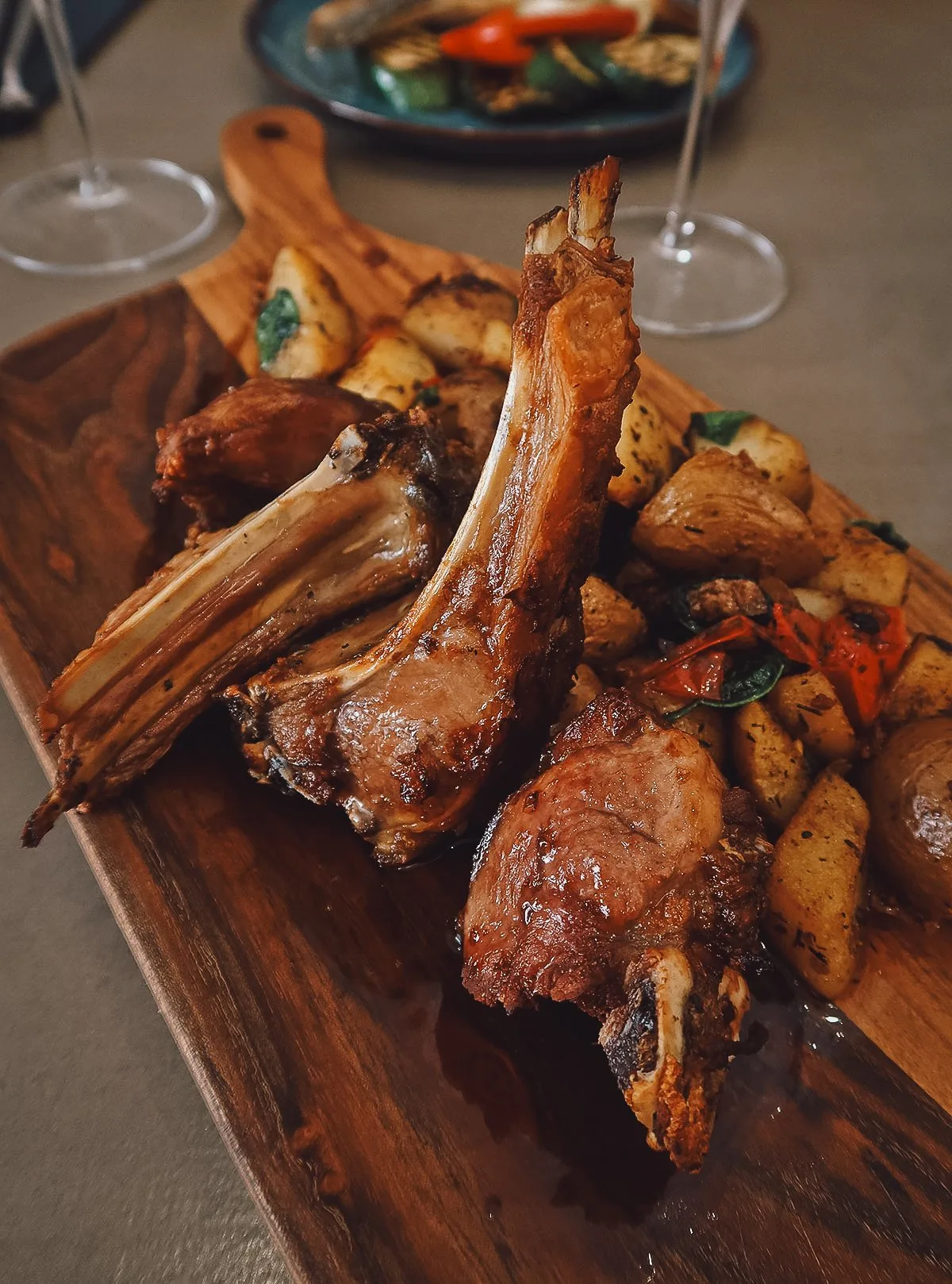 Apetit is located in the heart of Split Old Town, just a few minutes walk from the Riva promenade.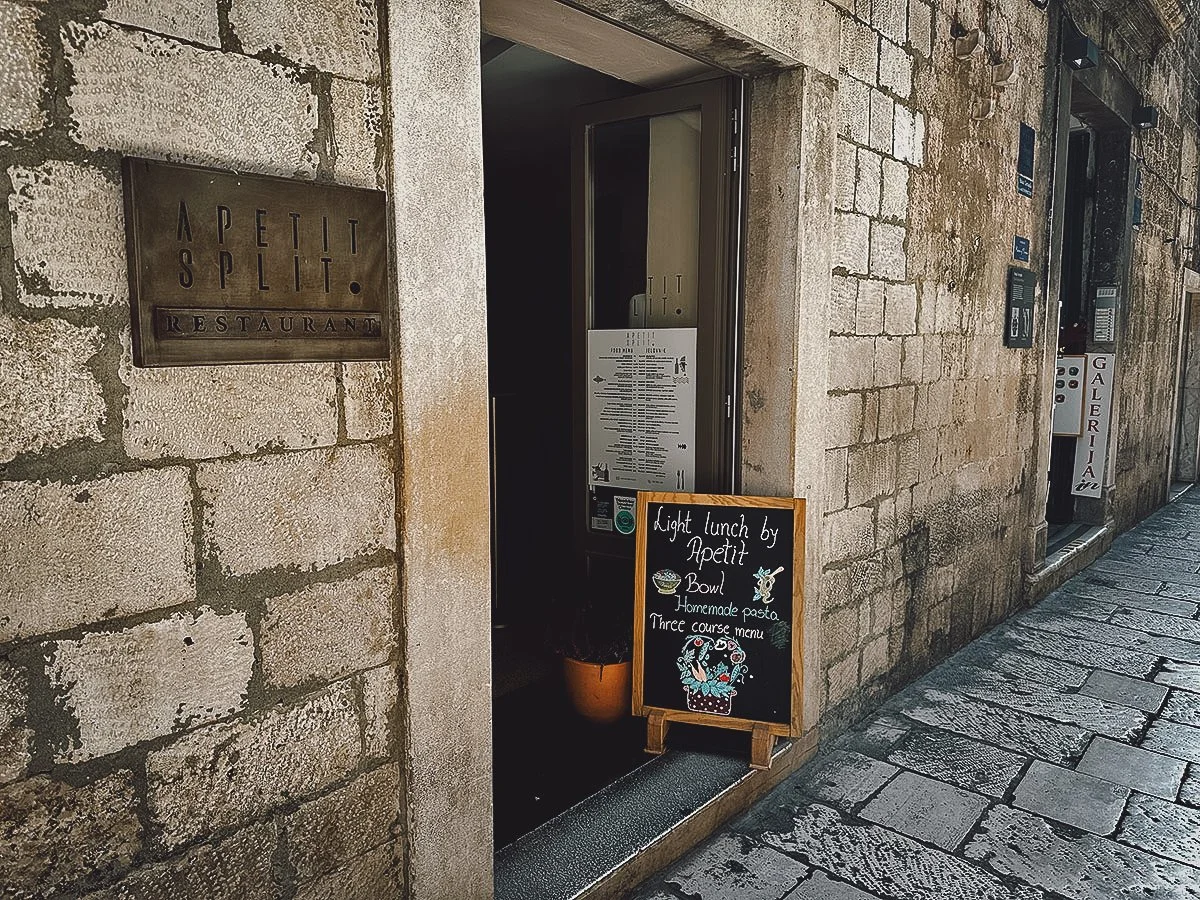 As described, Apetit isn't exactly a fine dining establishment but they do offer excellent food in a space that's more modern and upscale than your standard konoba.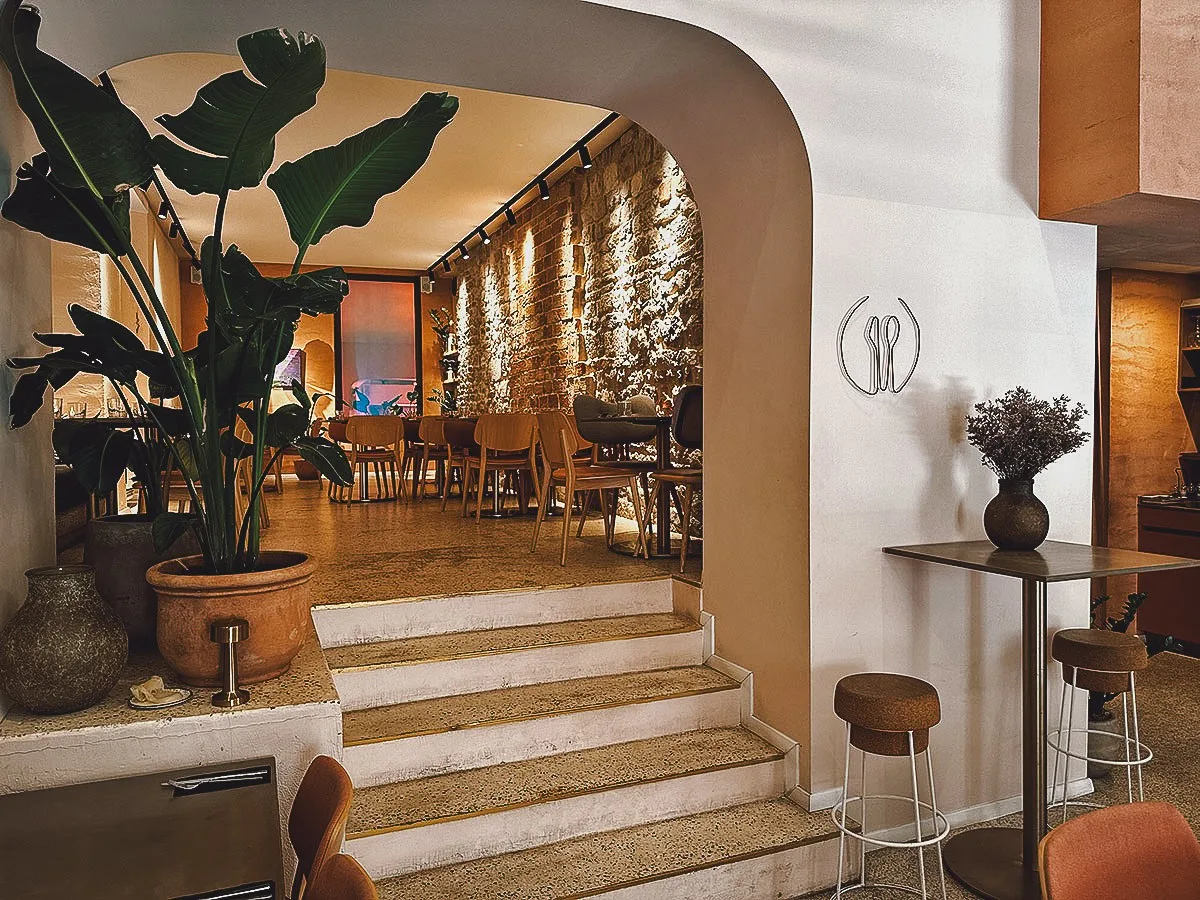 Apetit
Address: Ul. Pavla Šubića 2, 21000, Split
Operating Hours: 9AM-12MN, daily
What They Offer: Traditional Dalmatian dishes
3. Konoba Varos
If you want traditional Croatian cuisine in a no-nonsense type of establishment, then look for restaurants with "konoba" in the name. Similar to a French bistro, the word konoba can be translated as "tavern" or "wine cellar" and refers to a type of rustic restaurant that serves traditional dishes in Croatia.
Located in the southwestern corner of the Split Old Town, Konoba Varos is described as a "seafood restaurant" by some reviewers but they do offer a good selection of meat dishes as well. They specialize in peka, a type of food preparation popular in Dalmatian cuisine that involves roasting beef, lamb, or octopus over an open flame using a wrought-iron baking vessel.
We didn't try peka at Konoba Varos but we did enjoy this delicious platter of mussel and clam buzara. Buzara refers to another Dalmatian specialty that involves cooking different types of seafood in a mixture of olive oil, wine, garlic, and fresh herbs.
Pictured below is the white version (bijelo) but it can be made in a red buzara (na crveno) with tomatoes as well.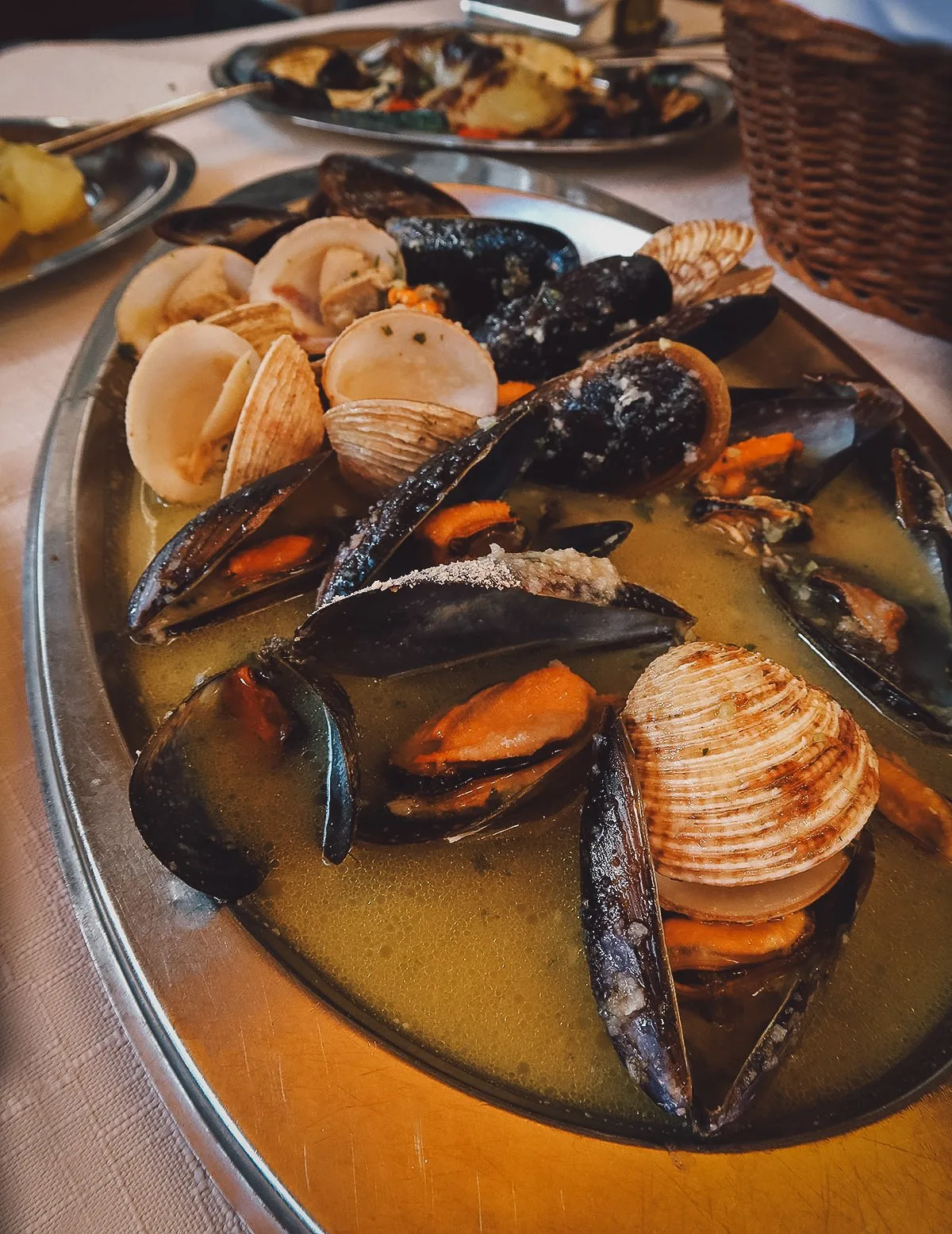 Two of the most common types of fish you'll find at Dalmatian restaurants are sea bass and Adriatic tuna. Both are tasty but our favorite may be monkfish. A meatier type of fish, this plate of grilled monkfish doused in olive oil was absolutely delicious.
If you like fish but have never had monkfish before, then you should definitely try it in Croatia. More meaty than flakey, it has a firmer texture that's closer to lobster than white fish.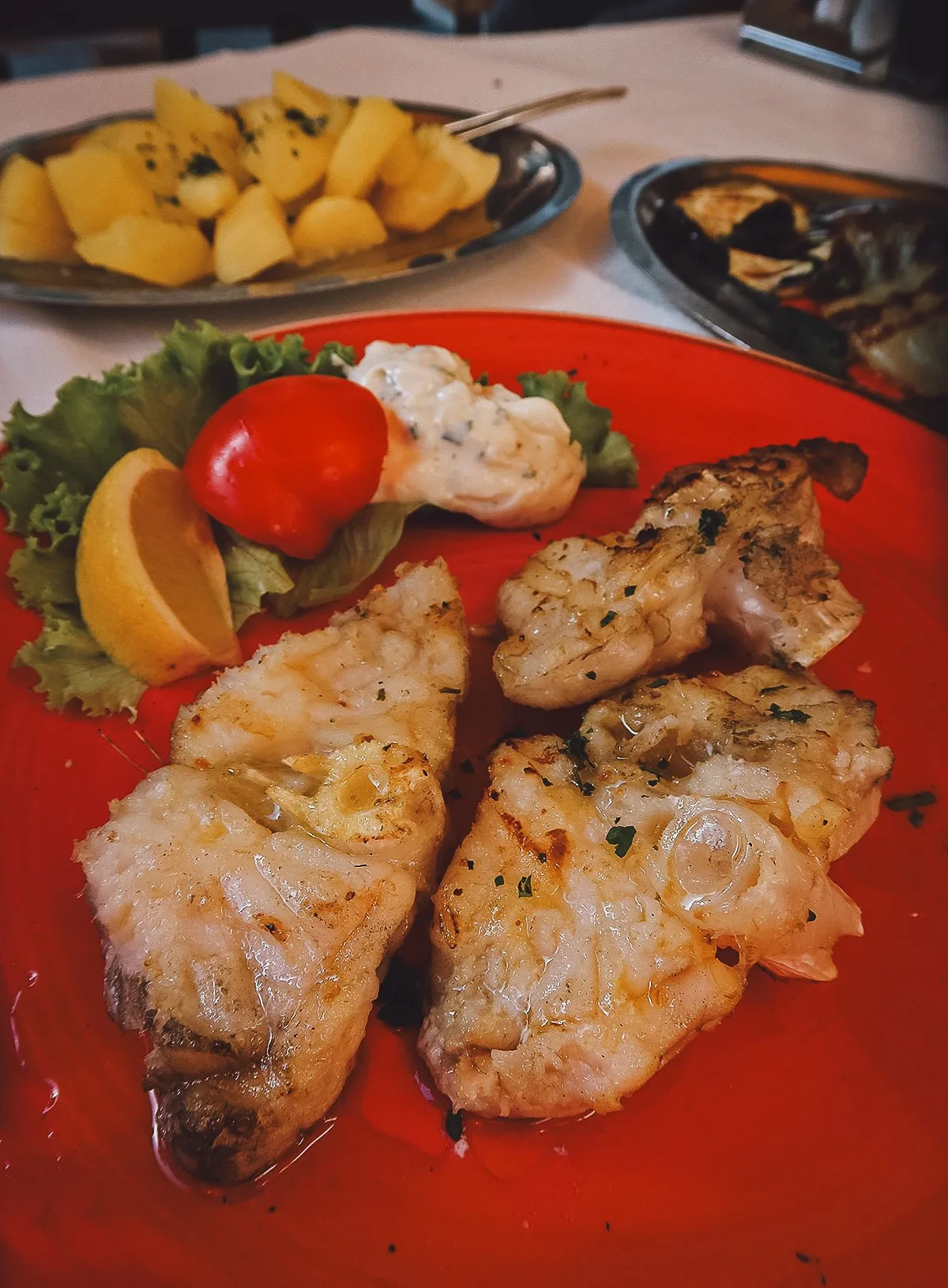 They don't serve too many accompaniments with your main dishes at Konoba Varos so we ordered this platter of boiled potatoes as a side dish.
This platter of grilled vegetables consisted of roasted peppers, eggplant, and zucchini.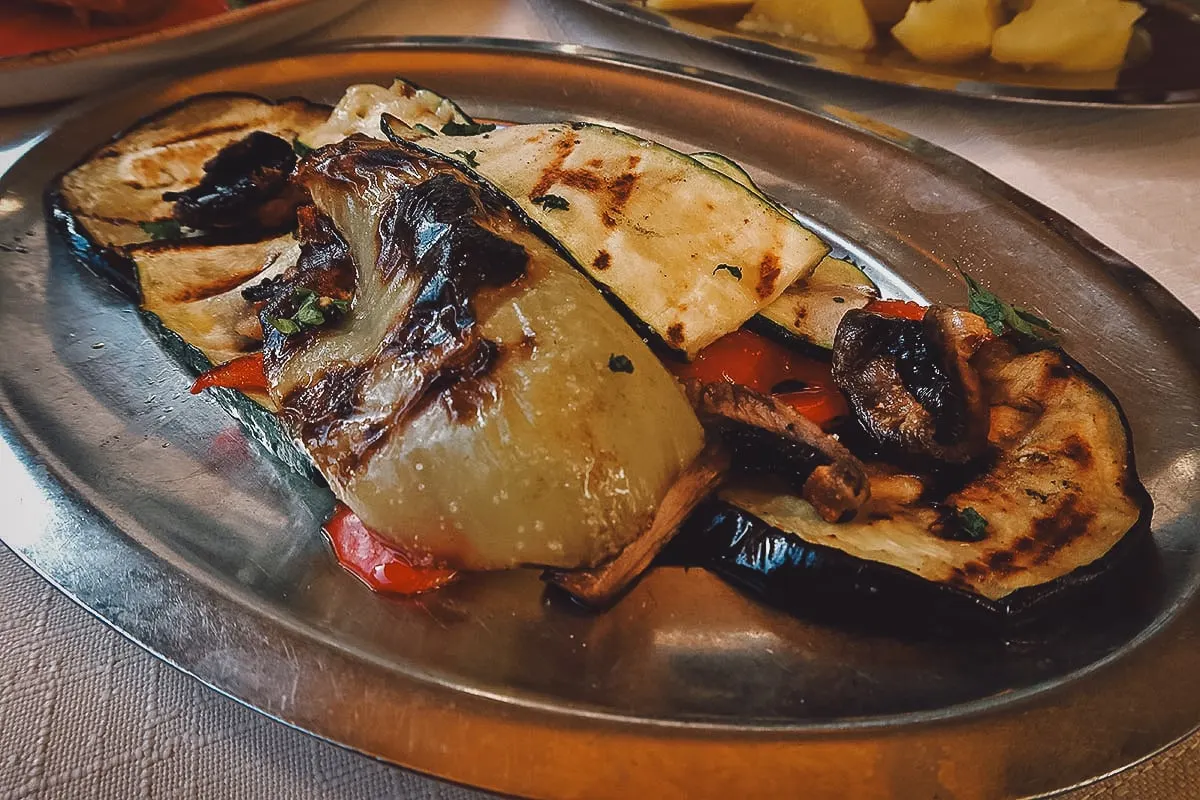 If you want local food without any frills in Croatia, then find a restaurant with the word "konoba" in its name. We had a few on our radar in Split but we're happy we went with Konoba Varos. They serve simple but tasty traditional Dalmatian cuisine at affordable prices.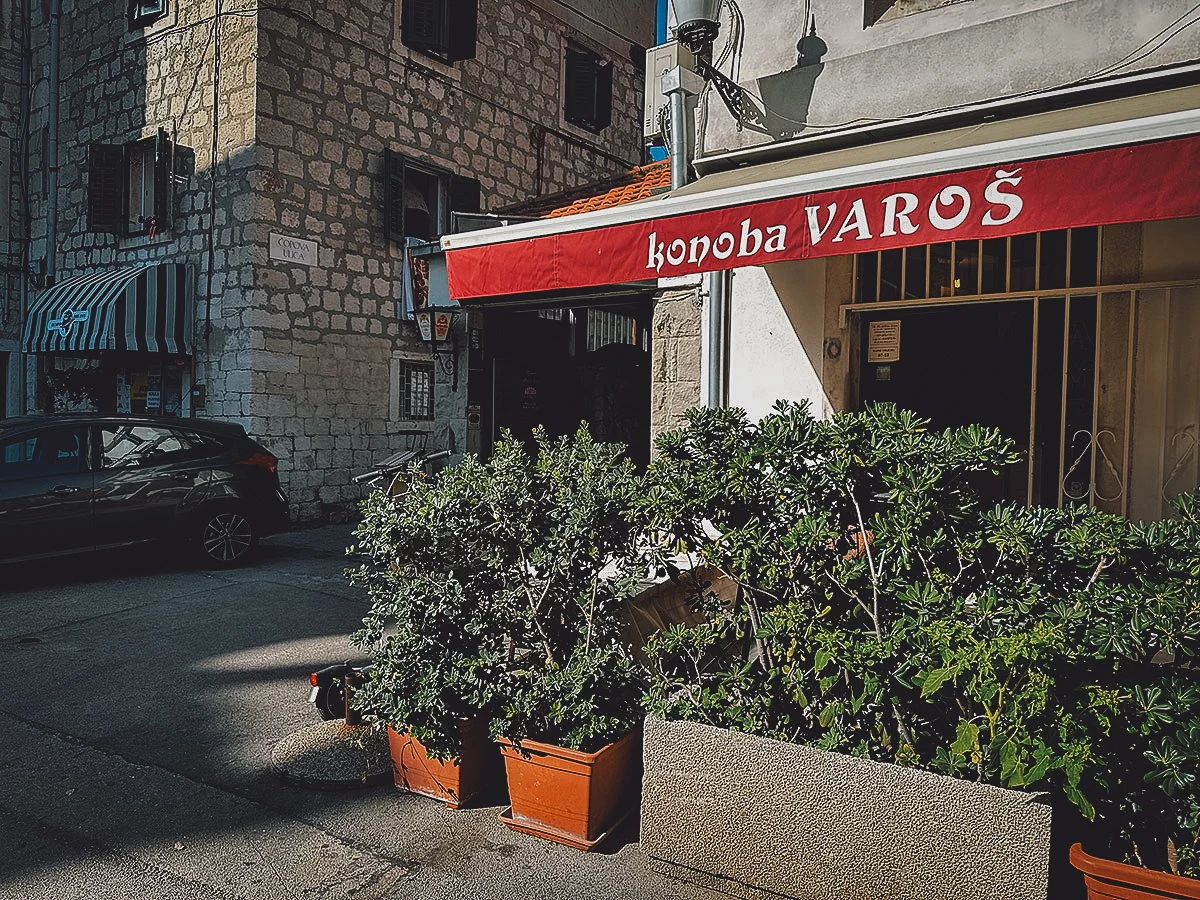 Here's what the interior of Konoba Varos looks like. Tasty food doesn't need anything modern or fancy!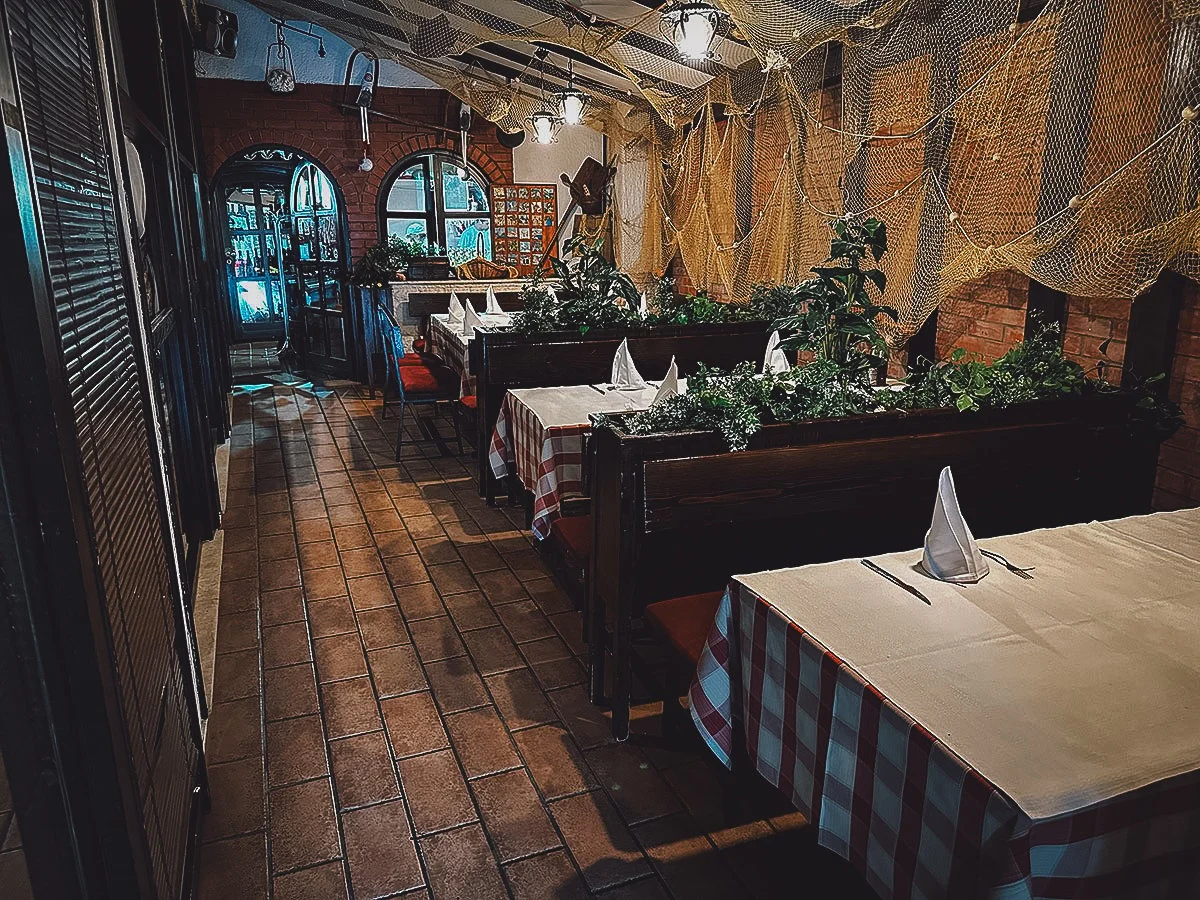 Konoba Varos
Address: Ul. ban Mladenova 7, 21000, Split
Operating Hours: 9AM-12MN, daily
What They Offer: Traditional Croatian cuisine
4. Downtown Grill
It doesn't have "konoba" in its name but Downtown Grill is a similar type of establishment located in the northeast corner of the Old Town. They offer a fresh seafood selection but they do offer meat dishes as well, including a few vegan options.
The restaurant doesn't look like much but Downtown Grill was the best seafood restaurant we went to in Split. Check out these beautiful octopus tentacles served with grilled vegetables and homemade Dalmatian spinach. Another supremely delicious seafood dish in Split!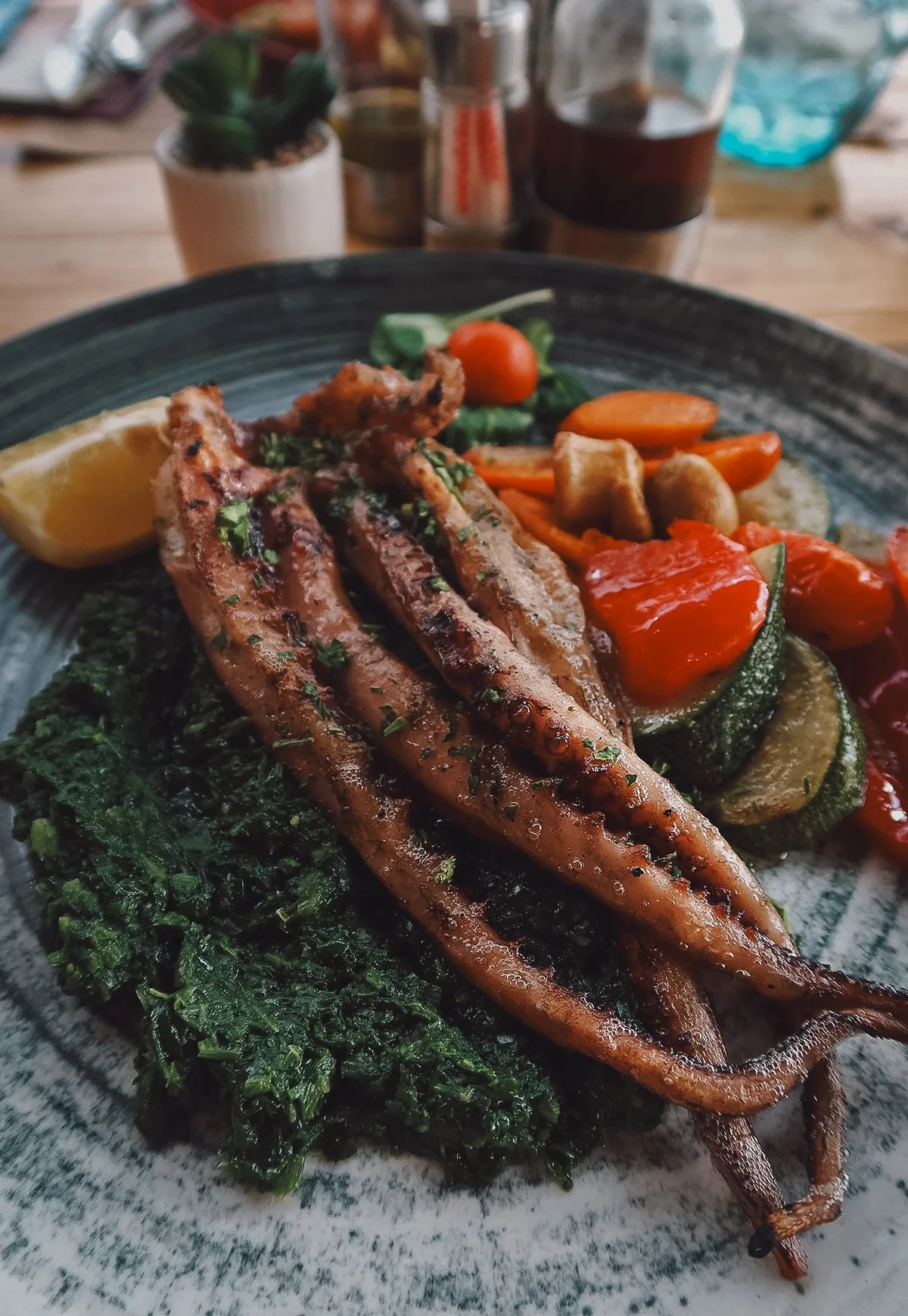 As described, Adriatic tuna is a specialty all along the Dalmatian coast. If you like grilled fish, then you may want to sink your teeth into this tuna steak as well. Served with mixed vegetables and homemade Dalmatian spinach, it was moist, flakey, and absolutely delicious.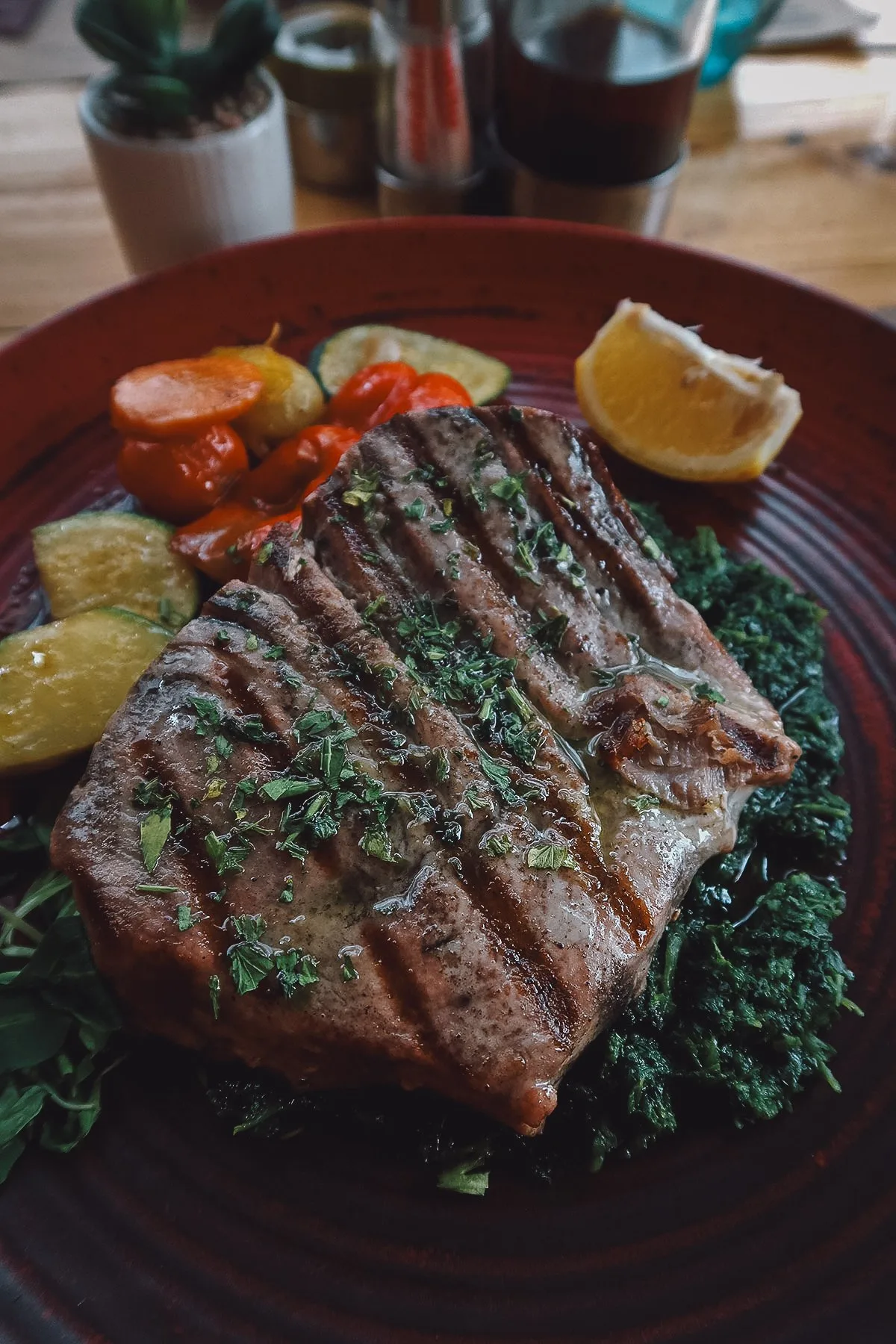 Don't let its humble exterior and unremarkable name fool you. In our humble opinion, Downtown Grill is one of the best restaurants in Split.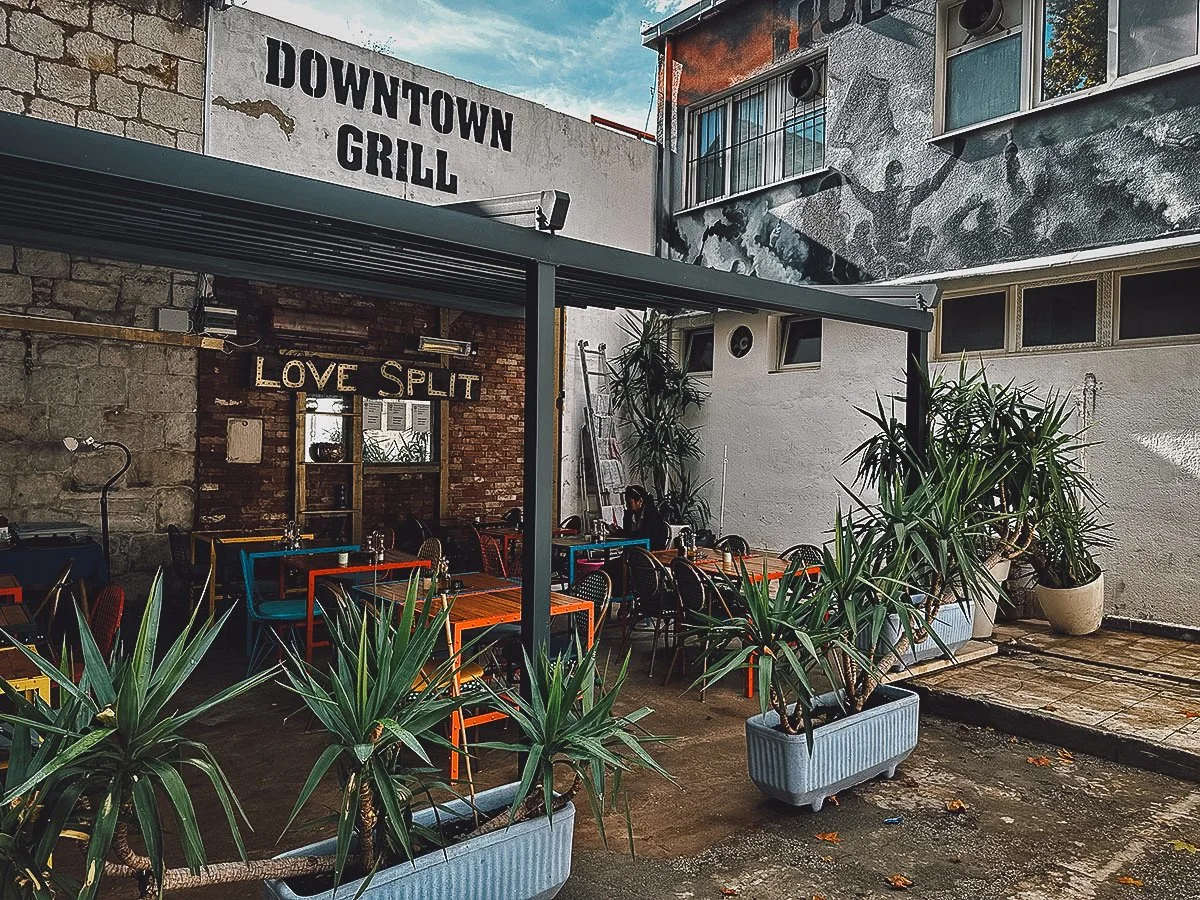 Downtown Grill
Address: Ul. Zrinsko Frankopanska 15 a, 21000, Split
Operating Hours: 12NN-9PM, daily
What They Offer: Seafood, meat dishes
HEALTHY RESTAURANTS
As much as we loved Dubrovnik, we were a bit disappointed with the lack of vegan/vegetarian restaurants in the Old Town. Not so in Split. Here, health-conscious eaters won't have any trouble finding good places to eat.
5. Kat's Kitchen Deli
We enjoyed every healthy restaurant we visited in Split but Kat's Kitchen Deli was our favorite. This hidden gem tucked away in a residential neighborhood near Marjan Forest Park has to be one of the best health-focused restaurants in Split.
While they do serve a few dishes with healthier protein options like baked salmon, Kat's Kitchen Deli offers a menu featuring mostly vegan and vegetarian options like fruit-filled breakfast bowls, superfood toasts, and vegan burgers.
The eye-catching dish below is their smoothie bowl. Isn't it gorgeous? It's made with a base of acai, chocolate, or mango turmeric and then topped with baked oat granola, seasonal fruits, almonds, coconut flakes, millet pops, chia seeds, and almond butter.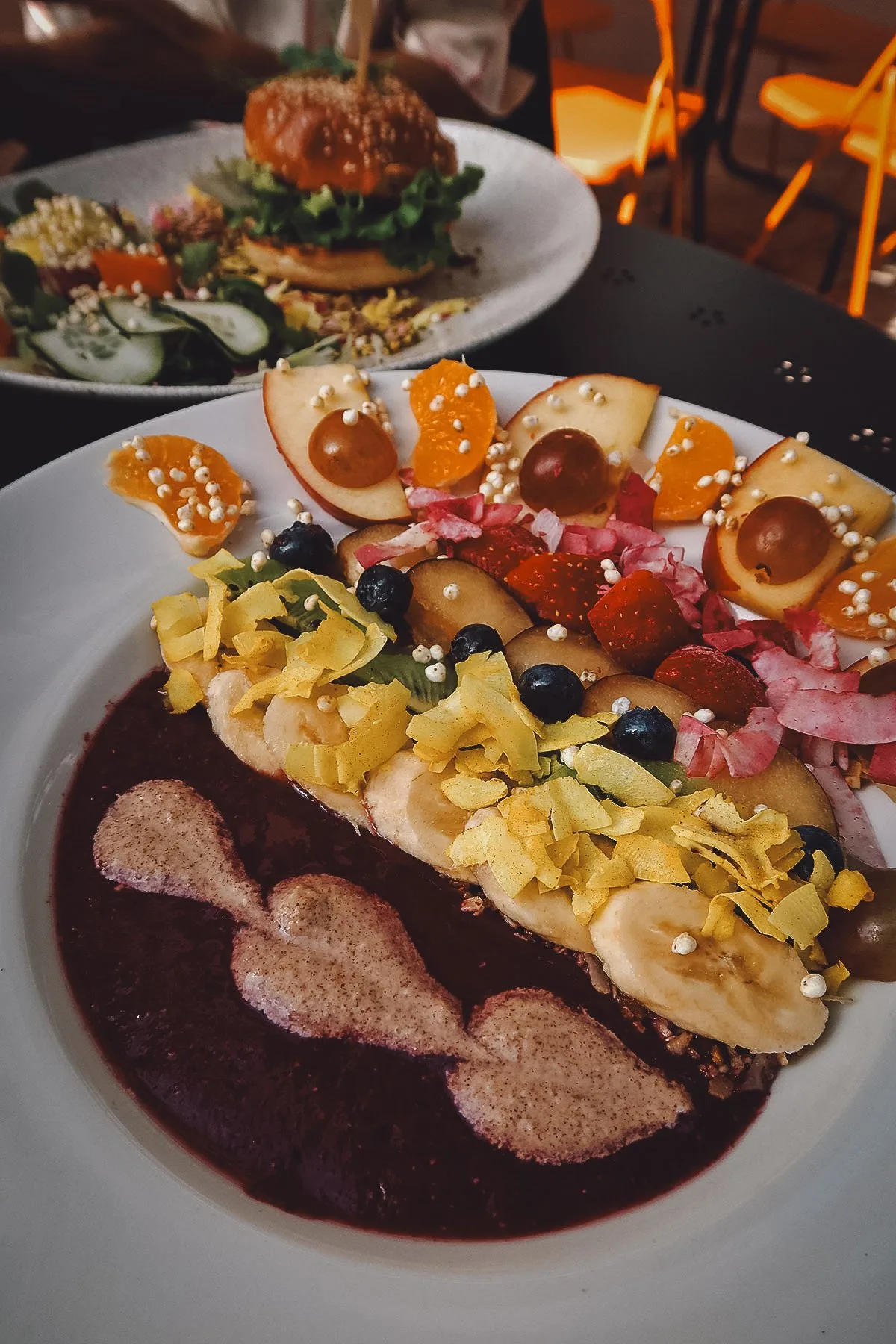 What you're looking at here is their delicious portobello burger. Served with a generous side salad, it's made with portobello mushrooms, baby spinach, homemade almond cheese, and caramelized onions. Yum!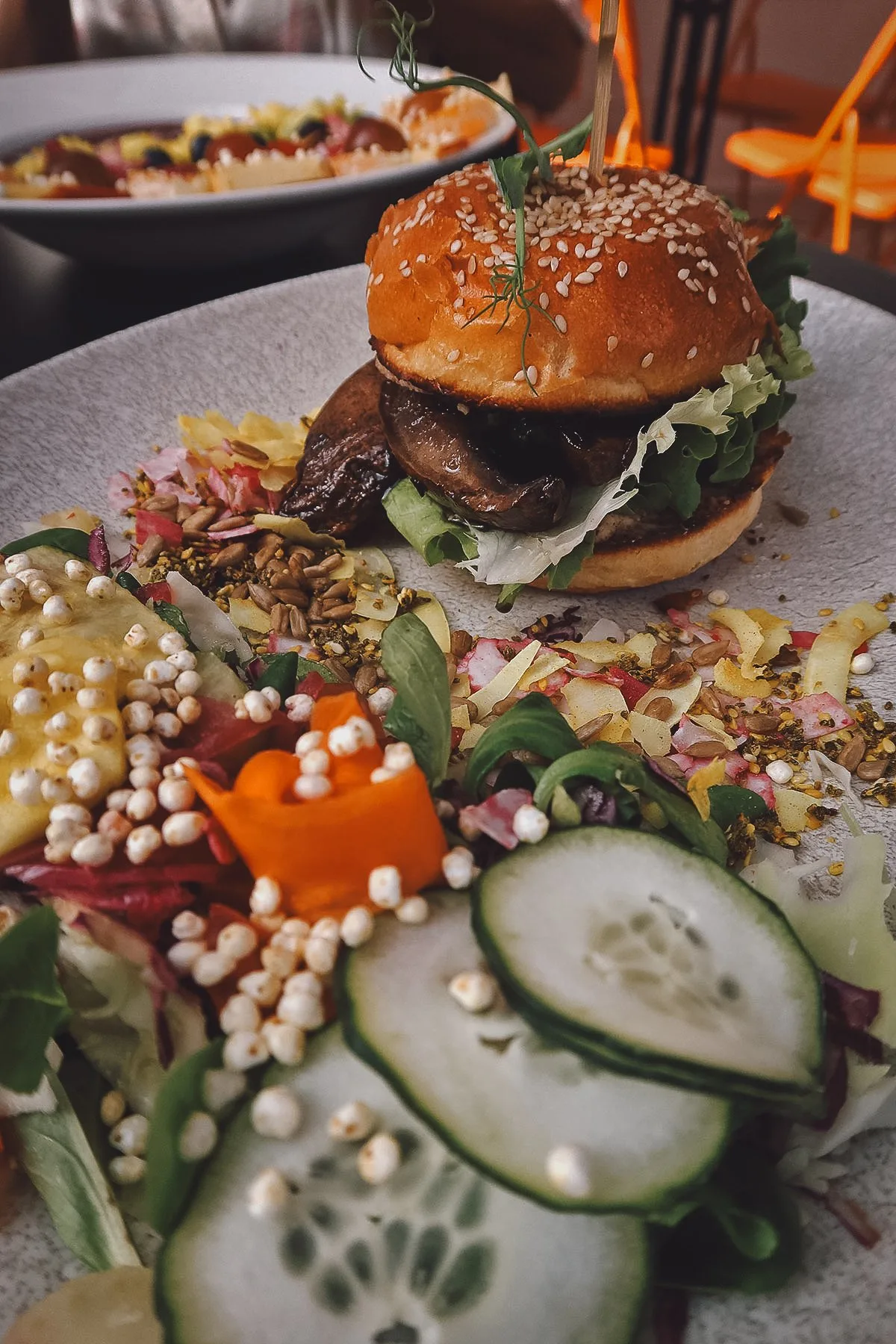 Here's a closer look at the portobello mushrooms. With more time in Split, we would have loved to try their jackfruit burger as well.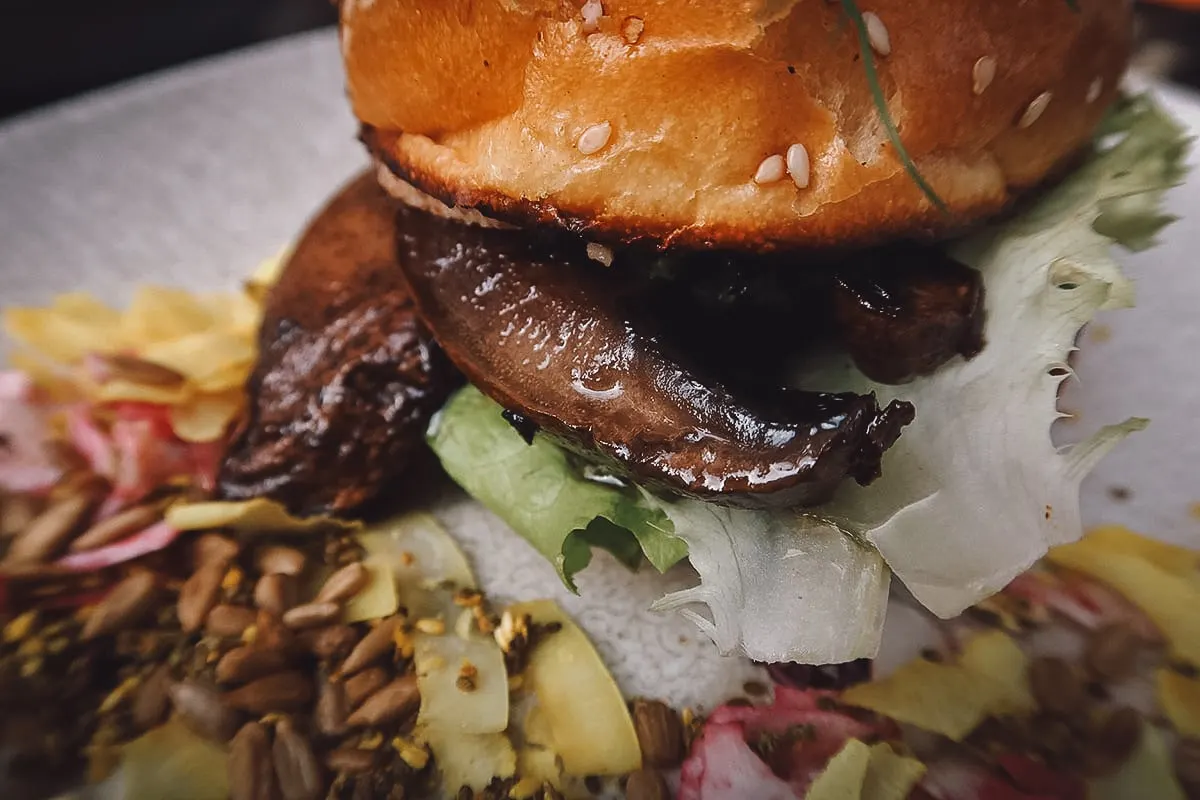 Kat's Kitchen Deli is about a 20-25 minute walk from Split Old Town but it's worth the effort if you're looking for a good healthy place to eat breakfast. We paid just a little over EUR 20 for the two dishes above so I'd happily put it in the category of "cheap eats" as well.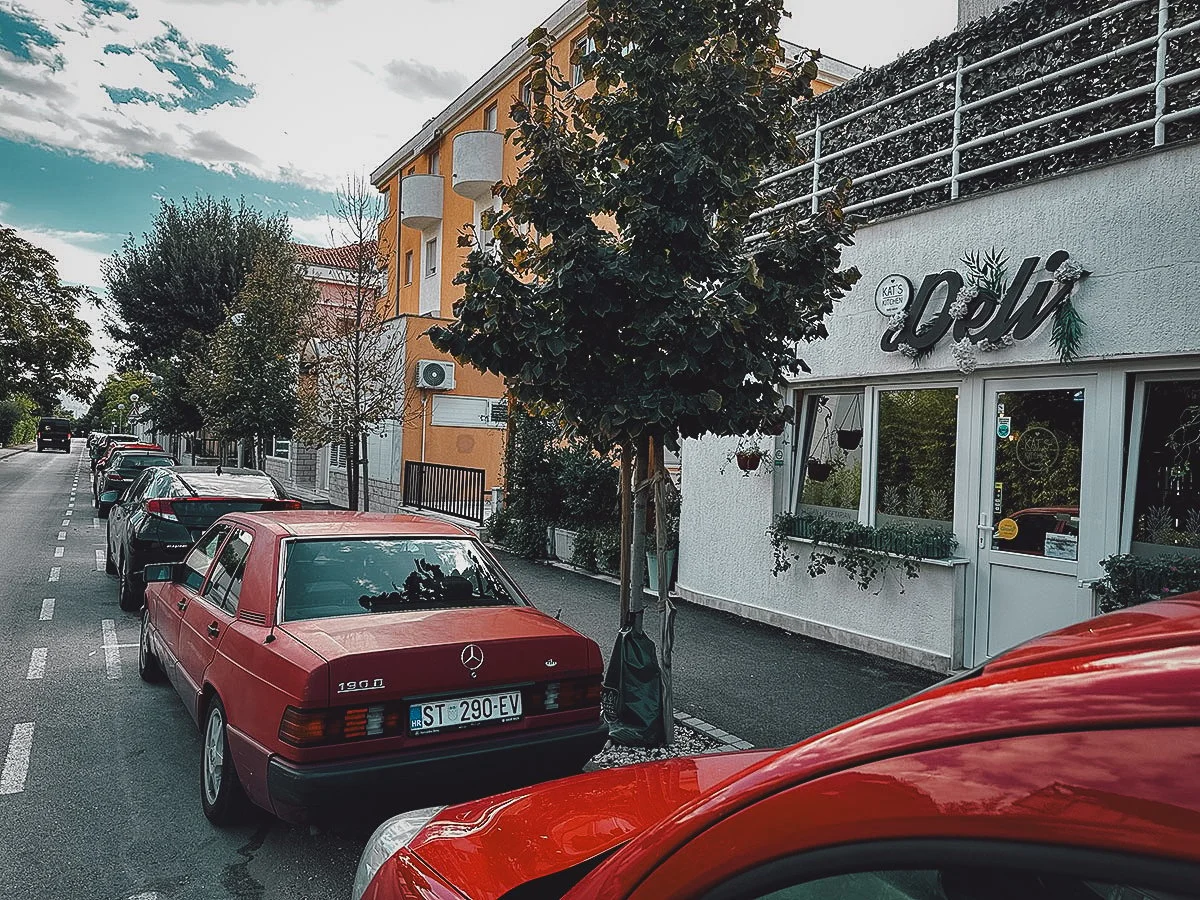 Kat's Kitchen Deli
Address: Ul. Antuna Mihanovića 33, 21000, Split
Operating Hours: 9AM-3PM, daily
What They Offer: Brunch dishes, vegetarian/vegan food
6. MakaMaka Acai & Poke Bar
If you'd rather not walk too far for a healthy breakfast bowl, then you can get one in the Old Town at MakaMaka. They offer a good selection of acai bowls, poke bowls, and fresh fruit juices for a more heart-healthy meal in Split.
They were offering five types of acai bowls but I went with this overflowing Rio bowl made with a base of acai, bananas, and apple juice. It was topped with fresh berries, bananas, granola, almonds, and hemp seeds. Yummers!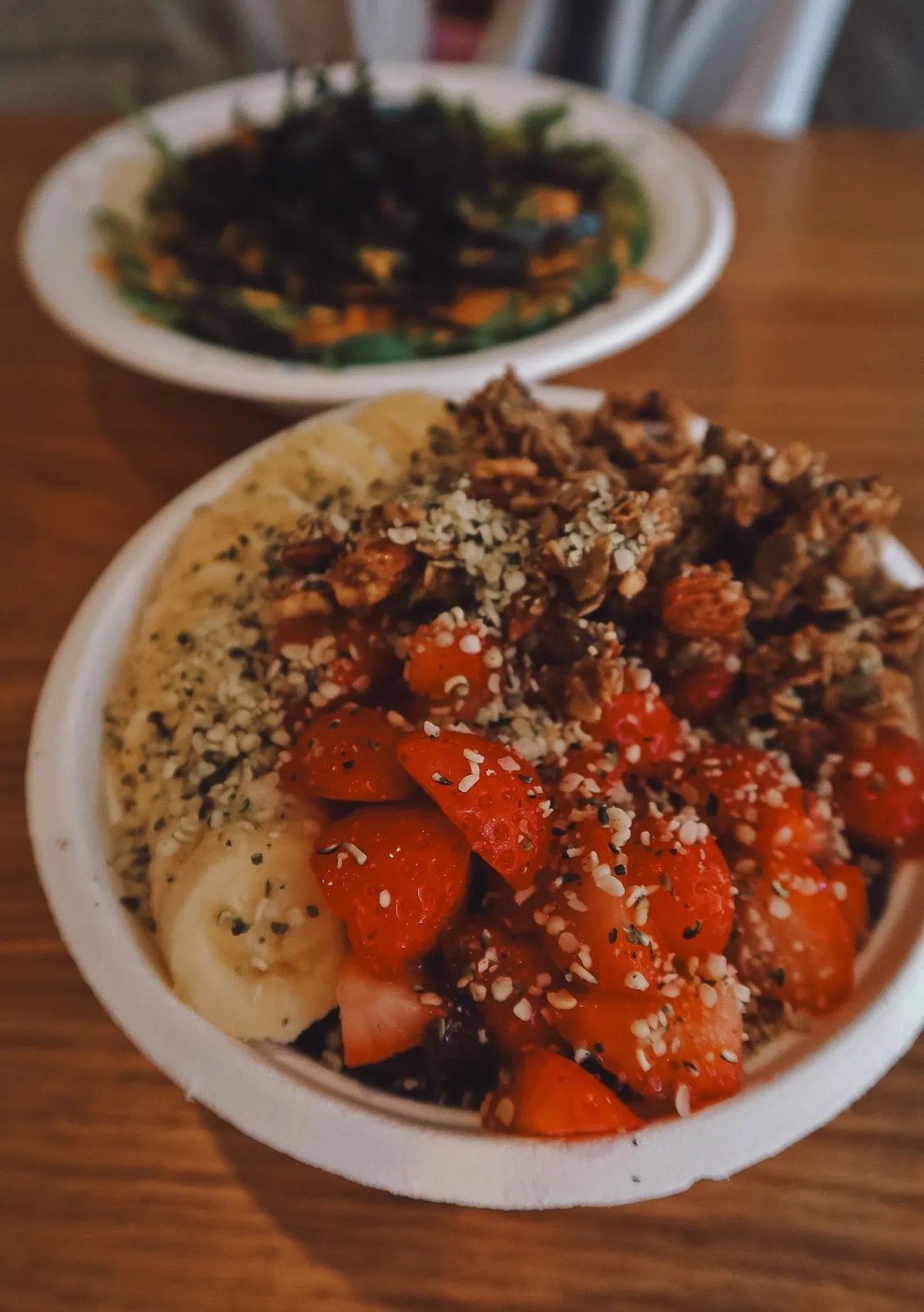 My better half went with the Kaula poke bowl. Made with a base of white sushi rice, quinoa, or salad greens, it's topped with marinated salmon sashimi, cucumber, edamame, nori, pickled ginger, and a spicy mayo sauce.
MakaMaka offers around eight ready-made poke bowls but if you prefer, then you can build your own from scratch as well.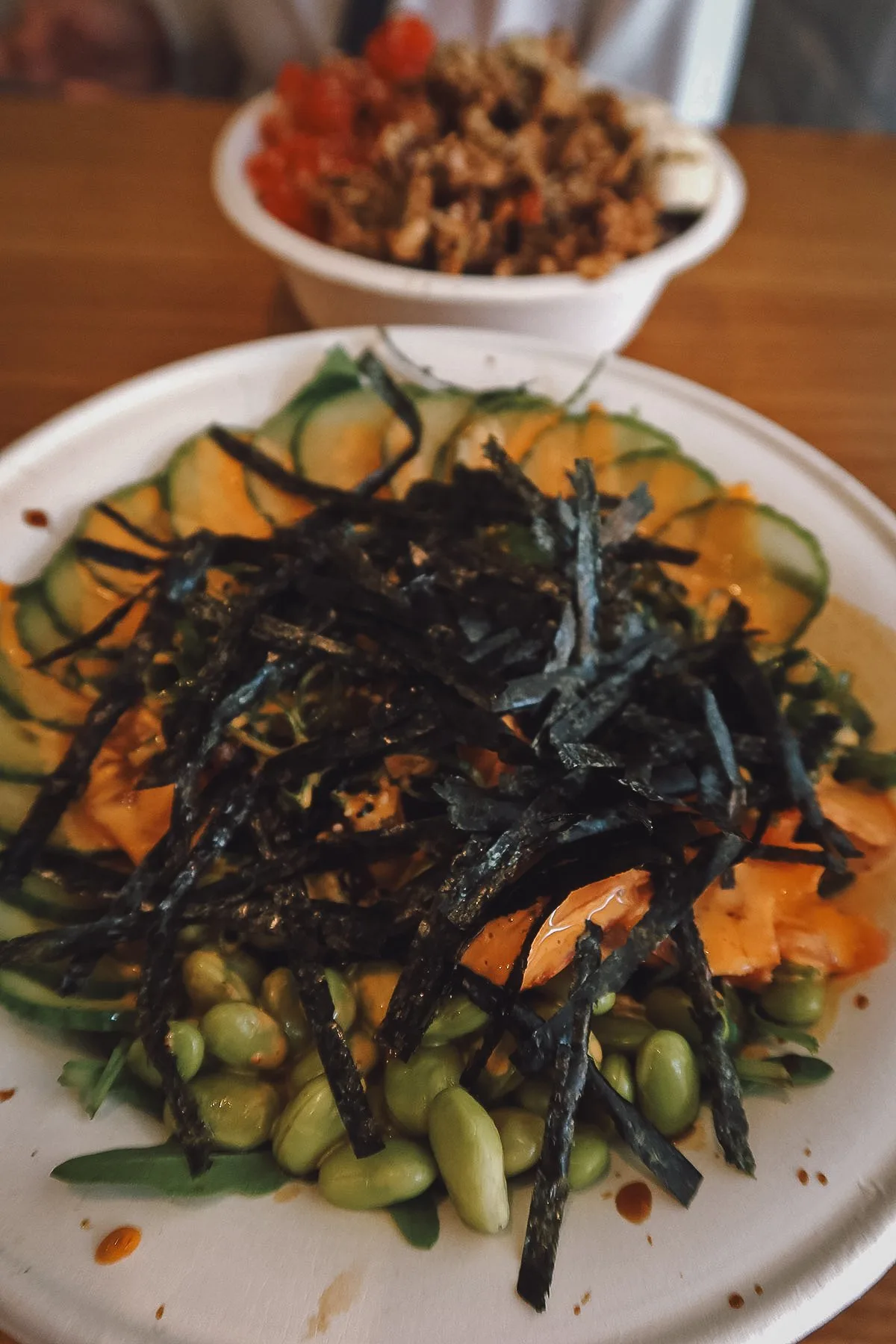 MakaMaka is located in a busy part of the Old Town so it shouldn't be hard to spot.
We didn't eat there but if you're looking for sushi restaurants, then MakaMaka has a sushi bar in the Old Town as well. They offer sashimi and sushi made mostly with Adriatic tuna, salmon, and sea bass, but they do offer a toro sando sandwich that sounds incredibly tempting.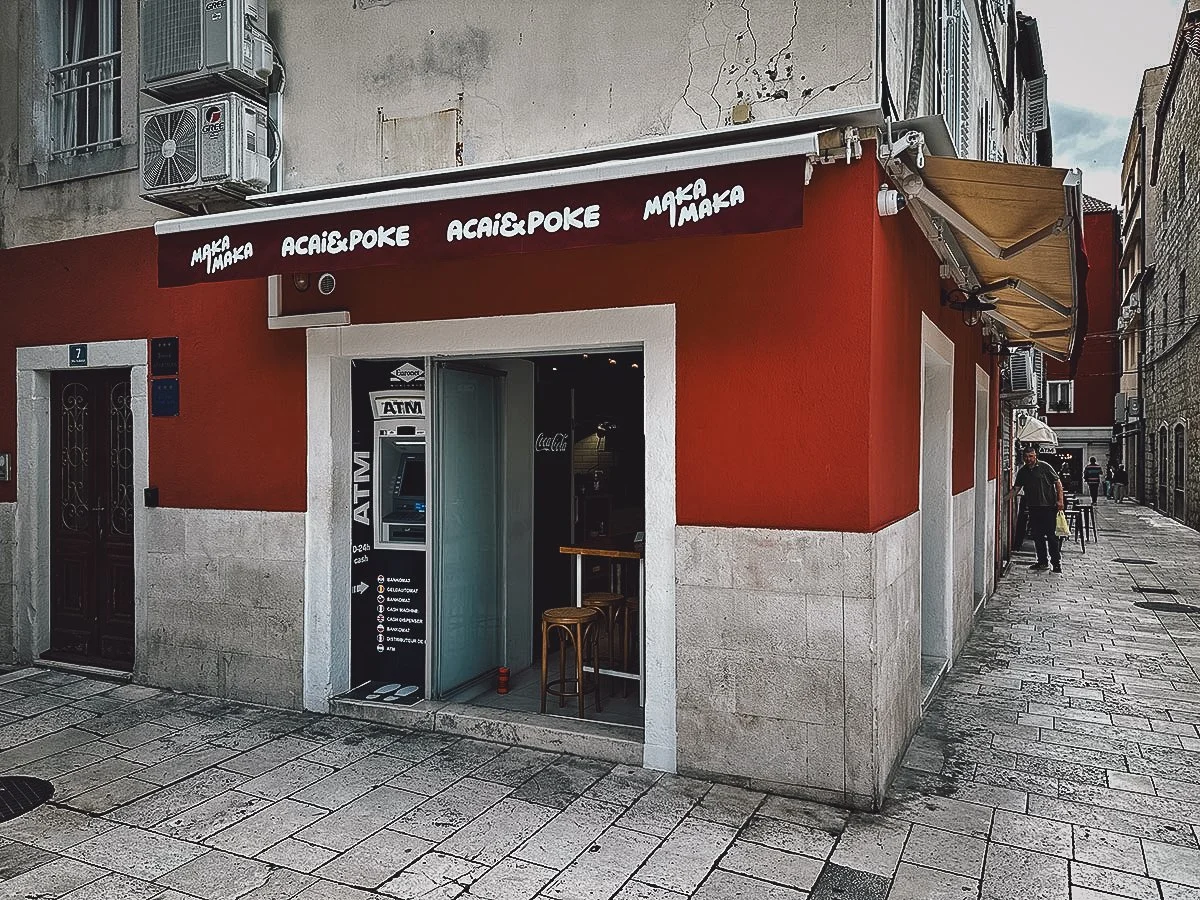 MakaMaka Acai & Poke Bar
Address: Obrov ul. 2, 21000, Split
Operating Hours: 8AM-10PM, Mon-Sat (closed Sundays)
What They Offer: Acai, poke bowls
7. Feel Green
If you like healthy and beautiful salad bowls, then you'll definitely want to enjoy a meal at Feel Green. It isn't a plant-based restaurant but they do offer plenty of delicious and well-put-together vegan and vegetarian options.
Feel Green serves a good number of healthy breakfast dishes, smoothies, and tasty salad bowls. What you're looking at here is their gorgeous tuna and quinoa bowl. It's made with grilled Adriatic tuna, quinoa, chickpeas, lentils, avocado, and a medley of fresh vegetables dressed in their homemade mustard- and maple-syrup-based sauce.
Not only was this salad bowl beautiful to look at, but it was delicious and supremely satisfying as well.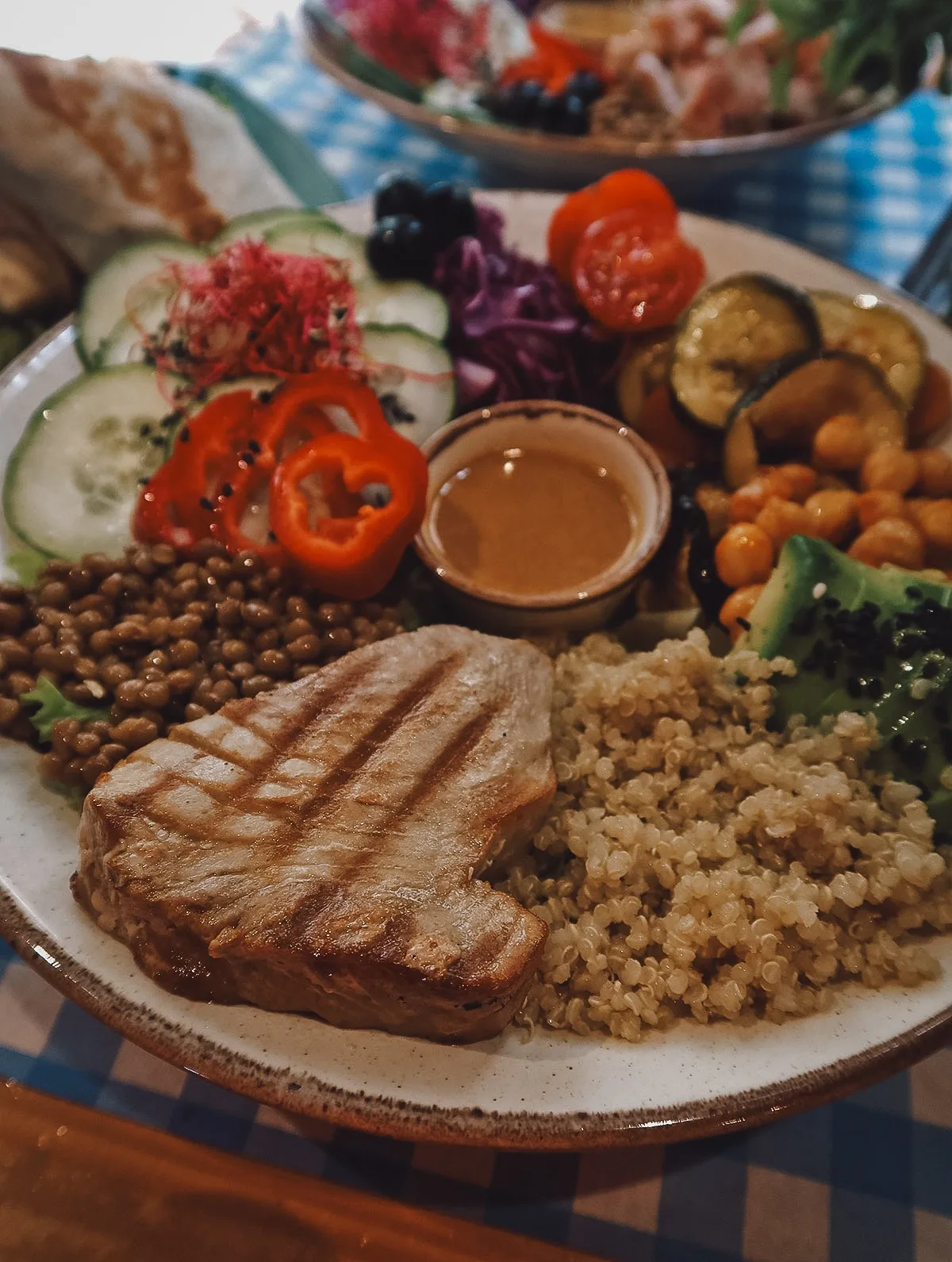 Equally delicious was this octopus bowl. It was made with basically the same ingredients but with a good amount of sliced octopus instead of tuna.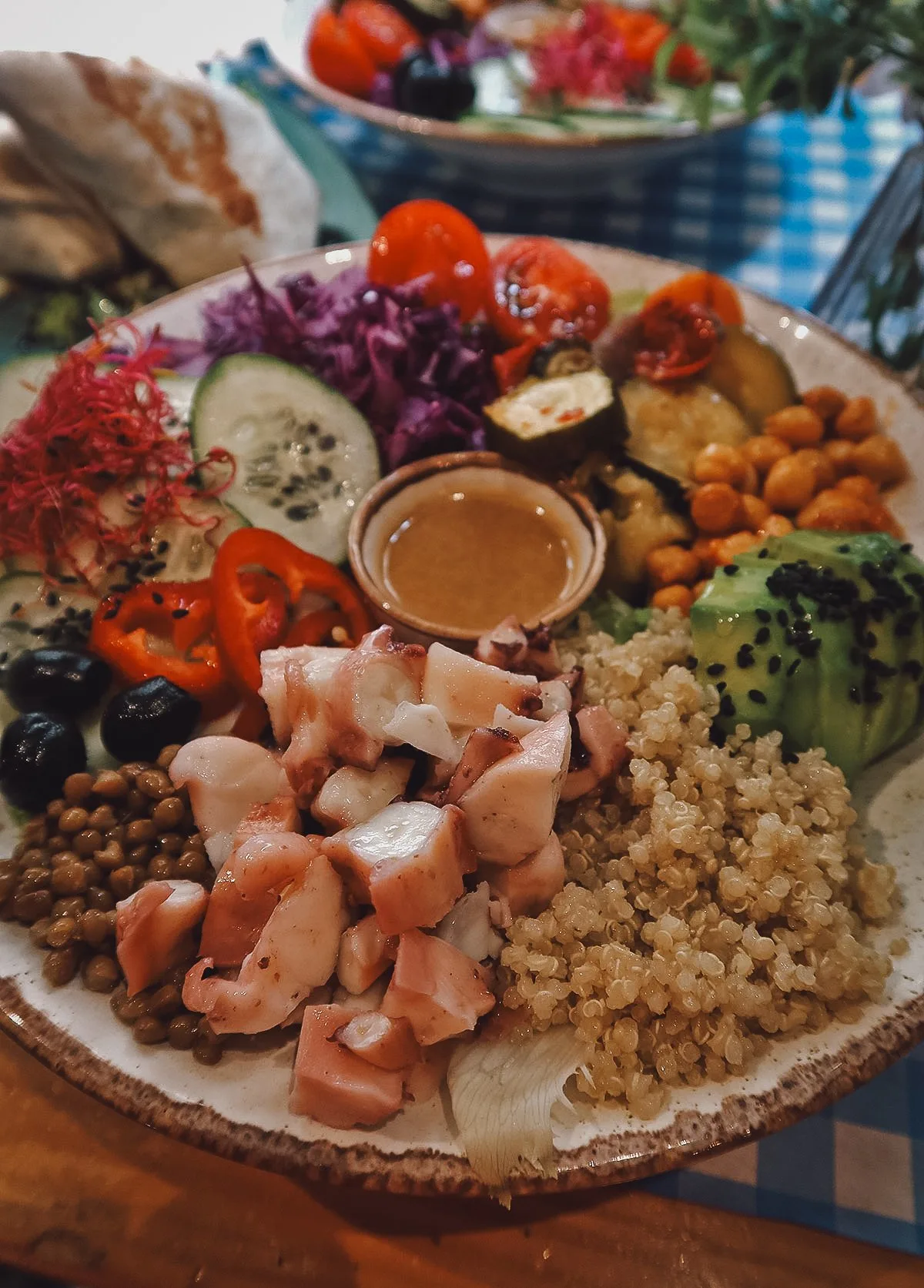 I didn't expect their salad bowls to be so bountiful so I ordered this hummus wrap as a side dish. It was made with homemade hummus, leafy greens, pickled onions, red cabbage, cucumber, and the same homemade sauce they use in their salad bowls. Delicious!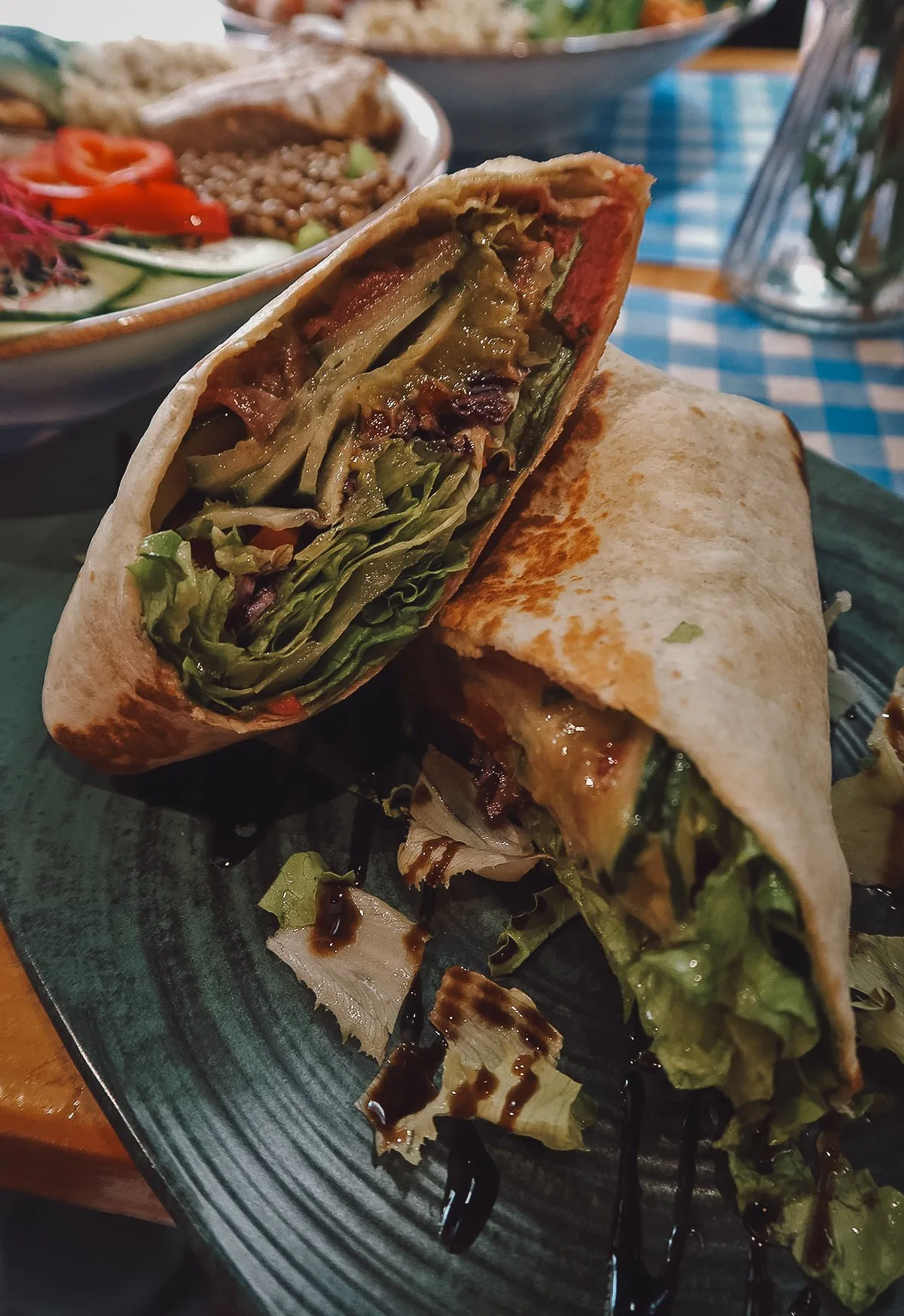 Feel Green is a cute restaurant located near Konoba Varos (#3). In fact, we found Konoba Varos thanks to this place.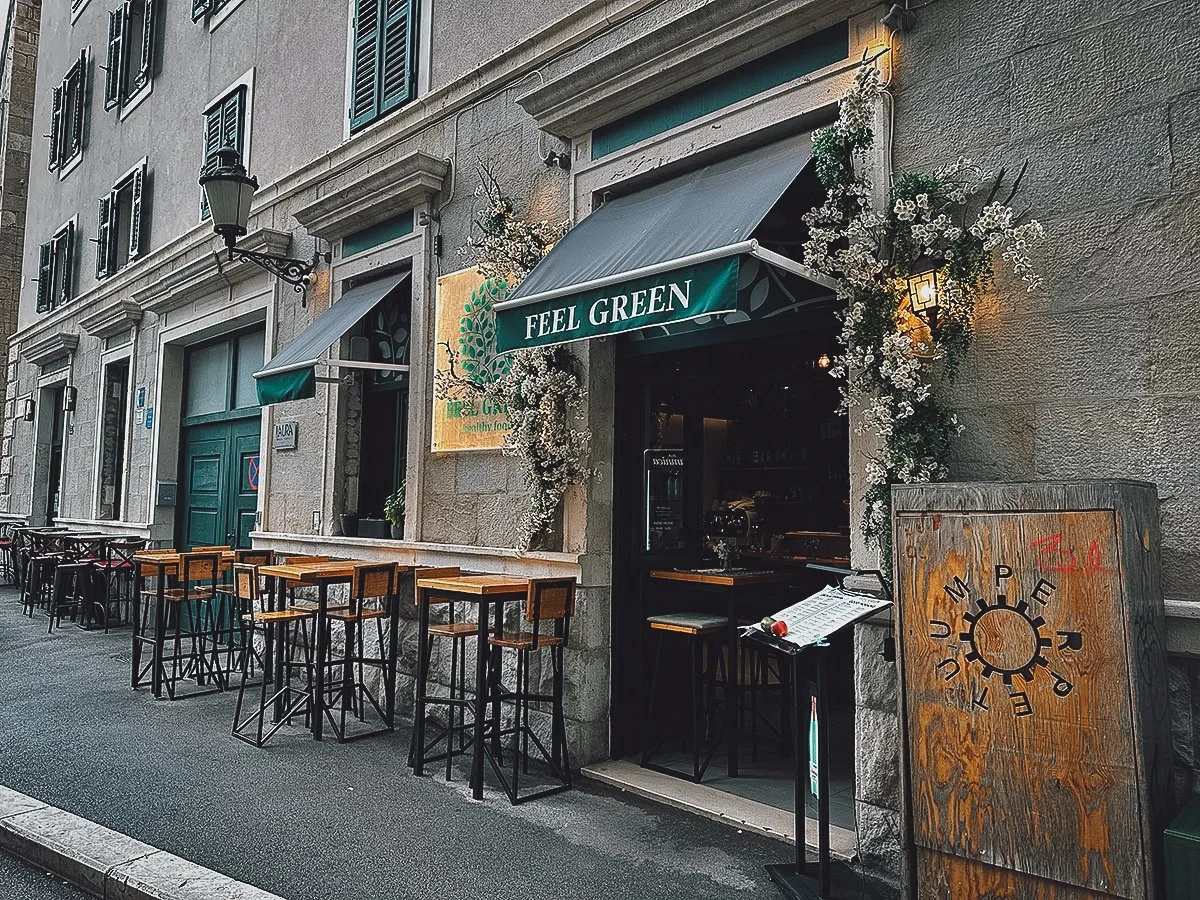 Feel Green has a few tables outside and a small dining area on the first floor, but I believe they have a larger seating area upstairs.
We were just one of two tables at the time in October 2023 but we overheard the server telling the other customers that there's usually a queue of up to thirty people during peak summer season. Such seems to be the case at most restaurants in Split and coastal Croatia, which is why many of them close down for one or two months in winter.
Happy to enjoy Feel Green's salad bowls before they went on vacation!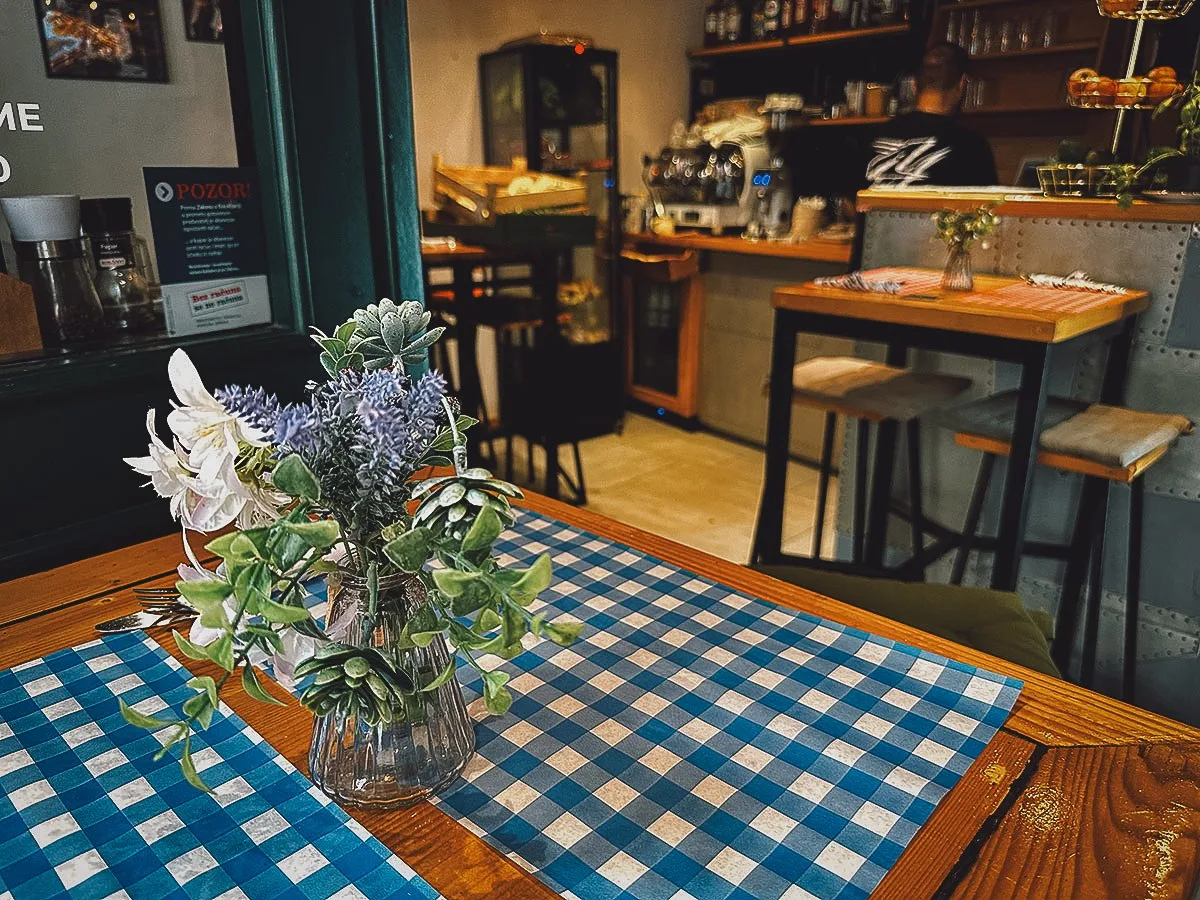 Feel Green
Address: Ul. ban Mladenova 3, 21000, Split
Operating Hours: 8AM-3PM, daily
What They Offer: Healthy dishes
8. Sexy Cow / Daddy Cool
Sexy Cow and Daddy Cool are fun restaurant concepts that occupy the same space just outside the Old Town. Sexy Cow is known for their wraps while Daddy Cool is known for their falafel and hummus bowls.
Pictured below is Daddy Cool's hummus with crispy falafel bowl. It was served with five falafel balls, tahini sauce, and a ridiculously generous amount of hummus and chickpeas. If you're starving and on a budget, then this is a great dish to get. At the time, it cost just EUR 8.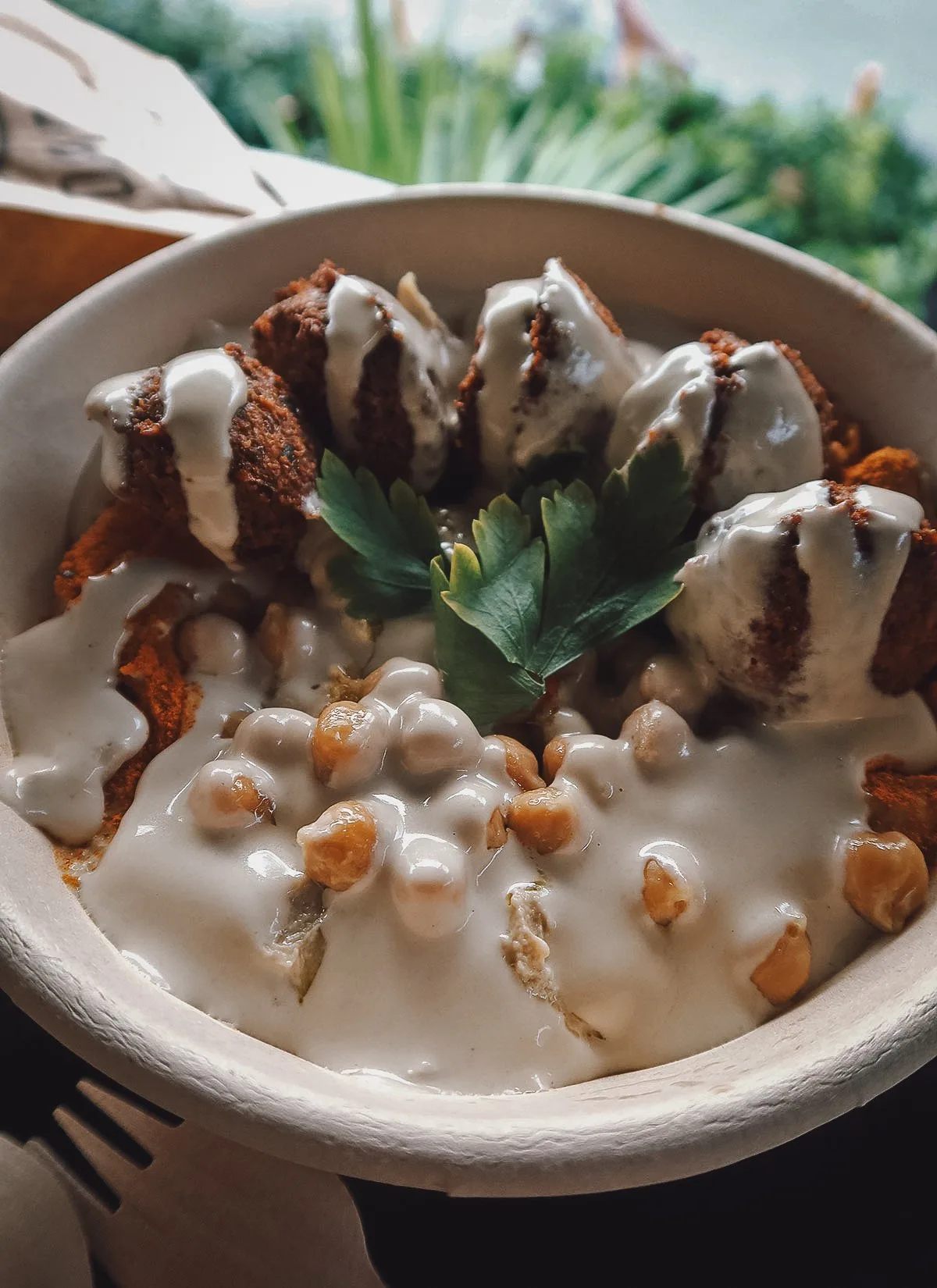 I love sabich which is a big reason why I wanted to eat at this restaurant.
Sabich is an Israeli pita sandwich made with eggplant, hard-boiled egg, fresh vegetables, and tahini sauce. I don't know how common it is but Daddy Cool makes theirs with schug, a type of hot sauce made with green peppers, garlic, and coriander.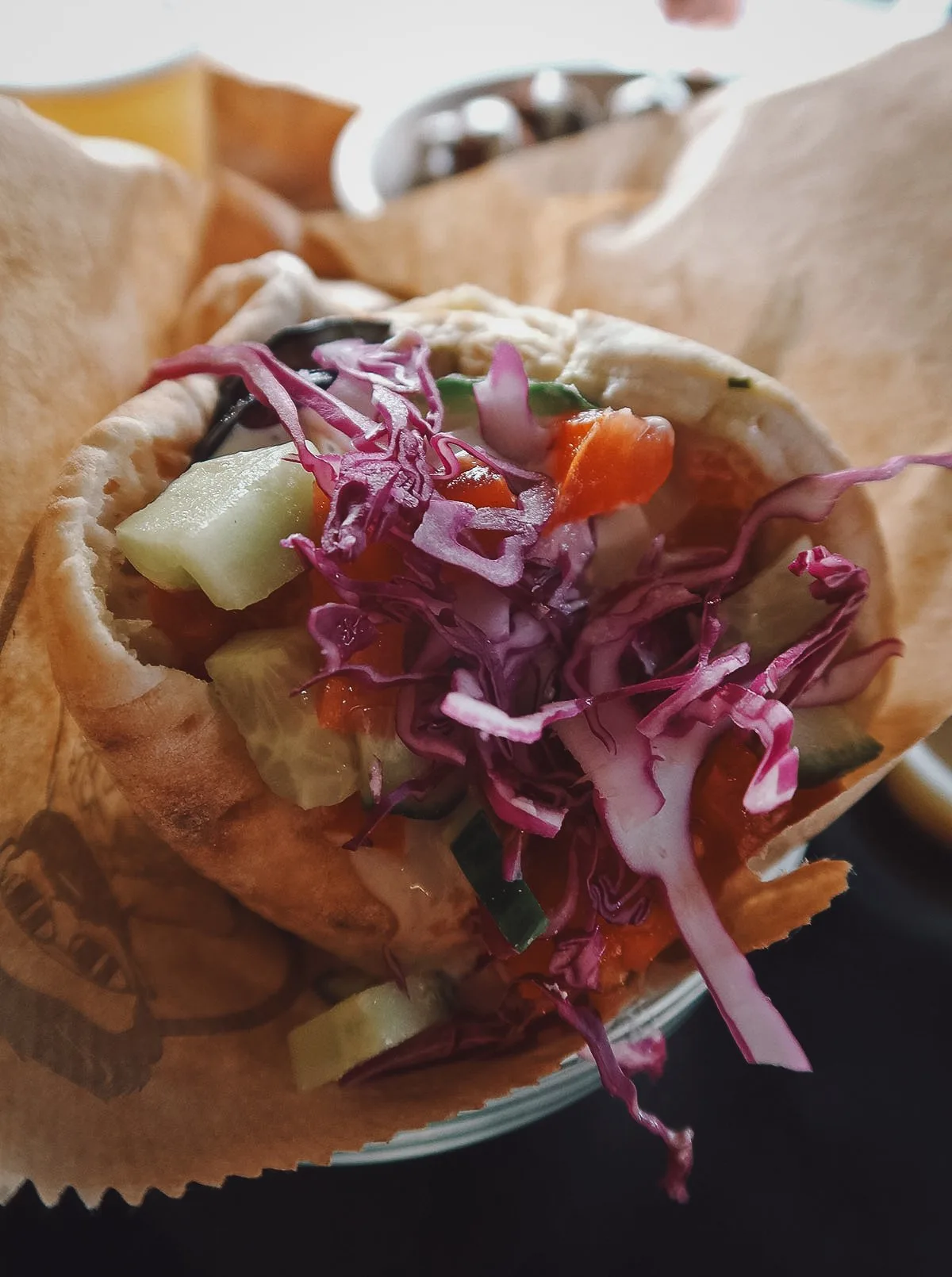 As described, Sexy Cow is known for their wraps but we wanted to eat healthy today so we went with this roasted vegetable salad. It's made with a medley of roasted vegetables served with lettuce, tomato, cucumber, grilled onions, and guacamole. Like everything they make here, this salad was delicious, filling, and offered great value for money.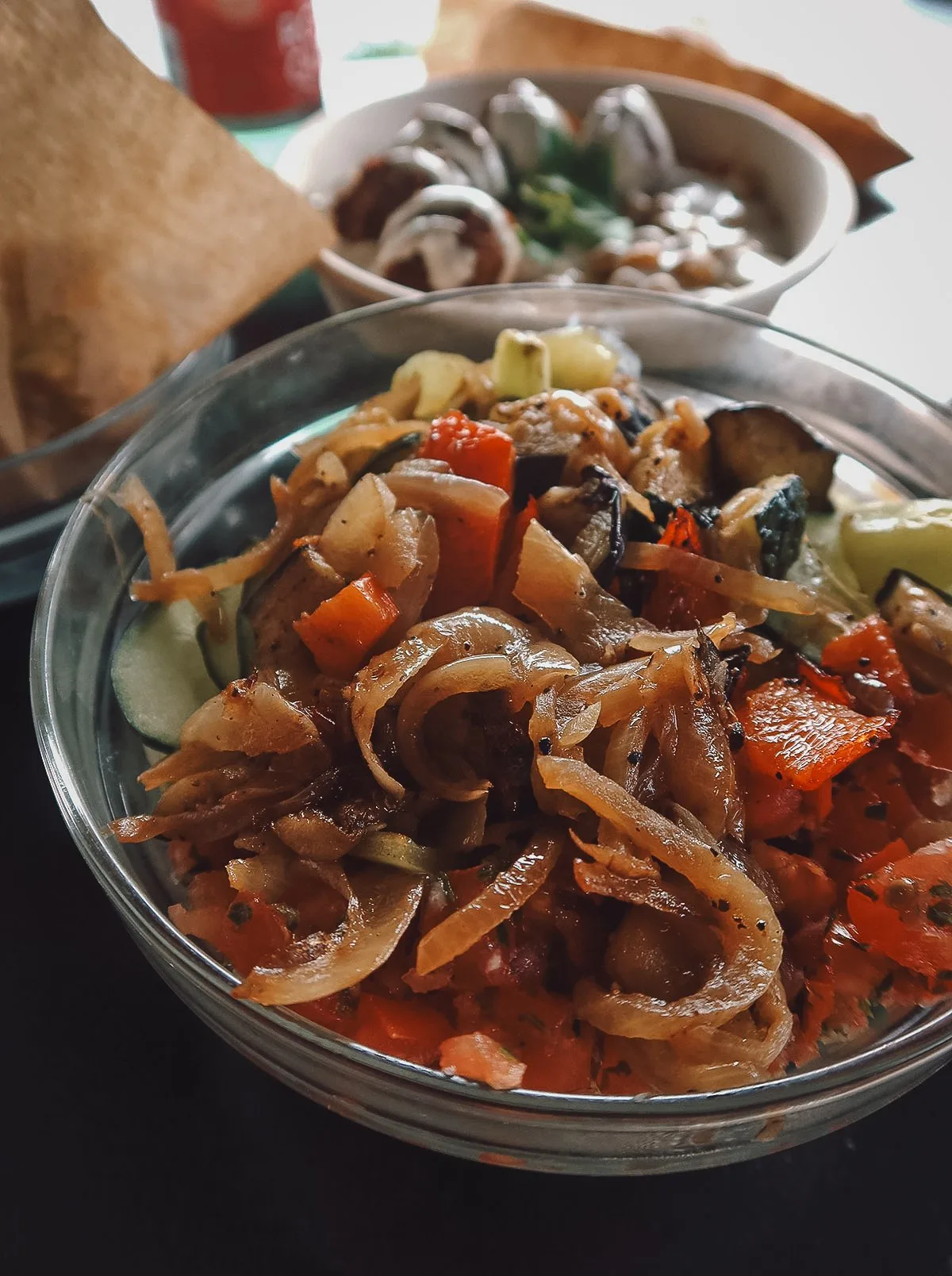 Not only do they serve great food, but the service at Sexy Cow / Daddy Cool is exceptional as well. The servers are super friendly and they even gave us free shots of their home-brewed cider. Hvala!
Don't mistake Sexy Cow / Daddy Cool for fast food. They make good quality comfort food at more affordable prices.
As described, we wanted to eat healthy today but you may want to try Sexy Cow's wraps as well. They make them with rump steak, beef hamburger, or grilled chicken. They look sexy and super delicious.
Sexy Cool / Daddy Cool
Address: Ul. Zrinsko Frankopanska 6, 21000, Split
Operating Hours: 11AM-10PM, daily
What They Offer: Wraps, falafel, hummus, salads
DESSERT SHOPS
9. Luka
Remember this name – Splitska torta. After one bite, it will become your new favorite cake.
Splistka torta literally means "Split cake" or "cake from Split" and refers to this absurdly delicious Croatian pastry made with alternating layers of nut fruit meringue and buttercream bespeckled with a generous amount of figs, raisins, and almonds. It's considered the "pinnacle of Dalmatian pastry making" and is an essential part of the Croatian Christmas spread.
Many pastry shops offer this deliciously addictive cake but one of the best is Luka. Not only is their Splitska torta divine, but it's also one of the most beautiful. Unlike other pastry shops we visited that offered you slices cut from a larger cake, Luka makes them in these pretty, individual-sized portions.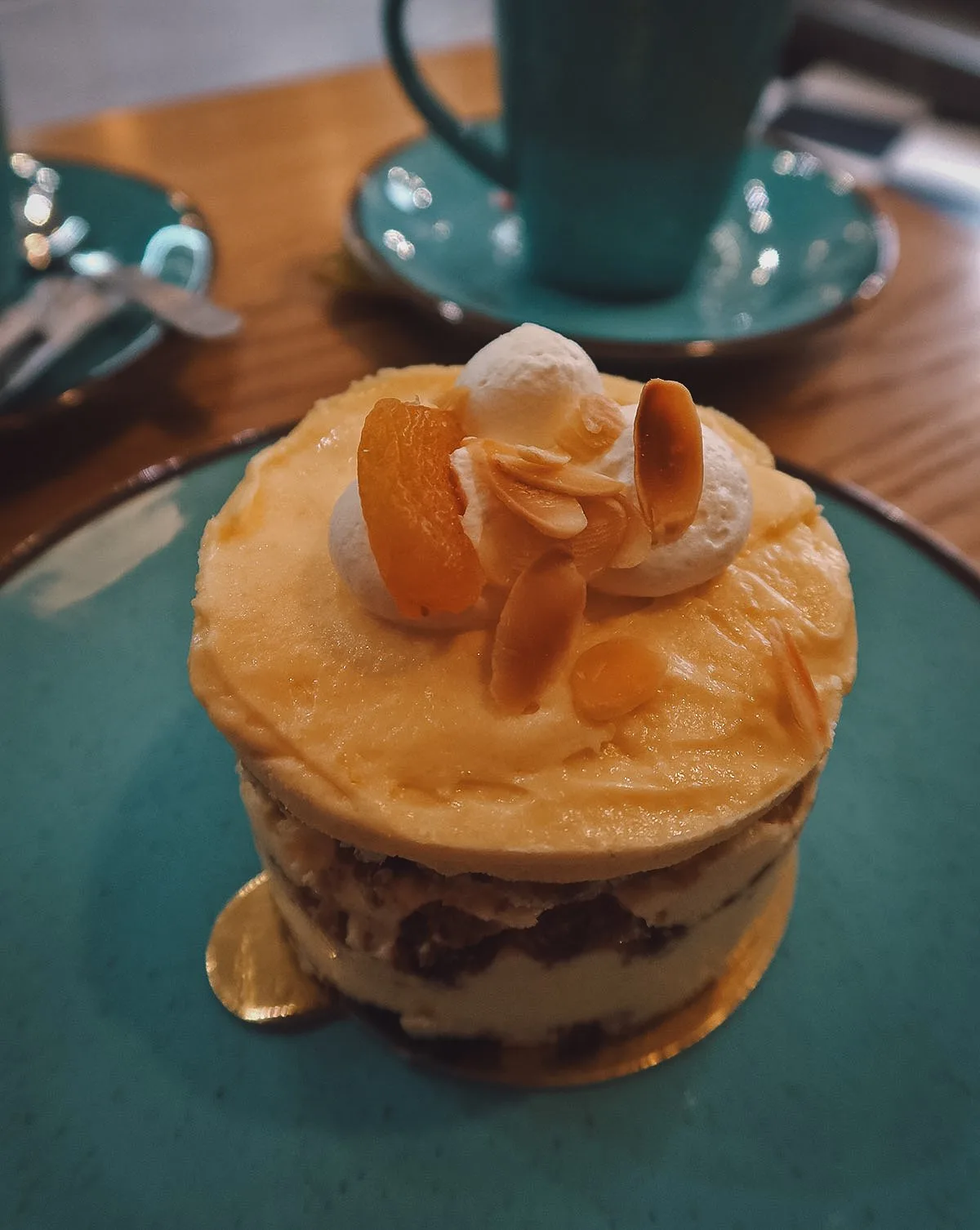 Luka is located in the northwest corner of the Old Town. If you have a taste for the sweeter things in life, then you need to try Splitska torta at Luka.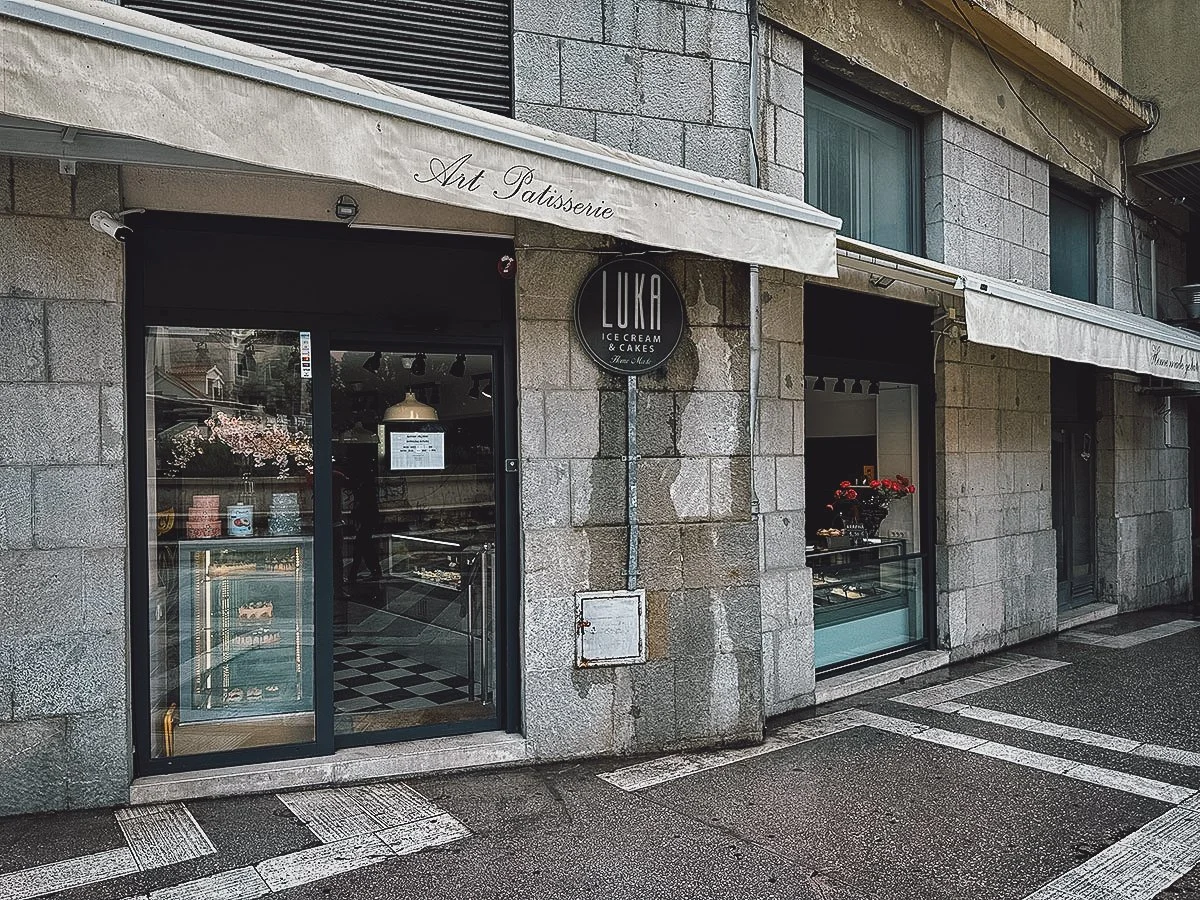 Aside from cakes, Luka offers gelato as well.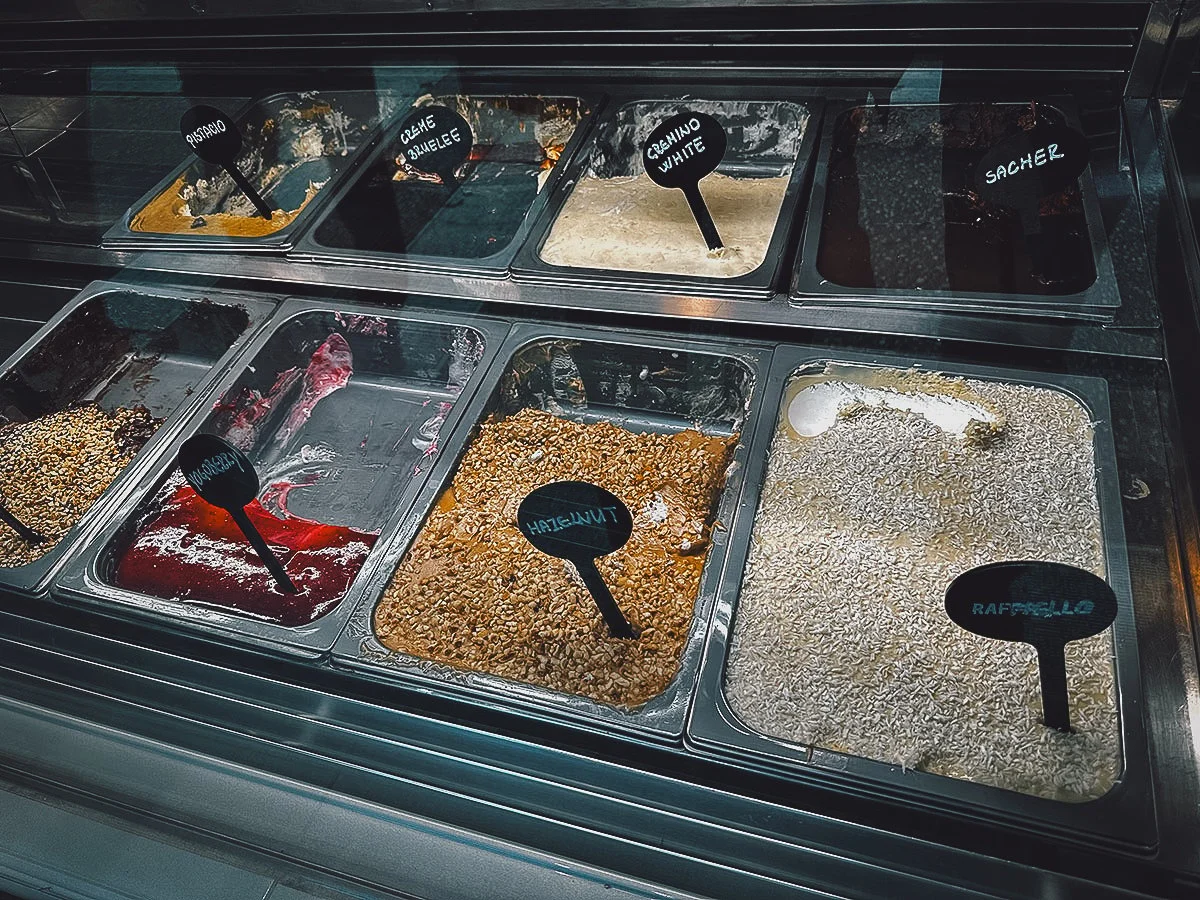 How enticing does this vitrine of desserts look? We're conscious about eating healthy so we try to limit our sweets, but we would have loved to try every single one of these cakes.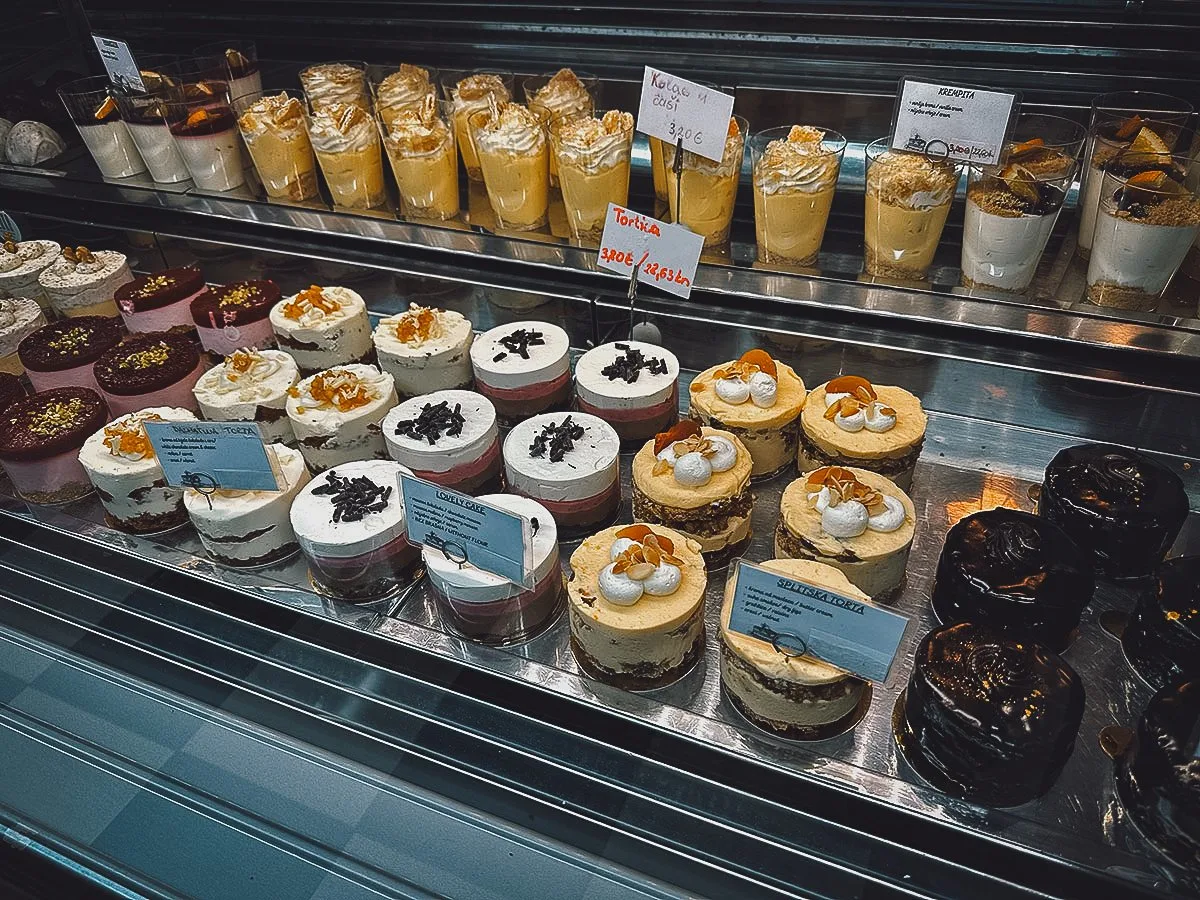 Luka
Address: Ul. Petra Svačića 2, 21000, Split
Operating Hours: 9AM-10PM, daily
What They Offer: Cakes, gelato
10. Goluzarije
If you enjoyed your Splitska torta and feel tempted to order another cake at Luka, try not to. At least not today.
Because across the street is Goluzarije and their fantastic fritule – a Croatian drop doughnut made with citrus zest, raisins, and sometimes rum or brandy. They're similar to beignets and are a favorite Christmas street food in Croatia.
We saw many locals getting bags of fritule to eat on the go but we sat down to enjoy them with cups of hot herbal tea. Perfect on a cold windy day in Split!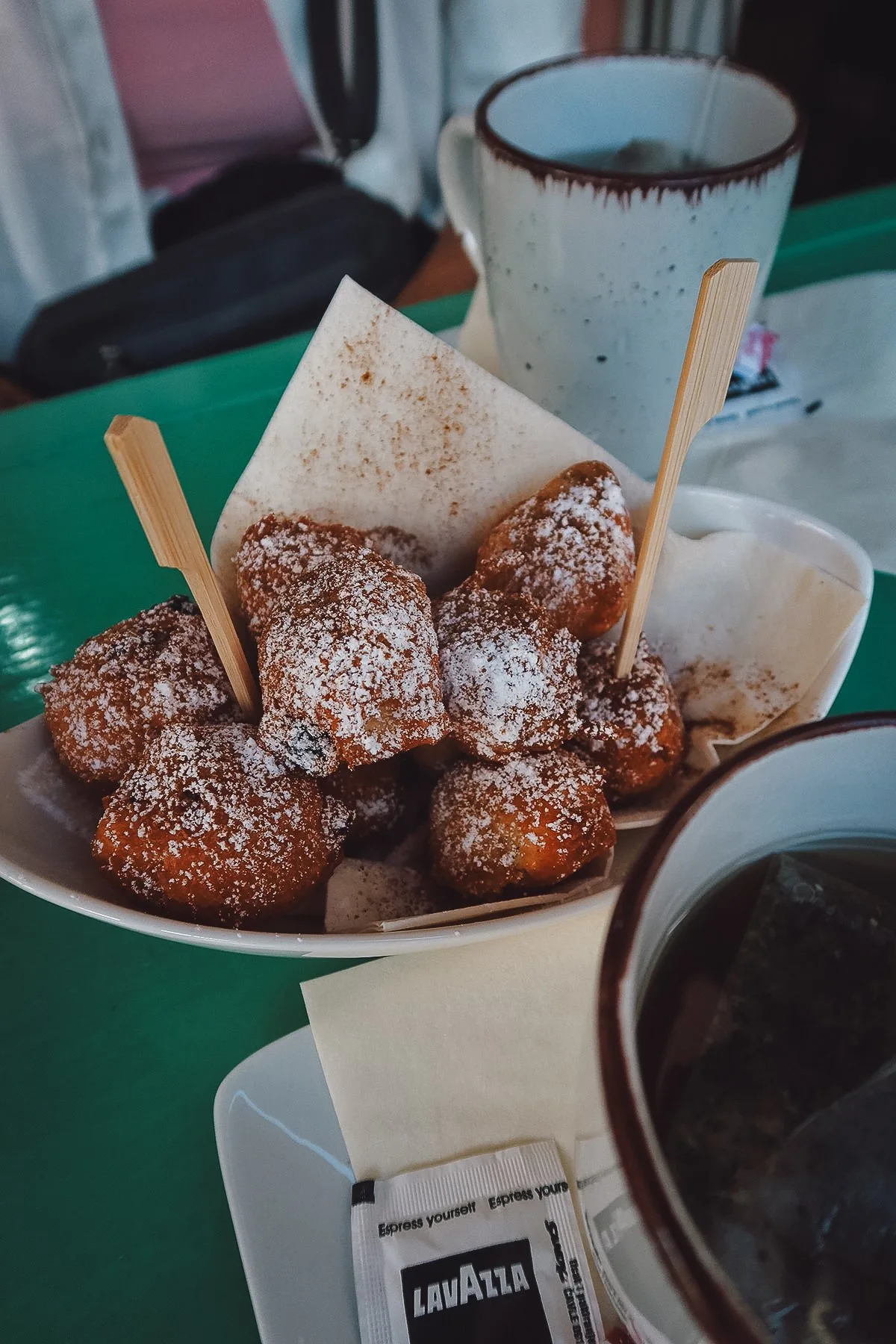 Aside from fritule, Goluzarije serves other pastries as well like rozata (Croatian creme caramel) and this apple strudel. It was good but not as good as their fritule.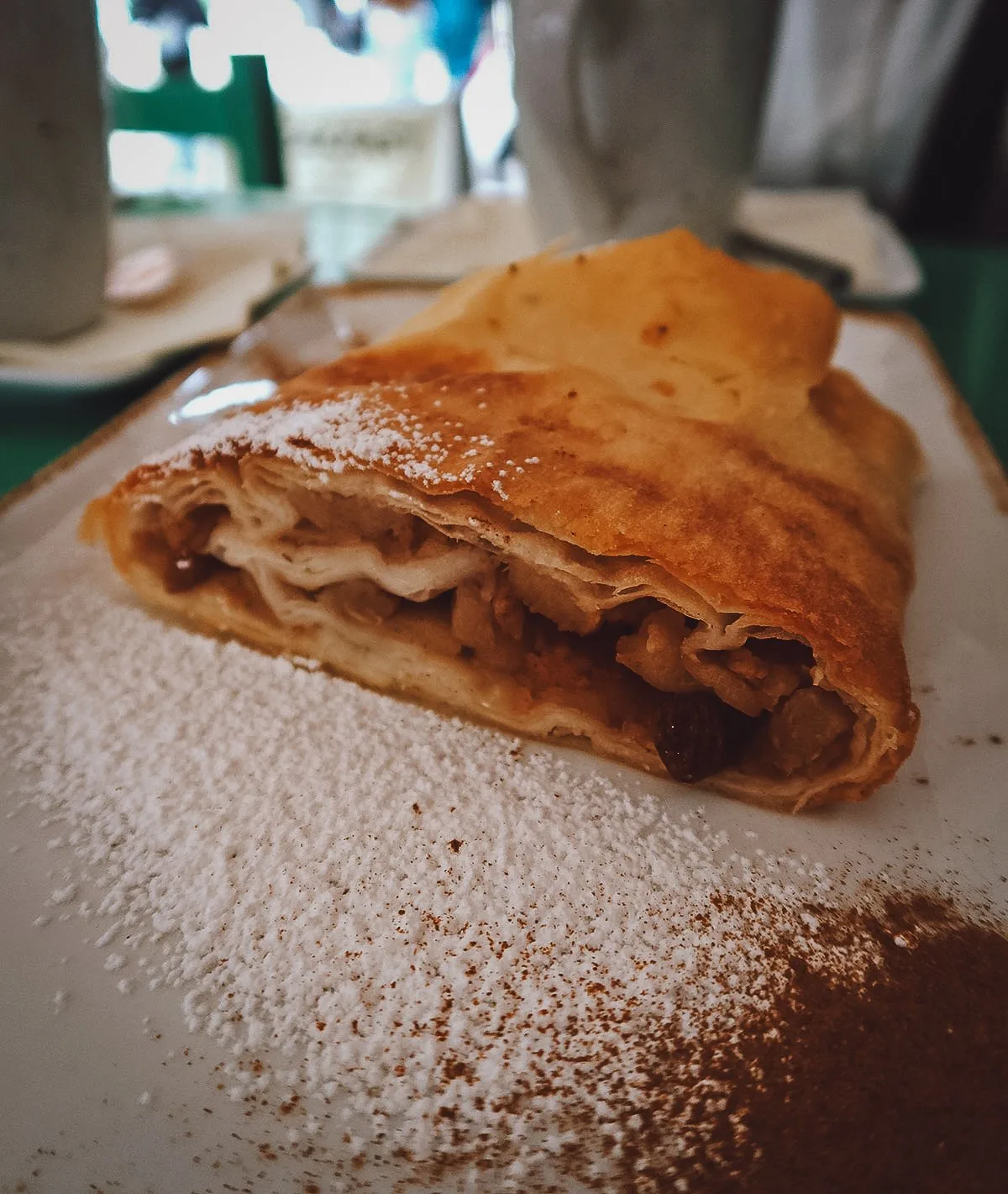 Fritule is especially popular during the holiday season in Croatia but it looks like you may be able to get them year-round at Goluzarije. Do give them a try if you like donuts because they're quite good, especially with a hot cup of coffee or tea.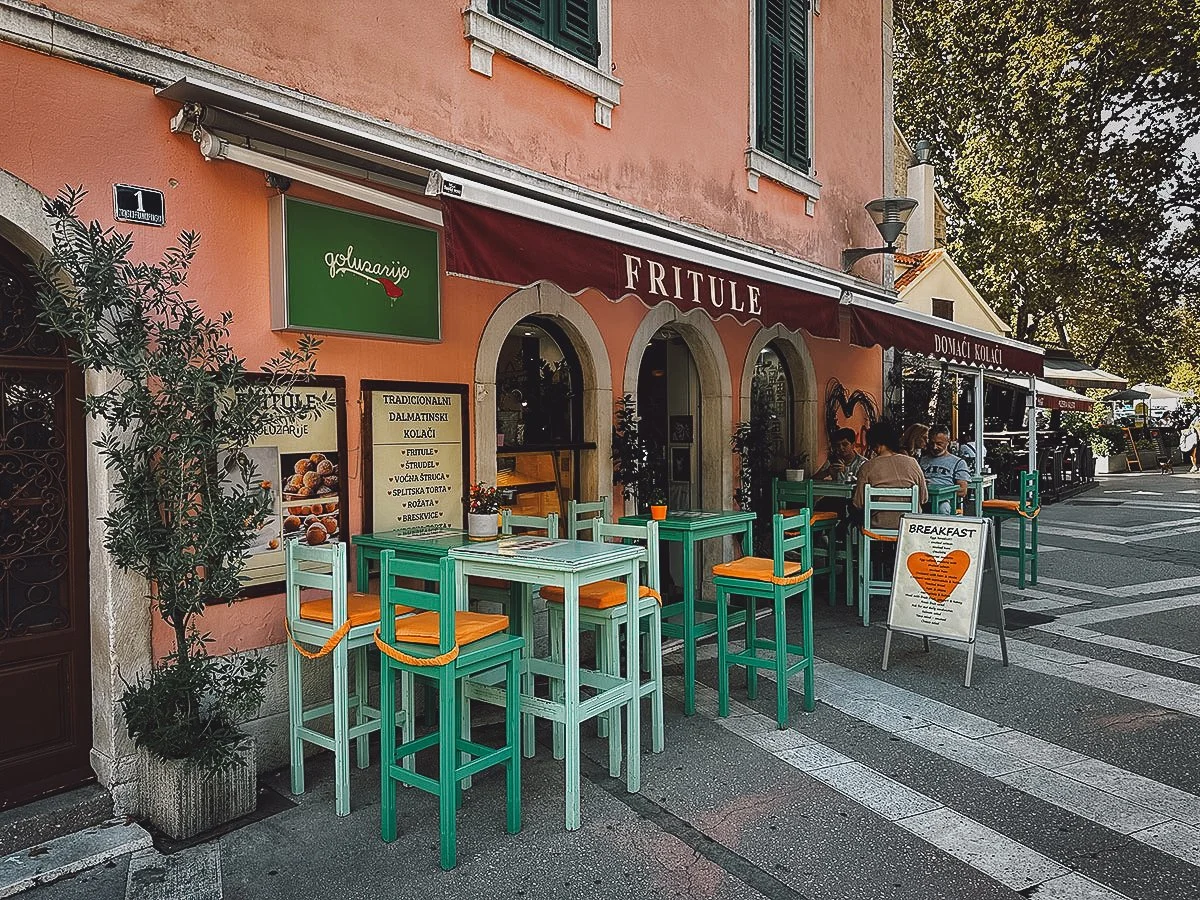 Goluzarije
Address: Ul. Zrinsko Frankopanska 1, 21000, Split
Operating Hours: 7AM-11PM, daily
What They Offer: Fritule, breakfast dishes, desserts
LOCATION MAP
To help you find these restaurants in Split, I've pinned them all on the map below. Click on the link for a live version of the map.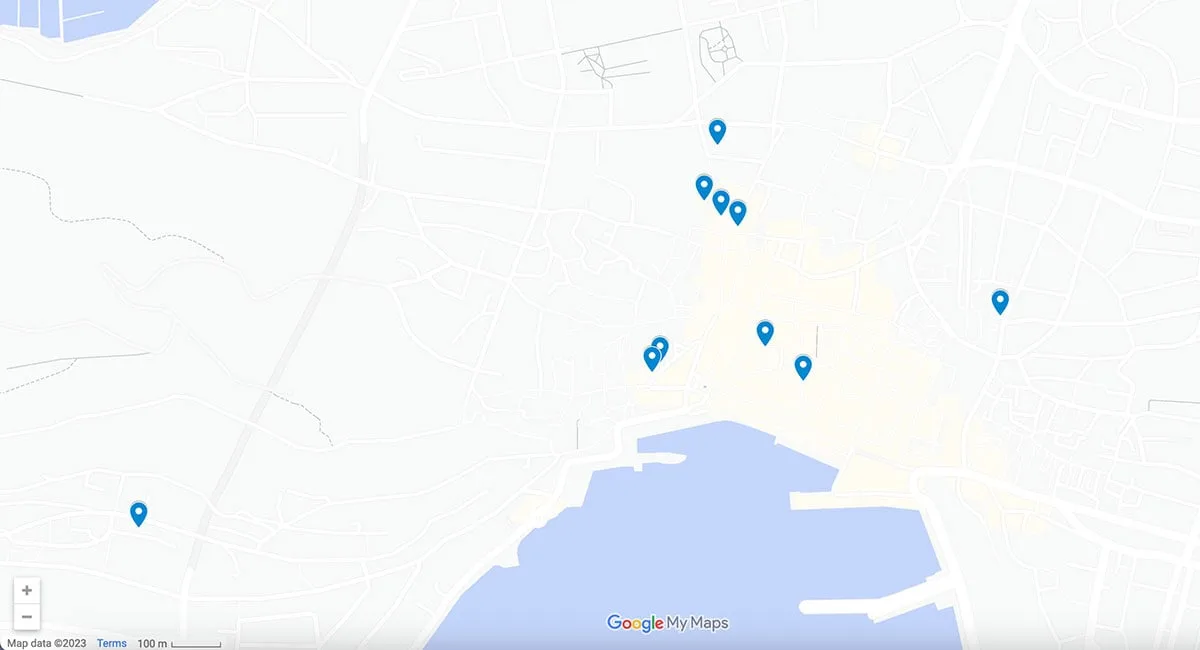 FINAL THOUGHTS ON THE BEST RESTAURANTS IN SPLIT
As always, we had more restaurants pinned to our map than we could actually go to so here are a few more recommendations.
Split is home to great seafood so if you're looking for sushi restaurants, then you may want to check out Bota Sare. It's a sushi and oyster bar that serves Croatia's famed Mali Ston oysters.
Oysters from Mali Ston Bay are common in Dubrovnik but not so much in Split. A family-owned chain that started in Mali Ston, Bota Sare specializes in bluefin Adriatric tuna and Mali Ston oysters so this is as good a place as any to try them in Split.
If you're looking for a good wine bar, then Bokeria Kitchen is one of the most highly recommended restaurants in Split. We learned about this place from a local. It's a popular restaurant in the Old Town so prices here are a bit higher compared to other similar restaurants.
In any case, I hope you enjoyed this article on some of the best Split restaurants. Food is cheaper here in general than in Dubrovnik, which is another reason why we enjoyed Split so much.
Thanks for reading and have an amazing time eating your way through Split!
Disclosure
This article on the best restaurants in Split includes affiliate links, meaning we'll earn a small commission if you make a booking at no additional cost to you. We truly appreciate your support as it helps us make more of these free travel and food guides. Hvala!