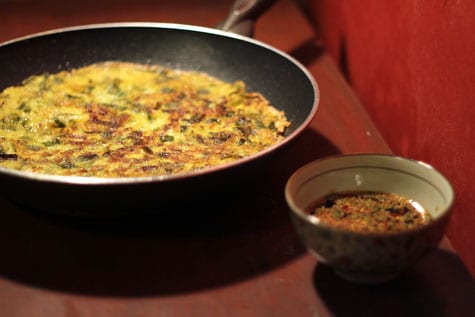 Yachaejeon (Vegetable Pancake)
NOTICE: Your health and safety come first. Please adhere to the WHO recommendations and avoid any non-essential travel at this time. If travel is unavoidable for you, then please refer to these advisories on COVID-19 coverage from our friends at World Nomads and SafetyWing.
DISCLOSURE: Some of our articles contain affiliate links. The ones that do will have a disclosure statement at the bottom. You can refer to our privacy policy and terms of use for more information.
It all started with this galibi pajeon.
In finding success with her first Korean pancake, Ren's been experimenting with different ingredients to come up with other varieties, the first being this yachaejeon, which is a version made purely with vegetables. As light and delicious as the first, it's encouraged her to create even more types using a limitless spectrum of components like grated chayote, portobello mushrooms, shrimp, eggplant, truffle oil, you name it.
Like an ocean rig that just tapped into a sea of liquid gold, her ideas have been surging. As the happy beneficiary of this recent wellspring, I of course have been nothing but encouraging, which is why I suggested she take it one step further.
If she can come up with a few specialty green onion pancakes, enough to create her own stylish line, she could one day make history by organizing what would surely be recognized as the world's first ever designer pajeon show.
Now THAT would be fierce. 8)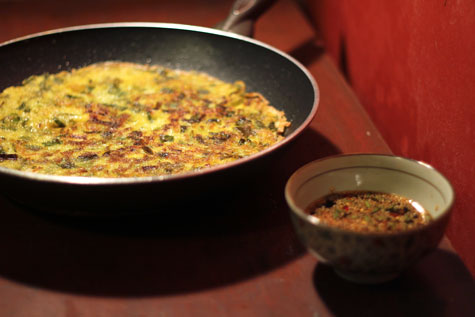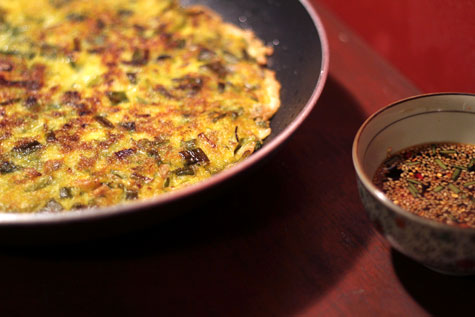 Pancake
Ingredients
1/2 cup flour
2/3 cup water
1 tsp salt
1 tsp sugar
2 tsps yellow miso or soybean paste
1 large egg
3 cups chopped leeks
Green onions
Green chili pepper
3/4 cup grated zucchini
Directions
In large bowl, mix together flour, water, salt, sugar and miso.
Add chopped vegetables into mixture then mix again.
Put some oil in large heated pan, then thinly spread vegetable pancake batter over it. Lower heat to medium.
When pancake is about 70% cooked, beat one egg and spread it in center of pancake and cook for a few minutes over low heat.
Turn pancake over with spatula. Add more oil if needed, then serve hot with dipping sauce.
* Tip: To make it crispier, add more oil and use your spatula to lift the edge of your pancake so that the vegetable oil can reach the center. Press the pancake lightly with your spatula.
Sauce
Ingredients
2 Tbsps soy sauce
1 Tbsp vinegar
1 tsp sugar or honey
Chopped onion
Chopped green onion
Chopped green or red chili peppers
1 tsp toasted sesame seeds
Directions
Combine all ingredients in small bowl.
DID YOU KNOW?
That some types of jeon are made with petals from edible flowers such as azaleas and chrysanthemums? Called Hwajeon, it's name literally means "flower cake" in Korean.