When my brother Erwin suggested we go on a trip this year to celebrate our mom's birthday, one place immediately came to mind – Oslob, Cebu. If you've never heard of it, it's a small, nondescript town in Southern Cebu that's been garnering infamy in recent years for its controversial practice of whale shark feeding.
Hopping online, I googled "where to stay in oslob cebu", and this was one of the resorts that instantly caught my eye. A recipient of TripAdvisor's Certificate of Excellence in 2013, Club Serena is located less than two hours north of Oslob, in Moalboal. A little far I initially thought, but more research told me that there isn't much to do in Oslob itself apart from the whale shark watching. It doesn't have any nice beaches, and the only places where you can stay are pension houses and single rooms for rent. Not exactly the ideal venue for a 72-year old woman's birthday celebration, right? On top of that, we were traveling with young kids, so we needed a resort that had decent rooms, access to a nice beach, and lots of fun things to do without being too far away from Oslob.
As you'll soon see below, with its stretch of white beach, trampolines, and dive shop offering a spectrum of activities like freediving, canyoneering, and dolphin watching, Club Serena Resort fit the bill perfectly.
Club Serena Resort
Reception area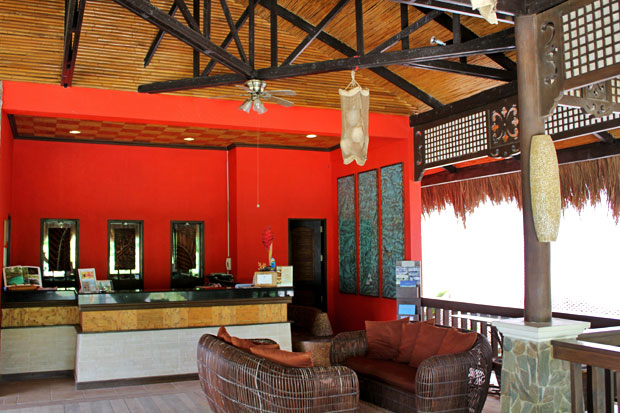 Rooms
Treehouse I
The most romantic rooms at the resort, we had originally booked both Tree Houses, one for Ren and I and the other for my brother and his wife. At the last minute, both Ren and Jen couldn'y make it because of family emergencies, so Erwin and I wound up sharing one room. It was very romantic.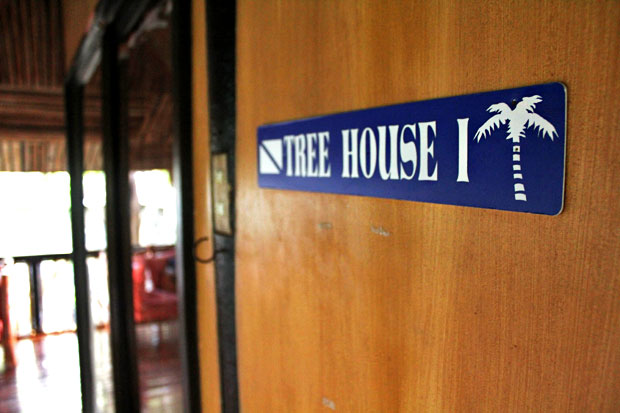 L: Amusingly enough, neither Tree House was built around a tree. Both were just elevated off the ground, on stilts. 😆 R: When you walk up the stairs, a U-shaped patio envelops the actual room.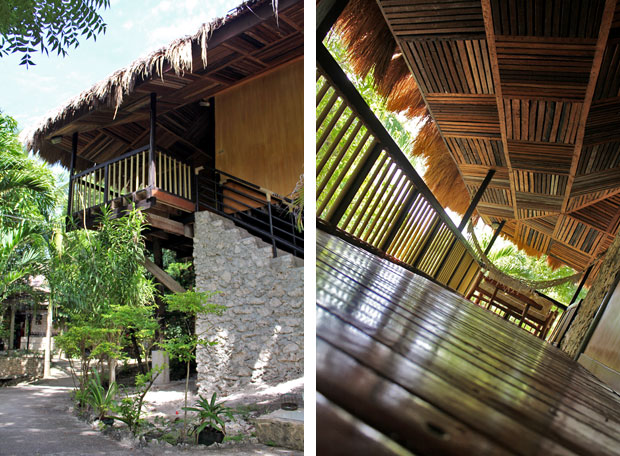 At the very end of the patio is this hammock and day bed, a terrific place to just chill and read a book.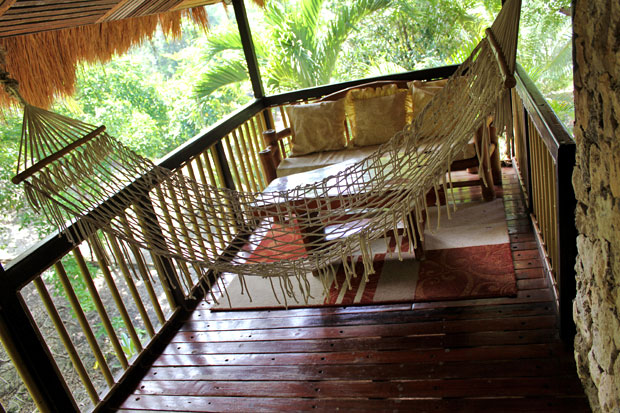 L: Another day bed with magazines on the patio. R: Romantic, four-post bed with lounge chair for watching TV. The room had good AC, cable TV, and a fully-stocked mini fridge. Wish Ren could have enjoyed this with me. 🙁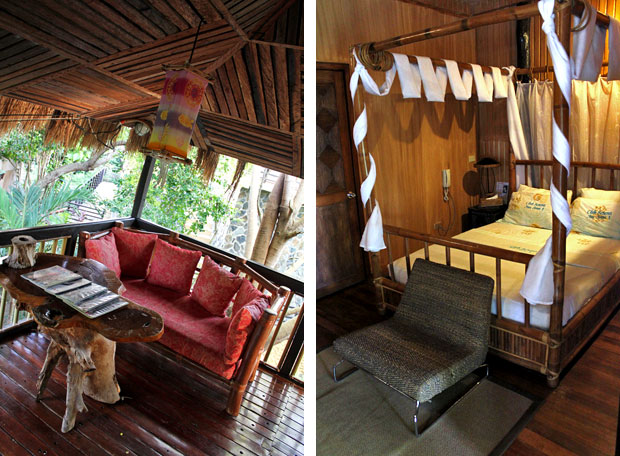 Suites
This structure is home to the four suites, the most expensive rooms at the resort.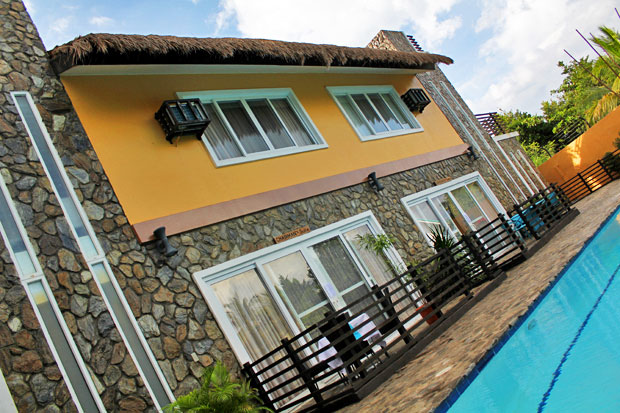 L: Next to the suites is this infinity pool, one of two swimming pools at Club Serena. R: Perfect for larger families, this structure houses Casita I & II. Casita I is on the second floor, Casita II on the third.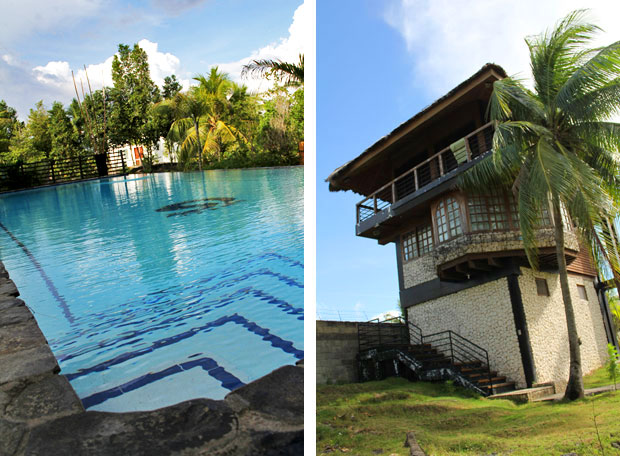 Casita I & II
Casita I, a good-sized room with two single beds and two day beds.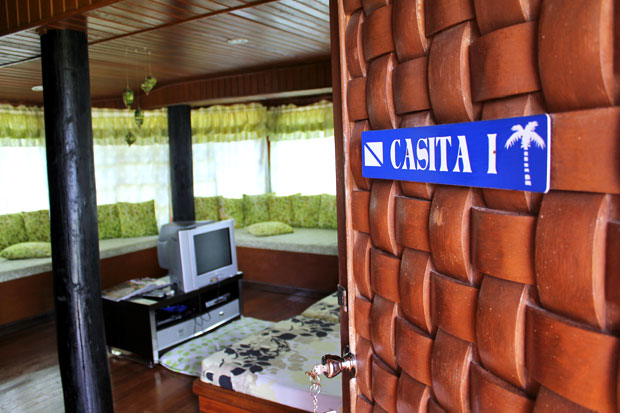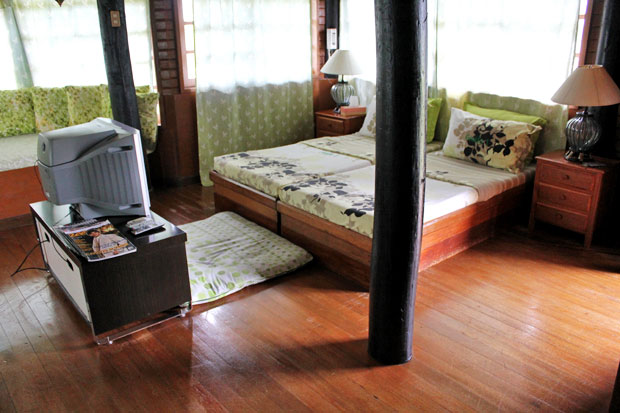 Casita II, rawr.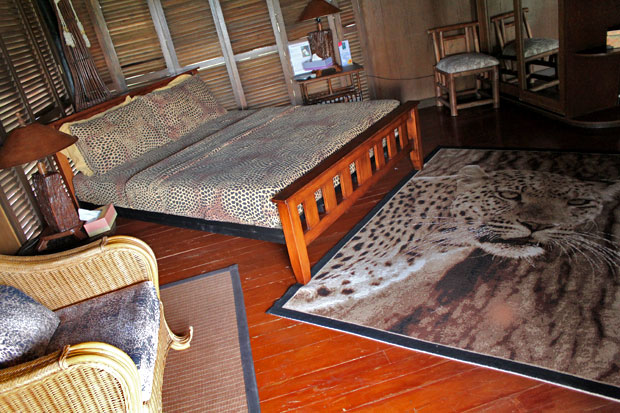 Restaurant
The resort is pretty secluded, so if you stay at Club Serena, then you'll likely be eating all your meals at their restaurant. It's a beautiful, circular, open-air space located right next to the swimming pool overlooking the ocean.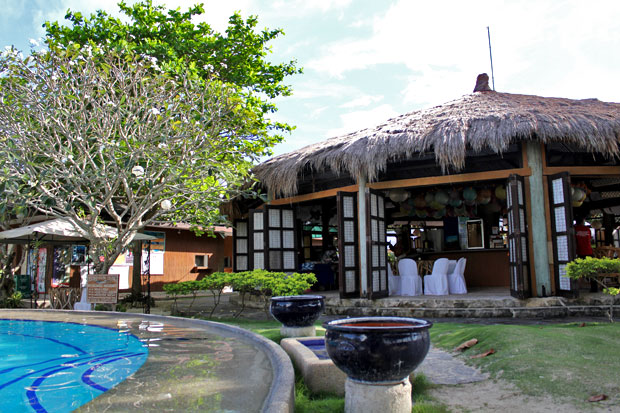 Circular bar with spherical paper lanterns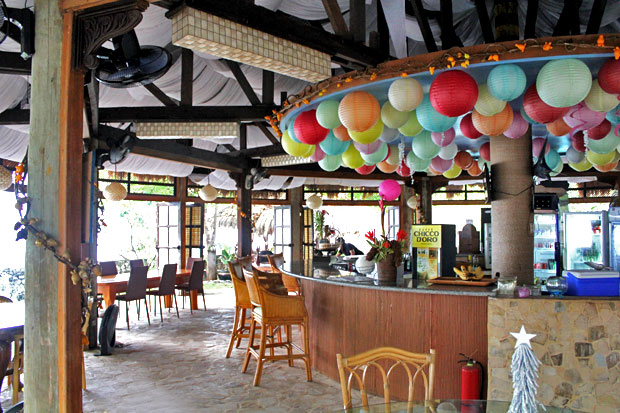 I love spaces that open up like this. So hacienda-like. 😉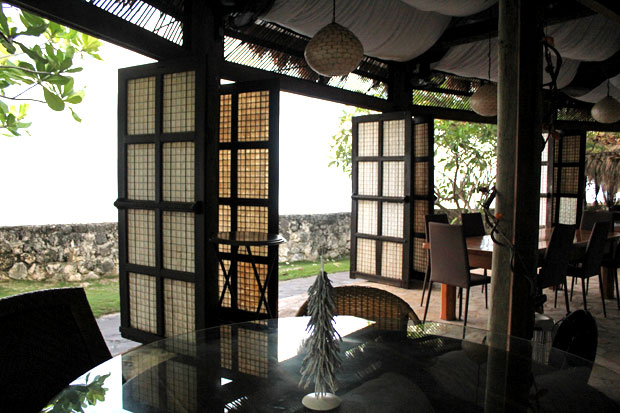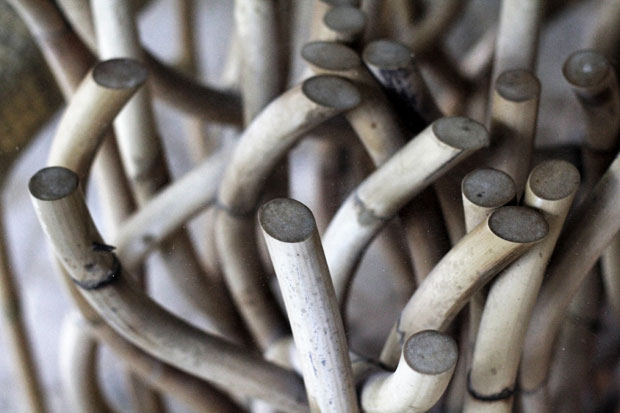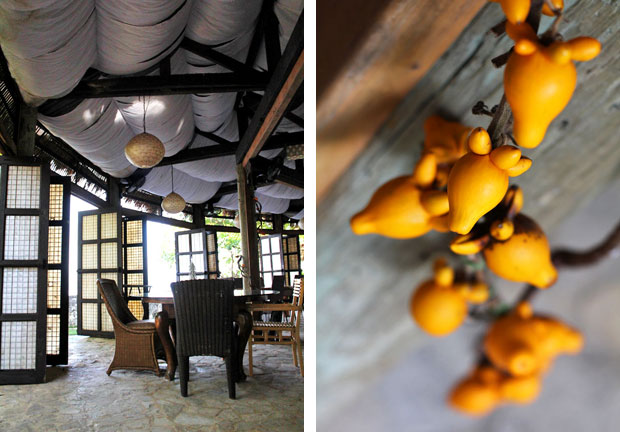 The lanterns at night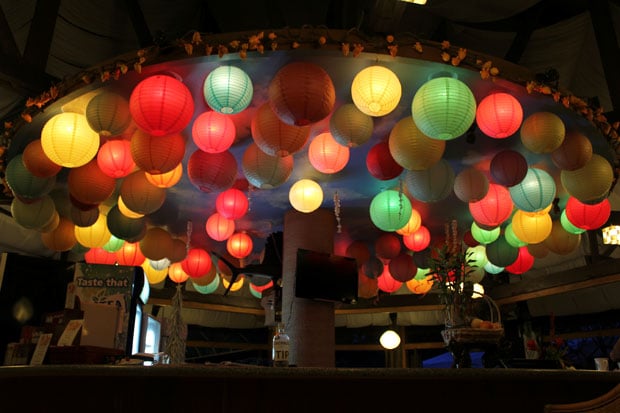 As expected, the menu prices are resort-like, higher than restaurants, but not too bad. The food overall is pretty good though with a lot of choices on the menu. Here are a few of the dishes we enjoyed.
Abolita's Spanish Chorizo – PHP 220 – Homemade Spanish sausages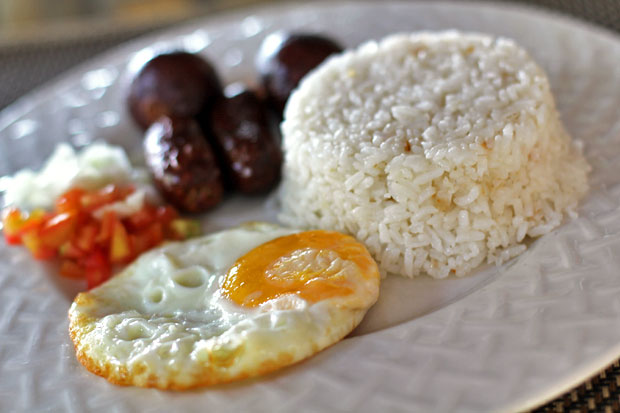 Bacon Mushroom Melt – PHP 240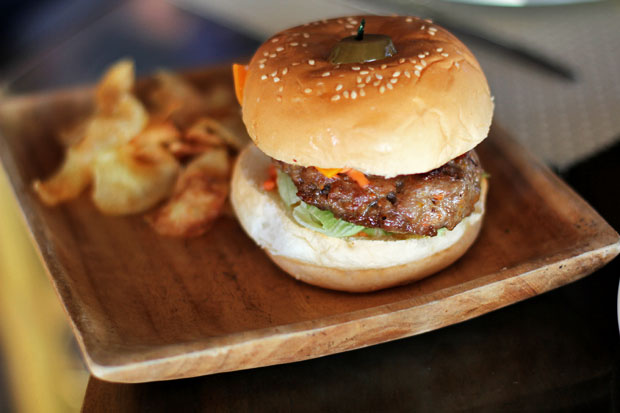 CSR Supreme Pizza – PHP 425 – Abolita's Spanish chorizo, salami, bell pepper, onion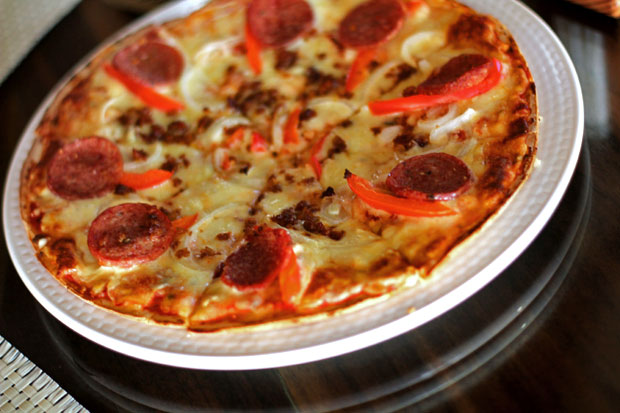 Pool & Cabanas
The most beautiful part of the resort, for me, was this pool and surrounding cabanas. Just a great place to chill and while away the time.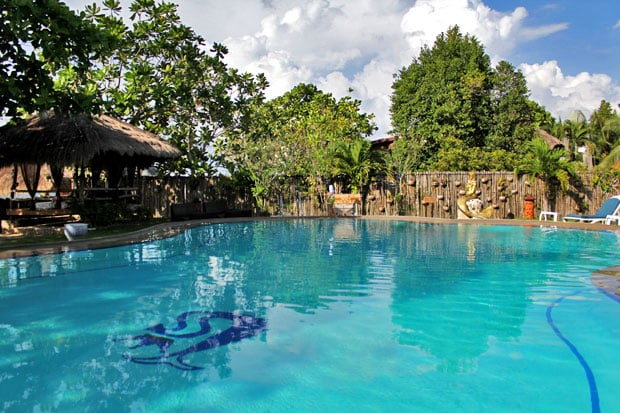 On the other side of that stone wall is the beach.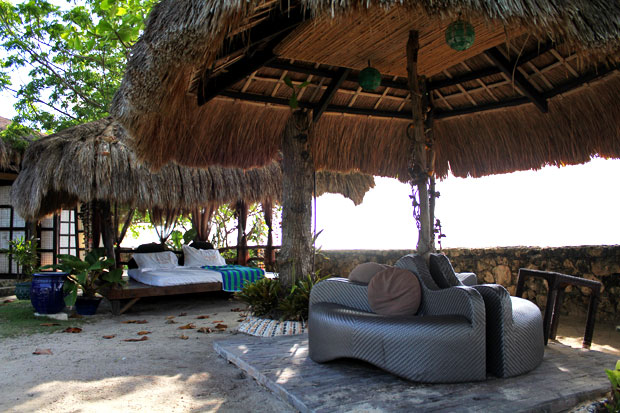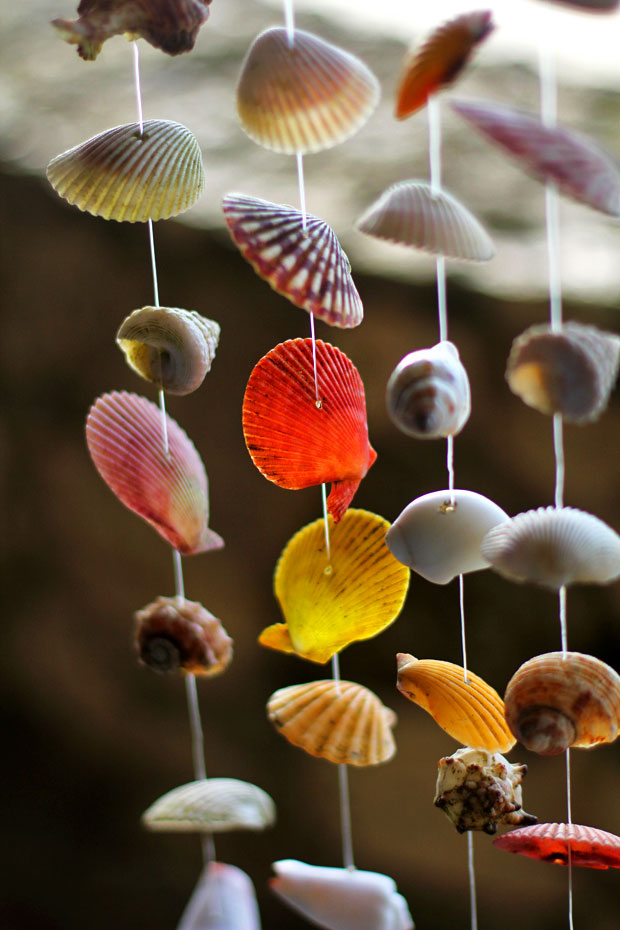 There's my pretty niece Gabby modeling one of the cabanas.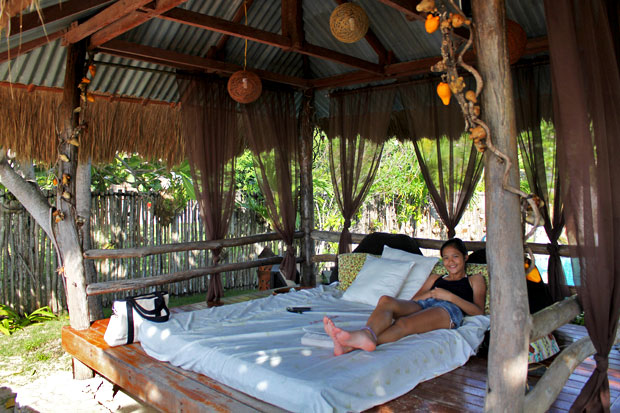 R: Shower to rinse off the salt water after an ocean swim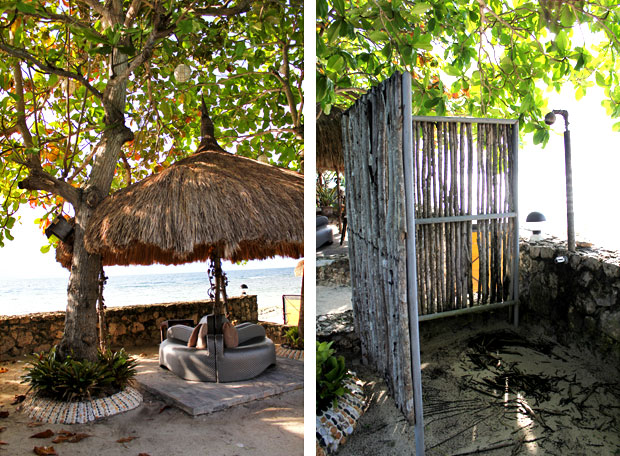 If Ren were here, she'd be rocking that day bed. 😉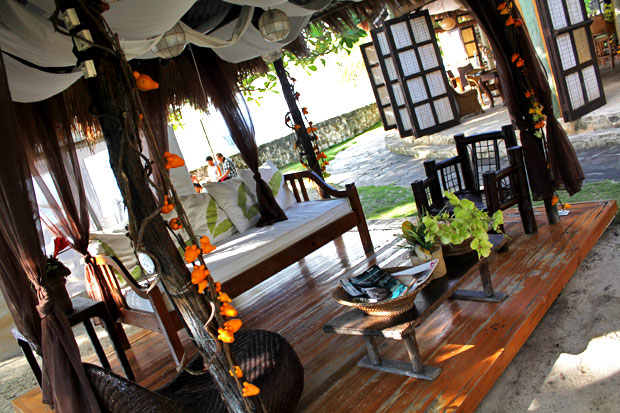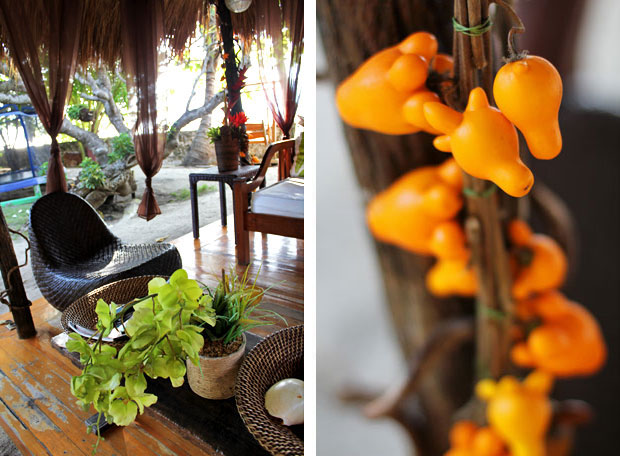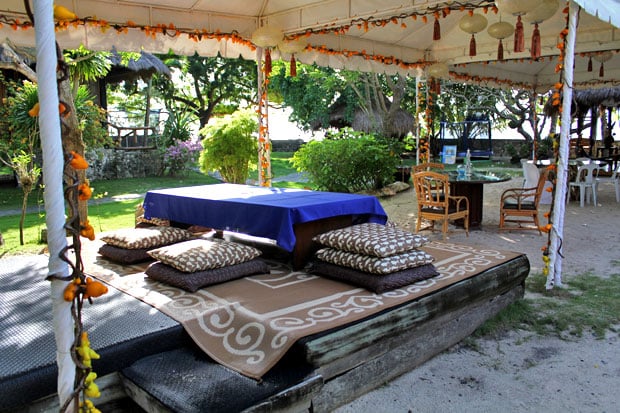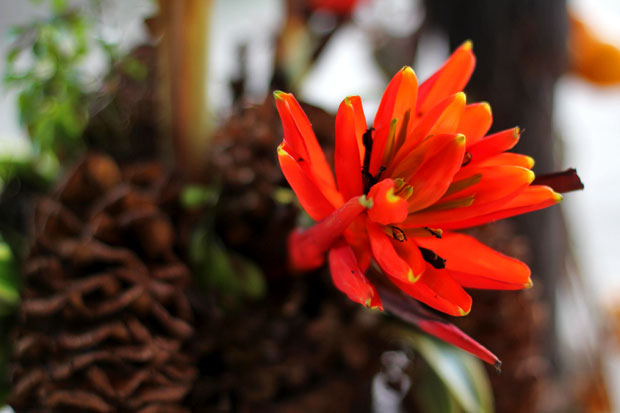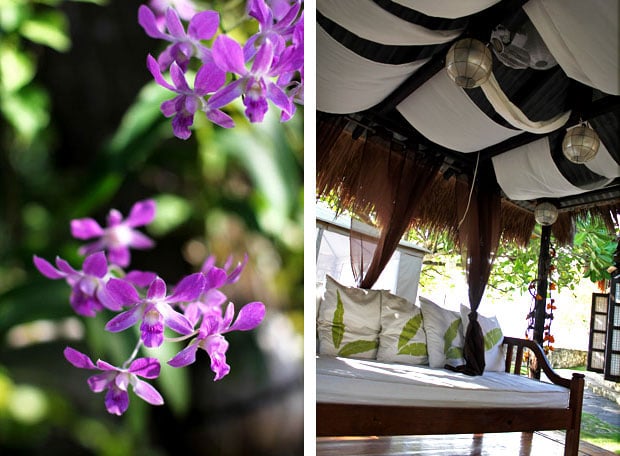 I can't remember what these things are called, but it's impossible not to take a good picture of them. So beautiful.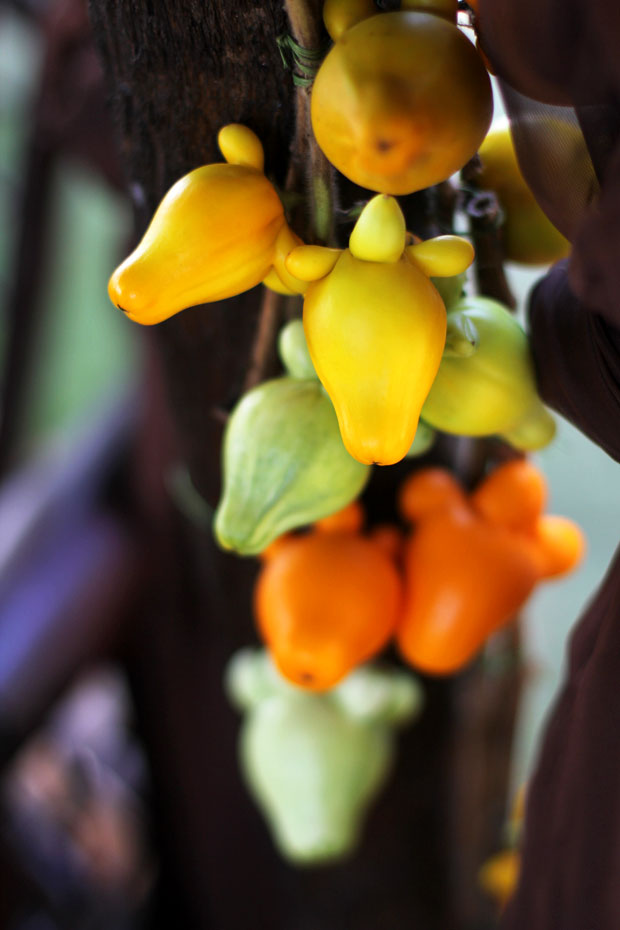 Beachfront
On the other side of the wall…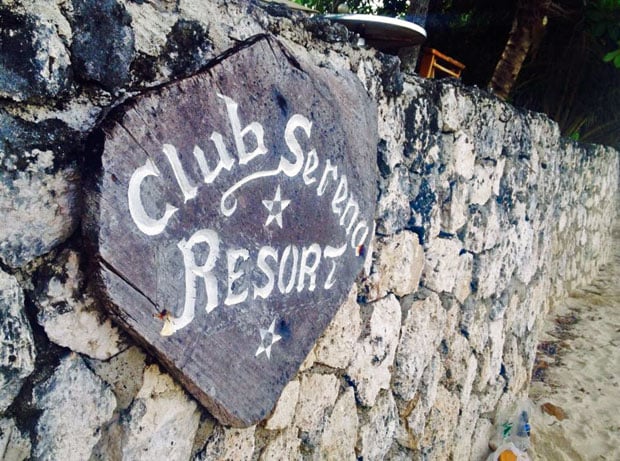 Though fairly narrow, the beach is long with powdery fine, white sands. It gets pretty rocky in the water though, so it's best to wear slippers or booties if you plan on going for a swim.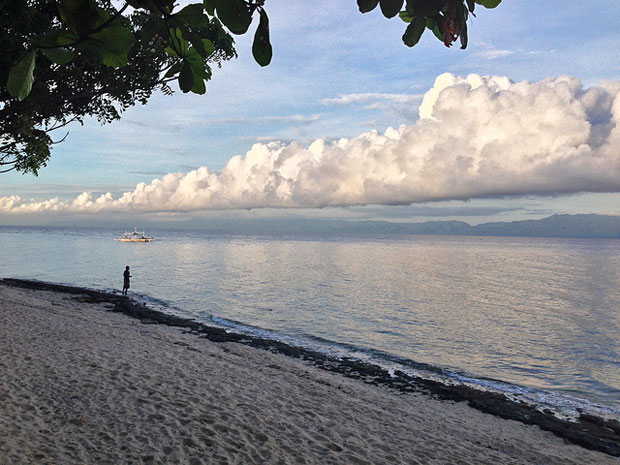 On the beach were several peddlers selling souvenirs like tshirts and seashells. This one was selling live uni (sea urchin) for just PHP 100/bucket (approximately USD 2.28). 😈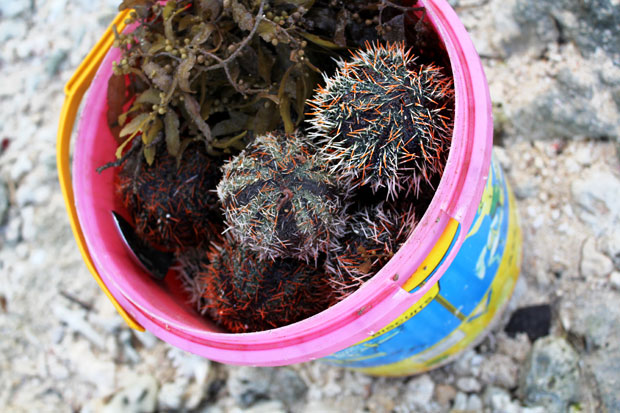 I bought two buckets worth, which the vendors promptly cracked open to harvest the beautiful, golden-orange roe.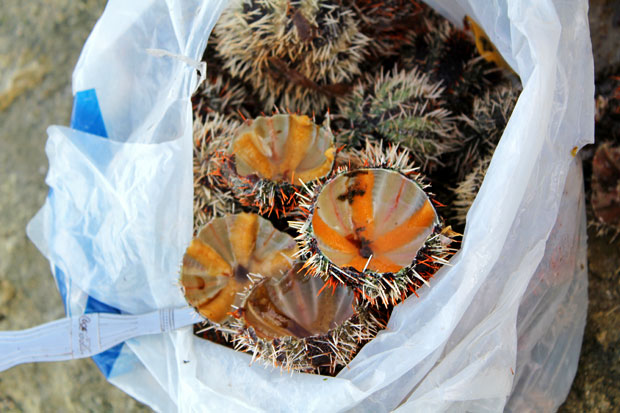 Isn't that gorgeous?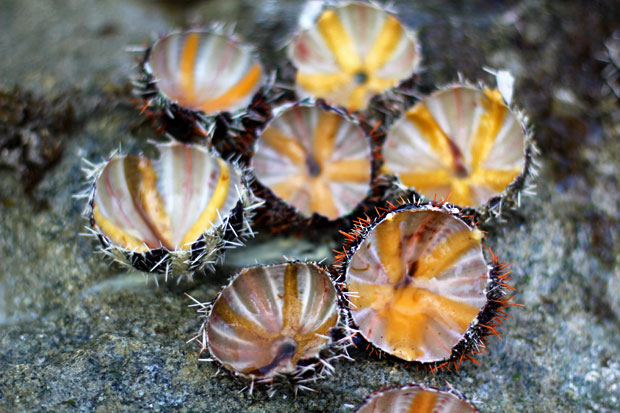 There they are working in tandem to crack, clean, and collect the roe into a bowl.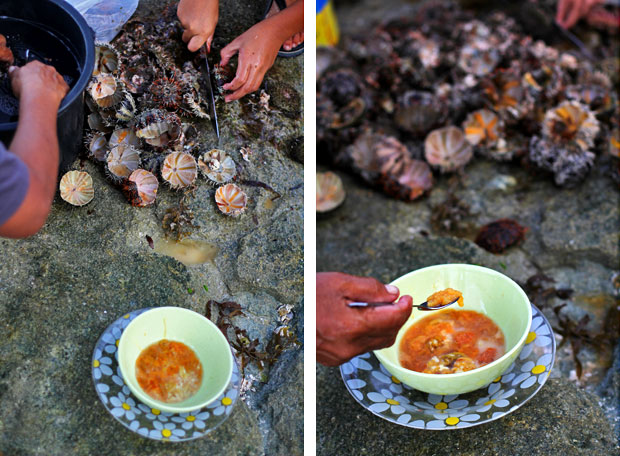 PHP 200 worth of fresh uni. Though probably best passed through a sieve first to get rid of the excess salt water, the uni was rich, creamy, and naturally sweet, perfect and delicious with some soy sauce and wasabi.
As much as I enjoyed this, I do hope that they practice sustainable harvesting methods. I'd hate to see these beautiful creatures vanish because of uni-hungry tourists like me. 🙁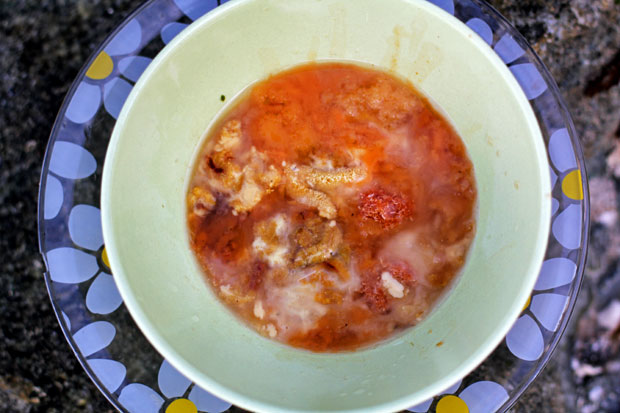 The beach at sunset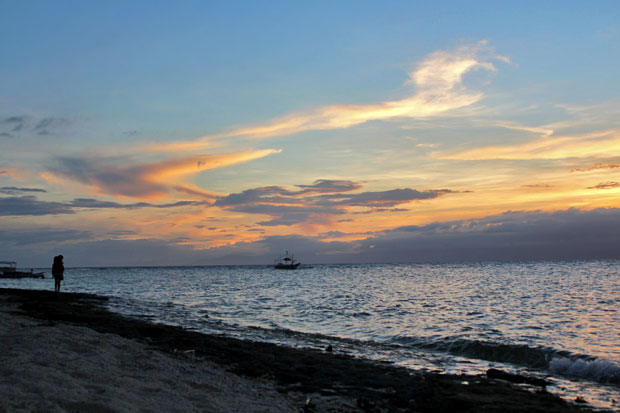 Things to do
All outdoor activites at Club Serena are arranged by Philippine Aquaholic Divers, or Aquaholics for short. Here's their dive shop.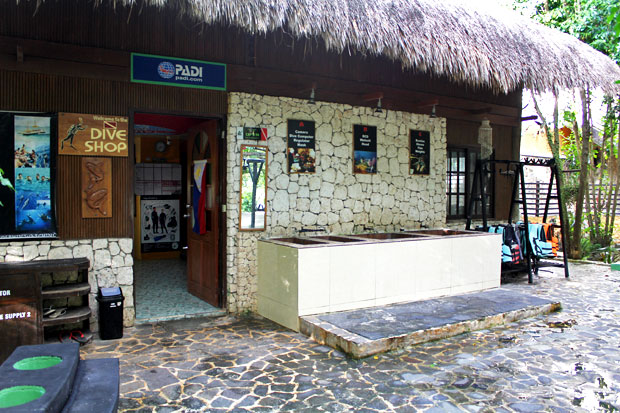 I don't know what the rental rates for scuba equipment are, but for full snorkeling gear, it's PHP 300 per set (USD 6.83).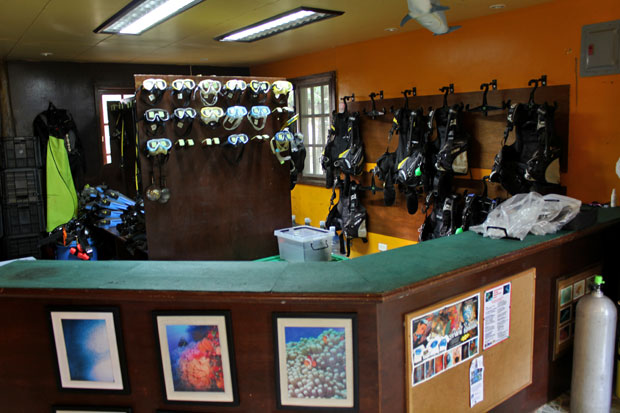 Activities offered by Aquaholics. If we had more time, I would have loved to try freediving! Remember Big Blue? 😀
We were all set to go canyoneering, but I injured my foot so couldn't go. We wound up having a picnic at Kawasan falls instead, the pictures and video for which you can view HERE.
We were supposed to go island hopping and dolphin watching on our last day, but our stupid boat wouldn't start so we had to bail.
If none of these activities are your thing, then maybe you can spend the morning just jumping around. They had two trampolines at the resort, this big one and a much smaller one for toddlers. My nieces look like they're enjoying it. 🙂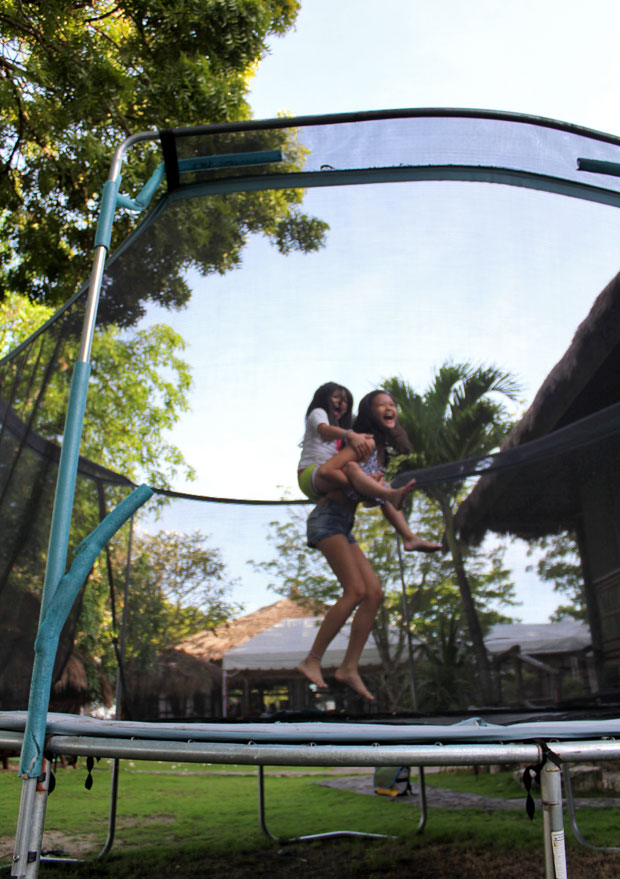 Beach Picnic
To make our mom's birthday extra special, we arranged for one dinner to be held at the beach. A common practice at Club Serena, they did a phenomenal job in setting everything up, starting with these beautiful, moody, paper bag tea lights all along the beach.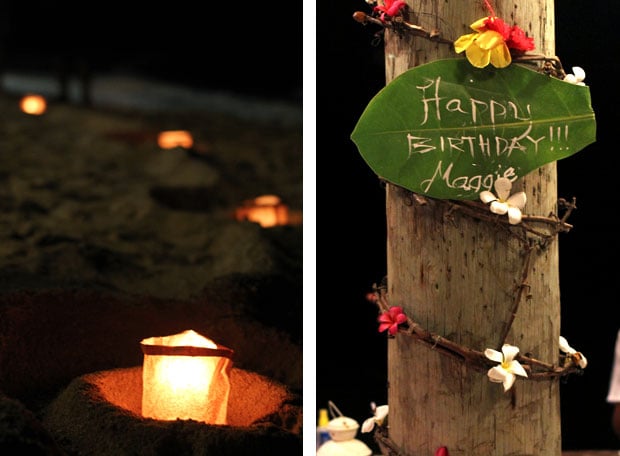 Nice huh?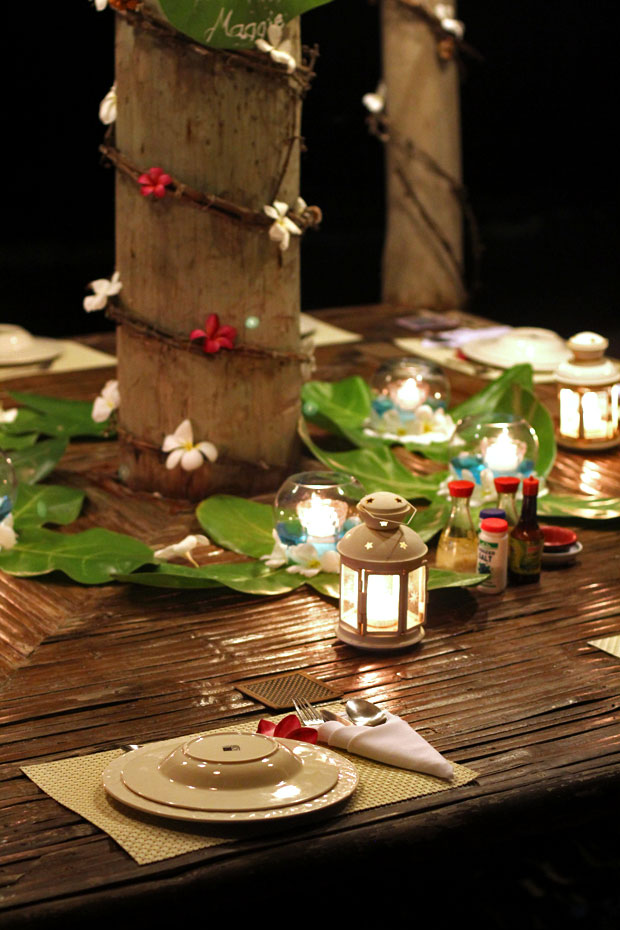 The food was really good too. Here's a platter of pork belly, chicken cordon bleu, mashed potatoes, and veggies.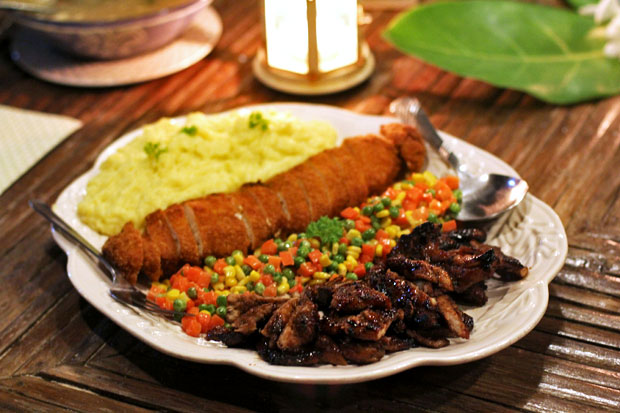 Grilled stuffed squid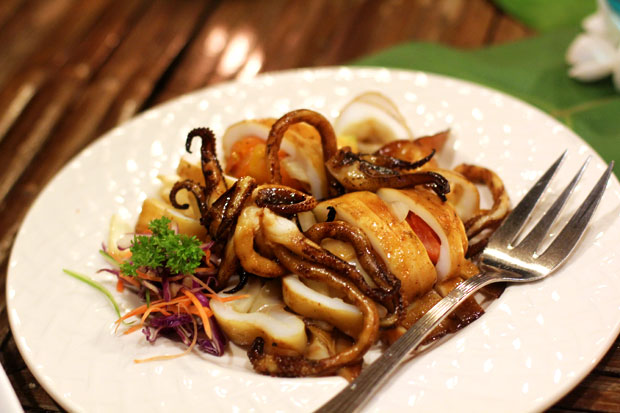 Sinigang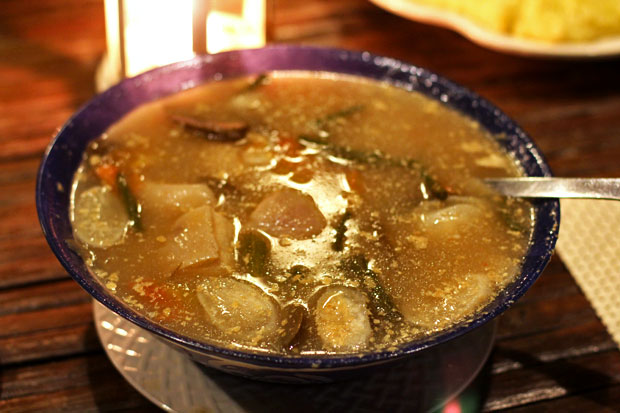 To top it all off, they even baked our mom a chocolate cake! Thanks Club Serena! 😀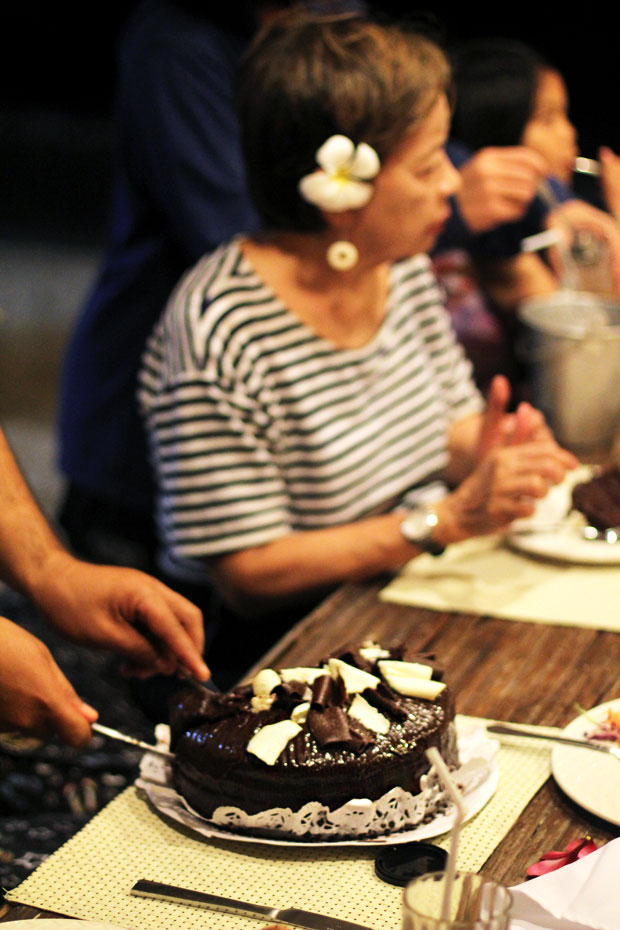 Here we (almost) all are enjoying each other's company after that fabulous dinner. As mentioned up top, Ren and Jen couldn't join us on this trip, but they were with us tonight in spirit and in our thoughts. We missed you guys! 🙁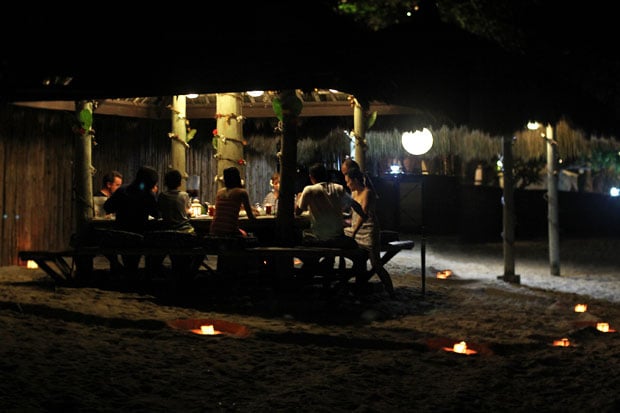 Though much of Moalboal's appeal is the scuba diving, Club Serena has more than enough to offer to make it fun even for non-divers. Everyone had a great time, from our mom to the kids. I highly recommend this resort for couples or families planning a holiday in Cebu. You can make a reservation through Agoda.
The only thing I didn't like was the transfer from Cebu City airport to the resort, which takes around three hours. Yes, THREE hours. Pretty far, I know, but if you're flying in to Cebu City with the intention of going whale shark watching, then you really have little choice but to travel this distance since Oslob is located even farther south, around two hours from Moalboal.
Most people aren't aware of this option, but you can actually fly in to neighboring Dumaguete instead, then take a ferry to Southern Cebu. We didn't do it, but based on maps of the island, I estimate this route potentially shaving off up to one hour from your transit time to Club Serena.
For more information on how to get to Cebu from Dumaguete, CLICK HERE and scroll down to the bottom of the page.
Club Serena Resort, White Beach, Moalboal, Cebu
White Beach, Moalboal, Cebu, Philippines
Tel: (032) 516-1847
Booking Office: Commercial Unit 1, Blue Garden Complex, Wilson St. corner Fulton St., Lahug, Cebu City, Cebu
Tel: (032) 417-2445 / (032) 516-8118
Website: clubserenaresort.com
Email: [email protected]
Make a Reservation through Agoda
Aquaholics
Tel: (032) 516-1847 | Mobile: 0928-507-2005 (SMS & calls) / 939-140-5515 (SMS only)
Facebook: aquaholicdiversinc
Email: [email protected]
More on Cebu
Swimming with Whale Sharks in Oslob, Cebu, Philippines
On Taking the Road More Traveled to Kawasan Falls, Badian, Cebu, Philippines
Zubuchon, at Last we Meet
Plantation Bay Resort and Spa, Marigondon, Mactan Island, Cebu, Philippines
Kenneth Cobonpue Showroom, Cebu City, Philippines
Ayer Lechon, Cebu City, Philippines
Disclosure
Some of the links in this post are affiliate links, meaning we'll get a small commission if you make a purchase or reservation at NO extra cost to you. We really appreciate your support as this helps us keep this website going. Thank you!