Mayon Volcano is stunning. Looming over town like a fire-breathing deity, it's so majestic that seeing it up close for the first time will literally take your breath away.
Nearly perfect in shape, it's about as well-formed a terra firma cone as nature can make. And to drive up to its lava flow on the backs of ATVs was an incredibly fun, exhilerating experience, one that I would highly recommend to anyone visiting Legazpi.
But as rewarding an experience as that may have been, you'll be hard-pressed to find other equally interesting things to do here. There are no nice beaches. No museums or markets selling crafts and other wares. Outside of taking snapshots with this near perfect volcano, I'm afraid there really aren't many touristy things to do in Legazpi, not many of course, other than to eat.
Known for its heavy use of coconut milk and chilis, here are just a few delicious things you can do in between those perfect Mt. Mayon selfies.
Four Seasons
Pacific Mall Business Center, Legazpi City
Tel: +052-480-7530
Facebook: LEGAZPI-FOUR-SEASONS-RESTAURANT
I googled "must eat legazpi" before our trip and this was one of the places that popped up. Open since 1971, Four Seasons is a Chinese restaurant famous for its fried chicken.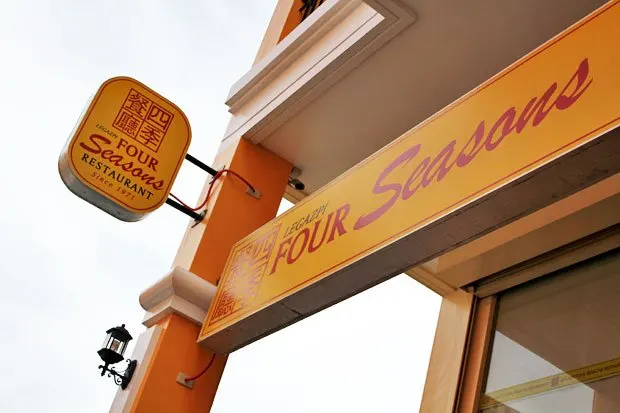 Seasons Chicken (Half) – PHP 160 (large) / PHP 185 (XL) / PHP 210 (XXL)
When I first read about this place, I remember thinking to myself: "It's just fried chicken. I've eaten lots of fried chicken. How different can it be right?" I wasn't particularly excited to try it, but all that changed the moment I took a bite.
Deep-fried and swimming in sauce, it's crisp, crunchy, salty, sweet, garlicky, and vinegary, unlike any other chicken I've tried before and definitely worth a visit. It was delicious.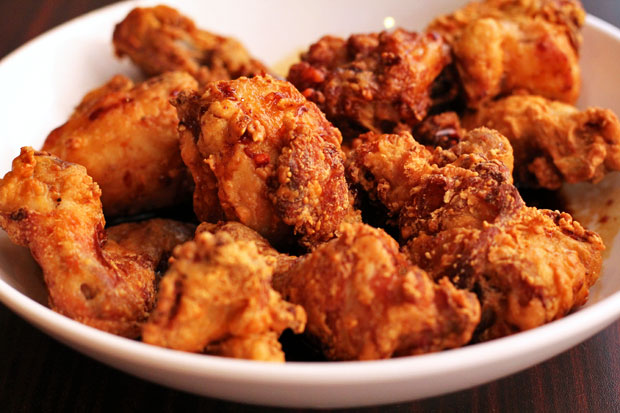 As described in this post, the next four restaurants listed below – Kamias, Eatalia, Wilkommen, and Vintage Garage Bar – are all located in the same building as the hotel we stayed at – Casablanca Suites. Already Legazpi's top-rated TripAdvisor hotel, the convenience of these four restaurants makes Casablanca Suites an even better choice for travelers. Filipino, Italian, and German cuisine all under one roof, with a killer bar to wash it all down with. Saan ka pa?! ("Where else you?")
Kamias
PVLB Bldng, Benny Imperial St. (Alternate Road), Legazpi City, Albay, Philippines
Tel: +052-481-0788
Email: [email protected]
Facebook: kamiaswithatwist
Serving Filipino food with a twist, Kamias is the restaurant of Casablanca Suites. It's a great, less traditional place to try the local cuisine.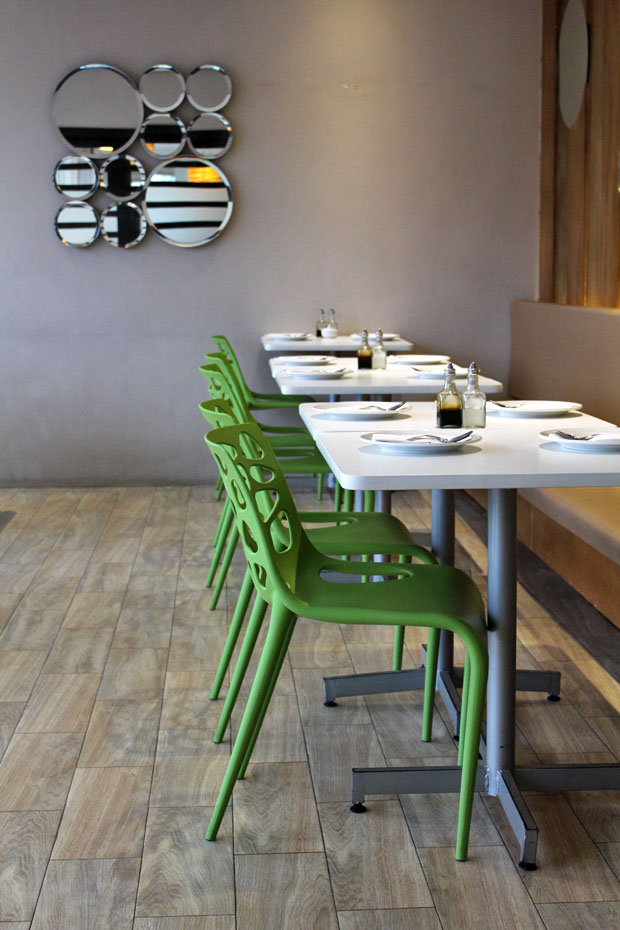 Bicol Express – PHP 285 – Sea cucumber, pork, shrimp paste, kamias (bilimbi fruit), tomatoes, onions, and green chili simmered in coconut cream
One of the region's most well-known dishes, Bicol Express is a rich, creamy dish made with coconut milk. Tasty but unctuous.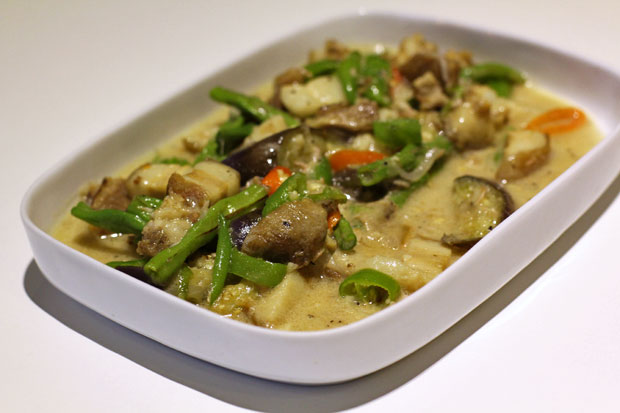 Pinangat – PHP 115 – Taro leaves layered and simmered in coconut milk with minced pork
Popularly known in Manila as Laing, pinangat is another well-known Bicolano dish made with taro leaves and coconut milk.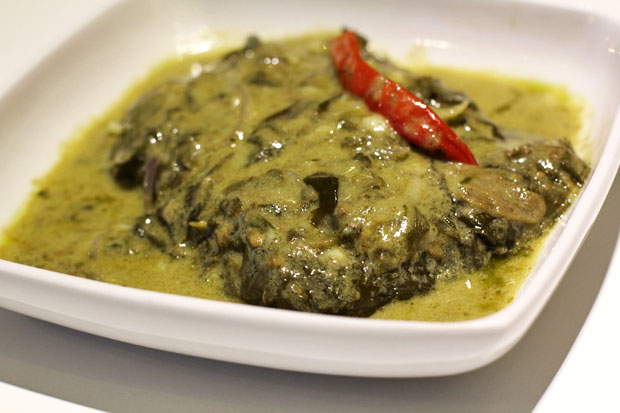 Kandingga – PHP 150 – Pork lungs, spleen, and heart with tomatoes, onions, and kangkong (water spinach)
Referred to as bopis outside of the Bicol region, kandingga is a delicious pork offal dish made with lungs, spleen, and heart. If you've never had pork offal before, it has an interesting texture, something like really soft rubber. Really good!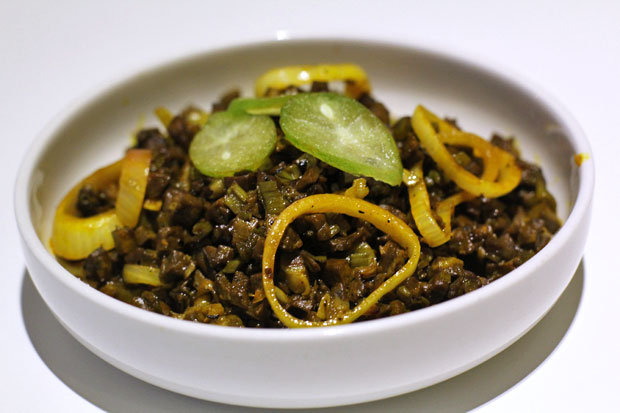 Neapolitan Pizzeria
PVLB Bldng, Benny Imperial St. (Alternate Road), Legazpi City, Albay, Philippines
Mobile: 0915-054-2297
For your pizza and pasta cravings. This Italian restaurant used to be called Eatalia. It's recently switched hands and is now known as Neapolitan Pizzeria.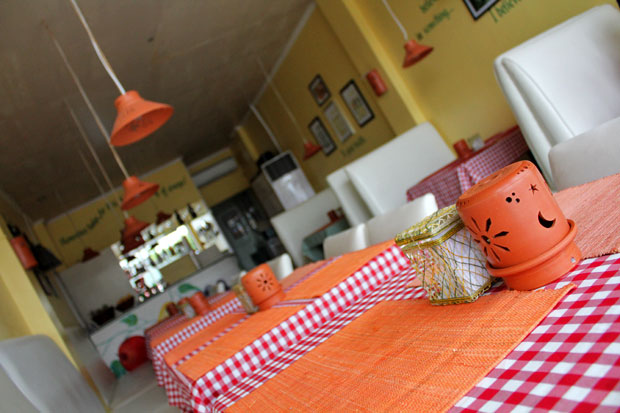 Frutti di Mare – PHP 289 – Minced seafood with tomato sauce
I wasn't too crazy about this one. The sauce reminded me of the bottled stuff and the seafood tasted a little fishy to me.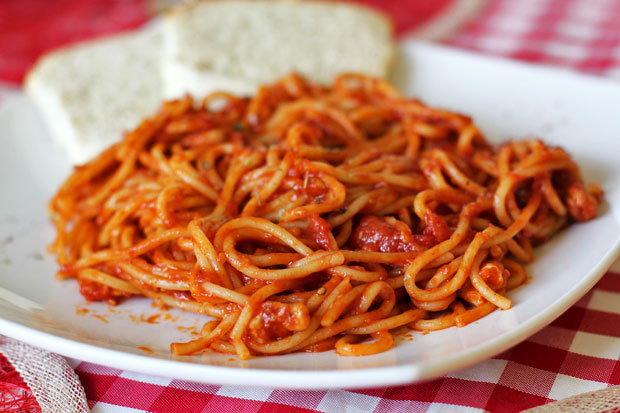 Meat Lover's – PHP 329 – Tomato sauce, salami, ham, minced pork and beef, mozzarella
Not bad. The crust was thin and light.

Wilkommen
PVLB Bldng, Benny Imperial St. (Alternate Road), Legazpi City, Albay, Philippines
Tel: +052-435-6019
Mobile: 0917-557-5058
Facebook: WillkommenCafeAndRestaurant
We loved this place. The food is great and they offer PHP 270(?) buckets of San Mig Lights with free pulutan (bar chow). Tonight, our bucket of six came with this platter of Hungarian sausages.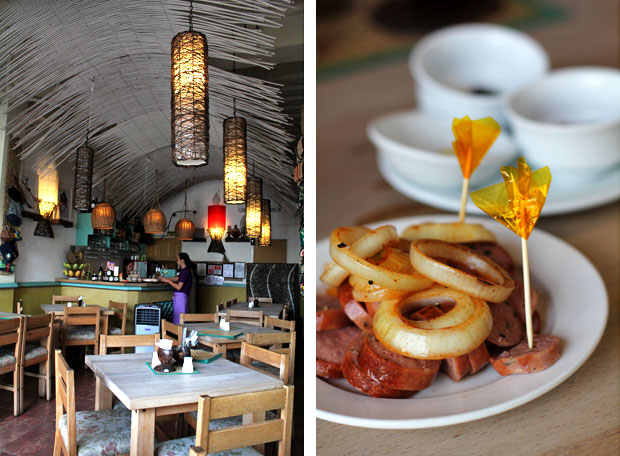 Grilled Squid with Spiced Orange-Honey Sauce – PHP 220
A Wilkommen special, this was an unusual dish of squid in orange sauce. It was interesting, though I didn't really care too much for the sauce. I found it too sweet. The squid was perfectly grilled and tender though.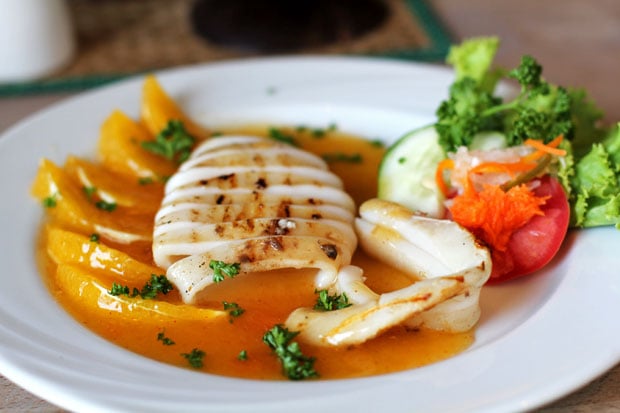 Farmhouse Pizza Bread with Artichokes – PHP 290
This was really good. If you're staying at Casablanca Suites and are in the mood for pizza, then I would recommend this one over the offerings at Eatalia. The home-baked ciabatta this pizza was made with was delicious.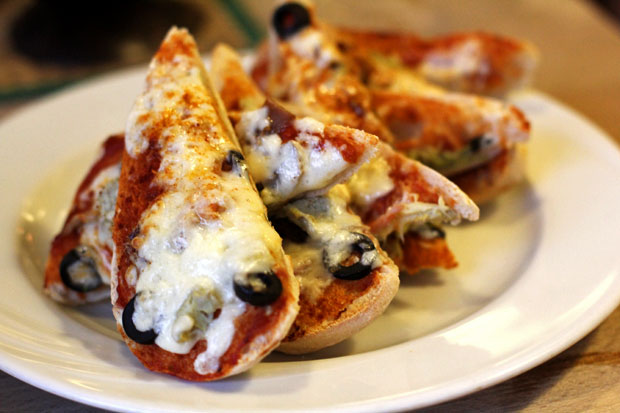 Vintage Garage Bar
PVLB Bldng, Benny Imperial St. (Alternate Road), Legazpi City, Albay, Philippines
Mobile: 0917-558-0605
If Mike from American Pickers would open up a bar, then this would be it. Adorned with all kinds of vintage transportation memorabilia like old bicycles, scooters, car parts, and license plates, this was one of the more interesting bars I've walked into in a while. So cool.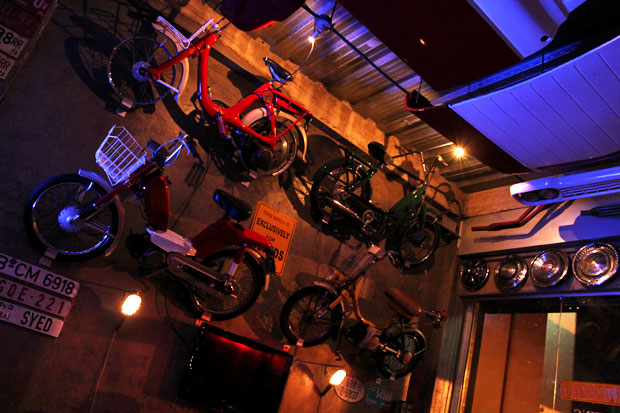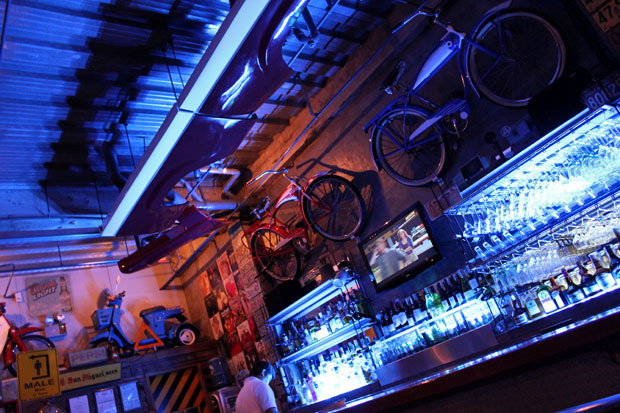 Kebab – PHP 80 (If I remember correctly)
Having already enjoyed dinner at Kamias, we were full at this point so just ordered this kebab for pulutan. It was surprisingly good! Tender and well-seasoned, it was a delicious, choice cut of meat. We drank here on our last night in Legazpi but given more time, I would have loved to enjoy a full meal here. They offer all kinds of delicius-looking comfort food like burgers, chicken fingers, and cheese sticks.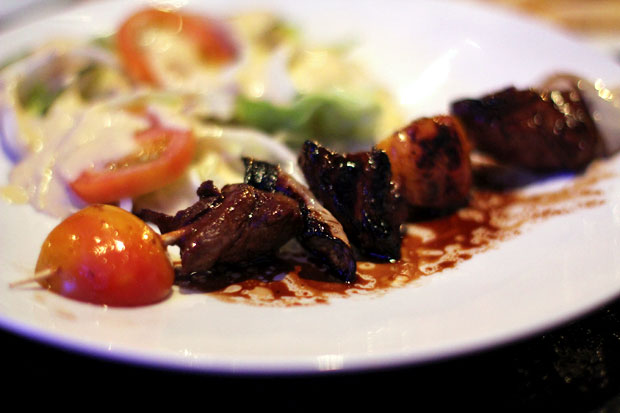 1st Colonial Grill
Ground Floor, Pacific Mall, Landco Business Park, Legazpi City, Albay, Philippines
Tel: +052-481-1212 | +052-820-0985
I've read online that 1st Colonial Grill is one of the more popular places to eat here in Legazpi. We didn't get to try it but I'm sure the food is good judging from the packed restaurant. What we did get to try though was their unconventional line of Pinoy ice creams, most popular of which is the sili (red chili pepper).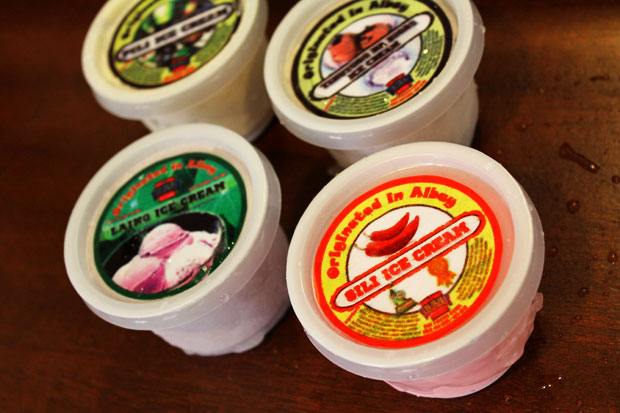 Clockwise from upper left: Sili, Tinutung na Kanin (burnt rice), Laing (Filipino dish made with taro leaves and coconut milk), and Pili (Canarium ovatum nut). Interesting lineup of flavors eh?
All were good, some better than others, but the sili was clearly the best. The heat hits you like an aftertaste, not in your mouth, but in your throat after you swallow. It's an addictive sensation, one that I wish I could have brought back with me to Manila.

More on Legazpi City
Mayon Volcano by ATV!
Where to Stay in Legazpi City: Casablanca Suites
Disclosure
Some of the links in this post are affiliate links, meaning we'll get a small commission if you make a purchase or reservation at NO extra cost to you. We really appreciate your support as this helps us keep this website going. Thank you!