Ren's cousins celebrated their birthdays at Sonya's Garden over the weekend, so we booked an overnight room at the Spa and Lodge in Tagaytay Highlands, courtesy of my mom. Thanks mom! 😀
This weekend brought back a ton of memories for me. My family used to have a house in Tagaytay, so my parents would frequently spend the weekends here, stringing us kids along with them. It was the early 1990s, and back then, there wasn't much in Tagaytay yet, just Mushroom Burger, McDonald's, and the casino at Taal Vista Lodge, which my parents frequented. There wasn't even cable TV at the time, so I never really liked spending the weekends here, simply because there wasn't much to do, especially for a kid my age.
But of course, as the old adage goes, you don't miss something until it's gone.
For reasons I don't want to get into at the moment, we sold our beautiful Tagaytay house in the early 2000s, with my dad passing away not long after, in 2003. As mentioned above, this weekend brought back a deluge of memories, and with those memories, feelings and epiphanies, some long overdue.
For the first time in the nine years that my dad's been gone, I missed him.
You may find that a tad melodramatic and out of place, but I thought a lot about him during this trip, and I just wanted to express it. If anything, it's cathartic.
In any case, I won't bore you any more with all this drama, since you probably clicked into this post looking for pictures and information about Tagaytay Highlands. I'll leave that story for another time.
The Spa and Lodge at Highlands
Ren and Sep posing in front of the Lodge. The Spa and Lodge, like the rest of Highlands, is exclusive, so you'll need to be the guest of a member to stay here.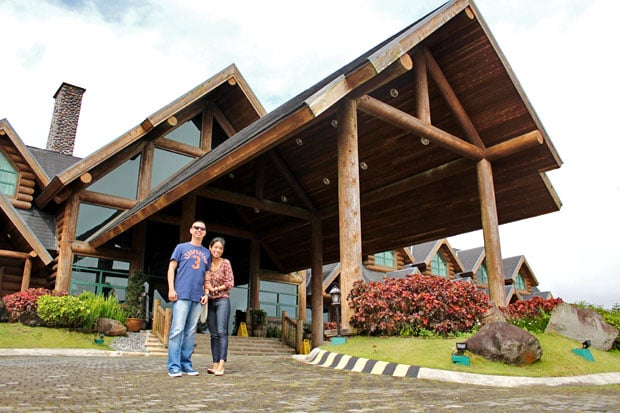 There's the Highlands Peak at the upper left corner of the image. It's basically a videoke bar that serves a few dishes, including raclette. You can either take the cable car or drive up to the Peak.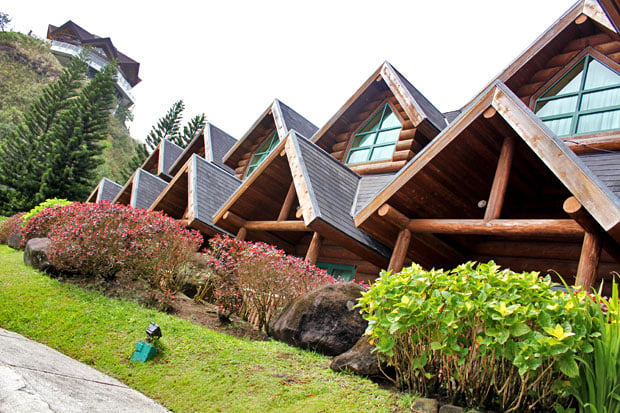 The lobby. Warm and woodsy, you're treated to the soothing scent of eucalyptus (or peppermint) the moment you walk in.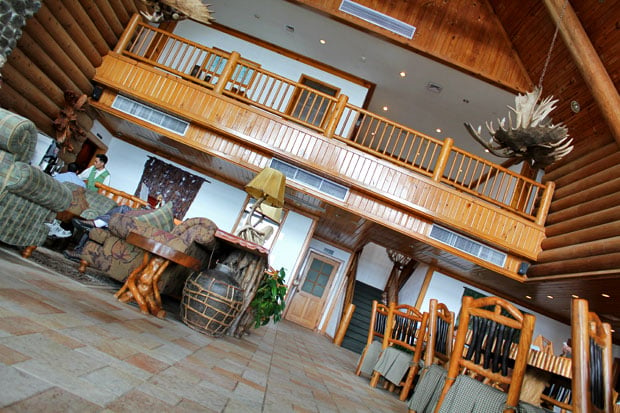 A short walk up to the second floor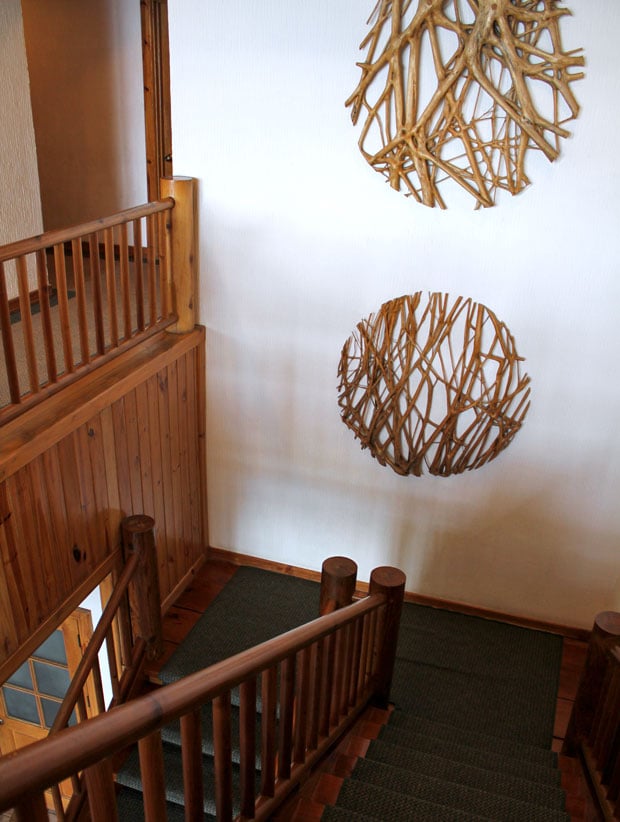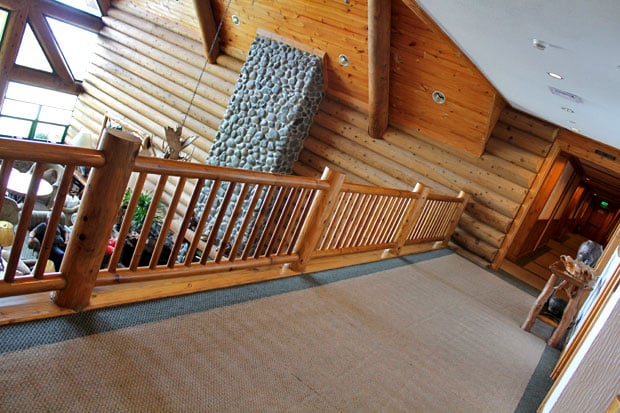 A view from above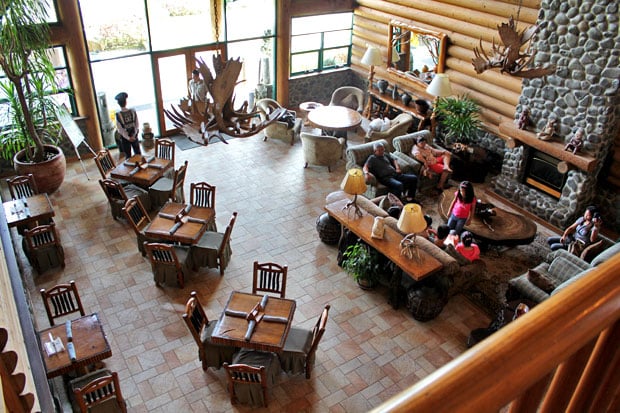 The room. Pretty swanky eh? 🙂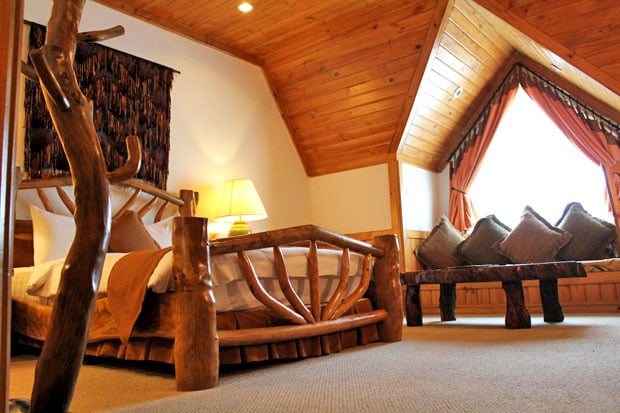 A voyeuristic view into the bathroom. Kinky right? 😆 No worries though. You can close the shutters if you're shy.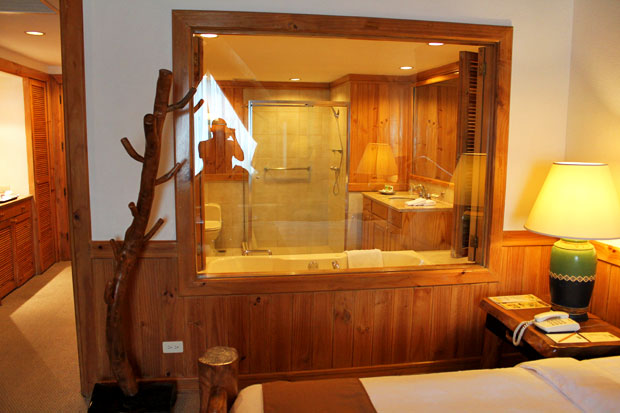 Jacuzzi bathtub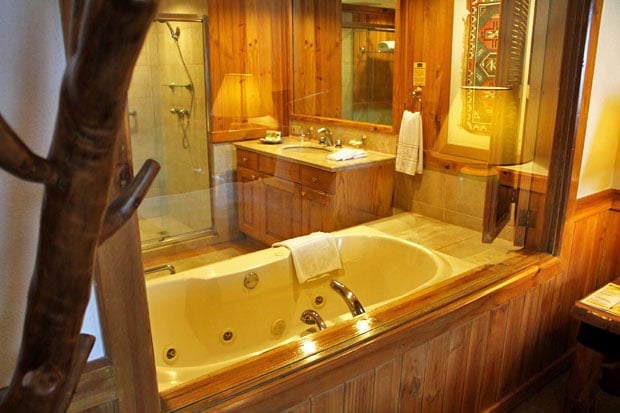 The ridiculously comfortable bed with egg carton mattress pad, goose down pillows and duvet. There's Ren Dragonvaling. Each room at the Lodge has its own personal wifi. Now THAT'S luxury! 😀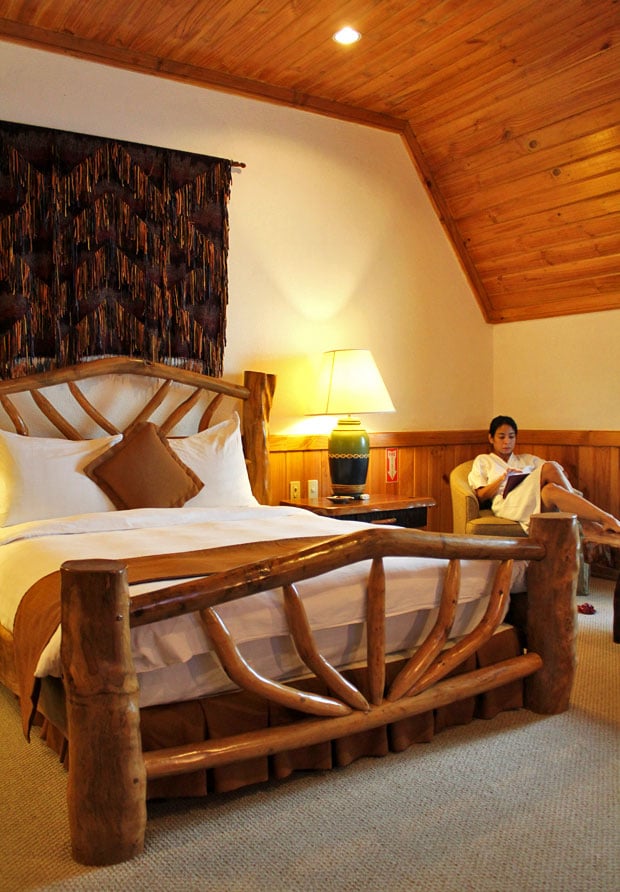 The view of evergreens from our window. What a beautiful, relaxing sight to wake up to. My dad used to say that a lot.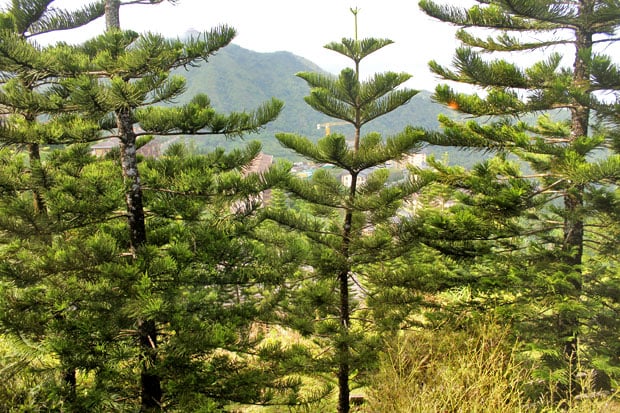 This was taken outside the Lodge, just in front, at the edge of a steep, grassy incline. One night, many years ago when everyone was already asleep, I sat on that incline to smoke a bowl. Oh, the follies of youth. 😆
The structure you see down there is the Golf Clubhouse. Let's check it out.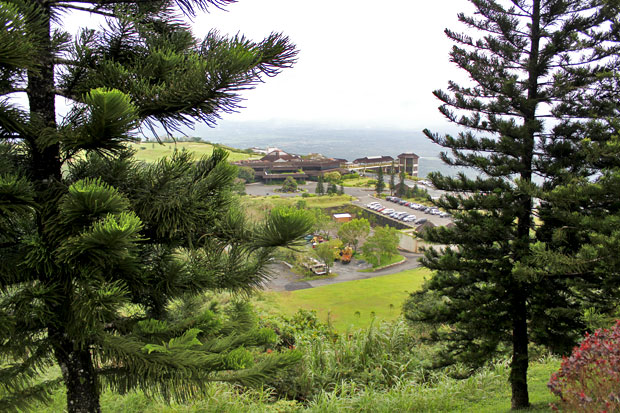 Golf Clubhouse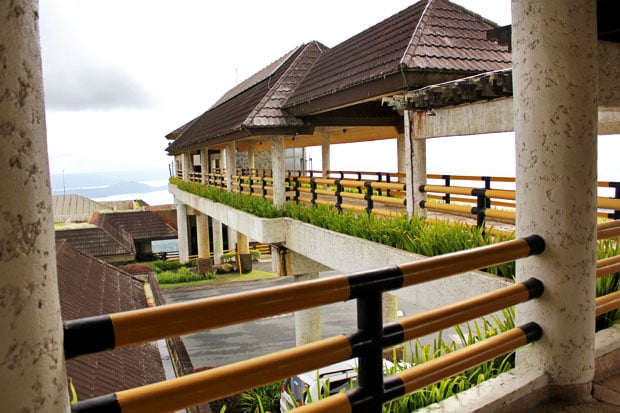 I don't play golf, but nearly everyone in my family does. My dad loved it, though he rarely ever played here. He often commented that the golf course at Highlands felt more like a "theme park" course because of the way it was laid out. I guess if you enjoy golf and have played here before, then you'll know what he meant.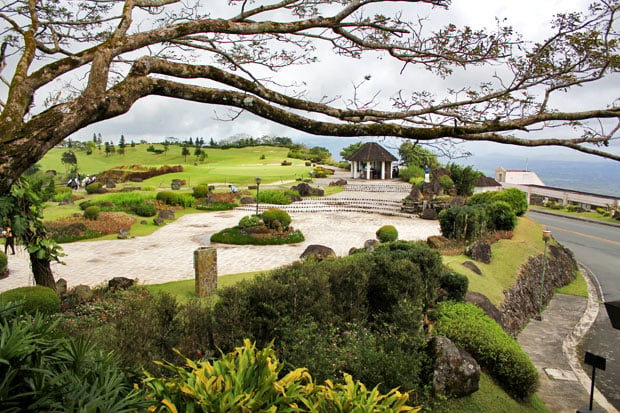 Walking down towards the clubhouse lobby. This was where my brother's wedding reception was held in the mid-90s. If I'm not mistaken, his was the very first wedding reception ever held here at Highlands. 😉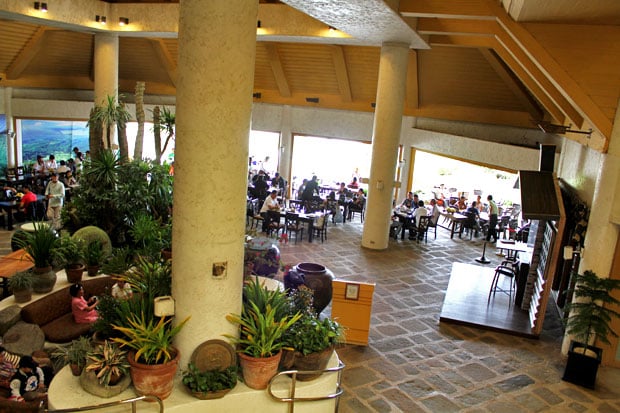 Highlands China Palace
Starved from the drive, off we went to Highlands China Palace for lunch, one of my dad's favorite restaurants here.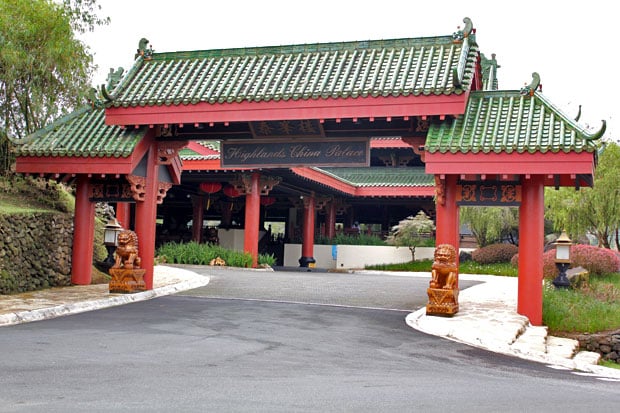 Very big, very red, very Chinese.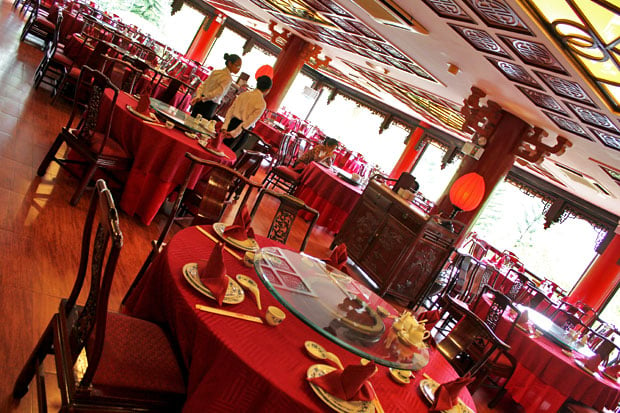 Japanese Octopus with Century Eggs – PHP 400
I wanted the seaweed with century eggs, but they were all out of seaweed so they offered to substitute it with Japanese baby octopus instead. A cephalopod lover, I happily obliged.
The octopus was nice and tender, though the sauce seemed an odd choice for the protein. It was sweet, similar to the reddish sauce that you find on Chinese-style beef tenderloin. Speaking of which…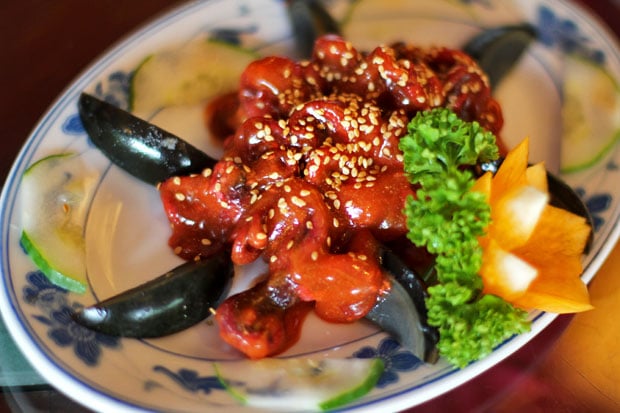 Fillet Steaks "Chinese Style" – PHP 600 (small)
Tender and sweet with crunchy onions, I first fell in love with this dish as a kid, ordering it every time my family enjoyed a meal at South Villa in Greenhills. Remember that place? If you don't want to reveal your age, then just say no. 😆
For a time, my dad wouldn't allow me to order this, saying that it was tenderized from too much vetsin (MSG), which was bad for you. Anyone know if that's true?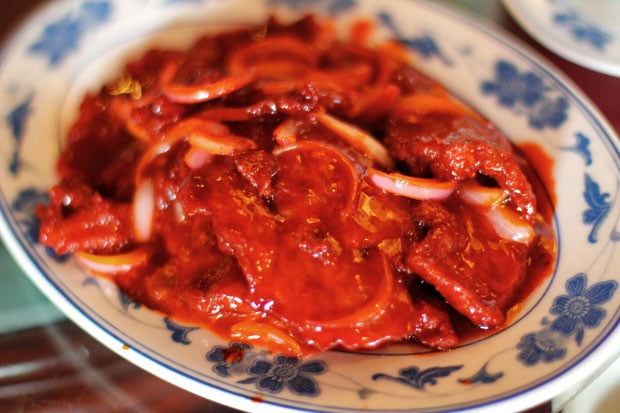 Salted Fish with Chicken Fried Rice – PHP 400 (small)
We ordered this at the recommendation of our waiter. It was very good, effusive with wok breath and umami, but you couldn't really taste the salted fish. The salted fish fried rice at North Park is better.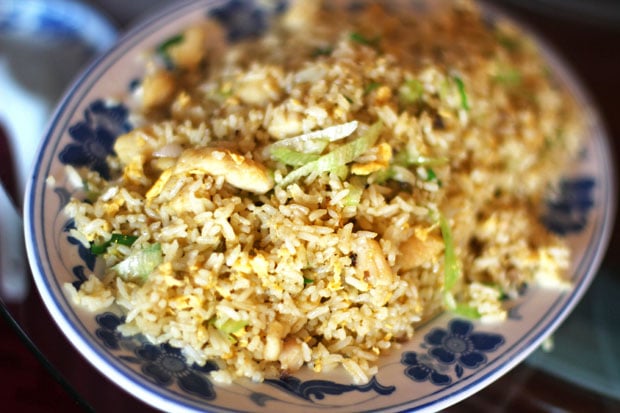 Animal Farm
Of course, being the animal lover that I am, a trip to Highlands would never be complete without a quick stop at the Animal Farm.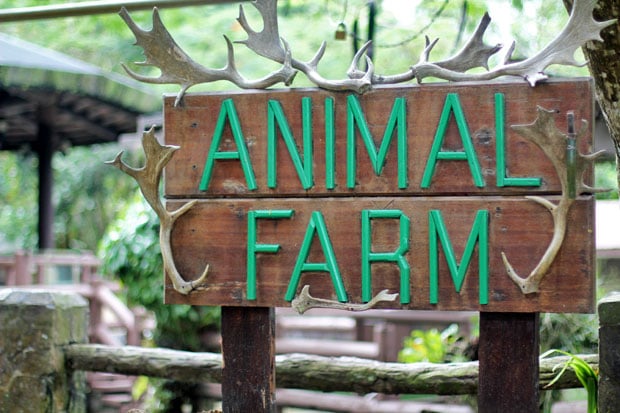 There's Ren and Sep posing with some parrots.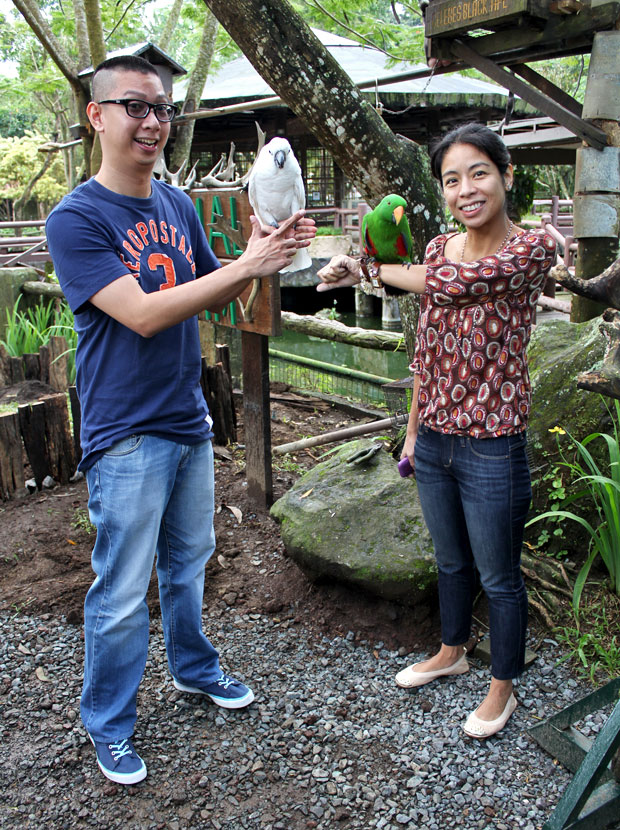 This Celebes Black Ape "welcomes" visitors as they enter. Chained around the waist to that pole, I don't think that mouthful of teeth is a smile. Poor thing. 🙁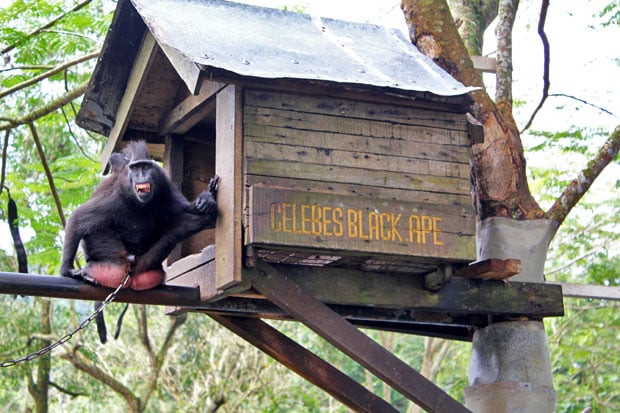 The emperor's not so new coat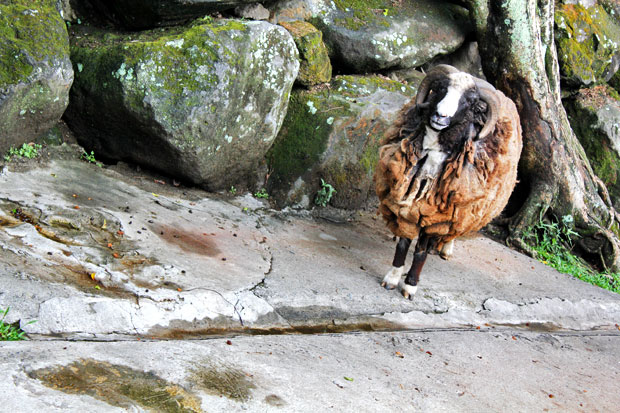 I kept trying to get this guy to say pangit (ugly), but he wouldn't. I'll take that as a compliment. 😆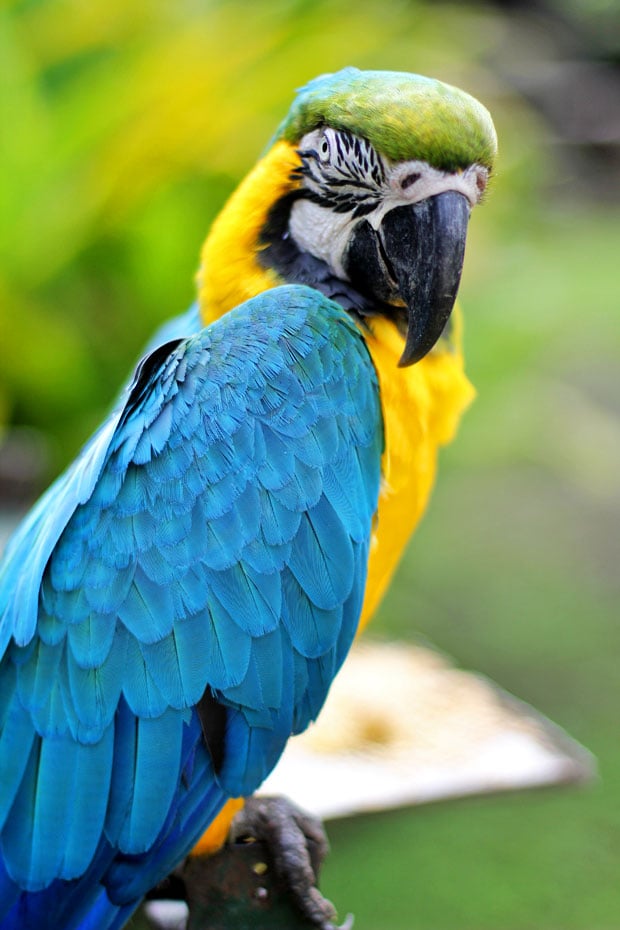 Wicked cool Black-Spotted Moray Eel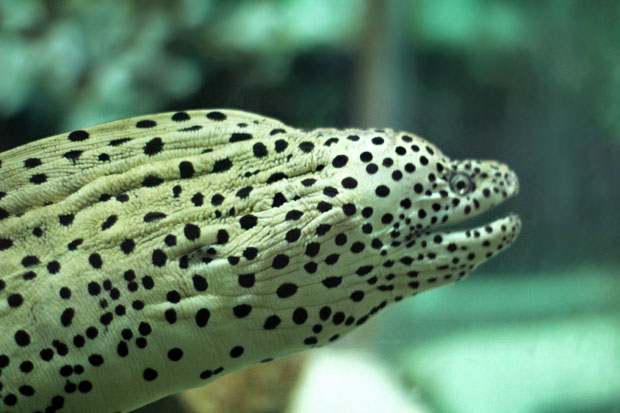 Monstrously big, Red-Tailed Catfish. Hillbilly handfishin' anyone?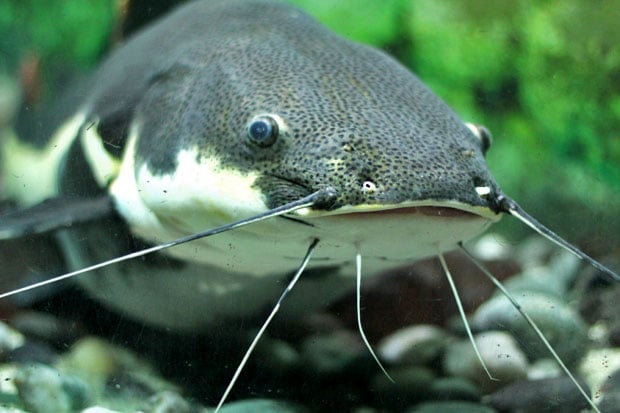 Adolescent llama. This pretty young thing reminded me of Michael Jackson for some reason.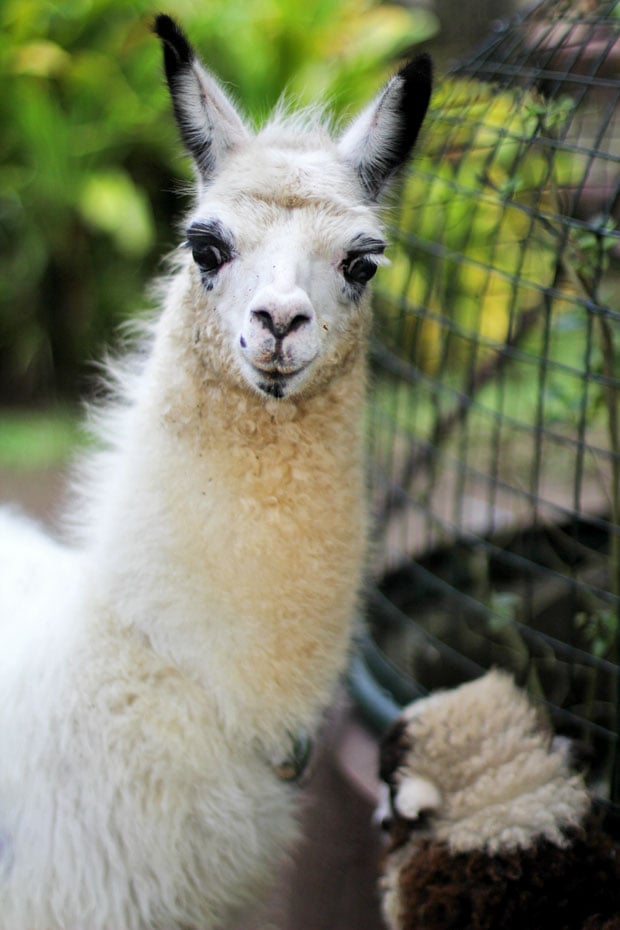 "Ah, so by that rationale, if a pig had a better personality, he would cease to be a filthy animal. Is that true?"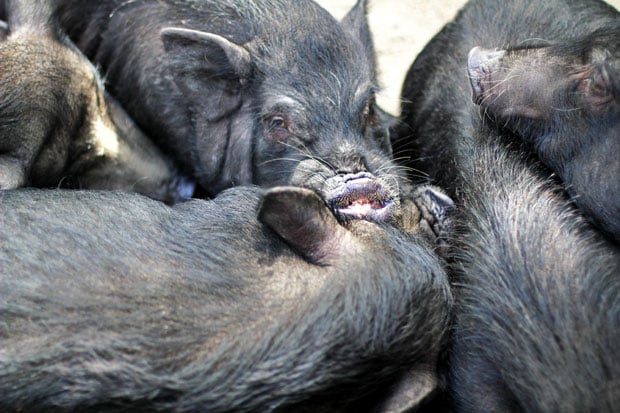 Miniature horse, about the size of a big dog. They used to have a whole herd of these cuties, but we only spotted two today.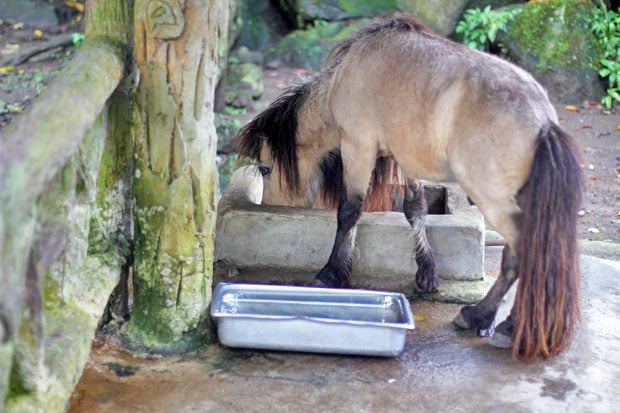 Adult llama, with some yellow shit on his face. What is that dude? Cheetos?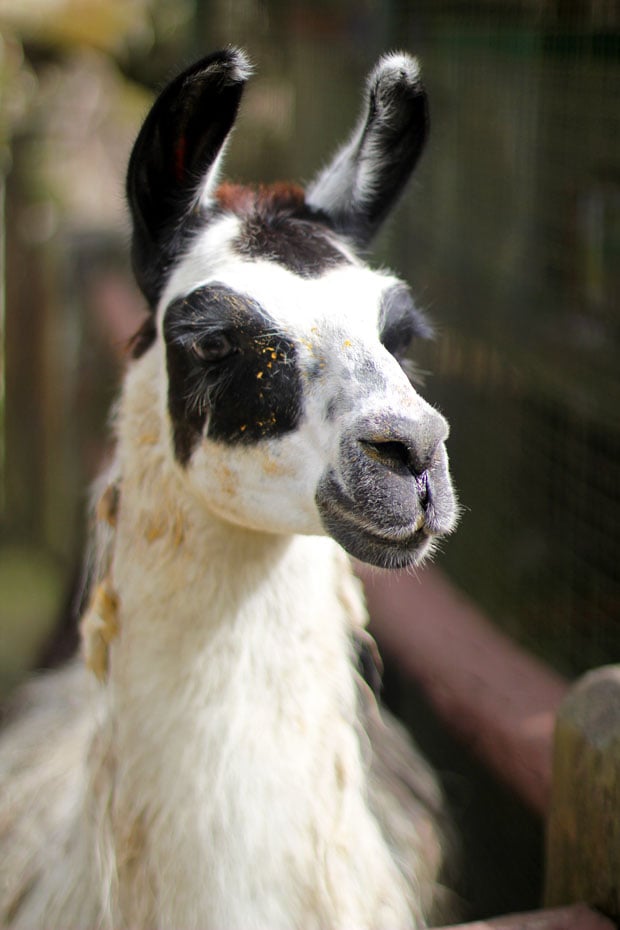 You can never take a bad picture of a cassowary.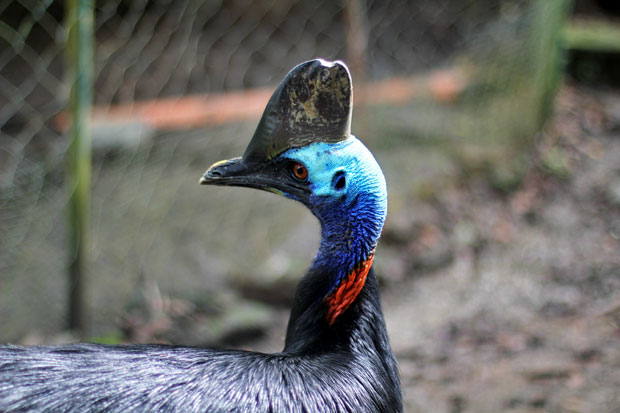 This Reticulated Python was MASSIVE. At its widest, it was thicker than my thigh!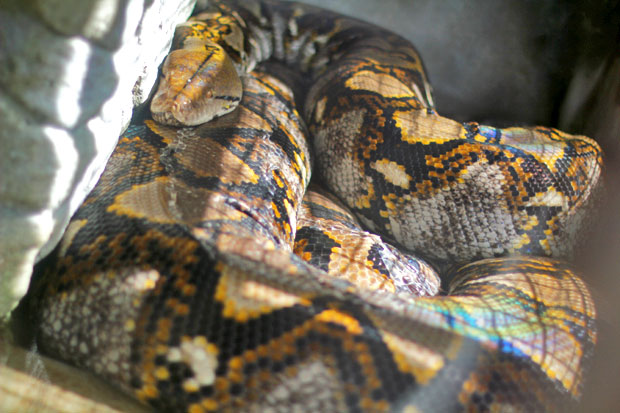 Guinea crying "Fowl!"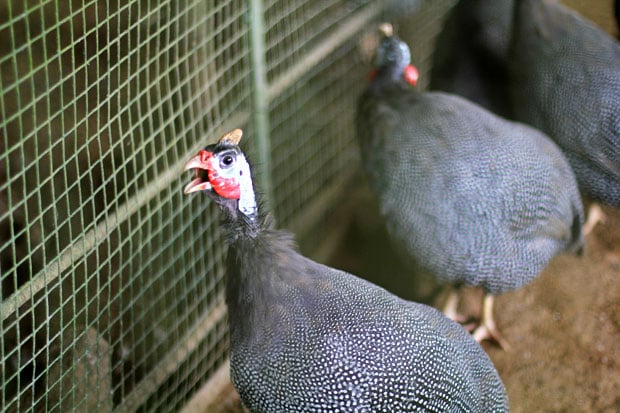 Same green and red parrot preening himself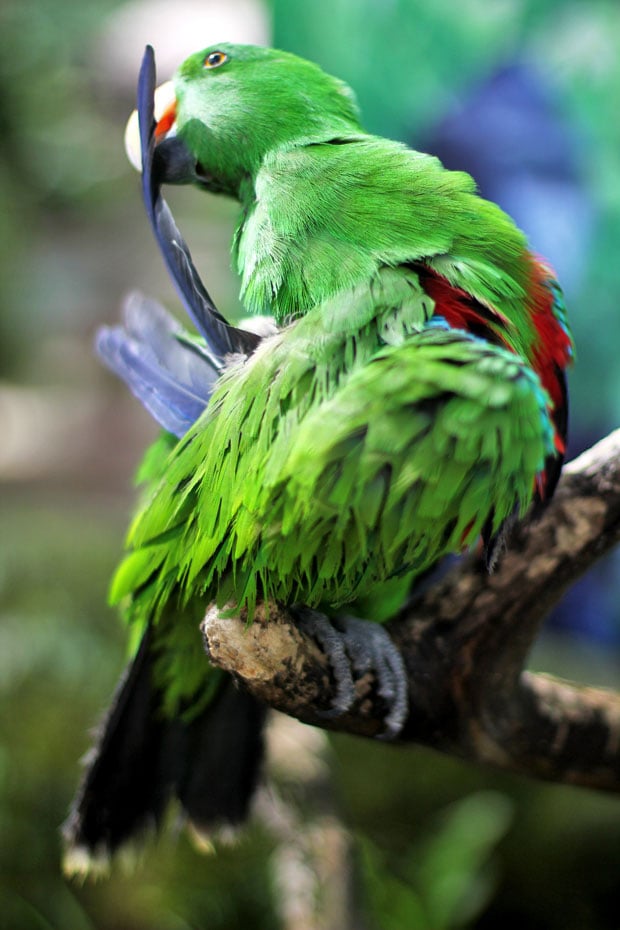 A pair of lovebirds. Aren't these guys adorable?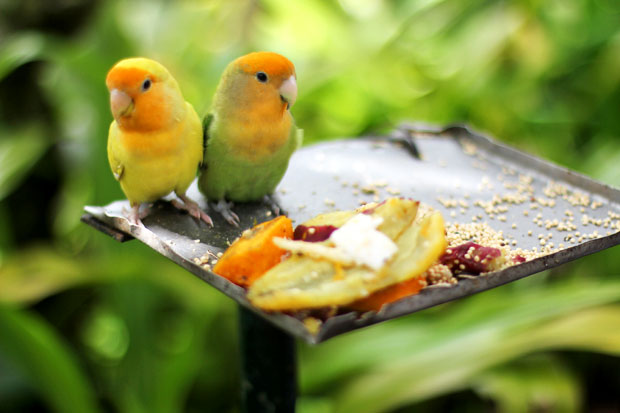 Even on our way out, the ape was still grumpy as ever. With an ass that big, wouldn't you be?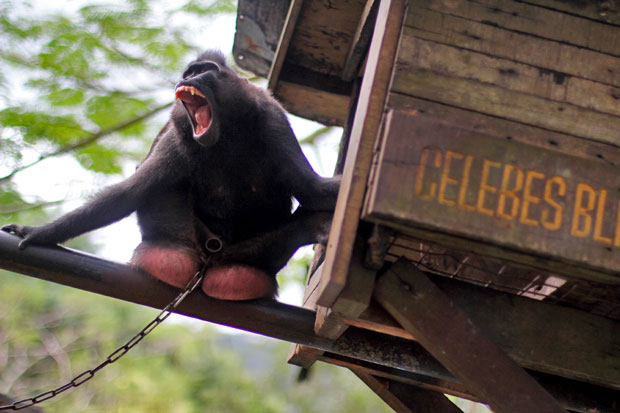 If you've been to the Animal Farm before, then you're probably wondering why there are no pictures here of Chino the orangutan. We did visit him, but he wasn't in a photogenic mood today. Calling out his name, he came out for just a few minutes, before irritably shuffling back into his den. I guess he realized that we were just useless tourists who didn't have any food. 😆 My first time to visit him in years, I was shocked to see how big he'd gotten. He's a full-grown, flanged male now, complete with a raging sex drive no doubt. 😯
Though my last visit to the Animal Farm was around 2004, I had been coming here for years, ever since they first opened over a decade ago. Back then, the facilities were immaculate, Chino was still a wee one, and a pair of tigers resided in the zoo's central enclosure. Sadly, the place has deteriorated much since then, with many of the poor animals making do in undersized pens. I love going to zoos, but not when the animals aren't kept in optimal conditions.
Though the situation here isn't as bad (yet) as other "zoos" I've been to, the decline is unmistakeable and progressing. I do hope that they renovate the place soon. Though a tiny zoo, it was a fun, pleasant place at one point. It would be nice to see it restored to its former joyfulness, because right now, it feels a little sad to be here. 🙁
Highlands Steakhouse
Hands down, my dad's favorite restaurant at Highlands. If you've ever eaten a steak here, then you'll know why. They're DAMN delicious.
Like the Animal Farm, we couldn't drive back to Manila without enjoying a meal here first, so we stopped to grab a steak for lunch the next day, right after checking out from the Lodge.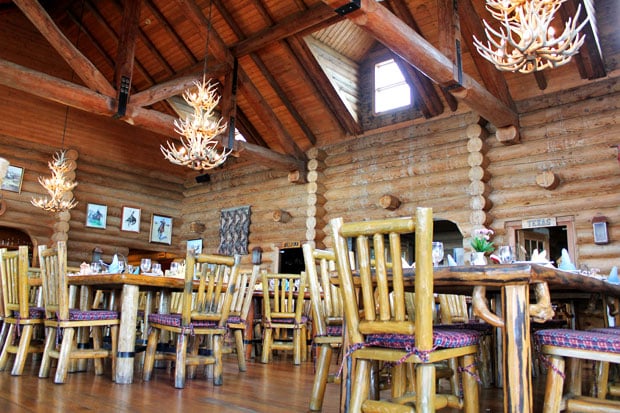 Caesar's Salad – PHP 320 – Hand-torn tender Romaine lettuce tossed in handmade Caesar dressing served with anchovies and toasted croutons, and topped with Parmesan cheese.
Ren and I ordered one and split it between us. What you see here is an already divided, half order. I don't know my Ceasar's salad all that well, but Ren said that this one was really good.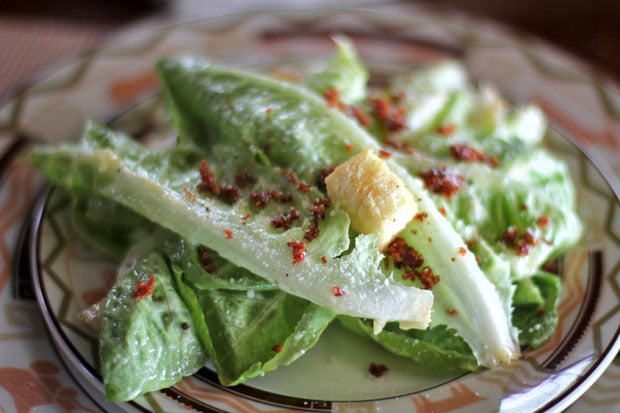 Cowboy Style US Angus Ribeye (chilled) – PHP 1,958 (15 oz.)
I was about to order the 14 oz. ribeye to share, when our server suggested that we get this cowboy style, 15-ouncer instead. "Cowboy style" means that the steak is brought to you raw and precut into strips, giving you the chance to cook it yourself on a small, tabletop grill. I love fun, ritualistic food, so I didn't have to think twice about this one. Every order comes with your choice of two sides, plus roasted vegetables and a trio of steak sauces.
Doesn't that steak look ridiculous?! 😈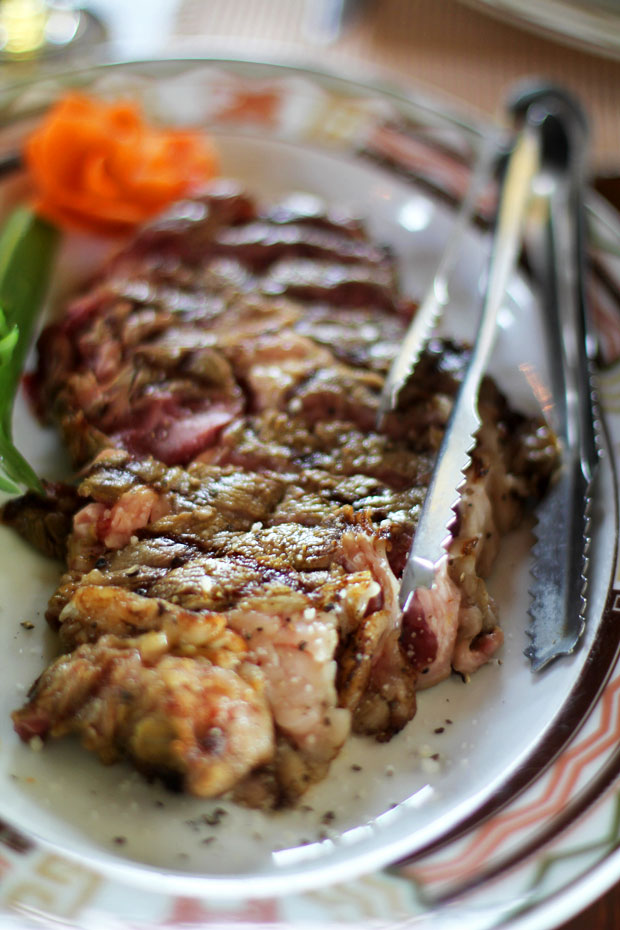 We chose creamed spinach as our first side.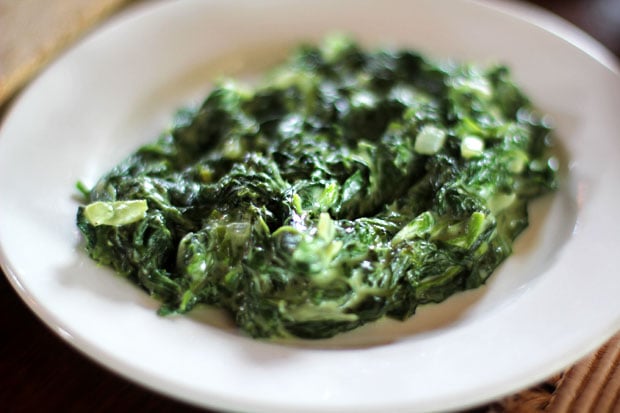 Second side of mashed potatoes with the trio of steak sauces – mushroom, peppercorn, and garlic.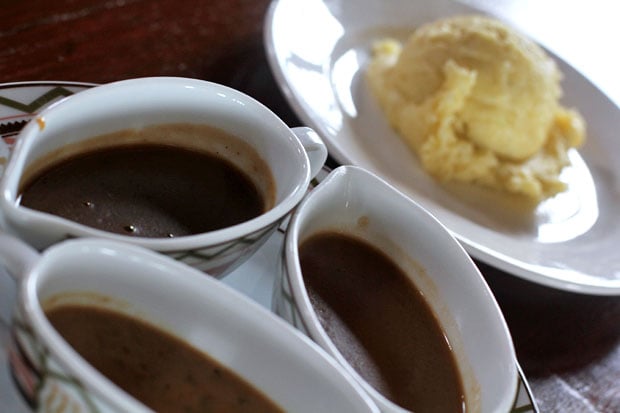 Side of roasted vegetables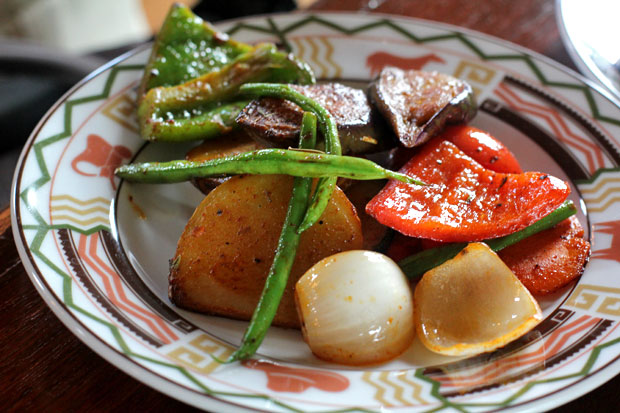 Heating up our tabletop burner. That blue ethanol gel is cool.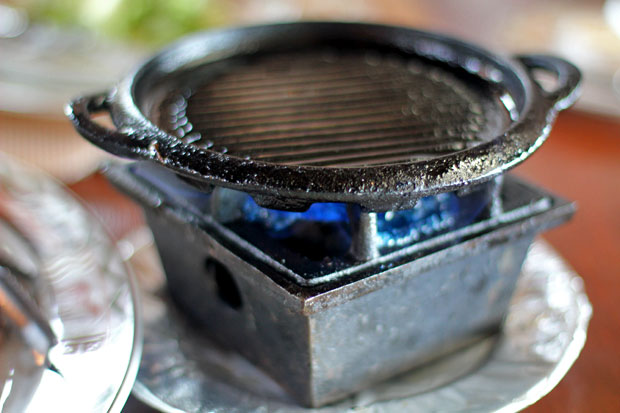 Ren searing up her first piece of steak. Love the sound of that sizzle!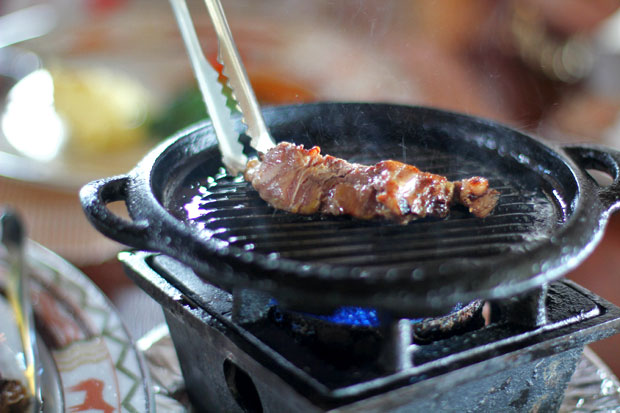 Shizzle ma nizzle, the steaks here are the bomb yo! 😆
Not too thick with good marbling, this ribeye was juicy, tender, and well seasoned. I experimented with different donenesses, even eating a tiny piece completely raw, and I loved every bite. In fact, I had so much fun cooking them up myself, that given the opportunity, I would order every steak "cowboy style" from now on. Absolutely delicious man. Engaging too.
What a great way to end a Highlands weekend, right? 😉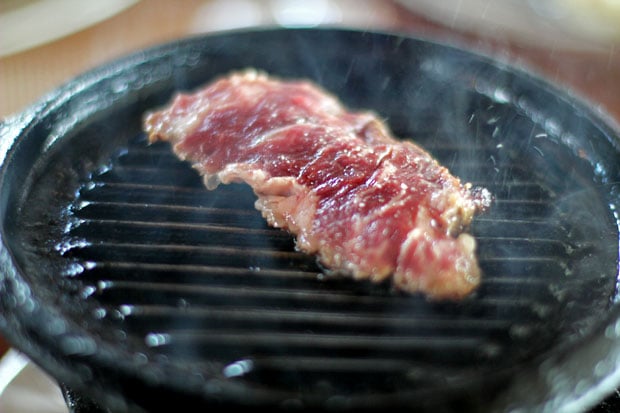 Though I thanked my mom at the top of this post for letting us stay here, I should really be thanking my dad. It's because of him that we enjoyed such things growing up, and for that, I will be eternally grateful. For the first time in my entitled life, as a near middle-aged man sitting pensively in our beautiful room at the Spa and Lodge, I understood just how truly blessed I was to have a father like him.
Thanks dad. For everything.