I didn't mind so much that photography wasn't allowed in the Ninomaru. What I was bummed about, was not knowing enough about Nijō Castle in Kyoto to bring a recorder. Famous for its nightingale floors, the architecture and gardens are beautiful at this UNESCO World Heritage Site, but its those chirping nightingales that are the main attraction here.
With assassination by ninja a real threat during Japan's Edo period, the nightingale floor, or Uguisu-bari in Japanese, was specially designed as an alarm system to warn Daimyo or Shogun bodyguards of palace intruders. When a person puts their weight on the floorboards, the surface bends and warps, causing flooring nails to rub against a jacket or clamp and produce low creaks reminiscent of chirping sounds. This chorus of chirps would alert the palace guards, giving any would be assassin little choice but to flee.
Walking on the nightingale floors, the creaks really did sound like the twittering of distant birds. Each step produced a low chorus of chirps that was pleasant to listen to, almost like ambient sound effects that added to the Zen-like atmosphere of Kyoto.
Treading lightly, going slowly, sliding on my socks as we made our way through the corridors, I tried to walk without making any chirping sounds but I couldn't do it. In fact, the opposite seemed to ring true.
As my slightly built wife snidely remarked: "I think the nightingales like you better sweetheart, they sing more loudly for you." 😕
Nijō Castle
Main entrance to Nijō Castle (taken from the inside)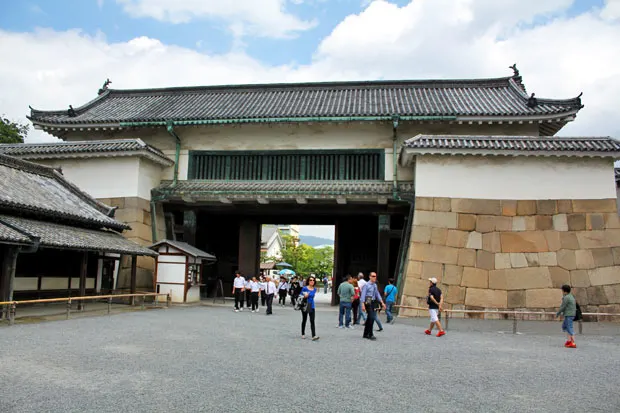 Karamon Gate, main entrance to Ninomaru Palace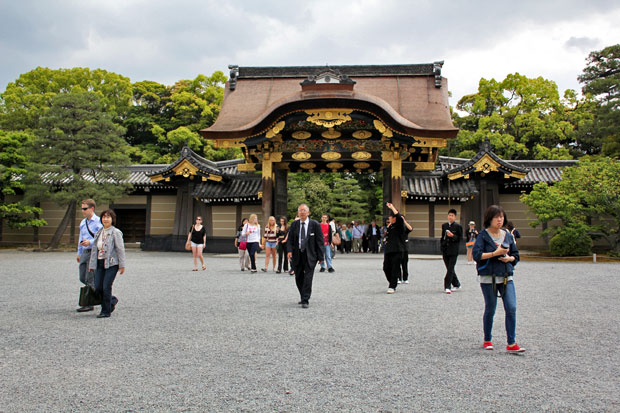 Ninomaru Palace, home to the nightingale floors. As you can see in the map at the bottom of this post, the castle consists of two concentric rings of fortifications, each consisting of a wall and a side moat. Ninomaru Palace is between the two main rings.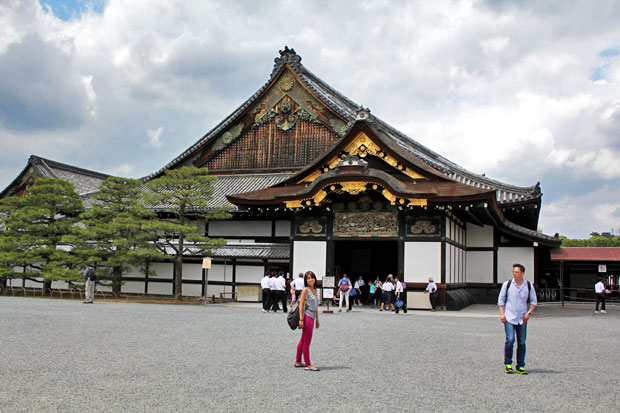 Loving all the details. I took all my pictures outside because photography was strictly prohibited inside the palace.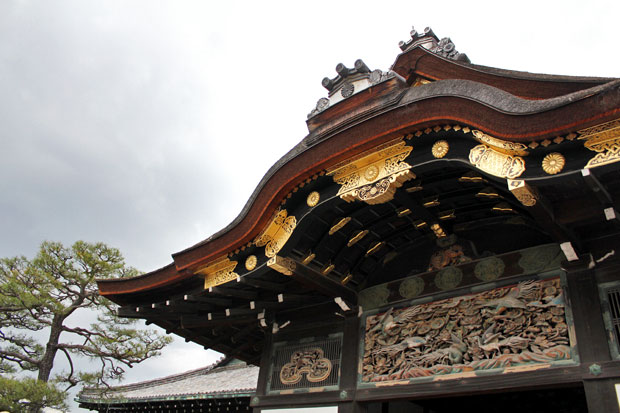 Still Ninomaru Palace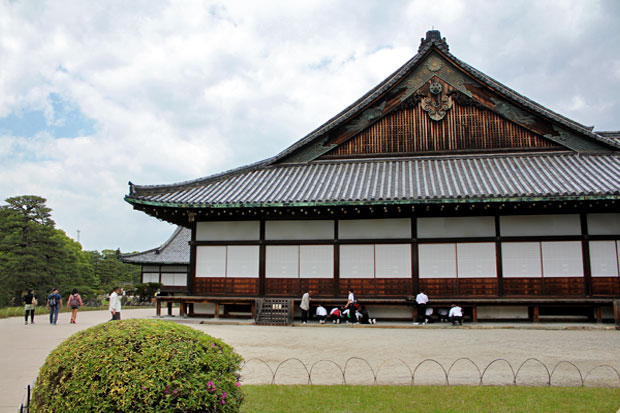 Still loving all the details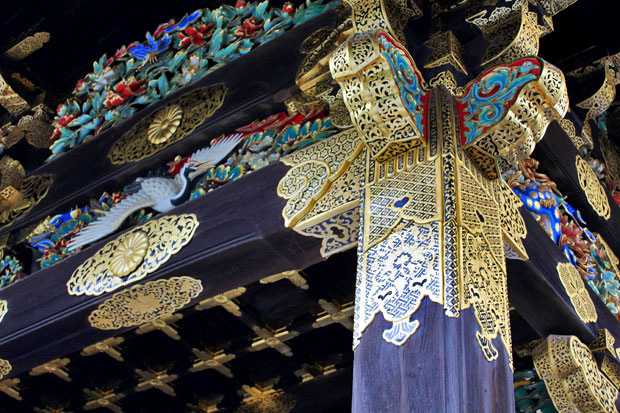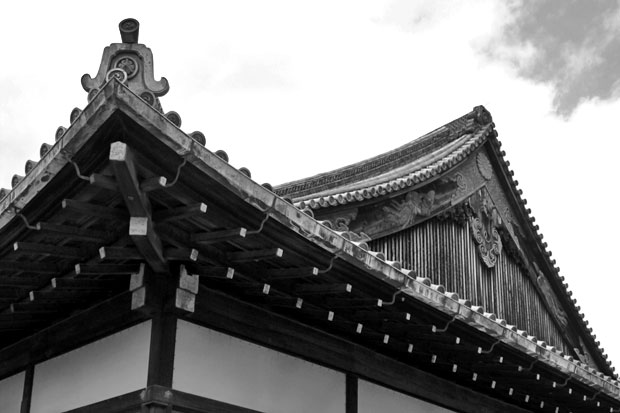 All around the castle area are several gardens and groves with cherry, plum, and topiary pine trees. You could spend an entire afternoon just walking around here.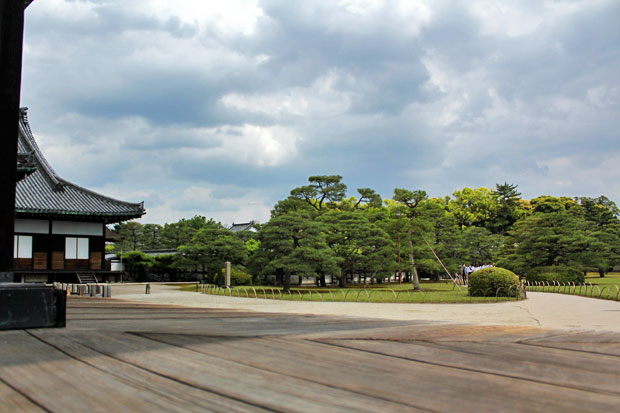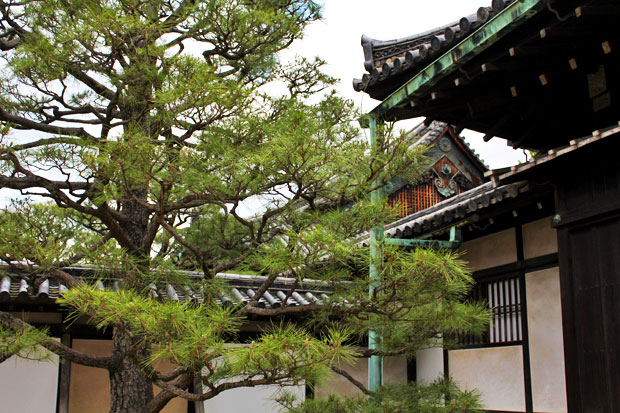 Ninomaru Garden with large pond and more than 1,000 carefully placed, ornamental stones.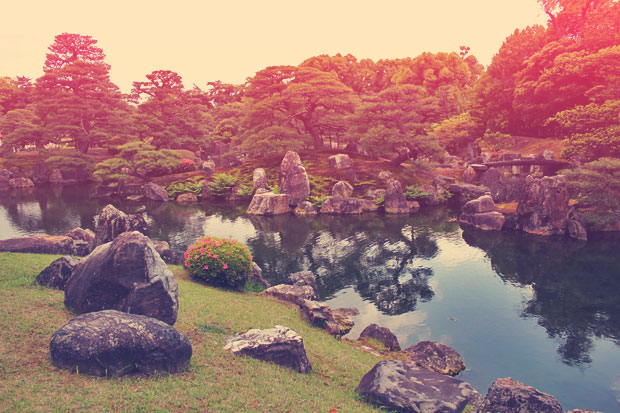 We were in a rush to make it to Kinkakuji and Arashiyama so we only had time to visit Ninomaru and the outer ring of the castle. Within the inner concentric fortification ring and moat is the Honmaru Palace and Garden.
Unlike Ninomaru, Honmaru Palace isn't regularly open to the public, but you can walk around the garden and climb up the stone foundation of the former castle keep. Providing nice elevated views over the castle grounds, this sight must be pure magic during cherry blossom or fall seasons.
Nijō Castle
541 Nijojocho, Nakagyo Ward, Kyoto, Kyoto Prefecture 604-8301, Japan
Tel: +81 75-841-0096
Website: city.kyoto.jp/bunshi/nijojo
Operating Hours: Mon-Sun, 8:45AM-5PM (admission until 4PM) / Entry to Ninomaru (9AM-4PM)
Admission: ¥800
Suggested Length of Visit: 2-3 hours
HOW TO GET THERE:
From Kyoto Station, take the Karasuma Subway Line to Karasuma-Oike Station, then transfer to the Tozai Line to Nijojo-mae Station. The entrance to the castle is a short walk from there. The entire trip takes around 15-20 minutes and costs ¥260. CLICK HERE for more information.