This temple reminded me of my mom, and her monthly trips to Lipa.
When I was a kid, we attended mass only during the holiest days of obligation. I asked my parents why that was, and they said that they worshipped God in their own quiet way. If I remember correctly, it wasn't until my grandmother became terminally ill that my mother started going to Sunday mass.
Perhaps out of desperation to see her health improve, she started visiting Mt. Carmel Church in Lipa to pray for her recovery. She promised that she would return every month no matter how my grandmother's health progressed. My grandma eventually passed away, but my mom kept good on her promise and continues to make her monthly pilgrimages to Batangas, even to this day.
In desperate pursuit of a wish, this must be how those 234 people felt when they jumped off and plummeted thirteen meters (43 feet) from the veranda of Kiyomizu-dera's main hall. Of those 234 recorded jumpers, 34 died. The surviving 200, if legend were to keep good on its promise, would see their wishes granted. Risking death in return for a blessing, this leap of faith led to the popular expression "to jump off the stage at Kiyomizu", which is the Japanese equivalent of the English expression "to take the plunge".
Like throwing a coin into a fountain or rubbing Buddha's belly for good luck, I always enjoy making wishes wherever, and however, I can. Luckily for me, there were plenty of other available options here.
Kiyomizu-dera
Walking up the hill towards the temple. According to my Japanese friend Tom, the kanji on the left says "Kiyomizu-dera". Taking its name from the waterfall within the complex, kiyomizu means "pure water". Dera is the Japanese word for Buddhist temple.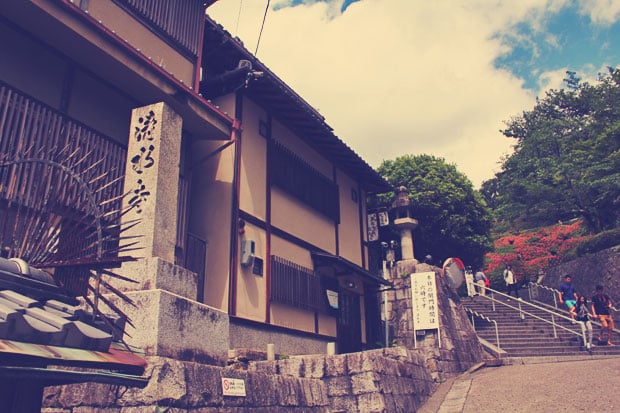 Climbing up the stairs, you're greeted by the Deva Gate, which is the main entrance to the complex. One of Kyoto's most popular attractions, Kiyomizu-dera is a UNESCO World Heritage Site.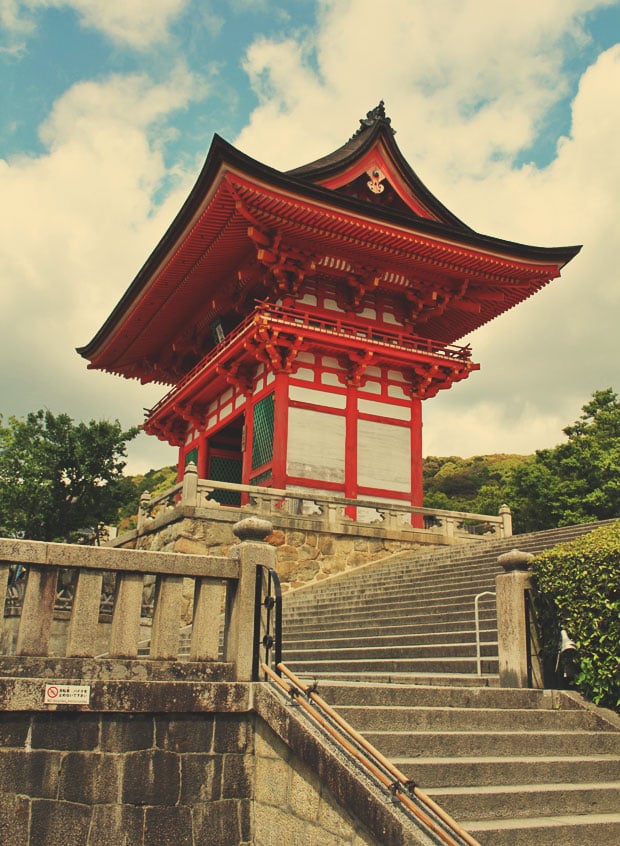 Admiring the colors and details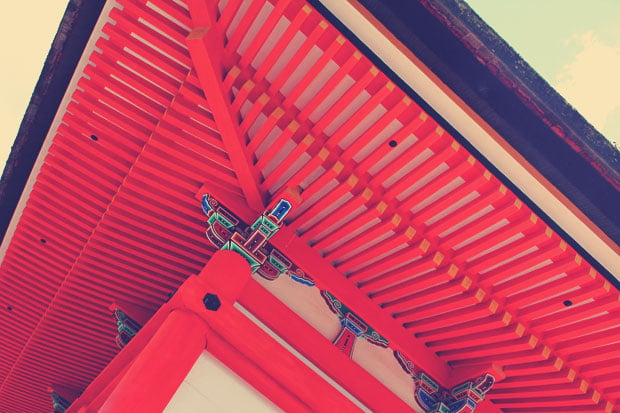 Koyasu Pagoda in the distance. A visit to this three-storied pagoda is said to grant your wish of an easy and safe childbirth. None of us were pregnant so we skipped this. These hills are said to be stunning during cherry blossom season or the fall.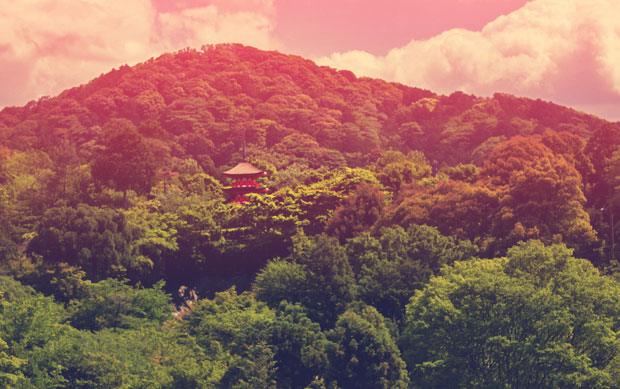 Still admiring the details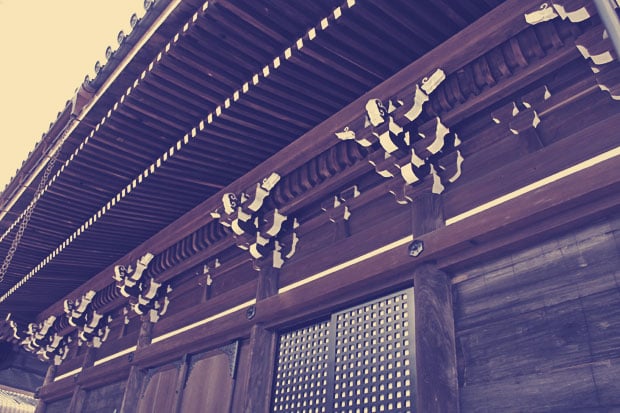 The aforementioned thirteen meter high main hall, built without the use of a single nail. Popular during the Edo period, jumping off the veranda is apparently no longer allowed. I wonder why. 😆
During the spring and fall, you can visit the temple at night to see it fully lit. Must be magical.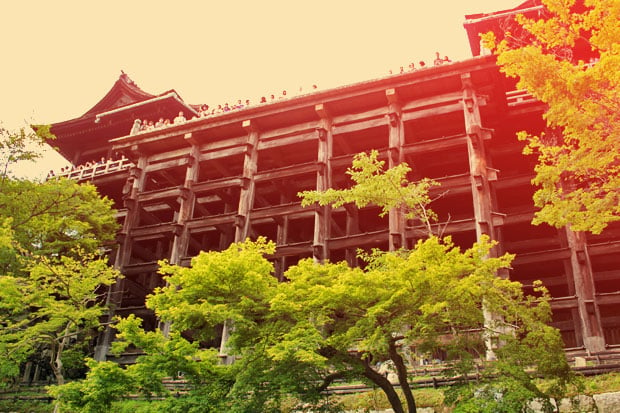 Thick ropes attached to gongs. Not sure what these were for, but I think they had something to do with wishmaking. Seems to be a common thread here. 😉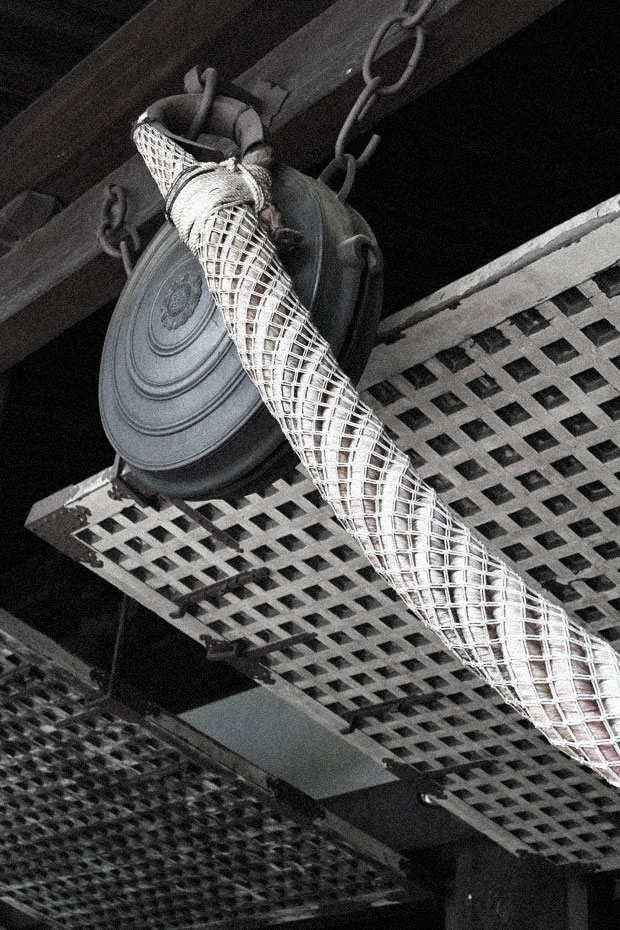 Speaking of wishmaking, there's me on my knees tapping on the giant cauldron while saying a short prayer. I remember exactly what I wished for too: "Health, wealth, and happiness for all my loved ones, more kindness learned for me." Aaaawwww… 😆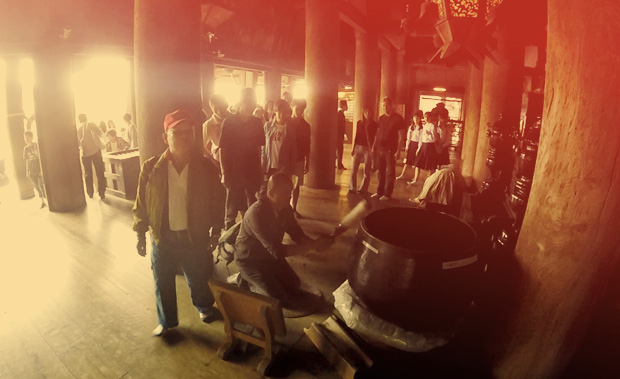 The waterfall from whence this temple derives its name. Located at the base of the main hall, the Otowa Waterfall is divided into three separate streams. Drinking from each stream is said to provide a different wish-granting benefit. The first is for longevity, the second for success at school, and the third for luck in love. A word of caution: Drinking from all three is considered greedy, so don't do it. 😉
Winding up our day of wishmaking, we took Ninen-zaka and Sannen-zaka streets back down towards the bus stop. These are quaint, flagstone-lined streets with traditional wooden shops and teahouses on either side. It's a great place to window shop and soak up the Kyoto atmosphere. Just be careful not to fall down there. CLICK HERE to find out why.
Kiyomizu-dera Temple
294 Kiyomizu 1-chome, Higashiyama Ward, Kyoto, Kyoto Prefecture 605-0862, Japan
Tel: +81 75-551-1234
Website: kiyomizudera.or.jp
Operating Hours: Mon-Sun, 6AM-6PM / 6:30PM-9:30PM (Spring and fall illumination)
Admission: ¥400 (Kiyomizu-dera Temple) / ¥400 (Spring and fall illumination)
Suggested Length of Visit: 2-3 hours
HOW TO GET THERE:
From Kyoto Station, take bus number 100 or 206 (15 minutes, ¥230) and get off at Gojo-zaka or Kiyomizu-michi bus stop. The temple is about a 10-minute uphill walk from there. CLICK HERE for more information.