Success, in many cases, comes when you least expect it.
Stuck with an anthill of leftover bolognese that was too little for one serving, Ren wondered how she could extend it in a creative, more interesting way. Sloppy Joes? Maybe some chili dogs? Tasty ideas for sure, but not quite the lightbulb moment that she was looking for. The one thing that she did know for certain though, was that whatever the dish, it had to be devilishly spicy.
And just like that, in an epiphanous, eye-widening moment, the inspiration comes to her in the form of a rotund, tuxedo-wearing little devil whispering into her ear:
"Psst…Oppa is Gangnam style."
Having once heard it described as the Korean version of tomato paste, Ren feverishly busts out her stash of gochujang, some soy sauce, and a little sesame oil, and recycles the leftover bolognese to create this very spicy, exceedingly flavorful dish of Korean-style spaghetti. If you enjoy familiar food with a twist (and a kick!), then you're sure to love this.
Inspired, different, somewhat comical, and most unexpected, it's a surefire hit. Now if only I can post it on YouTube…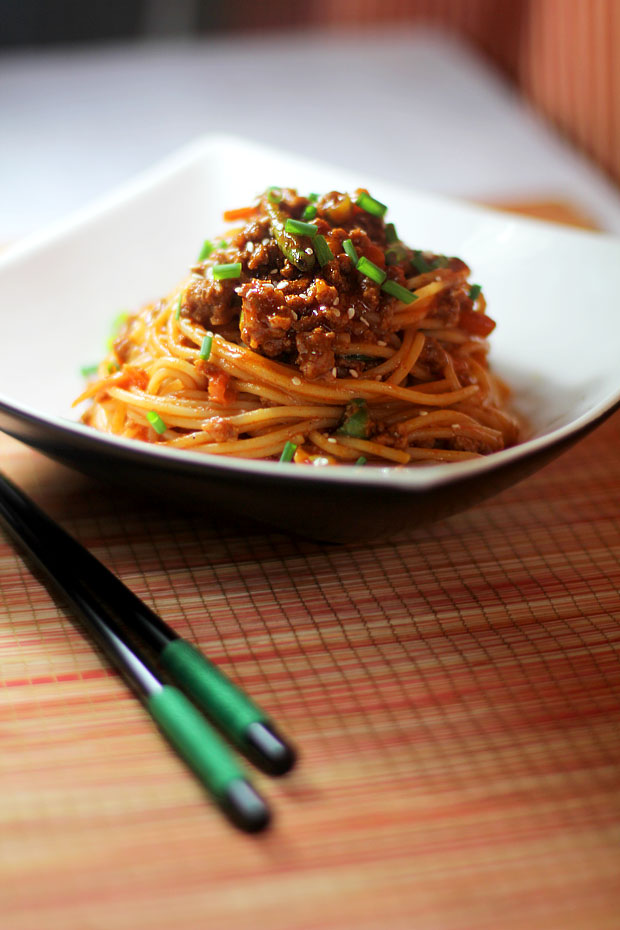 This obviously isn't an authentic dish but if you're looking for real Korean dishes, then check out our guide on traditional Korean food.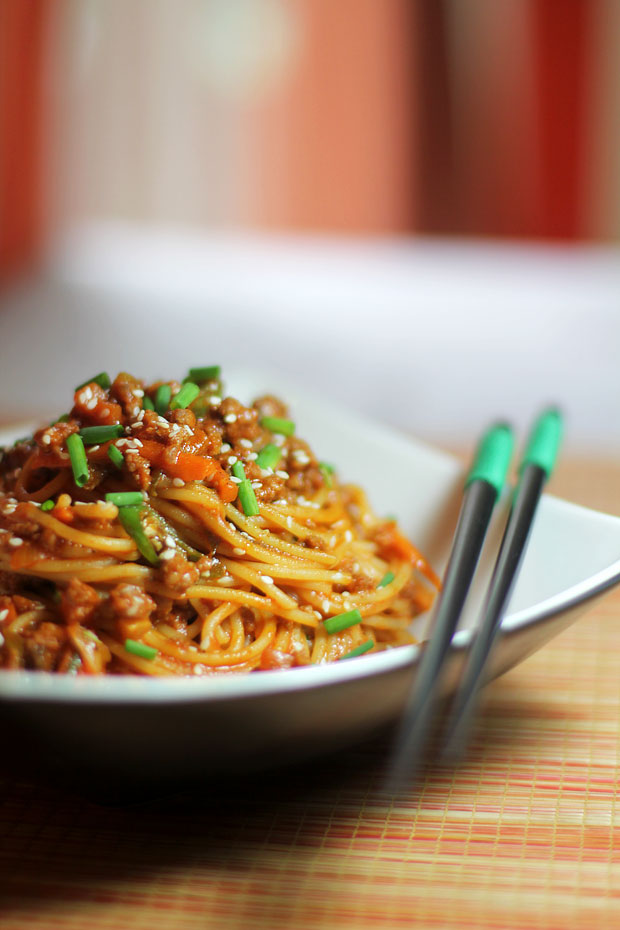 Ingredients
2 Tbsps extra virgin olive oil
1/3 cup mushrooms, sliced
1 carrot, divided (one half diced, the other half sliced into very thin strips)
1/2 white onion, diced
1 medium-sized leek, sliced
1 bunch green onions, chopped, white and green parts separated
5 cloves of garlic, minced
1 cup chicken stock
1/4 kilo ground round
1/4 kilo lean ground pork
3/4 cup milk
150 grams or a little over 1/3 cup tomato paste
1/3 cup gochujang (korean hot pepper paste)
2 Tbsps soy sauce
1 Tbsp sugar
2-3 green chilies, sliced
Sea salt and pepper, to taste
1 Tbsp toasted sesame seeds, for garnish
Sesame oil, for drizzling
500 grams spaghetti
Directions
Cook spaghetti according to package directions, drain, then set aside. Heat oil in large skillet and sauté mushrooms until browned. Add diced half of carrots, white onion, leeks, and white parts of green onions, then sauté until soft and translucent. Add garlic and sauté for a couple more minutes or until fragrant.
Add 1/4 cup of chicken stock and stir.
Add ground meats and pour in 1/2 cup more of stock while stirring. Season with salt and pepper and cook for about 8 minutes or until meats are cooked through.
Stir in milk and cook until half of liquid has evaporated. Add tomato paste, gochujang, soy sauce, sugar, and remaining chicken stock, and continue to cook until sauce has started to thicken (about 5-7 minutes). Adjust seasoning to taste.
Turn off heat, add in chilies, remaining carrots, and cooked pasta. Toss gently until sauce clings to pasta. Garnish with toasted sesame seeds and remaining green onions, and drizzle with sesame oil.
DID YOU KNOW?
That Korean pop superstar PSY's "Gangnam Style" video now holds the Guinness World Record for most "likes" in YouTube history? In just a little over two months since being made available for view on 15 July 2012, the video has already garnered 2,141,758 likes. It's closest competitors are LMFAO's "Party Rock Anthem" (1,574,963 likes), Justin's Bieber's "Baby" (1,327,147 likes), and Adele's "Rolling in the Deep" (1,245,641 likes).