Sonya's Garden is located at Barangay Buck Estate, Alfonso, Cavite. Mobile: 0917-532-9097 / 0917-533-5140 / 0917-523-1080. Website: www.sonyasgarden.com.
As beautiful as Sonya's Garden is, I have mixed emotions about this place.
Having spent our wedding night here in December of 2005, it naturally holds a special place in our hearts. Renting almost every room for our families that evening, we stayed here for the weekend after our wedding reception dinner at nearby Antonio's. Amiably strolling the grounds as new husband and wife the next morning, we perused and admired each room, promptly falling in love with everything that we saw.
Teeming with verdant, English-inspired gardens that fill every inch of their hilly estate, a walk through the grounds reveals charming, standalone cottages secretly lying in wait, partially obscured by foliage but open to discovery like fairy land pixie houses. Equal parts rustic and eclectic, each cottage is unique and inviting, filled with books, antiques, artwork, trinkets, and curiosities that mirror the lushness and fertility of the gardens outside. A feast for the senses, sparse would be the last word you'd use to label this place.
So mesmerizing is Sonya's Garden that gorgeous couldn't even begin to describe it. Enchanting, like something born from the pages of a Jane Austen novel, would be more appropriate.
But the food sucks.
BIG TIME.
The fact that the food is so uninspired is a crying, near unforgivable shame considering just how beautiful this place is.
Even before that first experience in 2005, we already knew that they didn't have a menu, serving the same three-course meal to every diner, each and every time. Lo and behold, it's 2012, and they're still as lackadaisical about their food as ever, practically serving the exact same subpar fare that they did seven years ago. As much as it pains me to say this about a place that's so captivating on many levels, the food was even more disappointing tonight than it was back then, which is something that I just can't wrap my head around. I don't get it.
Anyway, more on that later.
The main dining area for day trippers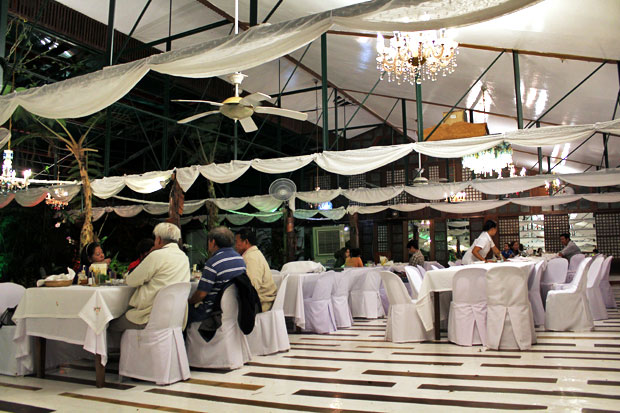 We were here tonight to celebrate the birthdays of Ren's cousins Lia and Vip. Happy birthday guys!

The first course was salad. With the freshest greens picked straight from their greenhouse, this was, without a doubt, the best part of the meal.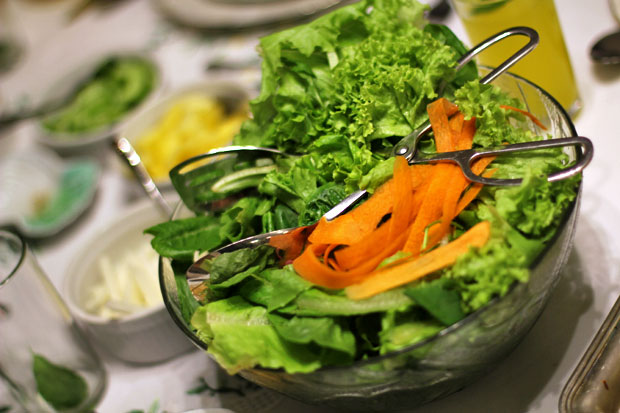 Fresh fruits, vegetables, nuts, egg whites, cheese, et al to top your salad with.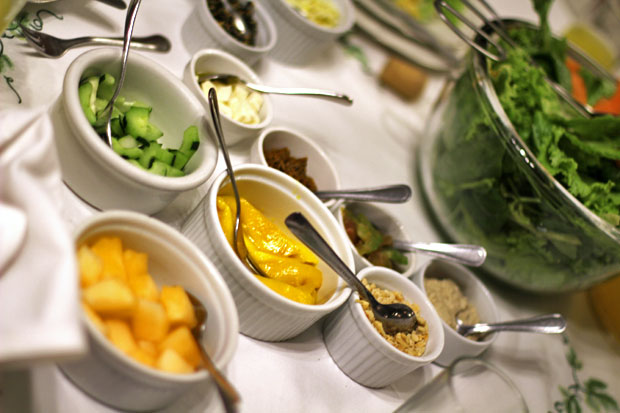 Well aware of what was to come (or not to come), I had three plates of this, topped with Sonya's delicious secret dressing.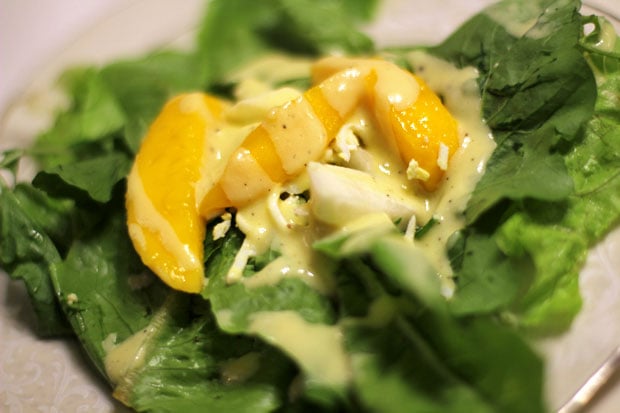 The second course was pasta, consisting of linguini with DIY toppings of ratatouille, black olives, capers, shiitake mushrooms, and a duo of pseudo sauces. I say "pseudo" because they didn't feel like true pasta sauces, tasting more like sauce/dressing hybrids. Not a fan.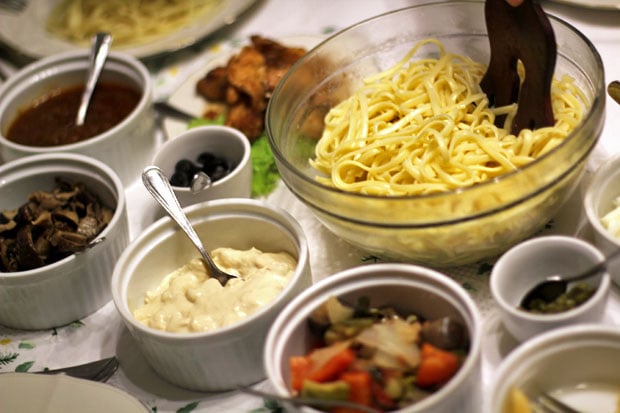 The one addition that definitely wasn't being served in 2005 – salmon belly. It was a nice effort, but way too oily. You'd think that salmon belly would be the first to go from this spread, but hardly anyone had more than one serving.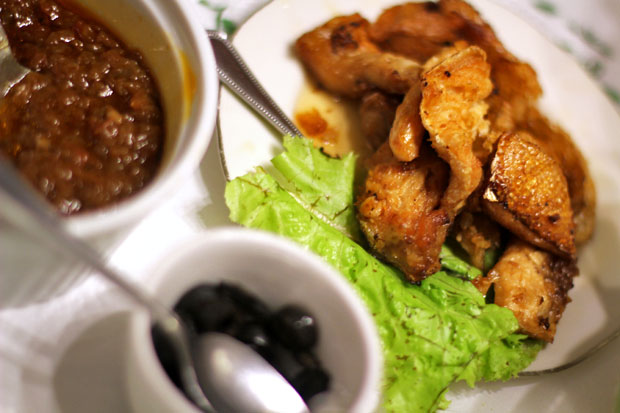 After the pasta, they serve you a cup of tarragon tea. Relaxing and soothing, it's apparently good for you as well, used frequently in spas as a detoxifying agent to help you sleep and relieve indigestion.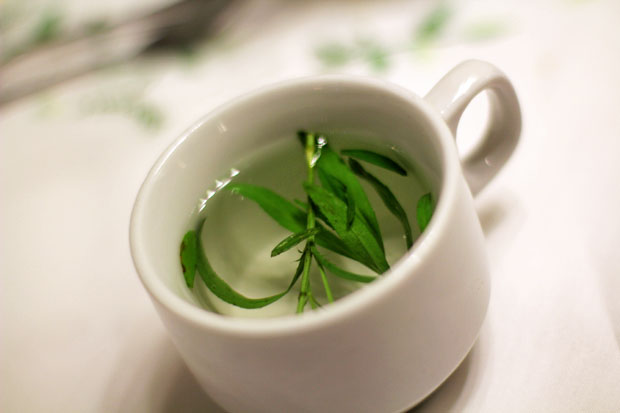 For dessert, they give you a trio of turon, kamote que, and chocolate cake. All were good.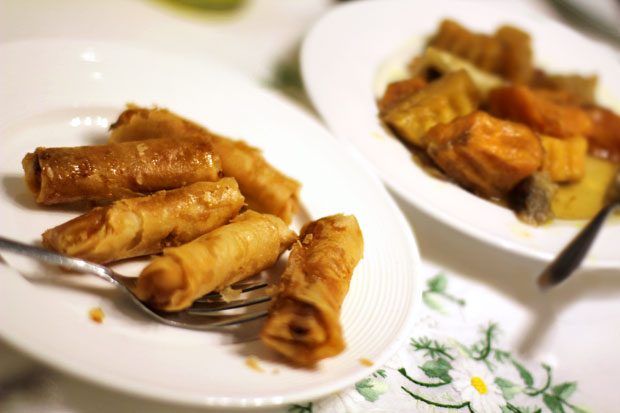 Here's the thin, Jenny Craig portion of chocolate cake. It was nice and moist, but miniscule. In fact, if you viewed the slice from the side, it became almost invisible. Just kidding. The mint leaves didn't come with it either. I just added them for color.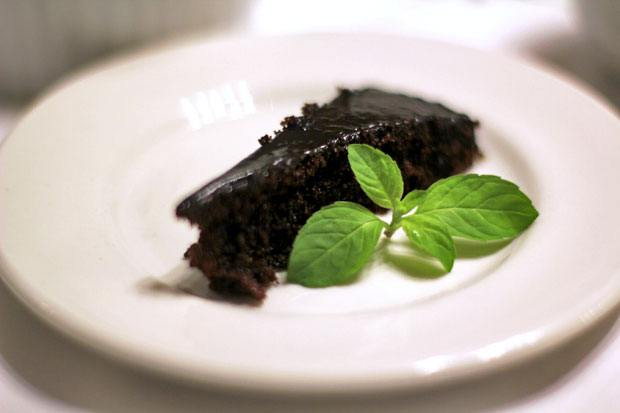 A small taste of the breathtakingly lush gardens and greenery you'll be treated to, here at Sonya's Garden. If you listen closely enough, you can almost hear the fluttering of pixie wings.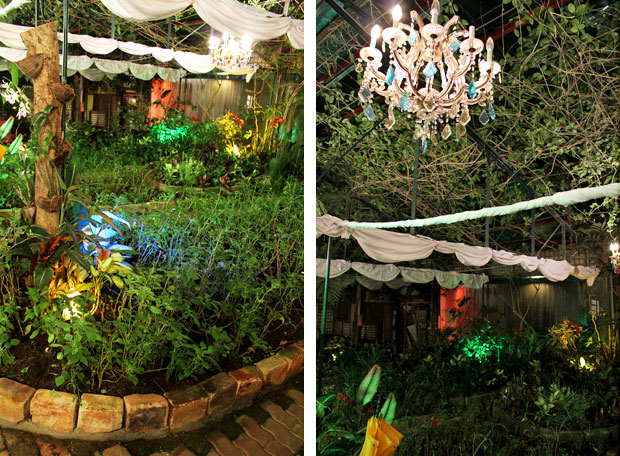 Resuming my mini-rant, I just don't understand how a place that puts so much love into everything else be so apathetic towards their food. I mean, I get the lack of variety. Running a restaurant is difficult, so offering the same food definitely simplifies things. But if you're going to serve me the same meal each and every time, can't you at least make it tasty? It doesn't have to be Antonio's quality, just good.
Take Ugu Bigyan and his Secret Pottery Garden for example. He doesn't offer a menu, but he at least varies his food, giving you a mouth-watering selection based on what's available at the market that day. He prepares just simple, rustic food, but he makes it exceptionally well, even cooking most if not all of the dishes himself! He really puts in the effort and it shows.
Sonya's Garden, on the other hand, has a full kitchen staff from what I can see, so I really don't get the lack of effort. Is it just laziness? Complacency maybe? Seriously, how hard is it to come up with a really good pasta sauce? I'd imagine that if you can't do it yourself, then you can at least hire a chef to come up with a killer recipe for you. I understand the whole healthy eating thing, but just because something is meant to be healthy doesn't mean that it should be uninspired. I mean, look at Corner Tree Cafe. It's a vegetarian restaurant, but they serve absolutely phenomenal fare, even changing their menu every few months. How hard is it to come up with one rock solid dish?
Apart from the dull food, the meal feels terribly incomplete as well. Pasta isn't really a main course, so I found myself eagerly awaiting the entree only to be disappointed by the premature arrival of dessert. Feeling like we had just been robbed of the most important course, I remember thinking to myself, "That's it?!" Seriously?
Anyway, I apologize for being overcritical and harsh, but it's only because I think that Sonya's Garden is truly just a decent meal away from being the perfect weekend getaway. Everyone I know who's eaten here feels the same way. I love the gardens, I adore their cottages, but the food is a massive turn-off, so much so that I will never shell out the money to eat here again, especially with so many choices now available in booming Tagaytay. At PHP 610, it just isn't worth the money nor the effort. And it has nothing to do with the distance either. Despite the two-hour drive, I've taken many a day trip to Antonio's, but I will never do that for this place.
With that said, the true magic of Sonya's Garden really is in its alluring cottages and lush landscape. According to their website, it costs PHP 3,000 per person to stay here on weekdays, PHP 3,400 on weekends. Not exactly cheap, but considering just how beautiful this place is, I think it's worth every centavo.
Too bad I can't say the same about their food.