Wouldn't it just suck to plan an entire trip around seeing the Underground River, only to be denied access to it through no fault of your own?
Well, that almost happened to us when we went to Puerto Princesa a couple of weeks ago. We secured Deal Grocer vouchers for a stay at the 5-star Sheridan Beach Resort & Spa, inclusive of daily buffet breakfast and tours of the Underground River and Mangrove Forest. Being responsible, well-planned travelers, we made our booking early, way back in early December, to avoid any potential issues.
However, just a few days before we were set to leave, Ren's brother Randy came across a bad review of the Sheridan from a disgruntled tourist on TripAdvisor. Apparently, this tourist booked his trip well in advance, only to find out upon his arrival that an entry permit to the Undergorund River was required. Because of the spike in tourism in the area, it was already too late by that time to secure one, so he was turned away, never getting to visit what he came so far to see.
Only a few days away from our own trip, we were rightfully concerned, so Ren called the reservations manager to check if he had indeed secured entry permits for us. And sure enough, he hadn't.
Despite booking our trip months in advance, he never told us that we needed them. It didn't even seem as if he made any attempt to secure them until Ren called, which was odd and utterly irresponsible on his part since our package already included passes. He even took all our names down for the Underground River when Ren first made the booking!
As a result, we were in danger of not being granted access to the Underground River, with almost half of our party flying in all the way from the US! Can you believe that?! And all we got from him was a "sorry, but it's really hard to get a permit" kinda response. Yeah, I'm sure it's hard, when you try to get it just a few days before! Why didn't you do it when we first made our booking three months ago?! WTF?
Fortunately for us, our trip didn't turn out to be the fiasco that it looked certain of becoming. Ren's cousin Brooke is a personal friend of Mayor Hagedorn and his family, so they were able to secure permits for us at the very last minute, courtesy of the Mayor's office. Thank God! And the Hagedorns! And Brooke!
We were lucky, though apparently, many are not. On the morning of our tour, while waiting near the Tourist Assistance Office, we were informed by our guide that the Sheridan just sent six tourists that morning to the pier to apply for entry permits, knowing full well that they would not be granted them at this late a stage. The Underground River is so popular that the office receives approximately 1,200 entry permit requests daily, with only 900 being given.
We were told that this is a common practice of The Sheridan, about which many tourists have already complained. Why on earth would they keep sending paying guests to secure permits when they know that it would be impossible to get them at that point? More significantly, why can't they just tell you about the entry permit requirement the moment you make your booking? Surely they understand that the majority of tourists who flock here do so for the specific purpose of seeing the Underground River? It makes no sense whatsoever, especially for a luxury hotel of The Sheridan's stature.
In any case, let this be a lesson learned. To avoid a similar scenario, please remember that entry permits are absolutely required to visit the Underground River. I can't reiterate this enough. If you're planning on going to Puerto Princesa, it would be best to secure entry permits beforehand, either through your hotel or travel agent, to guarantee your spot. You definitely don't want to come this far only to miss out on this amazing experience.
CLICK HERE for more information on how to secure entry permits.
The above debacle aside, Sheridan Beach Resort & Spa is, without a doubt, the most luxurious hotel you'll find here at Sabang Beach, Puerto Princesa. A Sterling Group hotel, the grounds are well-kept, the rooms beautiful, the facilities first-rate.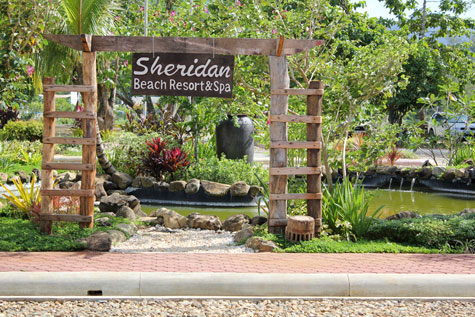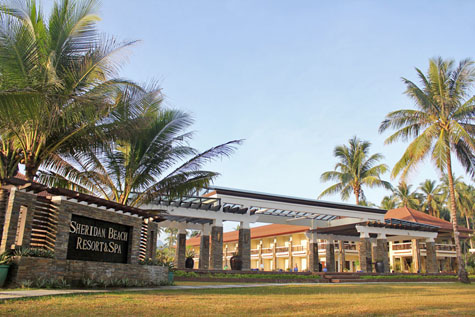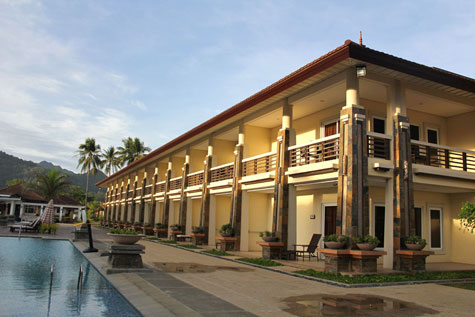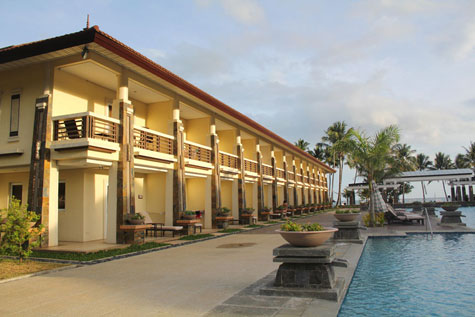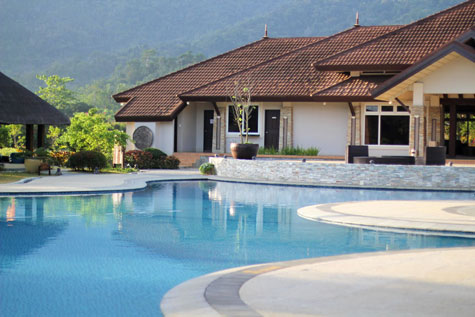 This pool was awesome. It was long, only 4 feet deep everywhere, and it had several jacuzzis of different sizes off to one side.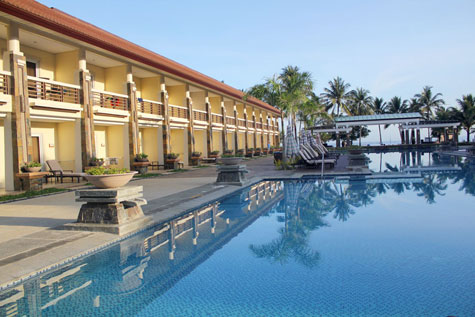 Here we are marinating in one of the jacuzzis.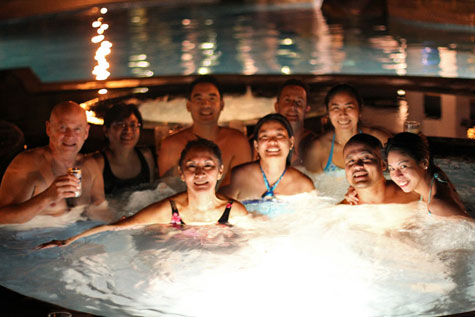 The best part about the pool? This bar where you could chug on ice-cold cans of San Mig Light while half-submerged in tepid water.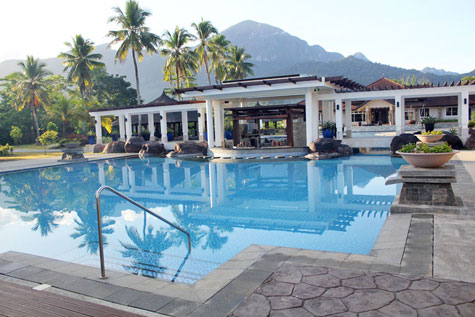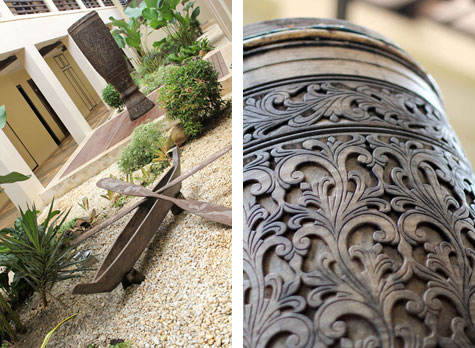 Our beautiful room with direct access to the pool. The rooms really were luxurious with 24-hour air-conditioning, though the power would go off for brief spells from time to time. Those beds with down feather pillows and duvet were ridiculously comfortable, albeit a little creaky.
You can't see it in this picture, but every room was equipped with a 32″ Samsung LCD flat-screen cable tv.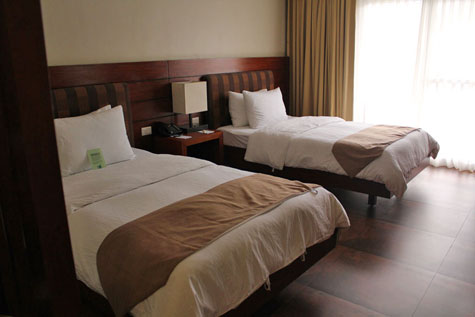 A bathroom fit for a king. You can't see it, but the shower was enormous.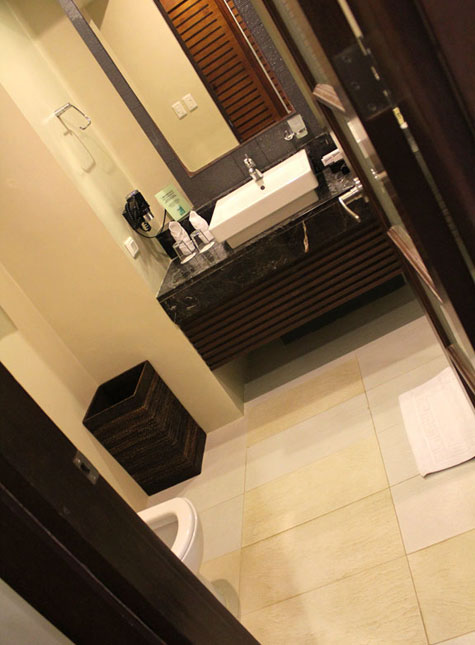 As beautiful and luxurious as this hotel was, I have to say that it's imposing, concrete structure stood out like a sore thumb next to its unassuming, more provincial-looking neighbors. I guess it all boils down to personal preference. If you like these large, cookie-cutter luxury hotels, then The Sheridan is the place for you. Comfort- and facilities-wise, there's little to complain about.
However, if you prefer resorts that are more rustic and island-y in their appeal, then nearby Daluyon Resort may be a better choice. With its standalone cabanas with thatched roofs, Daluyon definitely looks the part of a more laid-back island getaway. It's also a green, zero carbon resort that supports the Clean & Green Earth Campaign. Being the tree-hugging hippie that I am, any resort that takes care of the environment gets extra points from me. 😉
Beachfront
The beach is expansive with powdery sand and nary a pebble in sight. It would have been perfect had it not been for the strong waves and dangerous undercurrent. Evidently, people have died here from being pulled and drowned by the undertow, so please remember this should you decide to go swimming. There are signs everywhere warning of the potential danger.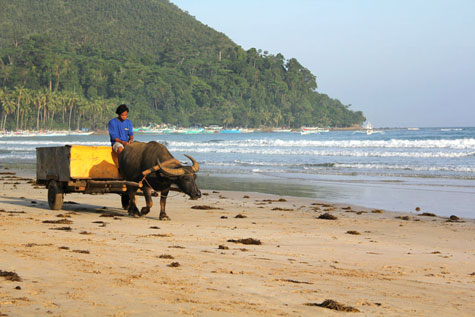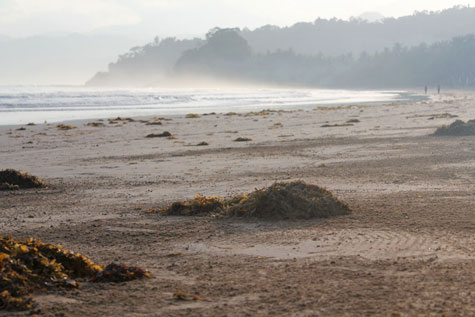 Self-portrait with tripod and clump of earth.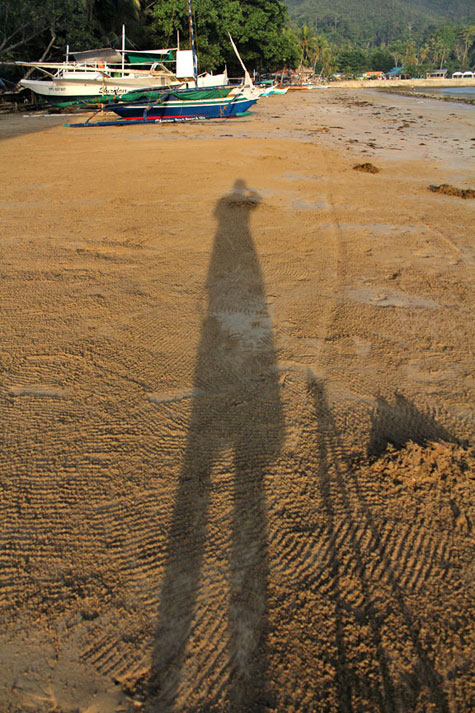 Ever since reading in Scott Kelby's The Digital Photography Book that professional landscape photographers only take pictures at sunrise and sunset, I've been dying to try it myself, which is why I paid extra just to bring my tripod on this trip.
Here are a couple of sunset photos taken at around 6 pm.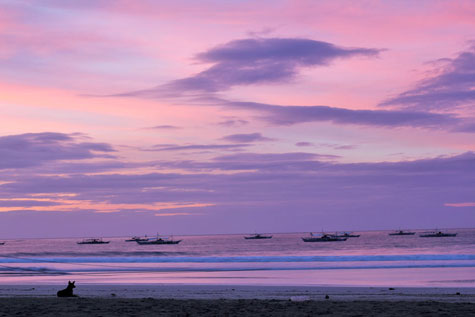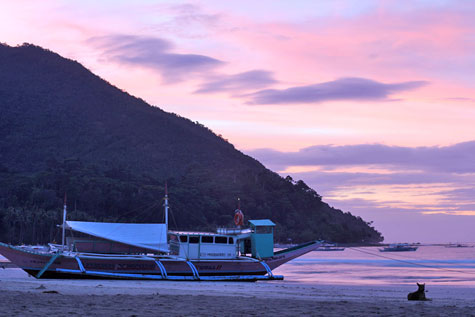 First light, taken sometime between 5:30 and 6 am with a tripod and 10-15 second shutter.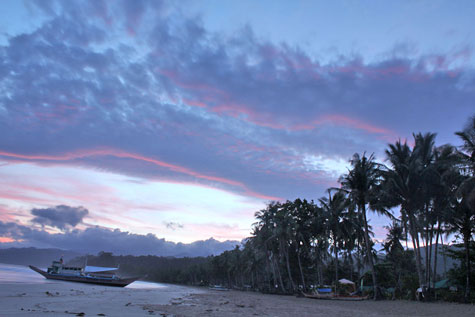 After seeing just how much better these sunrise and sunset photos looked, I think I'll be lugging my tripod with me on every trip from now on.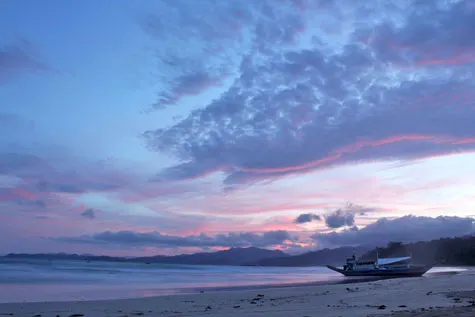 As you can see from the pictures above, The Sheridan Beach Resort & Spa truly is a world-class hotel. From the luxurious rooms, to the first-rate facilities, to the attentive and warm staff, everything about this resort spells bliss.
Though the Underground River is undeniably the highlight attraction here, there are other fun and interesting activities that you can arrange through the resort, such as the mangrove paddle boat tour, Sabang zipline, organic farm tour, Honday Bay island hopping tour, and ATV jungle trek. We stayed for four nights and almost five full days, which in my opinion, was just about perfect for this place. As you can see from this post, that gave us ample time to do and see a lot without feeling rushed or bored.
Despite everything working out in the end, it was just too bad that our stay here was somewhat tainted by the lackadasical handling of our entry permits. They did redeem themselves by fully refunding the cost of our Underground River tour, but it was nonetheless an issue that could easily have been averted with more professionalism and care. I sincerely hope that they address this issue in the future, as this can't possibly be good for business, especially in today's viral information age.
Fiasco aside, I would still highly recommend The Sheridan Beach Resort & Spa as a terrific place to stay here in Sabang Beach. It's pricey, but you do get what you pay for. You can check the Sheridan Beach Resort website for more information on their rates and offerings. You can make a reservation on Booking.com or Agoda. Be sure to check both sites to find the best deal.
MAKE A RESERVATION: Booking.com | Agoda
More on Palawan
Underground River, Puerto Princesa, Palawan
Palawan Mangrove Forest
Tamilok, the World's Longest Oyster
The Edge of the World
Kayangan Lake, Coron, Palawan
Ay kay Layo ng Lamayo!
Disclosure
Some of the links in this post are affiliate links, meaning we'll get a small commission if you make a purchase or reservation at NO extra cost to you. We really appreciate your support as this helps us keep this website going. Thank you!