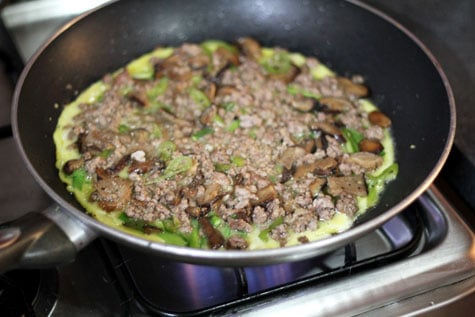 Welcome to Mercedes Benz Pajeon Week, hosted by the lovely Reneelicious!
One day you're in, the next day you're out, CLICK HERE if you don't know what I'm talking about. 😉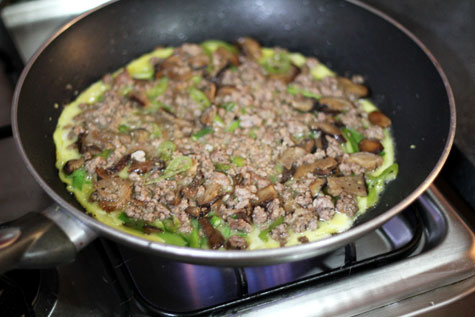 Pancake
Ingredients
4 large dried shiitake mushrooms, reconstituted and chopped
1/8 kilo ground beef
1/2 cup flour
2/3 cup water
1 tsp salt
1 tsp sugar
2 tsps yellow miso or soybean paste
1 large egg
3 cups chopped leeks
Green onions
Green chili pepper
Directions
In large bowl, mix together flour, water, salt, sugar and miso.
Add chopped vegetables into mixture then mix again. Set aside.
In small pan, stir-fry mushrooms and beef in little oil for a few minutes until beef is no longer red. Remove from heat.
Put some oil in large heated pan, then thinly spread vegetable pancake batter over it. Lower heat to medium. Evenly spread mushroom and beef mixture on top and press with spatula.
When pancake is about 70% cooked, beat one egg and spread it in center of pancake and cook for a few minutes over low heat.
Turn pancake over with spatula. Add more oil if needed, then serve hot with dipping sauce.
* Tip: To make it crispier, add more oil and use your spatula to lift the edge of your pancake so that the vegetable oil can reach the center. Press the pancake lightly with your spatula.
Sauce
Ingredients
2 Tbsps soy sauce
1 Tbsp vinegar
1 tsp sugar or honey
Chopped onion
Chopped green onion
Chopped green or red chili peppers
1 tsp toasted sesame seeds
Directions
Combine all ingredients in small bowl.
DID YOU KNOW?
That in China, during the Ming Dynasty (AD 1368–1644), shiitake mushrooms were used not only for food, but for medicinal purposes as well? They were commonly taken as a remedy for upper respiratory diseases, poor blood circulation, liver trouble, and fatigue, and were believed to boost qi (life energy) as well as prevent premature aging.