Plantation Bay Resort and Spa
Marigondon, Mactan Island, Cebu, Philippines
http://plantationbay.com
Aaaaahhh…beautiful Plantation Bay, the last leg of our whirlwind 3-day Cebu getaway.
Opened in 1996 and located only 30 minutes from Cebu City, Plantation Bay is set in 11.4 hectares of secluded grounds and offers one of the largest privately-owned waterways in the world. It's been voted one of the top 20 resorts in Asia by Condé Nast Traveler 3 years in a row.
Aside from the large and gorgeous lagoon-like saltwater pools, they also offer many other activities including scuba diving, aqua sports, fishing, rock climbing and Segway rentals. They even have archery and shooting ranges! How cool is that?!
Here's the reception area.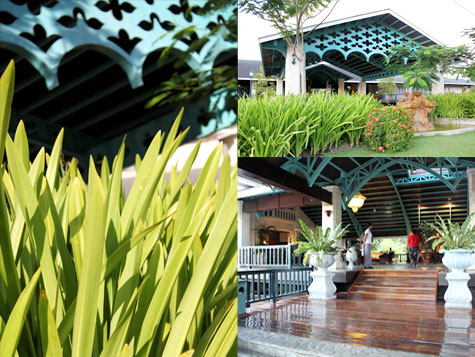 Ren looking radiant while posing at one of the resort's many gazebos.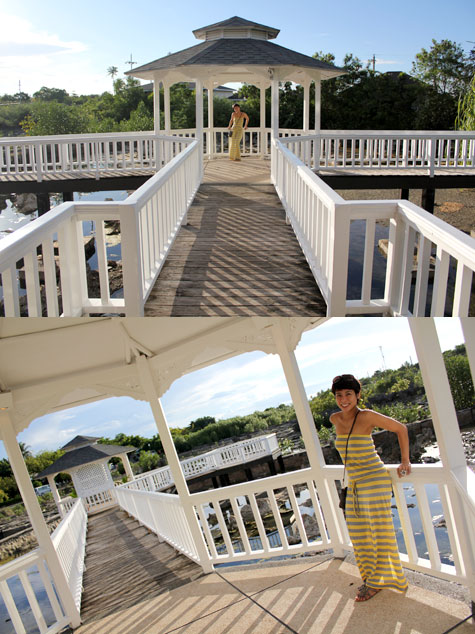 Beautiful colonial plantation-inspired architecture. This was where we stayed – Edo Hall.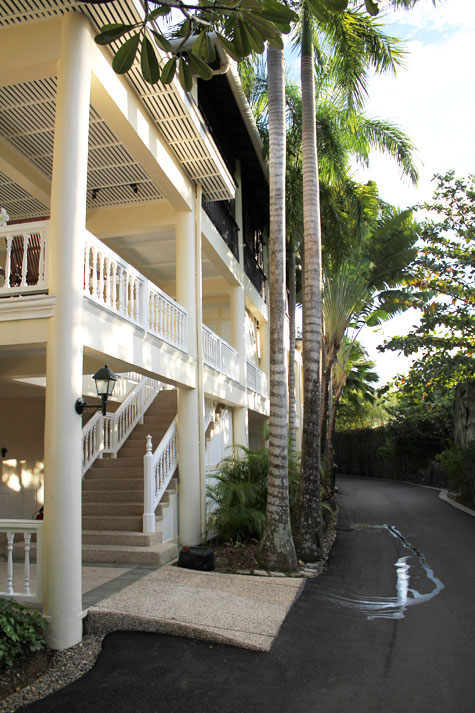 Ren and Brooke striking a pose.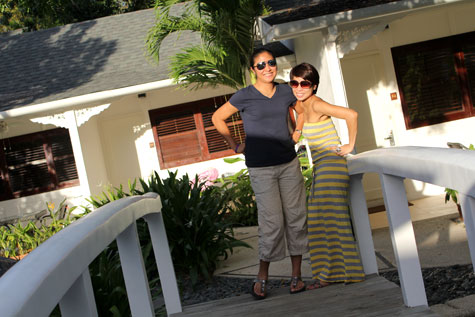 Aaaaaaaawwww…..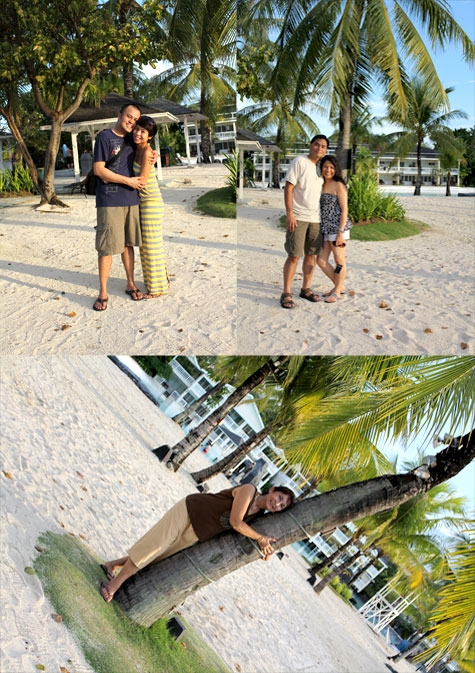 Finding Nemo…or is it Ariel the Little Mermaid?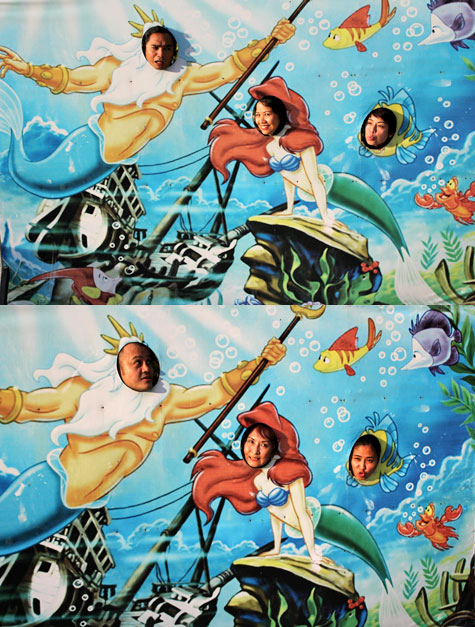 Dondi elated, having crossed the great divide.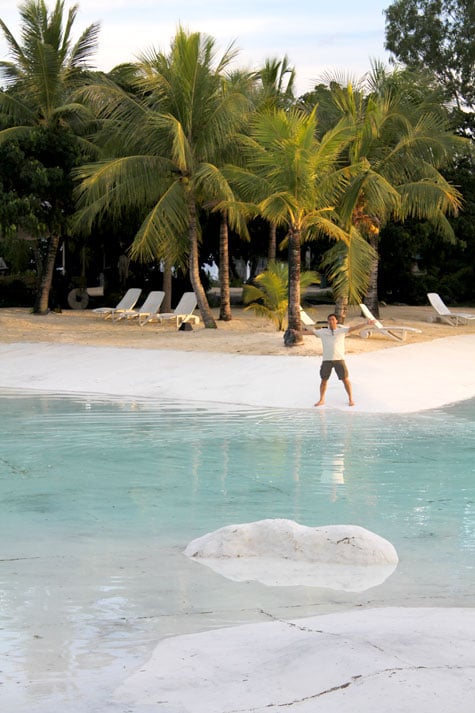 Our spacious and very comfortable room, complete with complimentary cookies and other goodies.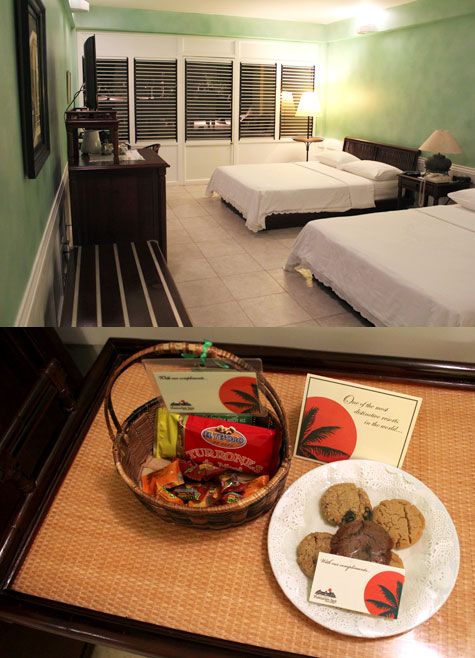 When you hang out with my wife's family, it won't be too long before you find yourself holding a karaoke mic in one hand and an ice-cold beer in the other. I don't sing so I often find myself holding two beers instead.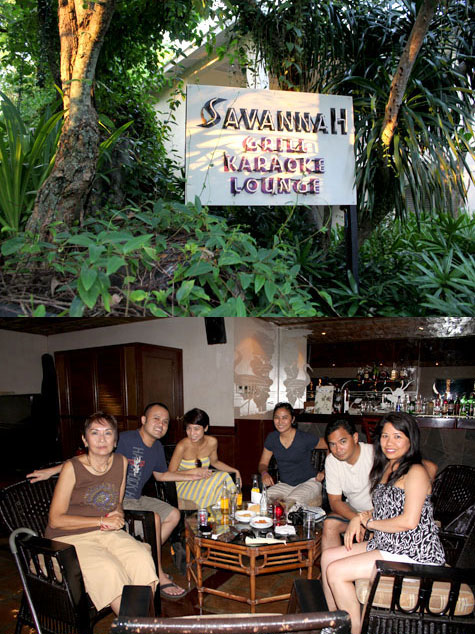 Agut-agutan.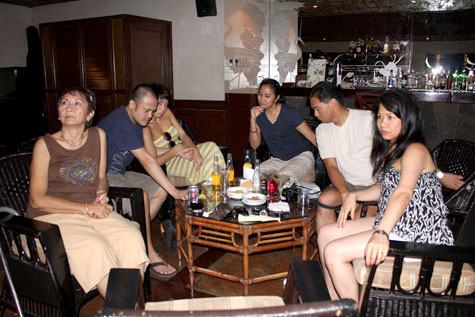 Brooke's good friends Jun and Girlie were on their way bearing Cebu lechon for dinner, so we enjoyed a small appetizer first of pita bread and Japanese gyoza at Fiji restaurant. Along with Savannah Grill above, Fiji is one of I believe three restaurants serving delicious fare at Plantation Bay.
As you'd expect from a resort of this caliber, the food was a little pricey but most everything we ordered was good and they did give you large portions.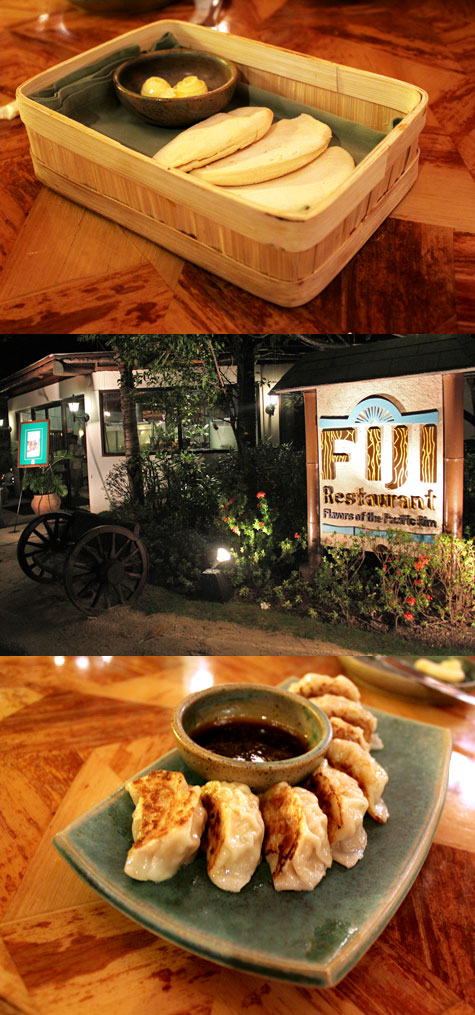 The next morning. What a beautiful sight to wake up to.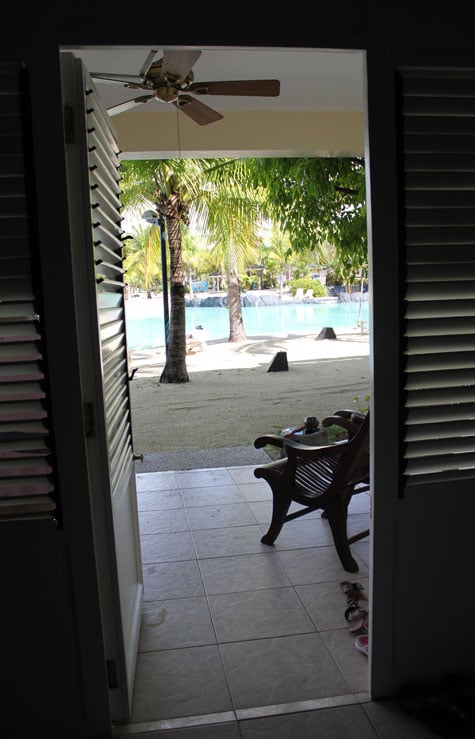 If I remember correctly, the resort had about 2 or 3 of these beautiful gigantic man-made saltwater pools with sand lining the shores. As you can see from the pictures, some of the rooms had a patio with steps leading directly into these pools. At the deepest parts, they were only around 5 feet deep, making it much safer for everyone.
I never thought anything man-made could be so beautiful. It had all the pleasures of the ocean without the little annoyances like rocks, jellyfish, boats, etc. Plus the saltwater didn't tatse as salty as regular seawater either.

Our patio complete with water basin to wash the sand off your feet. I love it when resorts provide you with little conveniences like this.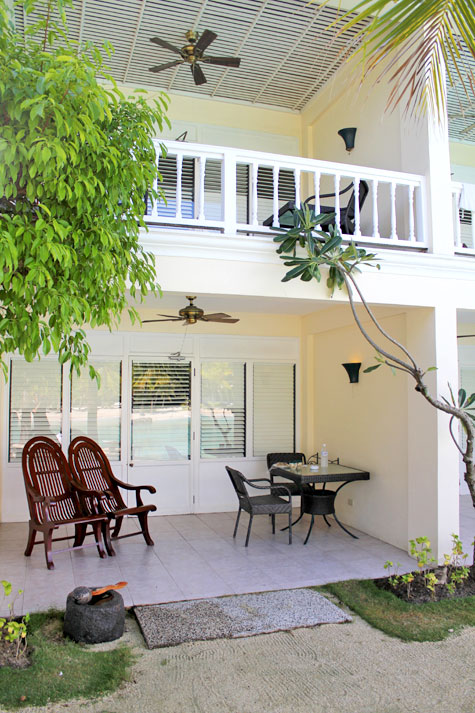 The lovely Renée taking her first dip. Check out them coconuts…in the background. 😀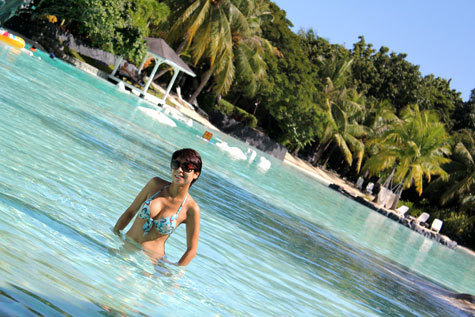 "Miiiiiike?…"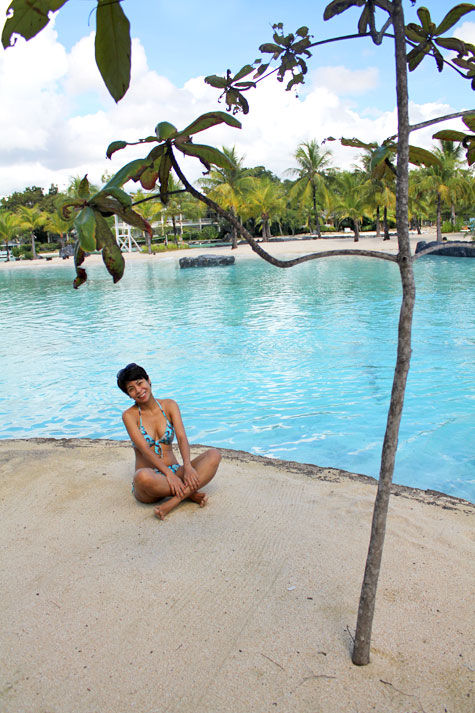 Being extremely careful not to get my camera wet, I go into the pool to take some photos. The plantation-style cottages look breathtakingly gorgeous bathed in the water's turquoise reflection. The water was so warm and comfortable too.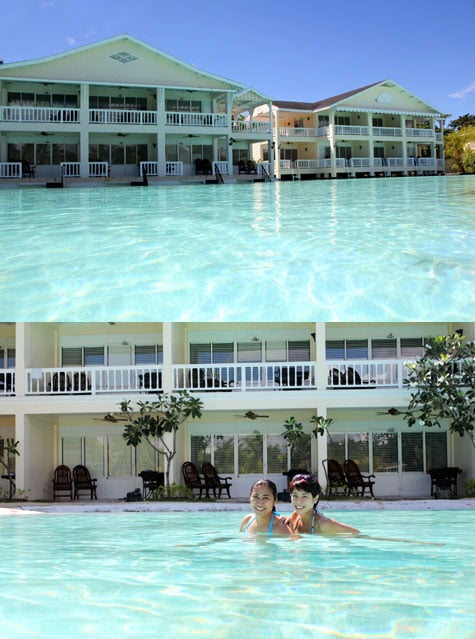 Ren spelunking in this floating cave. I guess it's for making out?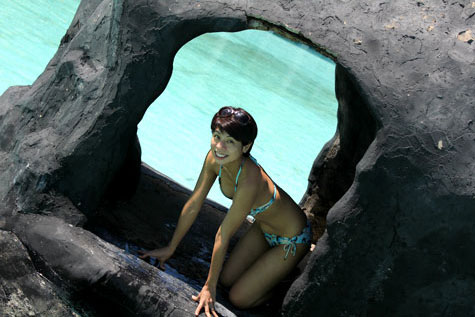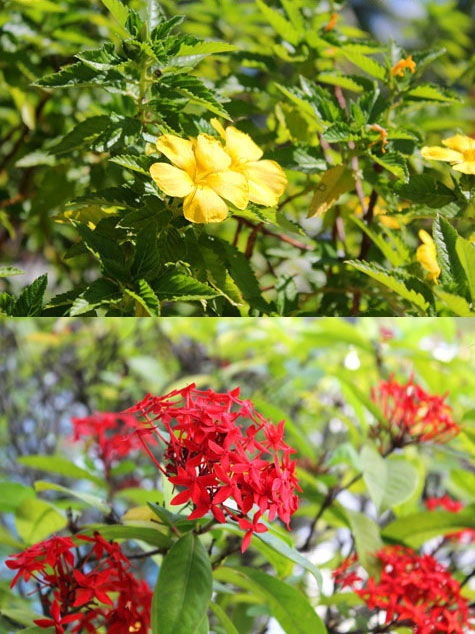 Doesn't it feel great to be alive?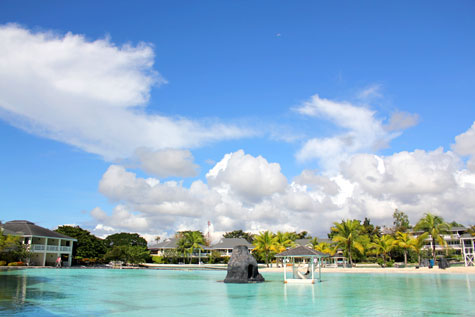 Lush greenery and flowers abounded.


Pier leading from the reception area to the heart of the resort.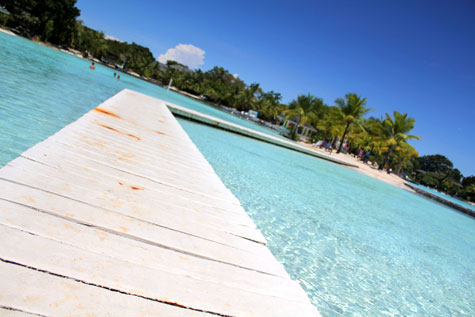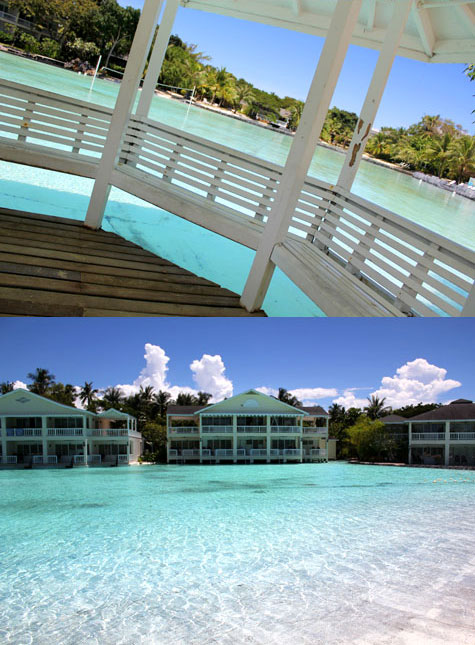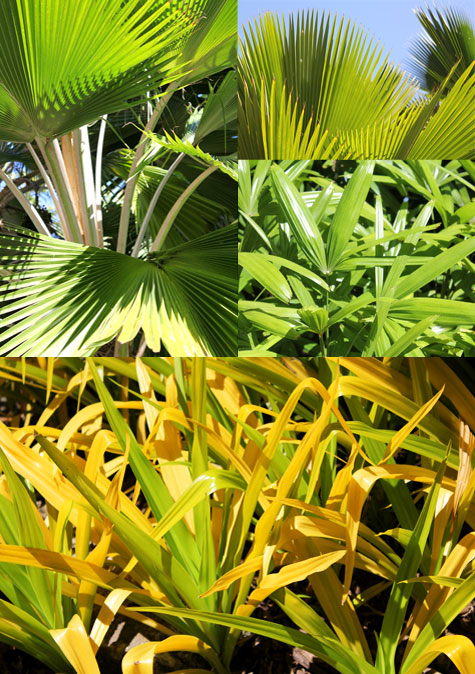 Hammock in the middle of paradise.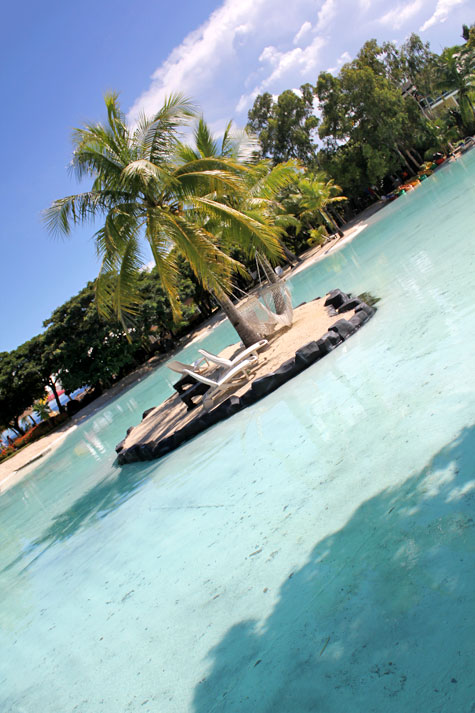 For anyone who preferred fresh water, they had this smaller pool surrounded by dark man-made rocks. It had all these little "make-out" caves with mini waterfalls and sprinklers, as well as several private jacuzzis as pictured below.
Laying down, the picture at the top left corner is your view. Beautiful huh? And the view ain't so bad either.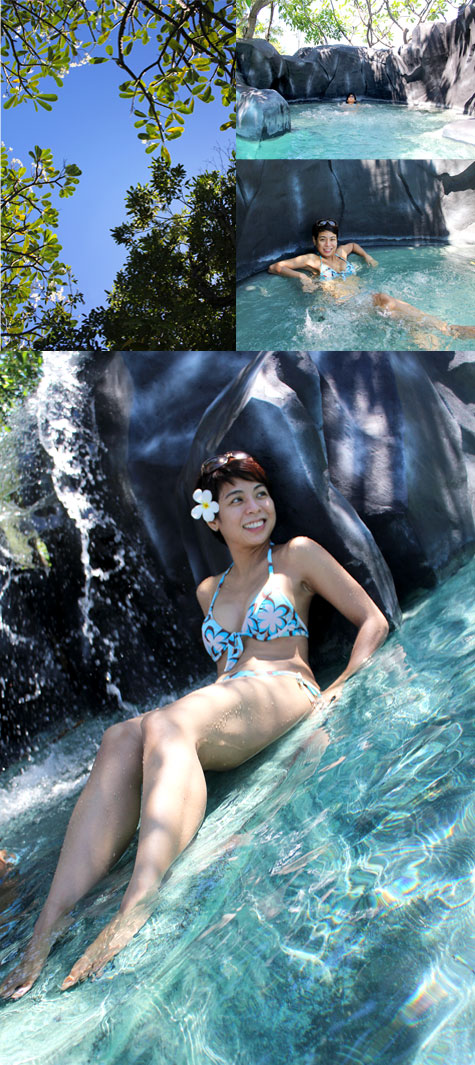 We enjoy a few chilled, fresh coconuts before lunch.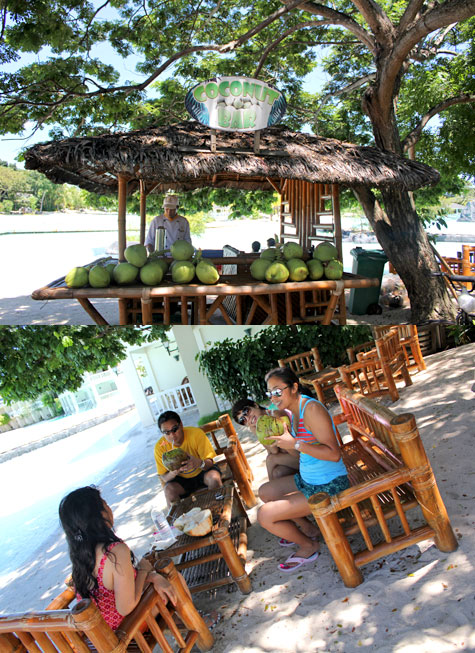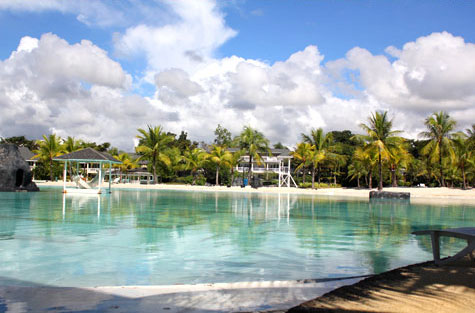 Kilimanjaro Cafe, the third restaurant here at Plantation Bay. I had the delicious Powerhouse Burger with mushrooms, bacon and fried egg pictured below.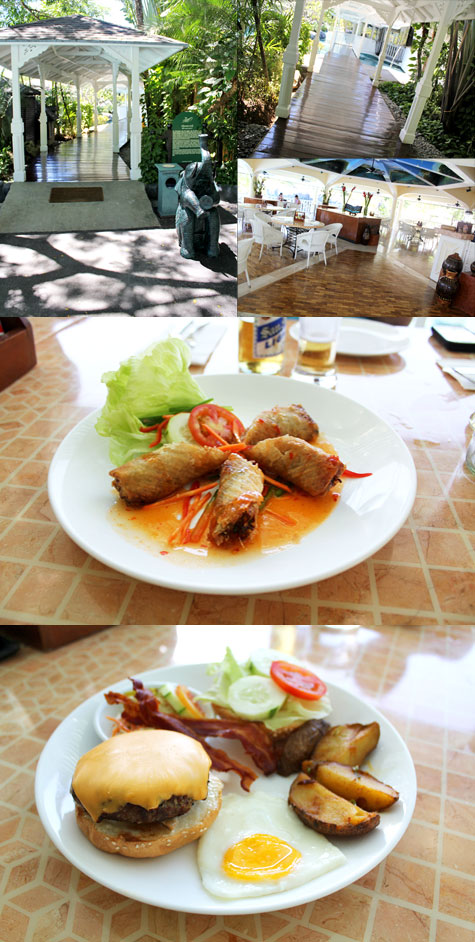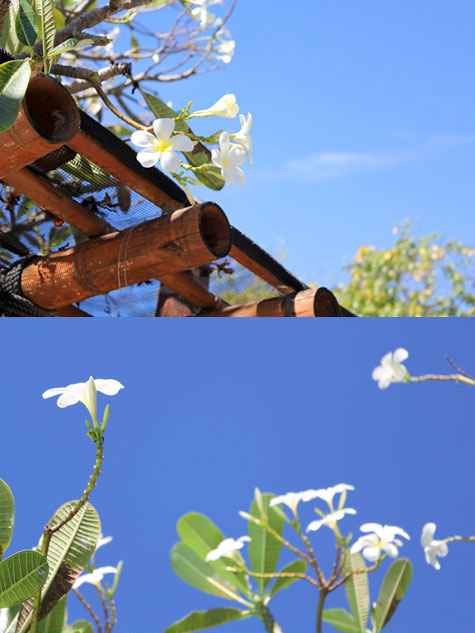 With the day coming to an end and the sun setting on our vacation, I take a few parting shots, grateful for the experience but a little sad that we have to say goodbye so soon.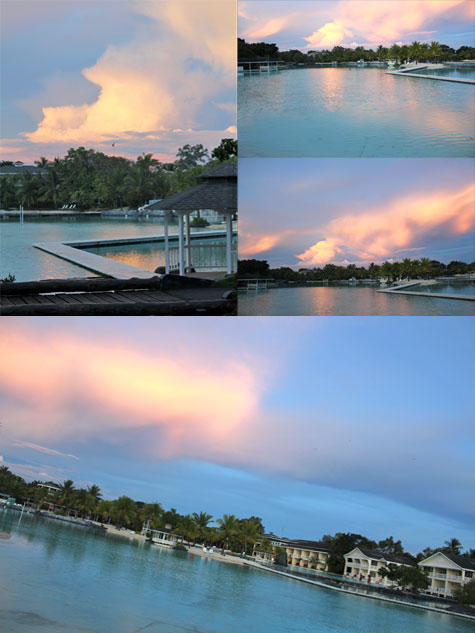 Even the flowers look sad.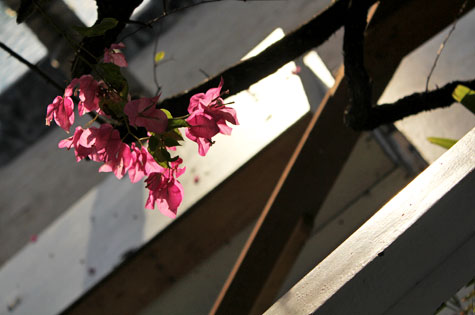 The reception area mascot poses for me right before we leave. "I may be cute, but I'm cranky!" Renée, izzachoo?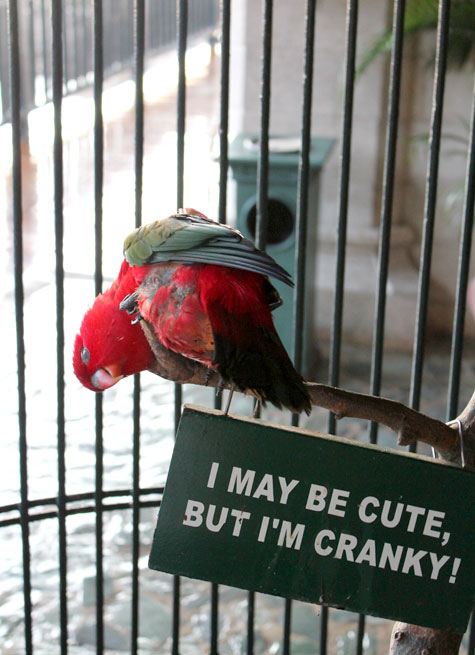 With all the activities that Plantation Bay offers, it's no surprise that Asia Spa Magazine calls them one of the top ten family-friendly resorts in Asia. From the shooting range to the game rooms to the kiddie pool slides, there really is something for everyone here. Plus it's just so darned beautiful.
As you can tell from our pictures, we all had an absolute blast during our short stay, so much so that we all wished we could have stayed longer, even for just another day. I personally would have loved to try my hand at archery. I've never ridden a Segway before either so that would have been loads of fun too. I guess in the end this just gives us more reason to come back.
Thanks for the unforgettable 2 days Plantation Bay! 'Till next time. 🙂
For more information, you can visit their website at plantationbay.com.
More on Cebu
Where to Stay in Cebu: Club Serena Resort, White Beach, Moalboal, Cebu, Philippines
Swimming with Whale Sharks in Oslob, Cebu, Philippines
On Taking the Road More Traveled to Kawasan Falls, Badian, Cebu, Philippines
Zubuchon, at Last we Meet
Kenneth Cobonpue Showroom, Cebu City, Philippines
Ayer Lechon, Cebu City, Philippines