I'm so proud of my Ren.
A few months ago, a hot and spicy dish like this osam bulgogi would have singed the taste buds right off her tongue. Her mouth would have lost all sensation, rendering the rest of her dinner tasteless and impossible to enjoy. Such was the scenario at Queens Indian restaurant many years ago, when a traitorously hot appetizer brought tears to her eyes and turned her off to spicy food forever.
Or so she thought.
Having read early this year that chili peppers speed up your metabolism, she's been methodically training herself to tolerate spicy food. First, it was a few baby steps of Sriracha. Then some cautious slivers of kimchee. Increasing her pain threshold slowly but surely, she's developed a taste for Korean food, cooking more and more spicy dishes with gochujang and fresh chilies, both green and RED!
Today, a mere nine months later, a dish that once would have set her mouth on fire has become about as painful to eat as a Reese's candy bar. In fact, she's become so enamored with all things spicy that she now practically douses everything that she eats in hot sauce.
With this newfound tolerance for flammable food, I think a repeat visit to Queen's is in order, don't you think? 😉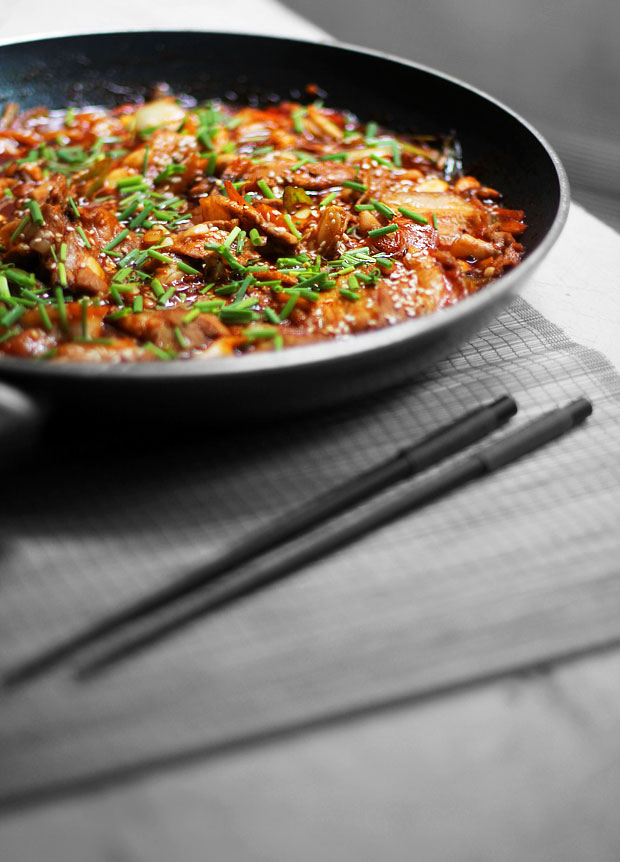 Awesome indeed, osam bulgogi is a spicy sauteed squid and pork dish. We first tried this at 6 Days along Escriva Drive in Pasig, one of our favorite Korean restaurants in the city.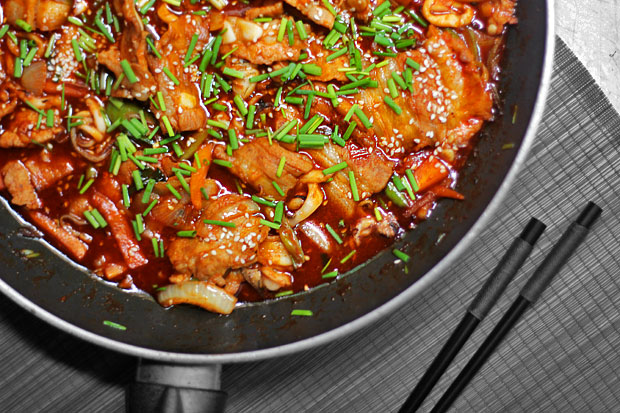 Ingredients (serves about four)
1/4 kilo squid, cleaned and sliced
1/4 kilo pork belly, sliced very thinly
2 Tbsps vegetable oil
4 Tbsps gochujang (red pepper paste)
6 cloves of garlic, minced, divided
1 bunch green onions, chopped, reserve extra for garnish
2 small stalks leeks, sliced
1 carrot, julienned
2 Tbsps sesame oil
2 Tbsps soy sauce
1 Tbsp sugar
Salt & pepper, to taste
2 green chilies, sliced
Toasted sesame seeds, for garnish
Directions
On medium heat, stir fry pork, squid, and half of minced garlic with vegetable oil for a few minutes or until meat has cooked thoroughly. Remove from pan and set aside.
Using same pan, add remaining oil and sauté rest of garlic, leeks, onions, green onions, and carrots with gochujang for a few minutes.
Add sesame oil, soy sauce, and sugar and adjust seasoning to taste with salt and pepper. (You can thin out sauce with a little water if too thick)
Put back squid and pork in sauce, then add green chilies and allow it to come to a boil. Remove from heat and garnish with toasted sesame seeds and chopped green onions. Serve with steamed white rice and kimchi.
DID YOU KNOW?
That the word bulgogi literally means "fire meat" in Korean? It refers to any marinated meat cooked using traditional grilling techniques.