To be honest with you, I wasn't too excited about this.
Invited by a friend to a banquet in Malolos, Bulacan, we were told that they'd be roasting an entire calf that afternoon. I had never tried roasted calf on a spit before, so I really didn't know what to expect. For some stupid reason though, I had it in my mind that it wouldn't be much different from roasted pig, which I'm not a big fan of, so I wasn't exactly salivating over the prospect.
At least, not before we got there.
Coming within whiffing distance of the roast, my dyslexic, can't-tell-my-left-from-my-right, beef-from-my-pork dumb ass was reminded that the crackling, golden brown carcass before me wasn't Babe, but Bessie. Realizing that whole cows aren't roasted for just any old feast, I grasped for the first time the grandness of the celebration before me. A banquet table spilling over with food, cases of San Mig Light stacked from here to heaven, and a karaoke machine loaded with enough bikini babe videos to last us till the wee hours of the morning. Like the Israelites and their Golden Calf, images of orgiastic ecstasy and indulgence started racing through my brain.
Making a beeline for the buffet table and getting my first-ever taste of smokey, charred, juicy roasted calf, all I could think was:
"Holy Cow."
Arriving late to the party, I didn't get to see the calf in its full, freshly roasted glory, with more than half of it already carved off and consumed. Not quite full grown, "Kaka" the proprietor told me that a calf this size goes for PHP 27,000, and can feed up to 200 people. If you're based in Manila, expect to pay an additional PHP 3,000+ to have them come to you.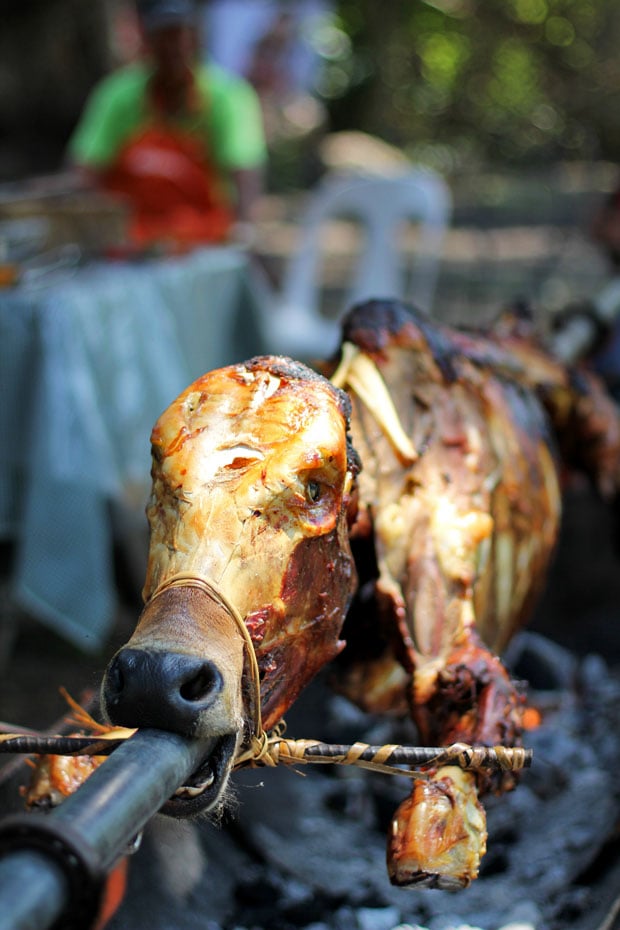 My, what big teeth you have.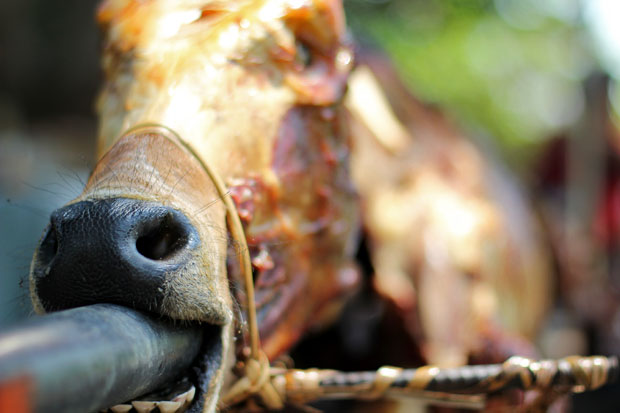 Embodying snout…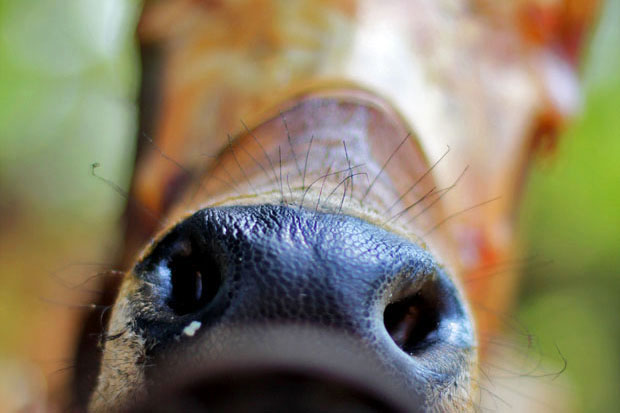 …to hoof dining. Well, almost. I don't think anyone actually ate the snout. Nor the hooves.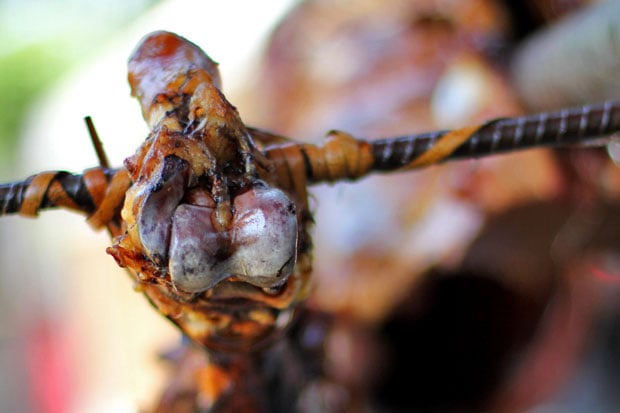 Round and round I gooo…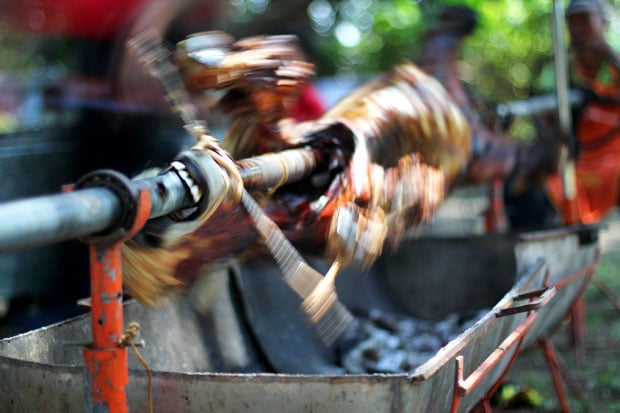 …this is the game that we came here fooor. Seriously, how good does that look?!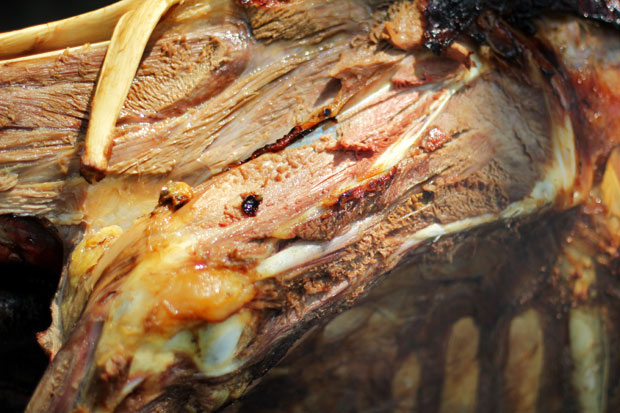 Tender, smokey, charred, and very, VERY juicy. Dee-licious!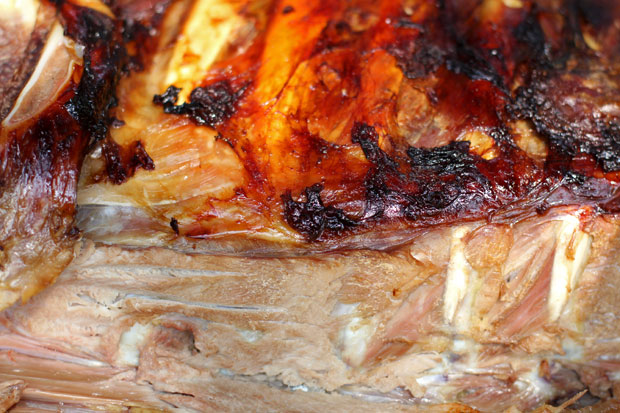 Bits of Bessie on a plate with a bowl of gravy. Our friend Eira, whose father hosted the party, told us that they've ordered roast calf from other proprietors in the past, but Kaka's is by far the best. Unlike lesser competitors, they have a way of preparing and roasting the meat so it comes out tender and incredibly juicy. As mentioned up top, I'm not a fan of roast pig, but I ADORED this. It is so, so good.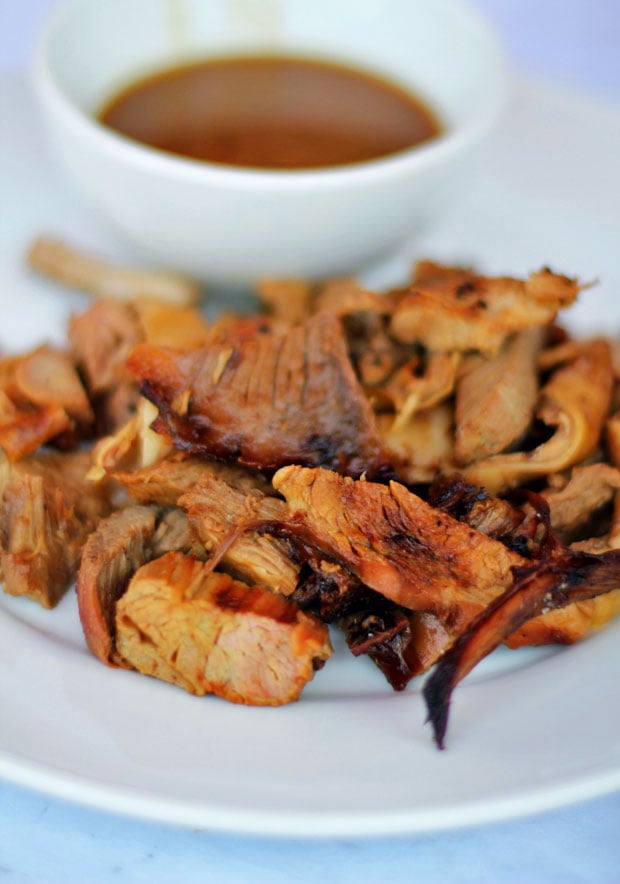 Thanks again Ei and to the rest of the Caluag family, for inviting us to this phenomenal feast and giving me my first-ever taste of roasted calf. Delicious beyond description, it was, quite nearly, a religious experience. 😉
"Kaka", Naglilitson ng Baka, Baboy, Pabo, at Kambing
280 Balite, Sta. Isabel, Malolos, Bulacan
Contact Person: Louie S. Laquindanum
Mobile: 0916-478-6945 | 0917-396-3752 | 0920-885-1174 | 0933-364-2332