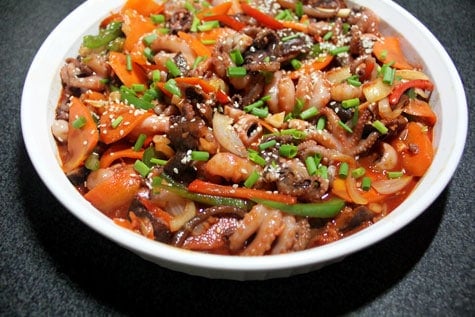 Nakji Bokkeum (Korean Spicy Stir-Fried Octopus)
Cephalopods. That's exactly what I told Ren when she asked me the other day if I needed anything from S&R. "Please don't forget my cephalopods" I asked her.
I had been obsessing over these beautiful baby octopuses since I spotted them on our last trip to S&R months ago. Ren didn't know exactly what to do with them back then so passed them up, and she's been hearing it from me ever since. Whenever something remotely resembling an octopus pops up on TV, I let out a dramatic sigh only to receive annoyed dagger looks in return. This non-verbal form of communication went on for several months.
All that passive aggressive persistence has now finally paid off. Behold my beautiful cephalopods! She bought one kilo, the first half of which went into making this fiery and delicious Korean dish of Nakji Bokkeum or Korean Spicy Stir-Fried Octopus – one of my all-time favorites. If you're like me and enjoy lots of heat in your food, then you'll love this one. 😈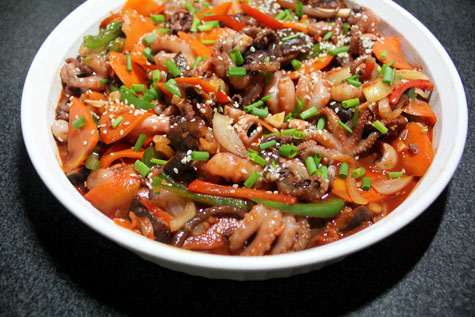 Ingredients
1/2 kilo octopus
1/2 white or yellow onion
2 fresh chilis or jalapeño peppers
1 small carrot
1 small red or green bell pepper
4 to 6 shiitake or one cluster (1/2 cup) coral mushroom
1 Tbsp sesame cooking oil
Stir-fry sauce
2 1/2 Tbsps gochujang (Korean chili paste)
2 Tbsps fine ground chili powder
1 Tbsp soy sauce
1 Tbsp sesame oil
5 cloves fresh garlic
1 Tbsp sesame seeds (for garnish)
2 green onions (for garnish)
Directions
Wash octopus well in cold water. Cut away tentacles from head, then cut into 2 1/2 inch sections. Open head and remove insides and beaks. Cut head into equal sized strips (quarters or eighths).

Wash carrot then slice thinly. Cut onion in half from top to bottom, then slice thinly, about 1/8 inch thick. Remove stem from chili/jalapeño peppers, cut in half from top to bottom, then slice into thin slivers. Cut bell pepper in half from top to bottom, then slice thinly into strips. Thinly slice mushrooms.
Mix sauce. Crush or mince garlic into medium mixing bowl. Add rest of sauce ingredients and mix well. Let stand for at least fifteen minutes. Add octopus to sauce and let stand for another fifteen to twenty minutes.
Heat stir fry pan over high heat. Reduce heat to medium.
Add sesame cooking oil and carrots and stir-fry for two minutes. Add onions and peppers and stir-fry for 1 minute. Add all other ingredients and stir-fry for about five minutes. (Octopus sections should curl somewhat)
Serve hot with sticky rice and ban chan.
A closer look. Eat this with some spicy kimchee and Korean sticky rice and your sinuses will clear right up.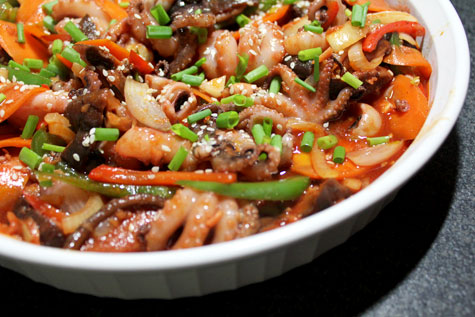 DID YOU KNOW?
That octopuses are sometimes eaten alive as a novelty food in Korea? Called Sannakji, a live octopus is sliced up, lightly seasoned with sesame and sesame oil, then eaten immediately while still squirming. It may also be served whole.