Inspired by our recent meal at Bonchon Crispy Chicken, Ren took out her frying pan and tried her hand at making her own version of Korean-style fried chicken. She came up with a mouth-watering recipe that's so simple and easy to execute that even someone as inept in the kitchen as I could follow it.
"Fried chicken tenders" being a mouthful, I decided to truncate it to the more fun, much easier to say "fricken tenders." I can hear the cool baritone voice-over already:
"If you like crisp, sweet and mildly spicy Korean-style fried chicken, then you should try Ren's Fricken Tenders. They're fricken easy, fricken delicious, and fricken awesome!" 😉
By the way, since we're on the topic of fricken, I just wanted to mention that Ren apparently sees things in the shape of 6″ fried chicken strips the same way that people find objects in clouds. I can't say what she saw because it's fricken lewd, but it's the same shape she often sees, with much fricken delight might I add, in misshapen pieces of lengua de gato, Chinese geoduck, and broken fragments of bone-shaped doggie biscuits.
Fricken cuckoo. 😆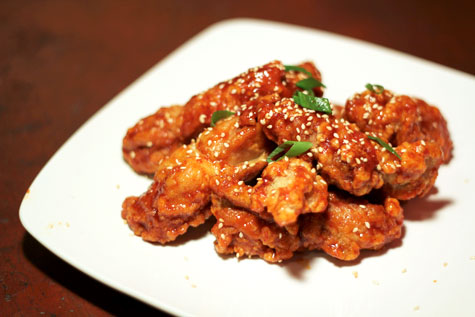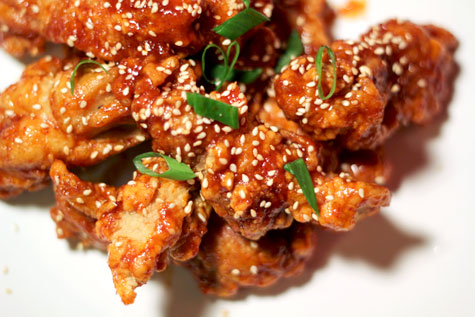 Ingredients
1/2 kilo boneless chicken thighs, cut lengthwise into 3 strips
1 egg
1/4 cup Crispy Fry breading mix (Garlic)
Vegetable oil for frying
1/3 cup store-bought hot and spicy Korean bulgogi sauce
Cornstarch, for dusting
Toasted sesame seeds, for garnish
Directions
Wash chicken thighs thoroughly and drain. Pat dry with paper towels.
In medium bowl, beat egg and add in Crispy Fry seasoning. Mix well until combined.
Add in chicken thighs and mix thoroughly until fully coated.
Let sit and marinate in refrigerator for a few hours or until ready to cook.
Heat vegetable oil for deep frying until hot, but not smoking.
Dust chicken pieces with some cornstarch just before frying. Fry chicken in batches, for about 5 minutes or until starting to brown. Remove from oil and allow to drain on paper towels.
When done with last batch, put back first batch into oil and refry for another 5 minutes, or until crisp and golden brown. Do the same with the rest of the chicken. Remove and allow to drain on paper towels.
Put sauce in deep bowl and add in cooked chicken. Toss to coat well with spatula. Serve with kimchi.
* Alternately, this recipe may also be used for chicken lollipops and/or wings.
DID YOU KNOW?
That the chicken tender's smaller cousin, the chicken nugget, was invented in the 1950s by Robert C. Baker, a food science professor at Cornell University? Dr. Baker's innovations made it possible to form chicken nuggets into any shape.
It wasn't until 1980 that McDonald's started selling their now iconic chicken nuggets, which were created for them on commission by Tyson Foods in 1979.