Ren and I have been wanting to come here for the longest time and thanks to Brooke who was awesome enough to arrange a private tour for us during our recent 3-day getaway to Cebu, we were able to visit Kenneth Cobonpue's actual showroom here in Cebu City.
For those unfamiliar with Cobonpue's work, he's an industrial and furniture designer internationally renowned for his signature free-flowing designs using natural materials like rattan, buri, bamboo, and abaca. Known for drawing his inspiration from nature, to describe his work as organic is like calling Salvador Dali's work surreal. He personifies the term.
100% pure genius, he is definitely someone for us Filipinos to admire and be proud of. You can find out more about him by visiting his website – kennethcobonpue.com.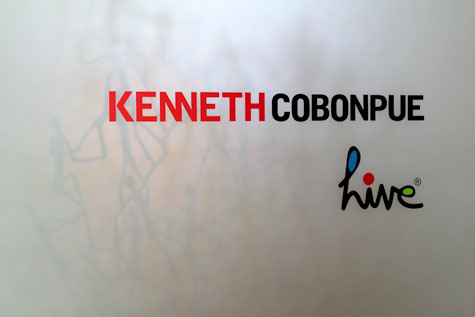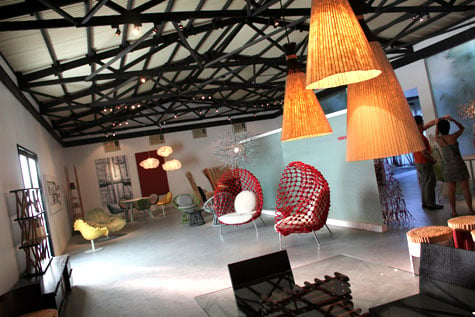 Dragnet lounge chairs and end table in red. Inspired by fisherman's nets and created from fabric twisted and wrapped around a steel frame, the Dragnet lounge chair surrounds you like a cocoon.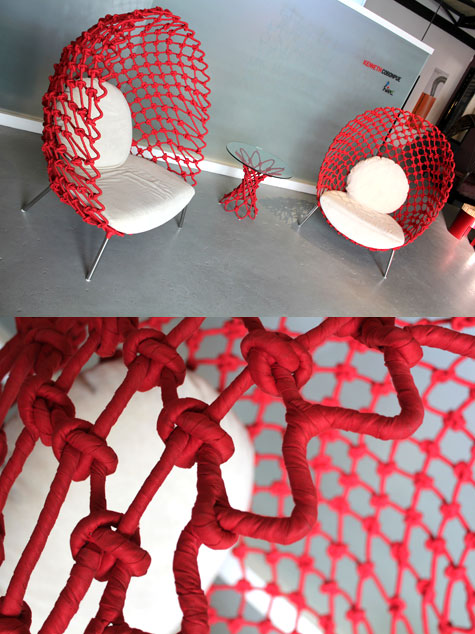 Chiquita stools in muted red, silver and black. Rigid-looking vertical sections of rattan poles unexpectedly recede into the seat for a pleasant and surprisingly comfortable sitting experience. Ingenious!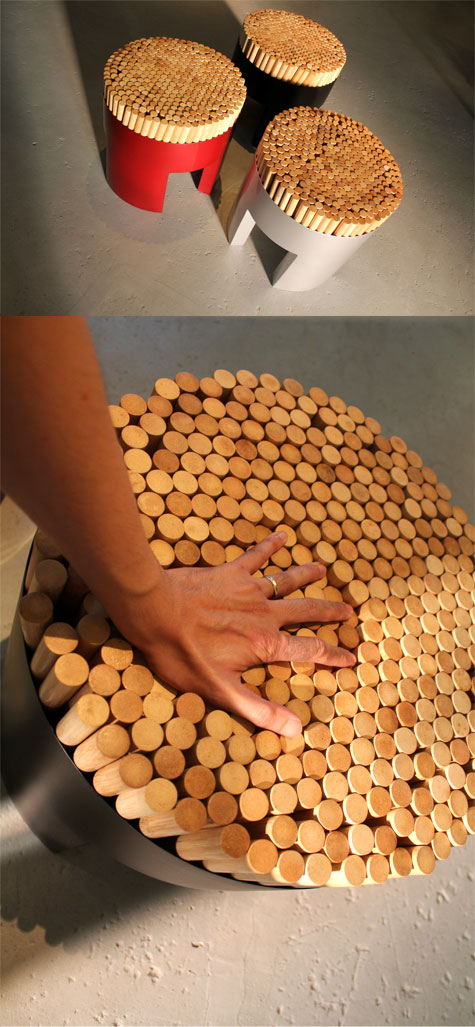 Ren striking a pose on the Gothic-inspired Hagia bed.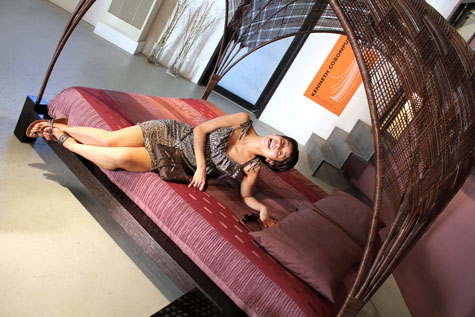 Tilt chair. Handmade, each piece is individually cut, sanded and joined at different angles to create a work of art that pays homage to the centuries-old tradition of woodworking. According to our guide Paolo, this is the most difficult piece to construct as it requires absolute precision.
Pictured at the bottom is the Kabuki buffet cabinet in brown. It's crafted entirely by hand using high-density fiberboard to resemble bamboo stalks.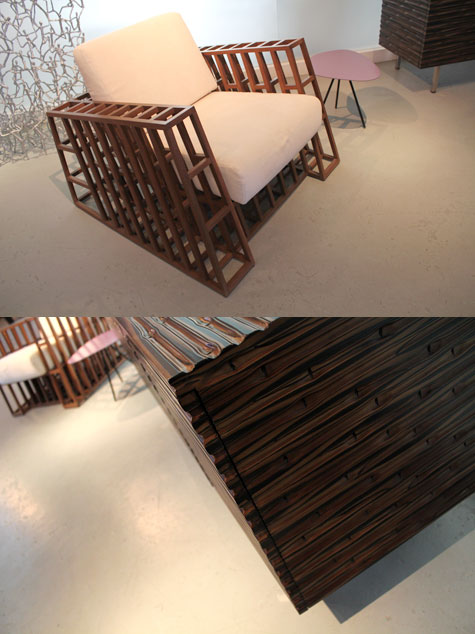 Harry rocking stool in moss green. It's topped in microfiber strips stitched to interchangeable covers.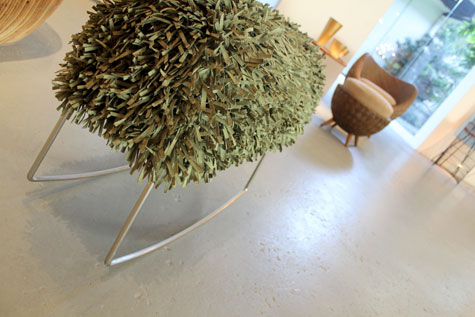 Noodle armchairs in rose, bronze, yellow, lime green and aqua around a Freya round dining table. Inspired by Cobonpue's random doodles, the Noodle armchairs are made with rattan vines in fluid, circuitous lines.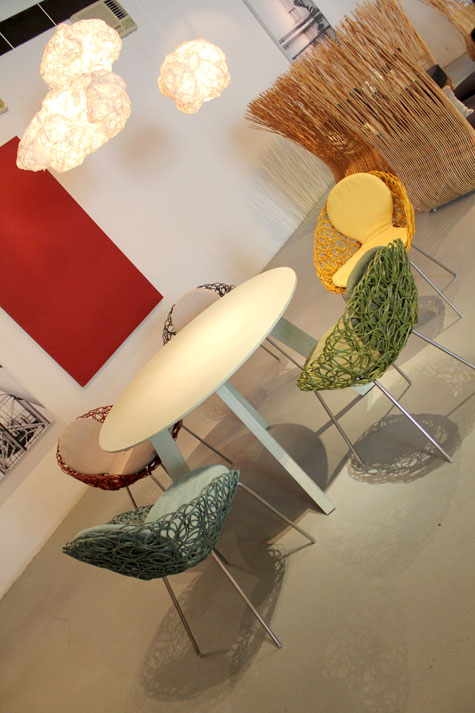 Yoda sofas, coffee tables and barstools. Rattan vines grow from the seat like tall grass in a field. Absolutely beautiful.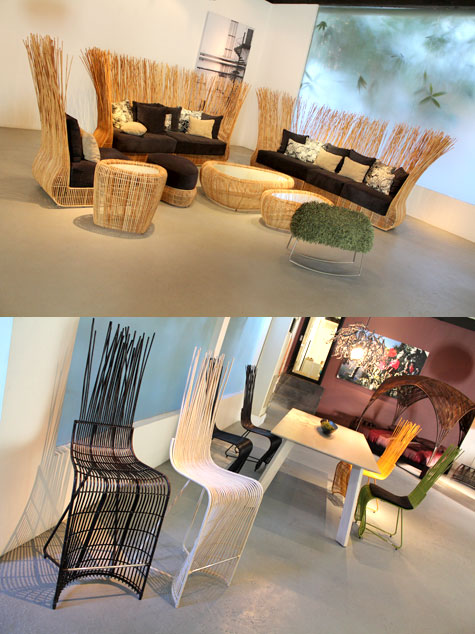 A few random pieces, including a Yin & Yang dining table.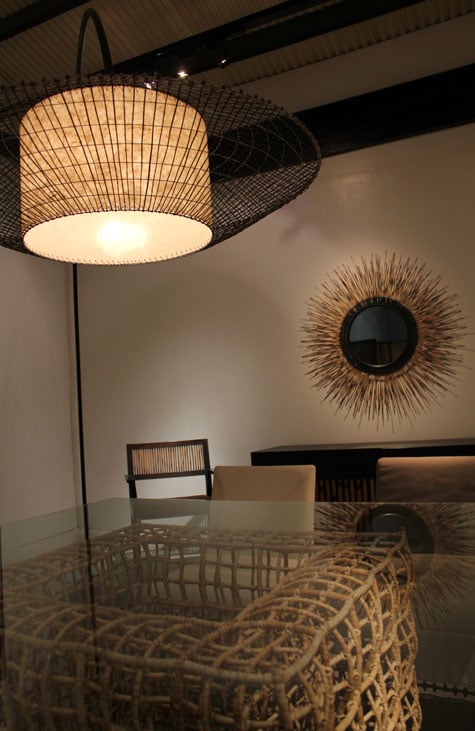 Gorgeous lighting fixtures. The spiky durian-looking pieces are made with origami paper.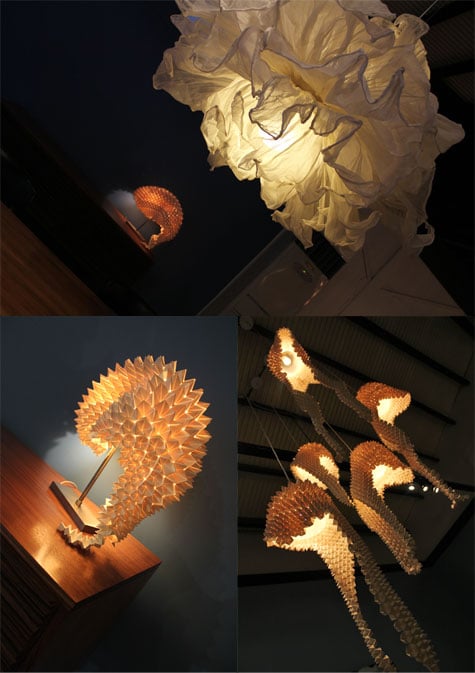 Ima Bed in brown. Inspired by ancient Chinese temple architecture, it's made from intricately woven abaca rope.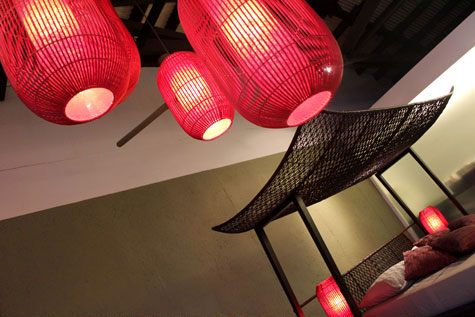 Bedroom set with Kabuki bed and night tables.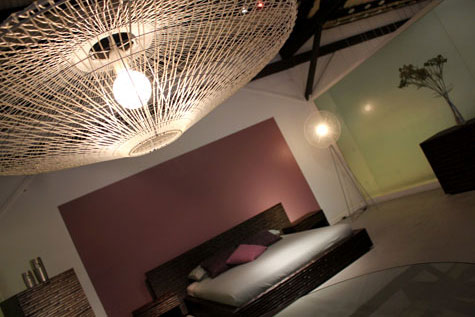 Croissant sofa and coffee table in brown. It's made of abaca or buri tied over a hand-scuplted steel frame.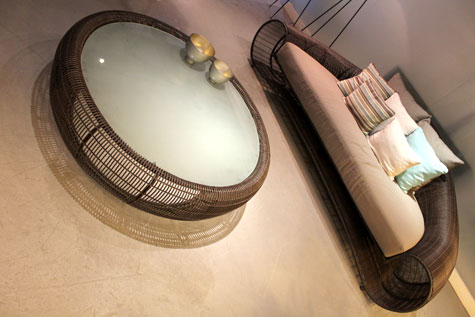 Probably my single favorite Cobonpue piece – The Yoda easy chair in lime green.


This was a bathroom faucet and sink. Lifting off that woven top reveals a glass bowl sink underneath.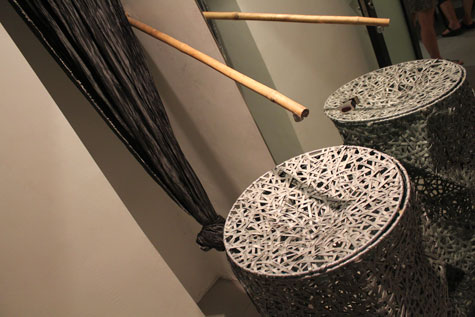 Strikingly cool, doodle-like flower vases. Note how the circles at the bottom are of different shapes, sizes and orientation, giving it an even more organic feel. I wouldn't be surprised if this too were inspired by another one of Cobonpue's random doodles, since it appears to have been influenced by good line quality as well.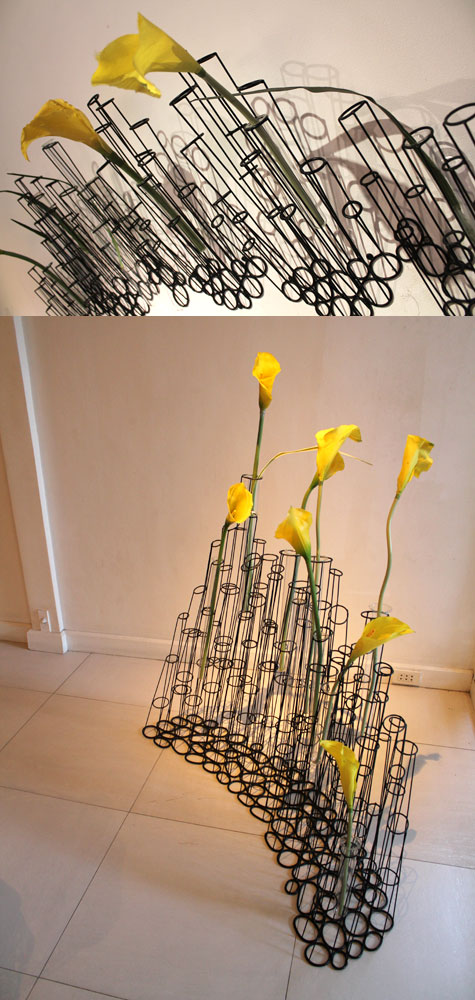 Lolah sofa, easy armchair, capsule and coffee table in brown and whitewash. Created using traditional boat-building techniques, they're constructed of thin rattan strips cut with planar knives and fastened over a light rattan frame.
The Lolah was the recipient of the 2005 Design for Asia Award – Asia's highest award for design.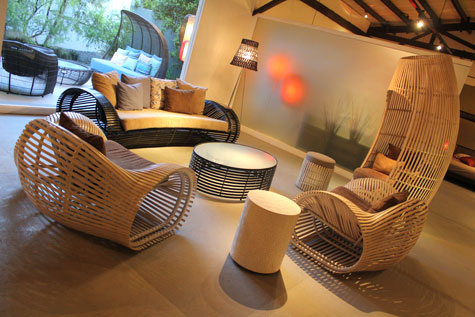 Got Moses? Le Petit Voyage bed in brown. Inspired by papyrus and reed boats, it's made of buri, abaca and steel or abaca, nylon twine and steel.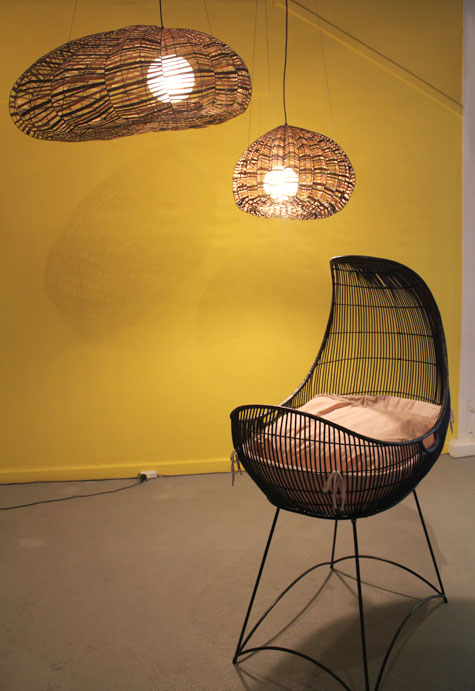 Funky little figures holding hands to form lamps, dividers and chandeliers. For the chandelier in silver below, they give you one piece in a different color of your choosing to situate wherever you want. Cute huh?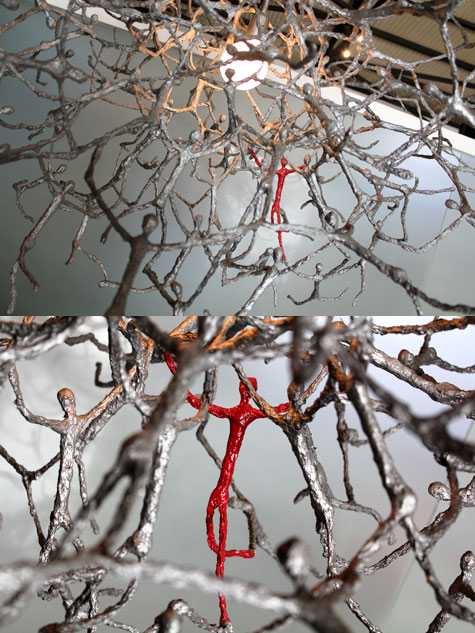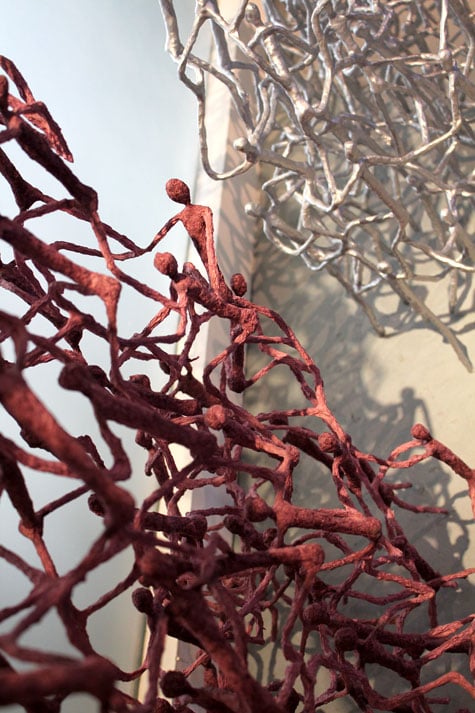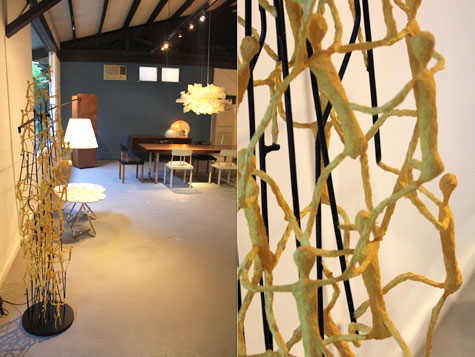 Pigalle barstools in brown. Made from abaca and steel, these were inspired by the contours of a woman's back. Sexy.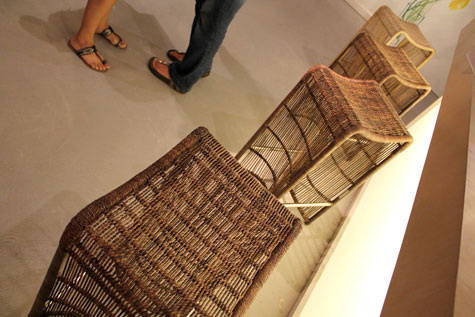 Complimentray cappuccinos at the end of our tour. Sweetness.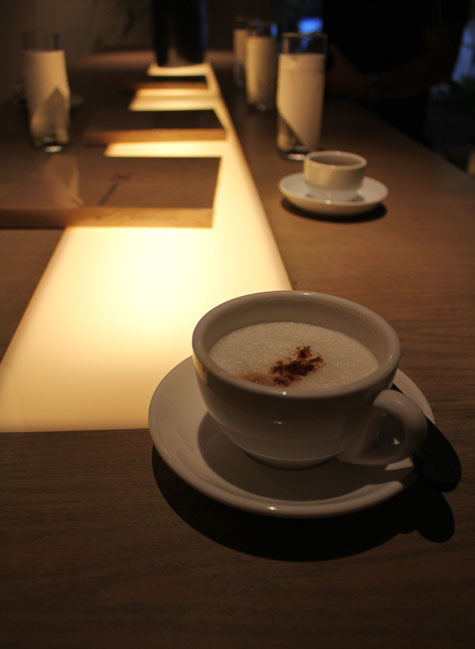 Ren getting a breather after a highly entertaining and enjoyable tour. Love those bird's nest lamps in the back.

I absolutely LOVED this experience.
It goes without saying that to own one of Kenneth Cobonpue's captivating creations would be a joy and an honor. We'll definitely invest in one soon as we have the resources to build our dream house in the country.
I think having just one in a striking color would make for a great focal point and converstaion piece, don't you think?
More on Cebu
Where to Stay in Cebu: Club Serena Resort, White Beach, Moalboal, Cebu, Philippines
Swimming with Whale Sharks in Oslob, Cebu, Philippines
On Taking the Road More Traveled to Kawasan Falls, Badian, Cebu, Philippines
Zubuchon, at Last we Meet
Plantation Bay Resort and Spa, Marigondon, Mactan Island, Cebu, Philippines
Ayer Lechon, Cebu City, Philippines