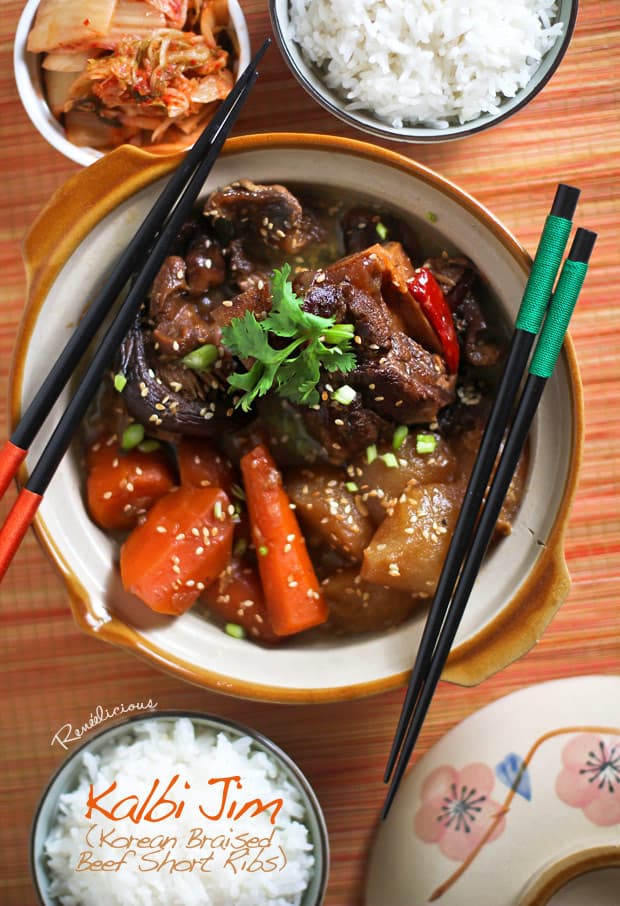 Kalbi Jim (Korean Braised Beef Short Ribs)
Couples who have been together long enough can communicate without having to utter a single word. Take Ren and I for example.
Ever since I revived this blog, I've been asking her to make her ridiculicious Kalbi Jim, one of my all-time favorite dishes. But with the past couple of months being the height of a brutally hot summer, I'd receive the same quizzical "are-you-crazy-for-asking-me-that" look every time. I've learned to interpret this as the gastronomical equivalent to "I've got a headache honey."
After a summer of repression and many cold showers, the heavens have mercifully opened up, delivering a deluge of rain, much cooler temperatures, and a favorable change in mood. Along with it? This ravishing bowl of Korean beef stew.
Eating my fill, I decided to give my lovely wife some non-verbal communication of my own. ADVIL.
😈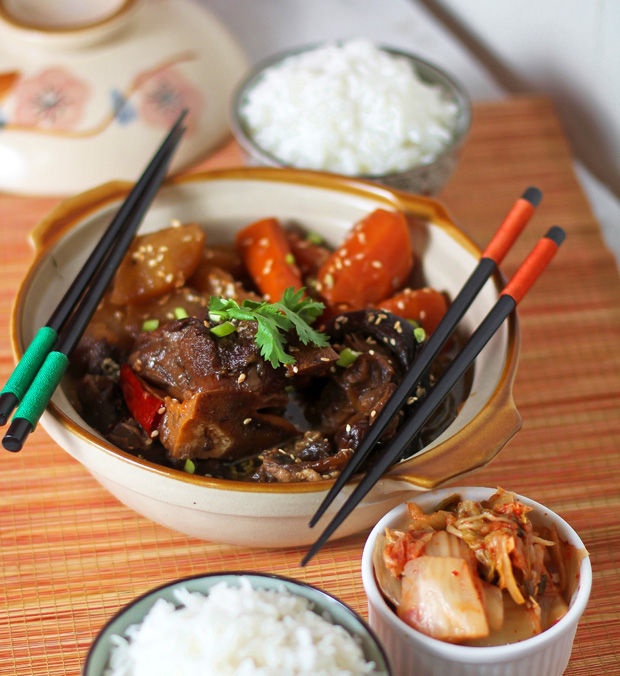 Without question, one of my favorite Reneelicious Recipes.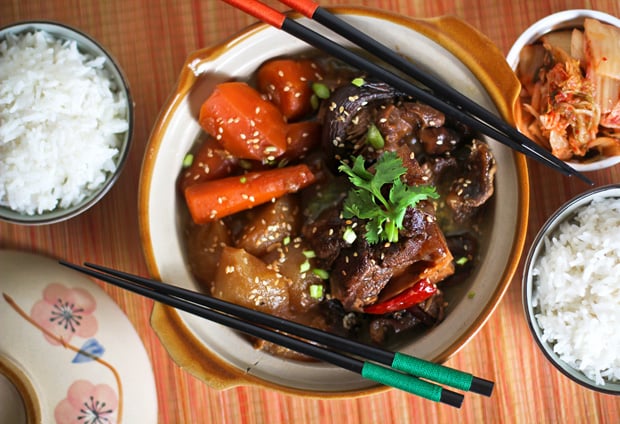 Closer please…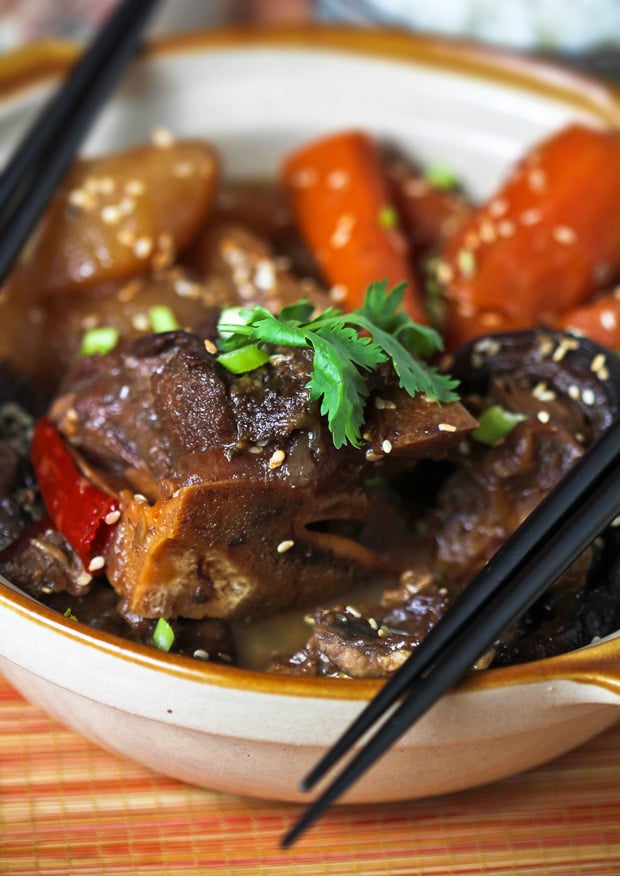 INGREDIENTS
1 kilo beef short ribs
4 cups water
2 Tbsps peanut oil
2 Tbsps ginger, grated
1 Tbsp garlic, crushed
1 large onion, grated
2-4 Tbsps brown sugar
6 Tbsps soy sauce
1/4 cup mirin or sweet sake
1/2-1 tsp crushed red pepper or to taste
2 small carrots, cut into chunks
2 korean pears, quartered
6 reconstituted dried mushrooms
1 Tbsp sesame oil
1 Tbsp toasted sesame seeds
DIRECTIONS
Boil beef in water for one hour. Strain and set aside broth.
On medium heat, saute ginger, garlic and onion until fragrant.
Add sugar and beef and fry beef until brown on all sides.
Add soy sauce and some of the beef broth, enough to almost cover the ribs. Add mirin and crushed red pepper.
Bring to boil, cover and reduce heat to simmer, then cook until tender. (Around 2-3 hours)
Add carrots, pears, and mushrooms 30 minutes before end of cooking time.
Once cooked, turn off heat, add sesame oil and top with sesame seeds. Serve hot with rice and kimchi.
DID YOU KNOW?
That it's considered rude in Korean culture to pick up your rice bowl off of the table and eat from it? It's for this reason why they use metal rice bowls, so it becomes hot and difficult to hold.
Unlike Chinese fried rice, Korean steamed rice is dense and can easily be picked up with chopsticks. It's worth noting, however, that although there's nothing wrong with eating rice with chopsticks, it's considered more acceptable in Korean culture to use a spoon for rice and soup, and chopsticks for everything else.