Kainan sa Dalampasigan is located along R. Martinez St., Brgy. IX-Poblacion, Nasugbu, Batangas.
If I'm not mistaken, "Kainan sa Dalampasigan" translates to "Eatery by the Seashore."
For over 15 years now since my folks got a place at Canyon Cove*, it's become tradition to stop and enjoy a meal here every time we'd spend a week-end or holiday in Nasugbu. The food is great and inexpensive, and the restaurant is surrounded by beautiful gardens and perennially flourishing greenery.
I've long told Ren about this place, so was very excited to finally take her here en route to an impromptu overnight stay at Canyon Cove. Typhoon? What typhoon? With the howling Falcon upon us and Sep and Tiff along for the ride, we buckled up and carpe diem-ed our way through the tempest, cursing sanity at every step so as not to be dissuaded from this epicurean adventure.
* The residential resort formerly known as White Cove
As you're driving towards Punta Fuego on J.P. Laurel St. in Nasugbu, watch out for this "Kainan sa Dalampasigan" homemade sign on your left side. As soon as you spot it, turn left onto this street (R. Martinez St.).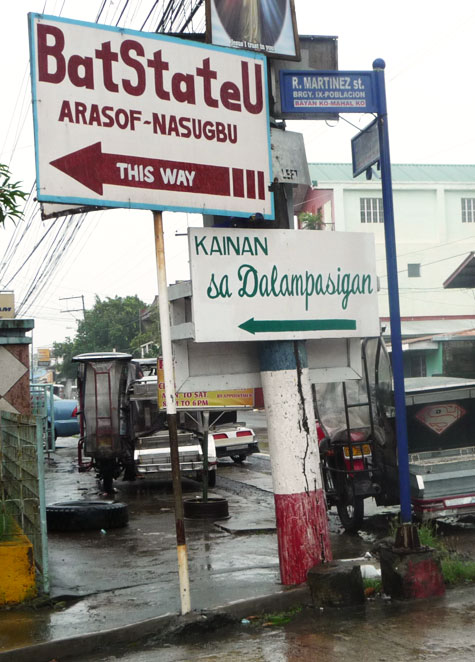 Drive a few hundred meters and you'll see this Welcome to Barangay Bucana archway. The restaurant is just a little past this on your left side.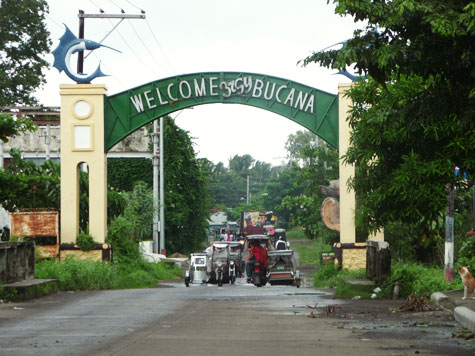 The entrance to the restaurant. There's actually a sign there but as you can see from the picture, it's been obscured by thick foliage.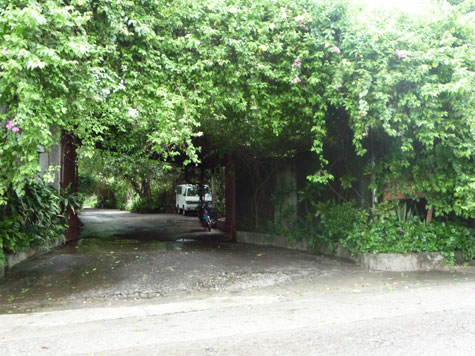 Lush driveway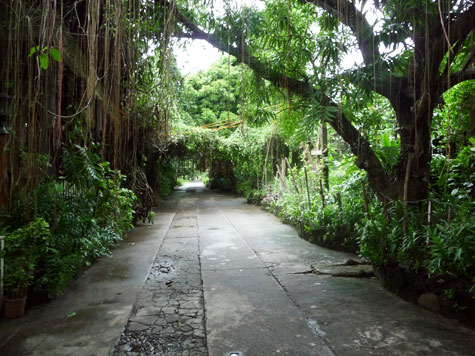 Soon as you enter the actual restaurant, you're greeted by this beautiful cascading waterfall with hanging vines. The portion of the ceiling directly above it is made of glass so the waterfall bathes under natural light.

Rustic, cavernous interior with fresh flowers on every table. It feels like you're eating in an old but well-maintained barn or farmhouse. I love all the heavy wooden tables, chairs and benches. They add to the restaurant's character as do the large bay windows with stained glass accents.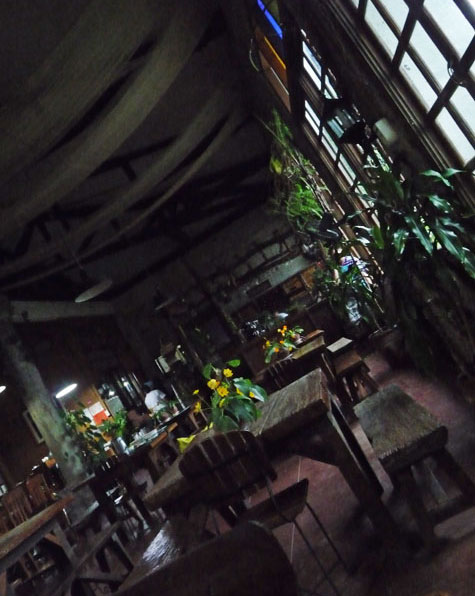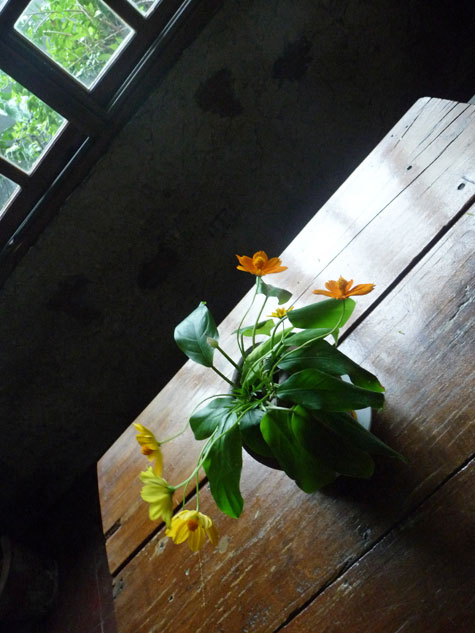 Bulalo (beef, bone marrow, and vegetable soup) – PHP 390. You can't really tell from the picture but this bowl of bulalo is huge! It was more than enough for all 4 of us.
Delicious and perfect. The meat was tender and the broth very flavorful, so much so that Ren felt no need to use patis (fish sauce) to flavor the meat. There could not have been a better dish to warm us on this stormy day.
It was great to eat with the rice as well, of which they gave you a copious amount. Each order, for PHP 30, amounted to almost 2 cups of rice.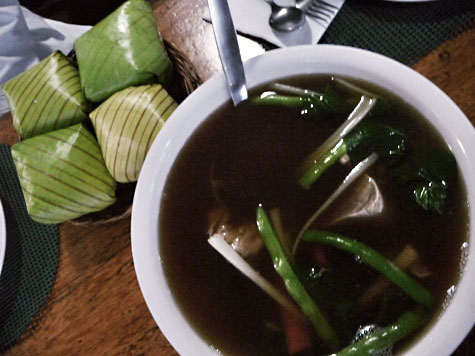 Bilao sa Dalampasigan – PHP 530. A mouth-watering platter of baked tahong, inihaw na baboy, garlic fried shrimps, daing na bangus, and green mango salad.
This was fantastic and a must try. As Ren said, this is the best "boodle" she's ever had. Everything on this bilao (round basket) was absolutely delicious. Fresh as can be, you didn't even have to peel the shrimps. They already chopped off the spiny section of the head so you could just plop the whole thing in your mouth – shell, legs and all. I normally dislike the texture of shrimp shells but didn't mind this one bit.
Eating any of the proteins on this bilao in combination with the green mango salad, bagoong and rice was simply fantastic. As Marketman says, the Batangas market is the best, so it comes as no surprise that the ingredients they serve here are about as fresh as you can find.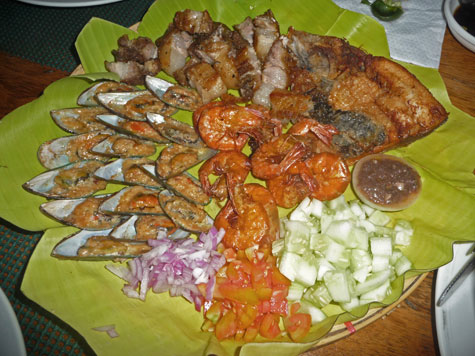 One satisfied table of storm chasers. You can tell how big the bowl of bulalo is from this picture.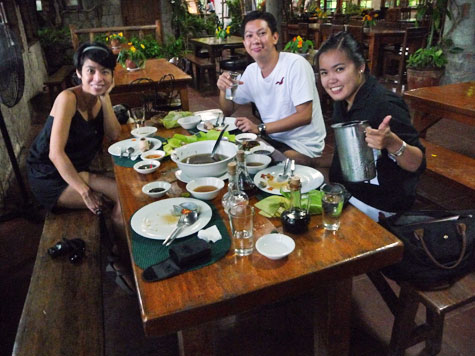 Baby Mona's sad cause she can't reach that bone on Mommy's plate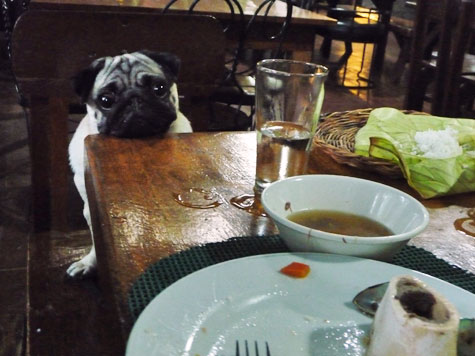 Throughout the restaurant grounds are these lavish sectioned-off gardens. Love the stone archways and rustic gates. This one has a gazebo inside hence the name – "Gazebo ni Lolo Poniong" (Lolo Poniong's Gazebo)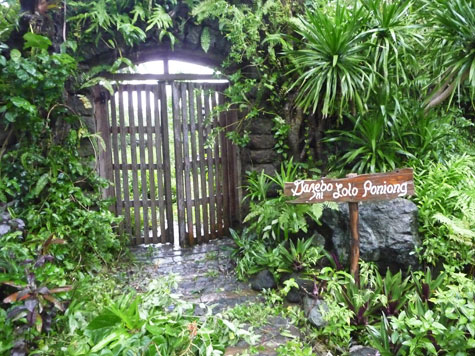 "Hardin ni Lola Dora" (Lola Dora's Garden) – Doesn't it feel like you're walking into a hidden, secret English garden? I was half expecting a hyper rabbit in coat tails to just pop up at any minute and ask me to follow him.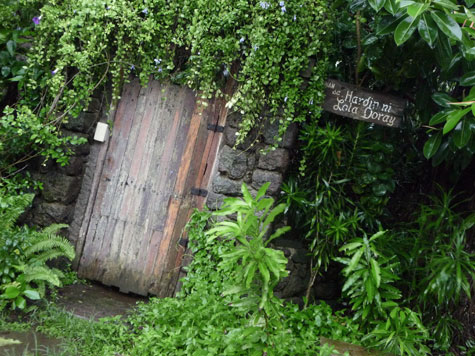 Wide shot of the restaurant interior just so you see how big it is. I'm standing at the far end.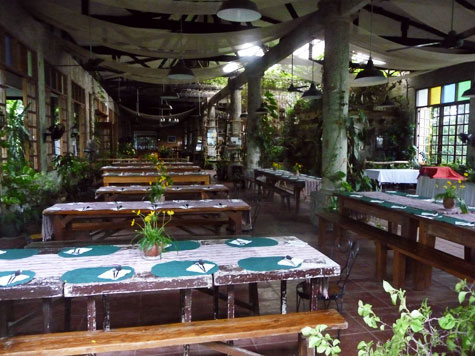 The sky falling on our heads. I wasn't kidding when I said we drove through a typhoon to get here. Most of the exterior shots above were taken the next day after the rains and wind had subsided.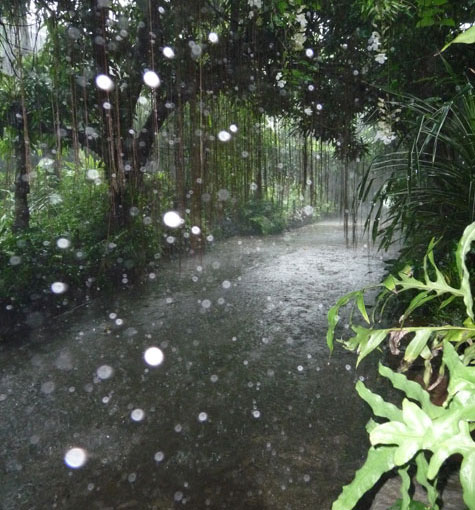 Though the food here is excellent and the surroundings beautiful, I wouldn't go so far as dubbing it a destination restaurant in the same vein as Antonio's, C' Italian Dining, or Ugu Bigyan's Secret Garden Restaurant. Though they serve fresh and delicious Filipino food, it's nothing unique, at least not enough to merit its own trip.
Nonetheless, the experience of dining here has always been an immensely enjoyable one. As previously mentioned, we've been coming here for over 15 years now and there hasn't been any drop-off in quality. The staff is very friendly, even switching on the waterfalls so I could photograph it when I returned early the next day.
I asked the waiter how long they've been around, and despite being open at this location for an already impressive 15 years, I was surprised to find that they've actually been in business for an astonishing 30. Wow. That makes them an institution in my book. If they continue to maintain the quality of their food and service just as they've done for the past 3 decades, I wouldn't be surprised if they flourished for yet another 30.
If you're on your way to Calatagan or Nasugbu for a week-end getaway, I highly recommend you make a stop here at Kainan sa Dalampasigan. You won't regret it.