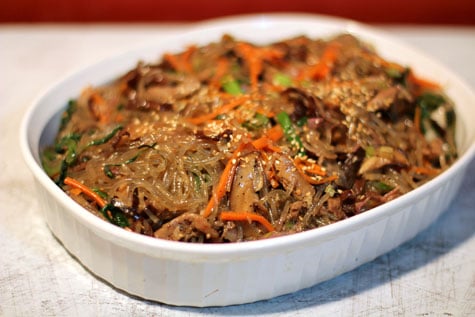 Ren had been wanting to make Korean Japchae noodles for quite some time now, but she couldn't find any dangmyun noodles in her triumvirate of go-to groceries – Waltermart, Garcia's, and Metro.
Then one day, while shopping for some specialty food items at Rustan's, she decides to bite the bullet and come home with the PHP 135 pack of Korean brand dangmyun noodles pictured below. The very next day, she spots a pack of the exact same brand, in the exact same size mind you, freshly perched on Waltermart's shelves for only PHP 110. Go fig. 😕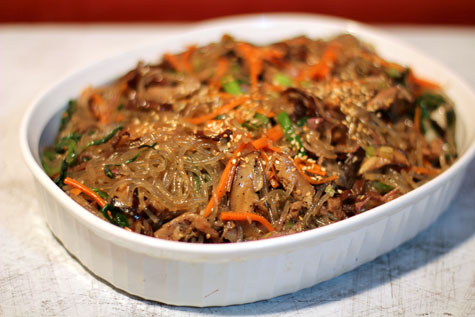 Seriously, who doesn't love Korean japchae? This version is just the way I like it, not too sweet with a mouthful of pleasant textures. Dee-licious!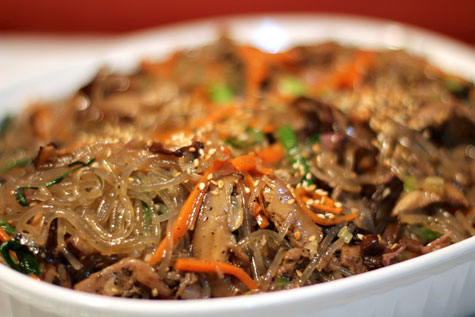 In an attempt to make this dish as authentic as possible, Ren bought this teeny 150-ml bottle of Korean brand Maeil soy sauce for PHP 45. A 500-ml bottle of Lee Kum Kee only goes for PHP 90.
Was it worth that extra PHP .42 per ml? Not that we can tell. 😆 Ren will try the premium line in that Maeil brand next time, the one with the green cap that goes for a whopping PHP 94 per 150-ml bottle.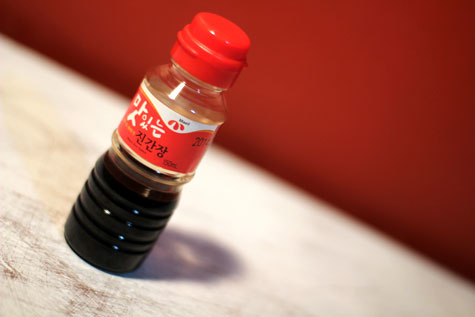 Here's that aforementioned pasaway bag of Korean dangmyun noodles. Pasaway, in English, means to "sway from side to side." Just kidding. I have no idea what pasaway means in English. Deviant? Defiant?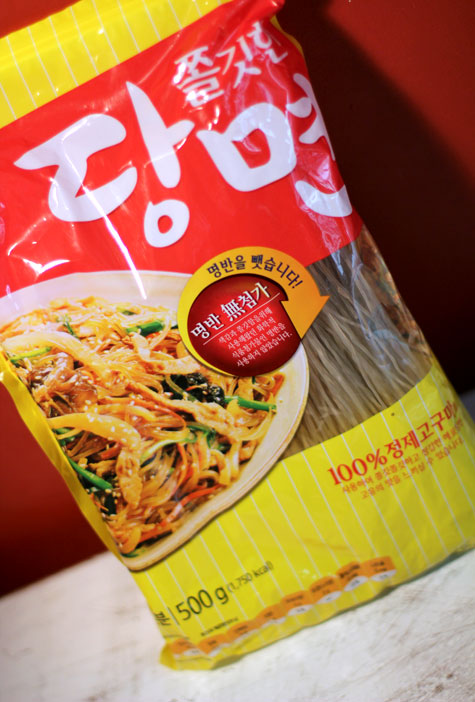 Original recipe from Maangchi.
Ingredients
250 g starch noodles ("dangmyun")
150 g beef, sliced into thin strips
1 bunch spinach
1 medium-sized carrot, cut into thin strips
1 medium-sized onion, finely sliced
Mushrooms (5 dried shiitake and 1 package of white mushrooms), reconstituted
3 cloves garlic, minced
7-8 green onions, cut into 2-inch strips
Salt, soy sauce, sesame oil, sugar, pepper, and sesame seeds
Directions
Boil noodles in big pot for about 5 minutes or until soft and cooked. Remove noodles from water, drain, then put in large bowl. Cut noodles several times with scissors and add 1 Tbsp soy sauce and 1 Tbsp sesame oil. Mix well and set aside.
In boiling water, add spinach and gently stir for 1 minute. Remove spinach and rinse in cold water 3 times. Remove any grit or dead leaves while rinsing. Gently squeeze to remove excess water, then cut into 5 cm pieces. Add 1/2 Tbsp soy sauce and 1/2 Tbsp sesame oil. Mix and place in large bowl with cooked noodles.
In heated pan, add a few drops of olive oil and carrot strips, then stir with spatula for 30 seconds. Season with salt then put in bowl.
Add a few drops of olive oil and sliced onion in pan. Stir until translucent, then put in bowl.
Add a few drops of olive oil and sliced white mushrooms in pan. Stir for a bit, then season with salt and put in bowl.
Add a few drops of olive oil and green onions in pan. Stir for 1 minute then put in bowl.
Add a few drops of olive oil, beef strips and sliced shiitake mushrooms in pan. Stir until cooked well, then add 3 cloves minced garlic, 1/2 Tbsp soy sauce, and 1/2 Tbsp sugar. Stir for another 30 seconds then put in bowl.
Add 2 Tbsps soy sauce, 3 Tbsps sugar, 2 Tbsps sesame oil, and 1 tsp ground pepper to bowl. Thoroughly mix ingredients together, then sprinkle 1 Tbsp toasted sesame seeds on top.
Serve with rice and Kimchi, or as a side dish.
DID YOU KNOW?
That japchae was invented in the early 17th century when Yi Chung, a liege to King Gwanghaegun, created this dish for one of the king's parties? The king liked the dish so much that he rewarded Yi Chung with a promotion to hojo panseo, a position equivalent to the Secretary of the Treasury.