EDITOR'S NOTE: Traveleater Dan Barmatz splits time between Israel and the Philippines. This post is about one of his favorite sandwiches in the world, the Sabich.
When debating on the national dish of Israel, most will say it's falafel. While falafel has all the fame, it is its lesser known cousin – sabich – that will be declared as the national dish by many Israelis. It sure is my personal favorite among all our local street food. So what is this sandwich all about? It is a glorious synergy between pita bread, egg, eggplant, and vegetable salad, with humus tahini, and amba (components to be elaborated on later).
There is a huge debate about the origin of the dish. It's said to have come with the Iraqi Jews, but if you went to Iraq in the 60s and asked around where can you get it, no one would know what you are talking about (as I was once told by my friend's grandmother who was born in Iraq). That makes it genuinely Israeli, unlike much of the cuisine here. Many claim that the origin of the name is from the Arabic word for morning – sabach – because this dish was supposedly eaten on shabat morning, while others say it is the acronym of the main components of the dish.
But probably its name is derived from its inventor's name – Sabich Halabi – who opened the first shop selling the sandwich in 1961. It was basically the ingredients of the Jewish Iraqi breakfast put inside a pita. With no name for the dish, people who visited his small stall which rapidly gained popularity started to call it after his name. Nowadays, you can find it in London and Los Angeles among other cities around the world.
In Israel, it is mostly popular in Tel Aviv (and in Ramat Gan, its birthplace) though you can probably find it anywhere in the country. In this post, I'm going to tell you where you can find the best sabich in and around Tel Aviv, and how you can replicate the dish at home.
Save This on Pinterest!
No time to read this now? Click on the red save button and pin it for later!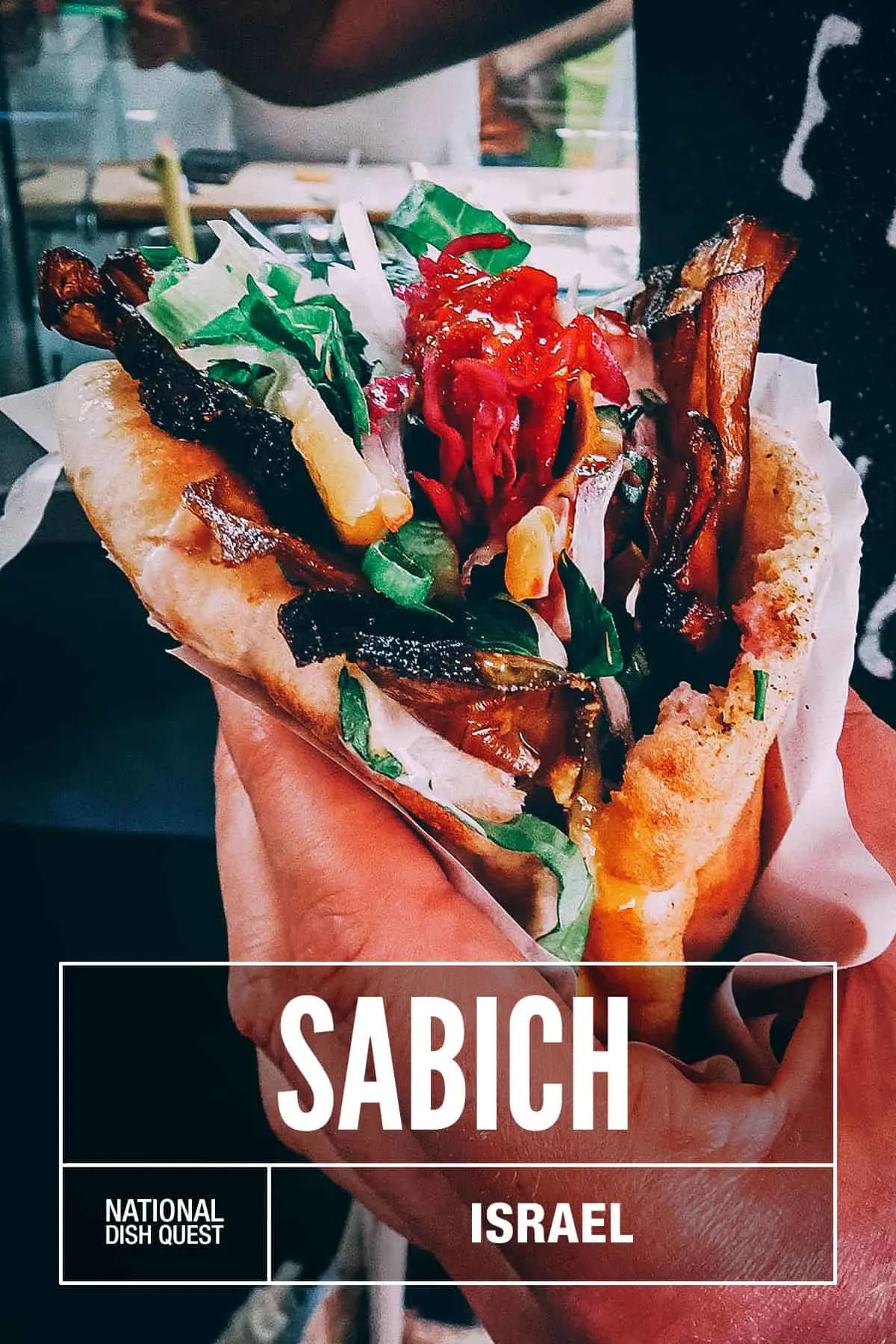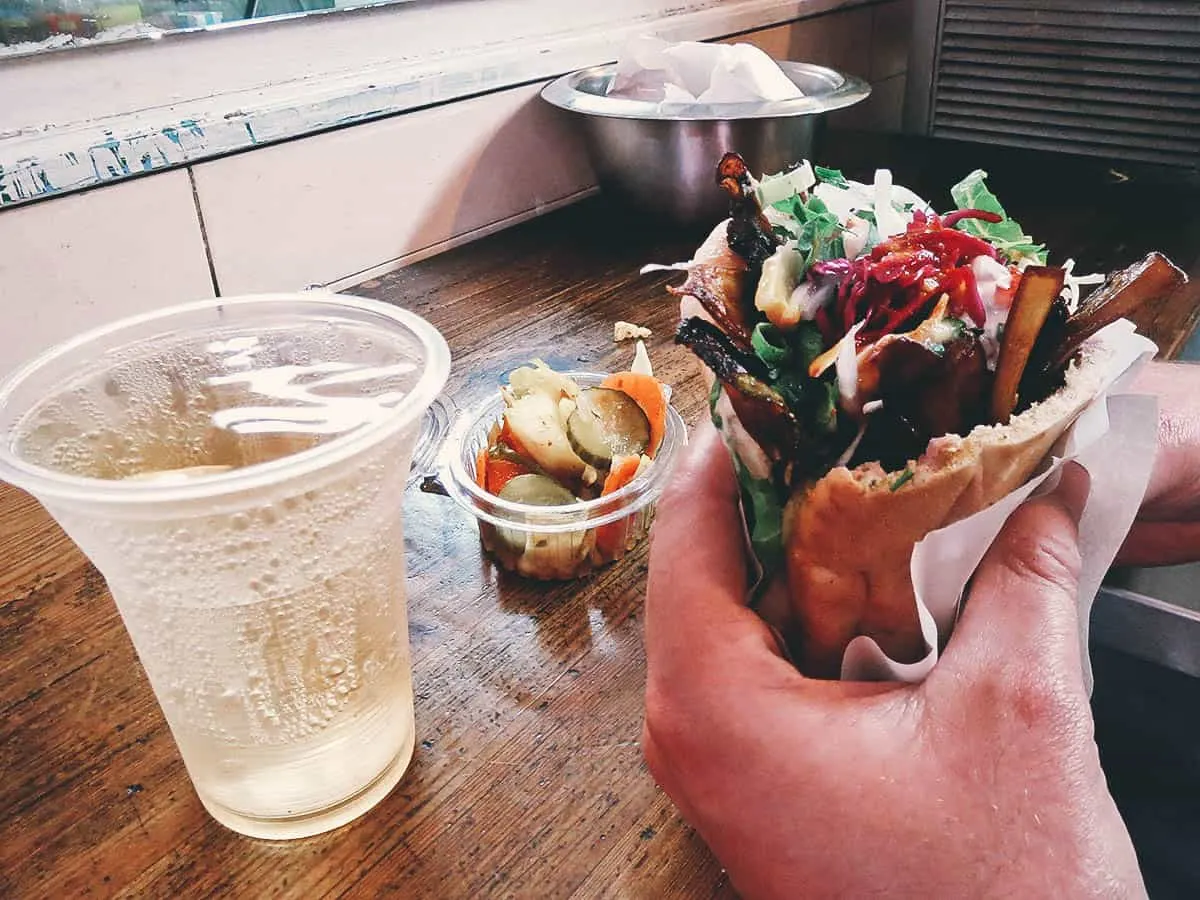 THE BEST SABICH IN TEL AVIV
Sabich Tchenichovsky – The Soup Na** of Sabich
Be prepared to wait in line in front of the counter for one of the best bites you'll have. The owner here, who make the sandwiches, is not the friendly type. On the wall is a sign saying "no sabich without eggplant", and I once saw a woman get kicked out of the place for arguing about the rule. My suggestion, tell the owner to decide for you, and he will put his heart into it. Seriously, he will take 3 minutes (10 times the time it should) to make your sandwich, and to me, he looked like a zen master in motion. If you disturb this genius at work, then you can expect an ounce of impatience.
This place is unique for selling the dish with soft fresh cheese and arugula, which gives a fresh taste to the dish. This place is my personal favorite.
Address: Tchernichovsly St 2, Tel Aviv
Sabich Hasharon – Balance is the Name of the Game
It is right in the center of the city, in a very vibrant part of town where you'll find the main market, office buildings, restaurants, and bars. Its location made me stop there many times, probably more than any other place. But it's not only the location. The pitas are handmade and the haminados (eggs cooked overnight) are really good. And there is something about the way they make it – the balance between the ingredients is so good – that the last bite is as good as the first.
It's no wonder why in every top 5 list I've read in the past, Sabich Hasharon was always there.
Address: Nahalat Binyamin St 61, Tel Aviv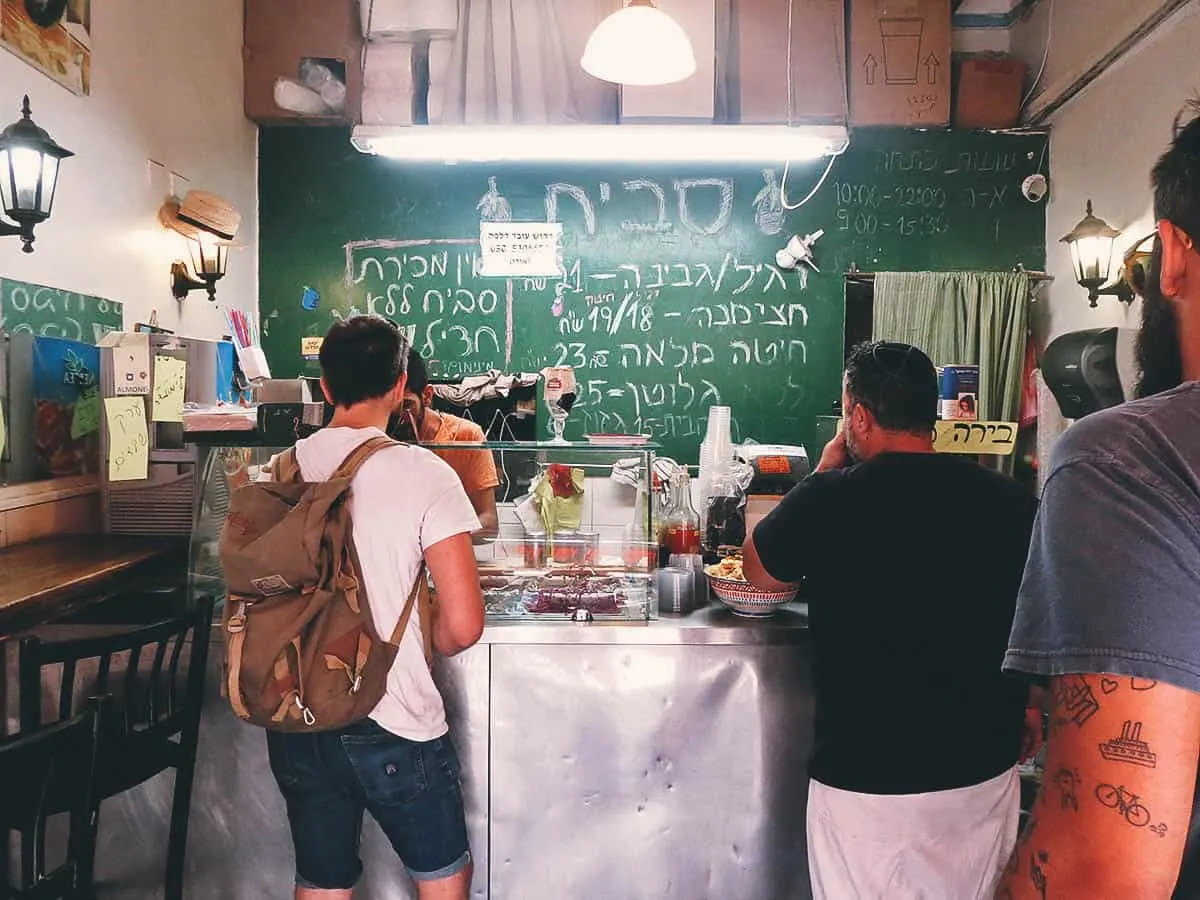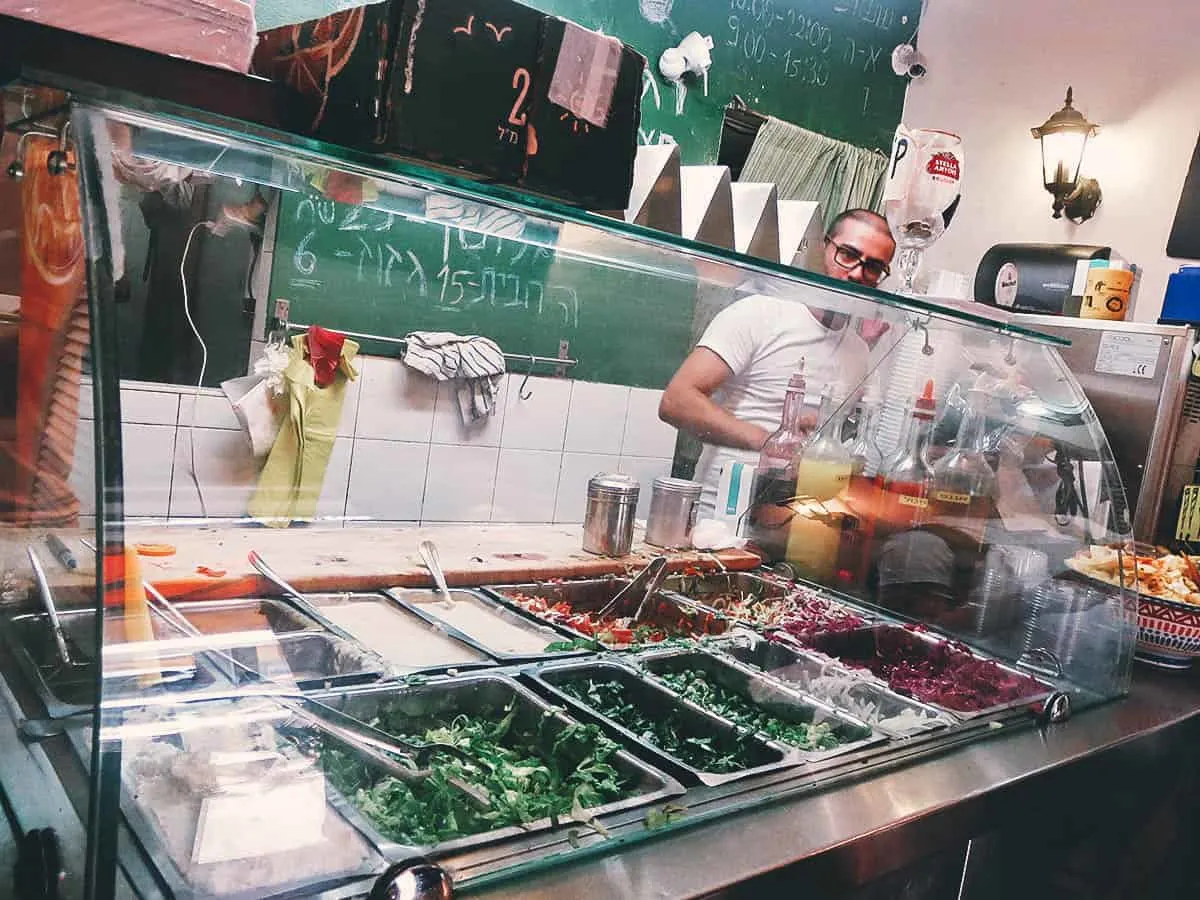 Sabich Oved – Dinner and a Show
This place became a center for Sabich advocates and has its own cult of followers. It is just 15 minutes from the center of Tel Aviv, and is sworn by many as the best one. I think what made it famous is the owner who invented a language of his own, with references to Israeli soccer.
Every customer who is new to the place (verified by Oved, the owner) is given a short brief about the place and on the fact that he's going to get the self-proclaimed best dish in the world. Than he asks you if you want to go "home run", which is to put everything in the pita, and what kind of score you'd like (amount and ratio of the sauces). He will ask you more questions that you'd probably get confused by, but he will explain what he means.
This show does not mean that it's all a gimmick. His sabich truly is in the hall of fame of sandwiches.
Address: Sirkin St 7, Giv'atayim
The Original
I'll be frank, I've eaten here just once, because I wanted to know what it's about. I don't know what make it so great, maybe it's the homemade humus, or the really dark eggplant, and maybe even some of the nostalgia, but it is really delicious. This place is really modest. It used to be a small stall in a different location where you would eat quickly while standing. Now it has some chairs and tables.
I don't believe it is worth the detour for a tourist who needs to allocate his time wisely, but if you pass by, or happen to live in Israel, then why not get a taste of some local recent history?
Address: Negba St 20, Ramat Gan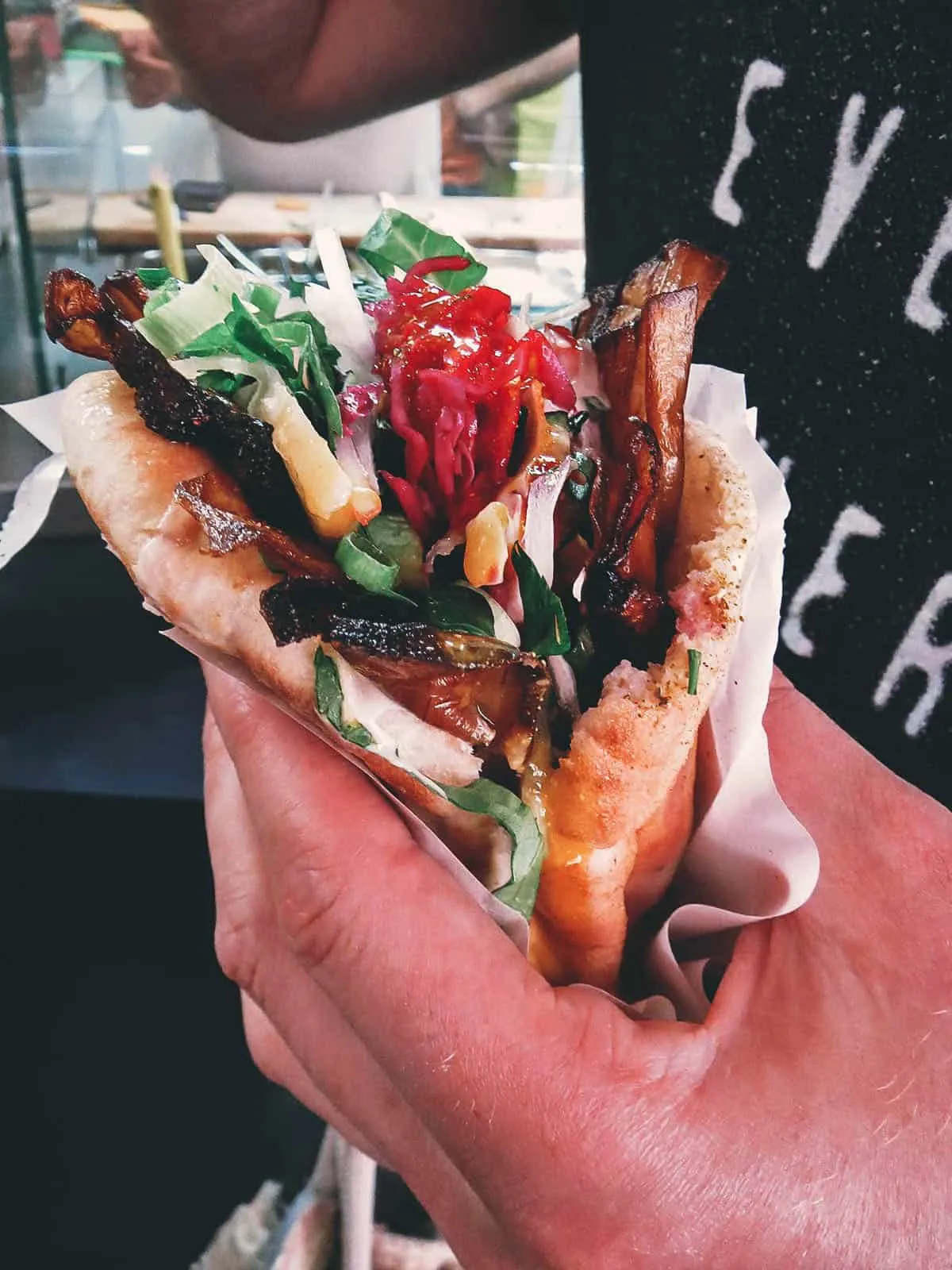 MAKING IT AT HOME
Sabich, unlike many dishes, does not rely on complicated techniques that will make it very difficult for you to make at home. It relies on the quality of ingredients, and the balance between them. You can probably find most of the ingredients in Middle Eastern groceries, or you can make them at home or find substitutes. If you can't find Tahini for instance, you can buy Chinese sesame paste which is a bit stronger in flavor, so you can add water, salt, and lemon juice to it.
You'll need the following ingredients: pita bread, humus, tahini sauce, amba sauce, eggplant, eggs, cooked peeled potato, tomato, cucumber, cabbage, onion, and parsley. Everything you can't find on the list you can try to make at home or just go without. If you can't find pita bread or flatbread, then just use a white flour neutral flavor bun instead. Though it will not be as good, you will get a reasonable result.
The only thing I would strongly recommended you find is amba, which is an Iraqi pickled unripe mango condiment. To make it, you will need a special spice blend called amba baharat. If you can find it, then it's best to get the ready-made version. It will not be the same without this liquid gold.
Eggplant
Slice the eggplant into 1 cm thick slices. I peel the skin because I was told at Sabich Hasharon that it makes somewhat of a bitter taste. You can coat it with flour, but I don't. Heat cooking oil or olive oil in a pan, and fry until golden, flipping once. About 5 minutes. Once done, set aside.
Egg
Well, just make a hardboiled egg. I will tell you the trick to make it right, and it's a crucial part of the dish, though at home you probably won't bother. The eggs that are used for sabich are called huevos haminados. As the Jewish people making the dish could not cook on Shabbat, they invented dishes that are slow cooked, being prepared the day before. The original ones are eggs being cooked in the hamin pot over night.
In your case, if you're truly committed to the task, then cook eggs until ready and then continue cooking on the lowest flame possible overnight (you can add a tea bag or the peel of an onion for the color). The result will be a brown egg that is soft and flavorful.
Israeli Salad
Dice the tomato and cucumber; mince the parsley, onion, and cabbage; add olive oil, lemon juice, and salt and pepper to taste, then mix together. That's it!
Money Time
Slice the edge of the pita just enough to make a pocket. Then spread humus, and start making layers of eggplant, sliced hardboiled egg, salad, and potato, and drizzle tahini and amba sauce*, and hot sauce if you like. It sounds really simple, but when all the ingredients are fresh, and the balance is right, for me it's just a piece of heaven. Try it for yourself and thank me later.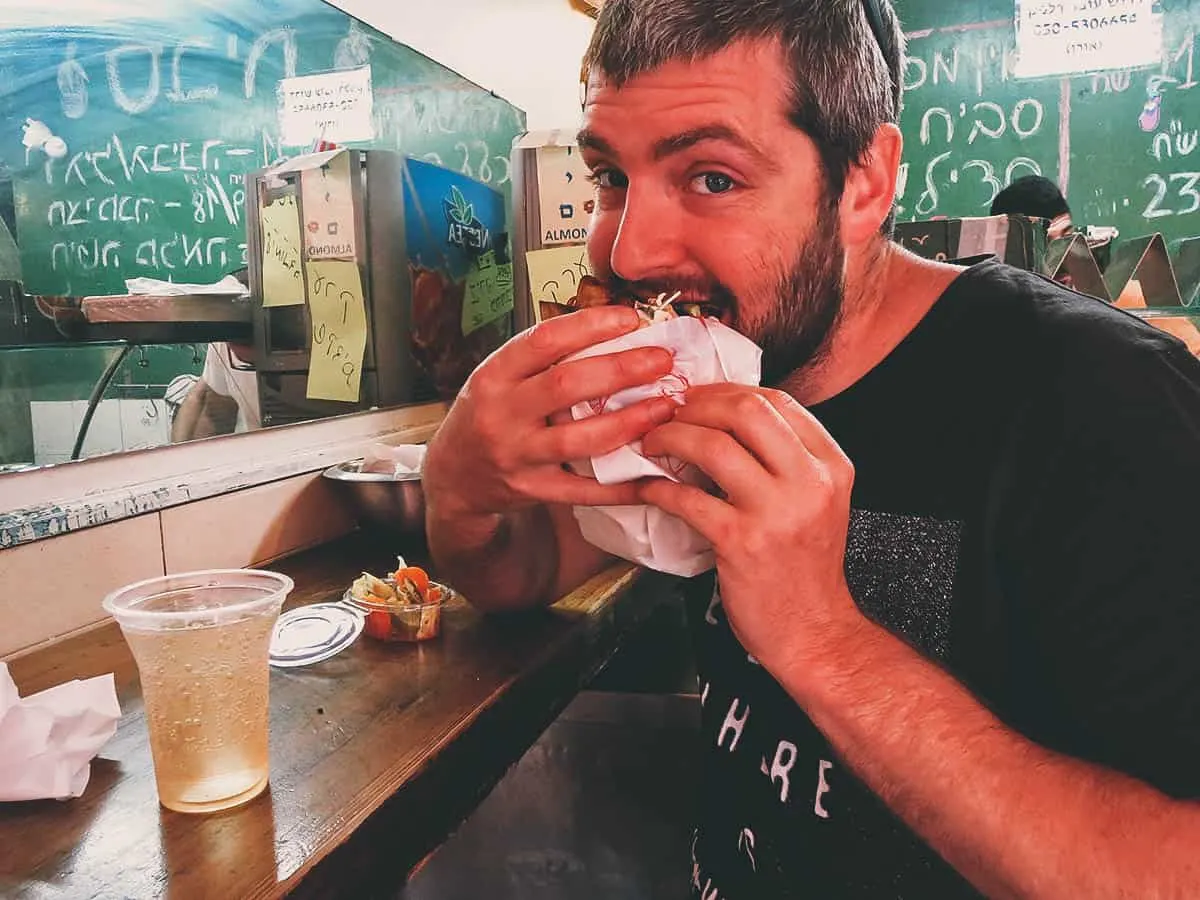 CONCLUSION
There are more notable places to be named, like Sabich Frishman (Frishman St 42), Sabich Complet (Iben Gvirol St 99), and Sabich Ovadia (Rashi St 22). There are plenty more, so don't be afraid to try any I didn't mention.
In general, expect to pay $2-5 for sabich, and most places sell half a pita if you just want a snack. Make an effort to try it out, because it is so good. Or next time your friends ask you if you want to eat falafel, you could answer yes, but mention that what you actually want is sabich, and be so much cooler than them.
Plus, I have another tip for you. If you want to look like a pro, the usual drink to accompany the dish is called anavim, or grape juice. It is this cheap synthesized grape drink that became the people's choice for an unknown reason. I'll have to admit it, it works, though I would take malt beer instead.
Hope you'll find my post helpful on your visit to Israel, or it will give you the courage to try and make it yourself. Enjoy!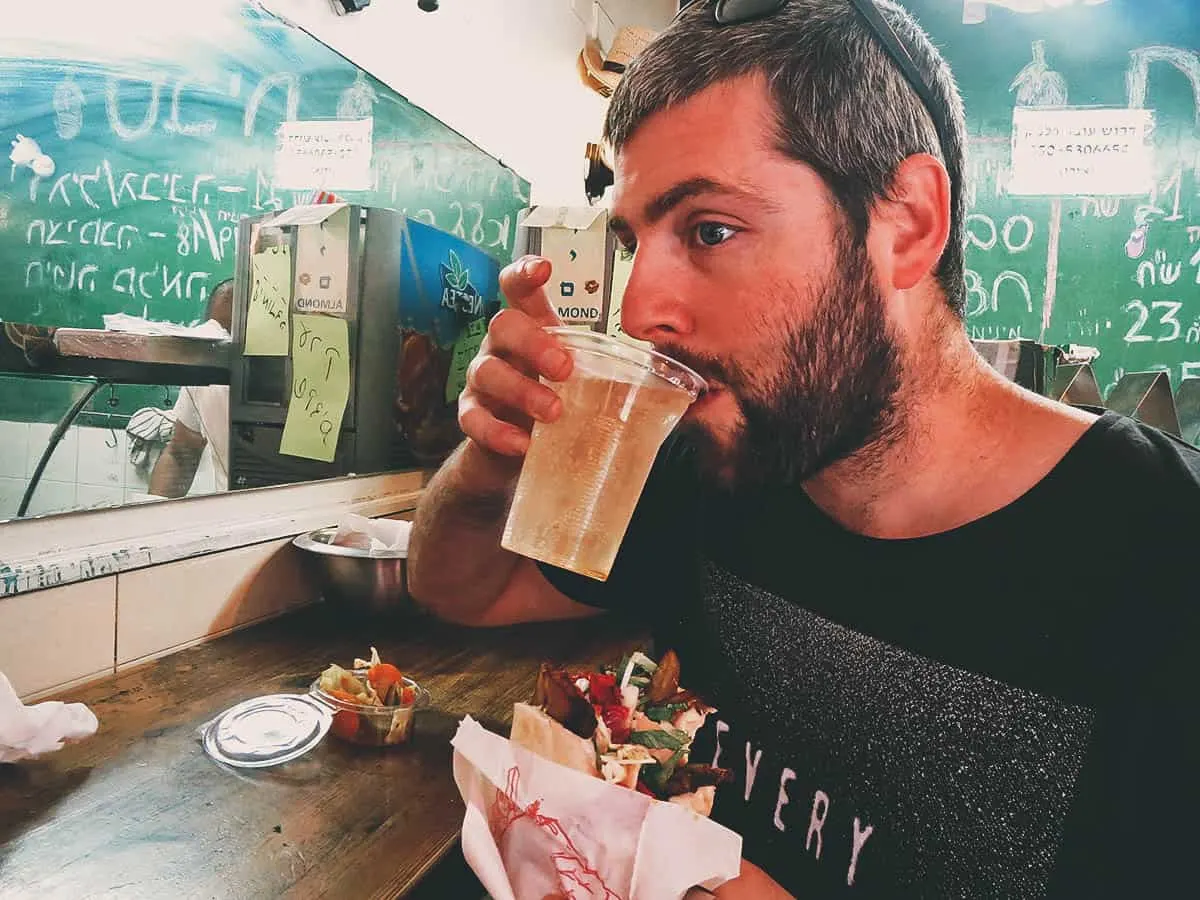 Photos by Dan Barmatz