Summer tells you it's here with its many cues. The temperature and humidity rise. Kids can be heard playing on the streets, even during the week. Ortigas Avenue, for a couple of months while school is out, becomes the preferred route to Makati.
At the home of my in-laws, summer announces its arrival with sound. Around late March, or early April, it starts with a turbulent thud against the roof of their garage. It's followed by a low, metallic rumble building up to a crescendo that abruptly stops, never reaching climax, as if suspended in mid-air. The measured rest that follows is soon broken by the soft, inviting thump of ripe fruit landing gently onto the grass below.
When I hear that familiar refrain, I know that summer, and avocado season, have officially arrived.
What better way to welcome the coming of summer, than a light and refreshing dish of fish tacos with avocados and Sriracha lime cream? Bright, effervescent, and resonant with flavor, it looks just like summer, and tastes like it too.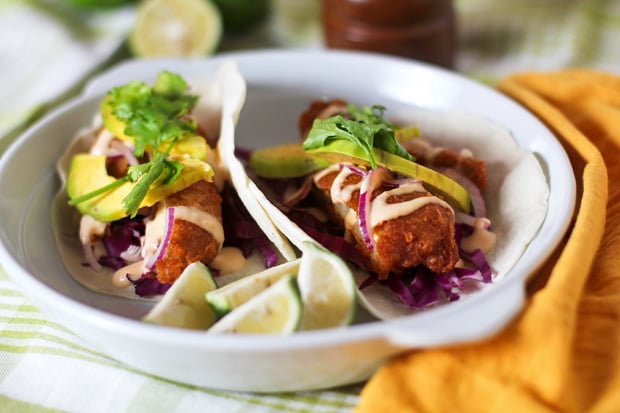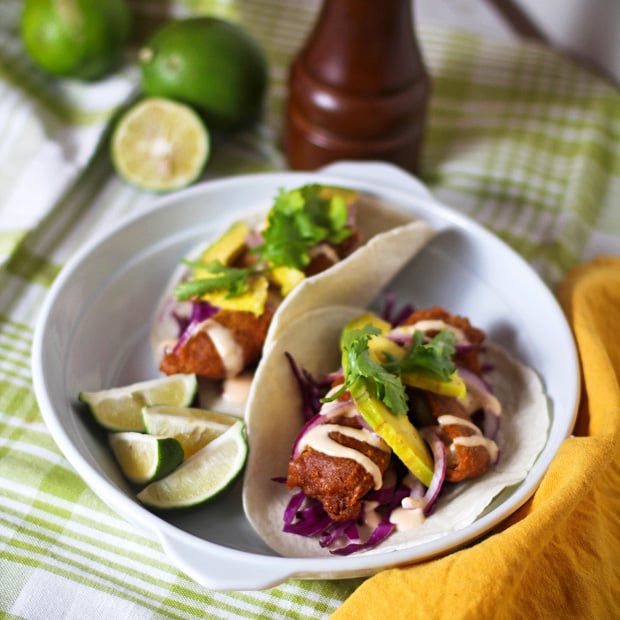 A bright, summery medley of color and texture, these beer-battered fish tacos have it all – crunch, creaminess, acidity, flavor. So so good.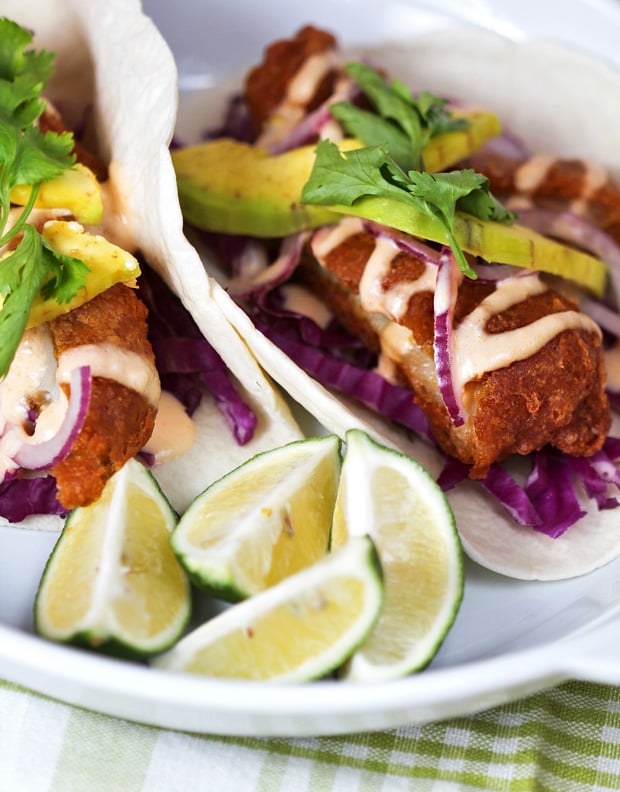 INGREDIENTS
1 kilo white fish fillets, cut into big strips
Small tortillas
FOR BEER BATTER
1 cup flour
2 Tbsps cornstarch
1 tsp baking powder
1 Tbsp chili powder
1/2 tsp garlic powder
1/2 tsp onion powder
1/2 tsp crushed red pepper flakes
1/2 tsp dried oregano
1 tsp paprika
1 Tbsp ground cumin
1 tsp kosher salt
1 egg
1 cup beer
FOR SRIRACHA LIME CREAM (makes about 3/4 cup)
6 Tbsps sour cream
6 Tbsps mayonnaise
2 1/2 Tbsps fresh lime juice
1 garlic clove, crushed through a press
A pinch of salt
1 Tbsp Sriracha, or to taste
FOR GARNISH
Chopped cilantro
Thinly sliced red onion
Sliced avocados
Shredded cabbage
Extra lime wedges
DIRECTIONS
To make beer batter: In large bowl, combine flour, cornstarch, baking powder, and all spices. Blend egg and beer, then quickly stir into flour mixture (don't worry about a few lumps).
To make sriracha lime cream: In small bowl, whisk together sour cream, mayonnaise, Sriracha, lime juice, garlic, and salt. Adjust seasoning to taste.
Heat oil in deep-fryer to 375° F. Dust fish pieces lightly with flour. Dip into beer batter and fry until crisp and golden brown. Drain on paper towels.
To serve, place fried fish in tortilla, then top with garnishes and Sriracha lime cream.
DID YOU KNOW?
That fish tacos are the fast food signature dish of San Diego, CA? They were first popularized by Ralph Rubio, who first tasted them while on spring break in Baja, Mexico.
According to Rubio, there was one Baja vendor he especially liked, a man named Carlos, who ran a hole-in-the-wall taco stand with a 10-foot counter and a few stools. Rubio tried to persuade Carlos to move to San Diego, but he declined. He did, however, agree to share his recipe.
Several years later, Rubio opened his own restaurant in San Diego called Rubio's – Home of the Fish Taco. Today, fish tacos are legendary and are sold throughout San Diego and the Southwest.