Are you a scuba diver? If you are, then you're going to love Cozy Reef.
Located in Anilao, Batangas, Cozy Reef is a 5-bedroom property you can rent off AirBnB. It's a private vacation house marketed as "your own mini dive resort" because the vast majority of people who go to Anilao do so to dive. A coastal barangay (district or ward) about three hours south of Manila, Anilao is known for its many dive sites and resorts. In fact, many Manileños do their check out dives in Anilao because of its proximity to the capital.
The entire family was coming together over the holidays to celebrate my mom's 75th birthday. We needed to find a place that was nice, fun, and could accommodate all 14 of us, many of whom are scuba divers. Cozy Reef was an excellent choice.
Cozy Reef Seafront Dive Resort
Cozy Reef at sunrise. We rented this place for USD 489 a night over the holidays. Split between 20 people, that comes out to about USD 25 a night. Not bad at all. The AirBnB listing says the house can accommodate 16+ people and I can verify that. We counted the beds and 20 people can stay here comfortably.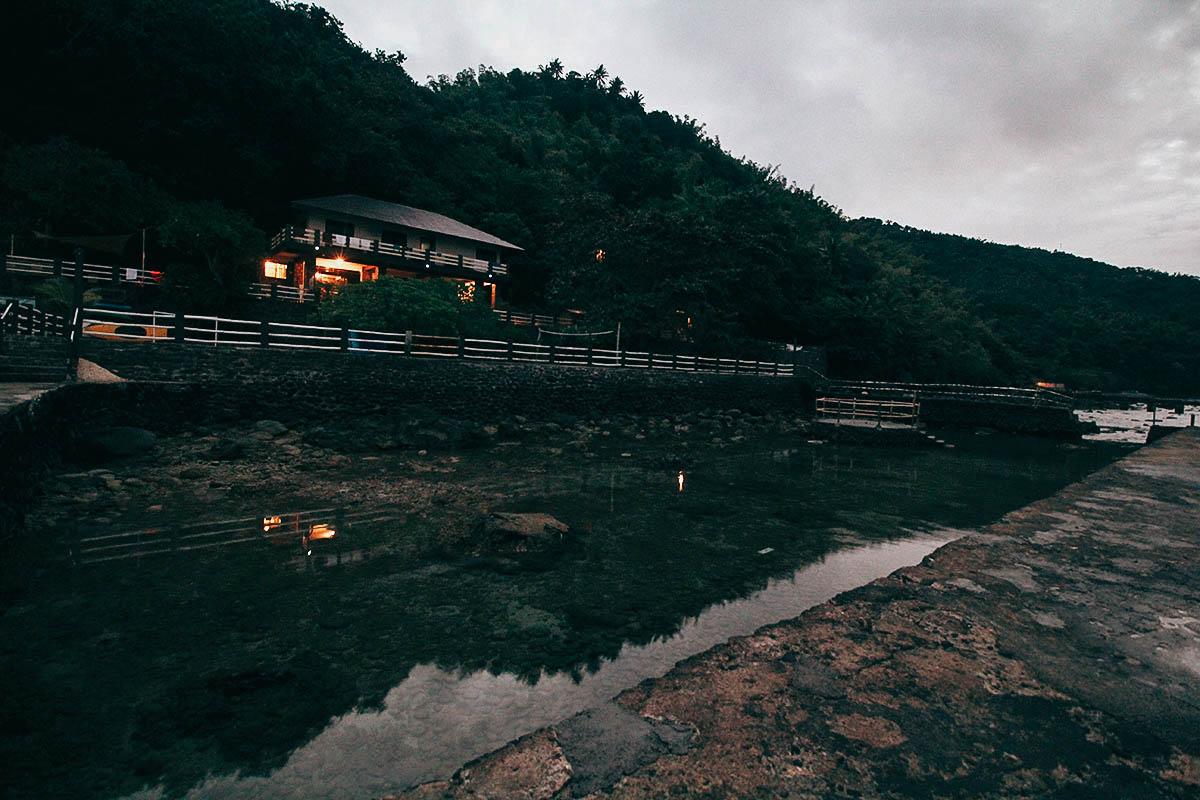 In front of the property is this rectangular artificial cove with that strange octagon platform thingy. 😆 The current in Anilao can get pretty strong so this "swimming pool" makes it safer for kids to enjoy the water. There are inlets on either side so the water level rises and falls with the tide. Just be sure to wear booties or aqua socks to protect your feet from the sharp rocks and coral.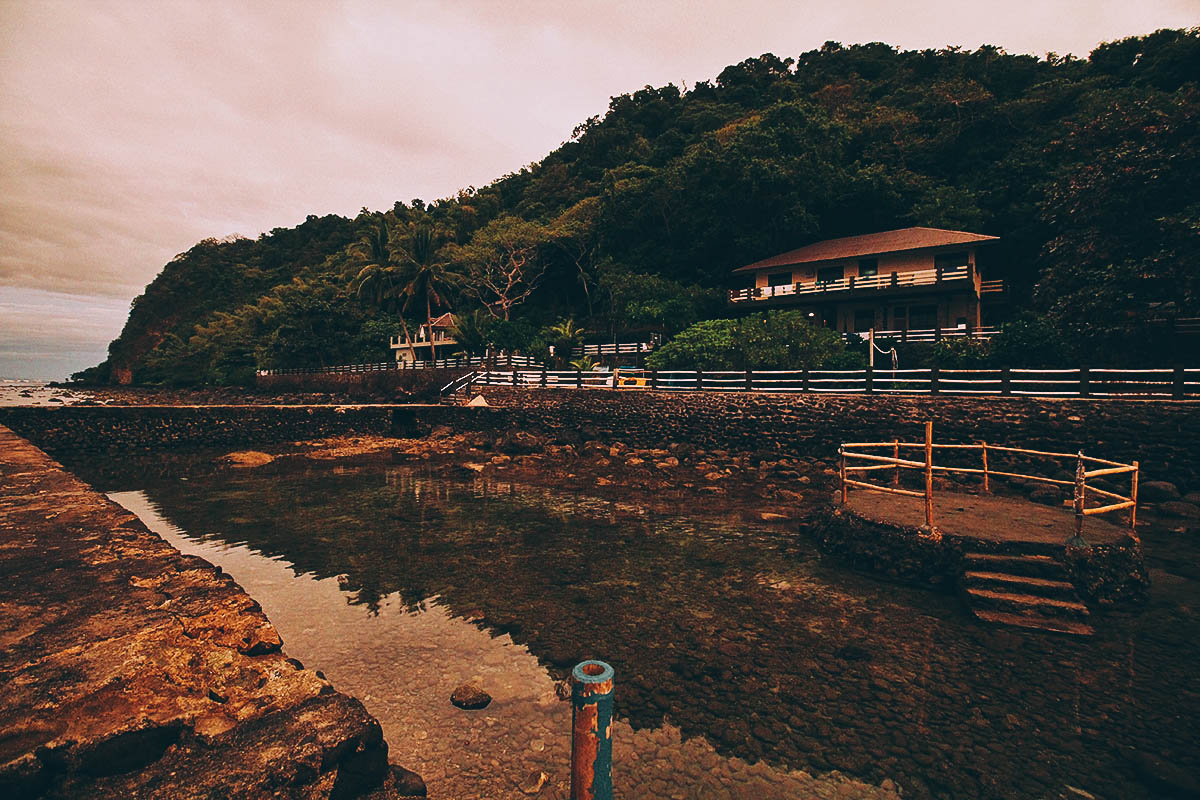 On the far end you can see one of the inlets. Cozy Reef has kayaks and paddleboards that guests can freely use. For your safety, it's best to ride them inside the cove where the water's calmer, then paddle out through that inlet. Notice how much rougher the waters are to the right of the platform?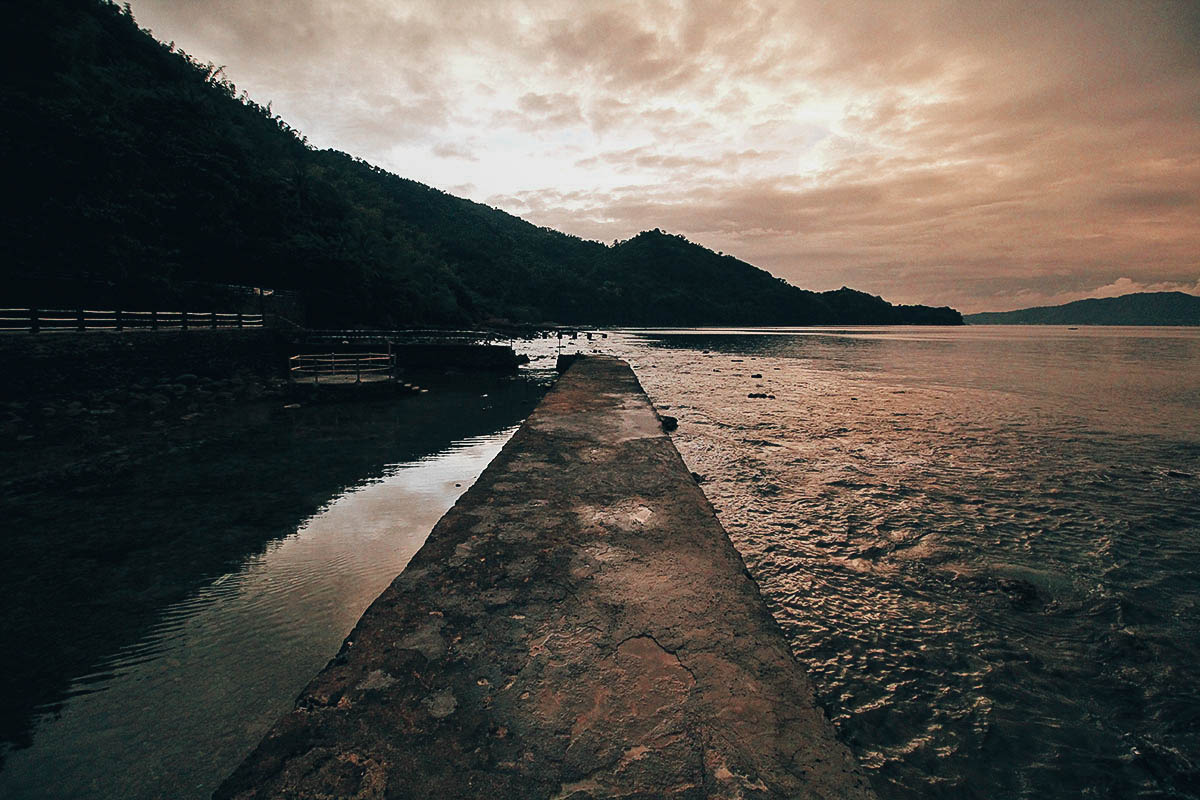 Because the mountain behind the house is too steep to build roads, Cozy Reef is only accessible by boat. You park your car at the Portulano parking lot and their boat will pick you up and bring you to the house. The boat ride takes about 10-15 minutes. I made a GoPro timelapse of the sunrise which you can watch at the bottom of this post.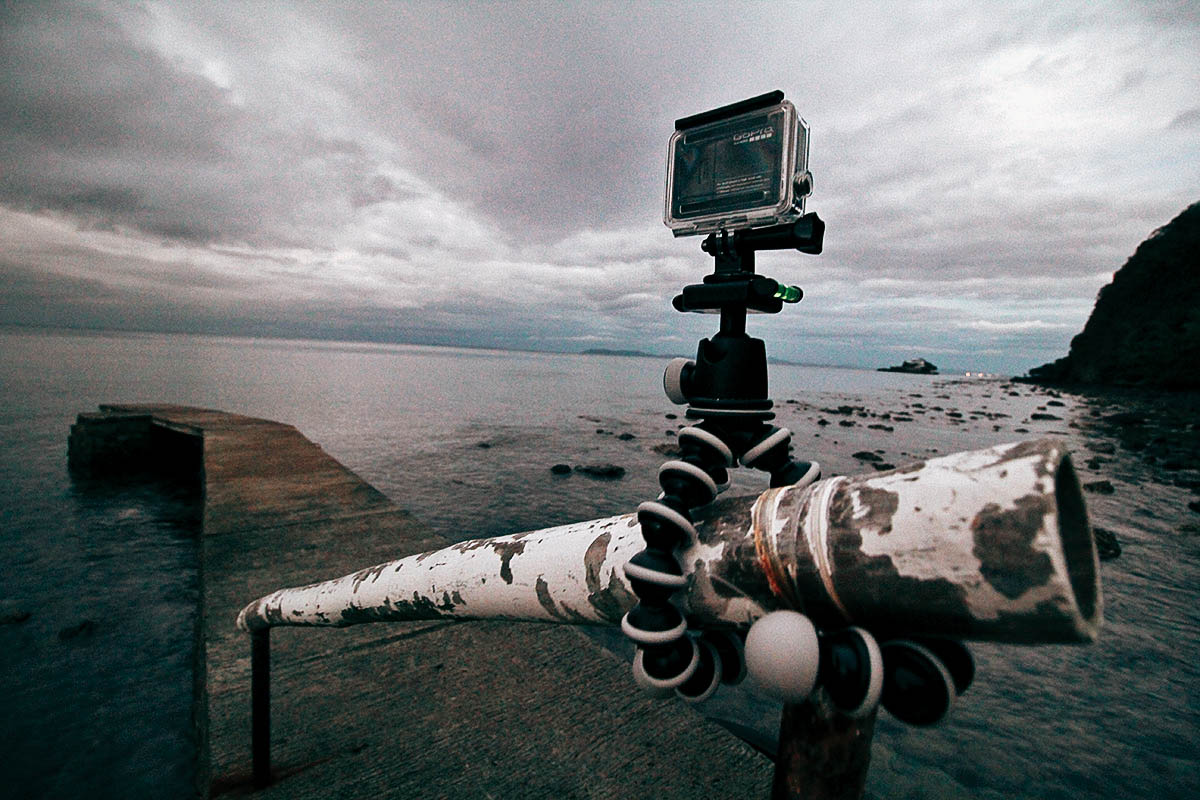 The sun starting to come up. There's tiny Ligpo Island in the distance.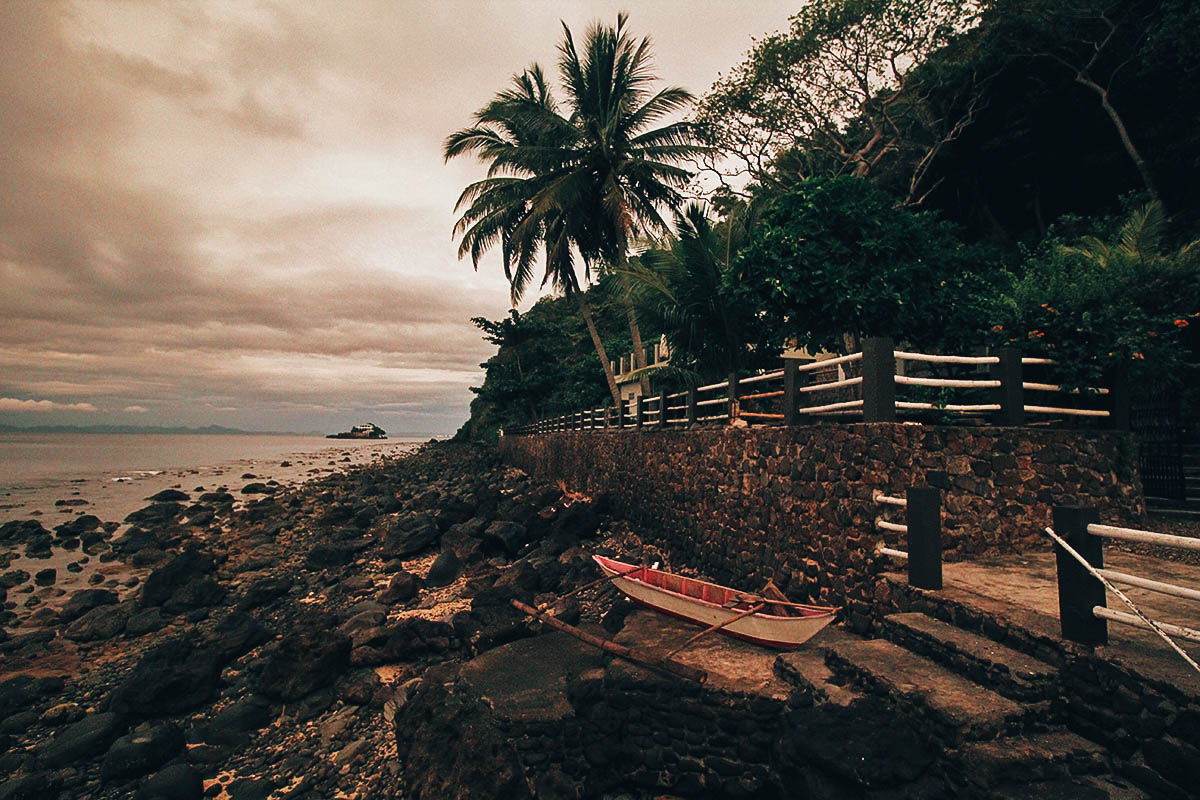 The aforementioned paddleboards and kayaks. They have all kinds of inflatables here as well, including one for drinks! There's even a basketball rim and a football goalpost.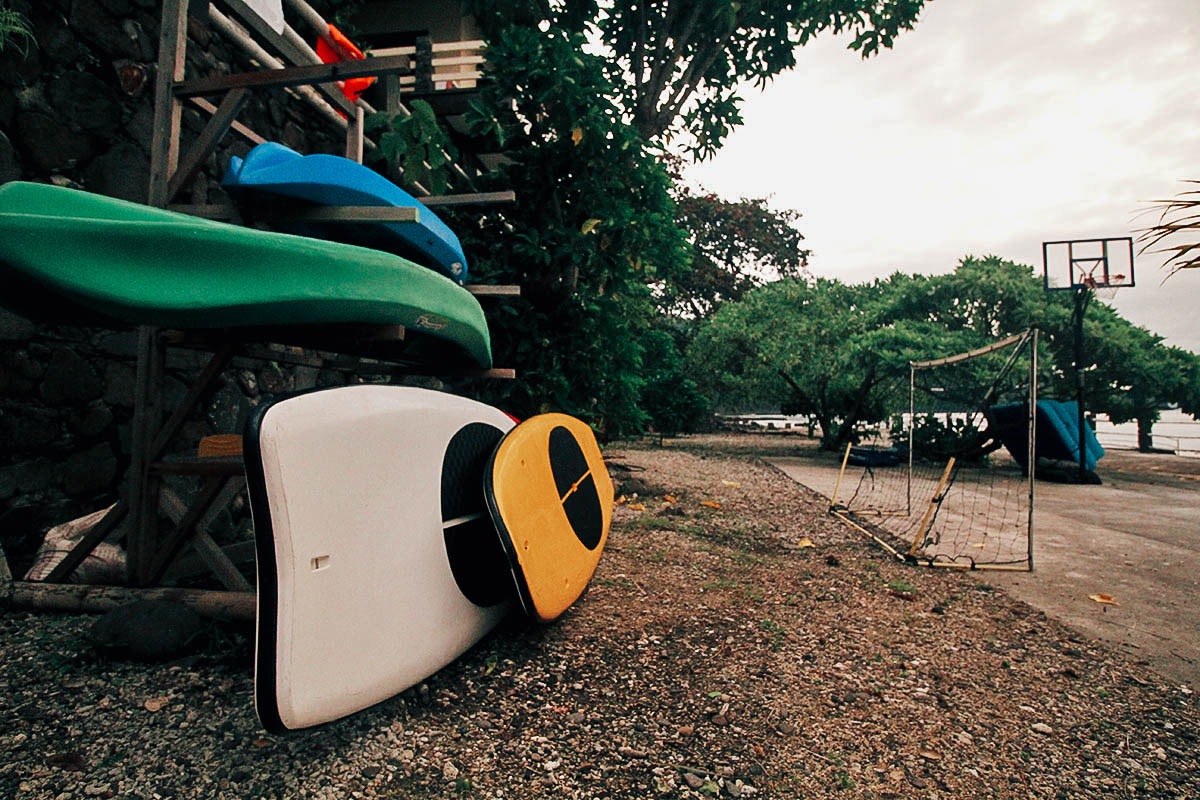 Balling in paradise. On the left you can see the second floor of the house. Every room has air-conditioning and its own balcony.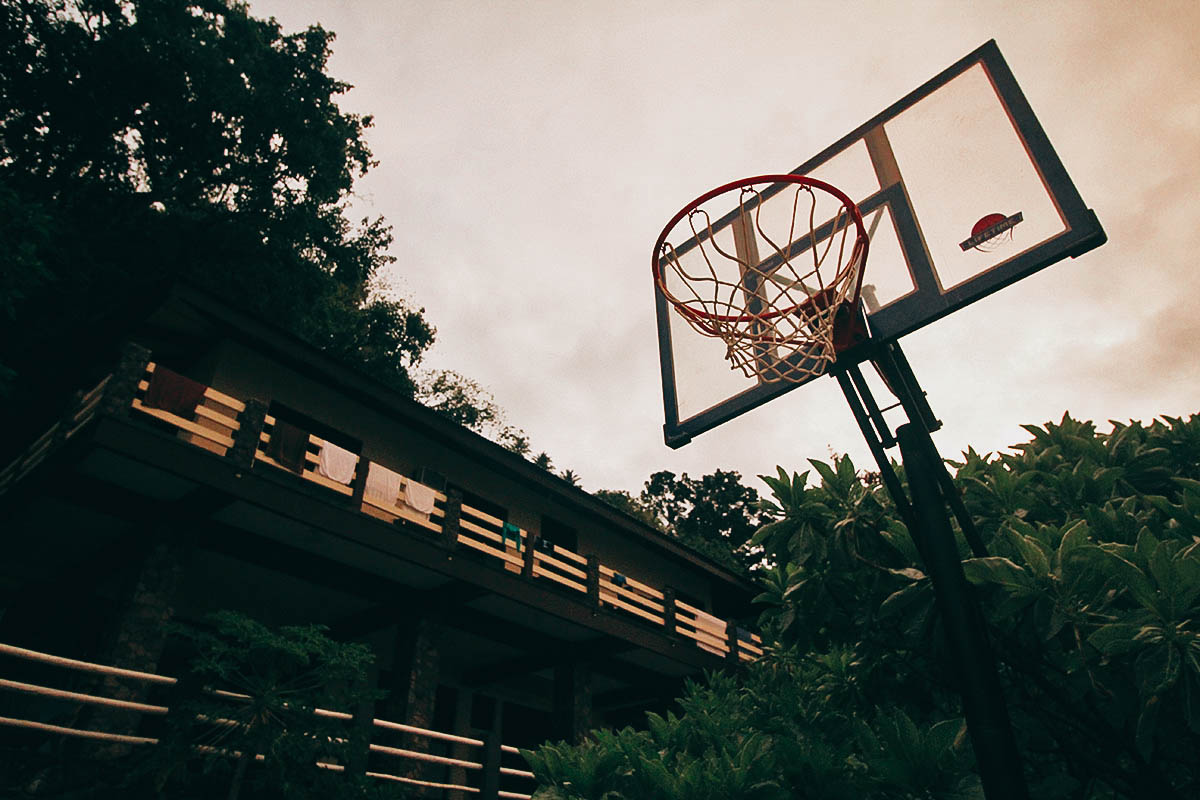 Dining room and kitchen. The house is fully equipped but you'll need to bring your food and drinks and do all the cooking yourself.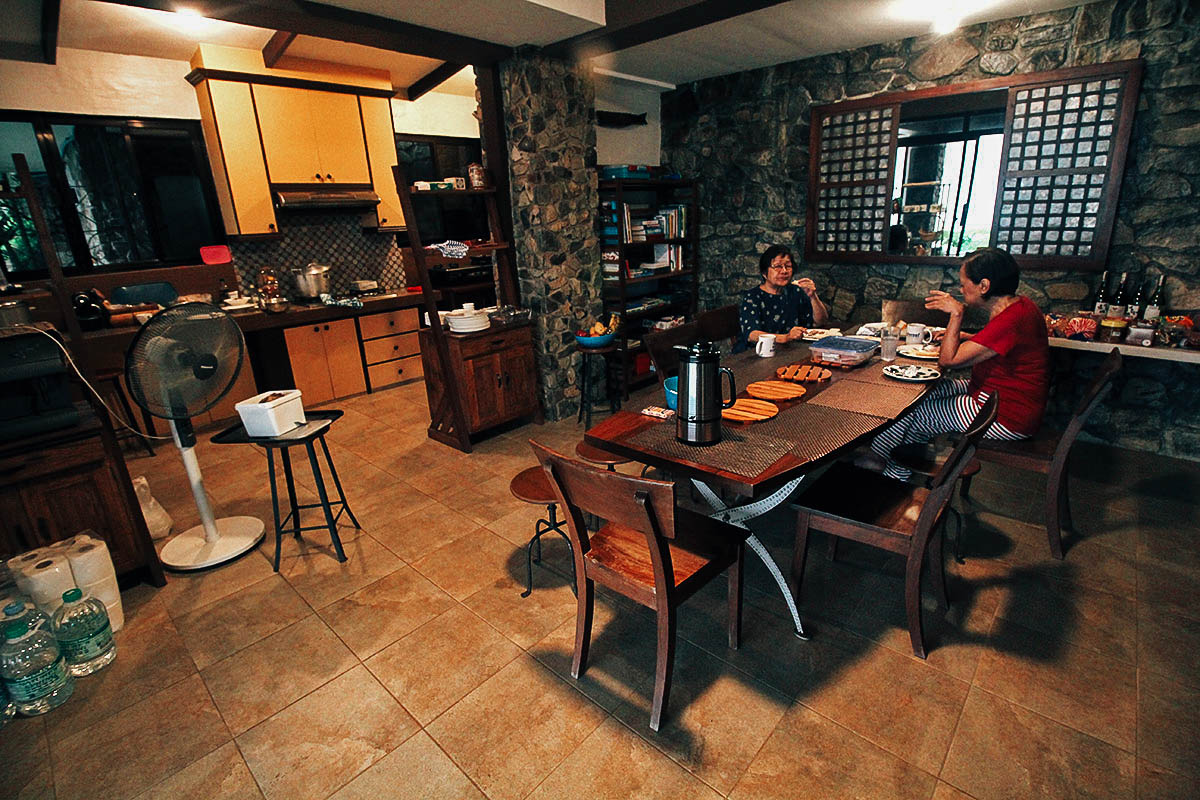 View from the balcony and a better look at the man-made cove. That concrete platform was the perfect place to fly and land my drone, footage from which you can watch in the video.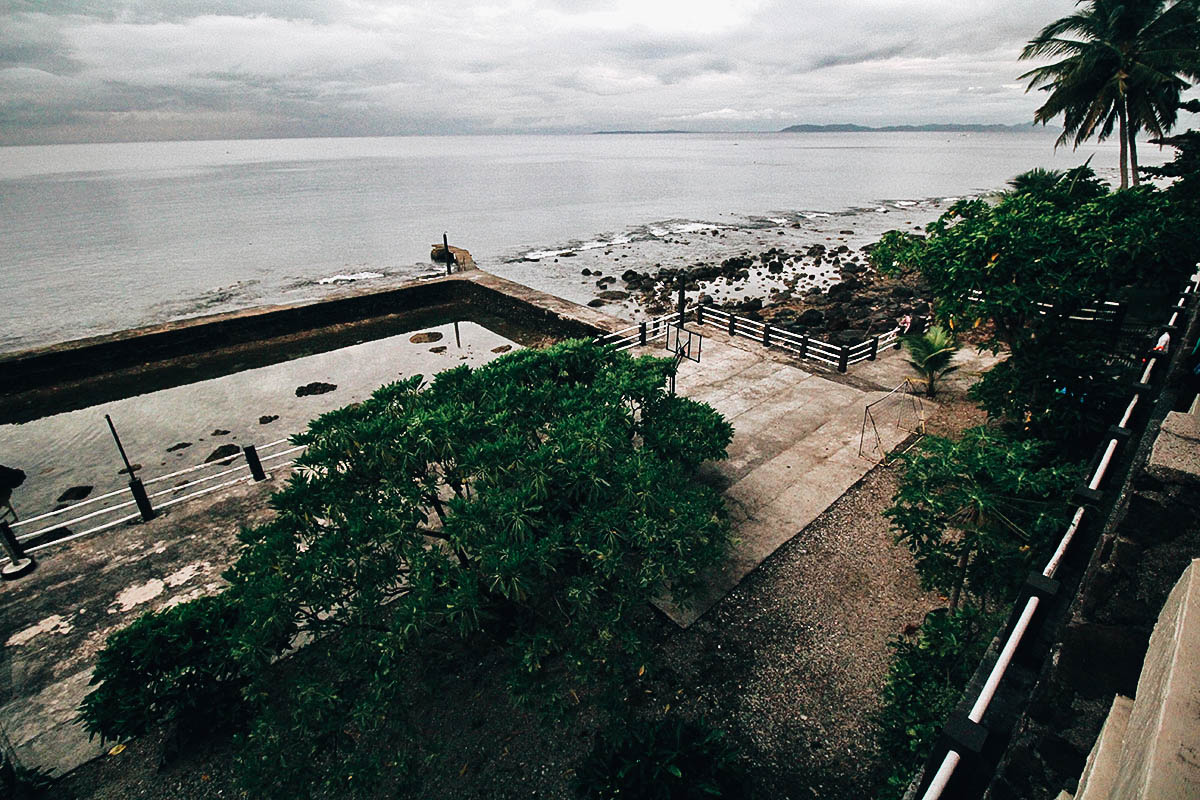 I'm a nature boy so I LOVED this treehouse.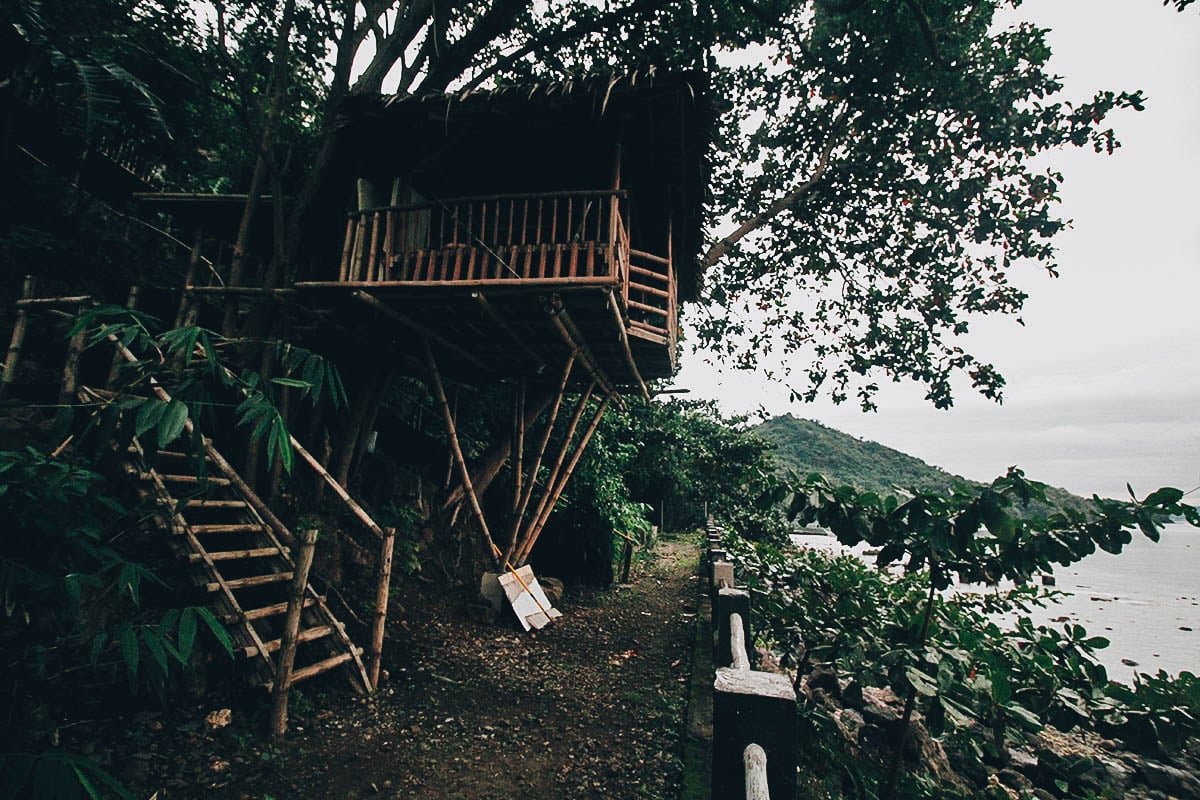 Pretty sweet eh? On a breezy day, it's the perfect place to chill and take a nap. The sound of the waves crashing onto shore is like nature's morphine.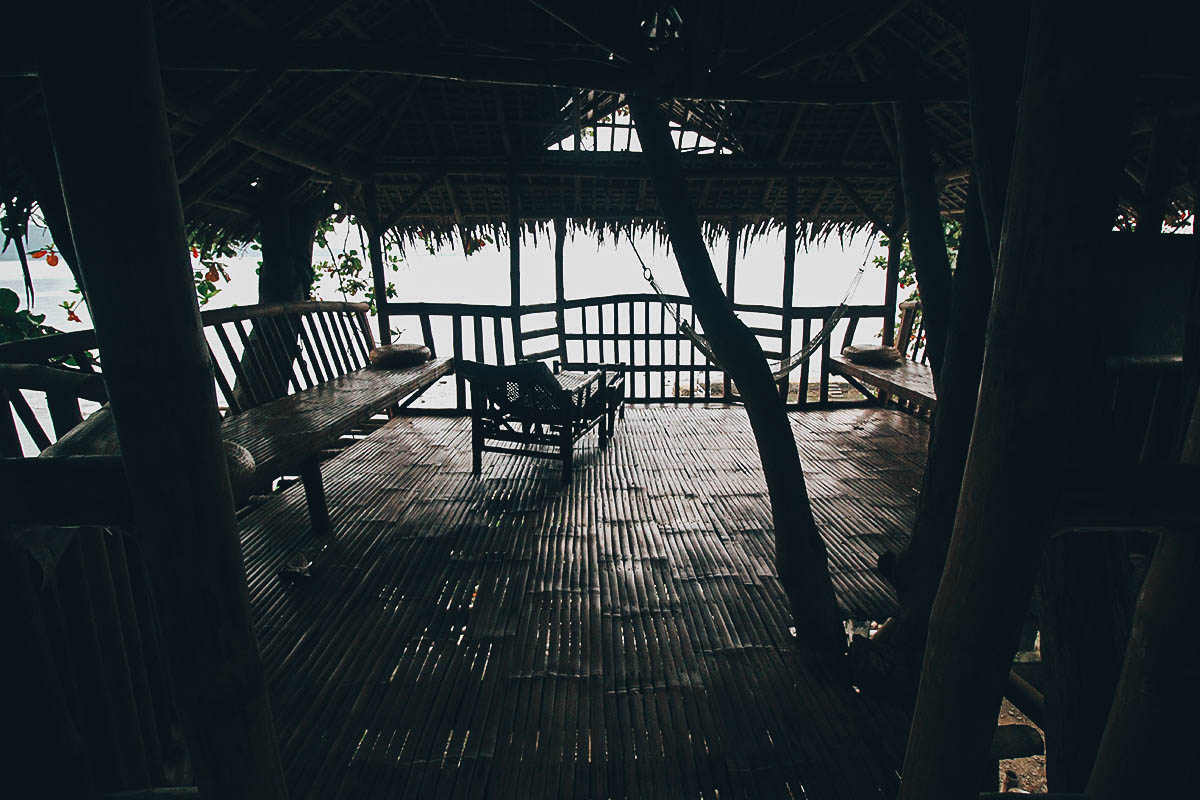 The hammock is my preferred weapon of mass relaxation.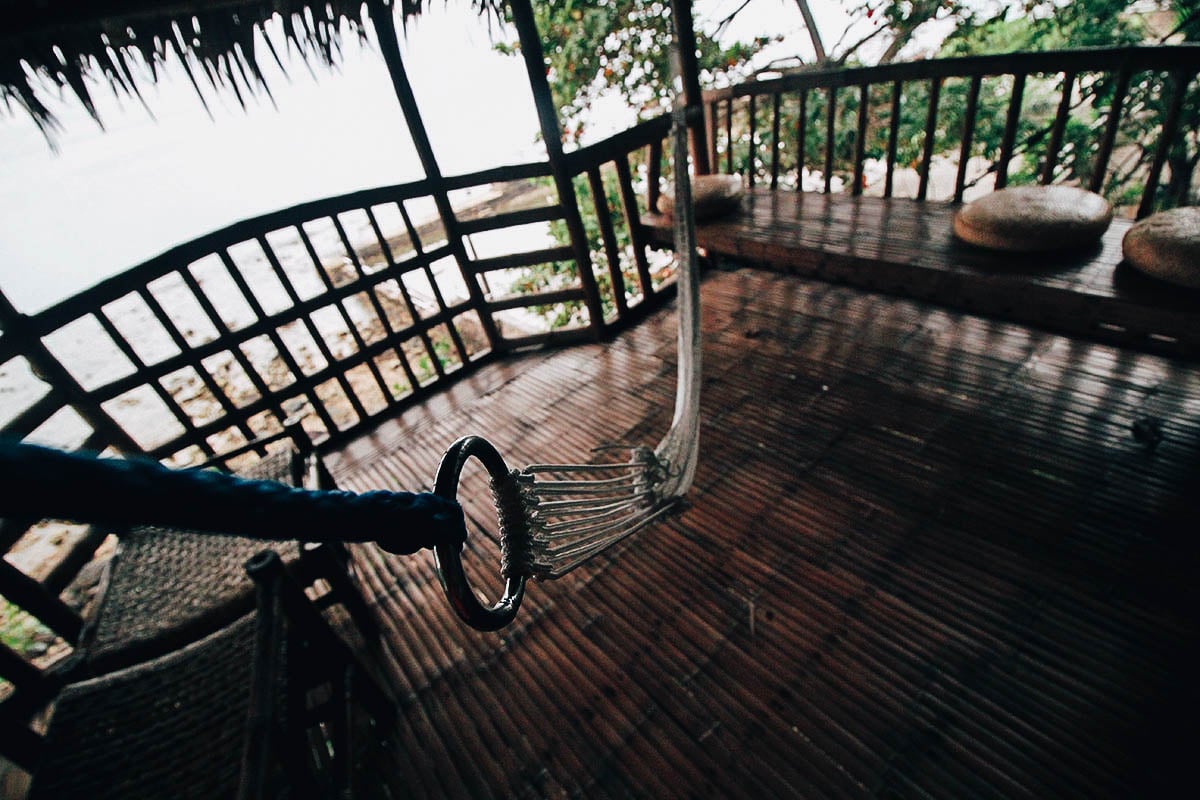 View from the treehouse. When the tide is at its highest, the floor of that octagon becomes submerged.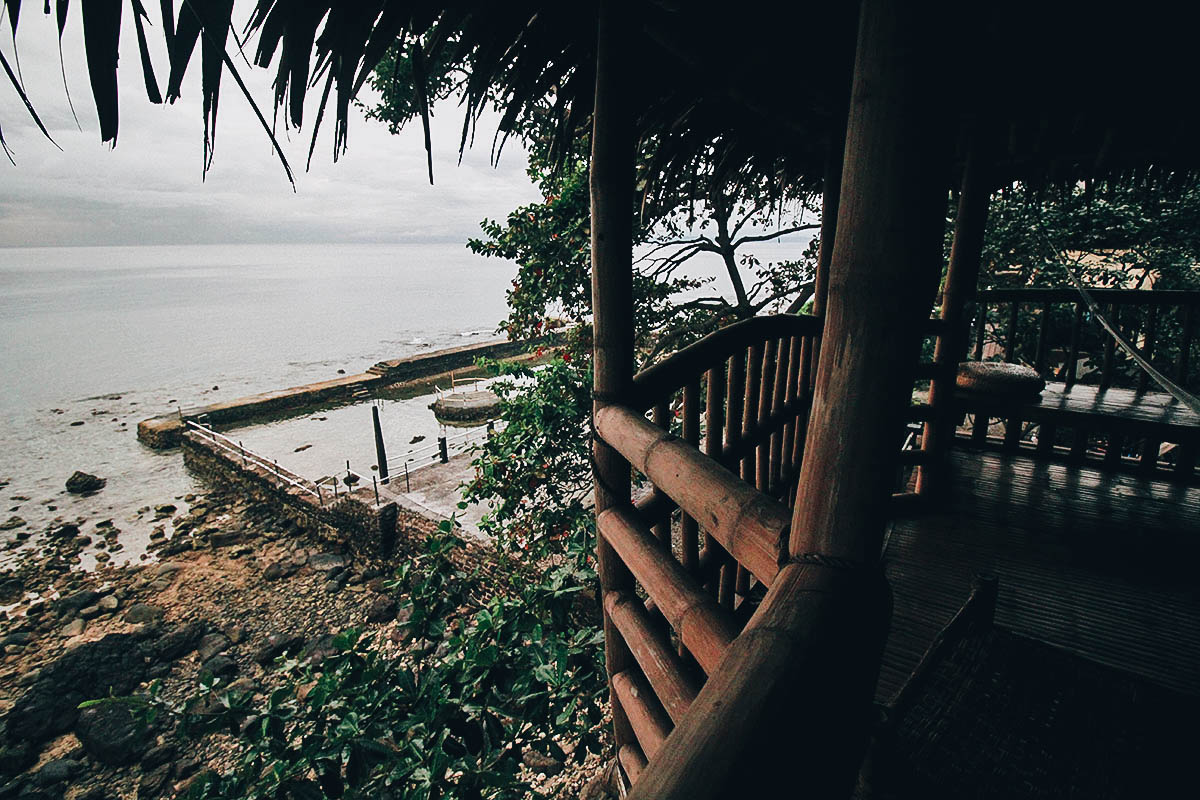 On the other side of the property is this awesome air-conditioned gazebo. That's where Ren and I stayed.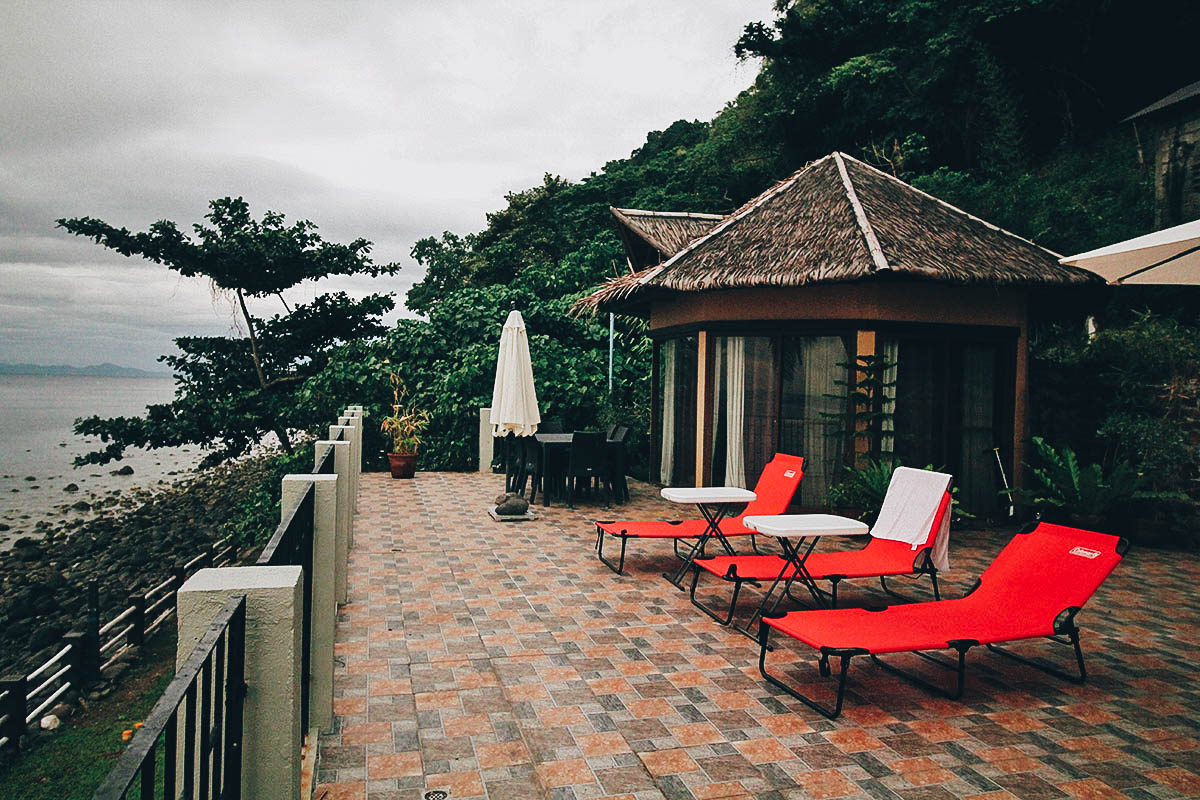 There are no shortage of lounge chairs at Cozy Reef. Take your pick.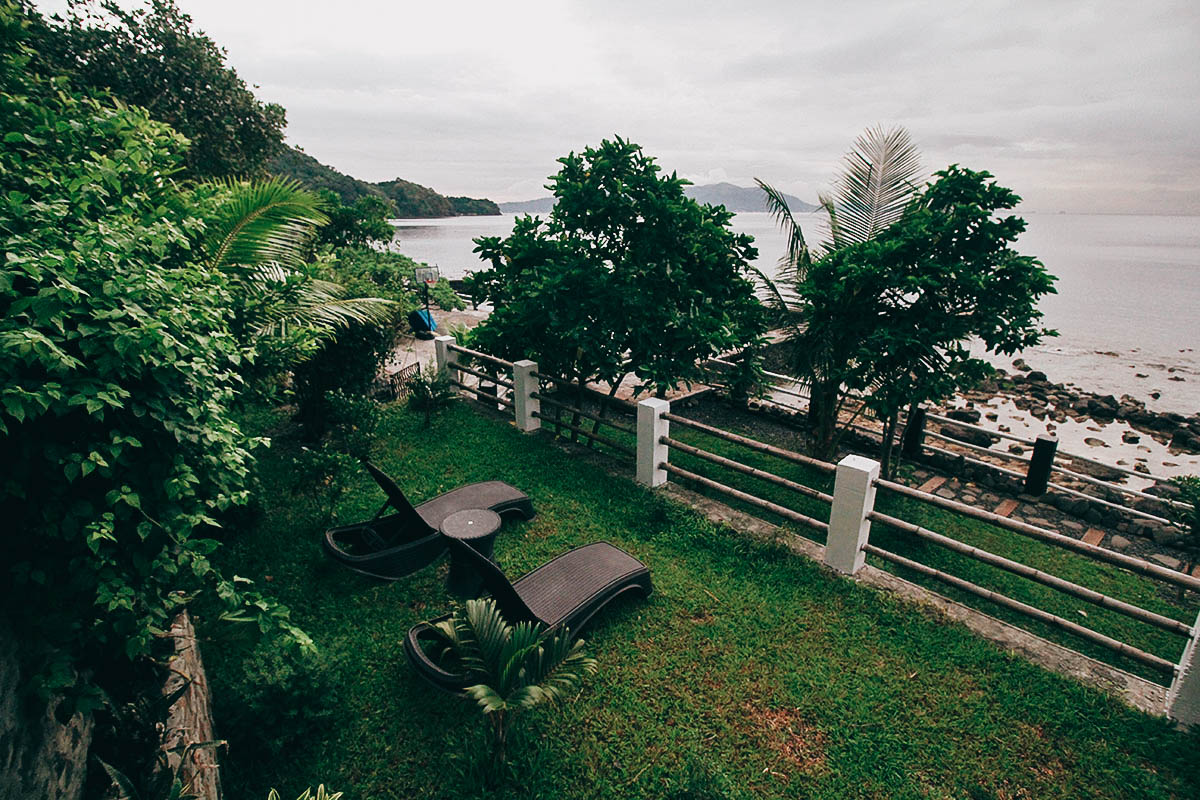 View from our monster-sized balcony. You could land a helicopter on this thing.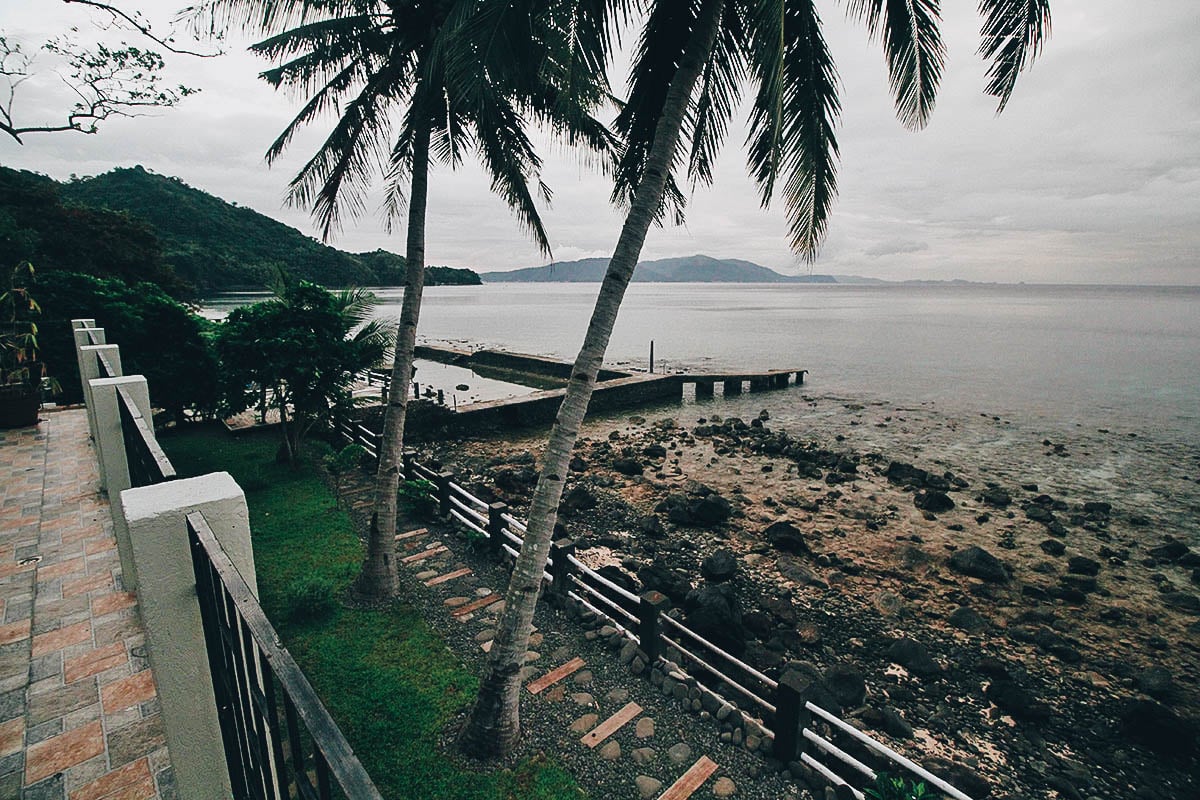 Snorkeling in front of the property is fun. There aren't too many fish, at least not big fish, but the coral beds are healthy and beautiful.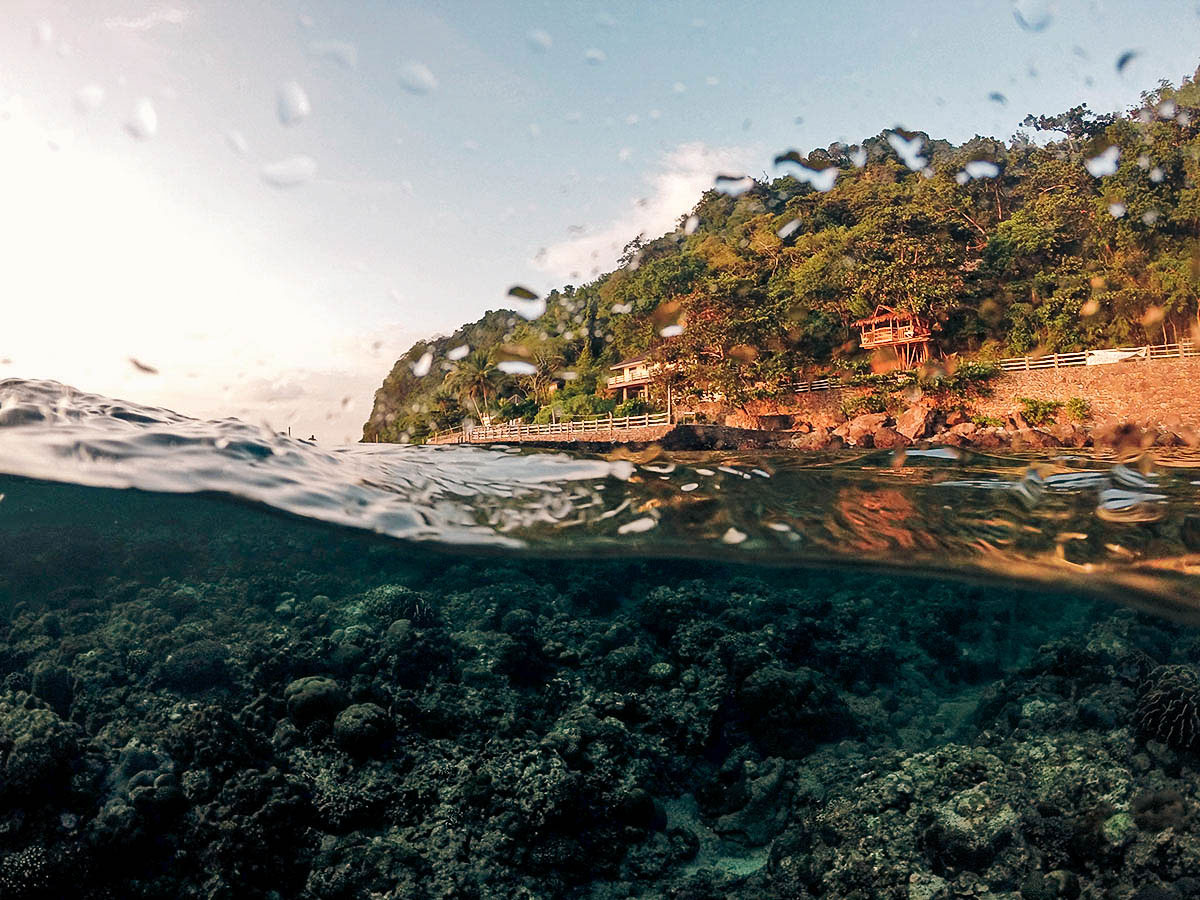 My sister-in-law Anna paddling back to the house. Portulano Dive Resort isn't too far away so you can easily paddle your way there and back.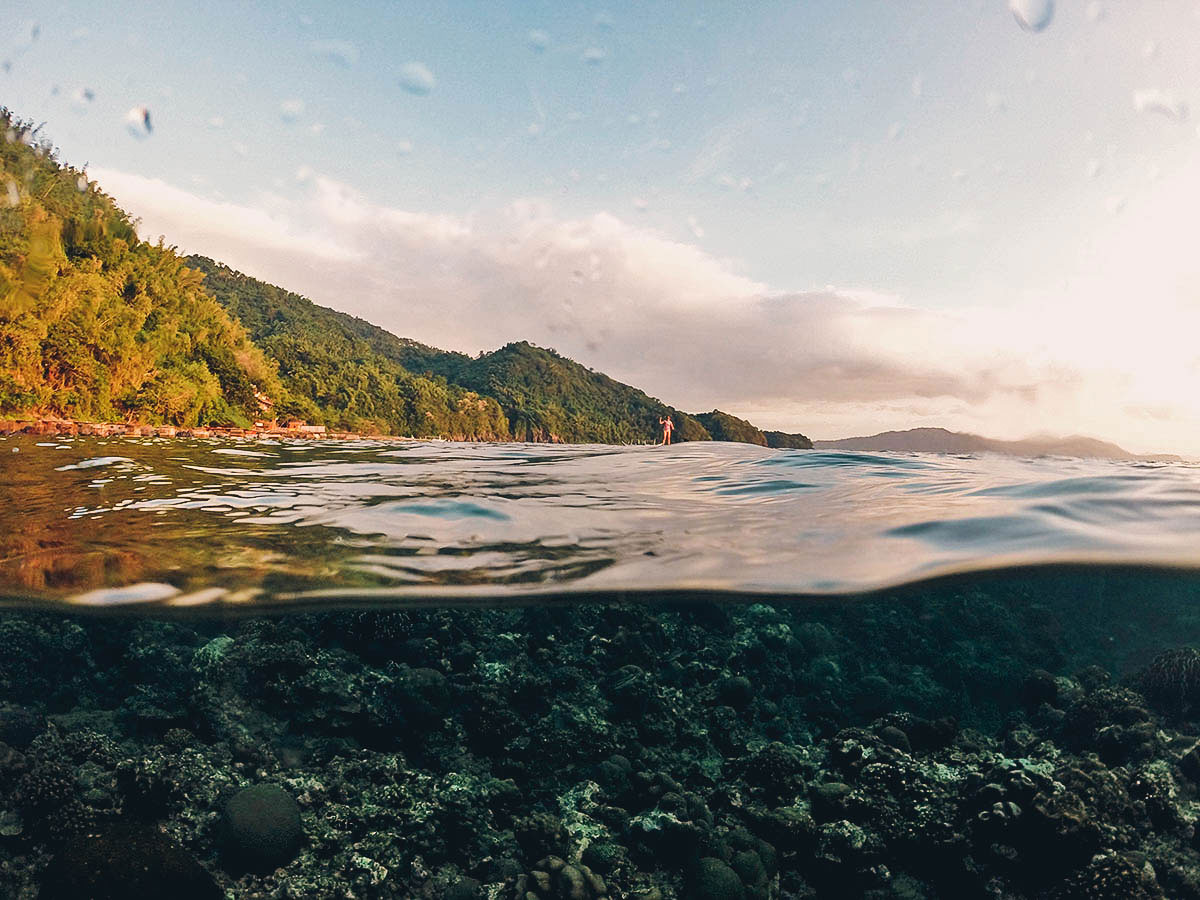 My niece Gabby doing her best Moana impression.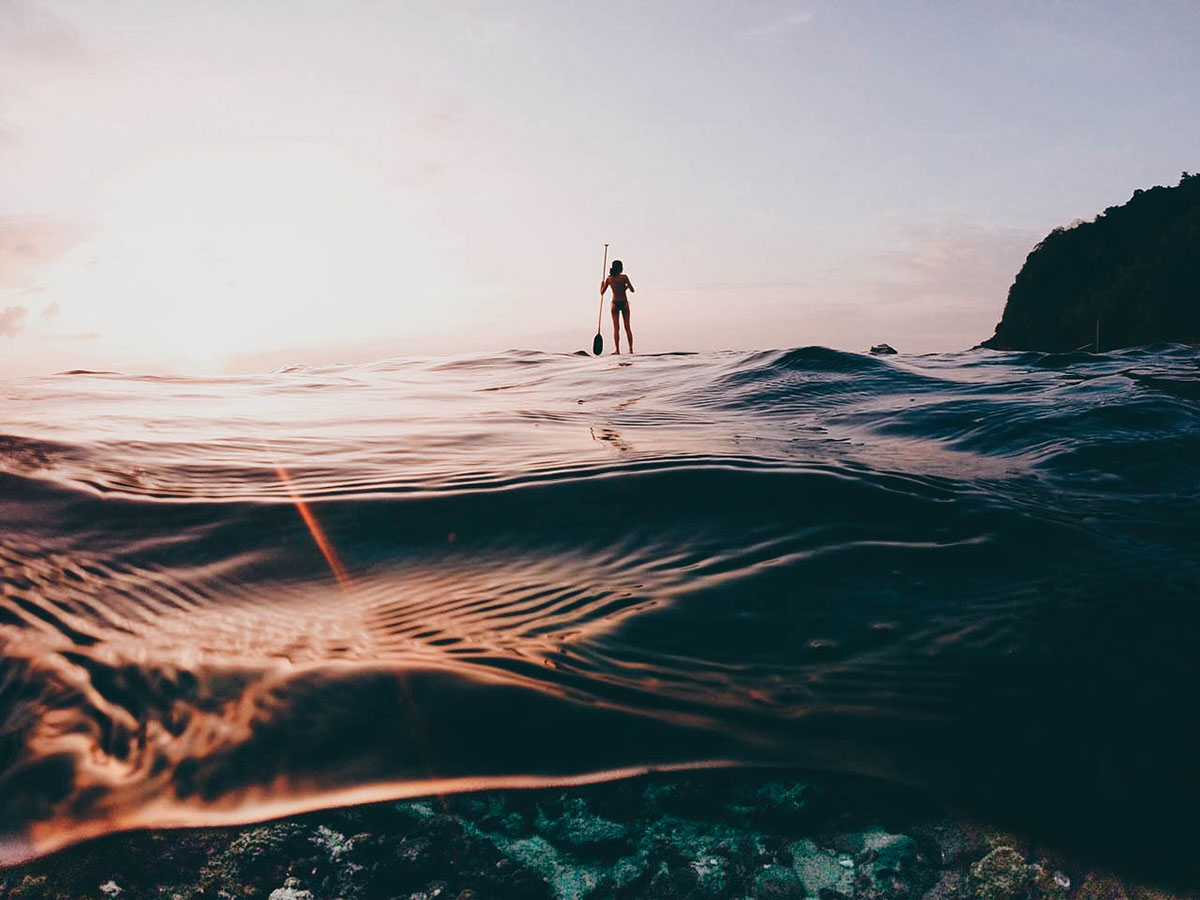 As mentioned earlier, there aren't too many fish in front of Cozy Reef so you can take a 15-minute boat ride to this fish feeding area. You'll see them in a feeding frenzy in the video below.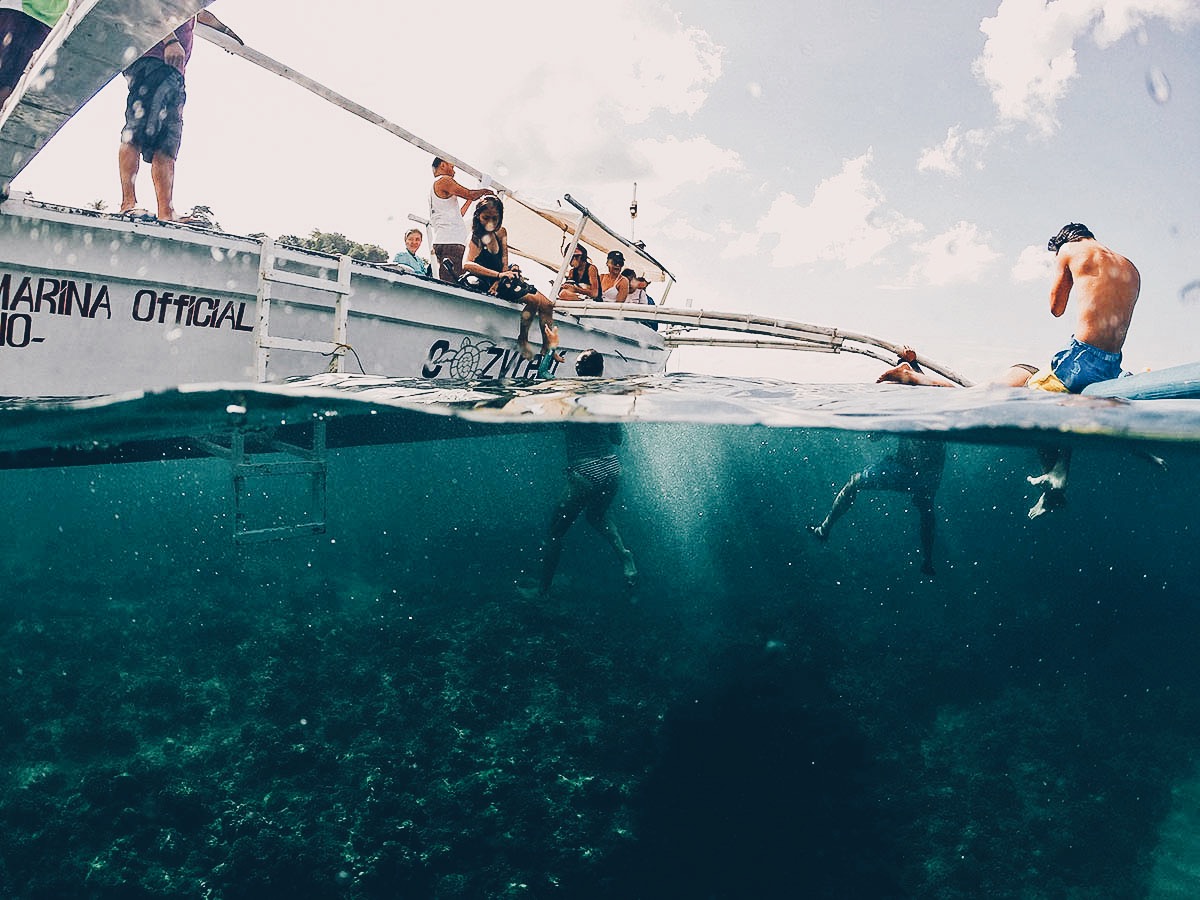 Cozy Reef is marketed mainly towards scuba divers but you don't have to be a diver to enjoy it. As you can see above, there are plenty of things to do here besides scuba diving. You can go snorkeling, kayaking, stand up paddleboarding, even fishing. Taal Heritage Town makes for an interesting day trip. The house doesn't have a beach but Sampaguita Beach is just a 15-minute boat ride away.
What I enjoyed most about Cozy Reef though was the house itself. I had fun just lounging around and spending time with my family. The fact that it was inaccessible by land gave it that private island vibe. I felt like Richard Branson! 😆 It's a big comfortable space with lots of room so you don't feel like you're always on top of each other. You can socialize in the common areas then retreat to your room or a different part of the house for some privacy.
The house isn't equipped with wifi so I suggest bringing a pocket wifi device if you want to stay connected. Otherwise, just switch off your phone, pop open a beer, and enjoy the sunset. That's probably one of the best things you can do here. 😉
Cozy Reef, Anilao, Batangas, Philippines
Bauan, Batangas City, Philippines
Tel: +632 776 4487
Facebook: Cozyreef
Approximate Rates: USD 489/night on weekdays, USD 494/night on weekends (as of January 2017)
HOW TO GET THERE:
The best way to get directions from where you are is to input "Portulano Resort Pier and Parking, San Luis, Batangas" in Google Driving Directions. You can use Waze as well. The directions were spot on and it took us about 3 hours to get there from our house in Quezon City.