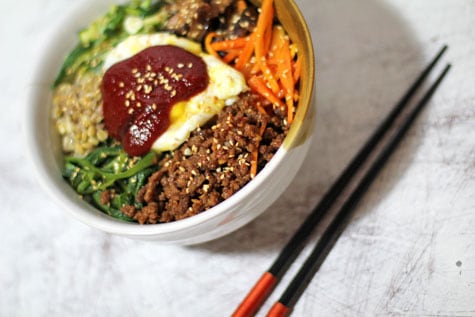 My first encounter with bibimbap was in the mid to late 90s when my Korean friends Kimbo and Sung ordered it at the Woo Lae Oak restaurant in Maryland. Recalling that time fondly, I remember that Bill Clinton was recently inaugurated to his second term, Princess Diana had just died in a car crash, and three golden-locked boys named the Hansons were MMM-Bopping their way into the hearts of millions, including mine, embarrassingly. 😳
I remember being intrigued by the dish, which is why I still recall it so vividly. My vocabulary when it came to Korean cuisine was fairly limited at the time, so I never tried it, opting instead for safe, sweet fare like bulgogi and chap chae, which kinda explains why I liked that syrupy sweet Hanson song too, I guess.
It wasn't until today, over 15 years, a food blog, and a wife's budding obsession with gochujang later did I finally get to try this attractive, most colorful dish. A beautifully presented mix of ingredients including beef, shiitake mushrooms, zucchini, and kosari, one bowl was all it took to bring me back to that time and fondly make me start humming:
"Bibimbap…..MM-MM-Bibimbap..MM-MM-MM-Bibimbap…..MM-MM-MM-MMMMM……."
To my amusement and Ren's annoyance, I now hum this tune whenever she asks me what I want for dinner. 😆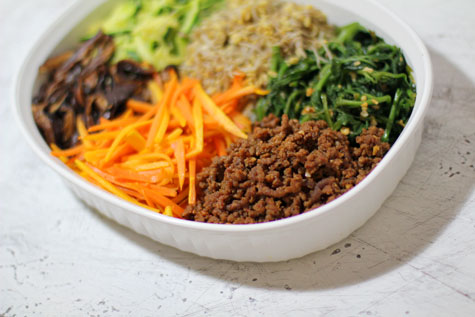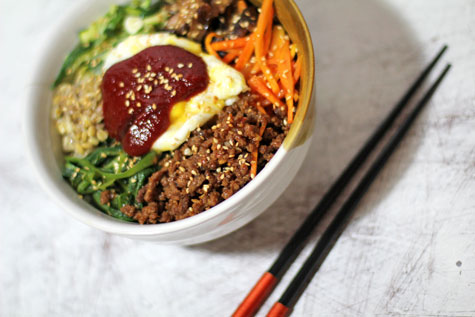 Original recipe from Maangchi
Ingredients (four servings)
Cooked rice
Package of bean sprouts
Bunch of spinach
2 zucchinis, small
5-7 shiitake mushrooms
Fern brakes or "kosari" (can be bought at Korean grocery store)
200 grams ground beef (about half a pound)
1 carrot, small
4 Eggs (1 per serving)
Soy sauce
Hot pepper paste
Garlic
Sesame seeds
Sesame oil
Vegetable oil
Directions
NOTE: From steps 2-8, carefully arrange cooked ingredients on platter.
Cook rice using either rice cooker or stainless pot.
Prepare large platter in which to put all your ingredients. Rinse bean sprouts 3 times then put in pot withcup of water. Add 1 tsp salt and cook for 20 minutes. Drain water then mix with 1 clove minced garlic, sesame oil and pinch of salt.
Put spinach in pot of boiling water and stir for 1 minute. Rinse in cold water a few times then squeeze lightly. Mix with pinch of salt, 1 tsp soy sauce, 1 clove minced garlic and sesame oil.
Cut 2 small zucchinis into thin strips, sprinkle with a pinch of salt, then mix together. Sauté in pan over high heat. It will look somewhat translucent when cooked.
Prepare about 2 or 3 cups kosari. Cut into 5-7 cm long pieces and sauté in heated pan with 1 tsp vegetable oil. Stir and add 1 tbsp soy sauce, 1/2 tbsp sugar, then cook for 1-2 minutes. Add sesame oil.
Slice shitake mushrooms thinly and sauté with 1 tsp vegetable oil. Add 2 tsps soy sauce, 1 or 2 tsps sugar, then stir for 2 minutes. Add some sesame oil.
On heated pan, add oil and 200 grams ground beef then sir-fry. Add 4 cloves minced garlic, 1 tbsp soy sauce, 1/2 tbsp sugar, a little grounded black pepper, and sesame oil.
Cut carrot into strips and sauté for 30 seconds.
Fry eggs. Put rice in big bowl, and attractively display all vegetables and meat over it. Place fried egg in center.
Serve with sesame oil and hot pepper paste. Mix well before eating.
DID YOU KNOW?
That there are three prevalent theories explaining the origin of bibimbap?
The first is of farmer origin. Since farmers were poor and a lot of work was demanded of them outside the home, it was believed that they mixed rice with different types of vegetables in a large bowl as a quick and easy meal for communal feeding.
Another theory revolves around ancestral ceremonies which required the preparation of fruits, vegetables, rice cakes, fish, and other "thankful" foods. The leftovers from the preparation of such labor-intensive ancestral meals were then mixed to create simple, much easier to prepare meals.
The third theory suggests that during times of uprising and battle, there was no time to prepare elaborate dishes, so rice was mixed with whatever food was available to create a meal.